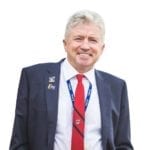 A&S Landscape kept to their timescale, the project was an excellent, efficient exercise. They do as they promise.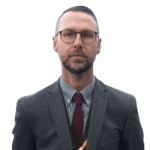 The design and the installation that we got is fantastic quality and the school are really pleased with the canopy.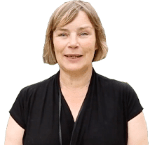 We worked with A&S Landscape closely until we had a gorgeous finished project. Their staff were very helpful.
Waterproof Shelters
A&S Landscape is pleased to bring you a high-quality range of shelters. Available in hundreds of configurations, with a host of options and extras our robust and hardwearing shelter systems suit a wide range of environments. The Motiva shelter range covers many applications from entrance shelters through to covered walkways and covered play areas.
We manufacture our Motiva shelters here in the UK and for us quality is paramount. Many of our shelter designs boast galvanised steelwork, unbreakable roofing and aluminium rainwater goods. Waterproof shelters are the ideal addition to any UK school that wishes to get pupils outside despite the unpredictability of the weather. School shelters can provide protection from the sun and shelter from the rain.
Shelters from A&S Landscape
Not only are our shelters of the highest quality but we are regarded within the industry for our efficiency, integrity and reliability. Over many years we have developed excellent relationships with schools, local authorities and property managers. We aim to meet their needs for superior shelter manufacture and installation.
Click here to view recent shelter projects.
Our gallery showcases our range of shelters.
Look through some of the shelter projects we have completed
Fabric and Polycarbonate Canopies Designed for Brushwood Junior School in Buckinghamshire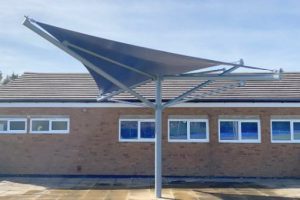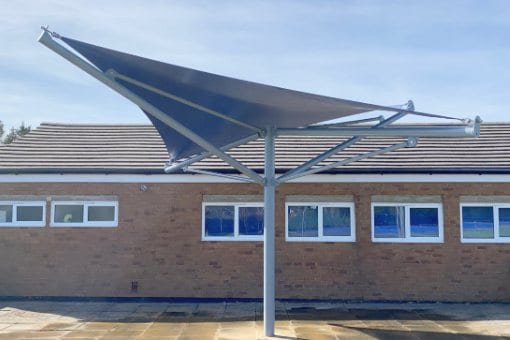 Brushwood Junior School wanted to add two canopies to their site, one to shelter a handwashing station and one to cover an outdoor picnic area. Because the uses of both areas are so different, we opted for two very different canopy designs. For the basin area, the school chose a small Motiva Mono™ curved roof shelter finished in a striking Ultramarine Blue. And the Maxima StarSail™ fabric roof canopy was the perfect choice for the seating area. The school now benefits from two new covered areas which both will make the school day easier and more enjoyable for the teachers and pupils. Click here to see our full case study page on the shelters we installed at Brushwood Junior School.
The Centre of Excellence in Yorkshire Add Straight Roof Shelter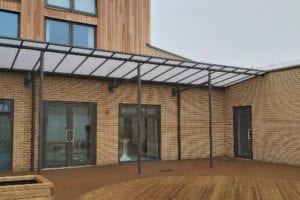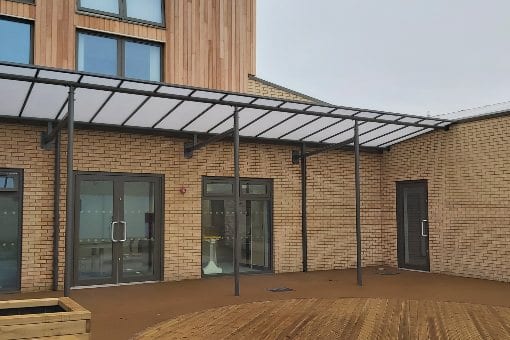 A&S Landscape was asked by The Centre of Excellence (The Beehive) to add some shelter to their external area at their brand-new facilities. The new site had been built and designed so that young visitors with complex disabilities and their families can receive support and enjoy an overnight stay. Because of the many benefits of spending time outside, it was important to the organisation that they invest in their outdoor services. We installed our popular Motiva Linear™ straight roof canopy made to the overall size of 12000mm X 2600mm. Overall this was a brilliant project to work on and we thoroughly enjoyed collaborating with such a great client. Head over to our project page to read more about the straight roof canopy we designed for The Centre of Excellence.
Curved Roof Dining Canopy in Merseyside at Lord Derby Academy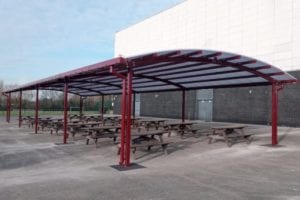 One of the most popular canopy types we install at schools and colleges are dining area shelters. Lord Derby Academy was looking for ways to create more seating for the students to use during lunchtimes as their dining hall was at full capacity. They came across shelter specialists A&S Landscape and knew that installing an outdoor canopy would be the best solution to their seating problem. We fitted a large Motiva Duo™ shelter at the school, finished in a Wine Red colour to match their logo. With the addition of 14 picnic benches under the structure, the school has created a fantastic outside dining area. Want to read more? Visit our project section to see the full details of this dining canopy we made for Lord Derby Academy.
Hythe Primary School in Hythe Add Red Straight Roof Shelter to Play Area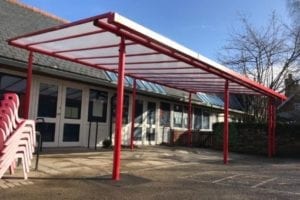 Our expert advice and service was requested at Hythe Primary School as they had no shelter in their Key Stage One play area. This would mean that the pupils would often get wet, cold or even too hot when playing outdoors during the day. The staff knew that they had to act to make the playground more accessible and safer. A&S Landscape was asked to install a play area canopy to cover some of the outdoor space at the school. The school are delighted with the finished result and the 'polite, respectful and hardworking' installation team. It's always a joy to receive such positive feedback, our whole team prides themselves on delivering the best service for every client. Continue reading about the playground shelter at Hythe Primary School here.
Freestanding Covered Walkway Canopy Designed for Trinity School in Essex
Trinity School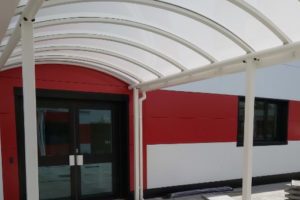 in Dagenham were undergoing a series of improvement works to their site and as par of this, they decided to add a cover to a commonly used walkway and entrance. After looking for the best canopy manufacturer to complete the job, they came across A&S Landscape. We installed a Motiva Duo™ curved roof shelter made to the overall size of 13000mm x 3200mm. This product is a great choice for covered walkways, like the one we installed at Melland High School in Manchester. Now the students and staff will be protected from the weather conditions as they enter and leave the main building. Find out more about the walkway cover we added to Trinity School on our news article page.

Find out about our featured shelter project
Chiswick School in London adds Outdoor Dining Shelter

What was the project brief?
Chiswick School, located in the London borough of Hounslow, is a mixed secondary school which has a student population of over 1,200. Expectations of the students are high, with the school operating to exceptional standards. To maintain their level of excellence, it was of critical importance that the school built additional dining space to accommodate the growing number of children that were admitted to the school. The site map showed that there wasn't enough space for all the students to eat in comfort, or without direct exposure to the weather outside. The school needed to find a solution.
Although space was tight, the school identified areas where they were able to accommodate extra dining space. Once they settled on a suitable location, they called in A&S Landscape to help with the proposed move. Working with a well-known national builder, they prepared to design, manufacture and install a quality shelter that would provide the school with the extra dining space it required.
What was our shelter solution?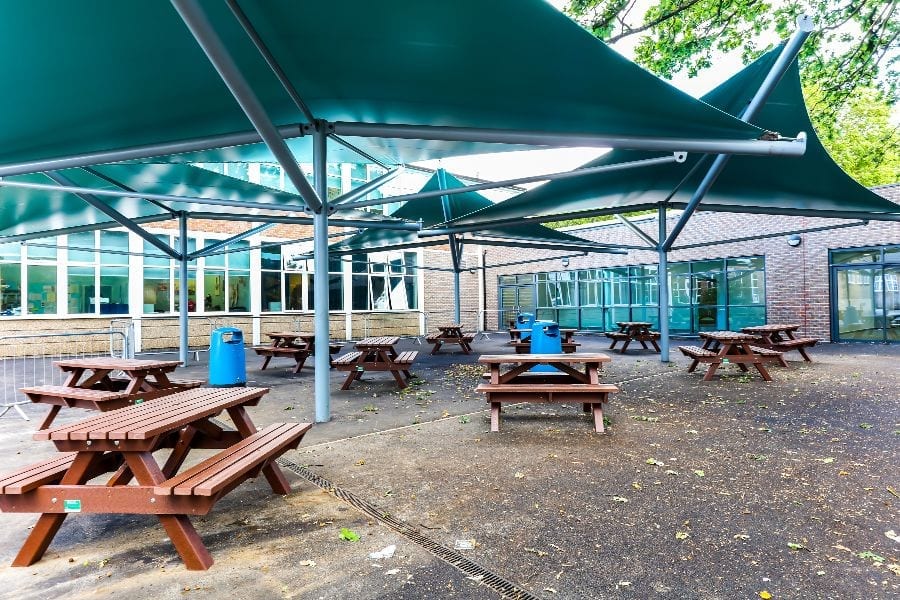 Thanks to their outstanding durability, we decided that four large Maxima StarSail™ canopies would be the perfect fit for the school's requirements. Each StarSail measures 8000mm x 8000mm and were placed strategically to ensure excellent protection from the weather. Sail shades are always a stylish solution thanks to the choice of coloured fabrics available, and these four were no exception. The school opted for a bright Porcelain Green colour for the waterproof shade cloth, and Grey (RAL 7000) for the Dura-coat™ finish of the steelwork. The visible area beneath the canopies was further transformed with the wonderful addition of picnic benches.
What was the result of their new shelter?
The direct impact of the canopies has been tremendous. The school has shown that even with limited possible locations in their immediate vicinity, they were able to innovate and find a solution. The canopies blend fantastically with all existing structures, and they are highly practical too. The students have taken a special interest in the new shelter system, as they are now able to socialise, eat and study without direct exposure to the elements. The outdoor dining area now firmly has a place on the site map, and the additional improvements to the campus are highly noticeable in the student's mental health and wellbeing, who now go to lessons feeling refreshed!
About the client
Chiswick School is located in the London borough of Hounslow. With the tagline of 'empowering students to be ambitious and proud,' the school clearly strives to see each of its students achieve to the best of their ability.
This was clear from working with the staff members too, who were highly communicative, supportive and provided us with sufficient information throughout the entire process. We are incredibly pleased to have provided a suitable alternative location for students to sit at lunchtimes, one that will endure even through times of inclement weather.
Can A&S Landscape help with cycle shelters too?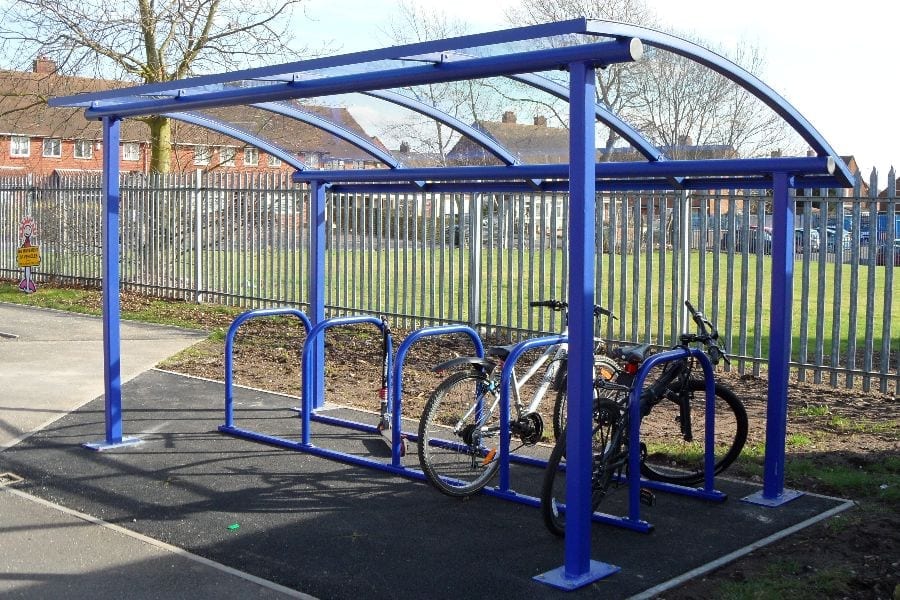 As well as standard design canopies, A&S Landscape has a popular range of cycle storage solutions that are able to accommodate a large number of bikes, even when the proposed area may have complex turns and angles. With the addition of side screens, cycle lockers and additional security features, we are able to create an ultra-safe place for bike storage.
With the Government's Cycle to Work Scheme and public transport becoming more bike-friendly, cycling has become an increasingly popular choice for both students and commuters alike. Therefore, lack of a decent bike shelter may be a cause of potential inconvenience for visitors, customers or staff.
We have three standard bike shelter options Cyclo City™ a straight roof shelter offering complex configurations, Cyclo Bike™ a simple modular design canopy with a curved roof, and side panel options and the Cyclo Buggy™ a curved-roof canopy with excellent space efficiency.
Each secure structure has its own unique qualities, but all are highly durable, and each one has the potential for certain modifications. If you have a suitable location in mind for your bike shelter and would like further details on how A&S Landscape can work with you, please contact us on 01743 444100.
How can A&S Landscape help you?
Whenever we take on a new project with a local authority, an educational body, or a local town council, we want our clients to make pragmatic decisions when choosing their shelter. That is why we share all important information at each stage of the canopy process, providing an approximate date of completion, so everyone is able to plan ahead. It is our truly impeccable service that makes us stand out from the crowd. Don't just take our word for it, have a read of what our clients have had to say about us!
With our wealth of expertise on all things canopies, covered walkways, covered sports grounds, and many more, you are guaranteed to enjoy a long-lasting and high-quality shelter. We will provide a handpicked selection of canopies based on your individual requirements and will work with you to find the perfect cover solution. Whatever you need, we've got you covered!
For further advice about any of our shelter solutions, get in touch with our friendly team on 01743 299955 or at [email protected].

Chiswick School Before and After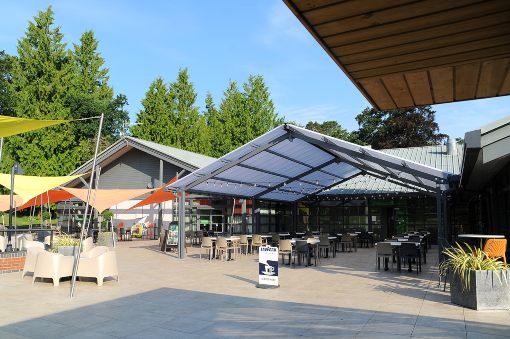 A&S Landscape had better timescales and were more helpful than other company we looked at.
General Manager - Whitemead Forest Park
View Project
Look through some more of the shelter projects we have completed
Outdoor Dining Area Shelter Installed at Newmarket Academy in Suffolk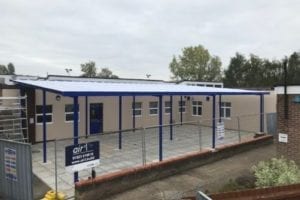 Newmarket Academy is a fantastic secondary school based in Suffolk. The school was looking for ways to improve lunchtimes, as often the students would struggle to find a seat to enjoy their food and relax with their friends. That's where A&S Landscape stepped in and suggested that the school install an outdoor canopy to create a covered seating area outside. The school loved the idea and a Motiva Linear™ straight roof shelter was added to the site. With Ultramarine Blue steelwork to match the academy's logo, the canopy has created a stylish and practical area that is used every break and lunchtime. This has relieved pressure from the existing dining hall and has also encouraged the students to enjoy some fresh air which will have many health benefits. Find out more about the dining shelter we made for Newmarket Academy here.
Break Time Shelters Made for Uxbridge High School in Middlesex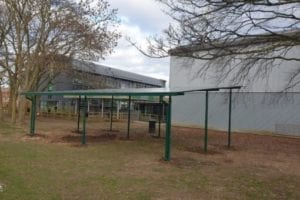 Uxbridge High School takes great pride in ensuring that their students have the best educational experience and time at the school. So when the staff realised that the students were often exposed to the harsh weather conditions when on their breaks, they wanted to find an effective solution. A&S Landscape was asked to install a large Motiva Linear™ straight roof canopy, made to the overall size of 10000mm x 7000mm. On top of this, we also installed a total of five Maxima Umbrella™ fabric umbrella canopies, all made with white fabric and Slate Grey steelwork. Now the students are spoilt for choice when deciding where to spend their well-deserved breaks with a selection of six shelters to choose from. See more about the shelters we created for Uxbridge High School here.
Covered Queuing Area Added to St Mary Magdalene C of E School in London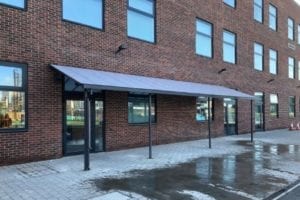 Before St Mary Magdalene C of E School approached canopy experts A&S Landscape, the students would be exposed to the weather conditions while they queued to enter the dining hall. In the summer months, the heat and UV rays would be dangerous and during the winter the cold temperatures would also make this less than enjoyable. Our team installed a Motiva Linear™ shelter with Slate Grey steelwork and Opal polycarbonate roofing. Now the hardworking students have adequate cover from the rain, wind and snow while they wait to enjoy their lunch. The canopy has made a huge difference in their daily experience and we were glad we could help to further improve this fantastic school. Click here to see more details about the queuing canopy we made for St Mary Magdalene C of E School.
Cross Arthurlie Primary School in Scotland Add Entrance Canopy and Bike Shelters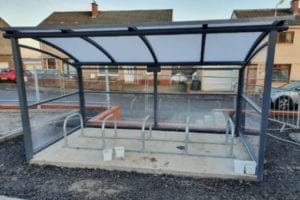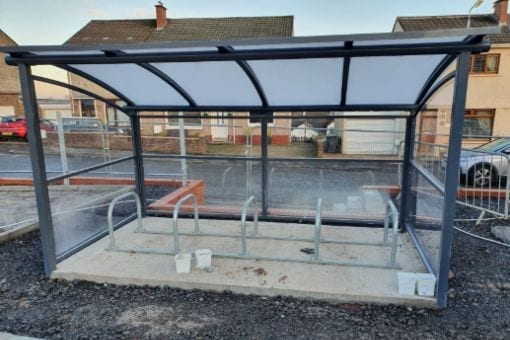 Sometimes we are asked to install one simple shelter at a school and other times we take on larger projects requiring multiple canopy solutions. When it came to Cross Arthurlie Primary School, we installed a total of four shelters around the site. Two Motiva Cantilever™ curved roof canopies were added to the playground and the main entranceway of the school, both finished in a smart Slate Grey. In addition, we also installed one Cyclo Bike™ and one Cyclo Buggy™ shelter to provide secure storage for the pupil's bicycles and the parents' buggies. We thoroughly enjoyed working with this brilliant school and the finished shelters all look fantastic together. It's safe to say that the school have made the most of their outdoor areas. Keep reading about the canopies we designed for Cross Arthurlie Primary School here.
West Heath Primary School in Birmingham Add Straight Roof Canopy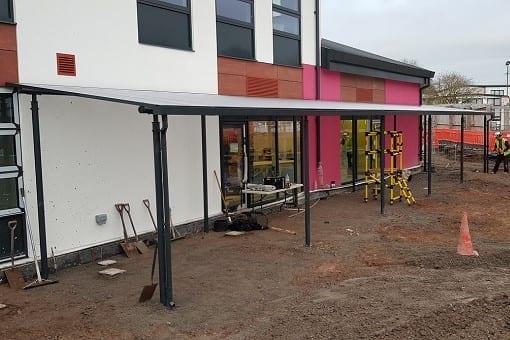 A local school to the headquarters of A&S Landscape, West Heath Primary School was looking to further improve the pupil's playtime experience. The staff decided that adding a shelter to the space would be a great addition as this would allow the playground to be used more regularly throughout the year, even when the weather was poor. We installed our popular Motiva Linear™ polycarbonate roof canopy, which we frequently install at schools due to its cost-effectiveness. The structure has met all of the pupils and teacher's expectations and it has quickly become a very popular spot during playtimes. What's more is that the newly created covered space can also be used by the parents during home time, keeping them protected from the elements. Learn more about the playground canopy we made for West Heath Primary School here.
Outdoor Dining Area Shelter for Queen Eleanor's C of E Junior School In Surrey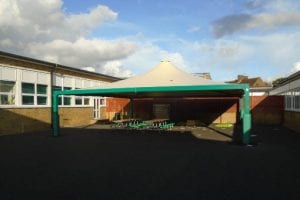 It's not enough to have those school grounds, you've got to make the most of them. Queen Eleanor's C of E Junior School knew this, and so they wanted to do something with the space they had. They decided they wanted to put in a new outdoor dining area, so they talked to us to look at options for covered spaces. After looking through our range, they saw that the Maxima Tepee was the right fit for them. It offers a lot of coverage and looks great too, making it perfect for a dining area. It allows pupils to enjoy their lunch outdoors, without having to worry about rain. It's become a great solution, creating more space at lunchtimes and allowing students more time outdoors. It was easier to install than a full building extension, not to mention being quicker. Read more about Queen Eleanor's C of E Junior School's fabric tepee shelter.
St Mary's Catholic Primary School in Worcestershire Install Straight Roof Playground Shelter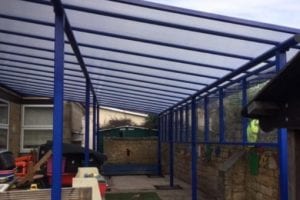 St Mary's Catholic Primary School had an older timber canopy, that provided cover to their playground for years. However, its days were numbered and eventually it became damaged, meaning it had to be replaced. They knew we provide many different shelters, so they contacted us to help replace it. Having secured a grant to help them fund the new canopy, they could pick the one that worked best for them. They decided to go with a Motiva Linear canopy as a replacement, as it offered so many benefits to them. Being made of Marine Blue coloured steelwork, it's going to be a lot sturdier than their old canopy. The glazed panels in the front of the canopy keep the wind out too, making play time a lot more comfortable when the pupils go outside. To learn more about the blue playground shelter at St. Mary's Catholic Primary School, click here.
Curved Roof Shelter at Tibberton Primary School in Shropshire Helps Cool Classrooms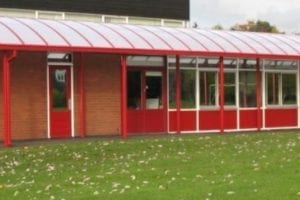 No one likes to sit in a hot classroom during the summer. Tibberton Primary School were looking for a solution to help them keep the sun out of the classrooms on hot days. We helped them find the right canopy that would do just that. The school chose to install a Motiva Mono shelters outside their classrooms, as these are more than capable of providing shade to the rooms in the summer months. The curved roof looks perfect next to the building too, as if it had always been there. Plus, the red colour they chose works with the details on the front of the buildings. The school found that the canopy has really updated the look of the school, making it feel so much more exciting and welcoming to their students. Now with that shade, they won't be stuck in hot classrooms. To learn more about Tibberton Primary School's red curved roof shelter, click here.
Seahaven Academy in Newport Gives Outdoor Area New Purpose with Straight Roof Shelter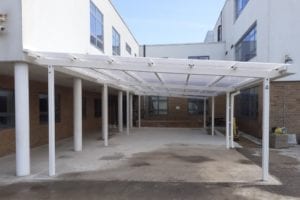 Like many schools, Seahaven Academy had an outdoor space that couldn't be used all the time. When it was sunny it was fine to use, but during wet weather pupils couldn't enjoy it. The school recognised something needed to be done, so they looked into canopies that could help .They talked to us, and had a Motiva Linear shelter installed over the space. This canopy sits between two buildings, looking like it was always part of the structure. Now, pupils can use the space no matter what the weather is like. They're protected from rain as well as UV rays, thanks to the Opal polycarbonate roofing. The weather is no longer a barrier to getting outside. It has given the school grounds a new lease of life. Students can play and learn under the canopy, giving the area new meaning. Read more about the straight roof shelter at Seahaven Academy, click here.
Green Linear Canopy for Bridlewood Primary School in Swindon Creates All Weather Playground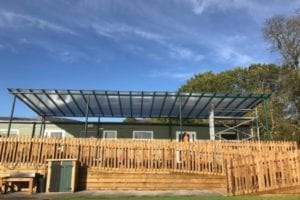 Bridlewood Primary School have a great timber decked area for their nursery aged pupils to play on, but they couldn't use it all the time. If the weather was wet, they couldn't go outside and play during their breaks. Plus, timber does get slippery when wet so it wasn't ideal in these situations. Wanting to create an all weather playground, the school turned to us to see what we could do. With our help, they chose the Motiva Linear from our range of shelters. This helped them create a barrier against the rain over the play area, so the children can always go outside and play. As a bonus, the polycarbonate roof protects them against UV rays on sunny days, too. It's given the play area a whole new lease of life, and the pupils somewhere to play no matter what. To see more about the Motiva Linear at Bridlewood Primary School, click here.
Park Gate Primary School in Coventry Create A Covered Waiting Area with A Curved Roof Shelter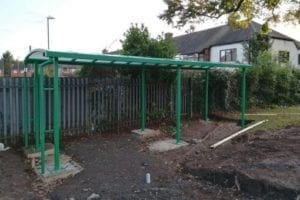 When parents come to collect their children from school, they're subjected to everything the weather can throw at them. That includes wind, rain, snow, and more. No one wants to be out in that weather sometimes it is unavoidable. Park Gate Primary School wanted to create a cover for their parents to wait under at home time, so they asked us to install a suitable canopy for them. They chose to use a Motiva Duo for their shelter, which had several benefits. They could choose a bright and cheerful green colour for it, and create enough space under it for all parents to wait. It's also an attractive addition to the grounds and fits in perfectly with the other buildings on the grounds. Parents are certainly grateful that they now have cover to wait under when they're waiting for their children. See more about the green curved roof shelter at Park Gate Primary School.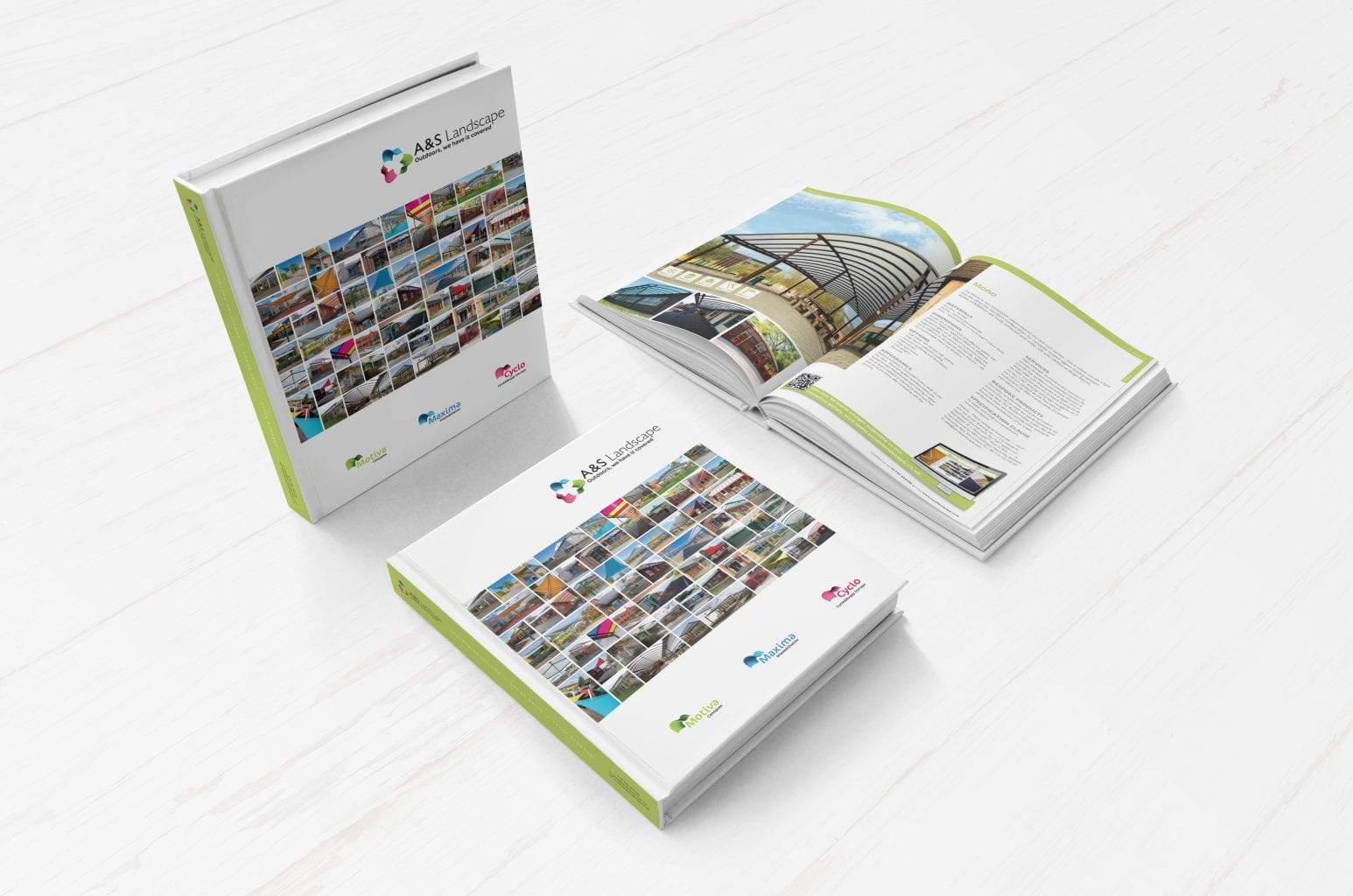 Get in touch to request a copy of our full, 160 page, hardback brochure with all the information you need to make the right choice.