The importance of canopies and shades at school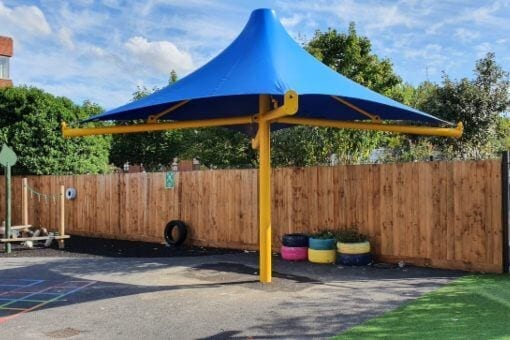 As much as we may like to, we can't control the weather or the hazards that come with it. But here at A&S Landscape, we are experts in providing schools with shade sails and canopies to protect students from the weather whilst expanding your usable outdoor space for teaching at nurseries and primary schools. With canopies that are designed with children in mind, schools can allow their students to learn and play outside regardless of the weather.
Canopies for schools and playgrounds
School canopies are an excellent and cost-effective way of keeping students dry and out of the rain while still enjoying the fresh air. School canopies can be used to extend your learning area outside, create sheltered outside dining areas, and more.
You can also consider getting a canopy specifically for the playground, which will ensure that students have a sheltered area they can use during lunchtime and breaks in order to safely take a break from playing outside away from the sun and rain.
As a school, it is your duty to give parents peace of mind. They want to know that when they leave their child at the school gates, they are being left in safe hands. A shelter such as a school canopy keeps the ground below dry, reduces the risks of slipping, and protects children from the sun. Every parent knows that children are rarely put off running around by bad weather – so having proper weather protection in place will help parents to feel rest assured that their children can do this safely under a covered area.
But why is this so important? Couldn't you simply keep children indoors when the weather is bad and make sure all learning is done in the comfort of the classroom? Many schools simply do just this, but the parents and the children will thank you for extending their outside learning. It has been shown that outdoor play is incredibly important for school children (especially primary school children). Not only will the parents thank you for helping to tire out young children with a seemingly endless amount of energy, but this kind of activity is actually very important to their overall development and mental health too.
Outdoor protection in schools, such as a canopy, can be used for a variety of different purposes. School staff can use it for outdoor learning and play, but it can also be used as a waiting area for parents while they wait to pick up their kids after school too. Canopies help reduce the risk to children of slipping, falling or having other accidents at school, but they also can be used as a learning area or dining area too.
Many school leaders contact us here at A&S Landscape looking for an approach to child safety that will last in the long term. The risks of a buying cheap structure are well known, and no school wants a product that won't last. Fortunately, our school canopies have been built to the very highest standard and are more than a match for even the most extreme British weather.
Our canopies help to address safety concerns on the playground while avoiding preventable injuries by providing reliable and effective shelter from the weather for pupils and teachers alike. We have a wide range of different canopies available – including those specifically used by schools across the country for playgrounds for children. If you are a safety-conscious school leader who wants an outdoor covering solution that has protection and safety in mind, then choose A&S Landscape.
Shade sails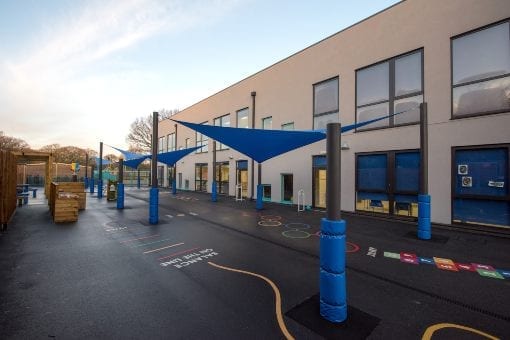 If you want an attractive way to protect your students when they are outside, then school shade sails are an excellent option. These are a simple but effective way of protecting children on the playground from rain, wind and UV rays, while also creating a sheltered area for parents and children alike to wait when picking up students at the end of the day.
We work with schools and nurseries across the UK, supplying and installing shade sails that keep students protected. While most people think of fabric sails when they hear the term 'shade sail', really the term covers any tensile fabric structure designed to provide shade.
Shade sails bring a range of different benefits when installed in a school. For example, much like canopies, they provide excellent shelter and can create an outdoor space perfect for use as an outdoor learning or dining area. Shade sails can allow you to take the learning outdoors on warm and sunny days, providing great protection from UV rays and sunburn while keeping students cool.
Why is shade so important for children at school? Well, consider the fact that most kids spend around half their childhood at school – with around eight hours every week spent outdoors and exposed to the elements. And when do children spend even more time and than usual outside? In summer and the warmer months of the year.
It is at these times that not only are children exposed to more UV radiation from the sun than usual but that the UV penetration is stronger than ever too. It only takes minutes of exposure to the sun during summer for a child's skin to become burned – something that provides short term pain and discomfort, but also potentially long-term harm too. A shade sail can make your playground a much safer place for children by protecting them from these UV rays and giving them an area in which they can play in the shade.
Of course, a lot of the responsibility for protecting children from the sun lands on parents, who need to educate and ensure that adequate sun protection is being applied. But SKCIN, a UK skin cancer charity, believes that schools also have a significant responsibility when it comes to protecting children during school hours. Schools have a duty of care when it comes to the safety of children at school and on the playground, and part of this means educating children about the hazard of UV rays and ensuring they have adequate sun protection measures in place – such as sun protection on the playground in the form of shade sails that provide a shaded play area.