Playground Safety At School
Playground Safety At Schools
Schools play a hugely important role when it comes to protecting the children and students that it educates. As experts in providing specialist school canopies here at A&S Landscape, we like to do our part in helping to protect your students from harsh weather conditions such as heavy rain and UV rays and the heat from sunshine.
Of course, there are a lot of regulations when it comes to child protection and safeguarding your students, but if there is one area where teachers and parents alike find it more difficult to keep an eye on the students, then it is the school playground.
The playground is perhaps the one area where kids feel like they can roam free, and how students play at school is determined by the kind of playground they have to run around on.
One of the things that we do best here at A&S Landscape is the way in which we design, manufacture and install playground canopies for students. These can help to protect students from heavy rain, hail, sunshine at lunchtime and other harsh weather conditions.
While it may seem more pressing to teach nursery school and primary school children about playground safety, it's also vital to protect secondary school children with the proper equipment and supervision too.
Why is playground safety so important?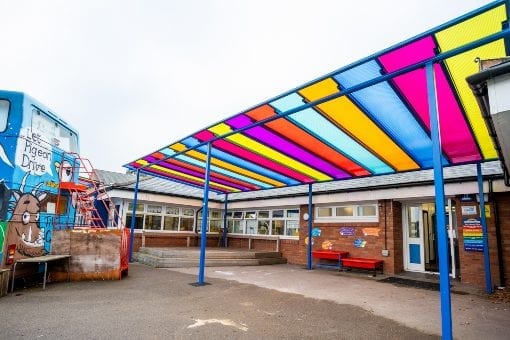 Playground areas and any outdoor play equipment is a fantastic way to offer your students a healthy way to get a break from the classroom. Students getting exercise while spending time with their friends is something that schools should definitely encourage, but it's also incredibly important that the fun isn't ruined by a child getting hurt while using the playground.
Playgrounds can become unsafe for a wide variety of different reasons. Unsafe behaviour of course is something that teachers and students alike should be on the lookout for. But alongside protecting children from the elements, uneven and improper surfaces can also cause slips, trips and accidents – and unsafe or faulty outdoor equipment can quickly turn the fun sour.
It's estimated that in the UK alone, around 40,000 children suffer from playground accidents. Many of these even end up in the hospital or A&E, making it crucial that schools do everything they can to implement proper playground safety. UK schools across the country struggle with making their playgrounds as safe as possible – fortunately, a lot of these accidents can be prevented with careful supervision.
By following safety guidelines and inspecting surfaces and equipment, you can do a lot to prevent potential accidents that your students may have – making it a place that can be safe and fun to play around in with fewer hazards.
How to teach kids about playground safety
One of the best ways in which you can tackle playground safety in your school is to take the time to teach your students about how to use the playground and to play safely. This is just as important for nursery children as it is for older students at secondary school.
Children should be taught never to push other students when playing on climbing frames, slides, seesaws, or any other elevated piece of equipment.
It's good to have a policy in place where kids leave backpacks, bikes and bags away from paths and doors so that people don't trip.
Teach children not to use wet playground equipment because the moisture causes a slipping hazard.
Take turns using equipment so that no one becomes stuck or clashes into one another, causing a potential accident.
Teach students how to properly and safely use any playground equipment such as slides and climbing frames.
Ensure that students understand not to climb or play on the gates or other parts of the school building.
Teach children to always wear a helmet when riding a bike, both on school premises and away from school.
Make sure that students understand the importance of applying sunscreen when playing outside on sunny days – and encourage them to use shade sails and canopies for cover on sunny and hot days.
Playground safety applies to children of all ages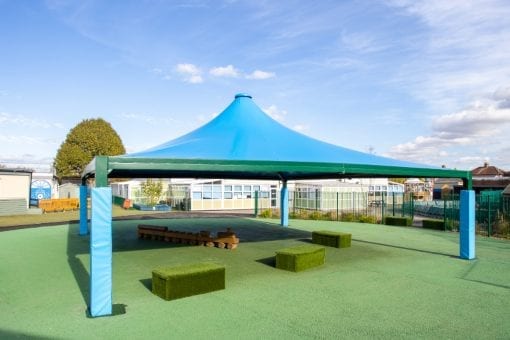 While it may seem that playground safety is a primary concern for nursery children and primary school students, equal care must be given to older students as well. It's certainly true that younger children require vigilant supervision and education about how to play safely at school to avoid accidents while getting the fresh air and time away from the classroom that they need.
But older students should also be protected from injury and potential hazards as well. For older students, you may find it the case that they tend to push the boundaries of what they can get away with, meaning that adult supervision is just as important for secondary school children and other senior school students.
Roughhousing during sports play on the playground at lunchtime, fights, and climbing school premises are all student safety issues that need to be addressed when caring for teenage students. Adult supervision is crucial, but education on the risk of injury and accident is also absolutely vital.
The importance of adult supervision
Adults and teachers can help to do a lot to prevent playground accidents by simply supervising playtime, lunch breaks, sports activities and other times that students will be using the playground. If adults are nearby, then even if an accident does occur, any accident or injury can be dealt with quickly and efficiently.
School playground safety is certainly an uphill battle when the students outnumber adults as much as they do at most UK schools. One of the best safety tips we have for teachers is to regularly inspect the playground before it is used. Checking that play areas and school playgrounds are suitable for children to use is vital, and checking school playground equipment and the surface materials that children will be exposed to helps to keep kids safe and ensure that they are only interacting with well-designed playgrounds. Part of this means ensuring that a playground is designed so that children can be easily supervised when using climbing equipment, playing games like rugby, and doing anything else that might result in a physical injury.
Playground injuries are never fun to deal with, which is what makes adult supervision so important. Young kids can't always be trusted to understand potential hazards and may not expect dangerous circumstances. As previously mentioned, older students may be tempted to test the limits of what they can get away with on the playground, making education and adult supervision just as important in secondary schools as it is in primary schools and nurseries. Adult supervision can help to reduce accidents by stopping them before they happen, identifying playground safety hazards, and being available to quickly deal with any injuries or accidents as soon as they happen.
Weather hazards on the playground
When it comes to playground hazards, the UK weather can certainly make things a little more difficult to keep your students safe and protected. Whether it's summer or winter, there are problems that schools face when it comes to ensuring that the weather doesn't cause accidents or injuries on the playground.
Rain
It might go without saying that rain is a major cause of concern when it comes to playground safety – but it's something that is always worth considering. The slip hazard on playground surfaces can be a common cause of accident and injury and is certainly one of the major weather challenges that schools face when keeping their school playground safe.
Playground equipment such as swings, metal slides, climbing frames and other climbing equipment can become extremely hazardous during the rain. These surfaces can become very slippery when wet with rain, meaning that students and children can easily lose their purchase and quickly suffer a slip or trip that should be avoided. During the rain, schools should ensure that students are kept away from playing on all playground equipment.
Slippery playground surfaces can also be a cause for concern, depending on the materials used. Most schools will have slip-resistant surfaces, but wet grass is a common source of playground-related injuries and falls.
Ice
During winter and the colder months of the year, playground ice is something that teachers must be aware of in order to avoid students slipping and sustaining an injury.
While there is little that can be done about ice, teachers should keep a close eye on the weather and icy conditions. If the temperatures are sufficiently low, there should be an inspection of the playground surfaces and school entrances for ice and slip hazards.
Perhaps the best way of dealing with ice on the playground is to simply clear snow and manage the children. Remember that ice isn't just caused by water freezing, but can also be caused by compacted snow, meaning that if many children are walking over snowy areas throughout the day, this surface will only become icier and more slippery. Ensuring that snow is cleared and that the students are managed and warned of slippery areas is a great way to reduce accidents caused by icy surfaces.
Sun
While not as immediately hazardous as slipping on wet or icy surfaces and equipment, we are now better educated as to the dangers of overexposure to sunlight than ever before. It takes just 15 minutes of exposure to strong sunlight for children to begin suffering from the negative effects.
Issues such as sunburn, eye and skin damage can be caused by even minimal exposure to the sun. High temperatures on the playground are also a cause for concern, as young children cannot control their body temperature as efficiently as adults and are more at risk to heat-related injuries such as heatstroke. This is why ensuring that children are only having limited sun exposure during the day, are keeping cool, and have sufficient suncream applied is so important.
The importance of canopies and shades at school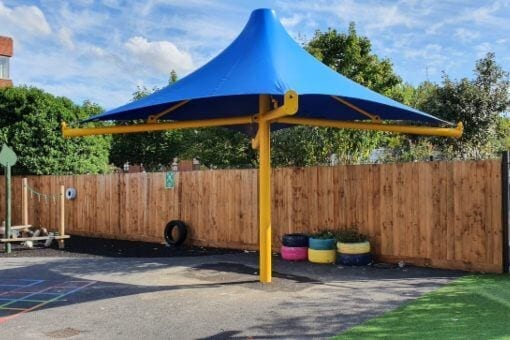 As much as we may like to, we can't control the weather or the hazards that come with it. But here at A&S Landscape, we are experts in providing schools with shade sails and canopies to protect students from the weather whilst expanding your usable outdoor space for teaching at nurseries and primary schools. With canopies that are designed with children in mind, schools can allow their students to learn and play outside regardless of the weather.
Canopies for schools and playgrounds
School canopies are an excellent and cost-effective way of keeping students dry and out of the rain while still enjoying the fresh air. School canopies can be used to extend your learning area outside, create sheltered outside dining areas, and more.
You can also consider getting a canopy specifically for the playground, which will ensure that students have a sheltered area they can use during lunchtime and breaks in order to safely take a break from playing outside away from the sun and rain.
As a school, it is your duty to give parents peace of mind. They want to know that when they leave their child at the school gates, they are being left in safe hands. A shelter such as a school canopy keeps the ground below dry, reduces the risks of slipping, and protects children from the sun. Every parent knows that children are rarely put off running around by bad weather – so having proper weather protection in place will help parents to feel rest assured that their children can do this safely under a covered area.
But why is this so important? Couldn't you simply keep children indoors when the weather is bad and make sure all learning is done in the comfort of the classroom? Many schools simply do just this, but the parents and the children will thank you for extending their outside learning. It has been shown that outdoor play is incredibly important for school children (especially primary school children). Not only will the parents thank you for helping to tire out young children with a seemingly endless amount of energy, but this kind of activity is actually very important to their overall development and mental health too.
Outdoor protection in schools, such as a canopy, can be used for a variety of different purposes. School staff can use it for outdoor learning and play, but it can also be used as a waiting area for parents while they wait to pick up their kids after school too. Canopies help reduce the risk to children of slipping, falling or having other accidents at school, but they also can be used as a learning area or dining area too.
Many school leaders contact us here at A&S Landscape looking for an approach to child safety that will last in the long term. The risks of a buying cheap structure are well known, and no school wants a product that won't last. Fortunately, our school canopies have been built to the very highest standard and are more than a match for even the most extreme British weather.
Our canopies help to address safety concerns on the playground while avoiding preventable injuries by providing reliable and effective shelter from the weather for pupils and teachers alike. We have a wide range of different canopies available – including those specifically used by schools across the country for playgrounds for children. If you are a safety-conscious school leader who wants an outdoor covering solution that has protection and safety in mind, then choose A&S Landscape.
Shade sails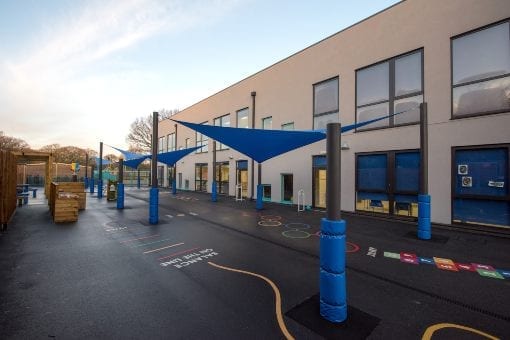 If you want an attractive way to protect your students when they are outside, then school shade sails are an excellent option. These are a simple but effective way of protecting children on the playground from rain, wind and UV rays, while also creating a sheltered area for parents and children alike to wait when picking up students at the end of the day.
We work with schools and nurseries across the UK, supplying and installing shade sails that keep students protected. While most people think of fabric sails when they hear the term 'shade sail', really the term covers any tensile fabric structure designed to provide shade.
Shade sails bring a range of different benefits when installed in a school. For example, much like canopies, they provide excellent shelter and can create an outdoor space perfect for use as an outdoor learning or dining area. Shade sails can allow you to take the learning outdoors on warm and sunny days, providing great protection from UV rays and sunburn while keeping students cool.
Why is shade so important for children at school? Well, consider the fact that most kids spend around half their childhood at school – with around eight hours every week spent outdoors and exposed to the elements. And when do children spend even more time and than usual outside? In summer and the warmer months of the year.
It is at these times that not only are children exposed to more UV radiation from the sun than usual but that the UV penetration is stronger than ever too. It only takes minutes of exposure to the sun during summer for a child's skin to become burned – something that provides short term pain and discomfort, but also potentially long-term harm too. A shade sail can make your playground a much safer place for children by protecting them from these UV rays and giving them an area in which they can play in the shade.
Of course, a lot of the responsibility for protecting children from the sun lands on parents, who need to educate and ensure that adequate sun protection is being applied. But SKCIN, a UK skin cancer charity, believes that schools also have a significant responsibility when it comes to protecting children during school hours. Schools have a duty of care when it comes to the safety of children at school and on the playground, and part of this means educating children about the hazard of UV rays and ensuring they have adequate sun protection measures in place – such as sun protection on the playground in the form of shade sails that provide a shaded play area.
Four playground safety tips
Supervise children on the playground
This is something that was already touched on above. But it's a tip that is worth repeating, as it is the most effective way to protect children on playgrounds while they are actually playing. Having an adult present who can attend quickly in the case of an accident, but who can also be preventative by stopping dangerous behaviour and advising children on how to play safely, is one of the best ways of keeping the playground entertaining and fun rather than dangerous. Adult supervision is key to keeping children safe at school.
Make sure safe surfacing is being used
Any parent or teacher knows that falls on the playground are not something that you can completely avoid. It is in young children's nature to run and play, and this will often mean that children slip, trip and fall. But while you can't stop students from running about, you can make sure that the surface they are using is safe.
Playgrounds with non-impact absorbing surfacing should be avoided. This includes things like concrete, grass, asphalt and gravel. These surfaces can hurt children when they fall and potentially cause more harm. Recommended safety surfacing materials such as sand, wood chips, shredded rubber, mulch and pea gravel are much better suited for playgrounds. Rubber mats and synthetic turf are also very popular and common protective surfacing options.
Choose the right equipment for the age group
The success of any playground relies upon whether it provides fun experiences for children. From swings and climbing frames to slides and rock-climbing walls, children use the playground to explore and have their own little adventures at school. This makes it all the more important that your playground avoids creating hazards for children by ensuring they have access to age-appropriate equipment.
For very young children, surfacing needs to be smooth and easy to walk on. Rock climbing walls may not be suitable for younger children, while swings and slides are an excellent choice for children of all ages. This will come down to the individual school in most cases, but ensuring that your playground equipment is suitable for your students is a vital step in protecting children on playgrounds.
Ensure that your playground is inspected and maintained
It is important to have proper maintenance for all kinds of playground in place. Double check that the play area is being maintained and that this equipment is being inspected for faults or potential hazards. The ravages of time will eventually have an impact on any piece of playground equipment – especially that with a risk of corrosion – so ensuring that this is recognised and dealt with before it becomes a hazard allows you to remain preventative.
Risk assessments allow for a safer school playground by dealing with issues before they become hazards. This means that any problems can be reported, and children can be prevented from using the equipment until it is safe to do so.
Want to find out more? Get in touch with A&S Landscape today
Our expert team has worked with schools across the country for decades, providing canopies and shades for sheltered areas that provide the playground protection that students need. This experience gives us a great insight into how schools keep their playgrounds safe and what we can do to help. If you'd like to find out more about A&S Landscape and how our shades and canopies help to keep playgrounds safe, simply get in touch with us today. For premium and high quality covered area solutions, there's nowhere better than A&S Landscape.