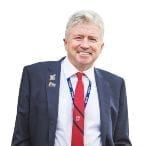 A&S Landscape kept to their timescale the project was an excellent, efficient exercise. They do as they promise.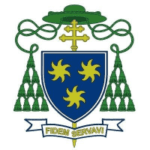 A&S Landscape are an extremely professional company, they could not have done more to make this project go smoothly.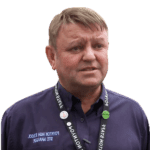 I wouldn't hesitate to recommend A&S Landscape. They've been marvellous, they really are first class.
Entrance Canopies
First impressions are lasting impressions so providing an attractive entrance is essential. We can provide freestanding, wall fixed or partial wall fixed external entrance canopies to suit all building styles with the option of curved, straight or wave roofs.
With a host of options and extras as well as a huge choice of steelwork and roof colours, our high-quality canopy systems are used on entrances across the UK.
What is a entrance canopy?
Entrance canopies provide shelter to visitors on arrival, a place for callers to wait while you answer the intercom, a focal point to clearly define the entrance. Entrance shelters often offer a cost-effective way to 'lift' the whole frontage of your building.
Entrance Canopy Designs
No two entrances are ever the same and thanks to our design flexibility we can offer workable and affordable canopy solutions incorporating a variety of different features to allow for almost any requirement but based on one of our standard entrance canopy products. A member of our design team can discuss and suggest the best glazed entrance canopy solution to meet your requirements, outlining our recommendations along with a comprehensive estimate.
Entrance Canopy Pricing
As with all our products, the best way to get an entrance canopy cost is to talk to us or you can visit our prices page for details of how to contact us for pricing. When it comes to exterior canopy design, as a basic rule, a straight roof canopy will cost less than a curved entrance canopy and a one-way sloping roof (as opposed to pitched or barrel vault design) will save on guttering (if required).
Get a Quick Quote
Send us your email and an idea of your requirements and we'll get back to you with a quick price.
See just some of our entrance canopy projects we've completed
Melland High School Add Curved Roof Entrance Canopy in Manchester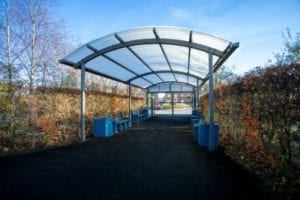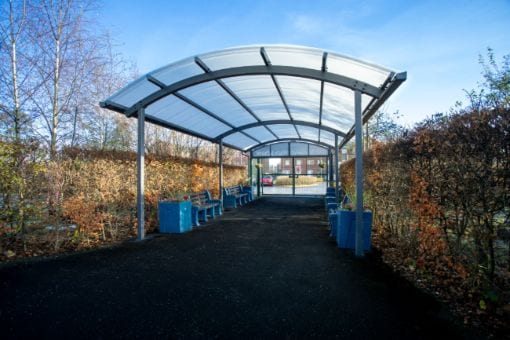 Melland High School takes great pride in the educational experience they offer their students, as well as the wide range of facilities they offer too. However, the main entranceway used by the students was lacking something and so it was decided to add a large entrance canopy to the area. A&S Landscape was chosen to complete this project, installing a Motiva Duo™ curved roof shelter complete with Slate Grey coloured steelwork. But the perfect finishing touch came from the sign added to the front of the canopy, welcoming all visitors and students to the school. The new shelter has already become a very valued asset as it provides effective shelter while adding a professional and impressive element to the front of the site. Head over to our project page to keep reading about the entrance shelter we made for Melland High School.
Telford's Randlay Primary School and Nursery Finish Off Refurb with a School Entrance Porch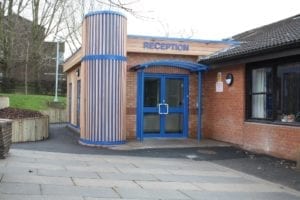 The Headteacher at Randlay Primary School and Nursery had wanted to put the finishing touches to the school, following the completion of an earlier extension project. A&S Landscape is always happy to help with projects like this. We know that we'll be able to help customers with adding the perfect structure to complement their refurbishment. In Randlay Primary School and Nursery's case, we installed the Motiva Entro entrance canopy. We particularly love the fact that they chose a blue from the school's colours to be replicated in the steel framework. The entrance shelter looked fabulous because it matched in with the other blue accents around the building and with the school's signage. On one hand practical, on the other a visible identity statement, this project shows how school entrance canopies can have a real impact on how a school looks and feels. Find out more about the Randlay Primary and Nursery School entrance porch by clicking here.
Bespoke Glass, Wall-mounted Entrance Canopy Designed for the Glendon Co-op Store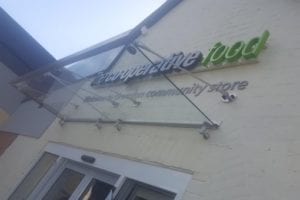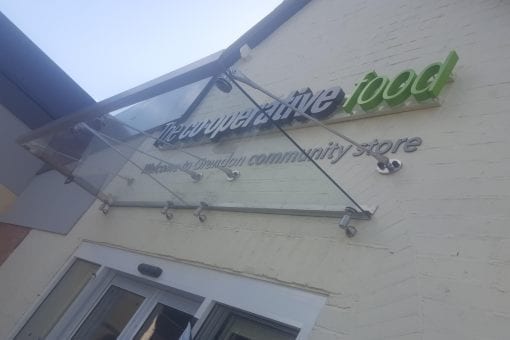 When the brand-new Glendon Co-op store was getting ready to open its doors for the first time, it was decided that the best finishing touch would be to add an entrance canopy. A&S Landscape was asked to design and install a wall-mounted, glass roof canopy to the shop front. Thanks to our manufacturing process and experienced design team, we are able to customise our standard products to create unique and bespoke solutions. The finished glass entrance canopy looks very smart and will provide cover to the customers as they leave and enter the shop. It was a great opportunity to get to work with one of Britain's leading supermarkets and we thoroughly enjoyed this commercial project from start to finish. Find out more about the bespoke entrance canopy we designed for the Glendon Co-op store here.
Curved Roof Entrance Canopy Installed at English Martyrs' RC Primary School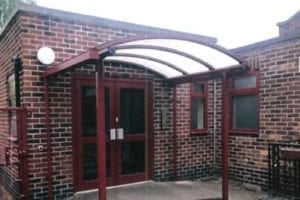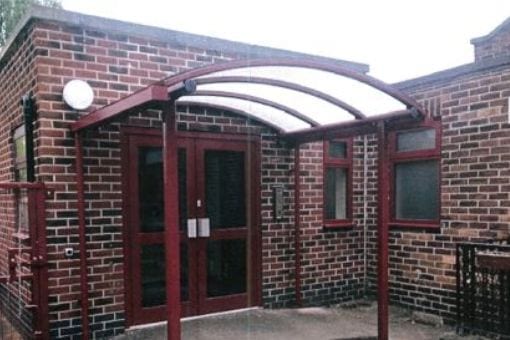 English Martyrs' RC Primary School was looking for the perfect addition to their main entranceway. They wanted something that helped the doorway stand out and add a level of professionalism. After searching online, they came across A&S Landscape who jumped at the chance to help assist with the project. We installed a Motiva Entro™ curved roof shelter outside the door to the main building, measuring 2000mm x 21000mm. To match the surrounding area and the school's logo, we finished the structure with Purple Red framework. Now when visitors arrive and use the intercom system they will be comfortably protected from the weather. We really enjoyed working on this project and yet again seeing the difference a simple entrance canopy can make. Find out more about the entrance canopy we made for English Martyrs' RC Primary School here.
Straight Roof Entrance Canopy at Rumworth School in Bolton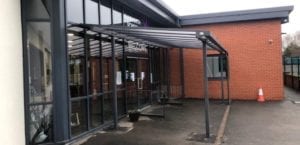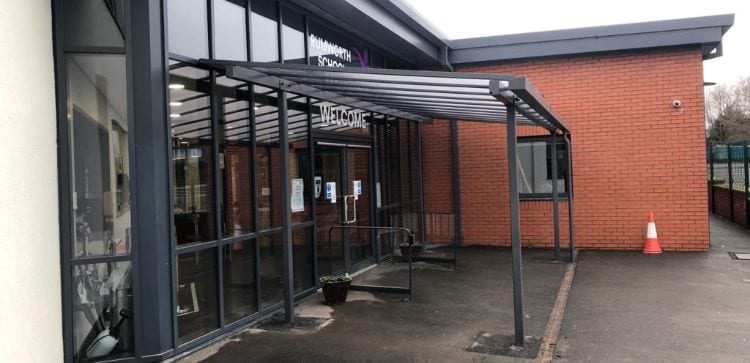 A&S Landscape has worked with Rumworth School on many successful projects previously, and so it was a joy to be invited back again this time to install an entrance canopy. To create a sleek and modern look, we proposed our Motiva Linear™ straight roof shelter. Made to an overall size of 7200mm x 3000mm, there is plenty of space under the roof for several people to gather at once. So that the new shelter will fit in with the surrounding buildings, the framework was finished in a Slate Grey colour with Opal polycarbonate roofing. Now as visitors and staff enter and leave the main building they will be protected from the weather. And that's another great project completed with this wonderful school. Continue reading about Rumworth School's entrance canopy here.
Read Our Featured Entrance Canopy Project
Randlay Primary School and Nursery in Shropshire Adds Covered Entrance

What was the project brief?
Randlay Primary School and Nursery in Telford, Shropshire, had recently added a new entrance area to their building. However, they soon realised that to give visitors the best first impression of their school, the existing building needed something extra. They decided that a great way to achieve this was to add a canopy. By framing the door, the entrance would appear much smarter and more welcoming to visitors. This is when A&S Landscape was first introduced to the project, who continued their involvement throughout the whole process. Firstly, with help from the design team, detailed sketches were produced outlaying the canopy dimensions. This sketch was then manufactured into the real thing, and finally, the entrance canopy was installed.
What was our canopy solution?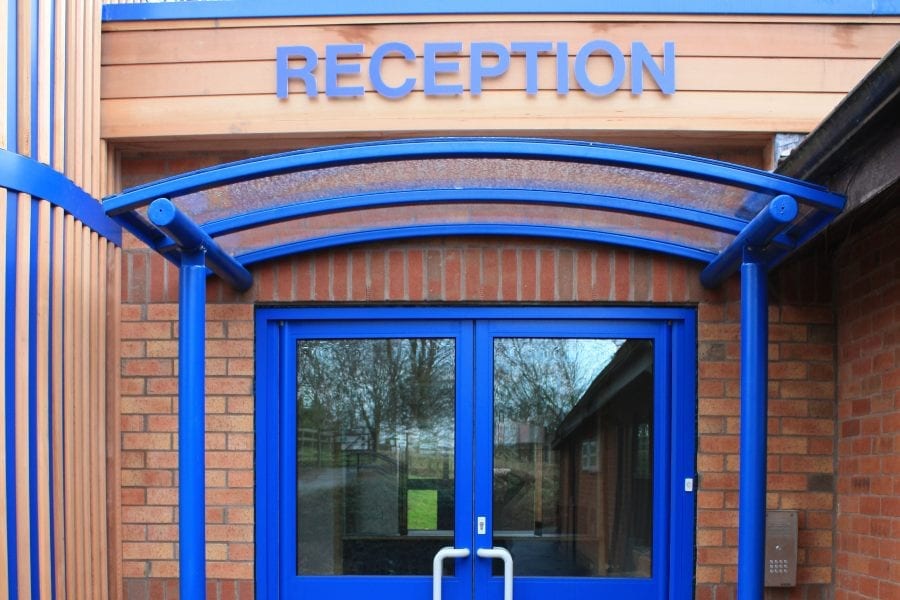 We knew that the school's leading requirement for the shelter was to ensure that everyone visiting the school would receive the right first impression. The attached overhang needed to bring the added wow factor! This heavily influenced our final choice of canopy which was the Motiva Entro™. As you would expect from its name, this is one of our standard entrance canopy designs. These are popular also with other educational facilities such as universities, or commercial premises and healthcare sites. Despite being from our standard range, we were able to fit the canopy to the exact requirements of the school, with additional design features.
With its curved roof and high strength steel frame finished in a blue colour (a standard RAL colour for our Dura-coat™ finishes), the door canopy makes a real statement. The blue perfectly suits the brand colours of the surrounding buildings. Although the roof is built from translucent and transparent panels, the polycarbonate roof sheets effectively filter out the harmful UV rays, making this an effective and stylish structure. This truly is a great entrance canopy and while it measures at a relatively small 3000mm x 2000mm, there is no doubt the astounding difference the defined entrance has made to the whole frontage of the building.
What was the result of their new entrance canopy?
The school feel they now have now created the perfect entrance environment. The stunning curved roof canopy has been a massive improvement to the appearance of the building, giving it the identity that was previously lacking. We are so pleased to have installed one of our quality shelters which offers long-term durability, maximum protection, and is a real focal point for the school. We were absolutely over the moon to hear what the Headteacher had to say about how well the covered entrance had gone down with students, staff and visitors alike.
Testimonial / Client Feedback
"Following a new entrance area and school office being built on our school last year, it was decided to finish everything off by erecting a colourful and welcoming canopy to further highlight the main entrance to the school. A&S Landscape designed, built and fitted the canopy and, without a shadow of a doubt, it has proved to be a wonderful addition to the new build. We are more than delighted with the canopy itself as the design, the quality of workmanship and the finish are exceptional. Parents, children and visitors continue to comment on the canopy and how it has given the school's entrance area an identity it so long needed. Thank you."
Headteacher – Randlay Primary School
About the client
Randlay Primary School and Nursery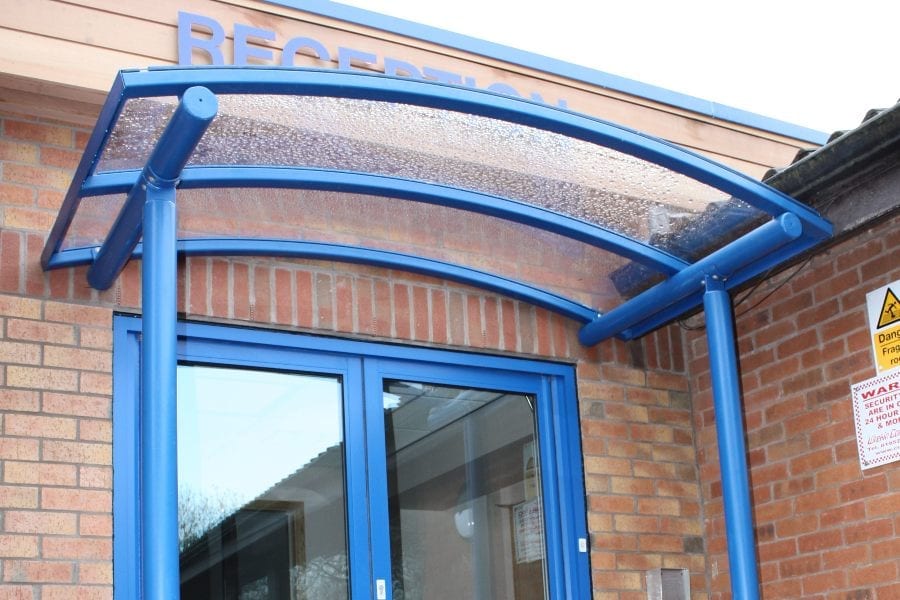 is located in the town of Telford, Shropshire. The team of talented staff are committed to treating each child as an individual and are truly conscious of the role that the surrounding environment plays in this. Thanks to the amazing range of frame colour choices for the additional shelter, they have created a perfect balance of warmth, nurture and welcome when students arrive at school each day.
They were a truly great client to work alongside, and we thoroughly enjoyed working with them on all aspects of the process. We are glad to have installed an ideal shelter that has transformed the entire building and will have the much-desired lasting first impression for many years to come.
Should I choose a curved or straight roof canopy?
Covered solutions come in many variations, sizes and with different specifications. Whatever your specific requirements, it may be a curved or flat roof that will prove to be the most effective solution. This is where A&S Landscape can help you with expert opinion and advice. We are always happy to help get you covered! However, you may also want to think about:
What is the intended purpose of the new canopy? 
A canopy can serve many purposes, an attractive entrance is just one possibility! For example, you may want to install a cycle shelter with an additional roller shutter for a better and safer place to store bikes.
Where will the proposed canopy be located?
Depending on where the shelter will be installed, there will be some additional design features that may or may not be possible. Space may be a factor (or it may not be!). Please feel free to discuss your options with us on 01743 295001.
How can A&S Landscape help?
Although there is an extensive range of options available and it may seem daunting. A&S Landscape can help you to find your ideal system, which offers effective design and practicality. We can talk you through wall-mounted options, or how a fabric canopy may suit you over a polycarbonate roofing structure. Whatever your requirements, we have 44 years' worth of experience behind us to help you find your perfect product.
A right solution exists for your exact design aspirations, we just need to find it! So please don't hesitate to talk to a member of our friendly team on 01743 295001 or at [email protected].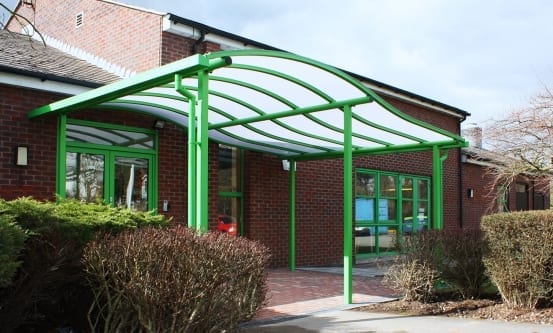 The quality of the structure and workmanship were excellent.
Headteacher - Loughborough Primary School
View Project
See more of our entrance canopy projects we've completed
New White Straight Roof Entrance Canopy at Whybridge Infant School in Essex
St George's Junior School in Shrewsbury, Shropshire Install Blue Porch Canopy
New Entrance Porch at the Mynydd Mawr Hospital in Carmarthenshire
Sheffield's High Hazels Academy Commission a New Blue Entrance Canopy
Buxton School in London Add a Straight Roof Entrance Canopy
Lochside Primary School in Montrose Add Two Entrance Canopies to Site
An introduction to entrance canopies
Any building needs to provide a welcoming and attractive entrance to invite guests inside. From primary schools, nurseries and colleges to sports facilities and public attractions – everyone knows that first impressions count for a lot. Fortunately, with the impressive range and wide choice of entrance canopies available here at A&S Landscape, whether you are an architect, builder, school, local authority or have a commercial building of any kind, you have the opportunity to leave a lasting impression that sticks with your guests for a long time to come.
When someone arrives at your building for the first time, they will be making a vast number of tiny judgements without even realising it. Before they even enter your building, they will be making their mind up as the entrance to your building affects their mood and thoughts. Want to stand out against all the surrounding buildings, display your brand colours outside, all while making the right first impression? You can't go wrong with an A&S Landscape entrance canopy.
Our experienced design team can help you to craft the perfect entrance to any building, make the most of limited space, and find a unique canopy solution that creates an added wow factor. We have a lot of options on offer and can provide freestanding, wall fixed or partial wall fixed entrance canopies to suit all building styles from care homes to school entrances.
We also offer many options when it comes to roofing, too. Do you want an attractive curved roof, a sleek straight roof canopy, a modern wave roof, or a more unique and bespoke glass entrance canopy? With a wide range of roof designs to choose from, you can create a colourful and visual display that captures the brand and business. We work with architects and builders on a regular basis and can supply what you need and deliver the perfect canopy for your new entrance area.
The team here at A&S has years of experience delivering impressive entrance and door canopies for a very wide range of sectors. Whether you need an entrance area that shelters guests on their way into the building, a specific door shelter that protects people from the weather while they wait for you to answer the intercom, or you simply need a bright and impressive entrance door canopy that provides a focal point and pleasing visual style, we can deliver what you need.
Entrance canopies are a cost-effective, quick and easy way to make your building stand out and to invite guests inside. If you want to lift the frontage and exterior of your building with the perfect entrance area for the best first impression possible, A&S Landscape is here to give you everything you need.
With over four decades of experience in the industry, no one is better placed to provide the insight and expertise you need to secure the perfect fixed canopy solution than the team here at A&S Landscape. And we never take a 'one size fits all' approach – if you need bespoke entrance canopies or entrance shelters or canopy made to order, we can help. We work alongside you for the entire process and will guide and advise you to the perfect canopy for your building.
We have a huge choice of steelwork and roof colours available, with a wide range of options and extras available for you to choose from. We have an extensive range of canopy products and additional design features that have helped build amazing relationships with happy customers across the UK.
The reasons that people choose to install an entrance canopy
If you want your business to stand out against the surrounding buildings, creating an impressive aesthetic and visual style while attracting customers and guests into your building, then transforming your new entrance area with an A&S Landscape door canopy or porch canopy is a fantastic way of achieving this. Whether you want a simple design or more elaborate bespoke designs, whether you want a specific roof variant or to simply spruce up an existing building, entrance canopies are fantastic for giving a building's exterior a bit of a facelift.
Extend your branding to your building's entrance
Want an entrance canopy that extends your business's branding out to the exterior of your building? This can be an amazing way of making an impression on potential customers and passers-by while creating a professional and coherent visual style that shows you are a business that makes that extra effort.
Your branding is your public image and it is crucial to how you promote and market yourself. Being able to extend this with amazing door canopies and porch canopies is an amazing opportunity for any business. An entrance canopy designed, supplied and installed by professionals sets the right first impression.
Colours are also a huge part of your branding. With our amazing range of multicoloured polycarbonate roofing material, you can find bespoke solutions that capture and convey your brand's colours clearly, vividly and attractively to the outside world.
Increase your usable workspace outside
An entrance canopy can extend your usable workspace beyond the entrance of your building. For any business, space is a primary concern. Whether it's interior or exterior space, you want to be making the absolute most out of what you're paying for. A high-quality front door canopy or other entrance canopy can help you make the most out of more of this space.
When it comes to businesses like hotels and restaurants, a large entrance canopy can double up to create added usable space for seating and dining. And for any business, entrance canopies can function as weather protection, smoking shelters, sun shades and more.
Entrance canopies provide important weather protection
As we've mentioned above, entrance canopies provide you with an opportunity to create an impressive visual style, impress customers and passers-by, extend the reach of your branding, and welcome and invite guests into your building. But a good entrance canopy is all about a great deal of functionality, too.
Entrance canopies can protect your building, your products and your customers from the elements. Here in the UK, we certainly enjoy some unpredictable weather! You can never assume there won't be an absolute downpour in the heat of summer, so it's important to be ready and prepared for all outcomes!
Fortunately, here at A&S Landscape, we specialise in providing entrance canopies and shelters that act as sun shades against UV rays, heat and light while also protecting against rain showers and preventing the rain from coming in through the front door of your building. By using a canopy to create a dry and protected area at your business's entrance, you can provide greater comfort to customers and employees with extra shelter.
Improve your curb appeal
One of the first things that comes to mind when thinking about installing a bright and elegant new entrance canopy is the visible and impactful boost to the appearance of a property's exterior. It's definitely one of the main reasons that businesses become interested in having a new entrance canopy installed – who wouldn't want to have a more attractive entrance to their business?
It's all about curb appeal. Most buildings struggle to stand out from the rest. But if you can stand out, you have an opportunity to make a big and lasting impression on those potential customers and passers-by who wouldn't otherwise look twice. It can be the difference between someone remembering your brand or not.
Adding an impressive and professional door canopy to your entrance elevates your property's appearance above those of the surrounding buildings, helping persuade curious onlookers to pop into your business. And for those customers already on their way inside, a brilliant new porch canopy is a fantastic way of welcoming them inside.
What different options are available when choosing an entrance canopy?
As canopy experts here at A&S Landscape, no one is better placed to help you find the right canopy for your business. And there are a lot of options to choose from! Whether you have exact design aspirations, you want an entrance canopy of the highest quality, or you want something basic and cost-effective, we can help guide you to the right solution.
For a curved roof entrance canopy, try the Motiva Entro™
Normally deployed in a duopitch configuration, you can't go wrong with the Motiva Entro™ entrance canopy. With a symmetrical curved roof design and solid steel framework, polycarbonate roof panels and made to fit your entrance, the Motiva Entro creates a welcoming entrance and professional aesthetic that is sure to impress. With plenty of additional design features and available in freestanding, wall fixed or partial wall fixed units, the Motiva Entro is incredibly popular for any covered entrance.
Want a sleek and elegant straight roof design? Meet the Motiva Entrada™
This is one of the latest and most modern designs that we have available. With an impressive angled straight roof and gutter system, the Motiva Entrada™ is sure to leave a good impression. With solid steel framework and available with either glass or polycarbonate roof panels, the Motiva Entrada's freestanding design doesn't rely on the building's steelwork or brickwork and looks absolutely phenomenal.

When it comes to versatility and flexibility, the Motiva Linear™ is one of the best
A monopitch (asymmetric) straight roof design, the Linear is a great canopy that can be used for a range of different application. The Motiva Linear™ is perfect for a covered walkway, covered entrance, smoking shelter, outside dining area, for creating a prominent entrance, and more. Made with a solid steel framework and polycarbonate roofing, this unique straight roof design has a range of additional design features available to suit your needs.
For an eye-catching and bold wave roof entrance canopy, discover the Motiva Wave™
If you're looking for all the benefits of more standard designs but with an impressive, modern and unique visual appeal, the Motiva Wave™ could be the perfect entrance canopy for you. Available as either a monopitch or duopitch roof variant, the Wave is a great solution for buildings with a lower roofline as a freestanding unit.

Need something unique? Contact A&S Landscape for a bespoke entrance canopy
With over four decades of experience, the team here at A&S are all industry professionals with the expertise and insight to deliver the perfect unique entrance canopy for you. Our design, manufacturing and installation process allows us to create bespoke and individual canopy designs for our customers. Whether you have specific design preferences, a particularly difficult site, or anything else, we can help!
What is an aluminium entrance canopy?
If you are looking for a new entrance canopy, then you will have found a wide range of options and styles to choose from. It can be hard to understand which is the right choice for you, should you pick a glass roof, or an aluminium frame or a model with polycarbonate roof panels? If you are looking for a cost-effective canopy, an aluminium entrance canopy is likely to be the best option. This shelter will provide you with adequate rain protection, but if you also want UV protection, ensure that the roof uses polycarbonate panels.
Typically, you will need the canopy to be fitted by a professional installation team, as the installation needs to be done to a high standard. When choosing the location for the shelter, remember to consider your window frames so that the frame of the canopy doesn't overlap with any existing features on your buildings. You should also consult with your local authority to check whether your project will require planning permission.
Want a bespoke service? From site survey to installation, the experts here at A&S will provide the expertise you need
With a broad range of canopies, services and products available here at A&S, if you want a high-quality entrance canopy delivered by a team of friendly but expert industry professionals, then you have come to the right place.
Your free site survey and design
When you choose to work with A&S Landscape, you'll benefit from an entirely free design service performed by our professionals. We'll be able to talk through any questions, problems and requirements you have, from which point we can begin planning and designing your entrance canopy.
We are able to produce drawings for guidance while assisting you with all issues. For greater visualisation, we can even prepare 3D computer imagery to add more clarity to the project. No one is better positioned to work with you to find a design and solution that fits your budget and time constraints while fulfilling all your needs.
Our installation process
Your canopy will be fitted by a team of specialist industry professionals with expert experience and insight. The installation team will work alongside you to perform the best job with minimal disruption to your business's day to day – all while meeting schedules and our high-quality standards. Thanks to our commitment to great standards, we've managed to build strong relationships with happy customers across the UK.
You'll also find our installation team to incredibly friendly and helpful. Every job they perform, they always work to reinstate the area and leave the site clean and tidy. If you have problems or questions, they'll be more than happy to help.
Get in touch with us to find out more
Want to discover more about our fantastic options for bright and stunning entrance canopies, door canopies, porch canopies and more? Get in touch with the team here at A&S Landscape for a chat. We're always on hand to discuss your needs and requirements and we'll happily set you up with a free quote.
Read About Another One of Our Featured Entrance Canopy Projects
Inman Properties in Yorkshire Adds Entrance Shelter to its Site

What was the project brief?
Inman Properties in Sheffield wanted to install an entrance canopy to keep people and vehicles dry when arriving at the premises, as well as when loading and unloading deliveries. The team there needed the shelter to be able to withstand many types of weather, such as wind and rain, be durable and complement the existing building. They contacted A&S Landscape to carry out this project and worked with them to find a product that would add value to their site.
What was our canopy solution?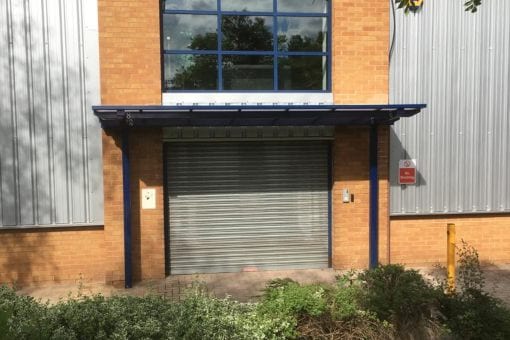 After talks about the various models and their benefits, Inman Properties chose to have a Motiva Entrada™ installed. Measuring 4500mm X 1200mm, this was large enough to shield people making deliveries or vehicles arriving at the site. This model has an attractive, angled design and it is constructed of high-quality, robust materials – including solid steel – which ensure that anyone beneath the shelter is protected from bad weather. Also, the Opal roof and Sapphire Blue steelwork match the colour scheme of the building and create a cohesive, modern look. The entrance canopy has created somewhere reliable for visitors and workers to stay dry while getting on with their day or their jobs.
What was the result of the entrance shelter?
The canopy cover was well-received by Inman Properties. Staff, guests and delivery people find it incredibly useful when arriving at and leaving the site, and it makes their work much easier when it is raining or windy outside. The straight roof design of the entrance shelter looks appealing and easily blends into the architecture, while also making it a functional and reliable product. A&S Landscape was thrilled at the outcome and the reaction to the project and would love to provide further canopies for the company, if needed, in the future.
Testimonial
"The installation team worked well with patience throughout their health and safety induction and COVID-19 questionnaires, and they had respect for our staff and vehicles whilst working."
Inman Properties
About the client
Inman Properties is a real estate business that sold a 54,125 square foot warehouse on Dore House Industrial Estate in Handsworth, Sheffield. The premises also include a large secure yard with separate staff parking, two-storey offices and a large mezzanine floor. A&S Landscape enjoyed working with the team there and found them to be friendly and helpful as they installed the canopy.
The site is located in Handsworth, South Yorkshire. This is a suburb of Sheffield, famed as the 'steel city' in the 20th century and now known for its colourful culture and backdrop of the Peak District National Park. Residents can enjoy festivals, street art, microbreweries, performances at the Crucible Theatre, exhibitions at the Millennium Gallery, and more. A third of Sheffield sits in the National Park, so outdoor adventures such as running and cycling in the valleys, woods and hills are also easily accessible. Whatever your interests, this city certainly has something for everyone to experience.
How can commercial sites make use of shelters?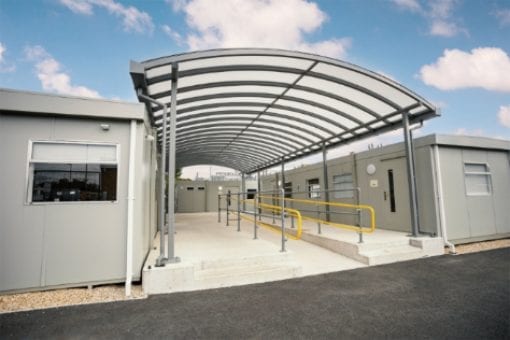 Commercial businesses often have complex sites and, therefore, complex needs. Shelters can provide a variety of solutions to problems that arise for staff and guests at such locations.
Factories and delivery depots can benefit from canopies to cover their loading bays and bin stores, so that products, waste and personnel are sheltered from the elements. Retail parks can increase their attractiveness to customers by installing canopies in their parking areas, or by adding entrance shelters to their buildings which both signpost the way in and reinforce branding with a modern touch. All of these businesses can also use cycle stores to ensure that staff bikes stay safe and dry throughout the day, and dining and smoking shelters to expand break time facilities. Canopies evidently help commercial businesses to enhance their sites – contact A&S Landscape if you'd like to find out more about installing one of your own. Get in touch by emailing us at [email protected] now.
What are the company values of A&S Landscape?
We have developed and expanded as canopy and shelter specialists over the last 40 years, building our client base and creating new products by always remembering our values. Here at A&S Landscape, we earn our trust through hard work, offer customers our expertise by drawing on our impressive skills base, stay approachable to build a personalised and enjoyable experience, provide excellent value for money by both manufacturing and installing our canopies, and strive to use our creativity to find the perfect shelter solutions for every project. Discover how we can help you and your organisation by calling us on 01743 444100 or emailing [email protected] today.

Find out about more of our featured entrance canopy projects
Sleek and Stylish Entrance Shelter Designed for Tudor Road Business Park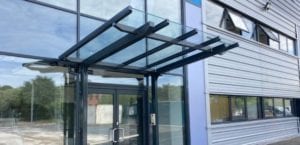 Tudor Business Park wanted to add a smart and professional looking shelter to the front of one of their buildings. After completing some online research, they came across the Motiva Entrada™ which is a shelter supplied by A&S Landscape. We installed the straight roof entrance shelter outside the front doors of the building, complete with Anthracite Grey steelwork and a clear polycarbonate roof. Now when visitors arrive on site, they will be greeted by the door cover, which helps to make a great first impression. It will also be a useful asset for accepting deliveries, especially if the weather conditions are poor! The whole team at A&S Landscape enjoyed working on this project and seeing the finished photos. Carry on reading about the professional entrance canopy we installed at Tudor Road Business Park.
Spencer Environmental Care Associates Add Bespoke Shelter with Side Panels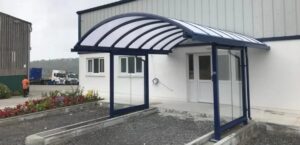 Thanks to our manufacturing process we are able to make bespoke customisations to our standard product range, creating unique canopies to meet our client's exact requirements. When Spencer Environmental Care Associates got in touch looking for an entrance canopy with extra weather protection, we jumped at the chance of designing a bespoke structure. We opted to use the Motiva Entro™ as the base for the canopy, adding glass panels to the sides of the shelter to give the area more protection from the rain and wind. The finished shelter looks brilliant outside of the main entrance and has been the perfect finishing touch. Complete with a colourful flower bed, the frontage of the site is now a welcoming and inviting area. Head over to our news page to keep reading about the bespoke entrance cover we designed for Spencer Environmental Care Associates.
St Andrew's C of E Primary School in Headington Add Entrance Canopy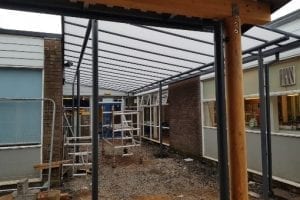 Often primary schools approach us looking for shelters for their playgrounds and playing fields, however many also want to improve their entranceways by adding a canopy. This not only displays a level of professionalism and attention to detail to visitors but also provides a functional covered area for deliveries. When St Andrew's C of E Primary School reached out to our friendly team, we were able to offer them a wide range of entrance canopy options. In the end, the school chose the Motiva Linear™ straight roof shelter for a simple, yet sleek look. Made to the size of 5000mm x 4400mm, the cover fits perfectly over the main door and has been a great addition. Read more about the straight roof canopy we designed for St Andrew's C of E Primary School here.
Wall-Mounted Canopy Over Door at St Wilfrid's Catholic Church in West Sussex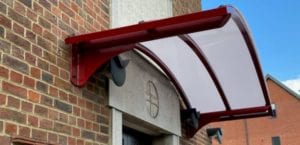 With over 40 years of experience in the canopy industry, we've worked with a range of clients including schools, public attractions, hospitals and now churches. St Wilfrid's Catholic Church identified a need to add a cover above their double doors, however, it was important that the structure was subtly designed to work with the historical building. We designed a bespoke shelter for the church, using a steel-framed curved roof design fixed to the wall of the building. The finished canopy has added essential cover above the doors, without detracting from the aesthetics of the building – the best of both worlds. Our team relished the opportunity to get to work on such a unique project and we were proud of how the end result turned out. Keep reading about the bespoke entrance canopy we fitted at St Wilfrid's Catholic Church on our news page.
Straight Roof Door Canopy Made for Inman Properties in Sheffield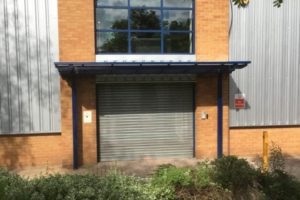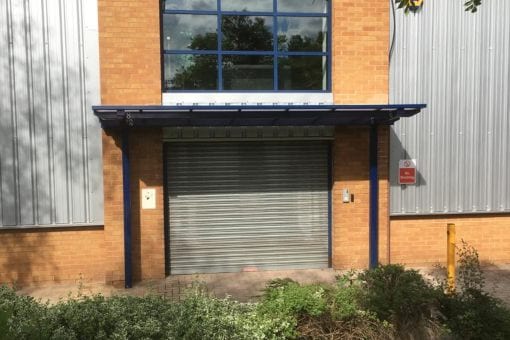 Inman Properties were looking for a functional entrance shelter to add to their site in Sheffield. This would add cover to the space commonly used for deliveries and make this an easier and more pleasant task during wet weather conditions. For this project, we installed our Motiva Entrada™ structure, a straight roof design popular with commercial sites. The steelwork was finished in an attractive Sapphire Blue, which works perfectly with the Opal polycarbonate roof. With the two uprights placed on either side of the entranceway, this slim and sleek shelter is a great choice for loading and delivery bays. What's more is that the staff can even utilise the shelter on their breaks, if they want to enjoy some fresh air during the working day. Want to see more? Click here to continue reading about the straight roof entrance shelter at Inman Properties.

A free guide containing information on over 80 different grant schemes available to schools