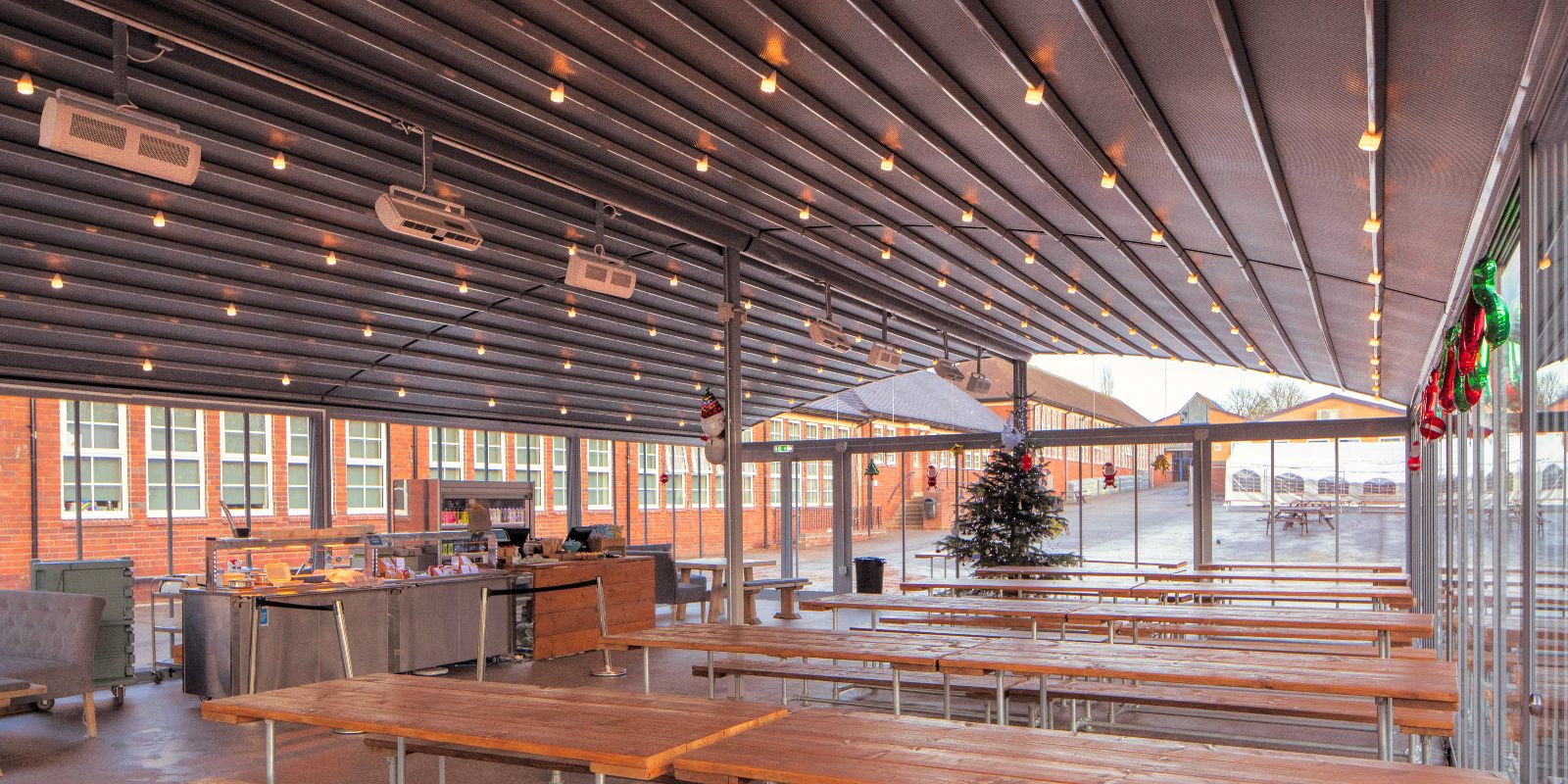 Retractable Canopies for Schools and Businesses
Helping schools, hospitality businesses and healthcare sites enhance their outdoor space.
Enquire Now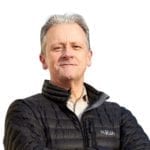 The whole process was stress-free; the installation was done safely. They couldn't have been more professional.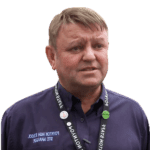 Right from the word go it was good working with A&S Landscape, they are marvellous. The team worked very well.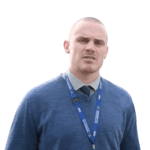 The A&S Landscape staff were very amenable. They showed extensive knowledge regarding the installation.
Bespoke Retractable Canopies: Embrace Flexibility in Unpredictable Weather
Let's get to work in transforming your outdoor space. Here's what you can expect from our range:
Weatherproof design: Make use of your outdoor space even under heavy rain.
Electric retractable function: Experience flexible shade solutions for ultimate convenience.
Durable structure: Rely on strong, practical outdoor canopies that withstand harsh conditions.
Attractive appearance: Add instant style to a feature space with our innovative designs.
UV protection: Keep pupils safe from harmful rays and direct sunlight.
Fast installation: Get your canopy up and running in no time. Our installation teams work around you.
Industry-leading guarantees: Get the outdoor cover you need with confidence
Retractable canopies are an innovative and cost-effective solution for many businesses and educational settings. They offer a fresh, vibrant environment that delivers the wow factor, allowing you to utilise outdoor space throughout the year.
With a retractable waterproof canopy, the ordinary becomes extraordinary, breathing life and inspiration into previously dull and lacklustre areas. It's the perfect way to create an inviting space where people genuinely want to be.
We offer a wide range of top-quality canopies for schools and commercial establishments for incredibly competitive prices. Each one is fitted to your bespoke needs, giving your project the expert insight it needs for both practical and decorative purposes.
Want to find out more? Get in touch with our team today or request a free brochure to explore our full range.
What are retractable canopies and how do they work? 
Retractable canopies are external attachments to buildings that provide protection from harsh weather conditions or harmful UV rays. They encompass a wide range of structures that offer adaptable roof coverings or shelters. Their retractable nature allows for the flexibility to adjust their position according to preference.
While they may share some similarities with traditional folding arm awnings and drop arm awnings, retractable canopies stand out as a distinct category. Designed with a focus on functionality and durability, our bespoke Maxima retractable canopies: beyond mere shade provision to improve the outdoor experience all around.
A retractable patio canopy allows for the full utilisation of outdoor space, regardless of weather conditions, making it usable year-round. Rain or shine, you can comfortably enjoy your outdoor area.
But the benefits don't stop there. With the option to incorporate heating and lighting fixtures, you can create a welcoming atmosphere that extends into the evening and colder months.
One of the primary advantages of a retractable shade system lies in its adaptability. You have complete control over the amount of weather exposure you desire at any given time. On a beautiful sunny morning, retract the roof to bask in the sunshine. As the day heats up, extend the canopy to provide maximum protection from the heat and bright sunlight.
Which businesses should consider a commercial adjustable canopy? 
Commercial canopies offer a wide and attractive range of applications for many kinds of businesses, such as:
Garden Centres: A versatile canopy offers a stylish and functional solution to create shaded areas for outdoor plant displays, improving the customer experience and providing protection from the sun.
Healthcare Sites: By installing an extendable canopy, healthcare sites can offer patients, visitors, and staff shaded outdoor spaces that promote relaxation, comfort, and a connection with nature.
Restaurants: Restaurants can extend their dining spaces outdoors, providing guests with a comfortable and shaded environment to enjoy al fresco dining even when it's windy and rainy!
Nurseries: These canopies in nurseries offer shaded play areas for children, ensuring a safe and enjoyable outdoor environment where they can engage in learning, exploration, and imaginative play.
Schools: Installing a flexible canopy in schools creates shaded outdoor spaces for children to learn, play, and socialise, promoting outdoor education and providing protection from the sun.
Colleges & Universities: Canopies enable colleges and universities to design inspiring outdoor study areas, collaborative spaces, or event venues, providing students with comfortable and shaded environments.
How retractable canopies can boost profitability for your hospitality company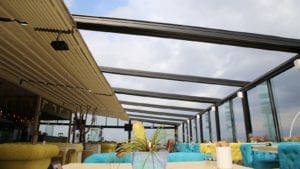 Entrepreneurs recognise the importance of the long-term profitability and sustainability of any business. It is the ultimate goal that every asset or resource should give added value to the business.
At A&S Landscape, we use long-lasting designs built with the latest modern technology to suit your requirements. It is not just the hospitality business that can benefit greatly, retractable roof canopies are commonly used for many other applications.
Whether you are looking for commercial awnings and canopies, a beer garden canopy or covered space on your hotel grounds – retractable canopies for hospitality businesses can help transform your space into one that takes your business to the next level.
Explore our High-Quality Sun Canopy Designs
10 benefits of installing our bespoke awnings and pergola canopies
Purchasing a retractable pergola canopy is, of course, an investment in your business – one which could let you reap serious rewards when done correctly.
Here is just a taster of the benefits these clever solutions provide: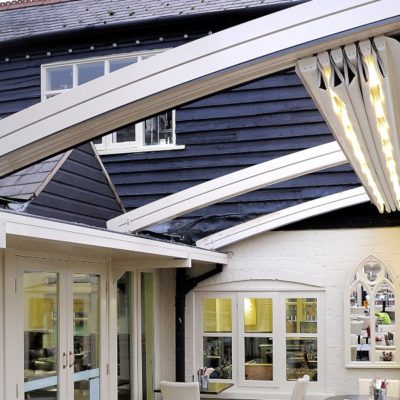 Comfort for Guests
"Customer comfort is our priority" is a common slogan for any consumer-driven business. Retractable canopies keep your guests comfortable while they enjoy your services and amenities. It offers shade and shelter when needed but maintains the ability to open up the area when the weather allows.
Increased Foot Traffic
Foot traffic is one important business metric to gauge the profitability of any business operation but with pubs, hotels, restaurants and cafés it's about the number of clients who you can seat comfortably at once and in a way in which they enjoy.
Enhanced Privacy
A retractable canopy or roof system will allow you to space out your tables giving your clients more space. Eateries in urban areas with overlooking windows or even balconies can also enhance the privacy of their areas with a canopy structure. Restaurant canopies that offer fine dining ambience may have their retractable roof adjusted to enhance the indoor atmosphere.
Protection from UV Rays
As much as we love sunshine, UV rays can be damaging in large doses. Retractable canopy systems block UV rays and reduce glare to make your space more functional even during midday. This not only protects the health of your guests but also helps reduce energy usage.
Reduce Energy Costs
The scorching heat of the sun increases the need for air conditioning of the interiors. Retractable canopies block those heat-inducing rays, while still allowing natural light indoors. This is an effective passive cooling solution that can result in significant energy cost savings, therefore increased energy efficiency.
Beauty and Aesthetics
With high-quality materials, commercial-grade retractable canopy systems add style and luxury to your property at the same time promoting the open-air ambience. A retractable canopy can quickly add upmarket appeal to an otherwise unexciting building.
Protects Fixtures and Furnishings
Your furniture and other business assets need to be protected. Canopies are a great way to protect your outdoor furniture, as well as the furniture indoors. Soft and diffused light helps reduce the fading and wear that may otherwise result from constant exposure to the environmental elements.
Long-Term Durability
Unlike residential grades, commercial-grade retractable structures are built to last. From the motor to the canopy's fabric, quality materials, warranties and after-sales support from our team help ensure your guests will enjoy the benefits of your retractable roof canopies for years to come.
Add Iconic Brand Identity to Your Business
With the wide assortment of design structures, coupled with attractive colour combinations that are made available on the market today, exterior branding of your business became a focal point. Foremost examples of these are in the hospitality industry and luxury restaurants where aesthetics and functionality are held at a premium for brand image.
Make the Most of Your Surroundings
If you are lucky enough to have a canal side, seafront, or country setting then you can make the most of the views all year round with a covered seating area.
Watch Our Retractable Canopies in Action
Why choose A&S Landscape to transform your outdoor area?
A&S Landscape is a significant industry player in the design, manufacture and installation of high-quality canopies in the UK market.
Having been in business since 1976, we have a well-established name and have acquired professional accreditations with a huge range of industry associations, local authorities, architects, schools, builders, and property managers.
A&S Landscape takes pride as the manufacturer of our distinct brands of canopies and shade sails in the UK. Quality is foremost and held at a premium. Many of our traditional cover system designs boast galvanised and PPC steelwork, unbreakable roofing, aluminium rainwater goods and more.
Frequently Asked Questions (FAQs)
A lot of industry literature, websites and product pages, magazines and other marketing use various names to refer to retractable canopies.
To mention a few – retractable canopy for pergola, retractable awnings, retractable roof systems, retractable roof canopy, retractable awning roof, commercial canopy, commercial retractable canopy, commercial retractable roof system, commercial roof canopy, retractable awnings, retractable canopy awning, sunshades, outdoor shades, adjustable roof systems.
When in doubt, all these product terminologies basically discuss, and refer to, retractable canopies.
Yes, all structures require concrete foundations and fixings to ensure they meet building requirements. But don't worry, we're experts at identifying and assessing the specific foundation requirements for each unique project.
The answer to this is likely yes – but we will need to look at the size of the canopy and the sizes of any existing support structure.
Yes, depending on design specifications, retractable canopies can be intended for an internal space with doors, walls and windows closures. LED lighting options and heating systems can likewise be installed. All these specifications should be discussed during the design stage of the project.
In deciding whether to have the structure attached to the building or freestanding, many factors will be taken into account.
First and foremost, you should express the purpose of the project, the foreseeable uses of the project in the near future, and your preferences for the canopy such as the material, the size, design and all other attributes. 
The overall physical attributes of the whole property in relation to the positioning of the planned structure are also considered.
After all these, we will assess and make our suggestions with the end-view to ensure you are 100% satisfied at the completion of the project. We will suggest the type, shape, design and size and placement of the new canopy.
In fact, many canopy designs work well when installed freestanding, such as the shade sail, and the gazebo style.
There will be markings on the wall brought about by the bolts used to secure the mounting brackets, but there should not be any substantial defacements evident at the exterior wall of the building.
It depends on the design of the retractable canopy, plus, there are lots of options when it comes to fitting these to building exteriors.
The best way to discern what you'll need for your project is to get in touch with our friendly team, who will be perfectly positioned to answer your questions.
Give us a call or use our handy contact form to find out more.
For waterproof fabric canopies, the only thing required is washing with mild detergent and water using a light pressure washer or brush. Retractable canopies tend to require much less maintenance than fixed units, which get dirty faster since they are constantly exposed to the exterior elements.
Retractable canopies, as with any other equipment, may be cleaned at least on a seasonal basis. Over time, they collect dirt and dust – making them an eyesore rather than an attractive part of your exterior.
In addition, water can collect in crevices in fabric canopies, which can lead to mould and dew growth. As well as keeping things looking clean and fresh with regular wipe-downs, you will also need to keep the metal parts of the canopy free of debris to keep it functioning properly.
Once installed, we'll give you a guide with everything you need to know about the long-term maintenance of your new retractable canopy – so no need to worry!
Salt laden air is extremely corrosive, so certain care and extra maintenance are required when installed where salt air is present.
To keep your canopy looking good and lasting long, monthly washing of the frame and fabric with a suitable cleaner is recommended.
Thoroughly rinse the frame and fabric with clean water and allow the fabric to fully dry before retracting the structure. Also, lubricate the moving joints with a penetrating lubricant at least twice a year.
Retractable canopies and fixed-type canopies have completely different underlying structures and fittings and are not readily 'convertible'. Any attempt to do this would be, in our opinion, misguided.
As with any long-lasting solution designed to be installed and used outside, we create our to handle most weather conditions. However, it's generally accepted that these structures can handle light to moderate wind of up to 20pm – although they aren't designed to be used as a wind break!
A retractable awning is a covering attached to the exterior wall of a fixed structure.
Typically, it's made from a sheet of woven canvas in acrylic or polyester fabric on a roller system that extends out when the folding aluminium arms are extended.
You'll normally find these fixed above a window or a door and overhanging a porch or patio or shopfront and are mostly used for shade, not shelter. Meanwhile, retractable canopies tend to be used for this reason.
Other differences between the two include:
Wall fixed or Independent – An awning is attached to a structure while a retractable canopy may or may not be attached to a structure depending on design.
Fabric – An awning will typically be manufactured with a woven cloth material suitable for sun protection and for some light rain. A retractable canopy design will use a PVC type of materials designed as 100% waterproof.
Rainwater – Any rainwater will drip off an awning, whereas our canopies have an integral gutter to provide comprehensive drainage and rain protection.
Shade or shelter – A window awning provides shade to a window, door or patio while a canopy provides shade and shelter to the whole area.
Size – An awning's size is limited by either the size of the projection dictated by the strength of the design, often around 3 or 4 metres or the available space for the folding arms to retract into. A retractable canopy can be any size.
Cost – Awnings have become very inexpensive over time with some designs supplied and fitted from just £2000.00. Our clients typically invest from £7,000 – £100,000
An awning could be a good solution in these applications and for residential applications too, it may be the only option if a wall fixed cantilever type design is required.
Many local blind companies as well as national companies such as www.hillarys.co.uk/awnings/ will be able to offer you good advice.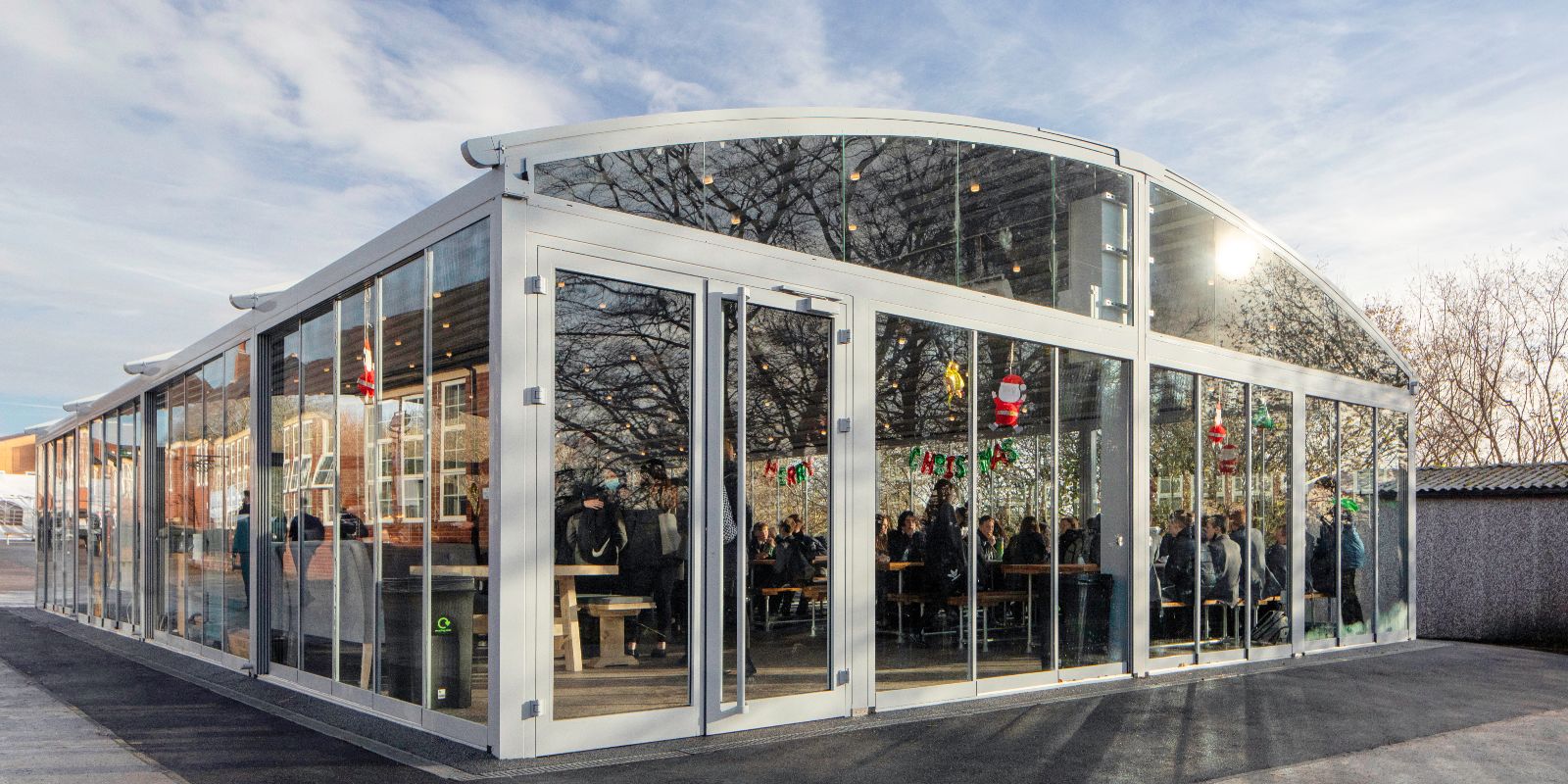 Send us your email and an idea of your requirements and we'll get back to you with a quick price.