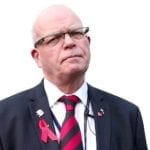 The whole project from the moment I got authorisation, through to completion was seamless.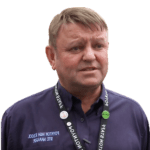 Pricewise, A&S Landscape was the best. They seemed to bend over backwards to meet our needs.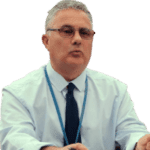 A&S Landscape gave us the care and attention that we required. The team's communication was excellent.
Playground Shelters
Many of the schools we are proud to work with throughout the UK have an all too common problem, their playgrounds are lovely unless it is raining, or too hot. We have a range of bright and beautiful school canopies that have been expertly designed to enable vital access to the outdoors for free flow play, outdoor learning and socialising whatever the weather.
What is a playground shelter?
A playground shelter is a structure used to add cover to all or part of a outdoor play space. These are popular amongst primary schools and nurseries as they reduce the risk of slips and trips. They also allow pupils to play outdoors more regularly.
Benefits of a Playground Shelter
Some of the main benefits of installing a playground shelter are that the pupils will be able to spend more time outside during their breaks. This will allow them to enjoy more fresh air, which has many proven mental health benefits. Playground shelters can also be used to store outdoor play equipment and toys.
Our Playground Shelter Range
Whether you are looking for a one of our stunning and super sturdy Maxima StarSail™s or love our fun and durable Maxima Umbrella™, our range of fabric shade sails all offer unrivalled UV protection and have the option for waterproof fabric, meaning outdoor activities are no longer at risk of being rained off.
If you are considering a shelter that will be sure to add a splash of colour on a dreary day, then our rainbow roof designs may be exactly what you have in mind. Not only does our Motiva Linear™ offer all-year-round shelter, but there are also options to add sides and roller shutter doors to create extra storage space for bags, muddy wellies and outdoor play equipment.
Maybe you would like a shelter for outdoor games? Our robust and practical Maxima Tepee™ benefits from minimal posts and a unique integrated gutter system making this an ideal solution for sporting activities.
If you are thinking of something more personalised, then we would glad to help you. Your imagination is the only limitation when it comes to our bespoke designs.
Learn More About Our Work With Playground Shelters
Covingham Park Primary School
See some of our playground shelter projects we have completed
Hedgewood School in West London Add Large Tepee Cover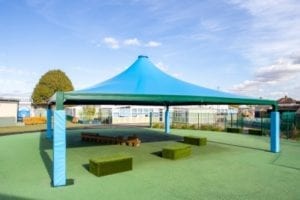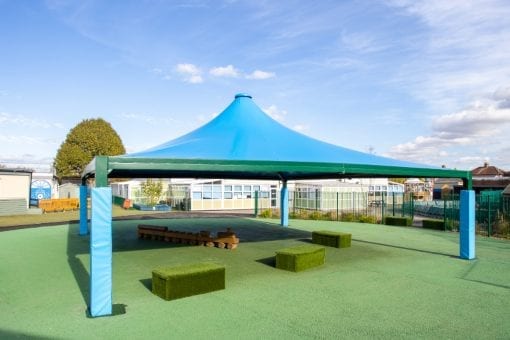 The fantastic team at Hedgewood School wanted to get better use out of their playground space as it couldn't be used during poor weather conditions. The school approached playground shelter experts A&S Landscape for a solution. Straightaway our design department set to work to create a structure which would around the school's requirements. We proposed we install our Maxima Tepee™ fabric roof structure to an overall size of 10m x 10m. The school were thrilled with our plans and our installation team successfully and seamlessly fitted the structure to the area. Now the pupils have a lovely, sheltered area in their playground which they can enjoy every day. This will allow them to let off some steam and play out in the fresh air, which will have many great health benefits. To learn more about the tepee at Hedgewood School, click here.
Brockton C of E Primary School in Shropshire Increase Their Outdoor Space with A Curved Roof Shelter
A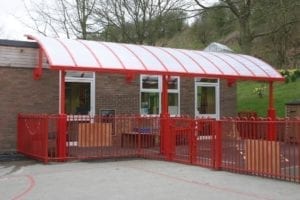 nyone working at a school knows how important the outdoors is. All children learn differently, and so you want to change things up as much as possible. An easy way of doing that is by taking the class outside. The problem is, the British climate isn't always going to work with you. Brockton C of E Primary School wanted to give their pupils more chances to get outdoors, so they worked with our team to create a space that they would all love. The addition of a Motiva Mono playground shelter has allowed them to bring children outdoors much more often, even when the heavens open. Teachers at the school love the shelter, as it has opened up so many learning opportunities. Having the play shelter on the side of the building allows them to grow seeds outdoors, run around when it's raining, or even bring a lesson outdoors when it's sunny out. Playground shelters offer schools so much. You can read more about the curved roof shelter we built at Brockton C of E Primary School.
Yellow Straight Roof Shelter Improves College House Primary School Playground in Nottingham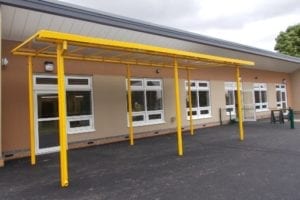 All good schools know that the space they use is vital in offering a fully rounded learning experience. That isn't just inside the school, but outside too. College House Primary School want to be able to give pupils everything they need to learn in a safe environment, which is why they asked our team to come up with a solution for their playground. Out of all our playground shelters on offer, they chose the Motiva Linear for their outdoor spaces. This allows them to bring learning outside whenever they want, even if the weather is less than ideal. They chose to have the playground shelter in a bright shade of yellow, making it fun and exciting for kids and adults alike at the school. Having that shelter in place has ensured that pupils can enjoy and explore every part of their school, even if it's wet outside. No more wet playtimes cooped up indoors for them. See more about the straight roof shelter we designed for College House Primary School.
Red Shade Sail Installed at Bedfont Primary School in London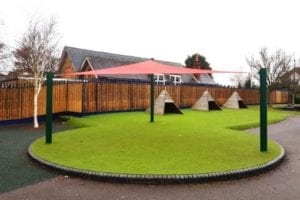 This larger than average primary school needed an outdoor space that could accommodate their pupils whenever they need to be outdoors, no matter the weather was doing. The look they came up with our team has created a striking and useful play space for their children. The playground canopy used here was a Maxima Sail, adding a simple yet great looking shelter for pupils when they're playing and learning outdoors. The red sail has been teamed up with moss green posts on a grassed area. The completed look is fantastic, bright and exciting for children to use during breaks. Having the sail in place has created a whole new area of the playground, where children can play and socialise regardless of the weather. Whether it's raining or hot and sunny, the playground is now the place to be. Playground shelters offer a lot more use from any outdoor space for schools. Read more about the red shade sail we added at Bedfont Primary School.
Blue Curved Roof Shelter at Newtown C of E Primary School Extends Play in Shropshire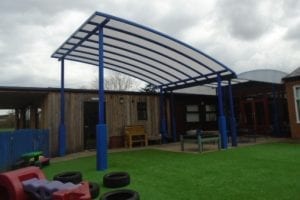 If you already have a playground shelter at your school, you may have found it so popular that you need more of it. That's the situation that Newtown C of E Primary School found themselves in. Their nursery and reception pupils love being outdoors, and their existing shelter allowed them to get out as much as possible. We were able to extend their shelter with another Motiva Duo shelter, to match the one they already had. This led to a much bigger area, allowing more pupils to be out at once in the great British weather. It was quite a simple job too, with drainage and other aspects very easily linked up to create one extended shelter. These playground shelters have drastically improved day to day life at the school, allowing for more learning opportunities and time to get out of the classroom and learn in an outdoor environment. The two playground shelters are working well together to give the school just what it needed. Learn about the playground cover at Newtown C of E Primary School.
A Shade Sail Improves Outdoor Space for St. Paul's CE Primary School in London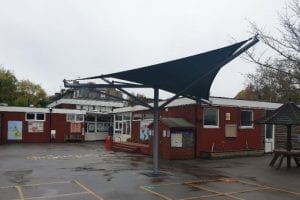 There is no denying that city schools find it hard to make playground space for their pupils. It's important to be able to get out in the fresh air between lessons and enjoy themselves. St. Paul's CE Primary School knew this, but they knew that it's difficult to allow children outdoors when it's rainy. That's why they asked us to install a new star sail in their playground. Having a playground shelter in place has brought many benefits. Firstly, they've been able to allow pupils to play outdoors, even when it's rainy. Because these style of playground shelters only uses a single pole, it takes up a lot less space, something that's vital in a smaller schoolyard. The shape of the sail adds real visual interest to the playground, too. Overall, just this one change has made playtime a lot more fun and rewarding. Read more about the shade sail at St. Paul's CE Primary School.
Playground Shelter Design Options
Read Our Featured Playground Shelter Project
Shelton Infant School Derby Adds a Multi-Use Playground Shelter

What was the project brief?
Shelton Infant School in Derby knew they had both a legal and moral obligation to add safe shaded areas to their playground. The shade structures previously in place were far from suitable for the school's needs, with just a gazebo to play in when it rained or if it was too hot. With very little provisions in terms of playground shade, the school needed a solution. It was decided that a permanent shelter would enhance the outside environment while offering weather protection during both the winter and summer months.
To create the fun and protected area they had in mind, the school approached school shelter industry-experts, A&S Landscape. With a wealth of knowledge in versatile structures, they knew they would be able to help the school with their various specific requirements. This shade structure was to transform the children's daily learning environment, allowing for a wide variety of uses and an excellent resource. Not only was this to be a social space for the children to use during their lunch and break times, but it was to double up as a forward-thinking outdoor learning facility.
What was our solution?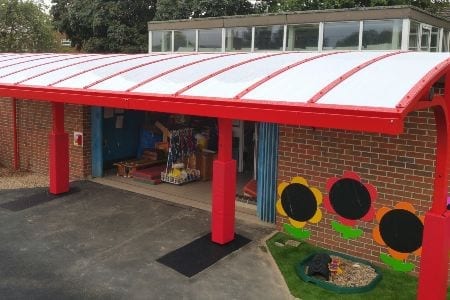 Our wide range of shade structures all have their own features and benefits. For this particular project, we felt that the Motiva Cantilever™ would be the useful addition this nursery and primary school required. Measuring at 20500mm x 3500mm, with the durable steel frame finished in red (RAL 3020), the shelter created an aesthetically-pleasing, yet large covered outdoor learning area. From the go-ahead decision at the PTA meeting, the whole process took only three months to complete.
With the framework of these shade structures available in a number of custom colours, and with the ability to be built to almost any dimension, they offer a great variety of uses, including covered walkways or above doors where there are restrictions on where the uprights can be placed.
What was the result of their new playground shelter?
The positive impact that this large shelter has had on the school has been phenomenal. As the school wished, the canopy has offered up a wide variety of uses and is in use from the moment the pupils begin a school day right until home time. The sheltered area has proven to be a great teaching tool for the staff, who take full advantage of the outdoor space. They are delighted that whether it's raining or sunny, the shade structures allow for lessons to be taught in a more natural environment. The school's teaching environments have been transformed entirely, and this is down to the shelter.
When the shelter is not being used as an outdoor learning facility, the shaded seating area is being used by the children to eat their lunch or take restful breaks. The children can play safely, running around and playing with their friends. Moreover, the shade structures have been a breakthrough in terms of the school's reputation as a responsible school. With the addition of the shade structures around the perimeter of the playground, the school has now met many of the criteria needed to obtain the status of a Sun Safe School.
On top of all the amazing practical benefits, the outdoor areas have been completely transformed in terms of appearances. The previous courtyard was bland, with very little character. The shade structures fitted around the edge have become a huge focal point, attractively framing the playground.
Testimonial/Client Feedback
The school could not be happier with their new shade structures. We were fortunate enough to hear from the Headteacher, one of their teachers, the school administrator and some of the children who attend the school, who kindly documented their positive experiences with the new canopy. Here are some snapshots of what they had to say, and you can find the videos here.
"Installed to a very high standard" – Headteacher
"A&S Landscape kept me in the loop at all times, very professional, can't praise them enough" – School Administrator
"The children now have the opportunity to experience life outside the four walls of the classroom" – Teacher
"My friends think it's excellent!" – Primary School Pupil
About the client
Shelton Infant School is a nursery and primary school located in Derby. Their fun-loving, caring nature is evident from the beautiful addition of the outdoor shelters, which brings so much to the educational journey of the pupils. They are working towards the status of being a Sun Safe School, and we wholeheartedly support them to achieve this. We know our work has helped them along the way to their goal.
We had an incredibly positive experience working with this school, and we were so grateful to hear their positive feedback. We were so glad they love their new canopy and we know we have provided them with a high-quality, long-lasting and durable product!
What are the benefits of a covered area for your playground?
An efficient shelter for your playground can bring several benefits to your school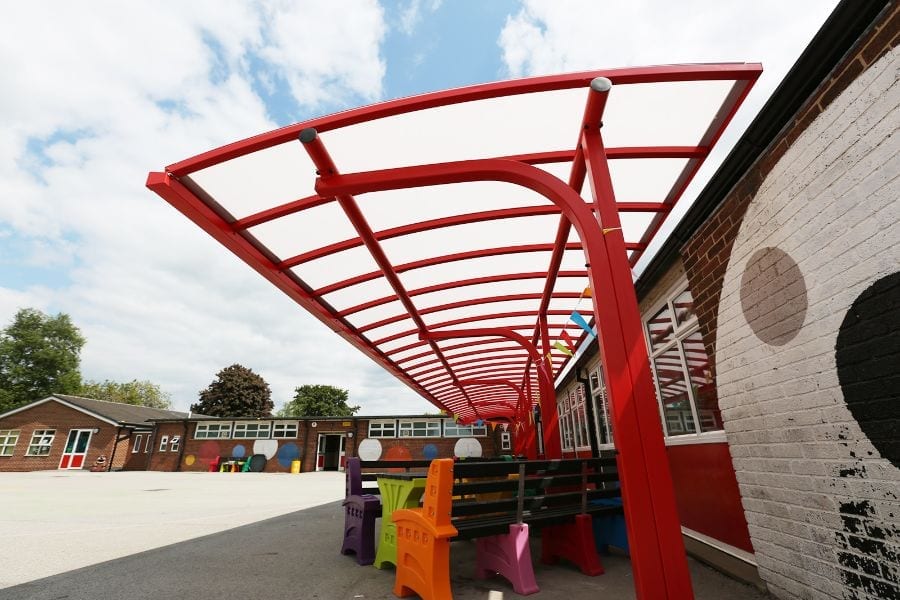 . At Shelton Infant School, the children have expressed how lucky they are to have a shelter, as they know other local schools do not have one. Shade structures really can transform your average playground into one that is considered a great place for children to play, socialise and rest. With an outdoor canopy, children can sustain longer times outside, regardless of the weather conditions. Outdoor shelters can help to create the best learning environments, leading to further outdoor educational opportunities. There is no better way to engage, focus and lift concentration than to teach outside.
Another massive practical benefit to your school is the protection that shade structures can provide for playground equipment. Play areas are often a composition of plastic and metal. Both are susceptible to the weather in different ways. Plastic can easily break or weaken, while metal corrodes over time. Outdoor shelters save you money in the long run from costly repairs, maintenance and even replacement. Even extremely high-quality playground equipment is not immune to the weather, so shade structures are a worthy investment.
How can A&S Landscape help you?
For all of the benefits that come with outdoor canopies, they truly are great value for money. They are not just suitable for early year settings, they can be beneficial to senior schools, colleges and universities. A person's need to be outside does not decrease as they grow older. You may even have a commercial business, did you know that A&S Landscape can help you too?
With 44 years of experience in the industry, we have become true experts in the field of effective solution shade structures. Our family firm works on several core values that were set out all those years ago in 1976, here are just three values that are the make-up of who we are:
We offer a trustworthy service, one that you can rely on to help you achieve your commitments.
We aren't owned by a parent company, group, or a bank. We are completely independent, and we will always work to your best interests.
We pride ourselves in the uncomplicated nature of our service. We won't try and confuse you with industry talk or jargon, we offer advice that is simple honest and open.
Whatever your requirements, we can help you to find the best and most effective solution to your needs. Our large range of products has something for everyone and can help you transform your outside space with a cover system with unrivalled quality.
If you'd like to discuss outdoor playground shelters, school canopies, or any other shade structures, get in touch with our friendly team on 01743 444100 or at [email protected].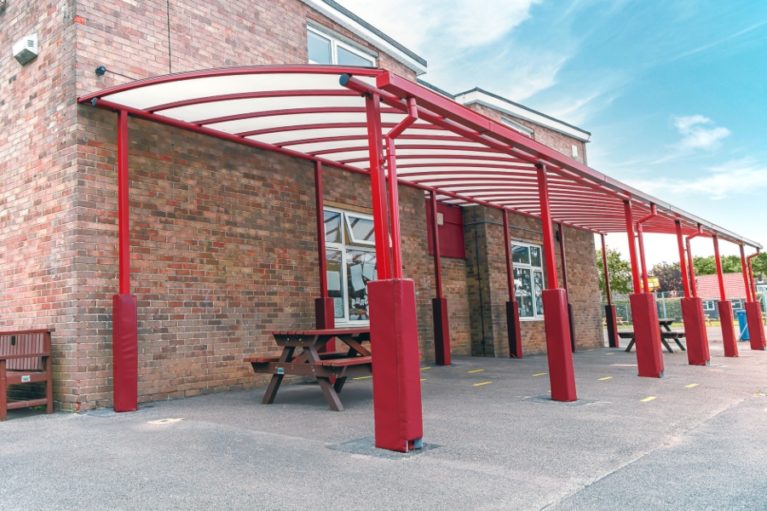 The quality of the product was really good, it gave us exactly what we wanted and it was good value.
- Covingham Park Primary School
View Project
Read about some of our latest playground shelter projects
The Mawney Foundation School Adds Straight Roof Shelter in London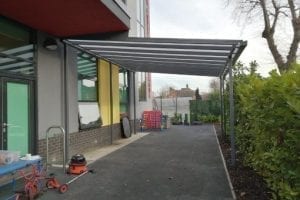 It's amazing how much you can get from just one playground shelter on the school grounds. The Mawney Foundation School found this out when they contacted us, looking for a new shelter for their playground. They chose to have a Motiva Linear shelter installed in grey, which allowed it to blend in perfectly with the rest of the school building. Pupils already love it and are often found underneath the shelter during breaks. It's a great spot for adults to shelter too at home time when waiting for the children to come out. These playground shelters not only protect from the rain but from UV rays too thanks to the opal polycarbonate roofing. The school have even found that it makes an excellent spot to keep playground toys when they're not in use. This canopy has shown itself to have so many uses, the school will be sure to have many years of use from it. Find out more about the straight roof shelter we installed at The Mawney Foundation School.
Straight Roof Shelter at St John's Walworth C of E Voluntary Aided Primary School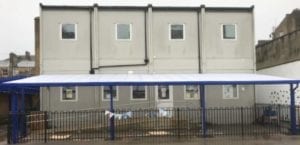 The importance of outdoor play cannot be underestimated and at St John's Walworth C of E Voluntary Aided Primary School, there is a great emphasis on this. This led the staff to explore options at covering an area of the playground, which would enable the pupils to spend more time outdoors in the fresh air. A&S Landscape proposed the installation of two Motiva Linear™ straight roof structures, complete with unbreakable polycarbonate roofing. The school was delighted with this solution and so the two shelters were installed in the playground. Now the pupils can play outdoors no matter the weather, as they can shelter from the rain, wind and sun under the shelters. Overall, this project has been a huge success and we are glad that we could have made a difference to this lovely school. See more about the playground canopies we made for St John's Walworth C of E Voluntary Aided Primary School.
In Goole, Riverside Special School Add Cover to Play Area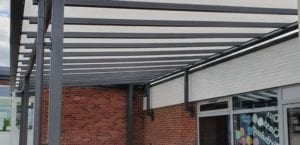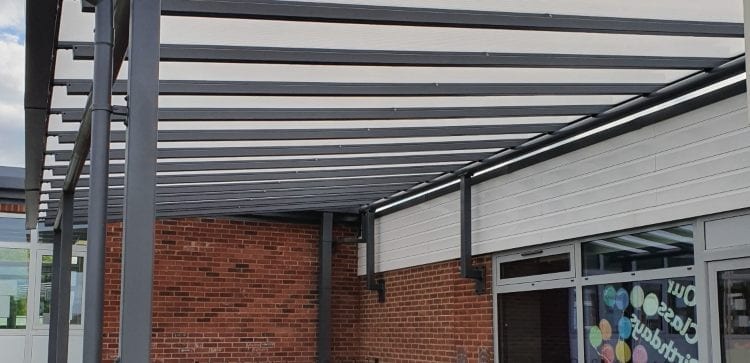 While making a series of improvements to the facilities on offer, Riverside Special School decided to add a shelter to an area of the playground. They knew that this would allow the pupils to spend more time outdoors as they would be protected from any poor weather conditions. The school contacted us for shelter solution which would work in the proposed area. Our design team created a plan for a partially wall-mounted straight roof shelter, which would cover a good amount of the floor space while minimising the number of posts needed. Outdoor play equipment can now be stored under the Motiva Linear™, saving valuable indoor storage space. What a great success this project has been for the school and their pupils! Why not check out our news article about the play shelter we made for Riverside Special School?
Green Fabric Tepee Made for Welshampton C of E Primary School in Shropshire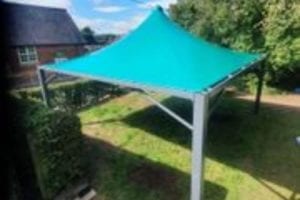 It's always a joy to work with a local school to our head office, and the Welshampton C of E Primary School project was no exception. This school was looking to add some shelter to an area of their playing field, this would allow the space to be used more regularly during break times and lessons. We installed a Maxima Tepee™ made to the size of 6m x 6m with a striking Opal Green coloured fabric roof. This stylish shelter has been the perfect addition to the school field and quickly became a popular spot to enjoy during playtimes. As well as protection from the rain, this design can also shield the pupils from the sun and the dangerous UV rays. Keep on reading about the fabric playground canopy at Welshampton C of E Primary School.
Roecroft Lower School Add Straight Roof Shelter to Play Area in Hertfordshire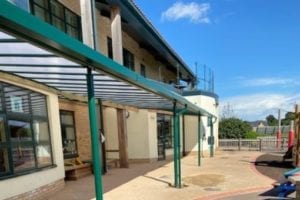 A&S Landscape teamed up once again with Roecroft Lower School to add another cover to an area of their school. Having previously installed a canopy, the school knew first-hand of the benefits it had brought and so decided to install a second. The latest canopy we installed was from our Motiva range and was a straight roof design. To match the previous structure, this design was finished in a bright Moss Green colour on the framework. The lucky pupils now have even more choice of where to play outside if they want to seek some shelter from the weather. It's always great to get to work with a school for a second time, and we hope that the second shelter is as enjoyed as much as the first! Click here to read more about the playground shelter we made for Roecroft Lower School.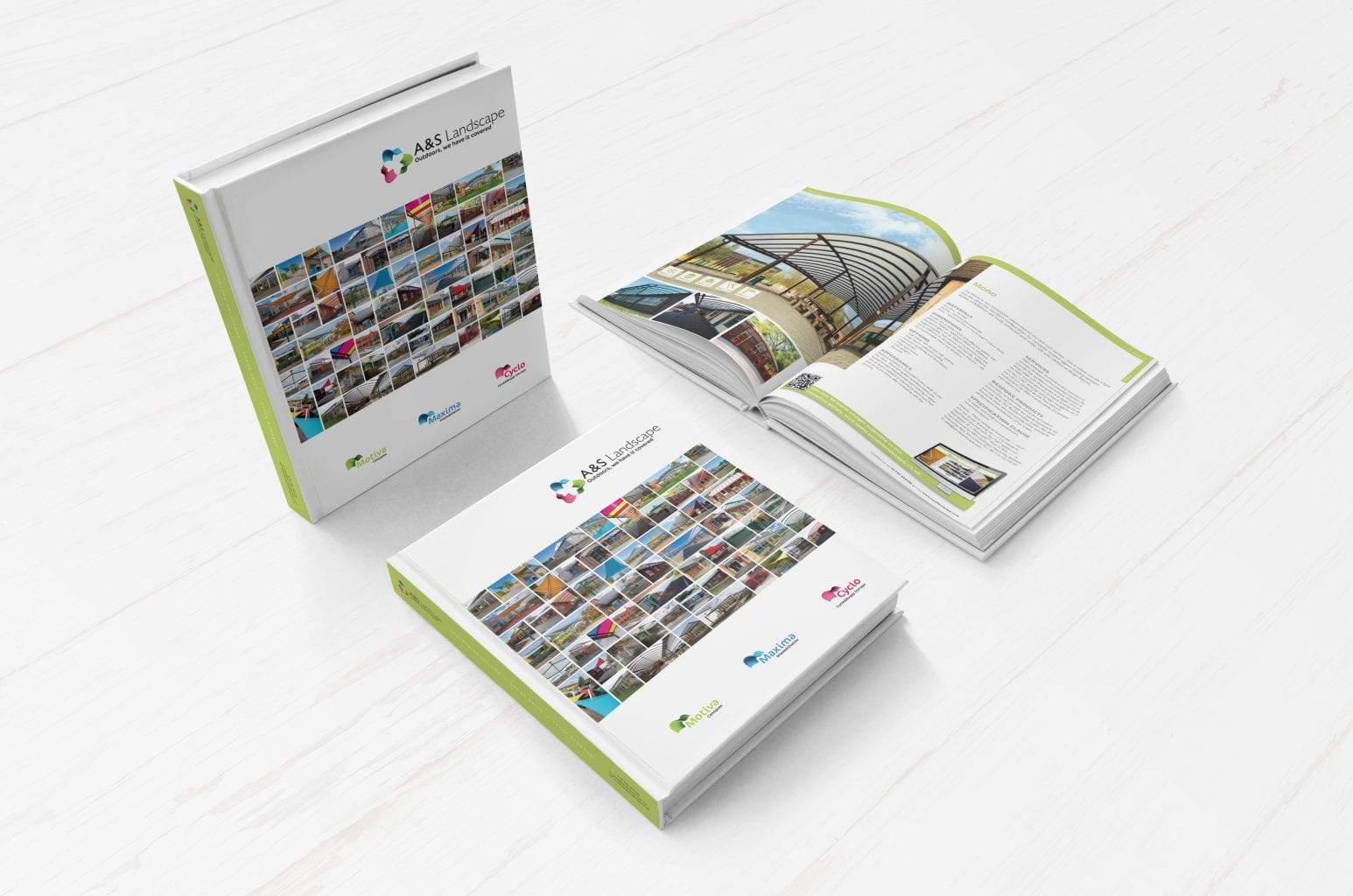 Get in touch to request a copy of our full, 160 page, hardback brochure with all the information you need to make the right choice.