Shade Sails for Schools
Eye catching shade sail designs for shade and shelter in schools
Enquire Now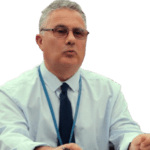 Their professional expertise was excellent. The staff were honest, helpful and totally trustworthy.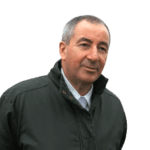 From start to finish, A&S Landscape have worked with the school to make the project a large success.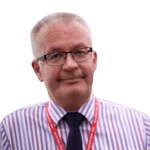 I'm very pleased with the canopy. Once we got approval it was installed less than three months later to a high standard.
Shade Sails for Schools
The grounds in schools and education facilities are incredibly important spaces to consider, as they have high footfall and both staff and students will spend a significant amount of time in these spaces. The benefits of outdoor play are numerous and well documented which is why practical and aesthetically pleasing outdoor areas are so important in schools, nurseries and playgrounds.
Shade sails are some of the easiest, most affordable and practical ways to improve the outdoor space available to schools. Shade sails are large, fabric canopies that attach to posts or anchor points on your existing buildings, and are then stretched between them to create a shaded and protected area. Shade sails are exceptionally durable and can be taken down in extreme weather conditions, so you don't need to worry about damage to the canopy or the buildings around it. However, the most important thing is the benefits that schools and playgrounds see from having protected areas outside. This kind of structure can help get students outside during breaks and provide opportunities for safe and enjoyable outdoor learning.
At A&S Landscape, we have a lot of experience working with schools to design playgrounds that are both flexible and cost-effective, and that help your outdoor spaces achieve their full potential. We've worked with many schools and learning centres over the years, so we know what you need when it comes to the design and briefing of a construction project, as well as the installation. Please don't hesitate to get in touch with us to find out more about our shade sails for playgrounds, or to get a quote for your project.
What are the benefits of school shade sails?
There are many benefits to school shade sails, here are just some:
Creates a space for outdoor dining
Pupils can play outside more regularly
Adds a focal point to the area
Protection from UV rays
Lessons can be held outdoors
Parents can wait sheltered at the end of the day
Allows pupils to let off steam and exercise
Want a Free Quote?
Send us your email and an idea of your requirements and we'll get back to you with a quick price.
Shade Sails for Schools Ideas
Read about some of our school shade sail projects
Wilmslow High School in Cheshire Add Bespoke Sail to School Grounds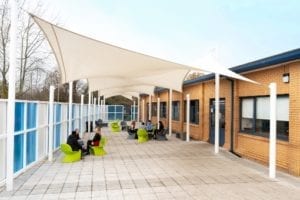 Many schools need somewhere where their students can relax and enjoy their breaks, even when the weather is less than ideal. Wilmslow High School was looking to create a waterproof sail canopy for their students, so they called on our team to help them design something. They decided on a bespoke shade sail, designed to fit in with their current school building. The end result has certainly been striking. School shade sails look great, and this sail has enclosed a large area to protect students from rain. The natural coloured fabric looks great against the school building, giving a clean look to the area. As a bonus, the sail has made it much easier for the school to be identified by newcomers to the building. It's made giving directions to those coming by for the first time a whole lot easier. All in all, it's improved the school premises for everyone who attends. To see more of the bespoke shade sail at Wilmslow High School, click here.
Brand New Pontprennau Primary School in Cardiff Adds Sail Shade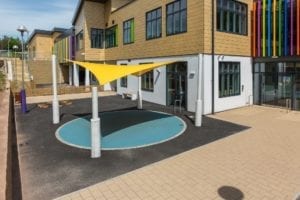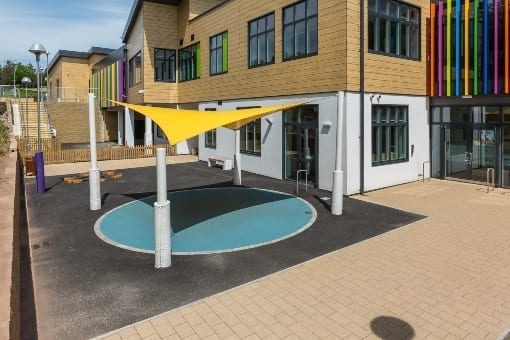 Pontprennau Primary School is a brand new school, and so has used lots of modern design elements in its construction. It also considers children in every part of the design process, creating a building that's exciting and stimulating to learn in. This design extends to the outdoor spaces, as so much learning is done outside of the classroom. Their playgrounds are vibrant and full of things to discover. Because of this, the school wanted pupils to be able to stay outside even in wet weather, so that's where we came in. There was already a designated space to cover, so we just needed to find the right school shade sails to use. In the end, the school went for a Maxima sail to cover the space. The waterproof sail shade keeps the rain off, so children can always play outdoors. Plus, the bright yellow colour blends in perfectly with the school design as a whole. To see more about the Maxima Sails at Pontprennau Primary School, click here.
Shade Sail Continues Bright Colour Scheme at Nelson Mandela Primary School in Birmingham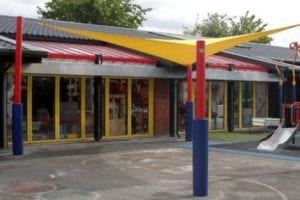 Nelson Mandela Primary School in Birmingham prides itself on being an engaging and fun place to learn. They know children learn better when they're fully immersed in environments tailored to suit them. That's why they created a brightly coloured school environment in order to give pupils the best place possible to enjoy their schooling. They needed a shade canopy for their playground, to allow students to learn and play outside even when the weather isn't cooperating. They contacted us to help them design something perfect for them. A shade sail was constructed to create that much-needed cover, making the grounds useable even in wet weather. In keeping with their school design, the waterproof shade sail was created in a vibrant shade of yellow, with contrasting red supports. The pupils love the sail and spend time under it whenever they can. School shade sails have improved their experience at school hugely, making it an excellent investment for the school itself. Read about the sail at Nelson Mandela Primary School.
A New Playground Sail For St. Mary's Bluecoat Primary School in Shropshire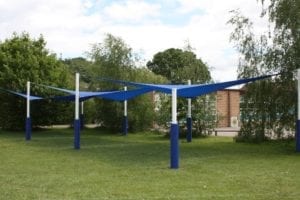 St. Mary's Bluecoat Primary School have a wonderful playing field for their students, but it was missing just one thing. As a playing field, there was no shelter on it. If students wanted to use it, they would be out in the hot sun during the summer months. They got in touch with our team, looking for a solution that would both work and look good too. They decided to use a Maxima sail to create waterproof sails for shade on their playing field, making it much easier to use in the summer. These school shade sails are perfect for keeping the sun off pupils when they're playing or socialising, and they look great too. They were created in a shade of aquatic blue, fitting in with the school colours and looking great against the colours of the grass. The sails have proven to be a hit with the school, and they now have somewhere where pupils can play without being in the sun. To read more about the Maxima Sail at St. Mary's Bluecoat Primary School, click here.
Shade Sails At Ysgol Penygloddfa in Newtown Create Talking Point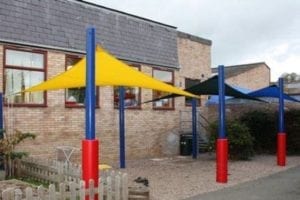 When considering school design, it's not enough to be purely functional. You need the school to spark the imagination of the children who attend, too. That's why Ysgol Penygloddfa wanted something exciting when they were looking to install new school shade sails on their property. They came to us as we were able to offer something that little bit different. They went with three Maxima sails that create a great, dynamic shape against the backdrop of the school. Choosing them in green, blue and yellow colours, with blue posts, means that it's bright and cheerful too. It's perfect for brightening up and wet day on the playground. The new sails are certainly a talking point and have really improved the look of the school grounds. Both students and parents love them, as they offer lots of shelter while still looking good. No one has to stay out in the rain anymore. To read more about Ysgol Penygloddfa's sail shades, click here.
Chantry High School in Worcester Continue Their Colour Scheme with New Shade Sails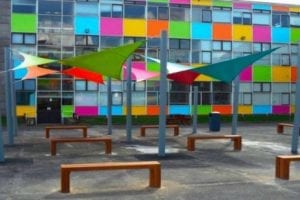 Take one look at Chantry High School, and you'll see they're not like other schools in the area. This is shown in the right colour scheme used on the outside of the building. It makes the school stand out and makes it a bright and welcoming place to be for their students. The school needed somewhere their students could spend their breaks outdoors, even if the weather turned rainy. They talked to us about installing a new set of school shade sails. The set they chose works brilliantly with their current school style. The series of Maxima shade sails were installed in four colours: Lagoon, Raspberry, Aniseed, and Mandarin. The result is a beautiful covered area that students love using during their breaks. The installation of these outdoor sails has further improved the look of the school and made it even more welcoming. It's an addition that will offer so much to the students and teachers of the school. To see the Maxima Shade Sails at Chantry High School, click here.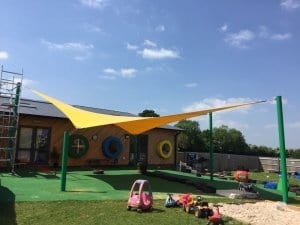 I was left with an excellent impression of the company and would recommend to others.
- NOA's Ark Nursery
View Project
See our featured school shade sail project below
Glenwood School in Essex adds Multiple Shade Sails

What was the project brief?
Glenwood School in Essex has a wonderful play area for children to enjoy during their break times. However, in times of poor weather conditions, the exposed equipment would become unsafe to use. For both their legal responsibility surrounding the children's safety and to ensure that outside spaces could be enjoyed all year round, the school knew they needed to explore various cover solutions.
Their ideal shelter was to have a colourful focus that would encourage the children to play, as well as the means to provide all the practical benefits, including excellent weather protection. This is where the school decided to approach canopy experts A&S Landscape, with the intention of creating a vibrant, yet effective barrier from the elements. With a wide range of outdoor sail canopy designs to choose from, their knowledge was required right from the initial design stage.
What was our 
sail canopy

 solution?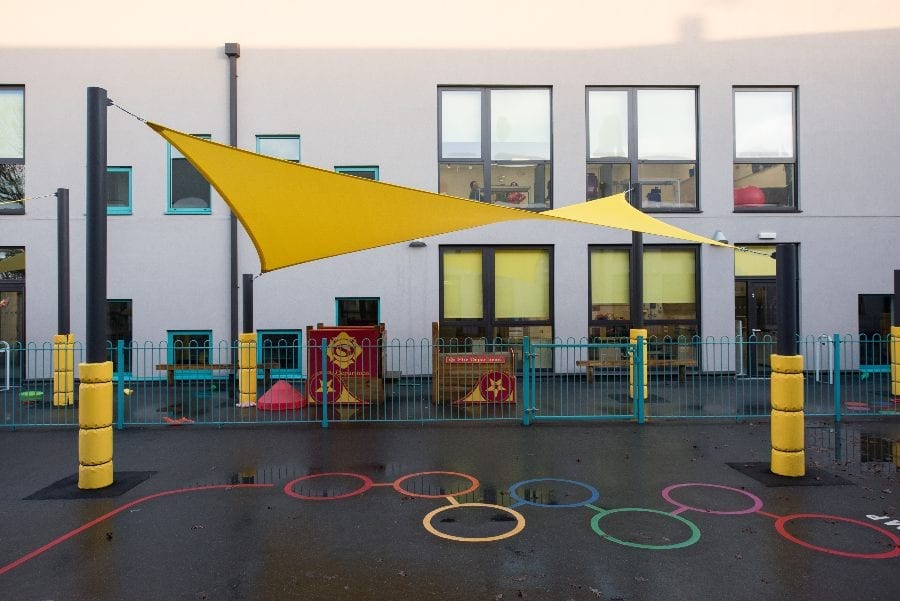 Due to the strong emphasis on the requirement for a bright colour scheme, an ideal solution was the Maxima Sail™. With nine of these canopies installed in total, a sea of colour was created over the play area. The shade cloth and post pads of each structure were manufactured in one of three colours: Traffic Red (RAL NO. 3020), Ultramarine Blue (RAL NO. 5002) and Signal Yellow (RAL NO. 1003). For even more colour contrast, the steelwork was finished in a grey brown Dura-coat™.
A bespoke shade sail can be manufactured to almost any configuration or dimension, with various shape and sizes available to meet requirements. They are cost-effective yet have some of the longest guarantees on the market, making them a popular choice for schools. The shade cloth is 90-98% effective against harmful UV rays, making them an excellent cover solution during the summer months. The sail canopies are a true statement for school grounds, thanks to their great, dynamic shape that spices up any existing outdoor area.
What was the result of their colourful shade sail array?
The spectacular combination of shade sails has become a real focal point for this vibrant primary school. The play area was marvellous before, but now the outdoor open areas really achieve the added wow factor. With year-round protection from the weather, children can now safely run around outside during their breaks, meaning they are much happier when they come to sit down to lessons. 
Teachers are also taking full advantage of the covered outside spaces, by teaching outside! With fresh air and Vitamin D readily available, the children focus better, have the freedom to be more creative, and are developing further curiosity of the outside world. Quite simply, the shade system is the best place for an effective learning environment.
With the school's specific needs having been met, we were extremely happy to hear positive feedback from them, telling us how much they loved the new canopies. We know that we have installed one of our leading creative and ingenious solutions that, with its exemplary product-quality, will last a very long time.
About the client
Glenwood School in South Benfleet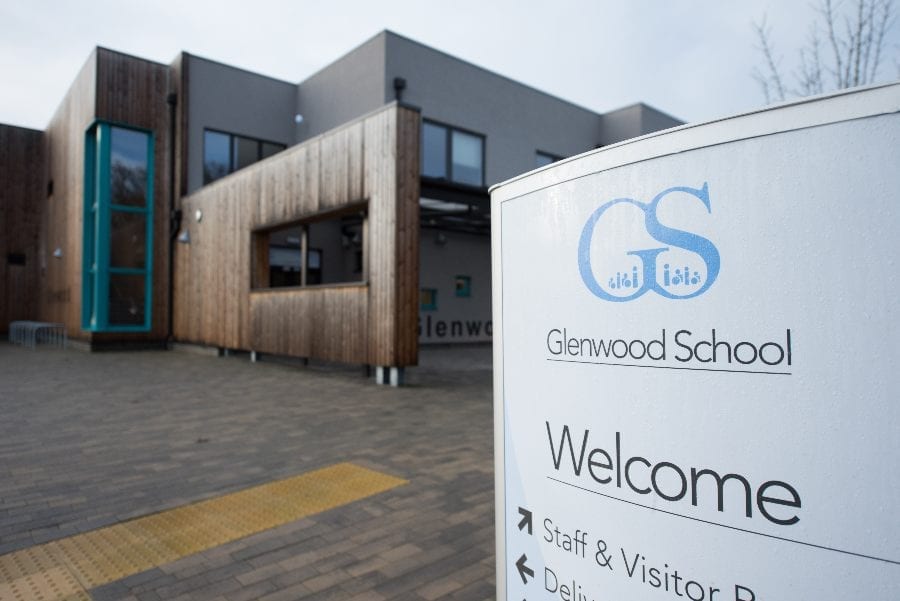 is a special community school maintained by the Local Authority. There are 210 students who attend this school, from the ages of 3 up until 19. Approximately 60% of the children here are diagnosed with autism and approximately 30% with sensory and/or physical impairments. The school commit to taking a flexible approach to learning, and we are glad that we could have helped in some way, by the installation of the canopies. We know that the shelters will allow the children to learn and play outside for years to come. It was a joy to work with such a caring and friendly team at Glenwood School.
Benefits of teaching outside for children with special needs
Physical benefits
Many children with special needs experience delays in their physical development, whether this is with their coordination, flexibility or muscle strength or tone. However, partaking in physical activity can positively aid their physical development and help to alleviate any barriers they may face. Cardiovascular health improves too, and their ability to endure exercise increases. All of these are directly linked to good health and even increased life expectancy. Having a canopy will allow for that extra space needed to exercise. In addition, being outdoors allows for more natural light absorption, which is especially necessary for children with special needs, who often have Vitamin D deficiencies.
Mental benefits
A common problem found in children with special needs is a lack of self-esteem and self-confidence. Problem-solving is an excellent way to increase feelings of personal satisfaction, and outdoor spaces offer the best learning environment for the set-up of problem-solving tasks. From using planks of wood to reach from one side to the another, to scavenger hunts, there are so many activities that encourage active problem-solving. Teaching needn't be confined to the walls of the classroom, make each day count!
Social benefits
A covered teaching area helps to address social problems too. The low-stress social space helps to resolve conflict and encourages group work between the children. With the exploration of the outdoors offering up new challenges, feelings of self-advocacy and resilience will begin to develop, and the school will become a much more pleasant place for a child with special needs. The extra room may even allow for a designated space, where a child can take time out should they become stressed. 
How can A&S Landscape help you?
If you'd like help finding a shade system, A&S Landscape has an excellent team on board able to help you find the perfect solution. We have been designing, manufacturing and installing canopies since 1976, and in that time we have catered for all kinds of educational facilities including nurseries, colleges and universities. We understand that each establishment has its own wants and needs, and so we have increased our design flexibility over the years to be able to offer a unique solution for all.
The fabric tensile structure is just one of our wide choice of canopies we have to offer. Shelters can have a polycarbonate roof (straight or curved), can come with side panels, be attached to an exterior wall or have a whole host of additional design features. Whatever your requirements, we have you covered with our outdoor sail shades uk range.
Please don't hesitate to get in touch with our friendly team today to discuss your permanent canopy solution on 01743 293179 or at [email protected].

Glenwood School Before and After
Shade Sails for Schools - Design Options
School Shade Sail Applications
Schools catering for younger children including infant schools, playgroups and nurseries, often require an outdoor covered play area to ensure free flow play is possible in all weathers. They also provide additional outdoor teaching space, allowing teaching to be extended into the playground whatever the weather. A covered teaching area, providing all-weather protection is just one of the many benefits of waterproof shade sails for schools.
A school shade sail can provide staff and pupils with protection from the sun and shade from the rain, transforming previously unused areas into the perfect outdoor learning area, dining area or social space. Our high-quality sail shelter range are suitable for a wide range of uses including:
Playground shade sail
Nursery shade sail
Dining area shade sail
Play area shade sail
Covered seating area
Play equipment shade
The Need for Shade in Schools
Children spend almost half their childhood at school, with approximately eight hours per week spent outdoors. During the hotter months of the year children are exposed to UV radiation from the sun, the majority of which is when UV penetration is at its strongest. Without adequate protection, a child's delicate skin can burn within minutes, causing irreparable damage. This can significantly increase their risk of developing skin cancer in later life. However, SKCIN believe that it's not just parents who have a responsibility to ensure their children are equipped to protect themselves against UV during school hours. We believe that schools also have a duty of care to ensure the health and safety of their pupils, which includes working with both pupils and their parents to not just ensure children have access to sun protection measures, but that they are actively educated annually on the importance of sun safety.
Shade Sails for Schools Prices
A&S Landscape offers a full range of shade sails for schools ensuring we have something for every budget. Prices will vary with shade sail sizes, the location of your school, ground surface and other site-specific factors. Please contact us for further information.
Bespoke Shade Sails for Schools
Offering a bespoke service allows us to manufacture our shade sails to suit your school, each sail cloth canopy, sail awning or shade sail is different and we can manufacture to suit the site and application.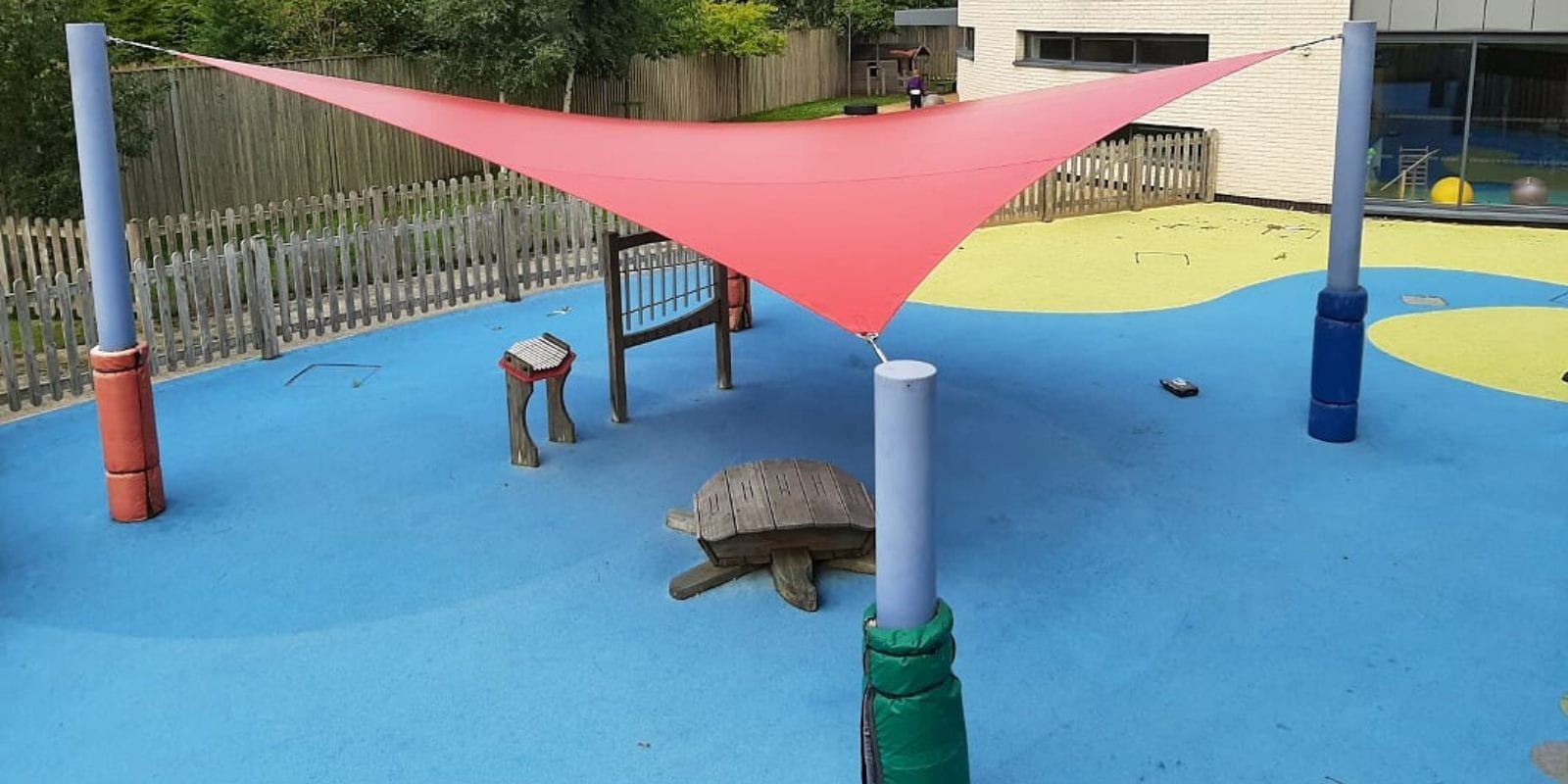 Send us your email and an idea of your requirements and we'll get back to you with a quick price.