Sectors A&S Landscape Work With
If you are looking for a supplier of attractive, elegant and impressive canopies and covered area solutions in the UK, then you have come to the right place. Here at A&S Landscape, we have over four decades' worth of experience in the industry. In this time, we have grown as a business and our reputation has grown with us. Through dedication to building great relationships with our customers, we have become the go-to canopy supplier for clients across a wide range of industries in the UK.
As a family run business, we're currently enjoying our third generation of family ownership and are proud to bring the same principles and values to the job that we did in the 1970s. These ethics include a dedication towards honest practice and transparency. Our clients and customers are the centre of everything we do, no matter the sector they are involved in. Our excellent customer satisfaction record is something we are incredibly proud of.
Building excellent relationships with clients who return to us as trusted suppliers is at the core of what we do. Ever since A&S Landscape began all those years ago, we have worked to build great relationships with the local authorities, architects, builders, schools and commercial clients that we work with. In this time, our commitment to fantastic service has seen us grow into one of the UK's leading suppliers of bespoke canopy solutions.
Which sectors do we supply with our impressive range of perfect canopy & covered space solutions?
While our reputation is largely based around our work in supplying canopies and covered area solutions for the education sector, this is only a part of what we do. We may very well be the UK's largest supplier of canopies and covered solutions to schools and we certainly work with the nation's leading colleges, universities, primary schools, multi-academy trusts and more, but we work with a wide range of clients in every sector.
Bespoke Canopy & Outdoor Space Solutions For Colleges & Universities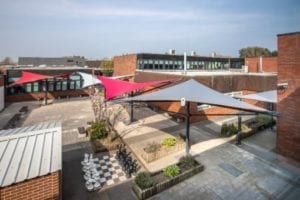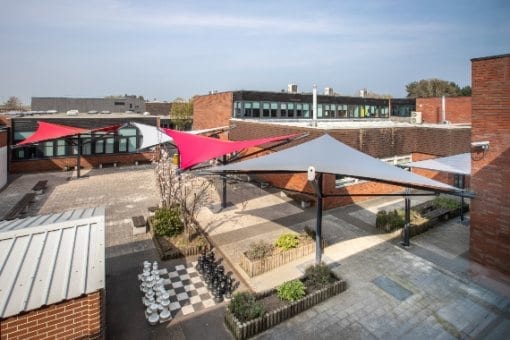 Part of being a college or university in the 21st century is about standing out with a unique style and personality that captivates your students and engages your visitors. Whether you need polycarbonate roofing for an entrance canopy that extends your usable space, or if you need an effective solution for an exterior dining area, or if you need an impressive canopy or outside structure for a covered walkway between, buildings, A&S Landscape is a leading provider of canopies for colleges and universities and higher education. It's important that you are able to make the most of the available space when designing and building new areas for a university or college, and it's often important to achieve a bespoke design that works uniquely for the desired style and aesthetic. Fortunately, the comprehensive range available here at A&S Landscape is certain to fulfil your needs.
Outdoor Covered Areas, Weather Protection & More For Senior Schools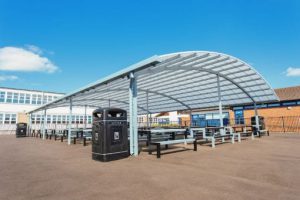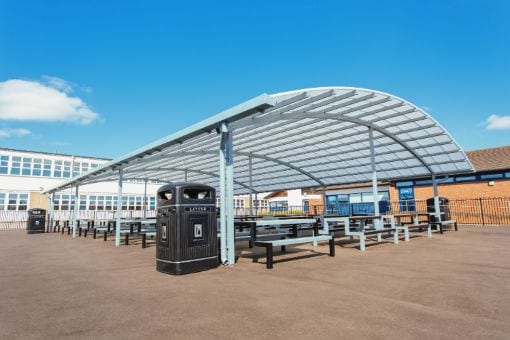 Here at A&S Landscape, we are proud to be the UK's largest and most trusted supplier of canopy solutions for schools across the country. After decades in the industry, we have delivered many leading senior schools with the outdoor space and entrance canopy solutions that they want and need. We know that you need your senior school canopies to be tough, durable, robust and long-lasting – that's what we're here to provide. From covered walkways, polycarbonate roofing and outdoor dining areas, to shade sails and all-weather sports pitches, the options available when it comes to outdoor space solutions is incredibly wide-ranging here at A&S Landscape.
Bright & Attractive Canopies For Primary Schools & Nurseries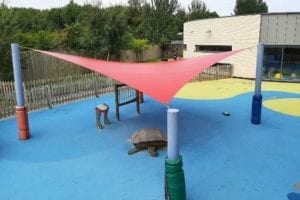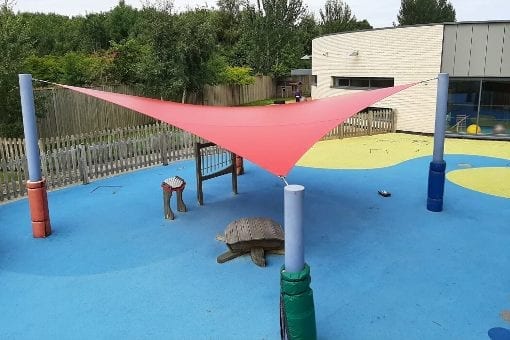 Young children enjoy the freedom of having space to run around in and just love spending as much time outdoors as possible. Being able to extend your learning area to the exterior of your building is a great way to engage your young learners. A bespoke canopy can achieve the best of both worlds, allowing nursery and primary school children outdoors while still keeping them learning with proper weather protection from UV rays, rain and more. Primary school and nursery canopies can come in a wide range of different shapes, sizes and types with colourful polycarbonate roofing that casts a stunning light on sunny days.
Our Fantastic Selection Of Flexible Canopy Solutions For The Healthcare Sector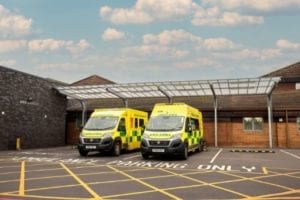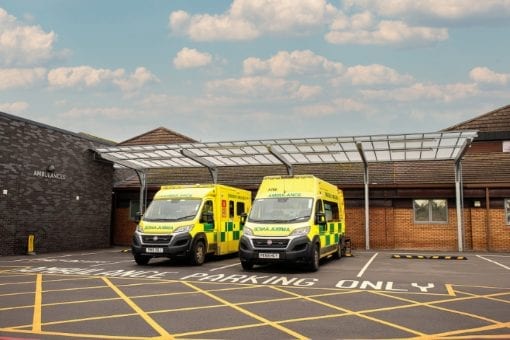 Canopies for use on healthcare sites such as hospitals, care homes, surgeries and clinics need to be functional but attractive, and robust but impressive. The team here at A&S Landscape can help you to create canopies that enhance the healthcare site, whether it be for covered walkways, ambulance drop offs, outdoor dining areas, entrance canopies or anything else.
Perfect Outdoor Space Solutions For Parks & Public Spaces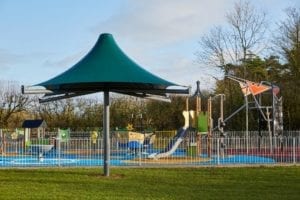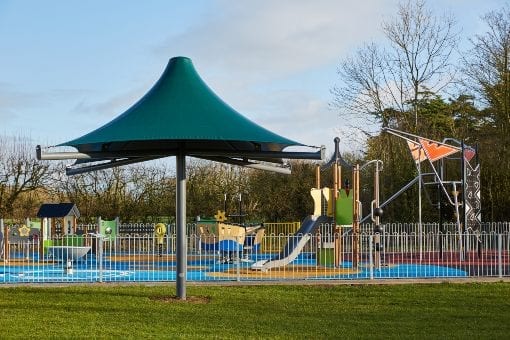 When we work with architects and builders to supply them with the right outdoor and covered space solutions here at A&S Landscape, we always make sure that we meet their need for canopies that are reliable, robust and attractive. We have a lot of experience delivering shade sails and other weather protection canopies for parks and public spaces, given the need to provide visitors with protection from rain and UV rays. Of course, whatever the solution, when it comes to supplying public areas with canopy products, there is a need for exemplary quality – something we specialise in.
The Perfect Canopy Solutions For Public Attractions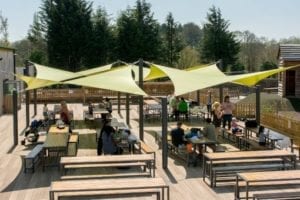 When it comes to designing and building covered areas for theme parks, we understand how important it is to create the best visitor experience possible. Canopies for public attractions need to be of the very highest quality – they need to be robust, durable, impressive, long-lasting and good looking. Whether it be creating an outdoor play area for children, covered walkways for long queues, outdoor dining areas, viewing areas or anything else, weather protection such as shade sails and canopies are also incredibly popular for theme parks.
Impressive Roof Canopy Solutions & More For Sporting Facilities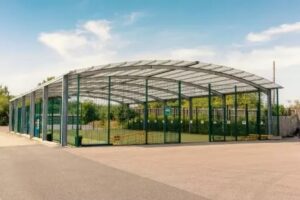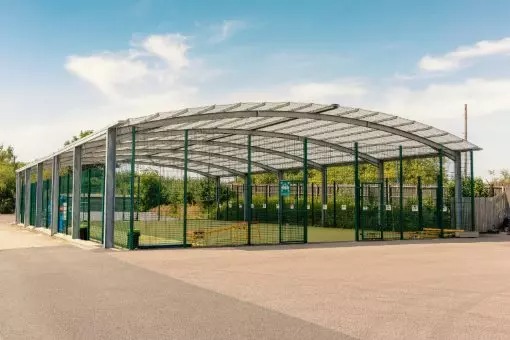 When designing a sporting facility, whether indoor or outdoor, it's important to take a wide variety of factors into account. Here at A&S Landscape, we are proud to say that we have worked with clients such as the FA and Team GB, supplying them with high quality covered area solutions that suit their needs. When it comes to canopies for sports facilities, we have a whole variety of options for outdoor games areas, sports pitches, spectator areas, and more. It's important to make sure you have excellent and essential protection against the weather in order to keep the sports facilities accessible and usable rain or shine, we have the high quality and excellent value solutions you need.
Dedicated Canopy Solutions For Car Sales Forecourts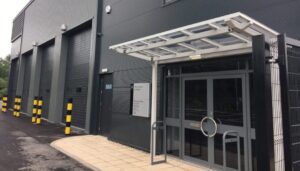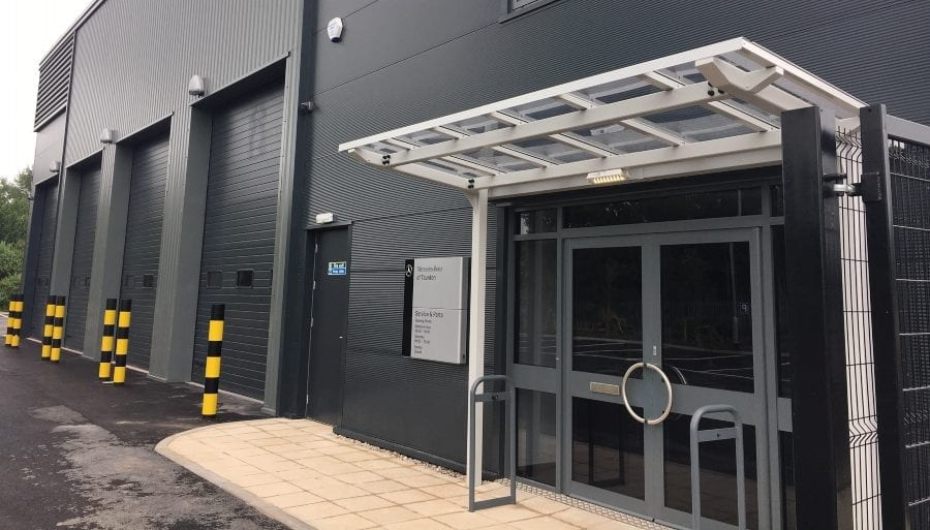 As a leading supplier of commercial canopy solutions, we have solutions for dealerships across the UK for their entire forecourt. Car sales forecourt canopy solutions need to be attractive and impressive while providing essential protection against the weather. For car dealerships, securing flexible canopy solutions that provide dependable cover and yet play an important role in your branding and style. Get in touch with us today to find out more about our extensive range.
Our Full Range Of Canopies For Garden Centres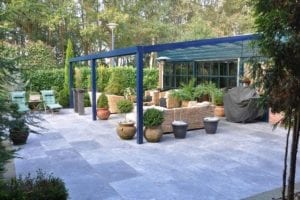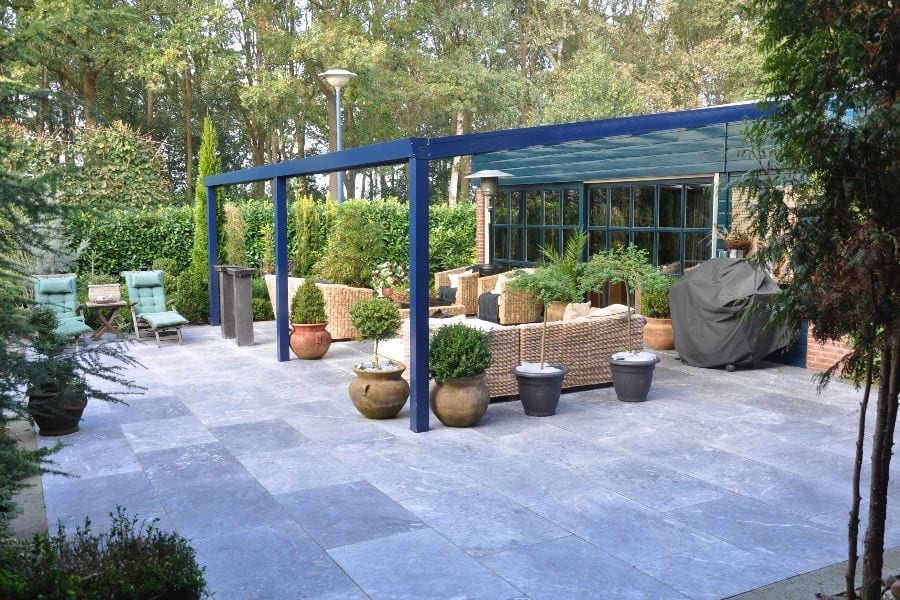 For any garden centre, it goes without saying that the builders and architect involved with designing the space will want to make the absolute most out of the outdoor space available. That's where A&S Landscape comes in. We are able to provide dependable outdoor cover from a diverse array of solutions and canopy products for garden centres. We can work alongside you to find a canopy that offers a stylish design with a functional and cost-effective solution.
Beautiful Canopy Options For The Hospitality Sector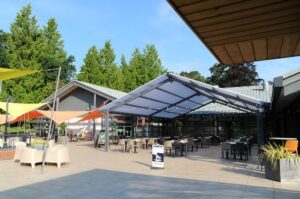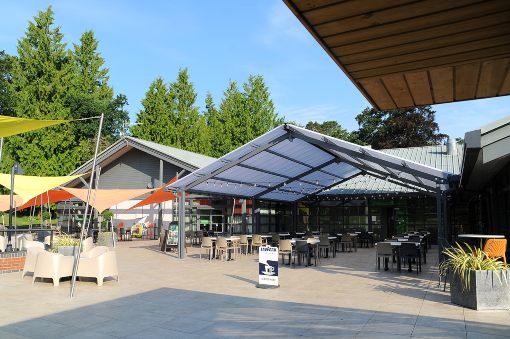 Anyone involved with the hospitality sector knows exactly how important keeping your customers comfortable and happy is. It doesn't matter if you run a small country pub or a large restaurant chain, because the fact is that creating comfortable customers means creating paying customers. Shade sails and retractable canopies are obviously incredibly popular for outdoor dining and seating, as customers need proper weather protection to enjoy the best experience possible. Whatever hospitality canopy and social space solution you're looking for, A&S Landscape can help – we provide restaurant canopies, café canopies, pub canopies and more.
Canopies For Commercial Applications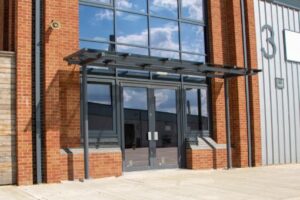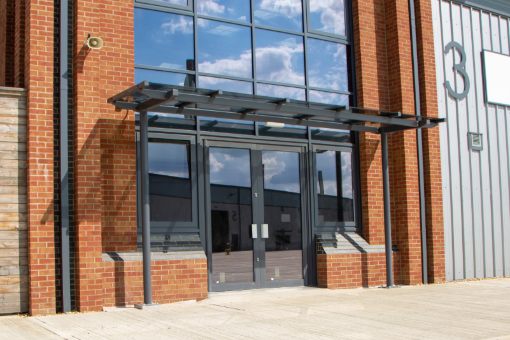 Canopies for the commercial sector need to be functional and reliable. Whether it be for a retail park, a factory, a delivery depot or anything else, the fact is that commercial buildings have outdoor space that needs to be covered such as parking areas, bin stores, loading bay canopies, entrance canopies and covered walkways. Fortunately, when you choose A&S Landscape for your commercial canopies, you can rest assured that use the highest quality raw materials with solid steel framework – get in touch today to arrange your free site survey.
Get in touch
Want to find out more about our amazing range and wide variety of canopies that are amazing across different sectors? Just get in touch with us today. For over four decades we have worked with architects, builders, local authorities, schools, property managers and more to deliver the best service and products available – call us on 01743 444100 to discover how A&S Landscape can deliver what you need.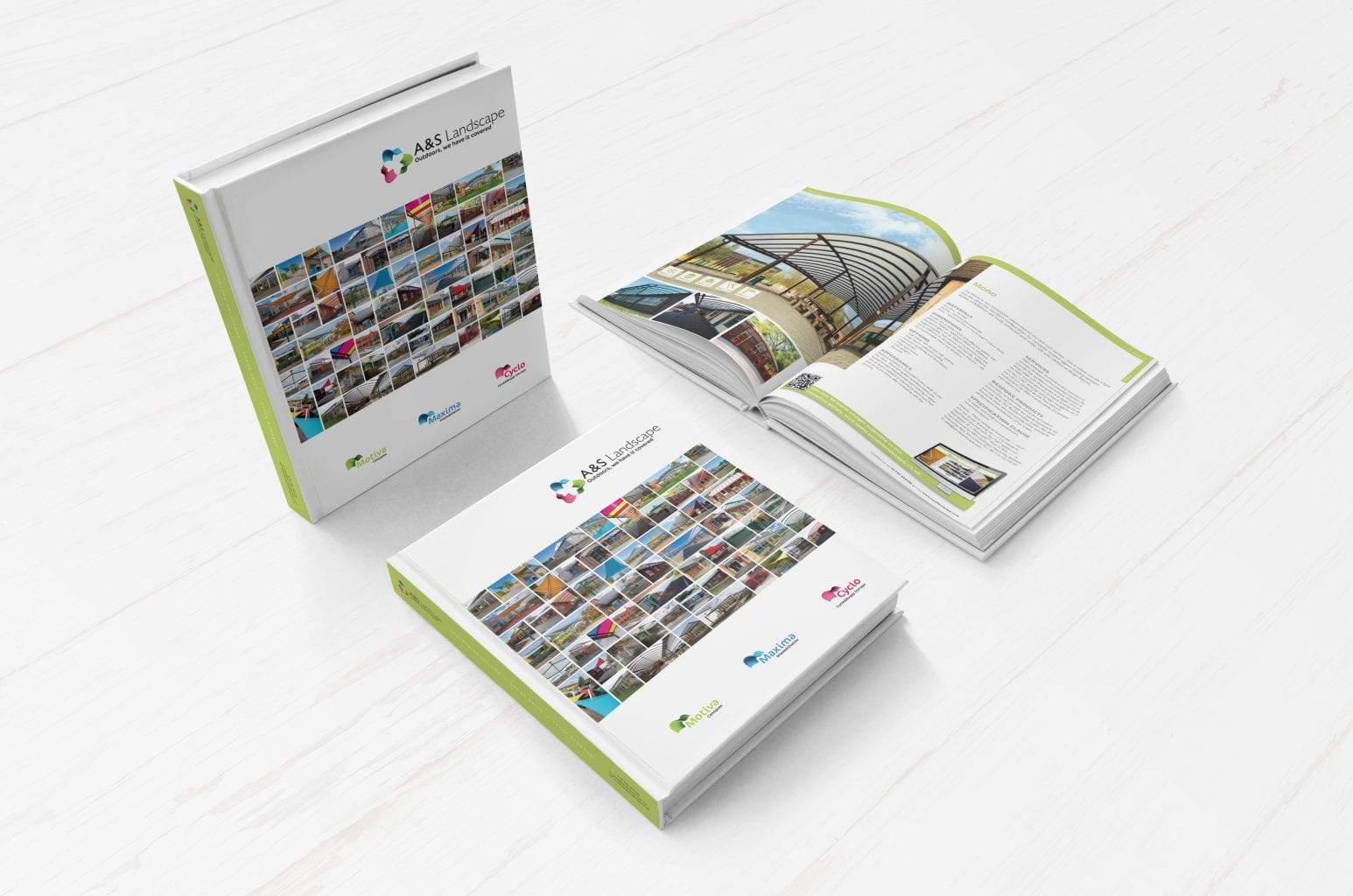 Get in touch to request a copy of our full, 160 page, hardback brochure with all the information you need to make the right choice.