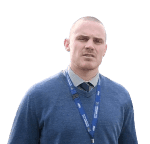 We wouldn't hesitate to go back and use them again. I highly recommend A&S Landscape.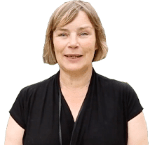 A&S Landscape was clearly the company to go with. They were accommodating and worked very well with us.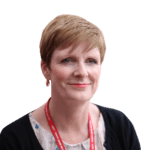 A&S Landscape was very professional and friendly. They followed our requests and kept me in the loop at all times.
Canopies for Healthcare Sites
For healthcare providers, the spaces that you have need to be practical for the work you do and the way you do it. Making indoor and outdoor spaces work for your team and your patients is so important to creating a positive environment where you can help people to the best of your ability. Canopies and building solutions can be used in many different ways within healthcare facilities, from covered walkways to ambulance shelters, sheltered outdoor areas for staff and patients to sit and eat and entryways with signage, to name just a few. At the end of the day, we want to help you create structures that enhance your offering and make life better for your staff and patients alike.
We've partnered with a number of healthcare facilities in the past to help them build spaces and facilities that are both flexible and cost-effective, allowing your outdoor spaces to achieve their full potential. We also have a wealth of in-depth experience in the design and briefing of building projects, as well as installation procedures that trigger as little disruption as possible, and avoid inconveniencing your staff and patients wherever we can. To find out more about how we can help improve your buildings and outdoor spaces, please don't hesitate to contact our friendly and experienced team who will be happy to discuss our options for the healthcare sector with you.
What is a Hospital Canopy?
Canopies have many uses at hospitals and healthcare sites. They can protect patients as they walk from the car park to the entrance. Shelters can also be fitted over ambulance loading bays. Staff can make use of a secure cycle shelter too. Entrance canopies can be added to create a covered area at the front of the building.
Whether you are interested in a tensile canopy system or a robust and hard-wearing steel and polycarbonate canopy, be rest assured that our years of experience, in-house design team and the utilisation of the highest quality materials means you will be in the safest of hands.
Listen to what our clients have said about working with us
Healthcare Canopy Designs
The Benefits of Canopies for Healthcare Sites
Keeps Your Patients & Residents Safe
In any healthcare setting, the safety of patients and residents is critical. Too much exposure to certain types of weather can pose a huge risk to those with underlying health conditions. High temperatures can affect people with asthma and heart conditions, the sun's UV rays can increase the risk of skin cancer, and cold weather can be especially dangerous for senior citizens.
Canopies can help you to keep the people in your care protected from the health risks that weather poses.
Perhaps you have a patient in critical condition arriving at your hospital —an entrance canopy will keep them safe from any further harm that hot, cold or wet weather may cause. Maybe you have a patient with a sensitive health condition who is leaving your site —a covered walkway will keep them shaded and sheltered as they make their way to the car park. Or you might have long-term patients or residents who don't want to be cooped up inside all the time— a shade sail will allow them to spend time outside and enjoy the fresh air while still remaining safe and dry, no matter the weather.
Thanks to our high-quality materials and smart, functional designs, our canopies provide maximum protection from all types of weather. Our Motiva™ canopies are made with unbreakable polycarbonate roofing which filters out those potentially dangerous UV rays from the sun. Meanwhile, our range of Maxima™ shelters give you the option of strong and durable shade cloth that offers 90-98 % UV protection, or high-strength PVC fabric that has both waterproof and UV-resistant properties.
Our canopies aren't only for your patients and residents; all of their benefits can be enjoyed by staff and visitors, whether they're walking between your site and the car park, dropping someone off, or relaxing outside. Furthermore, canopies —particularly covered walkways and entrance canopies— allow for safe transportation of medical equipment between buildings, wards, and car parks.
Allows Your Patients & Residents to Safely Enjoy Outdoor Space
Giving the people in your care the opportunity to spend time outside and get fresh air is vital for their overall health, wellbeing, and recovery. Whether you're creating an outdoor space for your patients/residents to eat, participate in light exercise or group activities, or simply relax, a covered area solution can improve their lives in more ways than you might realise.
Getting enough sunshine boosts the amount of vitamin D that our bodies produce, which is essential for strong and healthy bones, teeth, and muscles. Sunshine is also great for our mental health. Exposure to sunlight increases the brain's release of a hormone called serotonin, which has been linked to improvements in mood and helping a person feel calm, happy, and focused. Low levels of serotonin are associated with major depression with seasonal patterns (formerly known as seasonal affective disorder), which is a form of depression triggered by the changing seasons
The fresh air that you get from spending time outside also offers many health benefits. Taking in clean, fresh oxygen improves blood pressure and heart health, which is especially beneficial for people with heart conditions; it strengthens the immune system as more oxygen helps our white blood cells to function properly in fighting and killing bacteria and germs; and it aids our digestive system, which is particularly helpful for people trying to lose weight or maintain a healthy weight.
Fresh air can also be a boon to our mental health and happiness. Like sunshine, the more clean oxygen we breathe in will increase the amount of serotonin that our brain produces, leading to an improved mood and reduced stress. Higher oxygen intake also results in greater brain functioning, improving concentration skills and providing us with higher energy levels.
By allowing your patients and residents to spend time outside and reap the health benefits of fresh air and sunlight in a safe manner, an outdoor canopy improves the level of care that you're able to provide and, in turn, improves the lives of the people in your care.
Enhances Your Healthcare Site
While our canopies can help to improve the level of care that you provide to your patients and residents, an added bonus of our covered area solutions is that they can also enhance your healthcare site.
Thanks to our smart and stylish designs, well-built structures and eye-catching colours, A&S Landscape's fantastic range of high-quality canopies are sure to add a level of sophistication to your premises. Whether it's a hospital, surgery, clinic or care home, our covered area solutions will impress everyone who visits your site while adding practical value to your property.
With a whole host of customisable options, from the size and materials to the finish and colours, our canopies can be tailored to suit your exact requirements and preferences. The solid steel framework can be galvanised only or have a full Dura-coat™ finish, which is where the steel is both galvanised and powder-coated for enhanced durability and appearance.
If you've chosen one of our trendy Maxima™ canopies, the fabric can be either from durable shade cloth or high-strength PVC material. Our sturdy Motiva™ canopies give you the option of either a clear or opal polycarbonate roof, along with polycarbonate or glass side panels and steelwork in a range of RAL colours, allowing you to pick a colour scheme that catches the eye while complements the rest of your site.
Allows for Easy Navigation of Your Premises
Among the many optional extras that you can add to your canopy, such as side panels, doors, protective post pads, and downpipes and guttering, all of our canopies can accommodate signage. This allows you to clearly signpost entrances, hospital wards, car parking and ambulance or patient drop-off points, enabling people who visit your site to find their way around.
Look through some of our projects we have completed at healthcare sites
Multicoloured Roof Canopy at Queen's Hospital in Burton upon Trent
Cantilever Shelter Designed for Countess of Chester Hospital in Cheshire
Shade Sails Installed at Rotherham General Hospital in South Yorkshire
Ambulance Shelter for Gateshead NHS Facility at Spire House in County Durham
Fabric Canopy Designed for Broadgreen Hospital in Liverpool, Merseyside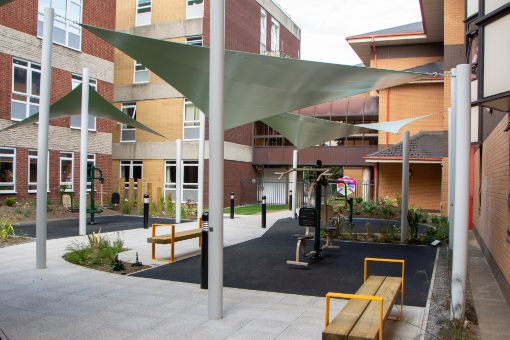 It was very good service, excellent. I have already recommended A&S Landscape.
Technical Director - Rotherham General Hospital
View Project
Our Featured Healthcare Site Canopy Project
New Care Home in Wales adds Covered Walkway
What was the project brief?
Completed in December 2018, Hafod y Gest Care Home in the town of Porthmadog, Wales, is a new-build care home for over 55s. The project was taken on and coordinated by the developers Anwyl Partnerships. The designated area for the two new buildings would house therapy suites, fitness rooms and communal areas for hobbies and activities. The new care home was considered a great addition to the community, and the expectation was that the new healthcare environment would give the future residents the best experience possible, in both quality of care and social activities.
This was to be a state-of-the-art building, with leading technology, and so it was important that the outside spaces weren't ignored. It was decided to add a covered walkway canopy to the building, so the residents could walk around without being exposed to the weather. The final shelter would have to be built to the highest standards, and so Anwyl Partnerships called in the expert opinion of A&S Landscape. Introduced in the early stages of the new build, they played a vital role in the whole process, this included the initial design, manufacture and installation of a covered walkway.
What was our canopy solution?
The final covered walkway turned out to be an incredible 37m long! This is definitely one of the larger-scale canopies we have installed and was from our popular Motiva Linear™ range. The covering was wall-mounted to the existing buildings using wall brackets and designed to fit seamlessly with the overall aesthetics of the new-build.
The covered pathway is both stylish and modern. Yet, the canopy doesn't just look the part, the build quality is superb. The opal polycarbonate roof filters out harmful UV rays, and the asymmetric shape gives excellent protection from the changeable weather conditions.
What was the result of their new canopy?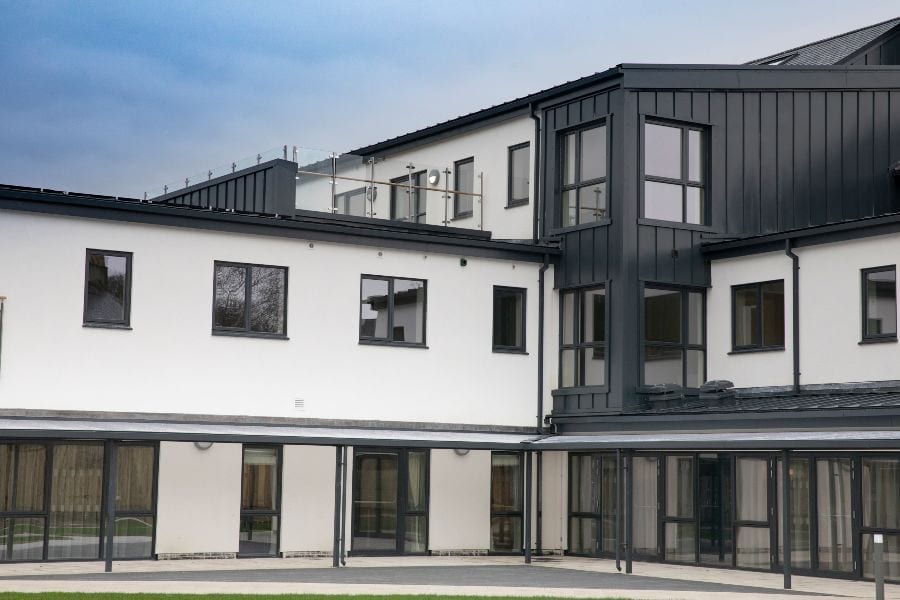 The residents of Hafod y Gest have really benefited from the new addition. With 37m of covered outdoor area, there is no limit to the amount of fresh air the residents can enjoy, and at what time of year too. Residents frequently sit outside under the canopy in the summer months, knowing they are doing so safely due to the UV protective quality of the opal roofing. They even have the option to sit outside when it's raining, as the material is weatherproof.
Although the long-term benefits of this shelter will become ever-more apparent as time goes on, for now, it is proving to be the ideal place for the residents to relax and receive quality care later in life. All in all, residents would consider it an extremely nice place to not just stay but live.
The whole project has been great for the community too. Five new jobs were created for the build, as well as training for 12 apprentices. With an impressive 92% of the supply sourced from the local area, this means that £1.70 per every £1 spend was reinvested into the local community. This is a fantastic investment for the area, and it was a pleasure to work with the respectable developers Anwyl Partnerships.
About the Client
Hafod y Gest Care Home in Porthmadog, Gwynedd, is managed by the Housing Association 'Grwp Cynefin.' Their care homes across the North Wales area are committed to giving high-quality care to their residents, making them a popular choice for the over-55 community. It was amazing to be part of such a supportive project team, and we were pleased to contribute to the project in the best way we know how – to cover outdoor areas! We know how important the outdoors is for the mental and physical health of everyone, and so it was a real pleasure to know that we have helped to achieve this.
Why invest in a cover system for your healthcare site?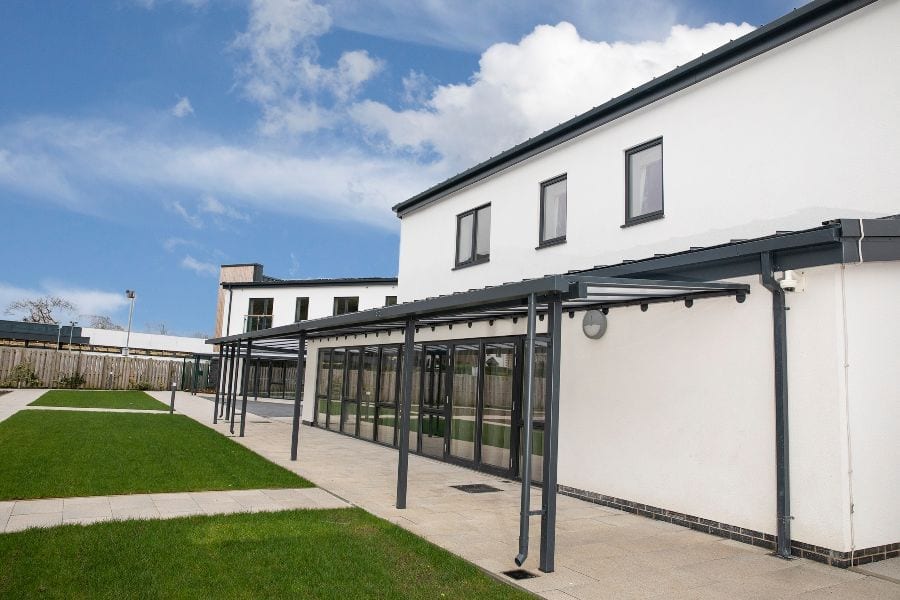 A shelter is an attractive and practical feature that has numerous benefits for patients, residents, and healthcare professionals. Even without the optional extras, a conventional canopy can be exactly what your healthcare site needs. We also installed a straight roof canopy at Meadow View Care Home.
Here are just some of the health benefits of fresh air, and some reasons why a canopy should be a standard feature for all care homes and other healthcare sites.
Antibacterial qualities of fresh air 
From Florence Nightingale's claim of 'the wonder drug,' and historical records clearly stating lower recovery times for Spanish Flu patients treated outside, our history appears to tell us that fresh air is a proven and effective way to help the body fight disease. Even today, the WHO claims that well-ventilated healthcare facilities can help with infection control. This isn't the 'latest advance' in scientific knowledge. It has continuing relevance into today's society with the spread of Covid-19 and the problems with airborne contamination.
More energy 
Being outside results in both a greater oxygen intake and thus the higher functioning of our internal filtering unit. This helps to flush out toxins more efficiently. Naturally with this occurrence, the body will feel more energised. Additionally, this helps the bodily systems and organs to function at higher levels.
Great source of Vitamin D
As we go through life, we find out that there is a broad spectrum of vitamins and minerals we need to keep our body functioning healthily. One of these is Vitamin D. Although supplements are available, there is nothing that replaces the real thing. Just 30 minutes of sunshine (even on a cloudy day) will do the trick, topping up your supplies to keep your bones healthy and strong.
There are numerous other health benefits to adding a canopy to your healthcare site, better sleep, opportunities to exercise, mood improvements. There are also many practical benefits, such as for the transportation of medical equipment. As a health care provider, we know you want to create the perfect environment for patient comfort, and a canopy that offers full weather protection all year round can help to achieve this.
Why choose A&S Landscape for your healthcare canopy?
A&S Landscape can help you to make the right choice for your perfect covered solution. All the way from the initial design to install, we are there to give a helping hand. We have 44 years' of experience working with outdoor canopies, and so have built up a wealth of industry expertise and knowledge. We can help you to better understand what you'd like to achieve from the final canopy, and how you can fit it to your existing facilities.
If you'd like a canopy that serves a purpose on your healthcare premises, as a hospitality provision, an outdoor triage centre, or as a tool to designate areas for quiet zones, we can help you find the perfect solution. If you're looking to promote wellness beyond patients, cycle shelters are a great addition to allow staff to ride to work. With additional features available – your shelter can be as robust as you like! Whatever you'd like for your canopy, our dedicated team can help you to find the best solution to improve your patient care.
To create your outdoor area, get in touch with our friendly team on 01743 444100 or at [email protected].

Hafod Y Gest Care Home Before and After

Look through some more of our projects
Wall-Mounted Entrance Canopy at Plas Meddyg Surgery in Denbighshire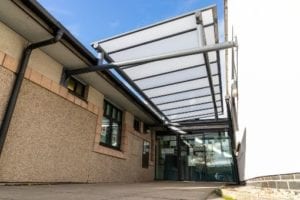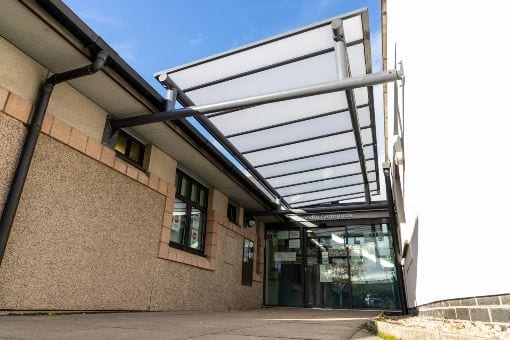 Located in the picturesque town of Ruthin, Plas Meddyg Surgery was looking to make improvements to the frontage of their building. Creating a good first impression was important to the team, and so they decided to install a canopy covering the entranceway. As experts in the canopy industry, A&S Landscape was selected by the surgery to design and install the shelter. In the end, we fitted our popular Motiva Linear™ straight roof canopy. Finished in a sleek and subtle Slate Grey, the entrance canopy gives the surgery a professional look. Now when the patients arrive, they are greeted by the smart-looking pathway and will be protected from the weather too. Our team enjoyed working on this project and seeing the fantastic end results of the new shelter. To keep reading about the entrance cover we made for Plas Meddyg Surgery, visit our project page.
Blue Shade Sail at Rochford Hospital Makes A Big Difference in Essex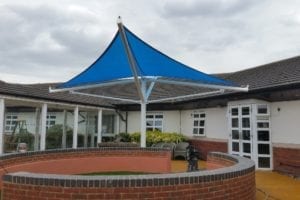 Rochford Hospital in Essex works with mostly older people, and they know what a difference having outdoor space makes to recovery. Being able to get out of a ward and relax in an outdoor space makes things much better for patients, so they wanted to facilitate that. To do so, they asked us about our range of canopies for healthcare site. They checked out what we had to offer and chose to install a Maxima StarSail in their new garden. It offers shelter from the elements, so even if it is raining patients can get outdoors and take in a different view. Another bonus is that the StarSail only has one post, so it doesn't take up a lot of room at all. It's been a great addition to the grounds, and the patients love it. If you want to read more about Rochford Hospital's shade sail, click here.
Hafod Y Gest in Porthmadog Adds Covered Walkway Canopies to Care Home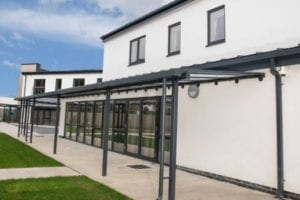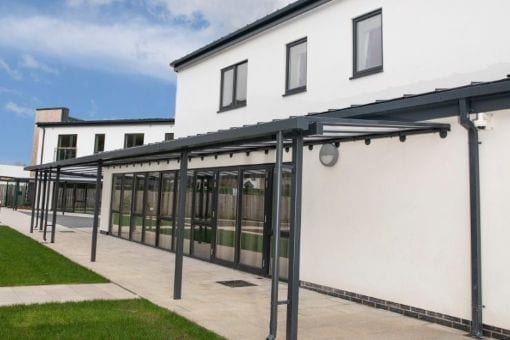 The Hafod Y Gest Care Home is a brand new building, designed around meetings the needs of those living there. This design extends outside the walls of the building, too. Residents will need some space outdoors to enjoy on sunny days, and when the weather is poorer, too. To ensure they could offer this, the home contacted us about our canopies for care homes. They chose to install the Motiva Linear canopy around the building, to make a covered walkway which would greatly improve the outdoor space. Having them installed in a deep grey colour meant they matched perfectly with the windows and other detail work on the building. The best part is that the roof offers protection from UV rays, so residents can enjoy the outdoors even when it's hot outside. Find out more about the new covered walkways at Hafod Y Gest here.
The Scott Arms Medical Centre in Birmingham Add Entrance Canopies to Site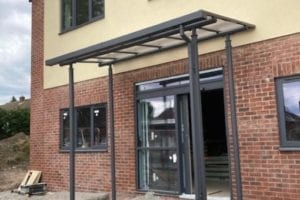 A&S Landscape was delighted to be involved in the build of the new Scott Arms Medical Centre in Birmingham. The new surgery will look after over 11,000 patients so it was important that the new site had all the facilities required to deliver the best care. We were asked to install two entrance canopies using our Motiva Linear™ product. Made with Slate Grey coloured steelwork, the shelters are a subtle yet effective addition to the site. And the polycarbonate roof will also provide essential protection against UV rays. Now when patients arrive at the surgery or are waiting outside, they are suitably covered and sheltered from the elements. This was a great project to work on as this new surgery will play an important part in supporting the local community. Want to see more? Click here to keep learning about the entrance canopies at  The Scott Arms Medical Centre.
Entrance Canopy at Newton House in Penrith, Cumbria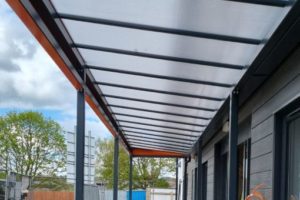 The residents at Newton House in Penrith needed a shelter to keep the rain off when entering their main building. Housing 21, the not-for-profit organisation that own and manage Newton House, had worked with A&S Landscape before and knew exactly who to turn to. They choose a straight roof Motiva Linear™ entrance canopy. This type of canopy has one side of the polycarbonate roof slightly higher than the other to ensure water runs off into the integrated guttering. A solid steel framework, finished in Dura-coat™, not only provides a durable and practical shelter but also a really smart looking entrance to the main building. Entrance canopies create a stylish addition to any healthcare site and are always popular with residents, staff and guests, alike. It's shelter when you need it most. Find out more about Housing 21 and the entrance canopy installation at Newton House in Penrith.
Meadowfield Hospital in West Sussex Sources Perfect Covered Walkway

What was the project brief?
Meadowfield Hospital in Worthing wanted to find a canopy that could work as a covered walkway, so staff and patients moving between building entrances outdoors wouldn't be bothered by the elements. The team was also eager for the shelter to act as somewhere people could get some well-needed fresh air year-round – whether on a break from work or a visit – and for it to look unobtrusive and smart. A&S Landscape was pleased to be contacted about this project and knew exactly how to meet these needs with one of their products.
What was our canopy solution?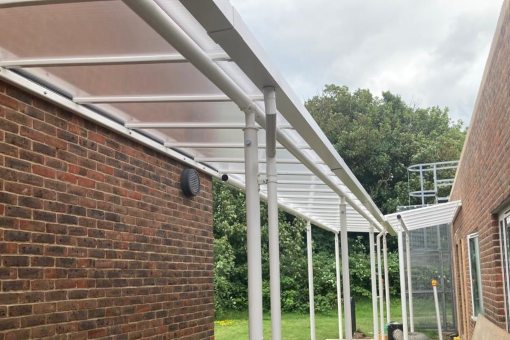 A&S Landscape discussed ideas with Meadowfield Hospital at length, and the latter eventually decided that a bespoke Motiva Linear™ was the right model for them. The asymmetric straight roof was a popular, classic and functional choice, and the bespoke aspect allowed A&S Landscape to really tailor the shelter to the hospital's needs with measurements of 15152mm X 2000/3359mm that worked with their site. The white steelwork and clear roof looked light and modern without drawing too much attention architecturally, and the Dura-coat™ finish meant that the colours would stay bright for many years to come. Plus, high-quality materials ensured that patients, visitors and staff alike could walk beneath the canopy between entrances or spend time outside without worrying about the unpredictable British weather.
What was the result of the covered walkway?
The team at Meadowfield Hospital finds their new custom canopy to be incredibly useful. Visitors and patients can take breaks in the fresh air while under shelter and spend some time away from the hospital environment when they need to. Staff can also now move between building entrances with ease, thanks to the covered walkway – even if it's raining – and this makes their long shifts a little easier. A&S Landscape was thrilled that their product brought such value to this essential organisation.
About the client
Meadowfield Hospital is a medical facility that provides inpatient adult mental health services. It has three wards – Larch, Maple and Rowan – each housing 17 or 18 beds, and it has crisis resolution and home treatment teams available to help. The hospital has extensive facilities which include a clinic, dining area, laundry room, patient's kitchen and a TV lounge on each ward, as well as therapy rooms such as an art room, pottery room and gymnasium. Patients also have access to vocational clinics which offer post-discharge advice about work and volunteering. A&S Landscape enjoyed working with the hospital team on this project and hopes that the shelter will continue to benefit them and their patients in the future.
The site is based in Worthing, West Sussex, one of the largest seaside towns on the south coast of England. It features a promenade full of activities like go-karting and miniature golf, several award-winning beaches where you can enjoy quality time with family and friends, fantastic opportunities for long walks in the South Downs and stunning views across to Beachy Head. For some light entertainment, visitors can enjoy musicals, comedy and live music at multiple venues such as the Pavilion Theatre and Assembly Hall, and history and culture buffs can experience amazing artwork and unique toy collections at Worthing Museum and Art Gallery. What's more, the town has restaurants, pubs, shops and cinemas aplenty – so there's always something to keep the kids busy and the adults having fun.
How can hospital canopies improve employees' wellbeing?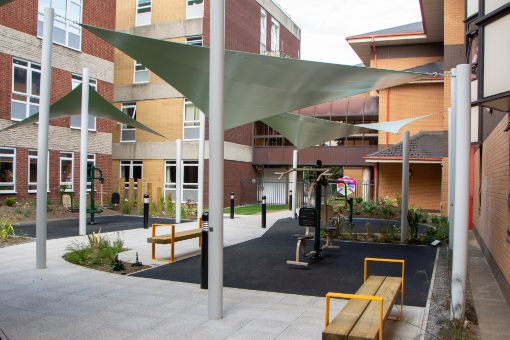 Medical facilities can be stressful places to work that often involve lengthy shifts, so employers must do all they can to maintain workers' good mental health. Installing shelters can be an effective way of doing this by improving facilities and opportunities for all.
Dining canopies enable staff to spend breaks and mealtimes outdoors. This can be beneficial as it allows them to refresh in a different environment while also taking in some fresh air, which has been found to lower stress hormones and boost mood. An ambulance shelter makes lives easier and less complicated when moving patients between vehicles and facilities, and a waterproof sail shade can brighten up and bring colour to outdoor spaces to create a cheerful feel. If you're interested in adding a shelter to your hospital to boost staff wellbeing, send us an email now at [email protected]. We look forward to hearing from you.
What other sectors does A&S Landscape work with?
As well as healthcare sites, we are proud to design and install canopies for a range of other sectors. Whether a primary school is searching for the ideal outdoor classroom shelter, a park is trying to source a fantastic dining canopy or a garden centre is looking to find a stunning entrance shelter, A&S Landscape has the expertise to help. Contact us by phone on 01743 444100 or by email at [email protected] today to discover more about our company and experience.

Read about more of our projects based in healthcare sites
Secure Buggy Store for Blakenhall Contact Centre in Wolverhampton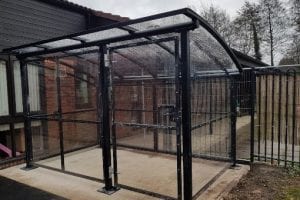 Blakenhall Contact Centre sees a lot of families come through its doors every day. Many of them have young children and so use pushchairs. These tend to clog up the entrance to the building, so the centre wanted to find a better solution. They contacted us, and we found something that would perfectly for them. Like many looking for canopies at clinics, they decided to go with a Cyclo Buggy store for their premises. This is a great solution, as it allows parents to store pushchairs outside, without worrying about them getting wet if the rain suddenly starts to come down. The smart black design suits the building well, and the clear sheeting allows visitors to see everything inside the shelter. A lock added to the structure allows staff to secure it overnight, too. If you want to see more of the secure buggy shelter at Blakenhall Contact Centre, click here.
Green Shade Sails Create Sheltered Outdoor Space at Clatterbridge Cancer Centre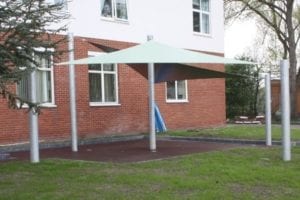 There's no denying that every medical centre needs some outdoor space. It's especially important for those who are receiving long term care, as they don't want to be cooped up indoors 24/7. Clatterbridge Cancer Centre knew this, so they were looking to create some outdoor space that could be used even when the weather was poor. To do this, they contacted us to see what we could do. They chose three of our Maxima Sails to be installed, something that's quite popular for canopies for hospitals. The three sails create a great shape on the grounds, making the area more interesting and beautiful. The mint green colour fits perfectly with the rest of the building, too. The staff and patients love it, as the waterproof fabric means they can get outdoors whenever they need some fresh air. See more about the shade sails at Clatterbridge Cancer Centre.
Cycle Shelter Designed for Meadow Walk Retirement Community in Norfolk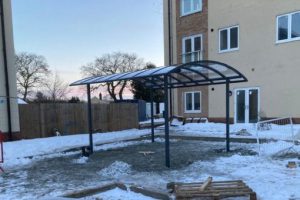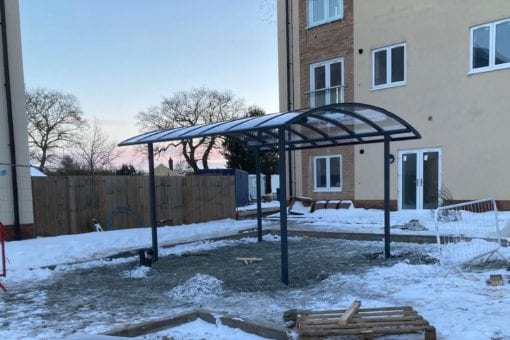 We were asked to design, manufacture and install a bicycle shelter at the new Meadow Walk retirement community, managed by Housing 21. The new site recently opened in May 2021 and has been carefully designed to provide the highest quality of facilities to the residents. A&S Landscape was asked to install a secure cycle shelter, which would provide a dedicated spot on the site for the residents and visitors to store their bicycles. We used our Motiva Duo™ curved roof canopy for the frame of the shelter, adding eight cycle hoops to the base to accommodate 16 bicycles. The finished structure is a great addition to the area and further goes to show the attention to detail Housing 21 have gone to, to create such a fantastic site. Visit our project page to learn more about the bicycle store we made for Meadow Walk.
Brand New Entrance Canopy For Willowbrook Care Home In Birmingham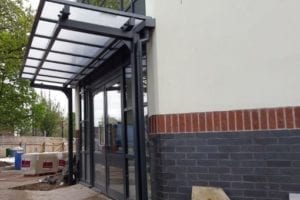 Willowbrook Care Home in Birmingham has undergone a huge extension, more than doubling how many residents they can care for. It has expanded the building to hold a total of 75 residents, making it a real boon for the community. To make the most of the expansion, they wanted to include a new canopy for the entrance. That's why they got in touch with us to see what we could do. We have a wide range of canopies for hospitals, and they chose to use the Motiva Entro for their building. The canopy fits in perfectly, making it look smart and stylish. It's also highly practical, keeping the weather off anyone waiting to go inside. It's a small design feature, but one that offers a lot of value to the care home. Read more about the entrance canopy at Willowbrook Care Home.
Avonmere Care Home in Bristol Adds Fabric Shade Sail to Garden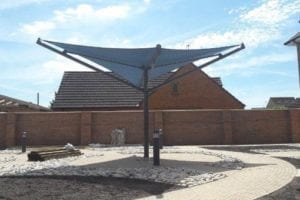 Avonmere Care Home is a wonderful new building, that has been created to give their residents the best possible living experience. One of the best things about the home is the garden that has been included on the grounds. It's so important for residents to have access to outdoor space, both for their physical and their mental health. We helped them choose a Maxima StarSail for the garden, something that has fit in so well. The sail has a modern design that suits the area perfectly, and the one post means it doesn't take up a lot of space. It offers both shade and shelter from the rain, so the residents can get outside whenever they need to while being protected from the weather. To see more about the shade sail at Avonmore Care Home, click here.
Hoveton & Wroxham Medical Centre Add Ambulance Bay Canopy in Norfolk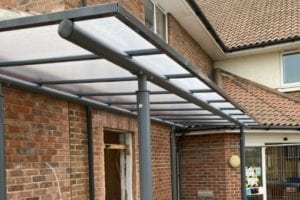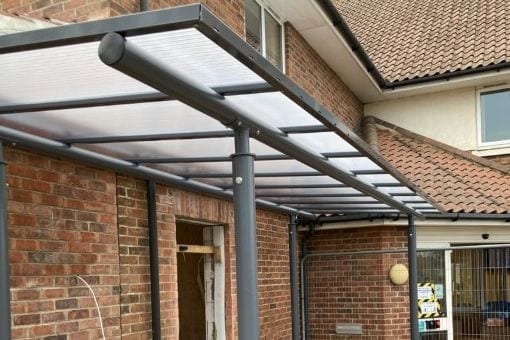 Hoveton & Wroxham Medical Centre provide services to the local community and had identified the need to add shelter to the ambulance bays on the site. When patients were transferred to and from the surgery via ambulance, they would be exposed to the weather conditions potentially affecting their health. The team at the surgery decided to approach healthcare canopy experts A&S Landscape, for a cost-effective solution. After considering the client's requirements and the area, we proposed our Motiva Linear™ polycarbonate roof canopy. The installed shelter has made a huge difference to the site and has already proven to be a worthwhile investment. Made with the highest quality of materials, the shelter can be put to good use for many years to come. Continue reading about the ambulance bay shelter at Hoveton & Wroxham Medical Centre.