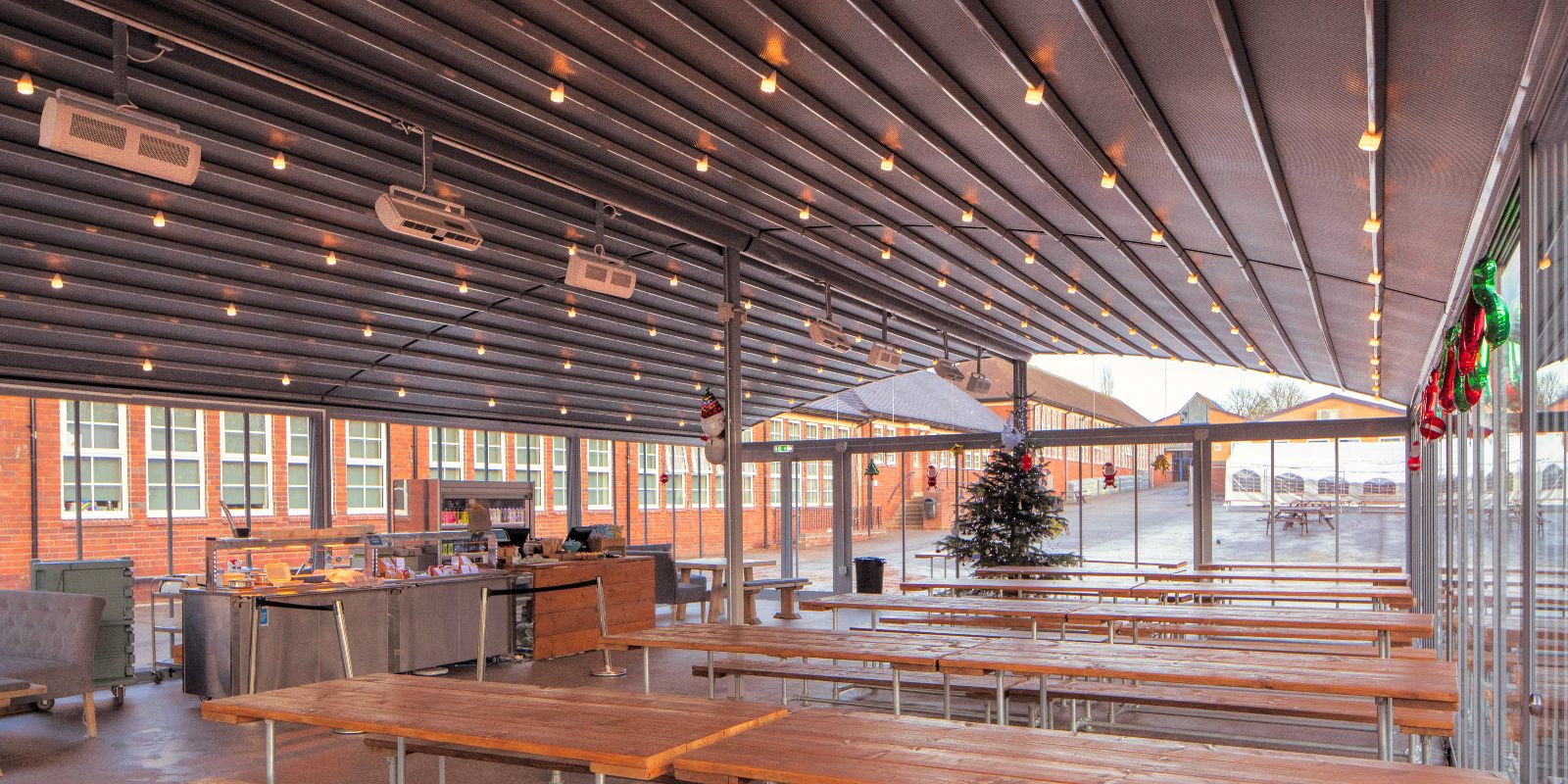 Canopies with Side Panels and Doors
A range of door and side panel options to suit every application
Enquire Now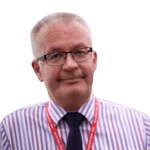 I'm very pleased, once we got approval it was installed less than three months later to a very high standard.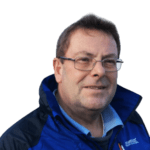 The team was aware of all health and safety considerations and there was no disruption, the canopy is superb.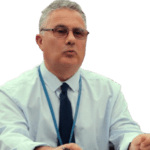 Their professional expertise was excellent. The staff were honest, helpful and totally trustworthy.
Canopies with Side Panels and Doors
Cost-effectively create an enclosed area by adding side panels and doors to your school canopy. Use the covered space during the day as an outdoor classroom, play area or covered walkway. You can then store equipment in the secure canopy overnight. The space could also be used as a dining area, creating more seating options for students during lunchtimes. This option can be added to any of our Motiva products and Maxima Tepee™.
There are many options available when adding sides and doors to your shelter. You can choose to cover one or all of the sides with polycarbonate or glass, and even use electrically operated roller shutter doors too. The shutters can be powder coated to match or contrast the structure. Perforated or part glazed options means the light can still shine in.
Our printed polycarbonate option also creates a striking feature which your pupils will love. Pick from our range of designs to stimulate your pupil's imaginations and transform your canopy into the jungle, ocean or sky. Or alternatively, come up with your very own design.
By adding side panels and doors to your canopy, you can provide an area for the pupils to learn and play in all-year-round, as required by Ofsted. This is also an effective way of increasing the seating capacity of your school during lunchtimes.
Learn more about our canopy with sides
St Wilfrid's Catholic High School
Canopies with Side Panels and Doors Ideas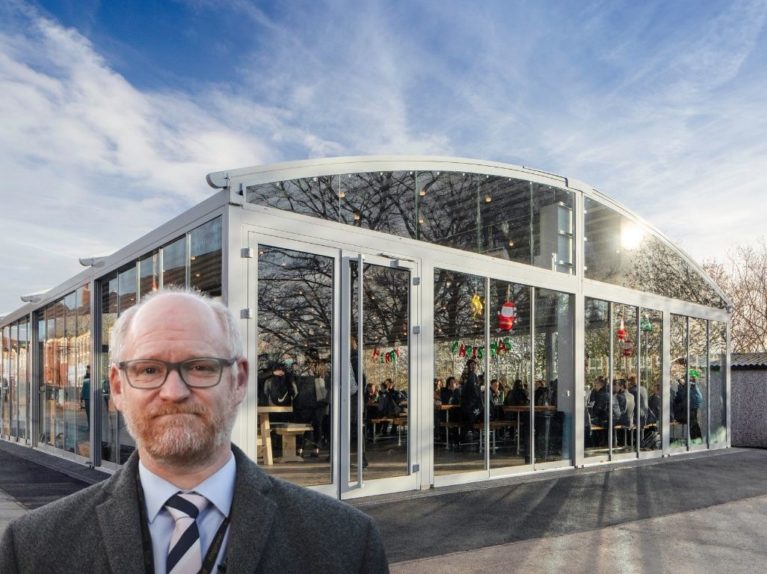 We used A&S Landscape because they were very competitive on price and so good at communication.
Business Manager - Kingsmead School
View Project
Read about some of our projects involving canopies with sides
Retractable Roof Dining Canopy at Kingsmead School in Staffordshire
Outdoor Shelter for Greenmount Primary School in Beeston, Leeds
Dining Canopy with Sides Made for Ranelagh School in Berkshire
Colourful Roof Canopy at Salisbury Primary School in the West Midlands
Straight Roof, Enclosed Dining Shelter at St Gabriel's RC High School in Greater Manchester
Canopies with Side Panels and Doors Design Options
Our Featured Canopies with Sides Project
St Cuthbert's Catholic Primary School Adds Secure Canopy with Side Panels

What was the project brief?
St Cuthbert's Catholic Primary School wanted to ease congestion on their indoor space by adding a large secure covered area for pupils to socialise and eat. With cost being a factor, they decided the best way to achieve this was to install a cover system with side panels and doors. The structure also had to have heavy-duty security features, meet budget requirements, and be aesthetically pleasing. This is when they brought in the expertise of A&S Landscape to advise on the best cover solution and the well-respected Architects E C Harris who could help to implement the chosen design into the already existing structure.
What was our secure canopy solution?
As we were able to offer our design expertise early in the planning stage, we could advise the school on the wide range of canopies we offer.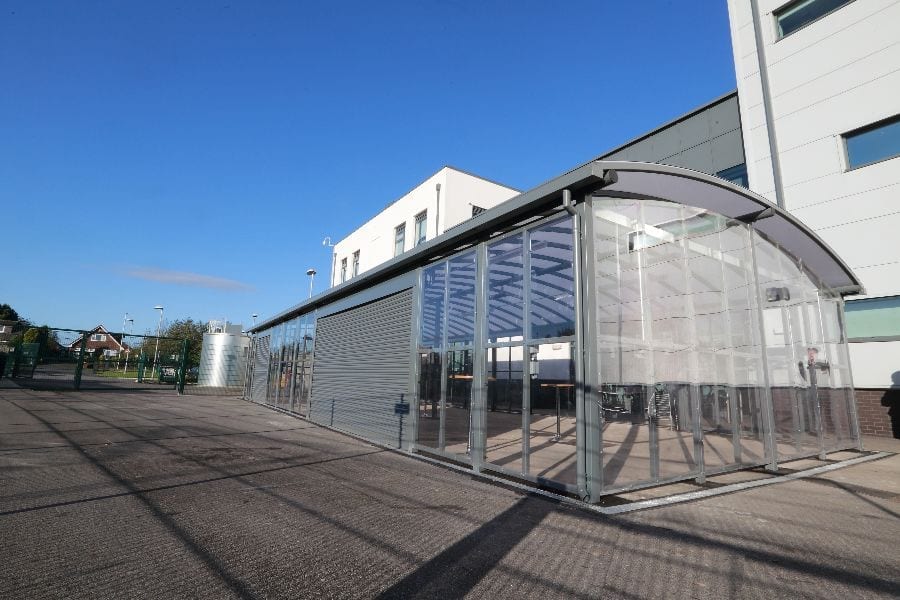 We could provide photorealistic visualisation and cost options for the client's perusal, and use our expertise to give honest, reasonable advice. We were pleased to be involved with other aspects of planning too, offering our assistance to the main contractor with detailing the foundations for the secure shelter and setting out the work plan to ensure that the canopy was successfully completed in time for the new school term.
Although timescales were tight, the project was successfully completed in time. The final canopy was based on our standard Motiva design with sides panels – two 5.2 metre roller shutter doors, which gave the area the additional security, 24/7, 365 days a year. The final design was a statement in itself. The school opted for one of our curved-roof canopies, which created a feeling of extra space inside, very much the opposite to what you would expect from an enclosed canopy.
We were extremely pleased that we were able to provide a bespoke canopy solution for the school, from the canopy structures we had available.
What was the result of their new secure outdoor space?
This area is now the typical 'hang-out' for the children at lunchtime, before school or in-between lessons. Providing the essential rain protection all year round, the door canopy with sides can even be used as an informal meeting area, should the teachers, parents or students want some fresh air! As required by Ofsted, offering a place where pupils can learn outside all-year-round is highly important for learning, especially in younger primary school children. The enclosed area is used in many ways, but what makes the children really happy is that fact that they have a playground even when it's cold and wet!
About the client
St Cuthbert's Catholic Primary School is located in Wigan, Lancashire. The staff at the school were excellent, responsive to all of our suggestions, and gave us a clear indication of what they wanted to achieve. It was with their help that we were able to produce a bespoke shelter that would serve them for years to come. It was a real pleasure to work with this team of friendly, communicative people.
Why are canopies perfect for primary schools?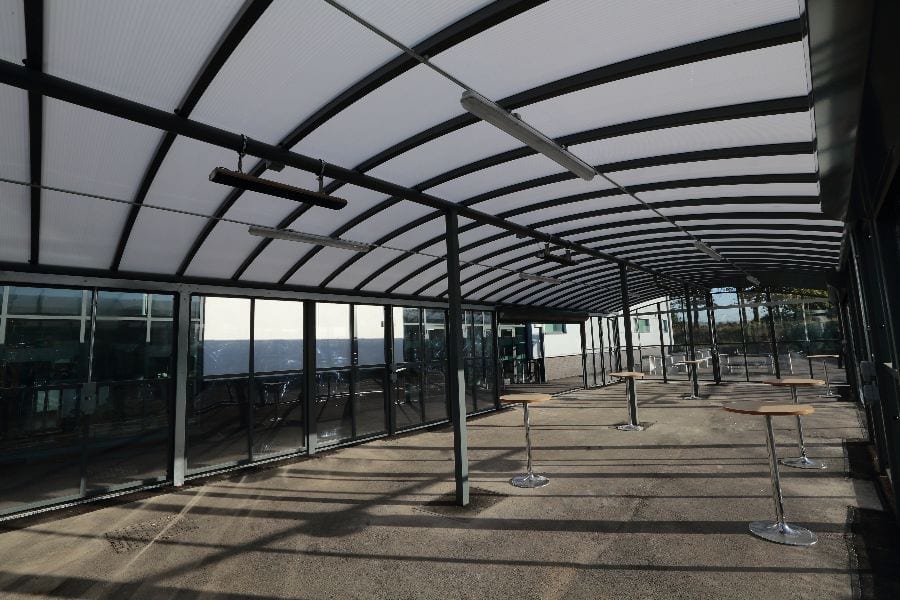 As adults, many of our fondest memories are from our childhood involve playing outside. Young children spend a huge amount of their time within education, and so it is essential they are able to enjoy time out in the fresh air. In the winter months when the evenings are darker, this can become exceptionally tricky, where there is a risk of a child being stuck indoors all day, and into the evening.
This is where a sheltered outdoor space can come in – giving young children the opportunity to play outside all year round, amongst these other benefits:
A unique learning environment
The days of learning in a standard classroom are gone. Get creative with a colourful canopy addition to your school, which is sure to brighten up school days. Have a look at our range of coloured polycarbonate canopies, or you could opt for a retractable roof design to bring the outside in.
Classroom engagement goes up
Every adult knows that children sometimes need additional sources of entertainment to keep them from getting bored. There is no better way to increase a child's focus than by leaving behind the restraints of a classroom, to be outside with the fresh air under a colourful canopy.
Extension of the classroom
With complete rain protection (especially canopies with additional side protection) these canopy structures can act as an outdoor room that is suitable for a wide range of educational activities. It is the perfect space for storytelling, learning by doing and observing the natural world. The sides of the canopy can also be customised, get in touch with our sales team to talk through your options on 01743 636176.
Perfect time-out area
If a child is feeling stressed or needs some time out to recuperate, being outside will definitely help, just take a look at some of the research into the effects of being outdoors and the mental health of children. Patio canopies can be the perfect solution for this all year round, providing a space for a child to simply sit and reflect.
How A&S Landscape can help you
Whether you are looking for a commercial canopy or a colourful primary school canopy, you are in good hands with A&S Landscape. We have a whole range of stylish canopies for you to choose from.
With over 44 years of experience, we have worked on countless canopy projects, and so we have developed a robust knowledge on all thing canopies. Shade screens, timber canopies, canopies with a large curved roof – whatever your needs, we will help you to find you the highest-quality, bespoke canopy.
If you'd like to find out more about our range of bespoke canopies, and how we can help you find the right outdoor cover, get in touch with our friendly team on 01743 636176 or at [email protected].

St Cuthbert's School Before and After

See more of our canopies with sides projects
Colourful Canopy Fitted at Monksdown Primary School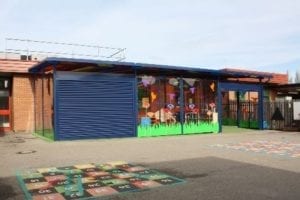 Situated in the heart of the Norris Green Community, Monksdown Primary School has an excellent reputation within the local community and further afield. A&S Landscape was excited by their brief of a fun and colourful canopy with sides. The project was a joy to work on, the school not only wanting a safe and secure storage area but also something that was breathtaking to look at, a canopy that would add maximum enrichment to the day to day lives of the children who are lucky enough to have it in their outside space. The result is amazing, the robust multicoloured polycarbonate roof adding so much more than a splash of colour, the sky lit up as if by a rainbow whilst the pretty decals on the side panels add an extra element of fun. Learn more about the colourful canopy we built at Monksdown Primary School here.
Canopy with Roller Shutters Installed at Cullingworth Village Hall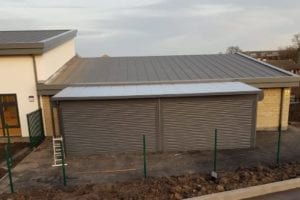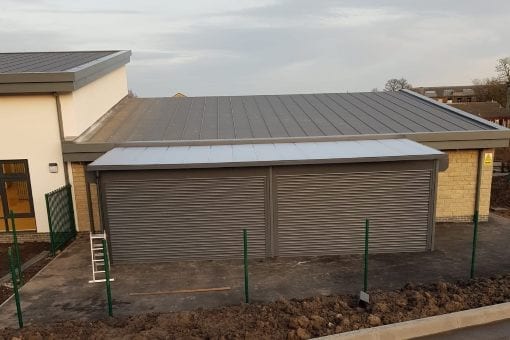 When building a brand new purpose-built site, a village hall in West Yorkshire thought that the addition of a contemporary and secure canopy with sides would be of huge benefit to the local community. Not only would it be an excellent addition for the pre-school, who would love their new and exciting additional classroom space, it could also be used for a whole host of other things including tea and coffee mornings for the villagers, a weekly book club and a space for the community to come together in rain or shine. The addition of the electrically operated roller shutter doors means that the space can be opened up to be used for fêtes and other village activities yet also be securely closed to allow additional storage at times that it is not in use. See more about the secure shelter we designed for Cullingworth Village Hall.
Bespoke Shelter Designed for Loughton Manor First School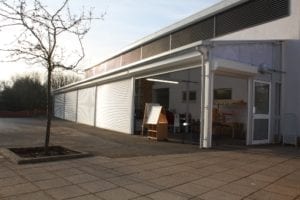 Here at A&S Landscape, the team love nothing more than being commissioned to design a bespoke canopy for a brand new school, add in some roller shutter doors and a bespoke size and our day was made! That's exactly what we did at Loughton Manor First School, expertly designing a canopy with sides that fully encompassed the clean, fresh, professional look of the building whilst also meeting the brief that the canopy should be robust, secure and be able to be utilised all year round. Safety is always of paramount importance so we also added a fire door to the canopy. The school were delighted with this aesthetically pleasing, strong canopy and even happier that they can enjoy the result for years to come. To see more about the secure canopy we installed at Loughton Manor First School, click here.
Red Canopy Installed at St Saviours Catholic Primary School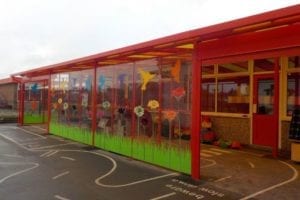 St Saviours Catholic Primary School in Ellesmere Port isn't just any old school, their reputation for high academic standards and their commitment to challenging their students by offering a variety of different teaching experiences is inspirational. We were delighted when they approached us to ask us to work with them to design a bright and cheery straight roof canopy with sides that would not only provide the wow factor of a colourful outside shelter, it would also be fully secure, greatly increasing the storage space for play equipment. The bright red, eye-catching frame looks stunning against the backdrop of the school, whilst the coloured vinyls add an extra sprinkle of fun. See more about this canopy we installed at St Saviours Catholic Primary School here.
Green Secure Shelter at Ditton Primary School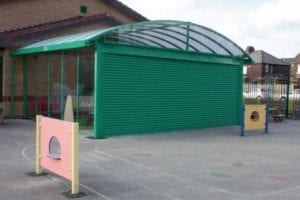 Ditton Primary School in Liverpool knew exactly what they wanted when they contacted A&S Landscape to ask them to design a curved roof canopy with sides to create a sheltered outdoor space that the children could enjoy in the day and that could be securely locked up at night to keep everything safe. The team proposed the Motiva Duo with side panels and electrically operated roller shutter doors in a clean, crisp green to complement the building exterior. The school were amazed by the results, the aesthetics of the curved roof really adding a focal point to the shelter. They were surprised at how easy it was to use the electrically operated doors and very happy that they no longer had to worry about their play equipment as it is now is safe, night and day and all year round. See more about this bespoke canopy we installed at Ditton Primary School here.
Ryde Academy in Ryde Sources Ideal Outdoor Shelters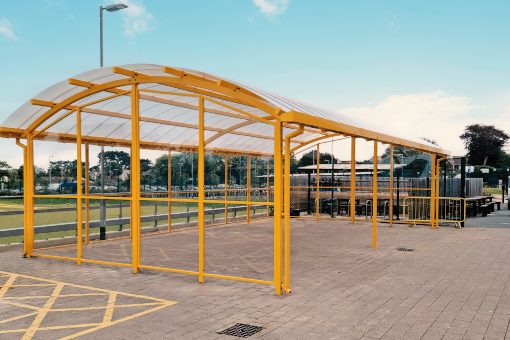 Ryde Academy in the town of Ryde on the Isle of Wight required two outdoor canopies, as they needed more undercover spaces. They wanted one for a courtyard and dining area and one to be installed adjacent to the sports pitches. Low cost, efficiency and exciting designs were essential to the staff – whose mission is to enable students to lead remarkable lives – and they got in touch with A&S Landscape to make this idea a reality.
Following talks with our team, Ryde Academy picked out a Motiva Mono™ for their courtyard and dining canopy. They thought that its modern monopitch curved roof was appealing and they were impressed by its high-quality build. They chose a 10,000mm X 10,000mm Motiva Duo™ for the shelter near the sports pitches, because of its durable design that was sure to protect children from bad weather in any season. Both models were fitted with glazed panels, Signal Yellow steelwork and Opal roofs, creating statement pieces that could easily withstand the rain and let students get outdoors more often.
Ryde Academy has found the outdoor canopies to be incredibly useful. Without stretching their budget, the products have made great areas for dining, games and socialising in all weathers, and everyone loves the bright, co-ordinated designs. Want to know more about A&S Landscape, our expertise as canopy and shelter specialists, or our products? Send an email to us at [email protected] now.
Explore more of our projects where we have installed canopies with sides
Old Church Primary School in Walsall Add Enclosed Shelter to Cloakroom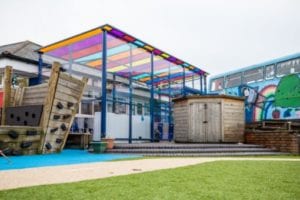 A previous client of A&S Landscape, Old Church Primary School got back in touch with a new project in mind. This time the school wanted to add some shelter to a new cloakroom area they had added. With a vibrant school playground featuring a wooden pirate ship and a converted double-decker bus, they wanted something which would work well with the surroundings. We installed a Motiva Linear™ straight roof canopy, featuring a multicoloured polycarbonate roof. This has created a spectacular rainbow effect which has further added to the fun and welcoming atmosphere at the school. The new canopy also matches the colourful roof used on the playground cover we had installed the year before. For added protection, the design also features side panels that will shelter the area from even the harshest weather conditions. To find out more about the enclosed cloakroom canopy at Old Church Primary School, please click here.
Playground Canopy with Sides added to Harrow Gate Primary Academy in County Durham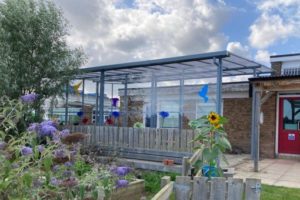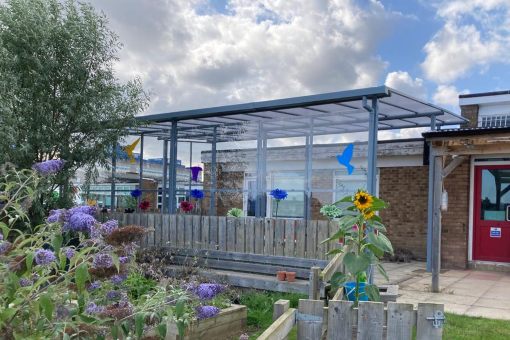 Pupils at Harrow Gate Primary Academy love playing on their large outdoor patio area. However, on wet and windy days in County Durham, it's not always fun to be playing outside. After consultation with A&S Landscape, the teaching staff at Harrow Gate decided that a canopy with side panels was needed to keep pupils on the patio playground protected from the elements. The Motiva Linear™ straight roof canopy that was chosen was designed with Squirrel Grey steelwork and topped with an Opal coloured polycarbonate roof. In addition, side panels were also fitted to the structure with electronically operated shutters. There was also a bright and colourful vinyl nature scene added to the clear, glazed panel at the front of the structure. The finished result provides pupils with protection as well as giving staff an extra area for outdoor learning and a sheltered space to store school furniture and equipment. If you'd like to learn more about this playground canopy installation project, please click here for more information.
Enclosed Dining Shelter Designed for St Benedict's Catholic College in Essex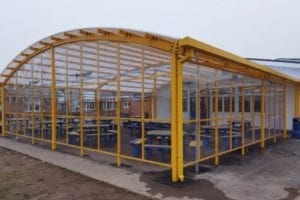 St Benedict's Catholic College was looking for a way to create more seating options to cater for the students during lunchtimes. The team identified a cost-effective solution to their problem in the form of an outdoor dining canopy. School shelter experts, A&S Landscape was approached by the school to design a large dining area that could be used throughout the year. We proposed a Motiva Duo™ curved roof shelter with the addition of side panels to provide additional protection. Finished in a colourful Signal Yellow, the structure has already become a much-loved spot on the campus and even adds a splash of colour to the area. The existing dining hall is now relieved of pressure, and the students have more choice over where they wish to enjoy their food. Click here to keep reading about the dining shelter we designed for St Benedict's Catholic College.
Sherrier Primary School Add Outdoor Classroom in Leicestershire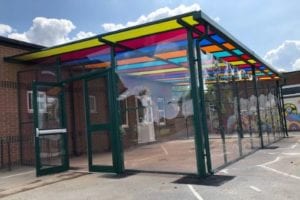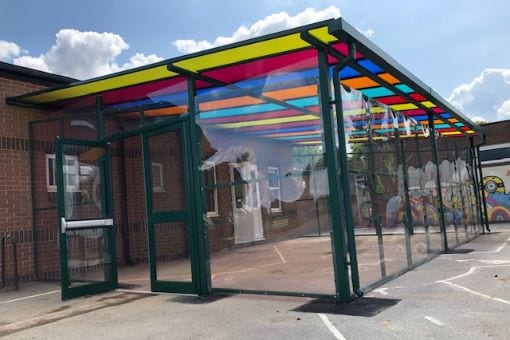 A&S Landscape was approached by Sherrier Primary School to design and install an enclosed canopy that could be used during both playtimes and lessons. Our design team got to work, creating a shelter that would work perfectly for all of the school's requirements. We installed a Motiva Linear™ canopy, complete with side panels and lockable doors. This has created an enclosed space that is protected from the weather but allows in plenty of sunlight. With the simple addition of some desks and chairs, the space can be used as an outdoor classroom. And during breaks, the pupils can also enjoy the sheltered space to play in. Plus, this shelter also features a multicoloured polycarbonate roof, which has added an extra element of fun to the design. This works fantastically with the green coloured steelwork. Learn more about the enclosed canopy we made for Sherrier Primary School here.
Outdoor Dining Canopy in West Yorkshire at Trinity Academy Halifax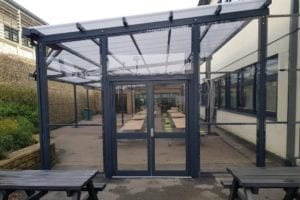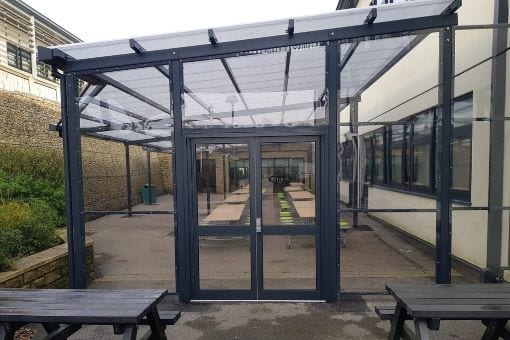 With rising student numbers and tight budgets, Trinity Academy Halifax needed a solution to their overcrowded dining hall which wouldn't break the bank. The expert team at A&S Landscape was asked to design an outdoor dining shelter that could be used throughout the year, come rain or shine. Utilising our popular Motiva Linear™ product, we created an enclosed structure with side panels and doors. This has resulted in a weather-proof shelter which will provide protection from the rain, wind and snow! The students love their new dining space, and it has quickly become a very popular place during lunchtimes. With the clear side panels, it's also easy for the staff to keep an eye on them too. Because of the secure doors, the school could also use the space to store equipment during the evenings and weekends. Continue reading about Trinity Academy Halifax's dining shelter here.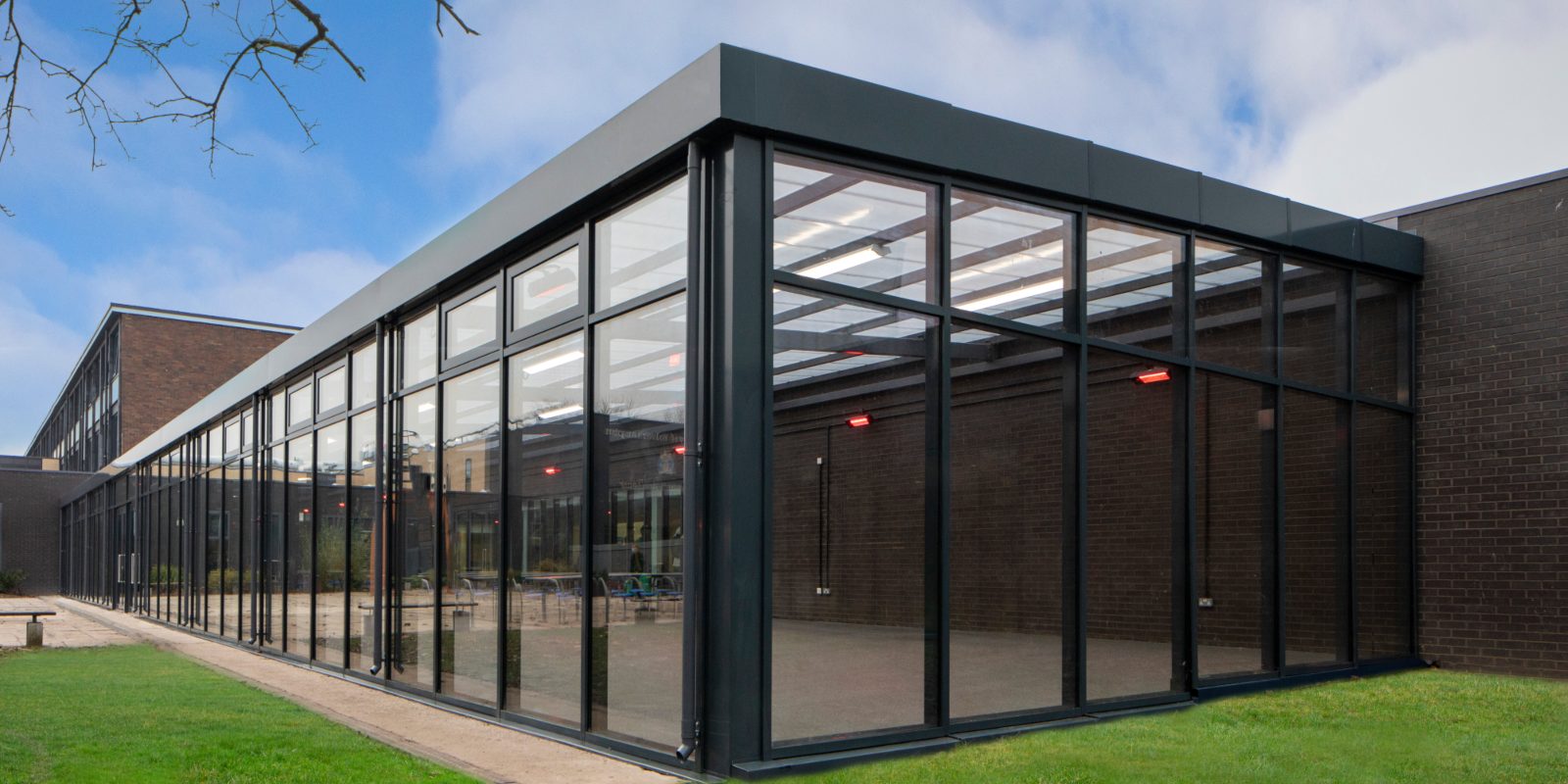 Send us your email and an idea of your requirements and we'll get back to you with a quick price.