Kingsmead School in Staffordshire Installs Enclosed Dining Canopy
The new dining canopy was a true success at Kingsmead School. The grounds have been transformed and the students now have a fantastic new space where they can socialise, eat and take time away from their studies. It is incredibly useful as it has eased pressure on existing facilities.
Project Specification
Product:

Maxima Retractable Canopy

Steelwork:

Window Grey - RAL NO. 7040

Fabric:

Grey - RAL NO.9007
What was the project brief?
Kingsmead School in Hednesford, Staffordshire wanted to find an outdoor dining shelter that could revolutionise its outdoor space and reduce pressure on its existing facilities. They were searching for something impressive and out of the ordinary – a fully enclosed canopy with a retractable roof as well as heating and lighting, so it could be used throughout the year by the entire student population. The staff also thought that the perfect shelter would have multiple doors for easy access, plus a sleek design that let in lots of light and would make a real difference to the school experience.
We were thrilled to be contacted by Kingsmead School and endeavoured to make their stunning vision a reality.
What was our dining shelter solution?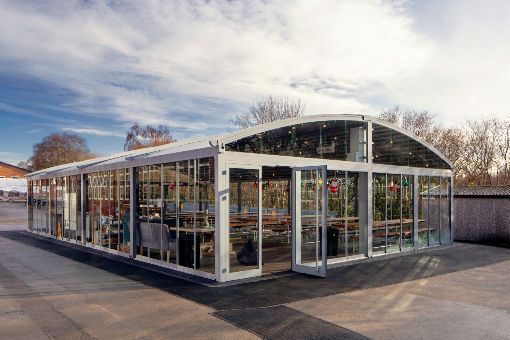 After discussing this complex project with us at length, Kingsmead School chose to have a Maxima Retractable canopy installed on its grounds. These models are flexible to your needs throughout the year – the heavy-duty fabric roofing keeps out undesirable weather in the winter and, at the push of a button, it can retract so that you can enjoy the breeze on hot summer's days. This was perfect for this institution, as they wanted to get the best possible use out of their new shelter. The team there chose a fully enclosed product with lighting and heating, which would allow students to enjoy breaks eating and catching up with friends in comfort, no matter the weather. What's more, we were able to add five rail sliding doors and many large windows around the canopy, in addition to a Grey curved roof and Window Grey steelwork – making it practical, light and stylish.
What was the result of the shelter?
The new dining canopy was a real hit at Kingsmead School. The grounds have been transformed and the students now have a fantastic new space where they can relax, eat and take time away from their studies. It is incredibly useful as it has eased pressure on existing facilities, and it has become a servery where both hot and cold food can be provided. Visitors can't help but be amazed by the eye-catching design while the heating, retractable roof and enclosed aspect mean that there isn't a day in the school year when the shelter can't be used. This project was a dream for us to work on and we hope that many years of Kingsmead School students will love using their custom canopy.
Listen to what the Business Manager said about working with us
About the client
Kingsmead School is a secondary school and sixth form that has its learners' best interests at heart. It says on its website that it demands 'the highest commitment from teachers, governors and students' and encourages students to excel, try harder and be proud of their achievements. We thoroughly enjoyed working with the team at the school and were impressed with their innovation and dedication.
This institution is located in Hednesford, Staffordshire. Local people such as those attending Kingsmead School can enjoy the beauty that Cannock Chase has to offer, which is an Area of Outstanding Natural Beauty. From walks along canals to mountain biking on tricky trails, this part of the country has lots to keep lovers of the outdoors busy. Alternatively, the McArthurGlen Designer Outlet West Midlands houses luxury brands and a myriad of restaurants for some fantastic retail therapy.
What other applications do retractable shelters have for schools?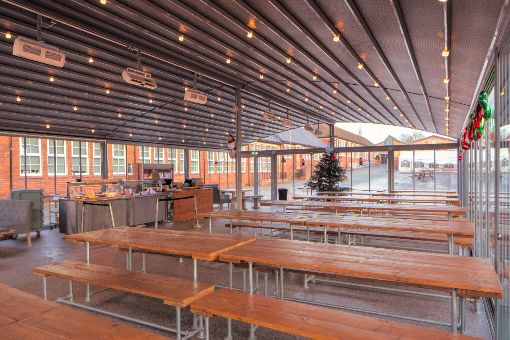 Retractable canopies are naturally versatile, so they can be used for many different purposes – even from day to day! As well as a dining shelter, schools can install them to create an outdoor classroom shelter where teachers can hold lessons from across the curriculum and benefit from the fresh air in warmer weather, with the option of a secure roof in the rain. Thanks to their functionality, adaptability and stunning designs, retractable canopies can also be wonderful areas in which to hold assemblies and events – the only limit is your imagination!
Would you like to hear more about our range of retractable shelters? Send us an email at [email protected] and we'll have the answers to all of your questions.
What makes A&S Landscape stand out compared to its competition?
We are a family company that still has strong connections to our quality heritage. We launched back in 1976 and have used our expertise to grow into a designer, manufacturer and installer of covered area solutions across Europe. Our values mean everything to us and this shows in our work – whether it's earning clients' trust, being approachable or offering fantastic value for money. We also work on a wide range of projects and are proud to be canopy and shelter specialists for many different sectors. If we sound like a company that you'd like to build your shelter, contact us by calling 01743 444100 today.