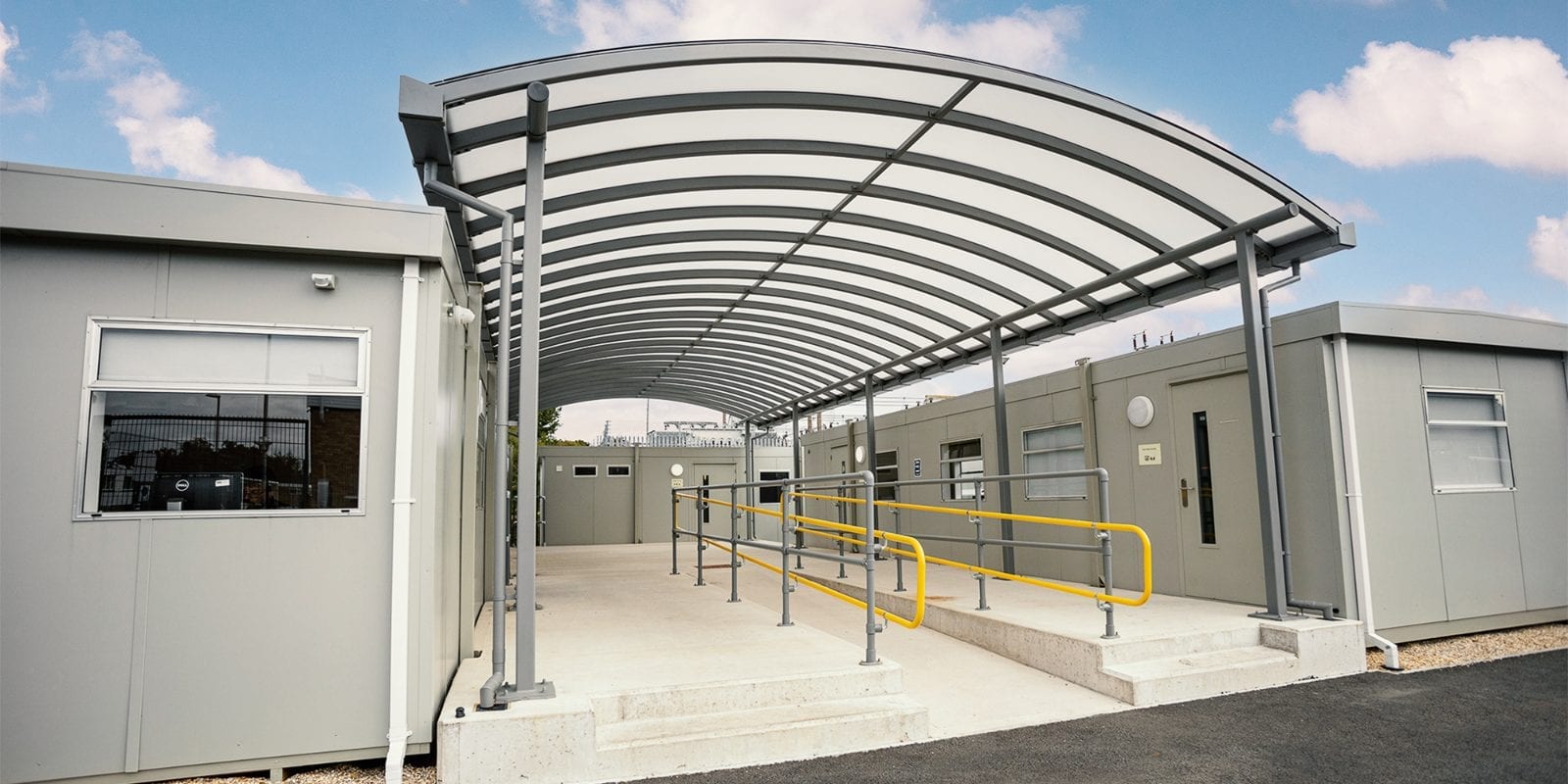 Commercial Canopies
Functional canopy structures for commercial applications across the UK
Enquire Here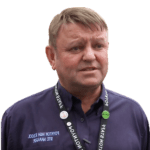 I wouldn't hesitate to recommend A&S Landscape. They've been marvellous, they really are first class.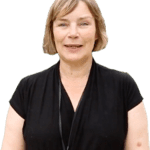 We immediately found A&S Landscape to be very efficient and they provided a wonderful first draft for us.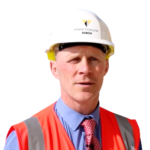 A&S Landscape works in a way that enabled us to get other trades to work around them, we're happy to work with them again.
Commercial Canopies
Factories, delivery depots, retail parks and all other types of commercial buildings require covered outdoor space whether that be loading bay canopies, parking area canopies, bin stores, covered walkways, entrance canopies or smoking shelters.
Commercial canopies can offer shade and shelter for visitors, staff, stock or bicycles helping you increase footfall, improve the customer experience, protect your staff and move your property upmarket.
On larger sites covered walkways between buildings or to car parking areas work well and for every site entrance canopies, cycle parking and smoking shelters are essential. More companies are improving their hospitality provision, we can help you with covered areas for your coffee drinking staff or clients.
A&S Landscape can help you create canopies that will enhance your site with well-designed structures from the Motiva range of steel and polycarbonate canopies or the Maxima range of steel and fabric canopies. Whether tensile fabric or steel and polycarbonate or glass, our canopies can be designed in a wide range of materials and finishes to match your branding, all structures can be designed to accept signage.
Canopies can add the finishing touch to your commercial premises, signposting entrances, covering walkways or offering general cost-effective weather protection to other areas for a myriad of reasons. Whatever kind of covered solution, canopy or shelter you need for your property get in touch to discuss the options.
Get a Quick Price
Send us your email and an idea of your requirements and we'll get back to you with a quick price.

Commercial Canopy Design Options
Take a look at some of our commercial canopy projects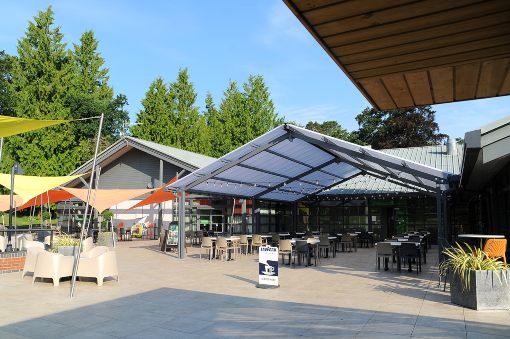 A&S Landscape had better timescales and were more helpful than other company we looked at.
General Manager - Whitemead Forest Park
View Project
Take a look at our featured commercial canopy project
Crown Industrial Estate in Taunton adds Five Entrance Canopies

What was the project brief?
Back in 2018, preparations started early in January for a new industrial development site in central Taunton, the first of its kind for at least 10 years. The project, located at Crown Industrial Estate, comprised of the development of 30,000 sq. ft into grade A commercial space, specifically designed to cater for the industrial market. Existing tenants of commercial establishments within the industrial site included Screwfix, Euro Car Parts and Ford. This was to be an attractive development for the small Devon town of Taunton, where there was a supply and demand imbalance of this type of space.
Prior to completion in Spring, one of the 6,600 sq. ft units had already been pre let to City West Country Ltd (Mercedes-Benz). With a prestigious brand that is known for its extreme levels of quality, it was important to ensure that the outward appearance of the commercial buildings matched this for them, and for any further tenants. To complete the look of the entrances, it was decided that permanent canopies would be added as an overhang to the doors. This is where A&S Landscape came in, specifically chosen by the builder who worked on the site. The developers wanted to accomplish a functional covered area, as well as ensure the commercial property looked the part for the future tenants. With their exact requirements known, A&S Landscape set out to find an effective solution.
What was our cover solution?
We knew that chosen commercial canopy had to be built from the highest quality of materials, with leading guarantees and warrant all practical benefits.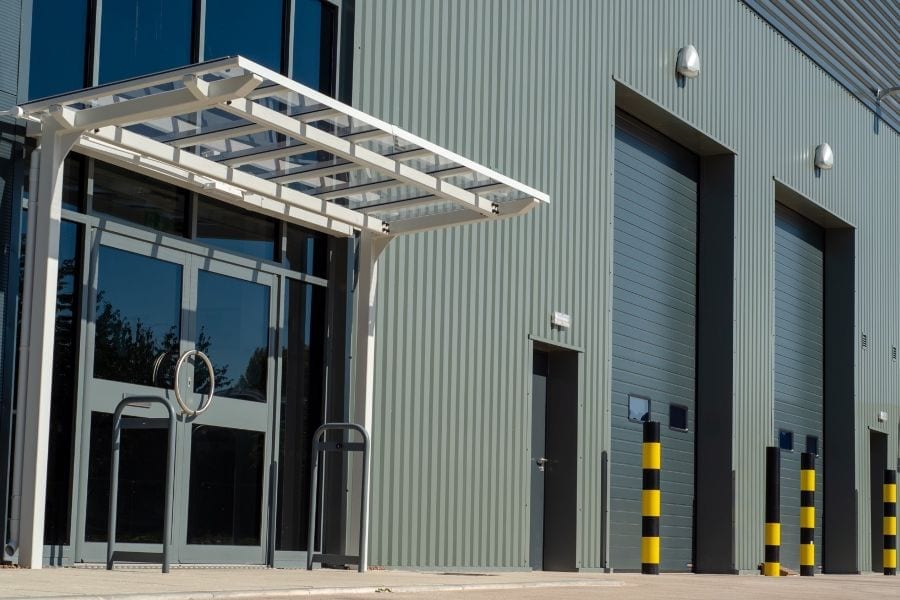 It was just as important that the additional shelters were a focal point upon entering the building. There was no doubt that the best solution would be the Motiva Entrada™, individually picked from our large range of cover solutions. We installed five canopies altogether, each with the same dimensions and specifications. Specifically designed to cover the outside area above an entrance door, these stunning structures have a sleek design, one that will leave all visitors with a great first impression.
Developed in association with architects and builders as one of our premium canopy structures, the Motiva Entrada™ boasts an angled roofline and gutter system, allowing for maximum protection from the weather, and effective water run-off. It is a freestanding canopy, and so lays no interference with the brickwork and won't breach the thermal performance of the building envelope. With its own gutter system, it does not wear on steel structures of the building. As far as practicalities and style go, they are true examples of ideal canopies.
What was the result of their new commercial canopy?
As the developers had hoped, this straight roof canopy added some real focal points to the site. The covered outdoor space is a prominent first point upon entering the premises, neatly framing the double doors, with the white steel frame and the stylish glass roof. There are two possible roof panel materials for the Motiva Entrada, with a polycarbonate roof being the second option we had, however we believe that the glass roof panels are the perfect addition to the contemporary look of the entire building.
Since Mercedes-Benz opened their new Light Commercial Vehicle Hub on 4th June 2018, the new site has been welcomed by locals and existing customers alike. The state-of-the-art commercial premises have created several career opportunities for local people, and this is expected to increase as the enterprise expands. The new property truly does make a real statement within Crown Industrial Estate, and we know that a large part of this is down to the detail of the various entrance areas. It is fair to say that these stunning installations really do give the right first impression that all businesses are looking to achieve.
About the client
The site developers were LGIM Real Assets (Legal & General), who invested in the development on behalf of its Industrial Property Investment Fund (IPIF). The new site is located at Crown Industrial Estate in Taunton, and officially opened in Summer 2018. We very much enjoyed working with the builder on this project. We are pleased to know that the commercial canopy we chose, proved to be the right product for the site and that these stunning installations will be durable, and serve all future tenants for years to come.
How will an entrance canopy enhance your business?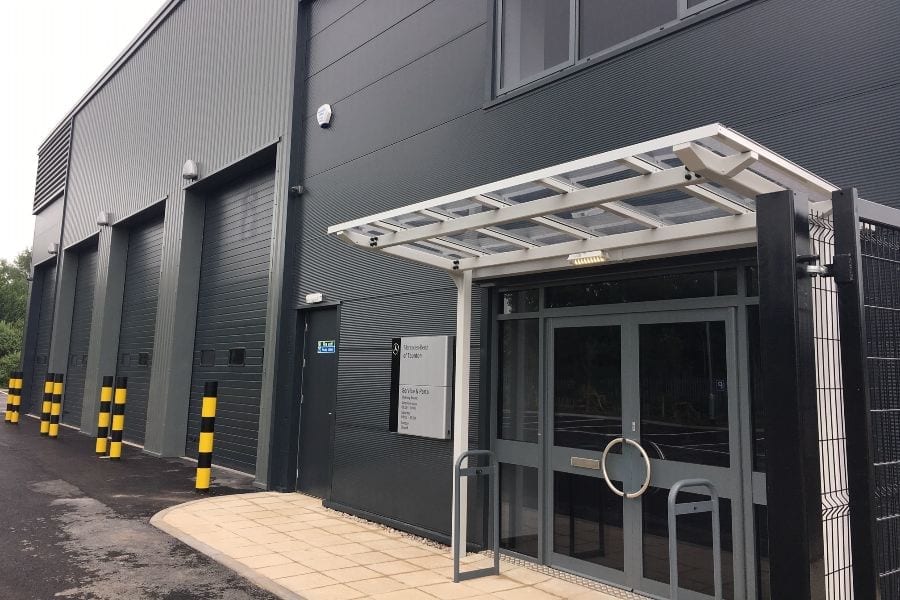 When you first see commercial properties, what are the first things that catch your eye? It's going to be the outside spaces, and most likely, the business' entrance. However, attractive, weather-protective entrance canopies can bring more benefits than meets the eye, here are just a few reasons why you should consider a commercial canopy for your entrance.
Weather protection
A shelter helps to protect existing architecture, specifically the door, from the various weather conditions. However high quality the build, wear and degradation of brickwork and other architecture is inevitable from the harmful UV rays. Building a large projection to cover this area, ensures impact resistance from even the worst weather conditions. In addition, a cover system protects employees and customers which is especially useful in busy commercial areas.
Branding
The steel frame of an entrance canopy is more than just structural support. Enjoy maximum exposure for your brand, with the wide variety of colours offered by the Dura-coat™ finish. With our custom-designed commercial canopies, your individual requirements are listened to, and your shelter will be manufactured with the latest cutting-edge technology. Please don't hesitate to give us a call and see how we can help you on 01743 444100.
Protect interior areas
This advantage is often forgotten, yet it is a real benefit to your business. With the year-round high UV protection, there is a decrease in the fading of interior furnishings and merchandise. This is because visitors and staff have the chance to dry off prior to entering the building, protecting carpets which can quickly degrade.
Useable outdoor space
This is particularly useful for the hospitality industry, where the sheltered space can create an outdoor seating area, which can equate to a huge uplift in profits. Or if you have a commercial site, a shelter can be used as a smoking area or a covered break area. It is not simply straight roof canopies that are available to you, we have hundreds of standard canopy designs that can be altered to fit with your requirements, including trendy shelters with fabric covers, like an umbrella canopy.
Aesthetic appeal
It goes without saying how a defined entrance is one of the simplest things, yet it can transform your business's outward appearance. There are a lot of factors that you can decide on to create your perfect entrance, including framework structure, and the type of cover system so make sure you give us a call today to discuss your options on 01743 444100.
How can A&S Landscape help you?
With 44 years of experience, we can help you to transform your outside area with one of our highly effective shade systems. From your design vision, whether you require high strength permanent structures, or a shelter with entirely custom design options, we will assist you through your thought process. We know how valuable it is to ensure that your outside environment is fit for business. Whatever your specific requirements, we have got you covered!
If you'd like to discuss how we can help you find the perfect solution for your commercial canopy, get in touch with our friendly team on 01743 444100 or at [email protected].

Crown Industrial Estate Before and After
Take a look at some more of our commercial canopy projects
The Co-Operative in Northamptonshire Add Glass Entrance Canopy

What was the project brief?
The Cop-Operative was opening up a new shop in the village of Grendon and wanted to make the best first impression upon their customers. A&S Landscape, commercial canopy experts, was asked to design, manufacturer and install a smart-looking entrance cover at the shop.
What was our bespoke entrance canopy solution?
Our design worked hard to produce the perfect canopy for The Co-Operative. As floor space was a priority, we proposed a wall-mounted structure which would maximise the amount of covered ground. As the client request a bespoke glass canopy, we swapped out our usual polycarbonate roofing for a glass sheet to add a true focal point to the shopfront's entrance area.
What was the result of their glass canopy?
The staff at the Grendon store are over the moon with the new entrance cover. The glass roof gives the shelter a professional and sleek finish and is the perfect finishing touch for the new shop. Now customers can wait outside the store covered from the elements, and the staff can enjoy some fresh air on their break no matter the weather. If stock is being delivered it can be left under the overdoor cover too, protected from the rain, wind or snow.
It's true that first impressions matter and that's why The Co-Operative was so keen to invest in making the front of their shop as attractive and impressive as possible with this stunning entrance canopy.
About the client
The Co-Operative has over seven thousand locations across the UK, supplying local communities with high-quality food and retail products. Standards are set high at every single shop, whether they have been running for years or just opened like the shop at Grendon, near Northampton. We were excited to get to work with such a fantastic brand and hope to get the opportunity to continue collaborating in the future.
Why invest in an entrance canopy?
Adding an entrance canopy to your site can give you many benefits, so it's no surprise that we have installed many entrance canopies at commercial sites and schools, such as the project we completed at the Crown Industrial Estate in Taunton where we installed a shelter at Mercedes Benz.
First impressions count
Adding a professional-looking door canopy is a great way to let your clients know that you are invested in your company and the experience and service you are providing. Before they have even walked through the door, they will have an idea of the quality they will receive thanks to your commercial canopy.
Range of styles
When you choose to install a cover solution with A&S Landscape, you will get to pick from a wide range of designs and models. From tensile fabric sails to a steel frame structure with security shutters, our design team can work with you to create the ideal cover system. Our Motiva Entro™ shelter features curved ceiling panels and integral gutter system and can be easily installed by our team. Or our Maxima bespoke options can be tailor-made to your specification, using tensile PVC fabric for a waterproof finish.
Suits every building and business
Our versatile entrance covers can be installed at many sites across England, including town centres, market squares, theme parks, garden centres, bus stations and railway stations. They are also well suited to a school environment, including universities and sixth forms.
Effective cover
Our entrance canopies also create an area of covered space outside with all-year-round weather protection. The great British weather will no longer be able to put a stop to your plans, thanks to our high-quality shelter structures. Even our tensile fabric roof options can be made with waterproof materials.
Why choose A&S Landscape for your entrance canopy?
With industry-leading guarantees and a large portfolio of stunning installations, A&S Landscape is the best choice when it comes to entrance canopies. We can help you to transform your outside area into a welcoming entrance for your visitors. We have over 44 years of experience, so you can trust that our team have the expertise to run your project seamlessly.
Whether you are an architect or a primary school, we can help you to make your project a success. From a free standing entrance canopy to a small lantern roof style canopy, our team will work with you to improve your outside space. We'll provide you with detailed information to help you make the best decision for your space and ensure you get the best end result.
Start your project today by calling us on 01743 444100, or send an email to [email protected].

The Co-Operative Before and After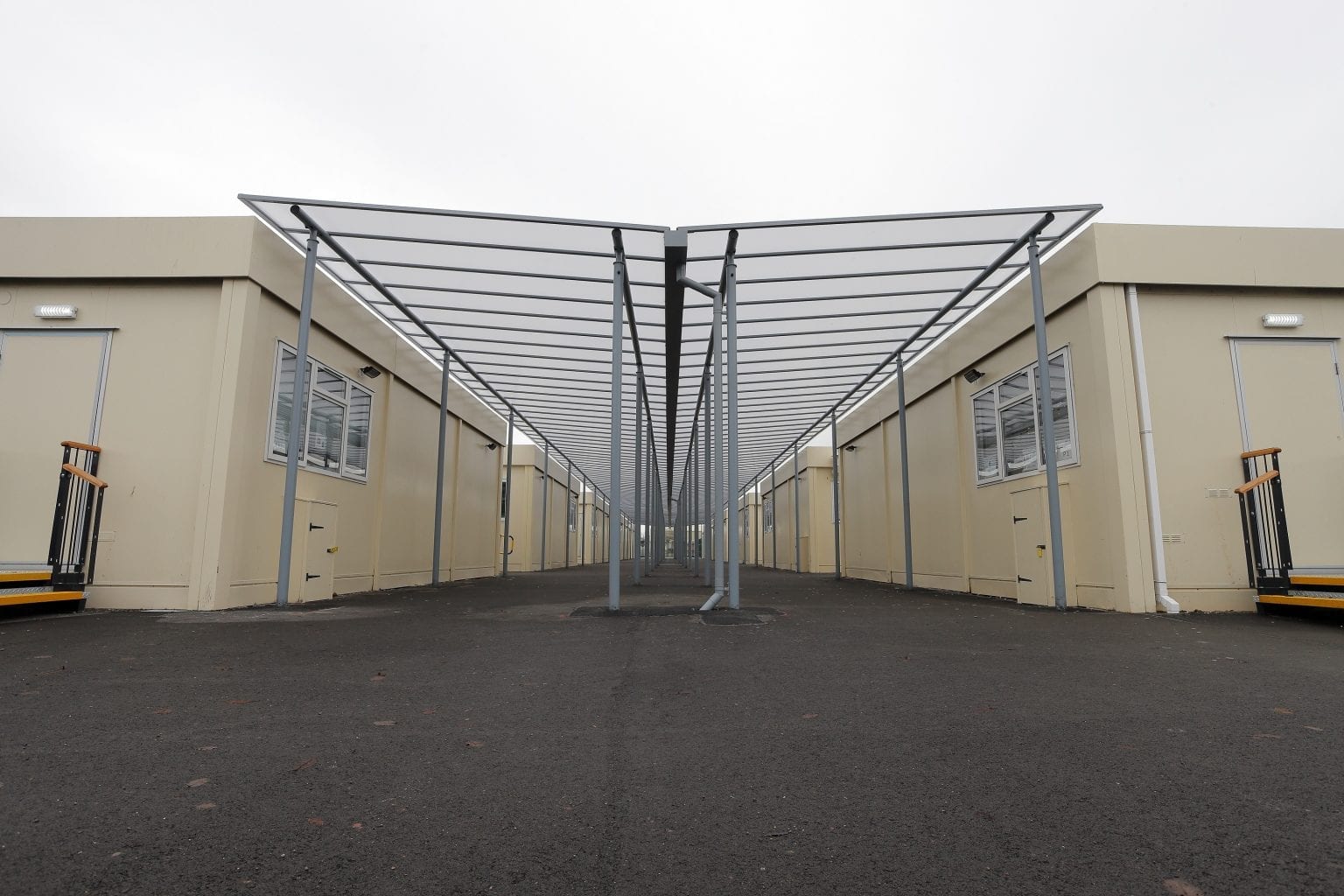 Send us your email and an idea of your requirements and we'll get back to you with a quick price.