Straight Roof Canopies
The most efficient range of straight roof canopies for every application
Enquire Now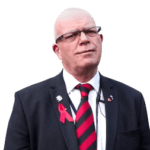 Everything was delivered on time, the project just worked like a dream. They fitted around our requirements.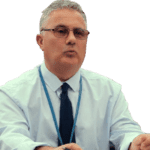 A&S Landscape could give us the attention that we required. The team's communication was excellent.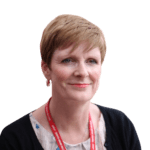 The price was very good, which is important. I can't praise A&S enough. I would definitely recommend them.
Straight Roof Canopies
Our Motiva Linear™ is one of our longest-standing products, much loved, this straight-talking canopy offers exceptional protection from the elements, whether it's too hot, too wet or too snowy, the Motiva Linear™ has got you covered.
Benefiting from a monopitch (asymmetric) design, it has one high point and one low point meaning it can nestle comfortably against any building to extend classroom space, create a sheltered area for queuing or act as a covered walkway offering protection between buildings. It also works equally as well in an open plan area to act as a dining canopy, outdoor learning space or simply to add some shelter to a covered seating area.
Available with an Opal or Clear polycarbonate as standard, there is an option to add a coloured roof to increase the wow factor – the rainbow hues add a splash of colour on a dreary day and create a magical fairy-tale glow when the sun does come out to play. The robust and hard-wearing solid steel frame is available in any RAL colour meaning we can match to an existing building or even the exact colour of your school uniform.
For enhanced protection against slips and trips, the canopy posts can be cantilevered or we can provide colourful post protector pads.
The clever, modular design of our Motiva Linear™ means we can design and manufacture it in any size and our range of waterproof side panels can enclose the space to offer increased security and outdoor storage space.
Straight Roof Canopy Ideas
Take a look at some of the straight roof canopies we have installed
Millbrook Primary School in Telford Create Covered Play Space with Straight Roof Canopy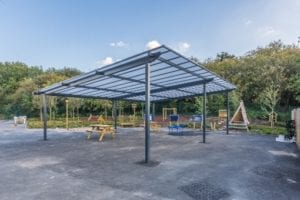 Millbrook Primary School already knew that they needed good covered space in their playgrounds, to allow children to play outdoors during their breaks. They wanted to keep the rain off them when they were outside, so outside play was always viable. They already had some linear canopies, but they weren't large enough to create a real covered space. That's where we came in. We provided a large Motiva Linear canopy, a range of straight roof canopies that could offer them everything they needed. This includes a wide play space and a wide span canopy that requires fewer supports. This makes the canopy safer, so children can run freely as needed. The school love their new canopy. Their choice of a freestanding canopy as opposed to lean to canopies means that they have a playground that's truly usable in all weathers. To learn more about the straight roof playground shelter at Millbrook Primary School, click here.
Blackpool Aspire Academy Grows Campus with Green Straight Roof Canopy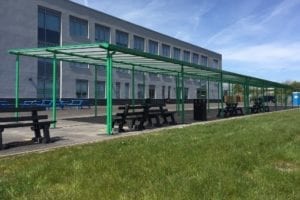 Blackpool Aspire Academy believes that you can't improve if you can't grow, and that includes its school grounds. They wanted their students to be able to enjoy their school, no matter what the weather was like. To achieve this, they talked to us about the straight roof canopies that we can provide. They decided to go with a Motiva Linear canopy, as it offered everything they needed. It's a versatile canopy, being able to work as lean to canopies or freestanding canopies. They chose to use it as a freestanding canopy, giving their students that all-important protection from the weather when they want to use their school grounds. It has proved to be a hit, offering a lot of space underneath that helps students stay out of the rain when they're enjoying their breaks. To learn more about the straight roof canopy that Blackpool Aspire Academy have, click here.
Severn Valley Country Park in Shropshire Add Seating Area With Linear Shelter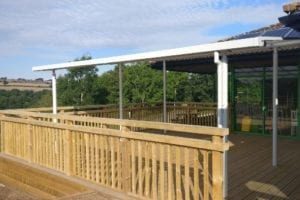 The Severn Valley Country Park offers astounding views of natural beauty, and there's no better place to see them than from the visitor's centre. If you just want to drop by and take in the views, or are enjoying the park for the day, it's the best place to sit and relax. With the new decked area, the park knew that visitors would want to use it all year round. With this in mind, they contracted us to create a cover for the area. Lean to canopies are a great way to shelter areas like these, so they knew we would have something special. They chose a Motiva Linear as the shelter for this space. These linear canopies offer shelter against rain, making the deck a great place to stop and relax. They also protect against UV rays as it has a polycarbonate roof. To read more about the straight roof canopy at the Severn Valley Country Park, click here.
Captain Webb Primary School in Telford Add Blue Playground Shelter To Improve Playground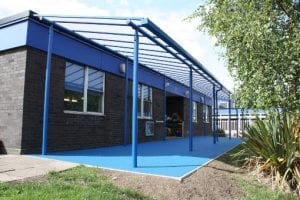 The best playgrounds are those that encourage children to play and enjoy themselves, no matter what the weather is like. Captain Webb Primary School wanted to give their nursery pupils the best playground possible, so they undertook building work to improve their premises. Part of this meant contacting us to create straight roof canopies on the site. The school used Motiva Linear canopies to improve their nursery playground. This canopy means that even in the rain, the playground is useable, and the pupils can play outside. It's important for their health and growth at the nursery, so the canopy helps them get what they need. The school chose a blue colour for their lean to canopies, making them blend in effortlessly with the rest of the school. Pupils love their new shelter, and now use it all the time to play. To learn more about the blue straight roof canopy at Captain Webb Primary School, click here.
Colourful Straight Roof Canopy For Old Church C of E Primary School in Walsall
Old Church C of E Primary School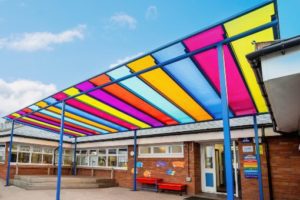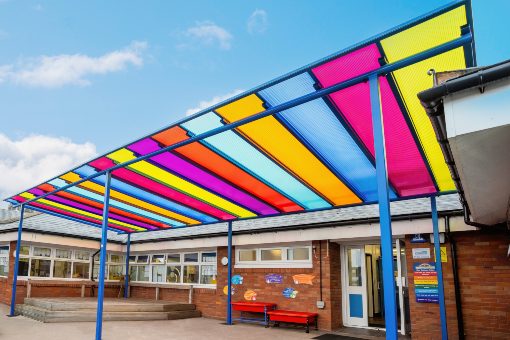 needed shelter for their playground, as it was too open as it was. This presented several problems, as children couldn't go out to play in wet weather. It also meant parents had to wait out in the rain when they came to collect children at the end of the day. It wasn't ideal, so they turned to us to find linear canopies that would work for them. They saw our multicoloured Motiva Linear option and knew it was for them. These straight roof canopies are perfect for keeping the rain off both children and parents when they use the playground. The lean to canopies have made the playground much more useable, making life at the school a lot more fun. Plus, the colours in the roof allow light through, creating beautiful patterns when the sun comes down. To see more about multicoloured playground shelter, click here.
New Straight Roof Covered Walkway For Lime Tree Primary School in Surrey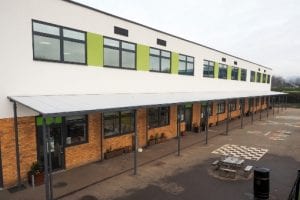 The Lime Tree Primary School building is a wonderful modern site, but there was one problem students found with it. With the access to a lot of classrooms being outdoors, they were getting wet as the moved around in the rain. There needed to be a better solution, so the school reached out to us to see what we could do. With our help, the school decided on a Motiva Linear canopy, to create lean to canopies against the building. These straight roof canopies offer a lot of benefits, mostly that now everyone can move from room to room without getting wet when the weather was bad. Another benefit was that parents can now stand out of the rain when they come to pick up their children, something they couldn't do before without the linear canopies. Read more about the covered walkway we created at Lime Tree Primary School.

Our Featured Straight Roof Canopy Project
Whitecross High School in Herefordshire add Covered Dining Area

What was the project brief?
Due to a period of growth and a consequential influx of students, Whitecross High School required additional space to use at lunch and break times. This was a necessary addition to ensure that the school was adhering to all obligatory health and safety requirements, and so that the students could sit and eat comfortably. They realised that a good option was to explore outdoor canopy solutions. They didn't have an exact design they wanted in mind, so that's when they called in A&S Landscape, who gave their assistance throughout the entire process from start to finish. The school had very specific requirements about what they had envisioned for the new covered area. It looked as though to meet this need a bespoke design would offer the solution.
What was our canopy solution?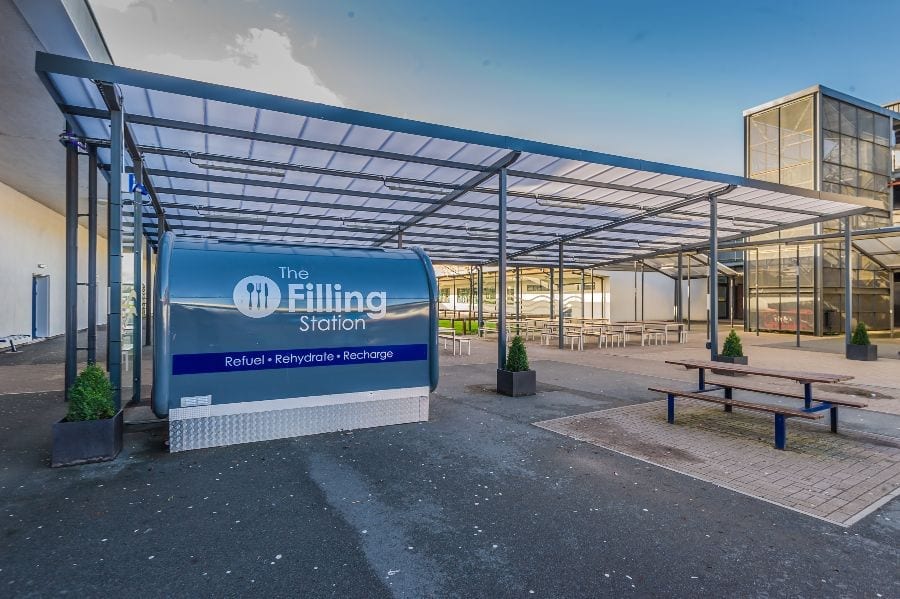 Although we offer a wide range of canopies from our standard range, the school needed something more flexible to meet their special requirements. We therefore suggested that a Bespoke Motiva canopy would provide the all-round better solution. The straight roof shelter (also known as a linear canopy) was built with a strong steel frame and a polycarbonate roof covering. The clever opal roof design allows for natural light to pass through while providing essential protection against harmful UV rays. To add a modern touch, the school stylishly chose an Iron Grey RAL colour for the framework to fit with the surrounding environment. It was an amazing looking structure.
The unique modifications didn't stop there, this versatile straight roof canopy included glass side panels and lighting, all sourced by A&S Landscape. All of our standard and bespoke canopies are of an extremely high standard, have great durability and with their ability to diverge from the norm, allow for the perfect design.
What was the result of their new bespoke straight roof canopy?
The students of Whitecross High School love the new shelter. We have been given many complimentary remarks from the school, who have told us that the students prefer the new dining area over the existing one. The school are relieved that they did not have to build a costly extension in order to house all the new students and that we were able to meet their exact specification with a cost-effective solution.
Health and Safety concerns are no longer a worry, and what's more, is that the students are able to enjoy quality time in the fresh air all year round with guaranteed weather protection. The straight roof canopy clearly is a great addition to the campus, making the whole area a better place for everyone.
About the client
Whitecross High School in Hereford is a comprehensive academy and specialist sports college. It is considered a large school, with over 50 classroom teachers, and the school admitting just under 200 students each year. They commit themselves to creating a rich and diverse environment for students to learn, aiming for their students to have the best experience in education. We are extremely pleased that we were able to work with the friendly team at Whitecross High School on their unique project and install a shelter of the highest standard that will prove to be long-lasting and durable.
Why invest in a straight roof canopy?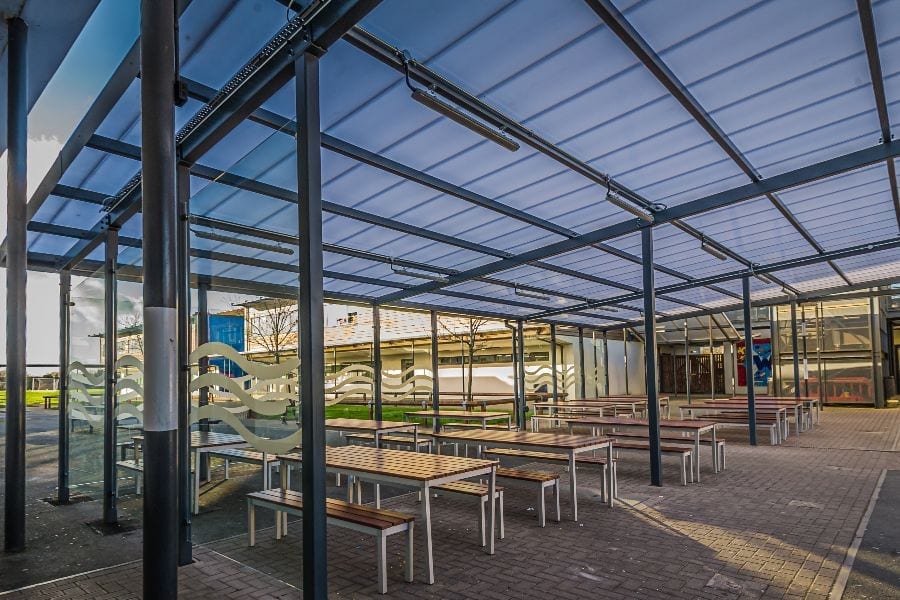 There are numerous advantages to making an investment in a straight roof shelter. Even our standard Motiva Linear™ canopy is considered highly flexible. Although there are standard lengths, the linear function allows for custom widths on your overall size. A coloured roof can be added which when infiltrated by the sunlight creates colourful patterns on the floor, great for adding a unique style to your learning environment. They can be freestanding or mounted to an existing building with wall brackets, which means they make perfect covered walkways, outside classrooms or as waiting areas for parents.
The performance characteristics of these canopies are second to none. The added benefit of the asymmetric linear function of the roof is that excess rainwater can easily run off the sides. With a basic frame of solid steel, they are sturdy canopy structures that will be long-lasting, provide the ultimate protection and benefit the children who attend the school for years to come. They are even suitable for hospitality sites too, the stylish addition of a coloured roof can become the focal point of an outside terrace!
Why choose A&S Landscape?
A&S Landscape is able to offer expertise from concept to completion for all of our canopy projects. With an early consultation in the planning stages of your project, we will share with you detailed sketches and information on the proposed canopy installation. We can even provide you with an information guide listing all of the grants that may be available to you. We don't just offer you a standard service, we are here to help you make the right choice for your exact requirements. Whether you'd like a stunning curved roof canopy or a shelter to cover large areas, we are here to help you find the best solution.
With 44 years of experience in the canopy industry, there is no wonder why we are a leading supplier and a popular choice for shelter solutions across the UK. Our ever-growing list of satisfied customers just shows the excellent level of service that is guaranteed when you choose A&S Landscape to find your perfect canopy. With our great care of all our clients' needs and requirements, your project will only be complete when you're left with a fantastic product. One that will be useful for years to come.
If you'd like to discuss how we can help you find your perfect solution, please don't hesitate to get in touch with us on 01743 636084 or at [email protected].
Whitecross High School Before and After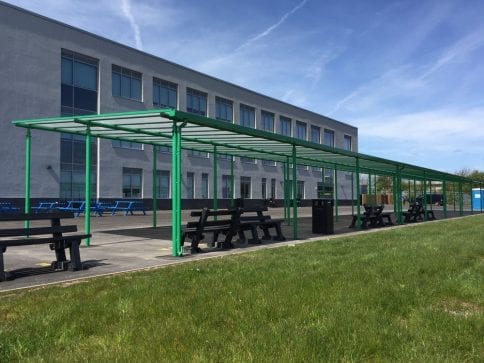 The whole project has been absolutely fantastic. It came within budget and exceeded my expectations.
Deputy Principal - Blackpool Aspire Academy
View Project
Discover some more of our straight roof canopy installations
Hessle High School in East Yorkshire Add Straight Roof Canopy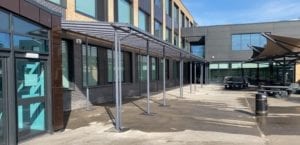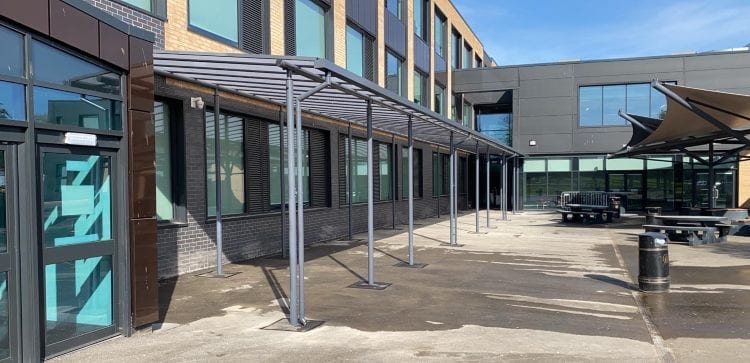 It's always a joy to work with a returning client, and this project with Hessle High School was definitely no exception! After installing a set of stylish Maxima StarSail™ fabric canopies, the school got back in touch to add even more shelter to the area on campus. This time they were after a simpler and subtler option, picking our popular Motiva Linear™ straight roof canopy. The new shelter is located opposite the fabric canopies and perfectly completes the space. The students now have even more choice when it comes to finding a cool, covered area to enjoy their lunch in. Every at A&S was pleased to have the chance to work with this lovely client once again. Want to learn more? Click here to see our other article about the new canopy we made for Hessle High School.
Straight Roof Play Area Shelter Made for Frogmore Infant School in Camberley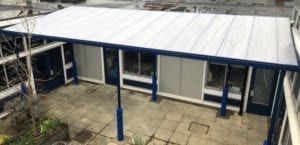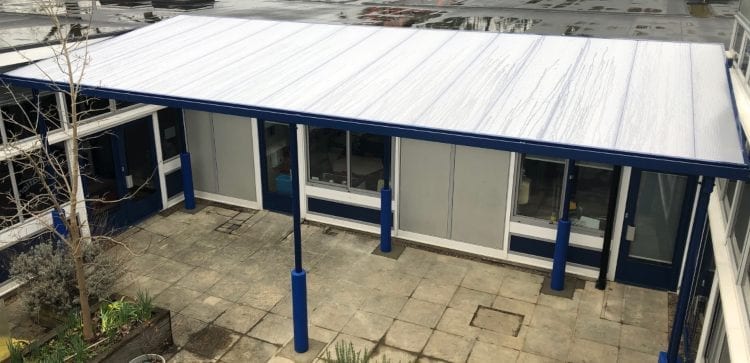 The young pupils of Frogmore Infant School loved playing outdoors during their breaks, running around the playground and letting off steam. Unfortunately, when the weather conditions were poor the children would have to stay inside the classrooms all day. To counteract this issue, the staff decided to add a playground canopy. The school contacted A&S Landscape and commissioned us to install a Motiva Linear™ shelter. This cost-effective product is commonly used by primary schools to create covered space without breaking the bank. For this project, we made the canopy to an overall size of 9000mm x 4000mm and finished the structure with post pad protectors too. The pupils are thrilled with the new addition to their playground. Carry on reading about the play area cover at Frogmore Infant School here.
Ysgol Henllan in Denbigh Add Cover to External Play Area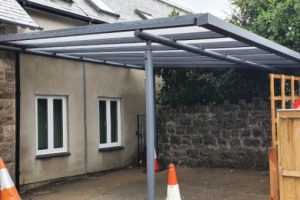 Located in the picturesque town of Denbigh, Ysgol Henllan highly valued the importance of outdoor play and learning. They actively encourage the pupils to spend time outside in the fresh air every day, and so it was clear to them that installing a canopy would be a worthwhile investment. The school got in touch with A&S Landscape and together we explored our range of products for school settings. Ultimately it was decided that the Motiva Linear™ would be the best option due to its versatility and longevity. The canopy was made to the size of 5337mm x 6000mm and the steelwork was finished in a smart-looking Slate Grey. Opal polycarbonate was used on the roof to provide UV protection. Click here to learn more about Ysgol Henllan's play area canopy.
Outdoor Play Area Shelter Made for Hayfield Cross C of E School in Kettering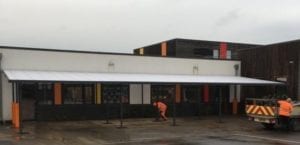 A&S Landscape was asked to add some cover to the playground space of Hayfield Cross C of E School to allow the pupils to spend more time outdoors throughout the year. From our wide range of canopies and shelters, the school choose our monopitch, asymmetric straight roof variant. This product is one of our most popular choices as it can be used for a wide range of applications, including outdoor dining and learning. The school was delighted with the service they received from A&S Landscape, complimenting the 'excellent service and fitting'. It's always great to hear feedback from our clients, you can read a range of testimonials here. Read more about the play canopy made for Hayfield Cross C of E School here.
Cardinal Newman Catholic School in Luton Create Outdoor Sheltered Space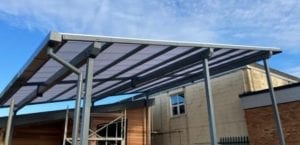 Our range of school shelters can be used for a multitude of applications, from covering entrance ways to adding shade to a playing field. Cardinal Newman Catholic School was looking to add a canopy to their site to enable them to get better use of their external spaces. After completing some research online, they came across A&S Landscape – the industry-leading school canopy manufacturer. Our design team proposed that we install our Motiva Linear™ shelter, which the school were delighted to give the go-ahead for. Now that the school has gained a covered outdoor area, they can use the space more frequently, no matter the weather conditions. We consider this a job well done and our team loved seeing the photos of the completed canopy. Keep on reading about the straight roof canopy at Cardinal Newman Catholic School here.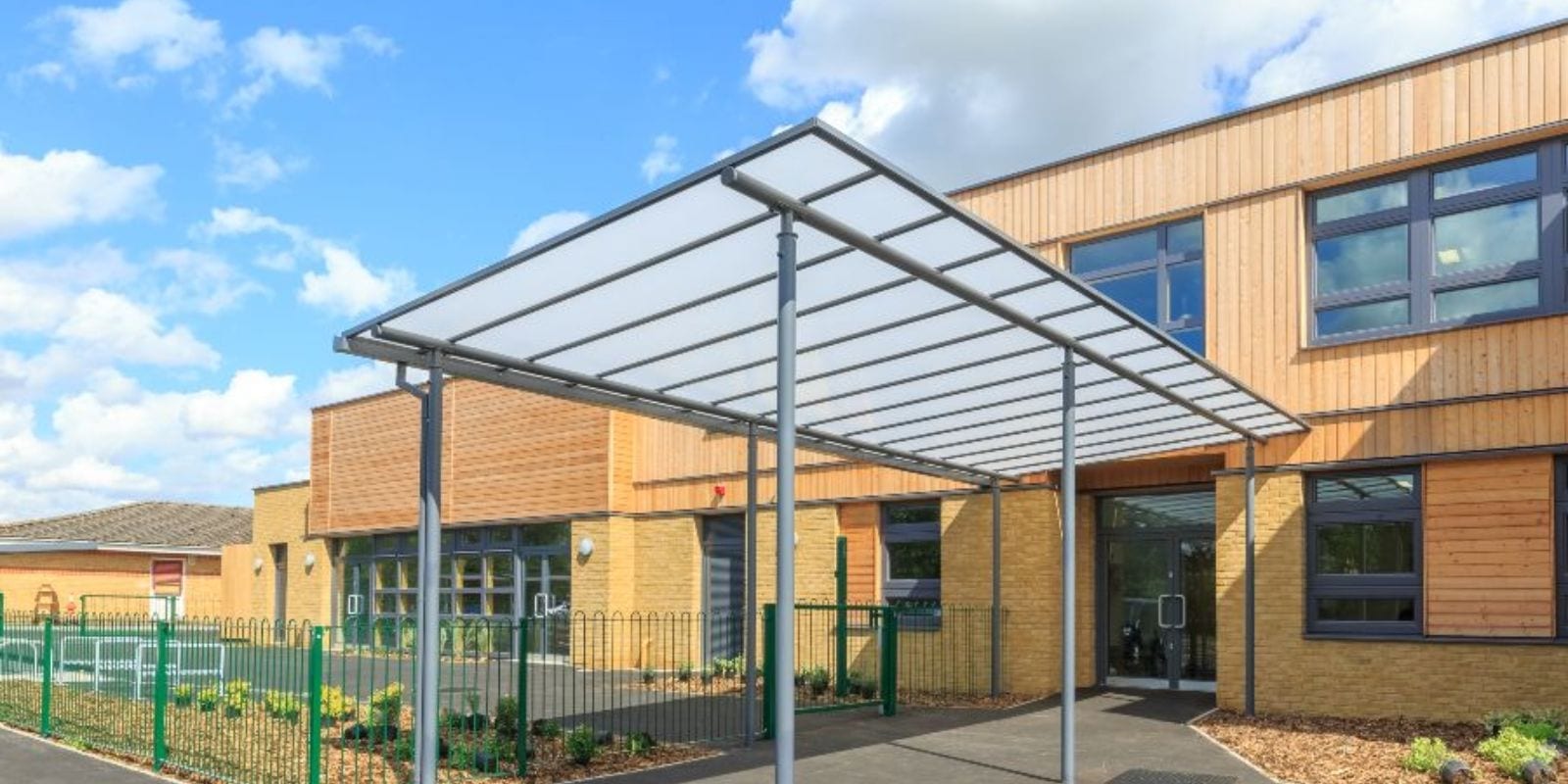 Send us your email and an idea of your requirements and we'll get back to you with a quick price.