Fabric Canopies
Add character, dimension and colour to any area with a functional fabric canopy
Enquire Now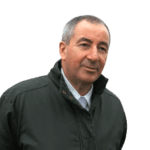 I think A&S Landscape has done a tremendous job. We would definitely recommend them to other schools.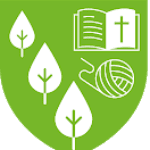 The project was managed brilliantly and ran smoothly, we received excellent communication from A&S Landscape.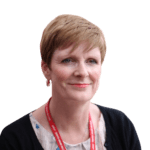 The price was very good, which is important. I can't praise A&S Landscape enough. I would definitely recommend them.
Get a Quick Price
Send us your email and an idea of your requirements and we'll get back to you with a quick price.
Fabric Canopies
Particularly when the weather is unpredictable, having structures in place that are flexible to the needs of your organisation and the people within it is so important to creating a positive environment, regardless of the weather conditions. By implementing versatile canopy and cover solutions for outdoor spaces, you can make the most of the spaces available to you at all times of the year.
At A&S Landscape, we work with clients all over the UK to provide elegant, practical and versatile solutions to improve their outdoor spaces, including fabric canopies. Fabric canopies are simple to install, highly durable and easily adaptable, making them a popular option for a wide variety of different sectors. Using fabric canopies, we can help our clients create shaded spaces in the summer, and covered areas in the winter, to give the people who use your buildings and environments access to practical, comfortable outdoor space year-round.
We have been designing, manufacturing and installing fabric canopies for clients for over 40 years, and are passionate about maximising the potential of communal outdoor areas. If you're interested in covering solutions for outdoor spaces, including fabric canopies, please don't hesitate to contact us and find out more about how we can help.
What is a Fabric Canopy?
A fabric canopy usually consists of steel or timber posts, supporting a shade cloth or waterproof PVC fabric material covering. The most common example is a shade sail, which are used at schools, businesses and homes to create a shaded space outside. Usually, the fabric can be detached to be washed or protected during heavy rain or snow.
Send us your email and an idea of your requirements and we'll get back to you with a quick price.
Our Range of Tensile Fabric Canopies
In addition to our robust and hard-wearing Motiva canopies, we are pleased to also offer a range of striking fabric tensile canopy options. Bright, breezy and wonderfully versatile, a fabric canopy is sure to revitalise any outside space while offering unrivalled protection from harmful UV rays. All of our designs are available with waterproof fabric to protect from those unexpected showers that arrive all too frequently.
The Maxima Tepee is a clever and durable modular structure that has its own unique integrated gutter system. Available as a standalone or with many unit possibilities, the Tepee is a practical and popular design that works well for dining, sports, recreation, and outdoor learning. Our four posted Maxima Sail is a welcome addition to any outside space. Available in a wide range of colours. It is an economical and eye-catching sunshade and is one of our most loved products.
The bold and beautiful Maxima StarSail is an innovative combination of our Umbrella and Sail design. Benefiting from one central post and with the option to add waterproof fabric, it is a hardy, all-year-round product that is easy on the eye.
Our Maxima Umbrella is one of our longest-standing products. It offers exceptional shelter while creating a fun, focal point in any outside area. Suitable for all-year-round use, it is the perfect addition to any playground.
Also available in the Maxima Range is our airy and contemporary Maxima Plaza and our cosmopolitan Maxima Parasol.
What materials are used in our fabric canopies?
Our Maxima range of fabric canopies offers a stylish yet practical shade solution, and are popular across many sectors including education, hospitality and commercial. If you're looking for waterproof canopy fabric, then our PVC fabric is the perfect choice. This canopy material offers high-strength waterproofing and is available in over 40 colours. Alternatively, our shade cloth canopy fabric is another great option. This high-quality knitted cloth has been specifically developed as a strong and durable fabric, and offers 90-98% UV protection in 14 different colours.
Learn More About Our Work With Fabric Canopies
The Willow Primary School
See some of our fabric canopy projects we've completed
Green Park School in the West Midlands Add Fabric Canopies to Site
Wright Robinson College in Manchester Install Red Fabric Tepee Canopies
Installation of Fabric Umbrella Canopies at The St Lawrence Academy in Scunthorpe
A Blue Fabric Umbrella Canopy for Riverside Bridge School in Barking
Fabric Umbrella Canopy Installation at Ashcott Playing Fields in North Somerset
Fabric Umbrella Canopy installed at Woodlands Primary and Nursery School in Shropshire
Our Featured Fabric Canopy Project
The Hessle Academy in East Yorkshire Add Fabric Shade Sails

What was the project brief?
The Hessle Academy in East Yorkshire recognised the value that a shelter could bring to the outdoor areas of their school, and ultimately, the well-being of their students. Realising that it was beneficial to the children to have a place to socialise and eat outside, they knew they needed to give their existing outdoor space a new identity to encourage them to eat outdoors. Being a state-of-the-art school, they wanted a stylish canopy that could provide cover to students from harmful UV rays, alongside the all-important rain protection. A&S Landscape, with their knowledge and expertise of outdoor canopies, were called in to help with all aspects of the project, from giving initial advice on the design, right up until the final installation.
 What was our outdoor fabric shelter solution?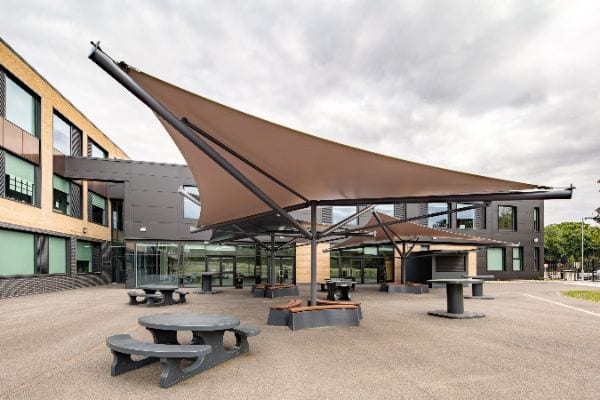 When the school approached us with their unique project, our immediate thought was our range of standard fabric canopies, otherwise known as tensile canopies, or tensile membrane canopies. Stylish, modern and extremely effective, the tensile structures UK range would give the new outdoor area the identity it desperately needed, while also delivering on all the practicalities. It was decided that the Maxima StarSail ticked all of the boxes the school required. These sail shades come in a variety of colours, so to fit with the school branding, the school chose concrete grey and sandy beige fabrics.
Three sail shades tensile canopy systems were installed, each at 8m x 8m. The wonderfully colourful fabric architecture stands proudly in the school grounds. The school have since added some furniture, firming the trendy identity of the new covered seating area. Thanks to the waterproof PVC fabric, there is great rain protection and lasting coverage from the sun. The membrane tension also provides structural strength to protect from the wind.
What was the result of the new fabric canopies?
The result of the three colourful fabric tension structures has been fantastic. The children are happy that they now have another area in which they can learn, play, socialise, and all the while be outside enjoying the fresh air. Break times and lunchtimes are no longer the same, and this is all down to the simple addition of the shelter.
About the client
The Hessle Academy is a high school and sixth form college based in Hessle, East Yorkshire. They pride themselves on their state-of-the-art technology and the modern features of the school. We always enjoy working with schools that look to provide the best possible experience for their students, and the Hessle Academy is one of these.
Right from the start, they were clear with their wishes for the canopy project, and as a result, the fabric structure that was installed turned out to be an excellent addition to the school. Friendly and personable throughout, we thoroughly enjoyed working with the team at the school, and we were so glad to hear that the new StarSails were going down a treat with the children.
Why choose A&S Landscape?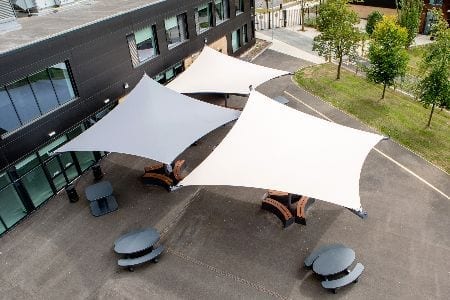 With 44 years' worth of experience, A&S Landscape are the experts when it comes to helping you choose the right fabric canopy shelter. Over the years the fabric structure industry has developed, and so has our expertise in tensile canopy design. Providing you with a top-quality product and service is our utmost priority, and we want to ensure you are well-informed of your options prior to purchase. If you're looking for a shelter with a fabric top cover, look no further than A&S Landscape. Whatever style you choose – you'll always end up with a great fabric canopy!
The Maxima Umbrella™ shelters have just one upright, and are shaped like – you guessed it – an umbrella! They're ideal as a shelter for a covered seating area at schools or for as a hang-out area at Universities!
The fabric Maxima Tepee™ are delightfully stylish! Our tepees are normally designed with contrasting colours to really stand out. Unlike umbrella canopies, they have more than one upright, but these are minimal. They don't just look the part either, they are manufactured as a standalone unit, but are modular so can be extended. Each is manufactured in galvanised and PPC steel with a built-in gutter. It is also a UV resistant canopy, and the fabric top cover is a fire retardant.
The Maxima Plaza™ is a wide-span, barrel-vault structure, typically with a symmetric curved-roof design, coming in a range of sizes. These tensile canopy structures are popular a choice as dining areas or covered seating areas.
Whichever one appeals to you, there is no doubt of the dramatic impact the bold colours and brightness that shade sails can add. Take a look at our exciting past projects for some inspiration! Or download a copy of our Maxima brochure to see our full range of tensile fabric structures.
A&S Landscape wants to help you get children outside!
At A&S Landscape, we understand the benefits of being outdoors, and this is the driving force of our business. The additional outside space can mean extra room for children to exercise, which releases vital endorphins to instantly elevate a child's mood, acting as a natural anti-depressant. Time outside means less screen time too, a huge worry of parents with young children.
A&S Landscape are here to help from start to finish with your unique shelter project. Our friendly team are always on hand to advise and share our expertise with you. Over the years we have developed close relationships with schools and colleges, universities and several local authorities all over the UK. We have a well-respected reputation in the industry of exterior structures, and we want to help you make your dreams a reality. When it comes to our tensile canopies UK range we can't be beaten on quality.
If you'd like to discuss how we can help you find the most appropriate cover system for your needs, get in touch with our friendly team on 01743 636084 or at [email protected].

Read about more of our fabric canopy projects below
All Faiths Children's Academy in Kent Add Umbrella Canopy
Fabric Shade Sail Refurbished at St John Fisher Catholic High School in Cambridgeshire
Glebe School in Kent Add Fabric Umbrella Canopy to Campus
Outdoor Seating Area at New Torfaen Learning Zone in Wales
Ashby Hill Top Primary School in Leicestershire Install Green Fabric Umbrella Canopy

A free guide containing information on over 80 different grant schemes available to schools