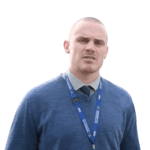 The A&S Landscape staff were very amenable. They showed extensive knowledge regarding the installation.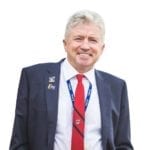 I would recommend A&S Landscape to anybody. They were very professional in the way they worked with us.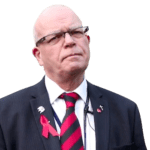 I'd heartily recommend A&S Landscape to any other school. I'd very gladly work with them again.
Cantilever Canopies
No matter what sector you're in, being able to create a positive built environment is about more than incorporating function without any form; it's about genuinely creating environments that people who use your buildings interact with and want to spend time in. We can help you make the most of your spaces by constructing structures and canopies that enhance them, including cantilever canopies.
We have over 40 years of experience designing and constructing inspiring, elegant canopy solutions for our clients, including cantilever canopies. When it comes to our projects, we concentrate on quality and longevity, using materials and construction techniques that meet very specific criteria and taking a truly personal approach to each one. To learn more about how we can help you implement creative and practical cantilever canopy solutions, simply get in touch.
Cantilever canopies are used by a wide variety of different sectors and building types, as they help to create a large area of covered space next to your existing structures. Cantilever canopies are supported with uprights on one side and are anchored to the existing building on the other. Cantilever canopies also come in curved and straight roof designs, with a range of choices when it comes to the colours of steelwork and roofing, so you can customise your cantilever canopy to fit your business perfectly.
What is a Cantilever School Canopy?
A school cantilever canopy is supported with uprights along one side of the structure only. They are popular amongst primary schools due to the large amount of covered space created underneath the shelter. Cantilever canopies are available with both curved and straight roof designs, with a choice of colours for the steelwork and roofing.
What are the benefits of a cantilever canopy?
There are many benefits to choosing a cantilever canopy, making them a popular choice for schools and businesses. Due to their design, more floor space is created as there is a reduced number of uprights. They are often used as entrance canopies and playground shelters for younger years areas.
Listen to what our clients have said about working with us
Take a look at just a few of the other the cantilever canopy projects we have completed
Cantilever Canopy at Horsham Football Club in Sussex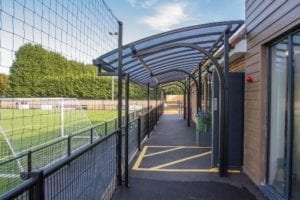 At Horsham Football Club, the spectators are just as important as the players and the Club wanted to make sure that their loyal fans could and watch their favourite team with some additional protection from the elements. Their main concern was that the posts from the freestanding canopy would get in the way of the fan's enjoyment and use up precious floor space where equipment could be stored under cover. They contacted A&S Landscape to talk through their requirements and their concerns and the team at A&S were more than happy to propose the ideal solution! A canopy cantilever offered exactly what the club was looking for, expertly designed to ensure minimal posts meaning that as the team grows in popularity they have room to house even more devoted fans. Read more about the cantilever canopy we installed at Horsham Football Club here.
Blue Cantilever Canopy Installed at Corvedale C of E Primary School in Shropshire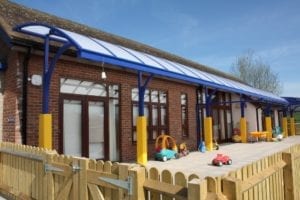 A&S Landscape has an extensive range of shade and shelter solutions and is proud to work with nurseries, schools, colleges and universities throughout the UK. It is always quite special to be asked to work with a local school, so we were delighted when Corvedale C of E Primary School in Shropshire got in touch! The Headteacher had been considering developing the school's outside area for a while and wanted a classroom extension that would allow the children to enjoy their lessons in the open air. The children loved the idea of a bright, breezy space that they could enjoy all year round and everyone involved was keen to minimise intrusive posts. The cantilever canopy ticked all the boxes. The design work confirmed that the canopy was exactly what they were looking for. See more about the cantilever canopy we installed at Corvedale C of E Primary School.
Green Cantilever Shelter Fitted at St Peter & St Paul's RC Primary School in Shropshire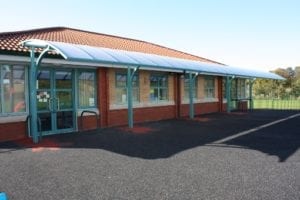 Cantilever canopies are extremely popular with nurseries and primary schools due to their minimal posts and extensive range of design options. When we were contacted by a primary school in Shropshire, we agreed with them that a Cantilever design would fit their brief exactly. The school wanted their pupils to be able to chat with friends, play outside and breathe in the fresh air to the backdrop of the birds singing in the trees and A&S Landscape was very happy to work with them to make this happen. The school chose a striking yet subtle Emerald green for the framework to blend in beautifully with their surroundings and a curved opal roof to provide additional UV protection. Click here to see more about the cantilever shelter we fitted at St Peter & St Paul's RC Primary School.
Cantilever Entrance Canopy at Warren Wood Primary School in Cheshire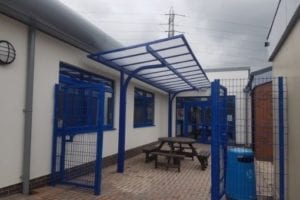 A primary school in Cheshire were keen to spruce up their somewhat tired entrance area and to increase the functionality of the area by giving parents and teachers some shelter whilst waiting at pick up times. They contacted A&S Landscape who suggested an entrance canopy, that if designed efficiently could also be a cover for some external seating for the children to use during breaktimes. After close inspection, the team at A&S thought that a cantilever canopy would be perfect for the area and started work on the designs to show the school what a difference it would make. The school were over the moon with the concept and engaged A&S to carry out the work. Read more about the entrance canopy we fitted at Warren Wood Primary School.
Playground Canopy Fitted at Mereside Farm Children's Nursery in Solihull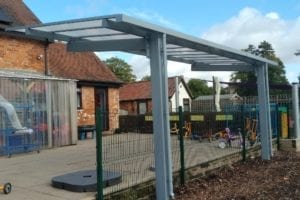 Mereside Farm Children's Nursery was tired of being reliant on the great British weather and wanted to give the children they look after, a new and exciting outdoor area where they could run, play, skip and hop to their heart's content, in rain or shine. The nursery engaged A&S Landscape to design and install a cantilever shade canopy that was also waterproof. The cantilever options that A&S provided were extensive, cantilevered glass canopies, cantilever aluminium canopies and straight or curved roof designs are just some of the options available. The nursery chose a sleek and contemporary straight roof design that fits in perfectly with its surroundings and opted for modern grey steelwork that looks professional and fresh. See more about the playground shelter we designed for Mereside Farm Children's Nursery.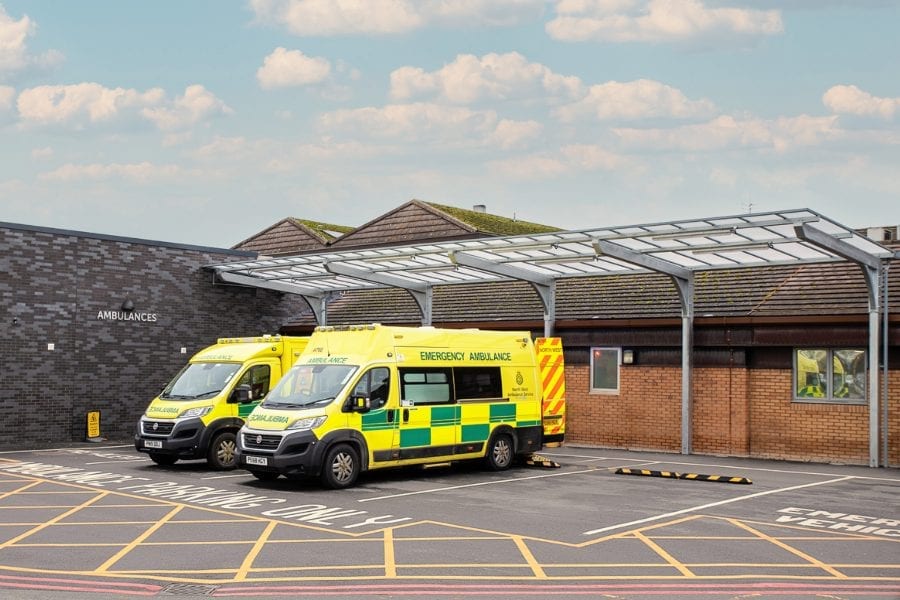 The office team were brilliant and it was an excellent product.
Quantity Surveyor - Countess of Chester Hospital
View Project
Our Featured Cantilever Canopy Project
Ysgol Bro Alun in County Wrexham, Wales Adds Six Cantilever Canopies

What was the project brief?
In September 2013, the small town of Gwersyllt was thrilled to welcome the long-awaited opening of the new Welsh Language Primary School, Ysgol Bro Alun (Bro Alun School). There had been much discussion about the plans for the new school, which was being built in order to ease over-crowding. Even before the school was built, canopies for the outdoor areas were firmly in the mind of the developers to ensure that each child enjoyed a good amount of time outside. Each classroom was to have direct access to an outdoor covered area, which would be multi-purposeful for learning and playing.
The perfect solution to this requirement was a shelter which could offer excellent protection all year round. Called in by the local authority, A&S Landscape was asked to design six canopies, each with specific requirements. This was to be a complex task, as the shelters for the outdoor space had to be designed in consideration of the architecture, which at this stage was only available as sketches. A&S Landscape was further involved in the project when they were employed by a leading builder to manufacture, supply and install the shelters.
What was our canopy solution?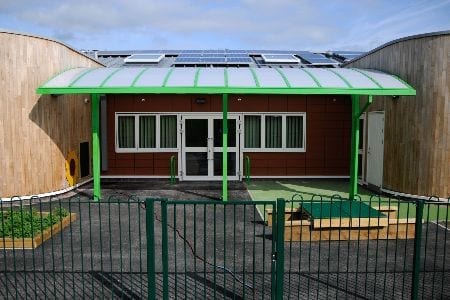 Due to the canopies being an original incorporation into the design plans for the school, an integral part of our job was to ensure that the shelters would look and function as proposed once they were installed. It was therefore vital we worked in collaboration with the other contractors and their designs. Using applications such as AutoCAD, SolidWorks and SketchUp models, detailed sketches were drawn up to ensure maximum levels of accuracy.
We knew the perfect solution had to be durable, have excellent resistance to all types of weather, whilst also be within the school's budgets. We have an extensive range of bespoke canopies to choose from, but we decided that the Motiva Cantilever range would be the best choice to comfortably meet all of the school's requirements. The attractive design consists of an unbreakable polycarbonate roof, aluminium guttering and a galvanised and PPC steel frame. These shelters were quoted within budget, delivered within the agreed time frame and offered an all-important functional design. All six models were unique in their specifications to fit with the external surroundings.
What was the result of the new cantilever canopies?
The six canopies offer excellent shelter all year round for the children. Functioning both as play and learning areas, pupils can enjoy much needed time outside while at school. Prior to the school opening, many parents came to visit and were very excited to see the new facilities. The Headteacher had this to say: "It's very exciting, the parents have been here for an open day and are very impressed. The facilities are second to none." We were very pleased that our bespoke canopies were a part of this project, that was clearly constructed to the highest standard.
Now that the school has been open for seven years, we are still extremely pleased to know that we installed canopies that are not only a stylish addition but are a superb quality product that will benefit the children for years to come. With the added protection outdoors from the weather, we envisage that all of the children lucky enough to attend this school will thoroughly enjoy the extra space outdoor immensely.
We are also delighted to know that the school would like to work with us again as the site expands in 2020. We will be installing a further three canopies to match the existing ones. We are confident that yet again, we can deliver a high-quality canopy system.
About the client
Located in the small Welsh town of Gwersyllt, Ysgol Bro Alun is a Welsh language Primary School for 3-11 year olds. The school is relatively young, with the Welsh education minister Leighton Andrews giving the Government go-ahead in May 2012. It was a £5.9 million investment to the local children and families of the village, with the Government covering £4.1m towards the overall costs of its construction. With planning permission granted in June 2012, building began in July 2012, and the school was completed in time for the school term starting in September 2013.
We were delighted to be a part of the project and give our expert advice from such an early stage. Working with the local council, the other contractors and the school staff was a great experience for us, and we thoroughly enjoyed being a part of the development team and embarking on such an impressive and meaningful project. We are very much looking forward to working with Ysgol Bro Alun again in 2020.
What is a cantilever canopy?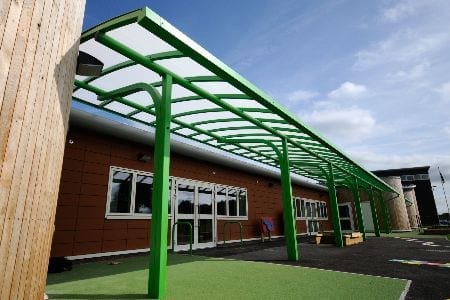 The cantilever canopy is a stylish curved structure and is another variant of the Motiva roof. It is usually mono (symmetric) in design, but it can be Duo, Linear or Wave.An added benefit is that the roof is held up by a single row of uprights. Due to the flexibility of the design, the uprights can be positioned in a choice of places, front, back or centrally, making these shelters useful for play areas, covered walkways, and in particular, they are ideal for entrance canopies. They make for secure overhanging structures for doors and can add a contemporary feel to your building, all for great value. If you want a covered area that feels light, spacious and welcoming, a cantilever canopy is your perfect solution.
Our standard structures at A&S Landscape can be fabricated into almost all shapes and sizes, are made entirely of steel, and are of a polycarbonate roof design. You can download our cantilever canopy brochure to see more details and information about the design. The structure then boasts the enhanced protection of a galvanised finish or a Dura-Coat™ finish in the colour of your choice, giving them the ultimate corrosion protection. They can be made to measure to practically any dimension available, and also boast an extensive choice of additional design features that are unique to their design, which is why they offer an excellent solution for a primary school canopy, where space may be limited.
Why choose A&S Landscape for your cantilever canopy?
A&S Landscape will offer you nothing less than an exceptional structure manufactured from the best possible materials to transform your outdoor space. We understand how important an effective cover that provides the ultimate protection is for our customers, and our basic principle is to always put your needs first. We offer a free quotation and technical information early on in the design stages to offer that extra reassurance. It is a part of our standardised service to be readily involved in project management – including engaging in full site surveys and CAD drawings, so you can relax knowing that you are in capable hands.
In the 44 years of designing, manufacturing and installing a wide variety of canopies, we have become a leading supplier for shelters across the UK. When it comes delivering a great outdoor solution, our family-led business brings expertise that is considered second-to-none. We offer a wide choice of shelters including shade sails, Multi-Use Games Areas and cycle storage solutions. Whatever your specific requirements, with our extensive range of shelters, we can offer you the best solution for weather protection.
We have worked with some amazing clients over the years and have fond memories of working with impressive organisations across the UK. Take a look at what they have to say about us and our service, and see why we are the most trusted company when it comes to shelters.
To find your ideal solution, get in touch with our friendly team on 01743 299943 or at [email protected].

Ysgol Bro Alun Before and After
Why Choose a Cantilever Canopy?
Maximum Cover with Minimal Obstructions
What cantilever canopies offer that other canopies don't is a covered area solution that has minimal obstructions. When the upright posts are positioned at the back of the canopy, up against the wall, this creates a free and unrestricted area underneath the canopy. This makes cantilever canopies an excellent covered solution for schools, nurseries and playgrounds as they provide children with an open and safe play area in which they can roam around as they please without having to worry about any unfortunate collisions with posts.
Cantilever canopies are also ideal for entrances, covered walkways and sports spectator areas. Their non-intrusive design means they don't obstruct the doors or windows over which they're providing cover, nor do they block the view of people who are huddling underneath them (great news for sports fans!). With free space underneath the canopy, cantilever canopies offer extra room for storing sports equipment under dry cover.
Allows People to Enjoy Outdoor Space
Cantilever canopies, like all of our covered area solutions, allow people to spend time outside and enjoy the fresh air while remaining safe, protected and dry. Whether it's for your school pupils, employees, customers, visitors, patients or care home residents, giving people access to outdoor space is incredibly important
Commonly used to treat a variety of ailments for centuries, fresh air offers a bevy of health benefits. Breathing in plenty of clean, fresh oxygen has been shown to improve cardiovascular health and blood pressure, aid the digestive system, and strengthen the immune system. It can also do wonders for your mental health. The more fresh oxygen you inhale, the more serotonin (the "happy hormone") your brain releases, which lifts your mood and makes you feel calmer and more focused.
Getting your fair share of sunshine is equally beneficial (not just for topping up your tan). Natural sunlight increases the body's production of vitamin D, which is vital for maintaining strong and healthy bones, teeth and muscles. Much like fresh air, exposure to sunlight also triggers the brain's release of serotonin, which explains why being outside under the sun makes you feel so good!
Whether it's for a school, university or commercial premise, the benefits of creating a safe and covered outdoor space can be felt indoors as you'll have happier and healthier students, staff and customers!
Ultimate Weather Protection
Like all of our canopies here at A&S Landscape, our cantilever canopy offers reliable protection from our unreliable British weather. Featuring high-strength polycarbonate roofing sheets, the Motiva Cantilever™ is fully waterproof so it keeps you dry and sheltered from wet and cold weather. During the sunny months, the cantilever canopy provides a cool and shaded area where you can take refuge from the heat while the polycarbonate sheets filter out the sun's potentially harmful UV rays, which can increase the risk of developing skin cancer. Rain or shine, our cantilever canopies offer complete weather protection.
Enhance Your Premises
A cantilever canopy not only offers a plethora of practical benefits, but it will enhance any area, whether it's a school premise, university campus, healthcare site or hospitality business. Thanks to their modern, sleek and colourful designs, cantilever canopies will add style and substance to your premise, impressing students, staff, visitors and passers-by alike.
With a range of design options and colours to choose from, a cantilever canopy is sure to stand out and catch the eye while complementing your existing buildings. What's more, the aesthetic appeal and practical benefits that a cantilever canopy offer could even increase the value of your property.
Tailored to Your Needs and Preferences
No two cantilever canopies are the same. Our Motiva Cantilever™ canopy comes with a whole host of customisable options, allowing you to create a covered area solution that's tailored to your exact requirements and preferences.
Post positioning – Essentially you have three options when it comes to the positioning of the upright posts. They can be positioned at the back, up against the wall; at the front, away from the wall; or centrally. The positioning depends on your specific needs and the space around the canopy, such as any doors or other obstructions that may restrict the location of the uprights.
Dimensions — Virtually any dimensions are available. The most cost-effective total projections for the Motiva Cantilever™ are 2000mm, 3000mm or 4000mm, while post centres typically measure 4000mm (up to 5000mm).
Optional extras — You can level up your cantilever canopy with a host of optional extras including side panels (with various infill options); aluminium guttering and downpipes to deal with runoff rainwater; wall brackets for enhanced stability; wide span beams for structural stability; and protective post pads for enhanced safety. The colour of the post pads can either be the same as the canopy or designed to contrast.
Whether you know exactly what you're looking for or you require help with choosing the right design options, our expert design team is here to guide you through the process so that your cantilever canopy is the best that it can be. Involving our designers in the early stages often results in a better product solution and more efficient design process.
Highly Durable and Long-Lasting
When you choose a cantilever canopy from A&S Landscape, you can be fully confident that it's built to last. Thanks to our solid and high-quality materials, smart and functional designs, and professional and reliable installations, our covered area solutions are robust, durable and long-lasting.
Our steel structures are manufactured here in the UK by highly experienced and qualified technicians using the latest technology and equipment, combined with good old-fashioned British workmanship. For cantilever canopies with a Dura-coat finish, the steel goes through a two-part process. First, it's galvanised with a zinc coating to protect it from corrosion. Then, it's coated with an electrostatically charged powdered resin before being heated and cured in an oven at 200°C. These two processes give the steel a tough outer layer that lasts for many years.
The component parts that form the rest of the Motiva Cantilever™ are also of the highest quality and finish. The roof is made from unbreakable POLY-TUFF™ polycarbonate sheets while the optional guttering and downpipes are made from ALU-TUFF™ aluminium. Our cantilever canopies will maintain their integrity, beauty, and functionality in even the most rigorous of school, playground or commercial environments.
Incredibly Cost-Effective
In addition to their excellent durability and extensive lifespan, our cantilever canopies require minimal maintenance. Whether it's for an entrance, a walkway or a play area, the Motiva Cantilever™ will provide reliable cover for many decades with little upkeep needed, so you don't have to worry about constantly coughing up for repair work, or regularly pulling out the ladders to tend to it yourself. This makes a cantilever canopy a surprisingly cost-effective covered area solution, offering excellent value for money with minimal effort involved. It's a worthwhile investment for your school or organisation!
Who are Cantilever Canopies For?
Schools
Cantilever canopies can be used for a wide range of applications in schools, both primary schools and senior schools. Having worked with an extensive list of schools across the UK for many years, we've seen first-hand the practical benefits that our Motiva Cantilever™ offers pupils, staff, parents and visitors alike.
Sporting Facilities
Cantilever canopies are an ideal covered area solution for spectator areas at sporting facilities. Whether it's a football ground, a hockey field or a multi-use artificial pitch, a cantilever canopy creates a covered area where fans and spectators can watch the action while staying protected from the weather. Ideal for outside club houses and changing rooms, its non-intrusive design offers plenty of open space beneath the canopy, meaning you can accommodate more numbers without blocking anyone's view of the game. The space can also be used to keep sports equipment dry on the side-lines.
By helping to increase supporter numbers and improve the atmosphere at matches, a cantilever canopy is a worthwhile investment for any sports club, organisation or local authority. Here at A&S Landscape, we've worked with some of the biggest names in British sport including The FA and Team GB.
Healthcare Sites
From hospitals and surgeries to clinics and care homes, providing safe outdoor space is invaluable for any healthcare site. A cantilever canopy can be installed to create a covered area where your patients or residents can enjoy spending time outside in any weather, whether that's for eating, socialising or simply relaxing, instead of being stuck inside 24/7. Due to the many health benefits that fresh air and sunlight provide, being outside can even help to improve your patients' or residents' recovery, wellbeing, and overall health, both physical and mental.
However, providing outdoor space that is safe is equally important. As any healthcare professional will know, the weather can pose various health risks, especially to elderly people and those with underlying health conditions. Our Motiva Cantilever™ canopy features a robust, UV-resistant polycarbonate roof that filters out the sun's potentially harmful UV rays while creating a cool, shaded area for your patients or residents to stay out of the sun.
A cantilever canopy can also be enjoyed by your staff and visitors by providing them with an outdoor breakout space where they can eat their lunch alfresco, have a smoke break or simply enjoy the rejuvenating fresh air and sunlight during their work breaks or visits. You'd be surprised how much a canopy can improve your hospitality provision, improve staff morale and boost productivity.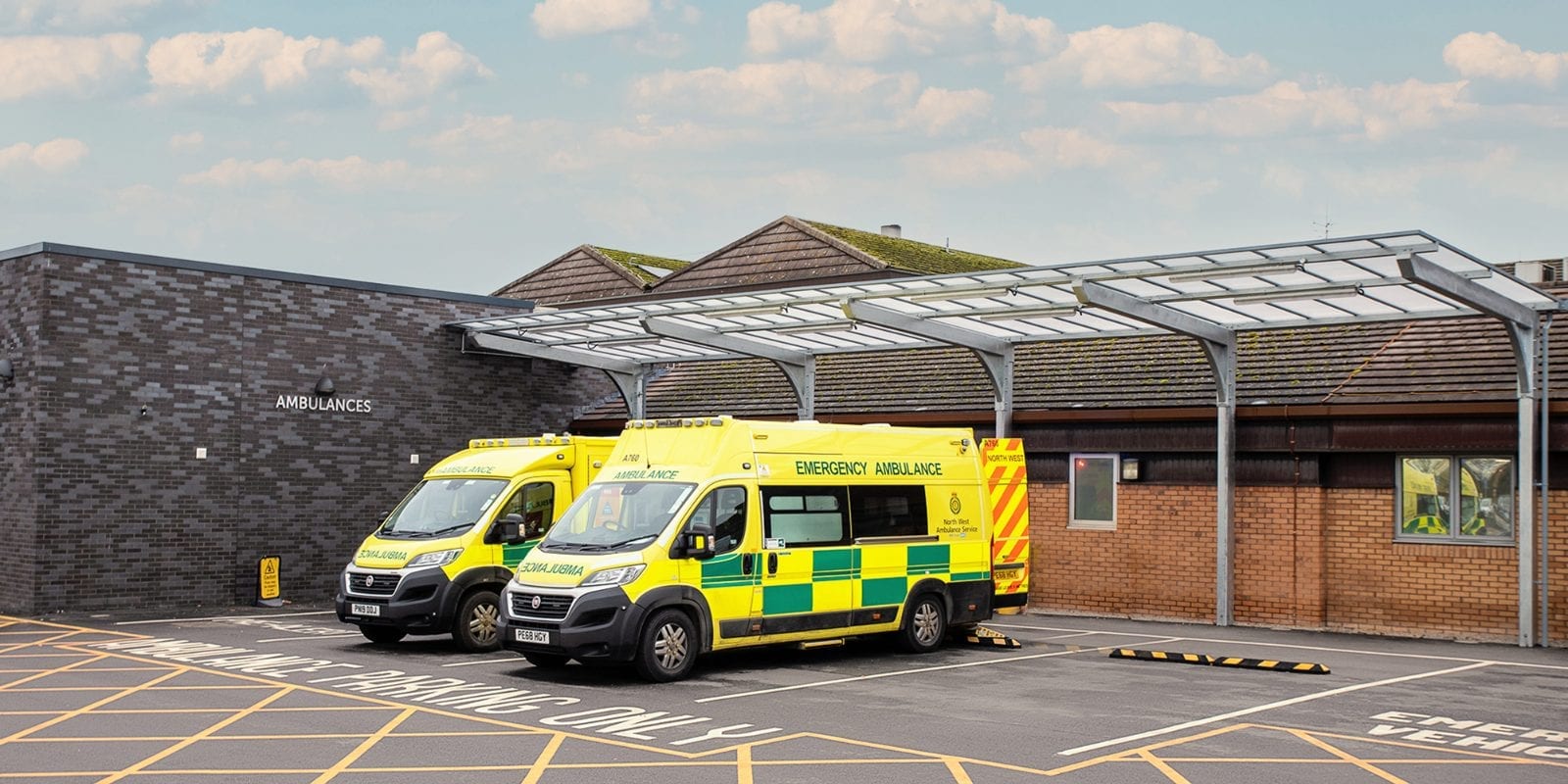 Send us your email and an idea of your requirements and we'll get back to you with a quick price.