Early Years Centers and Nursery Canopies
Canopies designed for Nurseries and Early Years Centres
Enquire Now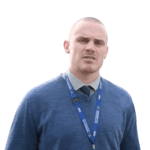 The A&S Landscape staff were very amenable. They showed extensive knowledge regarding the installation.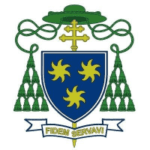 A&S Landscape really wanted this canopy to work for us and explored all the solutions until the right one was found.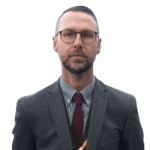 The way that A&S Landscape works meant the school were happy to have the work done during term-time.
Nursery Canopies
You can rely on A&S Landscape for stunning, high-quality nursery canopies designed with younger children in mind. Our range of canopies and shade sails are ideal shelters for play areas providing children with the opportunity to play no matter what the weather. Our canopies can also be used in forest school settings, creating a unique learning environment.
Nurseries throughout the UK choose us to design, manufacture and install their brightly coloured nursery shade canopies, safe in the knowledge they are providing essential protection from the harmful UV rays of the sun as well as giving children access to the fresh air of the outdoors in times of harsh weather. Our nursery canopies are ideal for transforming previously unused areas into attractive, welcoming spaces that can be used all-year-round.
If you are looking for a early years outdoor canopy or a nursery canopy replacement, talk to us today. We design structures that provide high quality, long-lasting cover for nurseries and play areas. Available nationwide, we have listed our most popular options below to inspire your imagination.
Nursery Canopy Designs
No two nursery canopies are ever the same and thanks to our design flexibility we can offer workable and affordable canopy solutions incorporating a variety of different features to allow for almost any requirement but based on one of our standard nursery canopy products A member of our design team can discuss and suggest the best nursery canopy solution to meet your requirements, outlining our recommendations along with a comprehensive estimate.
Look through some of our nursery canopy projects
Umbrella Nursery Canopy Installed at Jigsaw Playgroup in Connah's Quay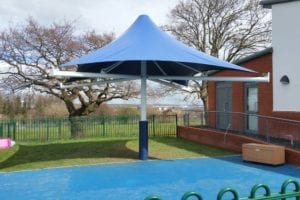 Sitting close to the River Dee, in North Wales, Jigsaw Playgroup in Connah's Quay approached us for help to install shade and shelter in their playground. We installed a Maxima Umbrella, a very popular choice in our nursery canopies range. The staff at Jigsaw tell us that the children, all aged between two and three years, love what to them is a giant umbrella! The sound of rain falling on the waterproof canopy as the children shelter is something that adds a sense of fun to being outside. The steel structure, comprising a single upright pole, was finished in white with a Midnight blue canopy contrasting above. This one has proved a winner with the children, staff and parents alike, and the presence of this giant umbrella has added an additional dimension to this vibrant play area. Find out more about Jigsaw Playgroup's nursery canopy by clicking here.
Tulse Hill Early Years Hub in London Install a Playgroup Canopy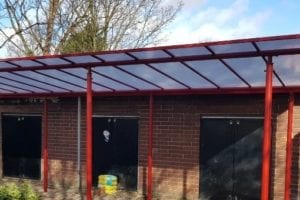 The Tulse Hill Early Years Hub, based in the London Borough of Lambeth, needed help to improve their outdoor facilities. Key elements of the early years curriculum relate to physical development and understanding the world. Being outside is crucial to both of these, and the centre wanted more opportunity for children to learn and play outside. When it comes to designing a preschool canopy, understanding what it will be used for is important. A&S Landscape work closely with their clients to explore their requirements, and in this case Tulse Hill Early Years Hub needed a large covered space. Taking this into account, A&S Landscape installed their Motiva Linear canopy to cover the existing outside play area to provide both shade and shelter. Finished in Brown Red steel with Opal polycarbonate roof, the children can now play to their hearts' content whatever the weather. Find out more about the outside nursery canopy at Tulse Hill Early Years Hub by clicking here.
Secure Buggy Store for Rocket Pool Nursery in Wolverhampton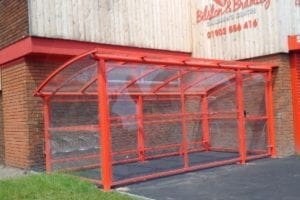 Rocket Pool Nursery in the West Midlands needed some flexible outdoor storage space. Offering a full range of nursery canopies in the UK, A&S Landscape were able to discuss a number of different options with them. Whether it's extra storage, or a dedicated shelter for bikes, buggies or toys, A&S Landscape has the solution covered. For Rocket Pool Nursery, the answer was a Cyclo Buggy modular shelter. The real beauty of this type of canopy is that it can be used to fit a range of sizes as well as uses. Rocket Pool Nursery took full advantage of this truly flexible range and selected a 4.8 metre by 2.4 metre canopy in Traffic Red with sides and a door. The enclosed design of their new nursery shelter meant that it stood out as a clear, protected, storage space. To find out more about this secure red buggy store at Rocket Pool Nursery, click here.
Nursery Shade Canopy for Thomas Willingale School and Nursery in Loughton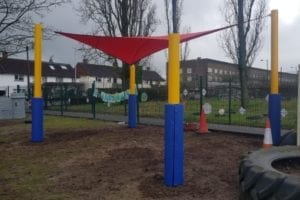 Thomas Willingale School and Nursery in Essex had one problem that they needed A&S Landscape to fix for them. They simply needed a shaded area in the playground for their younger children. This turned out to be a fun and colourful project! Thomas Willingale School and Nursery made the most of the great range of colours available for both the steelwork and the canopy. Mix and match, they showed that you can create a truly original and vibrant playgroup shelter from our range of nursery canopies. Anything goes, but if you need a little help in choosing, our friendly team are available to help you out. We installed a Maxima Sail canopy for Thomas Willingale School and Nursery. They then chose from the wide range of colours available, both for the steelwork and the canopy, to create this vivid and fun nursery canopy. Find out more about the red fabric nursery canopy at Thomas Willingale School here.
Umbrella Playgroup Canopy installed at Thakeham Pre-school in Pulborough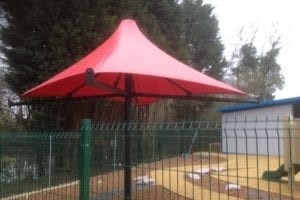 You only have to look at the Ofsted rated 'Outstanding' Thakeham Pre-school website to see how much importance is placed on the outdoor environment. There can't be many pre-schools that enjoy their own campfires! Their garden features heavily in their learning environment, so it's no surprise that they wanted to enhance the outside space and create a shaded area. A&S Landscape are the experts in the installation of nursery canopies in the UK, and they relished the opportunity to put this expertise to the test. Selecting from the Maxima Umbrella range, Thakeham Pre-school chose a Black steelwork finish and Poppy Red canopy. The two colours contrast beautifully making a real statement, and the waterproof fabric of the canopy means that the children can use it even on the rainiest of days. If you're looking for a nursery canopy in the UK, then you can find out more about Thakeham Pre-school's umbrella nursery shade canopy by clicking here.
Red Shade Sail Installed at Kids Planet Day Nursery in Preston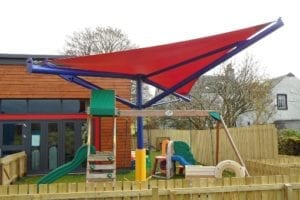 The brief that Kids Planet Day Nursery, Preston in Lancashire, gave us for this project was fun. They wanted to add a splash of colour to their nursery's outside play area. When it comes to creating a fun and vibrant space, colour is a great way to achieve it. And you don't have to stick to just one bright colour either. Nursery canopies come in different shapes, sizes and colours. For Kids Planet Day Nursery, the fun didn't stop with the colours either. The installation of a Maxima Star Sail canopy added a real light-hearted feel to the area. The look was bright and jolly, but the practicality undeniable. The children can play outside more, even when it's raining, whilst being sheltered from the bright sun and protected from UV rays on the better days. See the combination of fun and practicality achieved from the Kids Planet Day Nursery nursery canopy project.
Nursery Canopy Design Options
Read Our Featured Nursery Canopy Project
Thomas Willingale School and Nursery in Essex adds Shade Sail for Playground

What was the project brief?
Thomas Willingale Primary School and Nursery is located in the town of Loughton, Essex. The schoolchildren, especially those in early year settings, love to play outside come rain or shine. This is great considering the positive impacts the fresh air can have on wellbeing and development. The school already had excellent provisions for outdoor play, such as various play and educational equipment fitted with rubber playground flooring, the safest option. But the staff knew that for the ultimate safety, enjoyment and benefits of the children, they required protection from the weather too.
The school decided that a shade system would offer the best solution. However, they were very much newcomers to the world of shelters and were scouring the market with little success. This is when they decided to call in the canopy experts A&S Landscape to help them with the planning, manufacture, and the final installation. Once A&S Landscape came aboard, the school were able to develop a much clearer idea of what they wanted to achieve, and how each canopy solution compared. Consequently, the project started to move forward with a better pace and in the right direction.
What was our canopy solution?
Together with the fresh, new expertise from A&S Landscape, the school decided that the Maxima Sail™ was the right solution for their requirements. This popular design is always a huge hit with early year settings, due to the wide colour choice available, and the trendy design that fits so well to the general nursery aesthetic. Being shade sails, they resemble the sails from a ship, which works delightfully with the play equipment, and a child's boundless imagination!
This fabric canopy, measuring at 5500mm x 3500mm, was further personalised to the play area by the addition of three bright colours. The steel frame was finished in yellow, the roof fabric was cherry red, and post pads were mid-blue. As the canopy boasts remarkable flexible design options, with varying shapes and sizes available, A&S Landscape was able to adapt the standard shelter design to fit perfectly with the surrounding environment.
What was the result of their new nursery canopy?
Not only is the shelter an eye-catching visual statement with the real wow factor, but the playground can also now be considered as a completely safe nursery space. With the addition of the cover, the nursery's safety standards have increased massively, as there is now good protection from both the sunshine and rain. Parents and staff alike feel peace of mind for their child's safety, knowing that the shelter is a weather-proof barrier for their children. With the decreased risk of slipping when it's wet and getting sunburn when it's hot, the shelter is the whole package! In marvellous fashion, the shelter has achieved everything that the school set out to achieve and more!
The shelter is not just enjoyed during the children's playtime, the teachers frequently use the extra room outdoors for learning. However impressive or fancy the interior design is of education buildings, nothing compares to being outdoors. Whether they are storytelling or observing nature, at this nursery the children start their educational journey with the best experience. With the amazing result of the nursery canopy, the older primary school children will be wanting one too!
About the client
Thomas Willingale School and Nursery is a nursery and primary education facility. The school grounds are located in Loughton, which is a small town a short distance from London. From just a brief visit to their website, you can establish the connection they have to nature. We believe that their visions and values are held strong throughout the school and this was lovely for us to see. They were a truly splendid school to work with, and we hope to work with them again in the future.
Why invest in a canopy for your nursery?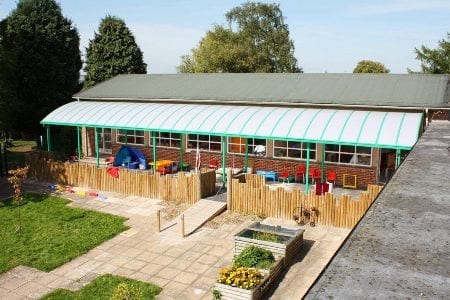 There are a lot of practical benefits of a canopy addition. You can brand your nursery in school colours, you can create an imaginative learning space, or develop an area for relaxation (fairy lights are a great addition!). They can also help to ease congestion in indoor areas where there is not sufficient capacity for the number of pupils. However, in terms of the brilliant things that fresh air can do for children the health benefits are astronomical, and these really highlight why they are advantageous products for nurseries.
Being outside gives children a break from their busy schedules
Routines are a part of life, even in young children. While this has its upsides, it is important that their lives are not one continuous loop, without time for reflection. Especially with the rise of technology, achieving this daily can become difficult. It's important to allow young children the time every day to relax and let off steam, a playground canopy gives them that outside space all year round.
Positive impact on mental health
A study published in 2017 by the NHS, the first of its kind for 13 years, demonstrated the high levels of anxiety and depression felt in the younger generations. Sadly, 1 in 8 children from the ages 5-19 suffer from a form of mental disorder. One of the contributing factors to this is the lack of connection with nature. We should all be trying to get children outside as much as possible, and a playground shelter makes this much easier to achieve.
Allows for exercise 
Young children love to play! Whether it's a ball game, hide and seek, or with their favourite toys, being outdoors gives them the extra room to move around and therefore tire out their limitless energy – their parents will be pleased!
Top up on Vitamin D
School canopies are a perfect way to ensure children are able to absorb their daily requirement of vitamin D safely. Needed for healthy bones, 20 minutes of sunlight a day is all it takes.
How can A&S Landscape help you?
A&S Landscape has been transforming and reinventing outdoor learning spaces across the UK for over 44 years. Family-led, we offer an excellent service that is reliable, personal and individual to each of our customers. We can help you with all aspects of the process, with helpful advice on school funding providers, to creating your unique, bespoke design that will enhance your school, college or university.
Our great range of shelters has something for everyone. Whether you'd like your canopy attached to an existing building, with a multicoloured polycarbonate cover, or a straight roof, we have a whole collection of shelters for you to choose from. Always built to the highest safety standards, you can rest assured knowing that you are in good care with A&S Landscape.
There has never been a more perfect timing to increase your outdoor space. If you'd like to discuss our school canopies, please do get in touch with our friendly team on 01743 444100 or at [email protected].
Thomas Willingale School and Nursery Before and After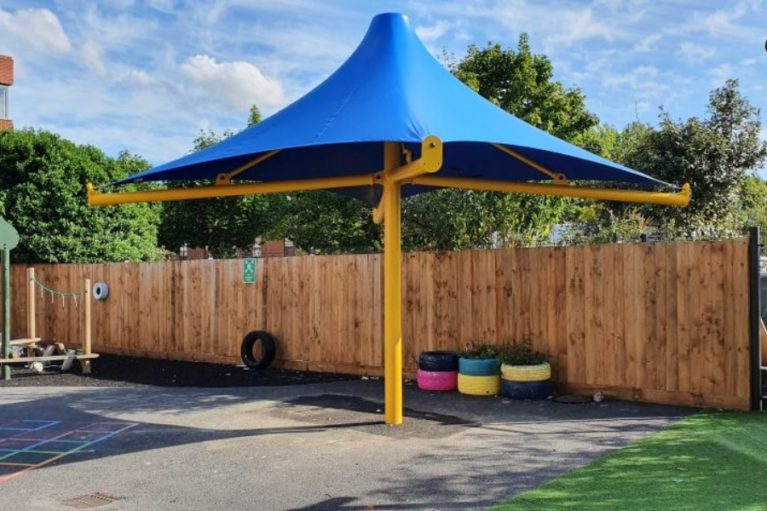 A&S Landscape provided a good service and the canopy is finished to a high standard.
- Charles Darwin Primary Academy
View Project
Read about more of our canopy installations based in nurseries
Spateston Childcare Centre in Scotland Add Shelter to Outdoor Play Area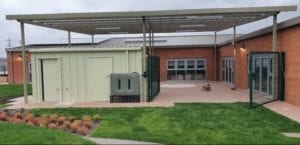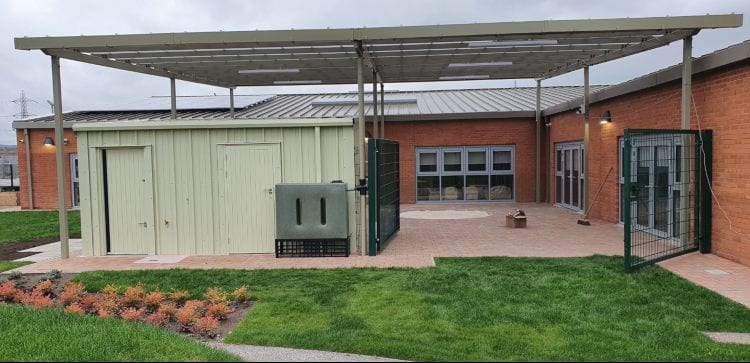 Our expert installation team fitted a straight roof canopy to the outdoor playground of Spateston Childcare Centre in Johnstone. The nursery decided that this was a worthwhile investment as the canopy would allow the young children to spend more time outdoors playing and learning. This would have many benefits and improvements on their social, emotional and physical development. The versatile canopy can also be used by the parents and carers as they wait to collect their children at the end of the day, protected from any bad weather. Plus, the nursery could store outdoor play equipment under the cover, saving valuable storage space inside the building. Click to continue reading about the play area shelter we designed for Spateston Childcare Centre.
Replacement Playground Canopy Installed at Rubery Nursery School in Birmingham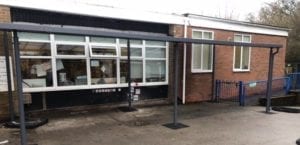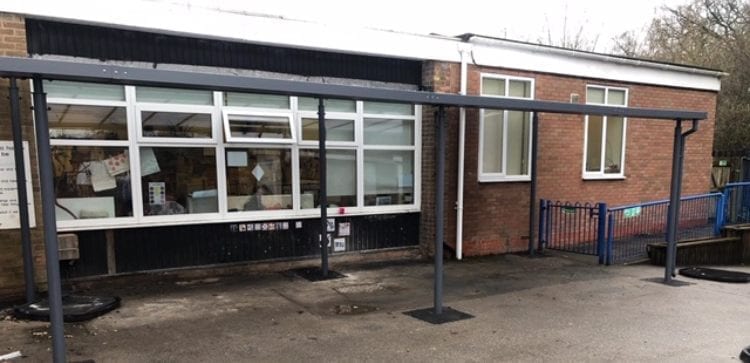 Often schools get in touch with us to replace an old, tired wooden shelter with a robust and durable polycarbonate and steel structure. And this was exactly the case for the Rubery Nursery School project we completed. Because the nursery school knew how much the old shelter was used by the pupils, they were keen to quickly have it replaced so that the school could continue to benefit from the cover. We installed a Motiva Linear™ straight roof canopy, a much sturdier and stronger option than the previous timber shelter located in the playground. The nursery school are thrilled with the new canopy and with the service provided by A&S Landscape. Learn more about the Rubery Nursery School playground shelter over on our news article.
Bettws Flying Start Playgroup Add Freestanding Curved Roof Shelter in Wales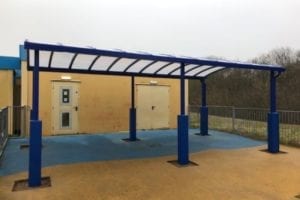 Bettws Flying Start Playgroup wanted to get more use from their external area and decided to add some cover in the form of a school canopy. They approached shelter specialists A&S Landscape for a solution that wouldn't break the bank. After reviewing the proposed area and evaluating the playgroup's requirements, our design team decided that the Motiva Duo™ curved roof shelter would be the best option. To match the nursery's logo, the steelwork of the structure was finished in a striking blue colour. Both the staff and the children are delighted with the finished canopy and it has transformed playtimes. Come rain or shine, the pupils can now play outdoors, enjoy some fresh air and get up and move about between activities. Head over to our project page to see more about the outdoor shelter we designed for Bettws Flying Start Playgroup.
Colourful Roof Canopy Designed for Little Acorns Day Nursery in Wales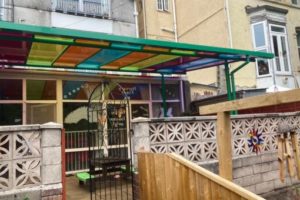 The team at A&S Landscape always enjoy projects where we get to design and install a multicoloured roof shelter as the end photos are always fantastic. So when Little Acorns Day Nursery got in touch looking for a colourful shelter for their playground we were delighted to get to work. The dazzling canopy used our Motiva Linear™ straight roof design with the addition of multicoloured polycarbonate roofing sheets. The nursery is over the moon with the project and the finished canopy praising the excellent workmanship and the high standard to which the canopy was fitted. The children love playing under the cover and it has added another element to playtimes. Carry on reading about the multicoloured roof canopy we fitted at Little Acorns Day Nursery here.
Enclosed Canopy Designed for Wistaston Academy Primary and Nursery School in Cheshire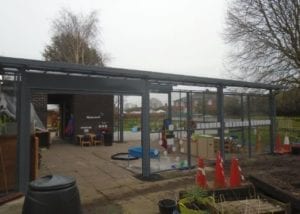 Wistaston Academy Primary and Nursery School got in touch with us as they wanted to add a canopy to their site which would be multi-functional and available to be used in all weathers. Our design department based the shelter on our popular Motiva Linear™ product, but to meet the school's brief we also added side panels and roller shutter doors. With the addition of these extra design features, the finished canopy has fulfilled the school's requirements and become a real asset to the site. The canopy can be used during lessons as an outdoor classroom, creating an alternative and engaging learning environment. Want to know more? View our case study to keep reading about the bespoke, enclosed canopy at Wistaston Academy Primary and Nursery School.
How Our Nursery Canopies Can be Used in Forest Schools
Our canopies aren't just great for pre-schools and nurseries, they're also used in many forest schools too. Our shade sails are ideal for woodland settings, creating a sheltered area for activities and tasks to be held under. A waterproof shelter is an essential addition to any forest school thanks to our unpredictable British weather.
Find out more about the benefits of forest schools
Video Transcription
Dr. Janine Coates (Lecturer in Qualitative):
Forest School is a form of outdoor education where children are taken from a regular classroom and they're embedded within a woodland environment surrounded by trees, where they partake in a number of different activities in that environment.
Dr. Helena Pilmott (Wilson Lecturer in Human Geography):
Our research was initially aimed to see how young people learn in different environments; so those aged four and five and eight to nine, how they learn in both the school and classroom, but also how that compares to learning outdoors, especially when that is child-led, which is one of the things that Forest School aims to do.
Jenny Jordan (Forest School Practitioner):
We've seen a great improvement in terms of confidence and their resilience. When we first started taking children, some of them would cry, they wouldn't necessarily want to be here. But as you can see now, that's not really a problem. We now have the opposite problem of trying to keep them dry, which isn't actually too bad because we go straight back to nursery, have a hot chocolate, get them warmed up. So it's okay.
Jo Shields (Sustainability Manager):
So one of the things that we looked at as part of our sustainability action plan and our social responsibility action plan is how we can make an impact in our community. By our community, we don't just mean the stakeholders that we have on campus, we mean people outside of Loughborough nationally and internationally. So it's really important that we try and find projects that connect to our research on campus or research elsewhere in our sector. By doing that, it means that we have a really mixed and diverse population engaging with us that hopefully makes our campus more of a living laboratory.
Janine Coates:
We've seen the beneficial impact it has on children, in terms of their appreciation for being outdoors, in terms of their experience of education more generally. So they see it as a very positive thing to do embedded within their normal school life.
Jenny Jordan:
I think the Forest School approach is a really good one. I think we've seen a really big benefit for our children. I think if it was rolled out across the country in both nurseries and schools, the schools would see a big benefit for their children.
How A&S Landscape Can Help
Our team can help you design the ideal shelter, working around your site and measurements. We have a wide range of designs to choose from, from multicoloured polycarbonate roofs to fabric sails. If you would like a quote for a forest school shelter, please email your requirements to [email protected].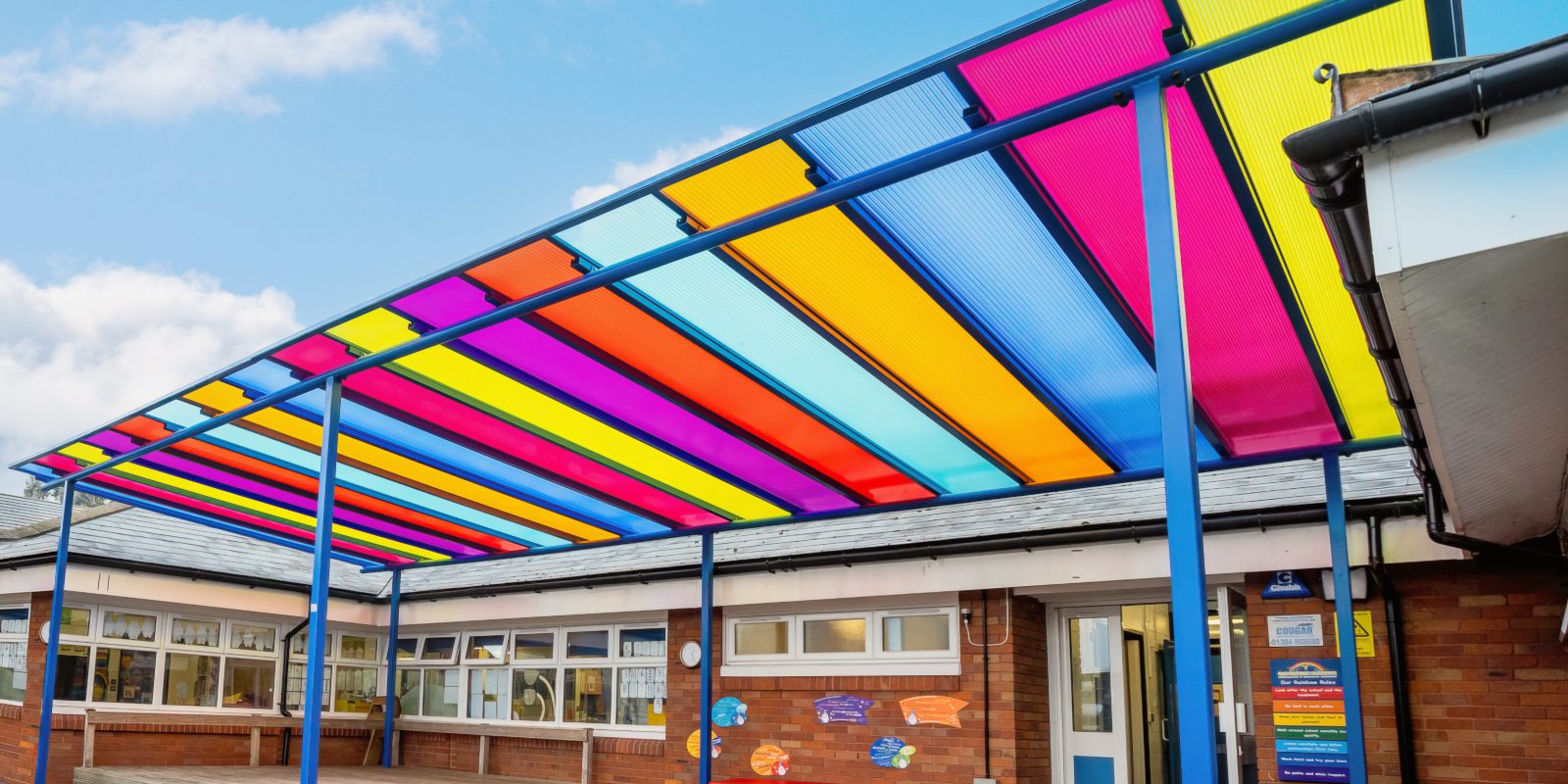 Send us your email and an idea of your requirements and we'll get back to you with a quick price.