Josefina Prieto
Hi Carley, thank you so much. I will share my screen. Thank you so much, I was telling Carley, hold on, there it is. I was telling Carley that it's such an honour to be here. I spent our Autumn, I mean our lockdown, learning from all the LtL webinars and now I can't believe I am on the other side, so thank you so much Outdoor Classroom Day and LtL.
Well what I want to talk about is how to interweave education with nature.
Here I have a humble weaving.
I believe education is really, really, really important, but I mean with my experience, I have noticed how nature, like the green micro bits can help bring alive education, and that's my aim in life.
Well who am I? I am an agricultural engineer. I have a masters degree from Sheffield University in Landscape Design. I'm married, I have five children, yes, I am a bit crazy, and yes I'm the co-creator of Naturalizar, one of the first Chilean programs on early childhood educational centres on outdoor learning.
We started in 2011 and I remember studying all these names of people that now I'm getting to know, so thank you so much because it's a very collaborative, lots of people.
Well my teacher has always been nature since childhood and my aim in life is to make outdoor learning and play even more contagious than Coronavirus because I really want children to be bound to nature, wherever they live.
This 2020 which has been really challenging, I founded a consultancy. I still work at Fundacion Ilumina, I am then starting e-spiral as well because I want to lead Outdoor Classroom Day at Con Sur with the University of Edinburgh.
So my invitation is for every teacher over here to embrace nature. Maybe you are doing it already, but to embrace it even harder.
My five humble advices are these one:
First of all, invite. You know there are many people around who really wish to do something meaningful and maybe if you invite them they will be looking forward to help you in any way. Maybe some family, some colleagues, some mentors even or students, and the path is not easy but if you find yourself sometimes struggling, go to your mentors. I have had some, I mean many, all over my life and yes, they have been really helpful.
Go and create, I don't know go back to your memories and create experiences, at home or at school. Share them with colleagues, with friends, with students.
Listen to their feedback and implement it together.
Invite people to implement it with you because at the beginning it's a bit scary to teach outside by yourself.
You think children will run away but you will see they will not.
And then you can from the feedback and the implementation, you can improve it and then go back again on this ongoing cycle.
So I invite you to detect allies, to empower them and then collaborate.
My second advice is to observe.
Potential affordances. There are no limits. It's not a matter of space, it's not a matter of resources, it's a matter of attitude as Matt said, and make the most of what you have.
Like let children show you how they use the school ground, what parts are their favourites, what challenges do they love?
Look for places to gather the whole class as well as small group work, or places for solitude for contemplation.
Make sure that you have some shelter from sun or rain, depending on where you are.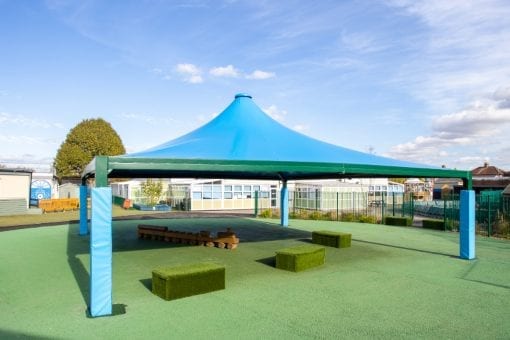 And make sure you offer spaces for play, for a mud kitchen or a mud laboratory.
For loose parts to have worms to bring back soil to life and places to grow food.
Make the school ground a meaningful place where children will have their memories rooted there.
Look for the incorporate favourite spots, plants and elements.
Create inviting atmospheres and make it participatory.
Share ideas and perspectives with the students and let them decide and implement with you.
You don't have to get all these tasks on your shoulders, you already have many, many challenges, but invite people to join you in it.
Okay, so my third advice would be restore.
If we restore nature we invest time in outdoors, we will bond with nature and nature will restore us.
I mean I think all of us here, if you are here at Outdoor Classroom Day or LtLs webinar, I think you believe this, and practice it. Practice what we all preach.
Sow natives and plant different sorts of plants, as many species as you can, in order to enrich biodiversity at your school
Choose plants that attract wildlife or are edible or maybe are sensorial.
So there you have lots of affordances.
Invite everyone to invoke favourite memories with nature on childhood because that aspect kind of connects you and makes you realize how meaningful it is for children to have memories with nature, and maybe children nowadays, it's not so obvious that they have that access.
Propose students to adopt one plant each, for example at the school yard and promote the bonding, you see?
Let them be conscious of what's happening in the school yard. Maybe at the beginning there will be 10 plants, 10 species, and only a few butterflies but then with the coming years if you carry on planting and sowing, invite them to be witnesses of this process.
Nature will improve relationships, I have seen that for the past I don't know 11 years.
Nature is a perfect excuse to connect oneself with a family, with peers, with community, even with earth, you see, so that, I don't know it's all harmony again if you embrace her.
I invite you to collect inspired by nature. I would like to show you two things.
If you go around, I invite you to go collecting I don't know, this is corn seeds, pine cones, whatever, walnuts, pods, all these can be treasures and they are natural treasures, you know?
And on the other hand, go on collecting, I don't know like, for example these kind of cylinders. You can make them in tiny pods or everything, I mean paper bags you transform them in seeds, in envelopes to hold seeds. Even stones, flowers, sticks, everything can help, you see so it's not a matter of resources, it's not a matter of money, it's a matter of opening your eyes and collecting everything around and let nature inspire you.
Bring nature everywhere, maybe inside the classes or inside your homes, you can have these natural treasures.
You can co-create meaningful collections with your students or the families. I will invite you to have journals yourself, and invite students to have journals where you could register questions, reflections, drawings, and please encourage deep observation and inquisitive minds.
Let's go for curious naturalist and creative souls.
Let me show you something.
You know Charles Darwin, he came to Chile, many many years ago and he did have a journal, and thanks to his journal he was able to study later on when he went back to England, he was able to study evolution theory and everything, so do believe in journals.
My fifth and last advice, I'm not sure Carley how I'm doing with the time, could you tell me please?