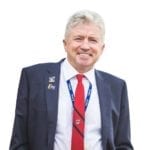 I would recommend A&S Landscape to anybody. They were very professional in the way that they managed us.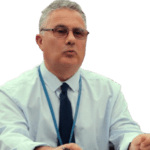 Their professional expertise was excellent. The staff were honest, helpful and totally trustworthy.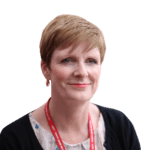 A&S Landscape was very professional and friendly. They followed our requests and kept me in the loop at all times.
School Shelters
There are so many options available when it comes to creating outdoor structures that cover and enhance your existing space, particularly in schools, where having the flexibility in the ways you can use in your outdoor spaces is so important. Having areas that can adapt to the needs of lots of different groups year-round can make a huge difference to the overall experience of staff and students alike and can increase the value of your buildings too.
School shelters can be used to create a wide range of purpose-built outdoor spaces, including walkways, covered seating areas or play areas to help you make the most of the space available to you, in all kinds of weather conditions. Shelters can also be made to allow lots of light in, making them perfect for outdoor learning year-round.
We've helped countless clients to improve their outdoor spaces and get the most out of their buildings over the last 40 years by offering a friendly, efficient service. We also ensure that our structures and buildings are made with high-quality materials and are expertly installed to ensure that they are clean, functional, and long-lasting. Please don't hesitate to contact us for more details about school shelters, any of our other canopy solutions, or to get started on your quote.
School Shelter Applications
A school shelter can provide staff and pupils with protection from the sun and shelter from the rain, transforming previously unused areas into the perfect outdoor learning area, dining area or social space. Our high-quality shelters for schools are suitable for a wide range of uses including:
Entrance shelter
Playground shelter
Nursery shelter
Walkway shelter
Dining area shelter
Play area shelter
Covered Walkway
Covered seating area
Learn more about our school shelters
Read about some of our recent school shelter projects
Curved Roof Dining Shelter Made for Laurus Ryecroft High School in Greater Manchester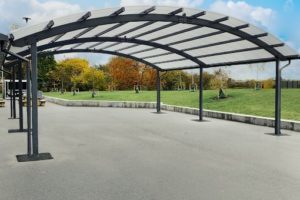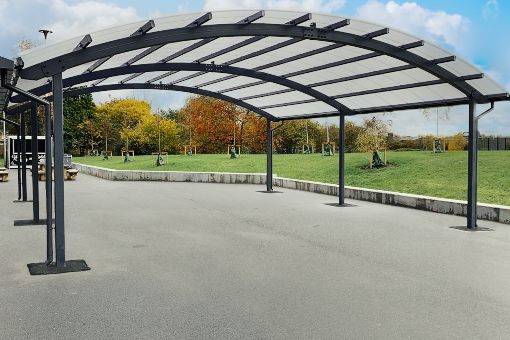 This newly opened school had many fantastic facilities on offer to the students, however, it was becoming clear that Laurus Ryecroft High School was lacking some outdoor shelter. The staff knew that adding a canopy to the site would create more seating options for the students at lunchtimes, therefore reliving pressure from the internal dining hall. A&S Landscape was contracted to design, manufacture and install a Motiva Duo™ curved roof canopy, made to an overall size of 10000mm x 10000mm. The shelter was located next to a food pod which will allow the students to enjoy a true alfresco dining experience. As intake figures rise nationally, more and more schools are turning to dining canopies as a cost-effective solution. We have many design options and we can also add side panels, heating and lighting to create the ideal dining area for your school. Find out more about the curved roof shelter at Laurus Ryecroft High School.
All-Weather Play Area Shelter for Birkett House Special School in Leicester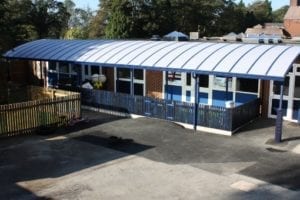 Birkett House Special School aim to offer all their pupils the best learning environment possible. That includes classrooms kitted out to foster a fun learning experience, but they wanted to incorporate outdoor play more too. The problem was that if it rains, there's no way children can enjoy their time out on the playground. They wanted to find a solution, so they got in contact with us to see what we could do. Together, we decided that a Motiva Mono canopy would be just the thing. This has an asymmetric roof design, with the high end sitting next to the roof of the school. This way, it becomes a real extension of the playground. Children can head outdoors right from the classroom and play outdoors, regardless of the rain. The school chose to have the canopy in blue, complementing the existing design of the school. This makes it fit right in, and really improve the look of the school too. To read more about the Motiva Mono at Birkett House Special School, click here.
William Henry Smith School Add Fabric Tepee Shelter in West Yorkshire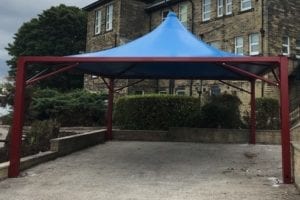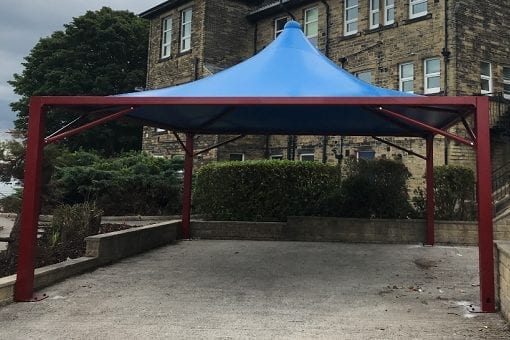 William Henry Smith School works with children aged between 5 to 19 years old with a range of social, emotional and mental challenges. It was important to the school that the children could spend quality time outside during the day, even when the weather conditions were poor. The staff decided to contact canopy specialists A&S Landscape for a smart-looking shelter solution. We installed a Maxima Tepee™ fabric canopy made to an overall size of 7m x 7m. To match the school's logo, the steelwork was finished in a Brown Red colour with a Light Blue fabric roof. The new school shelter has become a very popular spot on the campus already, as it's used during break times and even during some lessons. It was a privilege to work with such an amazing school and to help them further improve upon their impressive facilities. Continue reading about the fabric canopy we designed for William Henry Smith School.
Straight Roof Playground Shelter at Warley Primary School in Essex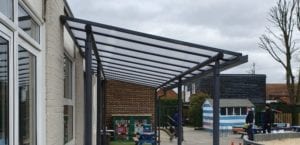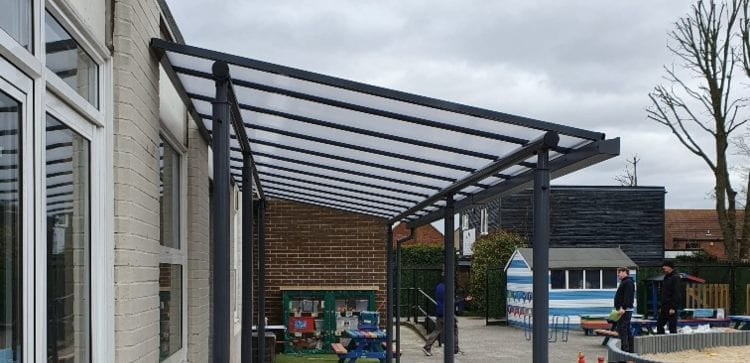 Based in Brentwood, Essex Warley Primary School is lucky enough to be surrounded by many open, green spaces and even has a woodland on site for the pupils to use. Outdoor learning at this school is highly valued and so it was decided that a worthwhile investment would be to install a primary school shelter. The teachers approached A&S Landscape and it was agreed that the Motiva Linear™ straight roof canopy would be the perfect fit for the area. This outdoor rain shelter is especially popular thanks to its cost-effectiveness, meaning that more schools and nurseries are able to add some cover to their playgrounds without breaking the bank. For this project, we used Opal polycarbonate roofing to add essential protection from UV rays. Overall, this job has been a big success, now the pupils can shelter under the canopy if it starts to rain or becomes too hot in the sun. Click here to find out more about Warley Primary School's playground canopy.
New Bridge School in Oldham Add Canopy with Polycarbonate Roofing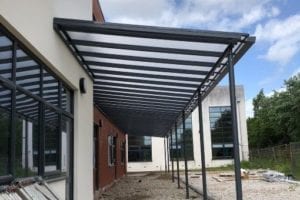 With state-of-the-art facilities, New Bridge School in Oldham strives to give their pupils the very best educational experience. So when it came to assessing the outdoor space, the team decided that they wanted to get better use from the area. After careful consideration, it was decided to install a Motiva Linear™ outside shelter from the A&S Landscape product range. This long-lasting structure has created plenty of covered space at the school, which can be used during break times and lessons. The versatility of the design also means the space could be used by parents and carers at the end of the school day, or outdoor play equipment could also be stored under the cover. For extra protection for the pupils, we also added post pads to the uprights of the canopy. We hope that the school enjoys their new shelter as much as we enjoyed working on this fantastic project. Learn more about the straight roof canopy we made for New Bridge School.
School Shelters Design Options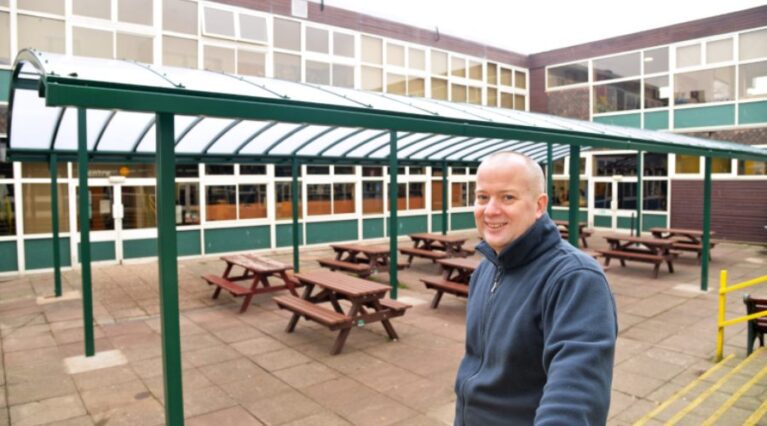 I would highly recommend A&S Landscape, we are very pleased with the canopy.
Chris Sanderson, Site Manager - Rushcliffe School
View Project
Read about our school shelter featured project
Jack Hunt School in Cambridgeshire adds Multiple shelters

What was the project brief?
When the weather was poor at Jack Hunt School in Peterborough, the students were forced to spend their lunch and break times inside. Fortunately for them, the school were aware of the importance of good access to outside spaces and they set out to add a cover system.
Adding outdoor shelters to the existing educational facilities would allow the school to achieve the perfect balance, which they could obtain by bringing on board A&S Landscape. With their expertise and efficient project coordination, they took responsibility for the whole process. This included the overall design, the supply, and the installation of the three proposed canopies.
What was our shelter solution?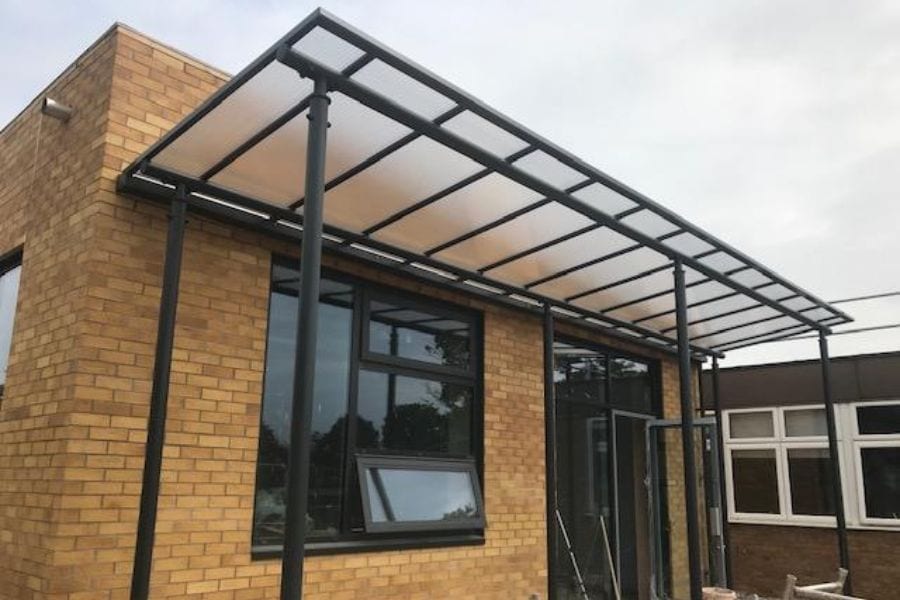 There were two chosen sites for the three canopies. Two of the shelters were wall-mounted to school buildings and were from our Motiva Linear™ range. Both feature modern steelwork finished in grey and clear polycarbonate roofing. The 'Linear' shelter has a straight roof and has several useful applications, including covered walkways, outdoor dining rooms or classroom extensions. Its standard configuration is wall-mounted to existing buildings however, the design flexibility allows for freestanding structures too.
The second chosen site was the previously neglected courtyard. We selected the Maxima Sail™ as the third and final canopy. With a great choice of fabric colour options available for these shelters, the school opted for a sky-blue colour to fit with the surrounding environment. Finishing the posts in grey, the shade sails have become a huge focal point within the school grounds. The overall look of the outdoor canopy is inviting, warm and calming.
What was the result of their new outdoor shelters?
The students of Jack Hunt School can now enjoy a pleasant experience when they break for lunch or in between lessons. Prior to the cover solution, the students would often cram into the indoor spaces found on the school grounds, which would become stuffy, congested and far from relaxing. Now, they often spend quality time on sunny days under the sail shades enjoying the fresh air, knowing they are protected from the harmful UV rays. The canopy works seamlessly with the school colours too, and so the overall aesthetics are the perfect complement to the existing school buildings.
The linear canopies too have brought several practical benefits. They are used by students waiting for lessons, during lunchtimes, or by teachers who choose to hold their lessons in an external environment. With excellent weather protection, the fun and protected areas are available all year round. Both students and teachers are delighted with the outdoor shelters and the massive benefits they bring, the school is now the perfect environment for education!
Due to their structural variability, there are several other practical uses for linear canopies. They make naturally effective and stylish cycle shelters, with the addition of side panels, or roller shutters for optimum security. Cycle racks can be installed inside, and so bike owners can enjoy superior protection for their prized possession. When a school decides to add a cycle shelter to their grounds, it is a prime example of an educational body that is going the extra mile to care for its staff and students. With this sustainable transport option becoming far more popular, especially with the Government's Cycle to Work Scheme, it is a worthy investment. It is always worth a chat with one of our advisors should you like to discuss optional extras and find the right product for you, so please get in touch on 01743 299997.
About the client
Jack Hunt School in Peterborough, Cambridgeshire is a specialist language and sports college. In 2004, the school successfully applied to become a 'Leading Edge' school, meaning that they are constantly striving to overcome challenges faced along the educational journey. Working collaboratively with several organisational partnerships, they aim to inspire, test and adapt education professional practice, with the intention of raising the standards of learning and teaching.
We were thrilled to work with such a driven school that evidently went above and beyond for their students. We thoroughly enjoyed helping to enhance the outdoor environment of their educational facilities, which could now be enjoyed even in times of inclement weather. With the extra social space and the perfect outdoor teaching environment, we think school life may just have changed for the better!
Are there shelters that are more suited to a natural environment?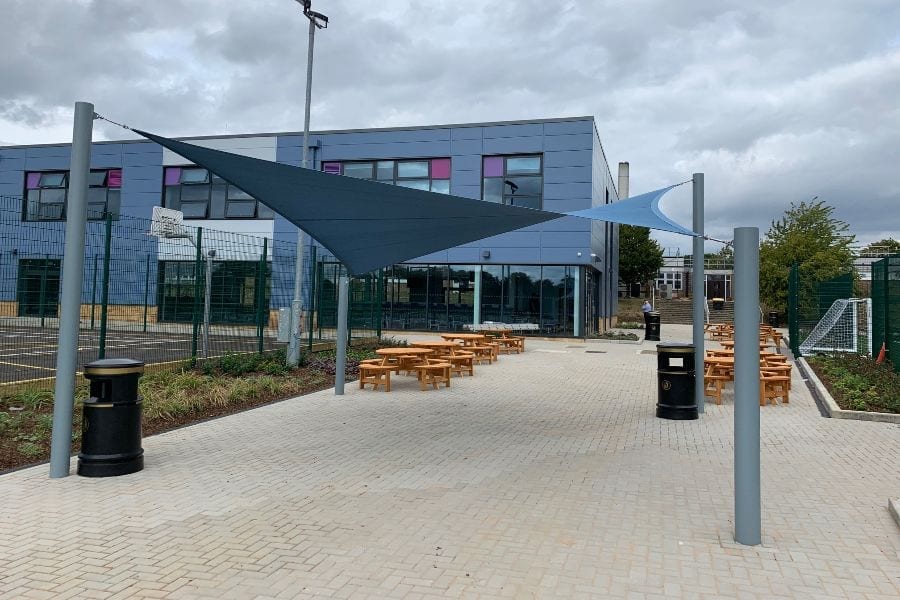 A&S Landscape offers a whole range of standard shelters, which are created to fit with the urban world. A wide variety of bright colours, grey steel frames, bespoke structures that offer flexible dimensions to fit with existing buildings, you name your requirements, we will deliver!
We also offer canopies that are more suited to natural settings. Perfect for a woodland environment, or for any outdoor area that needs a touch of nature, our comprehensive range of timber canopies are an amazing fixed shelter option. Sustainably sourced timber of the highest quality, that is both durable and long-lasting, these outdoor structures have gained immense shelter value in the market.
With both straight and curved roof options, and colour choices with the polycarbonate roof, the design flexibility lets you achieve your perfect canopy solution. There are multiple uses of our timber canopies including playground shelters, forest schools and nature reserves. They also offer an excellent learning environment, with many teachers opting for outdoor education as a healthy alternative to learning within the classroom. They truly are a beautiful addition, enhancing any natural environment, even within urban spaces.
Why choose A&S Landscape for your shelter?
In the 44 years, we have operated as a family firm, we have stuck to our core values we developed all those years ago. We have installed countless shelters for primary schools, secondary schools, colleges and universities, with each canopy project adding an essential piece to the outdoor environment. We have completed projects that create space for outdoor play, or for the development of a covered teaching area, all with the aim to enhance education facilities.
Asides from the development of shade structures for the education sector, we have worked with businesses too, including commercial sites, public attractions and garden centres. Every time we complete a project, we know that the final canopy installed is a wonderful addition to the chosen settings.
If you'd like to discuss your available options for an efficient shelter, get in touch on 01743 299997 or at [email protected].

Shelters for Schools Prices
A&S Landscape offers a full range of shelters for schools ensuring we have something for every budget. Prices will vary with shelter sizes, the location of your school, ground surface and other site specific factors.
Bespoke Shelters for Schools
Offering a bespoke service allows us to manufacture our shelters to suit your school, each shelter, covered walkways or shade sails are different and we can manufacture to suit the site and application. We also offer a range of other services, to help you complete your outside area. This includes fencing, outdoor furniture and surfacing.
Compliance
A&S Landscape are pleased to offer our high-quality service, professionalism and support to nurseries, schools, academies, colleges and universities across the country ensuring a safe project, certified staff and compliance with all current legislation.
See some more of our school shelter projects
Fabric Tepee Creates Modern Shelter at Greentrees Primary School in Wiltshire
Parents Protected from The Weather with Shelter at Beechgrove Junior School in Middlesbrough
Blue Cantilever Canopy at Newdigate Primary School in Warwickshire
Playground Canopy in Enfield at Suffolks Primary School
St. Helen's Primary School in Swansea Add Multi-Purpose Straight Roof Canopy
Covered Walkway for Aurora Hanley School in Stoke-on-Trent
The Importance of Playground Shelters for Schools
Schools catering for younger children including Infant Schools, Playgroups and Nurseries, often require an outdoor covered play area to ensure free flow play is possible in all weathers. They also provide additional outdoor teaching space, allowing teaching to be extended into the playground whatever the weather. A covered teaching area, providing all-weather protection is just one of the many benefits of waterproof shelters for schools.
Find out more about the benefits of taking early years classes outdoors
Transcription
Matt Robinson (United Kingdom, Learning through Landscapes):
I know when I'm outdoors how relaxing and engaging and good it is for me in health and mental well-being, and I also know that I learn about the world around me. So I see that in children. I know when I take them out, that they often behave differently and they see much more about the world, and they understand how complicated and interrelated it is.
Søren Emil Markeprand (Denmark, Stockholmsgave):
For me, outdoor education is one of the most important things in the world. I think the outdoor environment for children is the best to develop and to learn in.
Speaker 1:
There are lots of activities like that, that just get children looking and listening instead of just walking past.
We've got lots and lots and little games and collections just get children thinking about where they're going, what they're looking at, and things like that.
Trine Andreasen (Denmark, Stockholmsgave):
It gives them a sense of being out in the nature. It gives them the opportunity to explore and to develop their own body. It keeps them the space to try different things.
Ruth Staples-Rolfe (United Kingdom, Learning through Landscapes):
Good access to outdoor learning and play is essential in the informative years. From my perspective, outdoor learning is when a child has quality time that's led by the amount of time that they want to spend outdoors, both having adult-led and child-led, but predominantly child-led activity for children who are under six.
Gordon MacLean (United Kingdom, Learning through Landscapes):
For me, one of the simplest reasons I just love being in the outdoors and I hate spending all day inside. So if I can go outside to work and to help children learn, then for me, that's a massive benefit already.
Trine Andreasen:
I don't think it's that expensive. You can use cheap materials, recycled materials, or you can just be outside in a park or forest and use what you have.
Ruth Staples-Rolfe:
It's really important that children feel that they have ownership of the space, that they're part of something that is theirs, but at the same time, we as adults do have an influence. We have an influence over where we take them, we have an influence over what the boundaries are that those children have, we have an influence over whether we introduce other materials to those outside spaces.
Speaker 1:
The challenge is this: each person is going to find two leaves that match identically; absolutely the same.
Kairi Kondimäe (Estonia, Rukkilille Kindergarten):
Children love to be outside. They are much healthier outside. They're much happier outside because there is much more space for running around, there is so much to do outside. But I don't think there's any more risk being outside than being inside or being on a playground. The auroral is that you are prepared and you teach the children how to act according to the different environments that they're joining.
Gordon MacLean:
There's a huge amount of discovery and just wonder. The size of the trees, the smoothness of the stones, the feeling of rushing water between your fingers, mud slipping between your toes; all of these things can just push the emotions of an individual.
Matt Robinson:
Sometimes it's easy to think this is fun, this is just good time. Actually, one of the things I think we need to be better at doing is saying, "No, there's really deep learning going on here." If I can evaluate what the children are doing and evidence that, just like I would indoors, then that adds to the reasons for being outside, but it also allows me as an educator to have insight about what worked and what didn't work, and how my behaviors or the children's behaviors could alter to improve that learning experience.
Kadri Käosaar (Estonia, Rukkilille Kindergarten):
If you won't let them try those things, they don't know the risks. We need to show them that fire is hot, there's a risk, so that they know the rule that I can't put my fingers into the fire. If they put their finger inside, they can feel the pain, so they know the risk by themselves and they're learning.
Matt Robinson:
How that feels and how they respond to it, and they become much more resilient at taking on risks and managing risks, and bouncing back when things don't go right and there's failure.
Kadri Käosaar:
I think first we have to be role models for them, because they're kids. If we show them what to do, how to do and when to do something, off the bat, they're going to do it by themselves. They're going to learn; they're going to explore and discover.
Matt Robinson:
When I go outside, children can be really physical and they can be really creative and imaginative. They can use things in a way that we wouldn't have planned. They can make noise and they can run at high speed. It's much more child-led and much more enjoyable for them.
Trine Andreasen:
You have to give the opportunity to be outside to get the calmness of your mind, to experience the presence of being in the nature and use all your senses.
Gordon MacLean:
Everything is definitely as new as interesting. We go over uneven terrain, we're looking at natural materials that all have different sensory input. It just captures the motivation, the imagination, and just the whole heart of the child.
Søren Emil:
We have this vision that we want children all over Europe to get outside and have all the benefits of the outdoor environment. So, that's why we have the project.
Ruth Staples-Rolfe:
The 'Take Me Out' project, I think it benefits me in a number of ways. It's given me confidence with my own practice. It's given me the ability to go out there and know that I'm not alone, and that other people are going through the same sort of day-to-day ups and downs in their settings. But at the same time, that I am doing some good outdoor stuff. I really enjoy being outdoors, and I know what my core values are and why I'm doing it. I know why I'm here.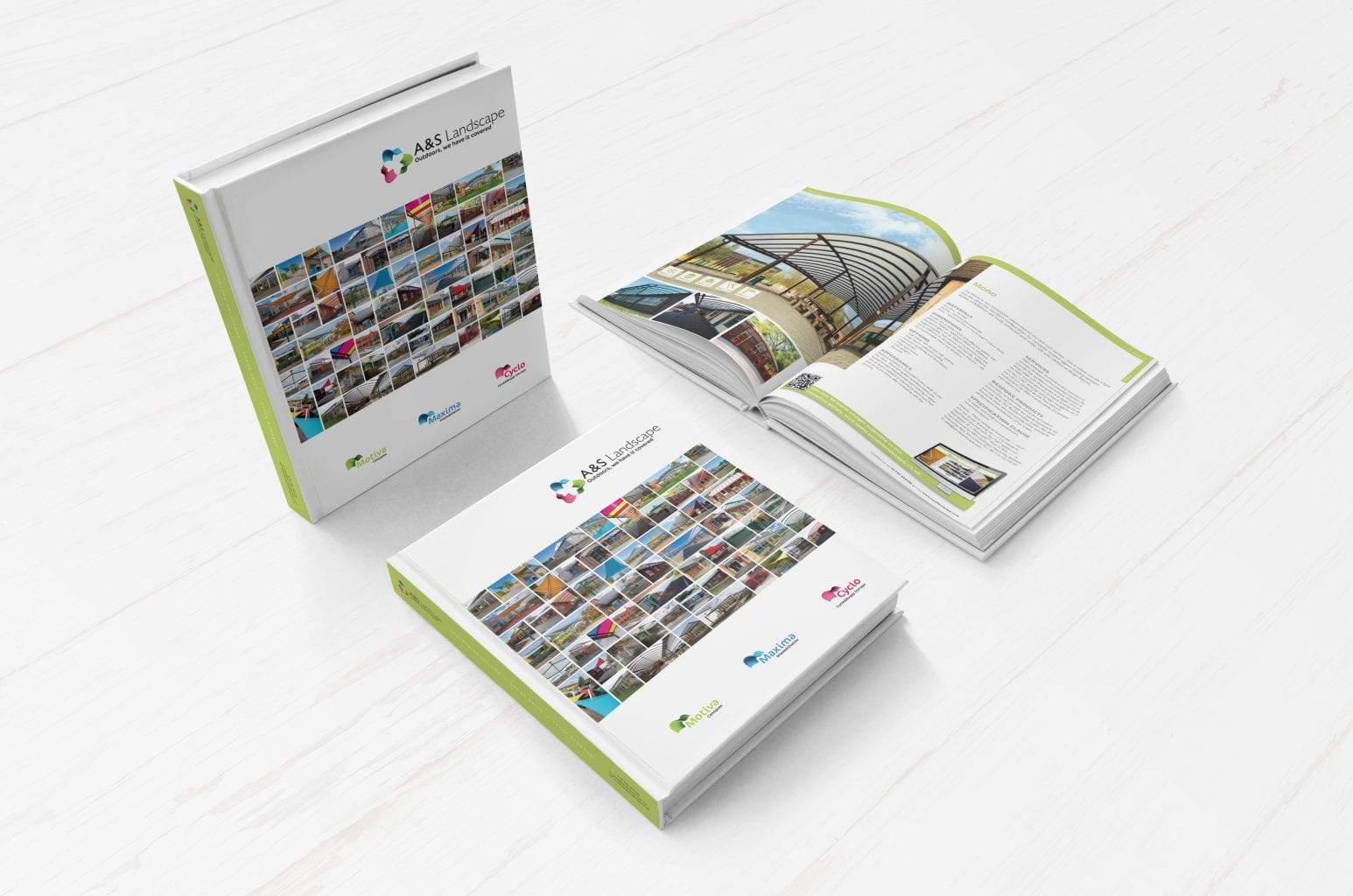 Get in touch to request a copy of our full, 160 page, hardback brochure with all the information you need to make the right choice.