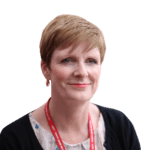 A&S Landscape was very professional and friendly. They followed our requests and kept me in the loop at all times.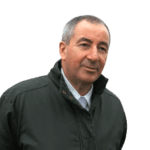 From start to finish, A&S Landscape have worked with the school to make the project a large success.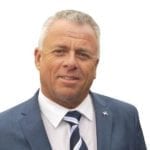 The way which A&S work is really superb. I am very pleased with the quality of the design and the construction.
Covered Multi Use Game Areas
Multi Use Games Areas (MUGAs) are fast becoming a popular option for schools, colleges, and universities, however, the ever-present lack of confidence in the great British weather means that many facilities and local authorities are recognising the need to look at covered solutions. Here's where we can help! Our sports canopies options range from the cost-effective and hard-wearing Maxima Tepee™, which is an ideal solution for primary and junior schools, up to our expertly designed Covered MUGA™ which combines the strongest raw materials with the best in engineering to create a wide-spanning bespoke solution to cover any sporting space.
What are the benefits of a Covered MUGA?
The benefits of a Covered MUGA™ are endless. So much more than a sun shelter, this robust and striking structure offers unrivalled all-year-round protection to enable exercise and sporting activities regardless of what the weather is doing. The option to add floodlights means that students can run off some excess energy even on the darkest of winter days. The options are endless when it comes to using your covered space as you can easily play a huge variety of sports, including Hockey, Tennis, Football, Padel, Badminton, Volleyball, Rounders, Cricket, Athletics, Rugby, Archery and other target games.
Some schools have adopted an innovative approach and have also used their Covered MUGA™ to generate a revenue stream by hiring it out to others or by using it to provide additional, undisturbed sheltered space for the children to sit their exams.
Our Covered MUGA™ offers:
Solid steel framework
Wide span cover
Curved or pitched polycarbonate roof design
Clever and contemporary aesthetics
A bespoke design that can be engineered in any dimension
What is a sports canopy?
A sports canopy is often referred to as a covered multi-use games area and is a large structure that covers a playing field or sports pitch. It allows schools and businesses to play and practice sports outside, regardless of the weather conditions.
Learn More About Our Work With Covered MUGAs
Covered Multi-Use Game Area Ideas
Take a look at some of the Covered MUGAs we have installed
A New Covered MUGA Sports Area for Zaytouna Primary School in Derby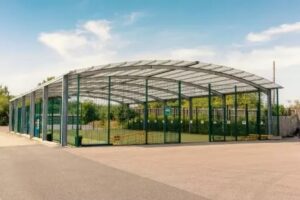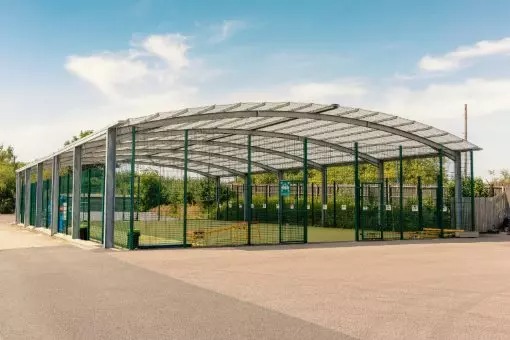 Zaytouna Primary School had a shelter tent that was set up in their playground, but it wasn't fit for purpose. It wasn't able to keep their pupils out of the rain when they wanted to play, and so they had to come up with a new solution. To do that, they decided to contact us and find new shelters to revitalise the play space. In the end, they chose two different options. They used a Motiva Linear to replace the tent and add real cover and used a Covered MUGA cover to create a whole new sheltered sports area. This means the pupils can play sports all year round, without worrying about the weather. This has drastically improved the grounds, allowing for outdoor PE lessons and even regular classes outdoors if needs be. Now pupils can get time outside of the classroom no matter the weather. See more about Zaytouna Primary School's covered sports pitch.
A Transformed Sports Area with A Covered MUGA For Haileybury College in Hertfordshire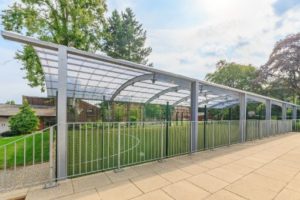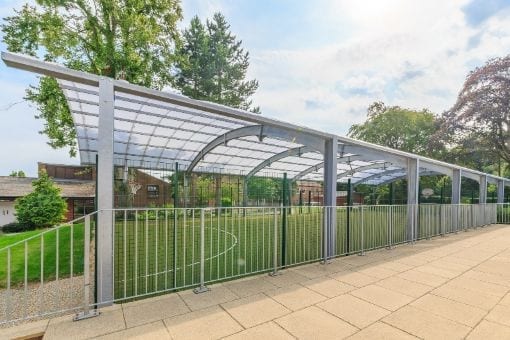 Haileybury College is a school that prides itself on excellence. That shows in everything they do. It's especially true when it comes to their new covered ball court and sports area on their grounds. They were looking to create an all new outdoor sports centre, so their students could enjoy the outdoors and play sports all year round without having to worry about rain interrupting play. To achieve this, they had a MUGA cover placed over the area they wanted to use. This was just the beginning though, as they added lots more. There's anti-static turf, basketball rings and goal frames, table tennis tables, and so much more. Students can play outdoors whenever they want to, and a bit of rain won't stop them any more. It's certainly added to the excellence of the school grounds. To read more about the covered MUGA canopy at Haileybury College, click here.
Our Featured Covered MUGA Project
The Brier School in The West Midlands Add New Covered Sports Ground

What was the project brief?
The Brier School in the West Midlands wanted their students to have access to the great outdoors all year round. With students having additional needs ranging from moderate learning difficulties, up to more complex needs, being able to participate in healthy outdoor activities frequently is highly valuable to their development. The staff realised the advantages of adding an outdoor sports ground, complete with a ball court, as well as various games areas. The sports facility, however, had to be suitable for use throughout the school year.
Installing a school shelter seemed to be the perfect solution, and this is when The Brier School decided to bring in A&S Landscape. The school were looking for a covered sports ground that was durable and accommodated multiple purposes, including being suitable for sports activities, but also as a general outdoor games area for the children. Our team helped with the entire process from design and manufacture, to the final installation.
What was our covered multi-use games area solution?
The solution that ticked all the boxes for The Brier School was the Covered MUGA™ – a sporting canopy that provides cover for multi-use games areas. We had a big area to work with, and with the Covered MUGA™ designed for large dimensions, it seemed to be the obvious choice. The final canopy measured 29605mm x 24680mm, and once installed the outdoor play area was affectionately called the 'PlayZone.' Being designed for sports facilities, the Covered MUGA™ has optional features, including fencing, surfacing, lighting, goals, hoops, other sports fixtures.
What was the result of their new outdoor play area?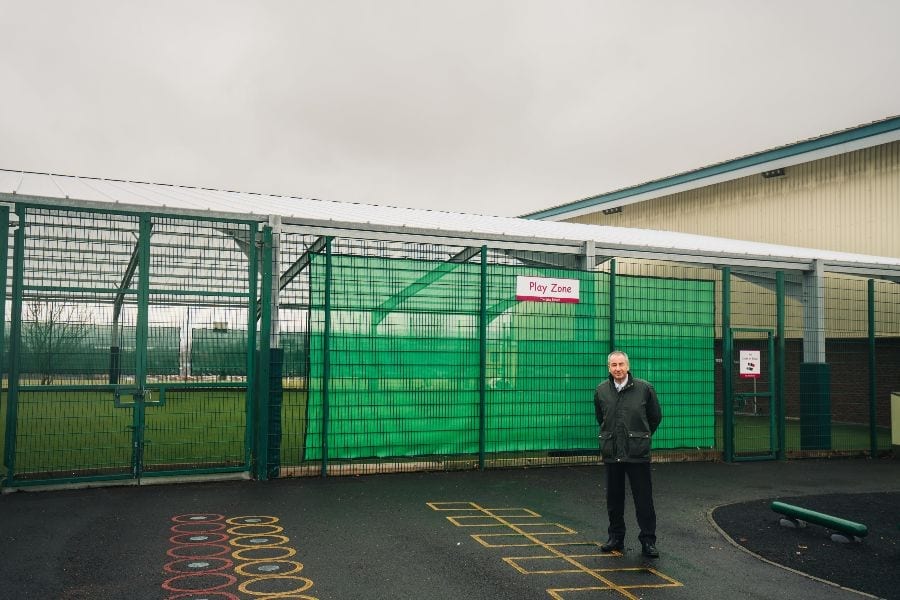 All children came to benefit from the addition of the 'PlayZone' at The Brier School, which has become the activity centre of the school.
Key Stage One children use the area as a bike and trike track – perfect for when they are learning! Children of other ages do all sorts of sports activities, ranging from field sports, quick cricket, relay races, the occasional ball game on the court, and even sponsored walks! Now that they have sports facilities available, there are so many more activities available to the children.
Not only can the school enjoy a sports event under the new cover system, community events are held there too! Thanks to the ability to use the outdoor space at any time of year the school has hosted a Winter Wonderland event during the Christmas period, bringing festivities and cheer to all.
The Brier School understands the countless benefits that playing outdoors can bring to children with special educational needs, and are so proud their pupils now have access to the outdoors at all available playing time! Realising the benefits, the covered area now acts as a Community Sports Ground too. Local children with learning difficulties are able to come with their families to enjoy the space. The Orchard Trust, a charity that supports children and young people with learning difficulties, even use the area for their summer school. There is rarely a day when this space is not benefiting the local children and their families!
Testimonial / Client Feedback
"This space has made such a difference to the children, they can be outdoors and get fresh air all year round, regardless of the weather. Different classes use the area in rotation when the weather is poor, meaning that everyone has the chance of some fresh air and exercise. The children are loving the PlayZone and a little bit of outside time each day helps with their concentration levels as well as their fitness."
– Russell Hinton, Headmaster at The Brier School
About the client
The Brier School is a flagship special school located in the borough of Dudley, West Midlands, North West of Birmingham. It was clear to see the pride that the staff at The Brier School took in their students. They were extremely positive and helpful throughout the whole process and were incredibly pleased when the cover meant the pupils were able to play outside all year round.
Working with a school that has an excellent reputation and takes such pride in their work was a genuine pleasure to work with. We were extremely happy to be a part of this outdoor play project that will benefit pupils for years to come.
Why choose A&S Landscape for your outdoor sports ground?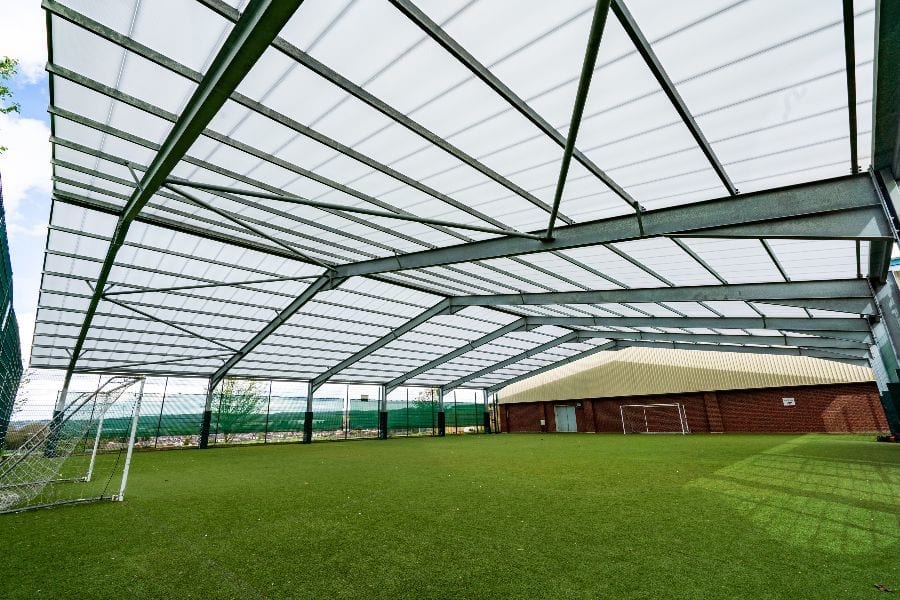 When it comes to creating covered sports areas, there are no better experts in the field than A&S Landscape. With sporting clients such as Team GB and The FA, we can help make your covered sports vision a reality. Whatever the size of your organisation, we ensure you receive the best possible service from our highly-skilled professional team.
Having provided school shelters, sporting canopies and other cover solutions for over 44 years, we have built up a wealth of knowledge. In that time, we have carefully selected a range of canopies that offer the best solution for our clients. The Covered MUGA™ is one of these, being made from durable materials that are resistant to wear and is made to the highest specifications wherever it is installed. It is an example of a truly bespoke sporting facility.
What other school shelters do we offer?
As well as the Covered MUGA™, there is another option for your Covered Multi-Use Games Area – the Maxima Tepee. This sports tepee boasts a solid steel framework with an integrated gutter system, is available in a wide range of sizes and can be finished in any RAL colour. Like the Covered MUGA™, it is extremely durable – being manufactured in galvanised and PPC steel.
We also offer a range of smaller shelters if you're not looking for something quite as large as the Covered MUGA™ or the Maxima Tepee, including those for smaller playgrounds. You can rest assured that all of our shelters are designed to all year round weather protection.
Whether you would like to develop a Community Sports Ground, outdoor games areas for your school, or a covered ball court – we've got you covered! Our family-led company is dedicated to giving you a service that is welcoming, reliable and personal to your needs. We can advise you on anything from design to aesthetics to cost and will give you our support from the original concept, right up until the finished masterpiece.
We hold several industry-specific accreditations, all of which are well-respected within the field of outdoor canopies. We have also developed close relationships to local authorities and educational bodies all over the UK, who trust us to deliver quality shelters to schools, colleges and universities.
Whatever your requirements are, our team of experts can help you to find the perfect sporting cover solution. Don't hesitate to get in touch with us today on 01743 444100 or at [email protected].

The Brier School Before and After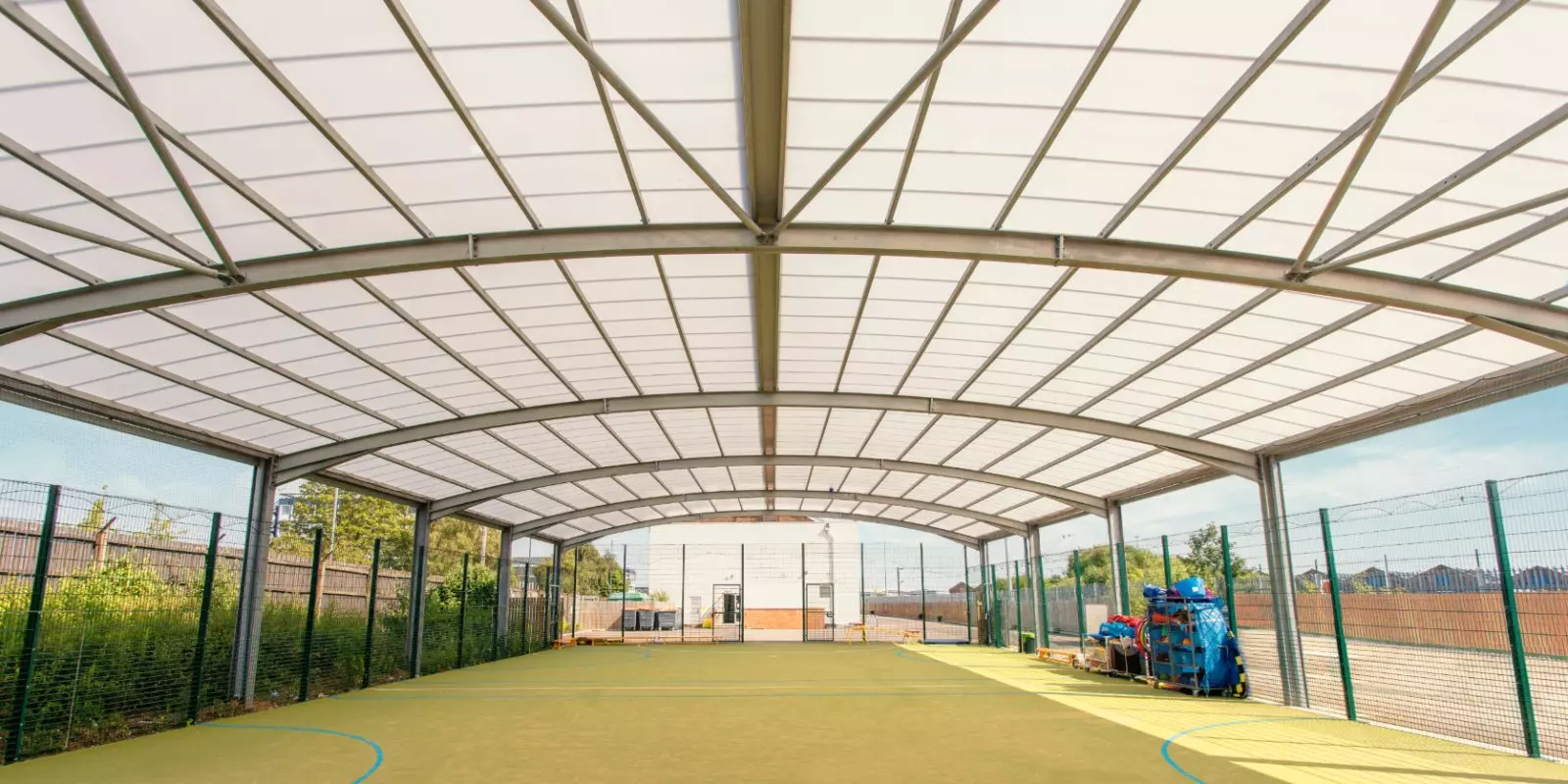 Send us your email and an idea of your requirements and we'll get back to you with a quick price.