Canopies for Colleges and Universities
Robust, functional and great looking canopies suited to the needs of colleges and universities
Enquire Now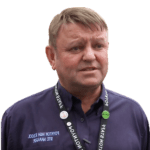 Pricewise, A&S Landscape was the best. They seemed to bend over backwards to meet our needs.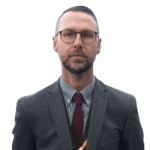 I would recommend A&S Landscape, it's about getting the right quality for your school and they gave that to us.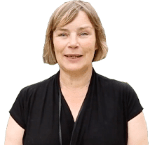 We worked with A&S Landscape closely until we had a gorgeous finished project. Their staff were very helpful.
Canopies for Colleges and Further Education
Many colleges and universities benefit from large, leafy campuses and grounds, however, these are often left at the mercy of the elements meaning the students are unable to enjoy them. We have an extensive range of canopies expertly designed with colleges and universities in mind, these include dining canopies, with a range of side and door options to add additional protection and Covered MUGAs that create an all-year-round sporting area.
Whether you're looking for a robust curved structure or a bright and breezy sun shade we are sure to have a solution that meets your requirements.
Our college canopies are not only hard-wearing and functional, but they also have an artistic flair that appeals to students and staff alike, enhancing day-to-day life and providing more opportunities for outdoor study, alfresco dining and chilling out, regardless of the weather.
Our college canopies all benefit from –
Solid steel framework
Framework finished in Dura-coat™ finish to any RAL colour
Flexible and bespoke designs that can cover any space
Extensive range of options, tailored to your requirements
Artistic and contemporary aesthetics
What are the benefits of college canopies?
College canopies have many benefits and are quickly rising in popularity. Shelters for colleges can create more useable spaces on the campus, which can be utilised throughout the year. They can create external dining areas, social spaces and outdoor classrooms.
Learn More About Our Work With Colleges
Take a look at some of our recently completed projects at colleges
Dining Canopies for Co-op Academy Failsworth in Greater Manchester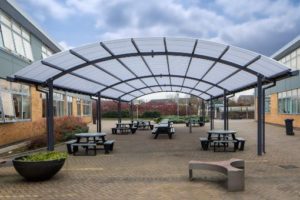 Eating alfresco has always been a big deal for the students at Co-op Academy Failsworth. It's not just having lunch, it's a chance to socialise and enjoy the fresh air, away from sometimes overcrowded indoor areas. However, when it's a rainy day in Greater Manchester no one likes a soggy sandwich. In order to find an all-weather solution, the staff got in touch with A&S Landscape. The suggestion of two Motiva Duo™ curved roof canopies was met with great approval. These standalone structures offer shelter from the rain as well as look really sharp in solid steelwork topped with Opal coloured polycarbonate roofs. After the installation was complete, everyone was extremely satisfied. Students can now dine outdoors, even in the rain, and staff have additional space to help ease pressure on indoor areas. Find out more about how A&S Landscape worked together with Co-op Academy Failsworth to improve their facilities and student wellbeing.
Fabric Seating Shelter for Chelmsford County Girls' High School in Essex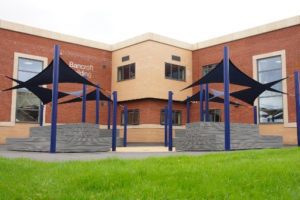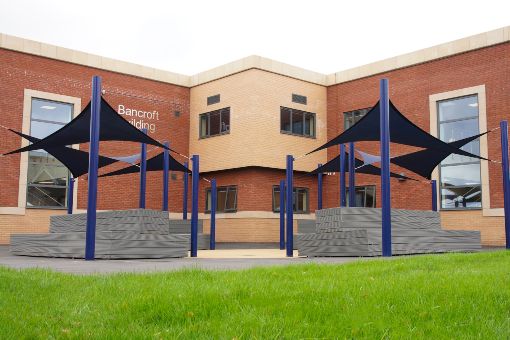 New improvements to the teaching block and sports hall at Chelmsford County High School for Girls in Essex were added to recently with the installation of six shade sails. The canopies were used to shelter an existing outdoor seating structure to ensure the area could be used in all weather. After consultation with A&S Landscape, the school decided upon a custom-built Maxima Sail™ canopy with Sapphire Blue steelwork and Sheba Dark Blue fabric covers. This waterproof and durable type of sail comes in a wide range of inspirational colours and has the longest guarantee on the market. The sheltered seating area has become a focal point for the students at break and lunchtimes, as well as really complementing the recent building improvements. Staff, too, are enjoying the opportunity to also use the canopies by taking their lessons outside. If you'd like to learn more about this college canopy project undertaken by A&S Landscape please click on this link and read the whole story.
Straight Roof Canopies added to Malet Lambert School in Hull, East Yorkshire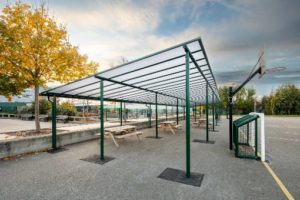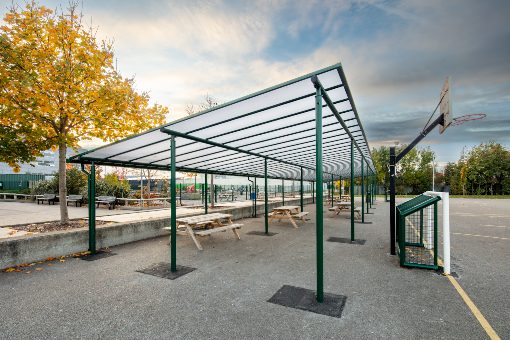 The students at Malet Lambert School in Hull were sorely lacking in shelter when it came to spending time outside on the school grounds. To find a solution, the school staff turned to A&S Landscape. After initial discussions, it was decided that six shelters installed around the school, were just what was needed to keep students covered at break and lunchtimes. Our popular Motiva Linear™ straight roof canopies were chosen due to their contemporary design and long-lasting, solid steel framework. Each of the six shelters was designed in Moss Green steelwork and Opal coloured polycarbonate roofing. Sizes ranged from 8000mm X 6000mm to 15000mm X 4000mm, and were installed outside the science block, the Year 11 department, and one of the school's quads. The students love the extra outdoor space for socialising, eating alfresco and generally keeping dry on wet weather days. These installations not only look great and serve a practical purpose, but they can also improve students' mental health and overall wellbeing. Find out more about Malet Lambert School's canopy shelters here.
Shade Sails for Prior Pursglove College in Guisborough, North Yorkshire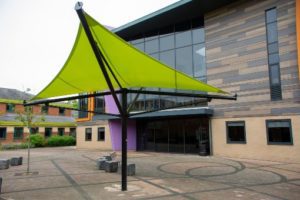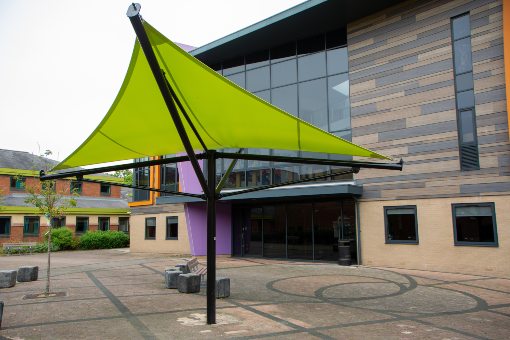 Staff at Prior Pursglove College in Guisborough were looking for new ways to brighten up the school grounds and bring a splash of colour to the students' daily lives. After chatting to the team at A&S Landscape, four fashionable-looking Maxima StarSail™ shelters were chosen. This popular product comes in a wide range of colours, and the staff at Prior Pursglove College decided upon a Jet Black steel framework topped with an Aniseed Green roof. The end result was four really bright and eye-catching creations that provide a practical, long-lasting and fun way for students to keep covered outdoors. The sails have become the 'places-to-be' at break times and lunchtimes and the staff have also been eyeing them up as potential focal points for outdoor learning. Not only do students get extra outdoor space, whatever the weather, but they also benefit from that little extra boost of colour to brighten up their school day. For more information about shelter canopies and Prior Pursglove College's shade sail project, please click here.
Shelters Added to Magdalen College School in Brackley, Northamptonshire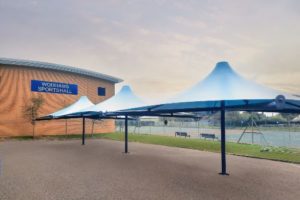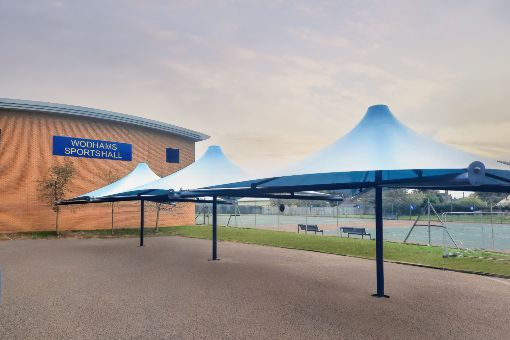 Students at Magdalen College School in Northamptonshire are a sociable bunch however when it's raining or scorching hot there aren't that many outdoor spaces for them to seek shelter outside. College staff recognised this need for extra protection from the elements and got in touch with the team at A&S Landscape. After consultation, a solution was professionally presented in the form of three 7000mm X 7000mm Maxima Umbrella™ canopies. The shelters were built with Slate Grey steelwork and topped with Celadon coloured waterproof fabric roofs. In addition to the three chic-looking shelters, the team at Magdalen College also wanted to give the main entrance a new lease of life. By adding a freestanding Motiva Entrada™ in the same Slate Grey as the Maxima Umbrella™ canopies, the whole school now looks like it's had a makeover. What better way to give students and staff a positive boost of energy during their day. To find out more about the project at Magdalen College, please click here to read the complete story.
College Canopy Design Options
Read Our Featured College Canopies Project
Waingels College in Berkshire Add Multiple Sheltered Areas

What was the project brief?
On the evaluation of their campus, Waingels College in Berkshire recognised that there was a lack of efficient shelter in the school grounds. Highly committed to providing the best experience of education to their students, they dreamed of creating an outdoor multi-purpose space with year-round protection. With the students' wellbeing at the heart of their decisions, they decided to call in canopy experts A&S Landscape. This was to be the third time that the school had worked with us on various outdoor cover projects. This particular project required not only the design, manufacture and install of the four exterior canopies but also sourcing seating options to completely transform the courtyard area.
What was our proposed canopy solution?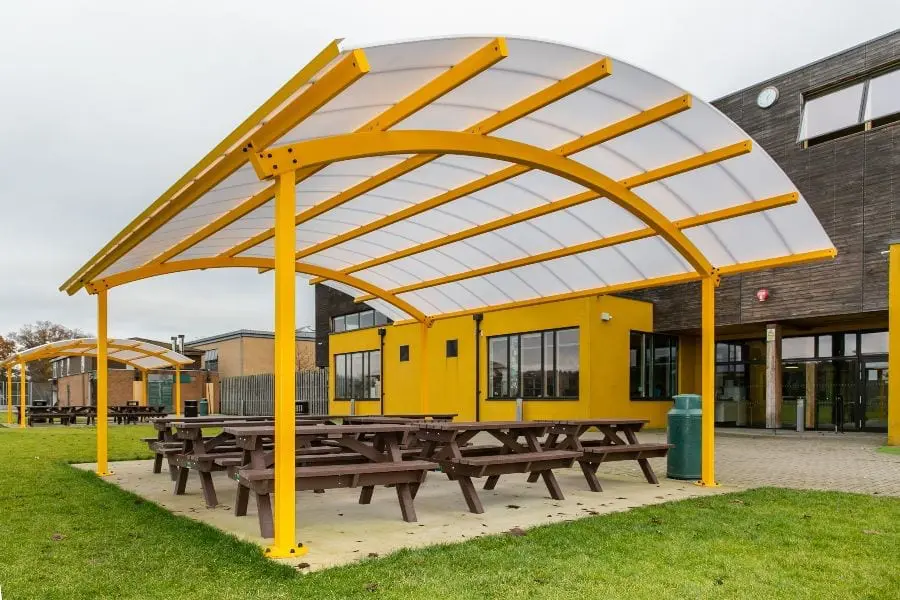 All in all, there were four shelter solutions installed. The first type of college canopy that we decided would deliver the ideal solution for the school's needs were curved roof canopies from the Motiva Duo™ range. Otherwise known by our more affectionate name of 'The Duo', we knew that for the three of these we installed, each one would provide an ample amount of room underneath for students to take full advantage of the outdoor space. An added benefit is the number of style options available. All three of these canopies were finished with a robust steel frame constructed in yellow. This complemented the brand colours of the school. While also offering complete weather protection, these canopies allowed enough space for 24 recycled plastic benches, which were sourced by A&S Landscape too.
The fourth and final perfect canopy structure of the project was from the fabric shelter range, the Maxima Umbrella ™. Made from waterproof PVC and offering maximum protection from the weather, the shelter can be used all year round. Our full range of tensile fabric canopies offers a real statement to any school environment or college grounds.
What was the result of the college canopies?
All of the outside structures have proven to be a real asset to the school. With the additional protection from the rain, and the sun during the summer months, more students are able to enjoy the fresh air outside. It has had a hugely positive impact on the students, who now have the chance to refresh prior to, and in-between attending classes. This benefits their concentration and focus levels when learning. The shelters also have a double function, they are the handy new spectating area. With the sports pitch sitting right next door, the children are able to cheer on their friends, while ensuring they have the maximum weatherproof protection.
About the client
Waingels College is a co-educational, comprehensive secondary school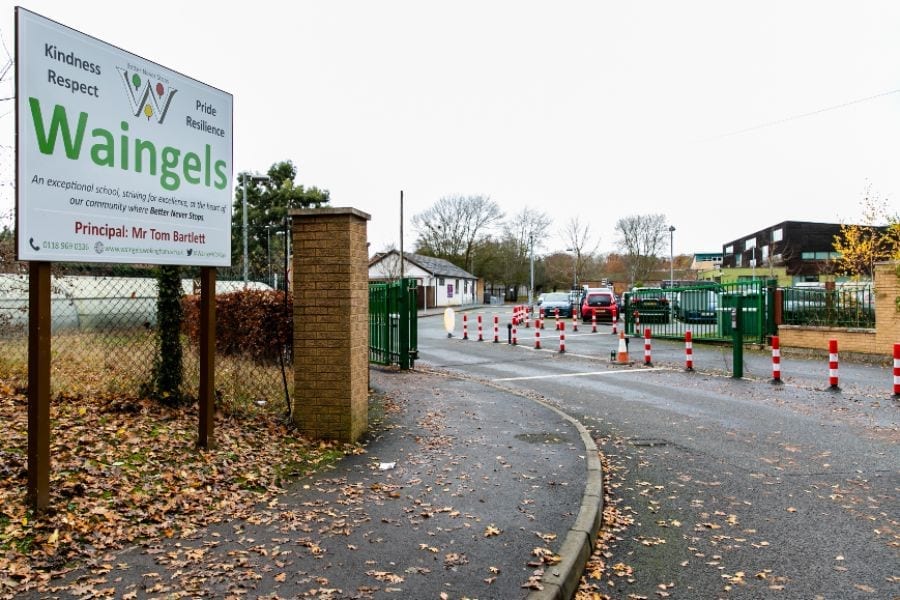 located in Woodley, Berkshire. The school is known for its strive for excellence. 'Better never stops' is the strong statement which they say is at the heart of their community.
We have now worked with this school three times, and each time we have been greeted by a friendly, helpful team who have gone above and beyond to provide us with a vast array of information to help us to work more efficiently. We were happy to work with them once again on the whole process from start to finish.
Can I see other finished examples of shelter projects?
A&S Landscape has worked with exterior canopies now for over 44 years. In that time, we have worked on countless projects, and have built up an impressive portfolio of work. Clients have included various local authorities, government bodies, NHS trusts and many businesses. We have developed close relationships across the UK. We have even worked with worldwide organisations, such as The Football Association and Team GB. To view past projects and be inspired by our wide range of work, read some of our other case studies or have a browse of our customer testimonials.
If you would like some extra reassurance, you may even like to see the quality and durability of our work in real-life. Being in the industry so long, and with an ever-growing list of satisfied clients nationwide, we will gladly provide you with a list of canopies to view in your local area. We aren't just limited to transforming outside space in the UK either. We supply and install shelters to other countries in Europe, and further afield we can sometimes help on a supply-only basis. If you'd like to know more about this, please do give us a call on 01743 636116.
Why should you work with A&S Landscape?
It is the level of service at A&S Landscape that we carry with pride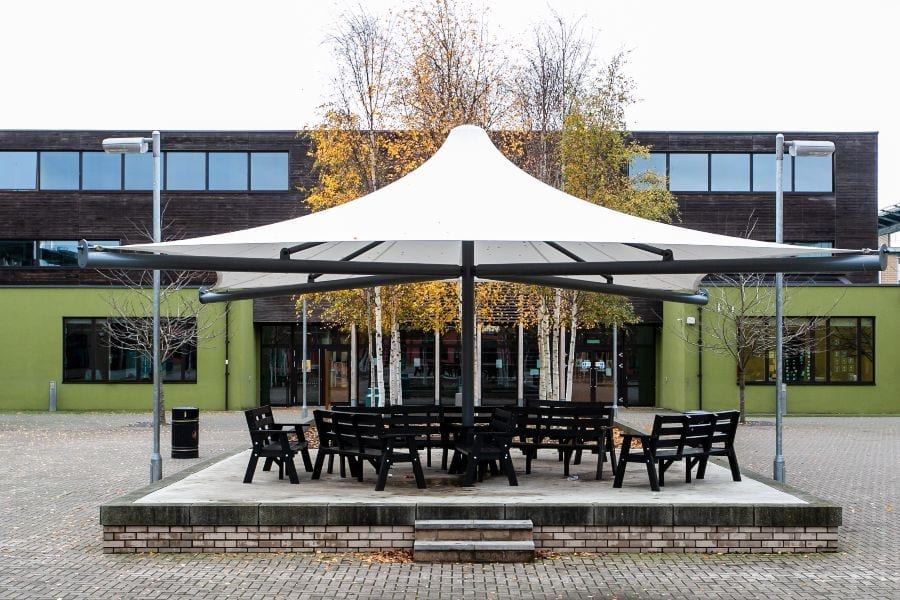 . Every unique project we embark upon, we treat with integrity, efficiency and with the utmost respect for the client's needs and wishes. We don't just offer the perfect solution for secondary schools either, we have designed, manufactured and installed shelters for nurseries, primary schools and universities. Your shelter can be made to measure to the suitable size and depending on what cover you go for, you'll have access to our full colour range.
With our level of expertise and long list of satisfied clients, we will not disappoint you with our helpful attitude and our extensive range of shelters. Why not download our interactive turn page brochure to see our full range of shade solutions? If you'd like us to help you transform your outside space, get in touch with our friendly team on 01743 636116 or at [email protected].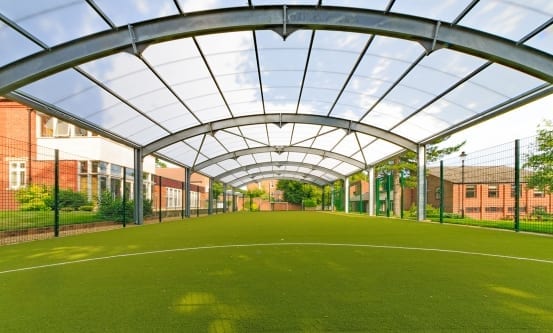 The staff were very very helpful. A&S Landscape were clearly the company to go with.
Premises Manager - Haileybury College
View Project
City College In Peterborough Adds Sail Structure

What was the project brief?
The staff at City College in Peterborough wanted to ensure their students felt valued every time they entered the college gates at the start of the day. Already providing a great variety of educational programmes and training courses to suit their student's needs, the staff wanted to go one step further, by ensuring they offered a healthy and nurturing school environment. This would mean ensuring provisions were available to offer a suitable size space to relax, socialise and refresh outside.
With an unused quad area within the campus grounds just waiting to be transformed – they knew exactly how they were going to achieve this. The perfect solution would be an attractive canopy, that would not only look funky but offer weather protection at all times of the year, all the while at a sensible cost. To go ahead with this highly-anticipated project, the school called in canopy experts A&S Landscape who immediately got to work with the initial site survey and designing the courtyard shelter. With 44 years' experience in the shelter UK (and worldwide) industry, they knew they were in good hands.
What was our canopy solution?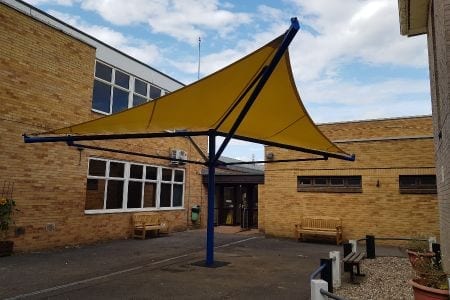 The college had a very specific design in mind when it came to the final look of the external courtyard – and once our team had completed all the structural calculations and presented them with the proposed sail structure, the Maxima StarSail™, the whole team fell in love with it! And it's easy to see why. The freestanding canopy measures 6m x 6m, with a yellow coloured roof, and vibrant blue steelwork, this tensile structure was immediately a focal point within the college grounds.
The tensile fabric roof comes with a whole range of style options, with size, shape and colour varieties. Here at the City College Peterborough, the staff went one step further to ensure the shelter could be used all year round, and not just as a sun canopy. This is due to the college opting for waterproof tensile PVC fabric, which offers weatherproof protection for a range of elements and conditions. The students can utilise this multi-purpose space at all times of the year, taking cover from the rain under the waterproof tensile fabric structure. City College Peterborough is not the only college to have fallen in love with sail structures, shade sails are a popular choice due to their contemporary design, have a look at this Stafford High School who also opted for tensile fabric sails.
What was the result of their new shade?
This outside structure does not just blend into the background on campus. The tensile fabric canopy, being finished in blue and yellow colours, brightens up any day, even when the weather is grey, overcast and drizzly. With the addition of street furniture, the outside space is used for a number of activities by the students, who can use the area as a social space, for studying and eating lunch.
The staff at City College Peterborough are delighted with the additional area the students now have, and the courtyard shelter really demonstrates the value they place on their student's wellbeing and mental health. They are amazed that this has all been achieved with the addition of one freestanding canopy.
About the client
Founded in 1944, City College Peterborough has been dedicated to adult learning for 75 years. They have since expanded education in all directions and have recently extended their curriculum to offer college courses, apprenticeships, 16-19 full/part-time courses and workplace training for the Peterborough community. The college's commitment to both the community and education has not gone unnoticed, with an award nomination for their state of the art methods embracing technology to teach during the UK lockdown and being rated good by Ofsted.
It was a real pleasure to work with the team on this project. The staff knew exactly what would benefit the area the most and was able to articulate this precisely to our site management teams. The project went from quote to order within a month, and we know that the tensile fabric canopy will last them for years to come, providing that all-important additional area for the students to take time out.
Why choose A&S Landscape for your shade sail structure?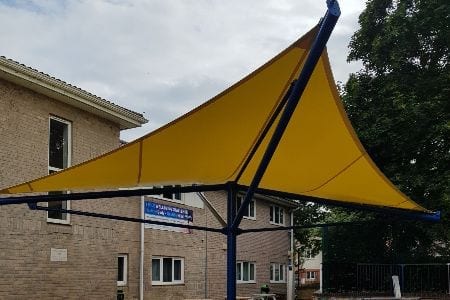 With an extensive range of tensile fabric canopies on offer, A&S Landscape are experts when it comes to their design, manufacture and installation. Within this group of versatile canopies, sits the shade sails – adding character, dimension and colour to any area they are placed. With a tensile fabric sail addition, you really do have the ability to transform an area into an iconic statement.
The Design
Highly durable products, these sail structures are built to last with one the longest guarantees available on the market. The shade cloth used is strong and stable, and offers the perfect sun shade with 90-98% UV protection and reduces light transmission, even during the hottest summer months. There is also the option to upgrade the shade cloth, as City College Peterborough did, to a waterproof tensile PVC fabric increasing its usage to the winter months, and the already-vast lifespan.
Their versatility doesn't stop there, with the design open to several variations, from the simple four post fabric structures to the bold Maxima StarSail™. If you're creating a covered outdoor play space for a nursery, you can even add post protection pads. As a freestanding canopy, their flexible nature means they fit almost any environment.
Installation and Service
It's not just durable products that we offer here at A&S Landscape, we also offer our expertise and knowledge throughout the entire process from concept to completion. We offer a full site survey, CAD drawings and project management. We are also happy to talk you through the canopies that offer you the most ideal solution, all at a sensible cost. We undertake each project with thoughtful planning, and with our extensive experience, we understand all the technicalities which are important for your project to be a success.
Why choose A&S Landscape?
As a family-led business, we are dedicated to providing a friendly, reliable and efficient service, and this has seen us create amazing working relationships with local authorities, educational bodies and NHS trusts across the UK. And don't just take our word for it, see what our clients have had to say about us.
If you'd like to know more about a waterproof tensile fabric structure, a freestanding canopy, or any other shelter, please get in touch with our friendly team on 01743 636116 or at [email protected].

Take a look through some more of our college canopy installations
Cirencester College Add Large Curved Roof Dining Area Canopy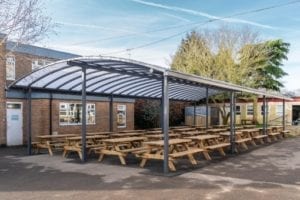 Cirencester College had a lot of outdoor space that the students couldn't enjoy as it was open to the elements. The college contacted A&S Landscape to talk through their wide range of college canopies and to see which design would not only provide all year round protection but also would be suitable to cover a vast area, enabling them to maximise the seats that would fit underneath it. The team at A&S Landscape thought that a curved roof canopy would make a real statement and suggested a Slate Grey frame to create a modern and sophisticated look that would really enhance the surrounding buildings. The canopy was designed to have a wide enough span to allow more than 100 students to use it at any one time. See more about the curved roof dining area shelter we installed for Cirencester College here.
Colourful Yellow Sail Shade Designed for City College Peterborough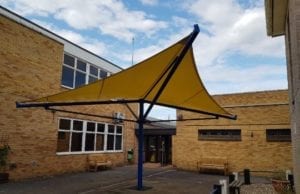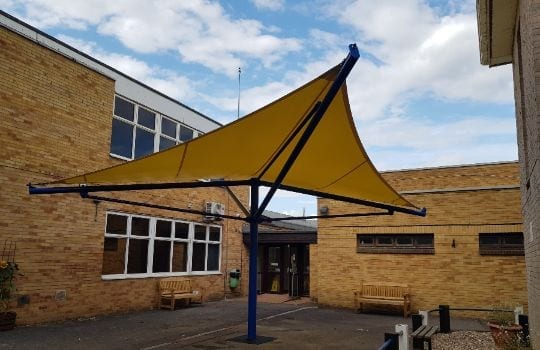 City College Peterborough is proud of their modern, accommodating campus and was keen to make sure that their students had a funky, undercover area where they could kick back in between lectures. They wanted a solution that would offer UV protection and that was also waterproof, to ensure the area could be enjoyed all year round. We suggested that they browse through our range of college canopies and when they spotted our bold and innovative StarSail they knew, instantly, that this would not only meet their brief but also make a real statement. The result is incredible! The striking blue steelwork creates a wonderful contrast against the bright and contemporary yellow fabric. The area is now vibrant and appealing, even on the dreariest of days. Read more about the yellow sail shade we designed for City College Peterborough.
Coleg Gwent Add Stylish White Sail Shades to Campus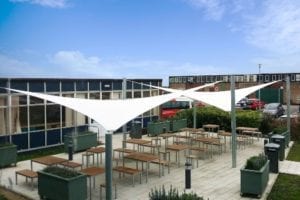 Coleg Gwent has a reputation for excellence and is home to over 23,000 students. The staff were spoilt for choice when they started to consider which college canopy would be best suited to their extensive and proudly maintained campus. They wanted something that was light and airy to create a shaded alfresco area that the students could enjoy even during the heat of summer. The team at A&S Landscape suggested two large Shade Sails that would offer unrivalled UV protection while also creating a bright and breezy focal point for the hard-working students when they were eating their lunch. The transformation is truly remarkable, the bright white shade cloth fabric adds a touch of elegance and the robust, galvanised posts look modern and stylish. Find out more about the sail shades added to Coleg Gwent.
Chill Out Area Created with Sail Shade at Peele Community College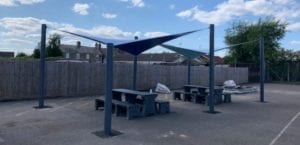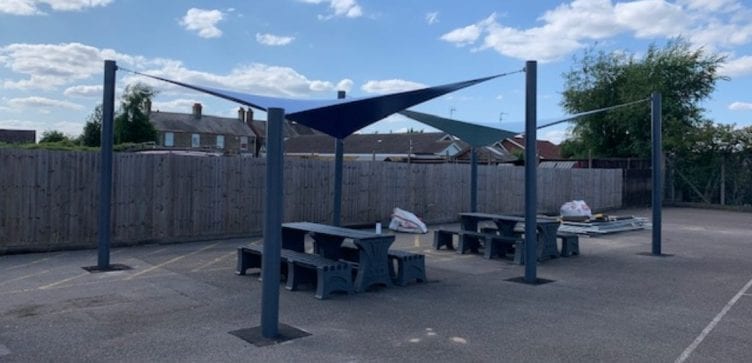 Peele Community College recognised the importance of providing their students with an alternative to studying indoors and thought that the addition of an external shade structure would make a significant difference to college life. They engaged with the team at A&S Landscape who worked closely with them to identify the college canopy that would be best suited to the campus. Keen to offer protection from both rain and sunshine, the college opted for two stunning Shade Sails on one sweeping 8000m x 4000m structure. To encourage the students to make the most of their new area, the college also added some seating underneath. The new outdoor study area is a breath of fresh air and is much loved by the staff and the students alike. See more about Peele Community College's sheltered study area.
Blue Sail Shade Designed for Bishop's Stortford College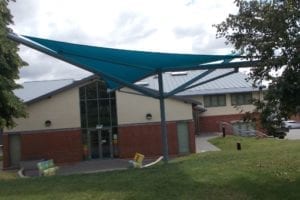 The pre-prep children at Bishop's Stortford College used to wait eagerly to see if there were any clouds in the sky to keep them cool while they played happily outside. The outside play area had no other shelter which meant that they got very hot and bothered. The college recognised that there must be a way to fix this and got in touch with the team at A&S Landscape to ask them to come up with a solution that would look fantastic while also allowing the children more time outside. The team worked closely with the college to help them choose from their expertly designed range of college canopies and they decided on a bright and cheery StarSail with an eye-catching turquoise fabric. The children love it and now hop, skip and jump their way through the day. Learn more about the shade sail we installed for Bishop's Stortford College here.
The Cheadle College Install Two Straight Roof Grey Shelters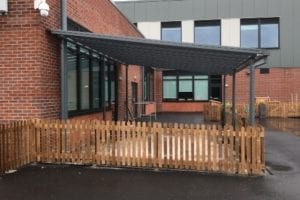 Outdoor learning has a whole host of positive benefits, as does enjoying your lunch in the open air and chatting with your friends, although it's not so appealing when you are caught up in one of Greater Manchester's infamous downpours! The Cheadle College wanted to give their students some additional shelter to allow them to hang out with their friends in all types of weather. They contacted the team at A&S Landscape who proposed installation of two straight roof canopies from their extensive range of college canopies, the canopies were manufactured with an opal roof to offer maximum protection from the elements while still allowing in the light. The students were amazed by the transformation. Click here to see more about the straight roof canopies we installed for The Cheadle College.
Outdoor Dining Area Canopy Designed for Royal Wootton Bassett Academy in Wiltshire
Royal Wootton Bassett Academy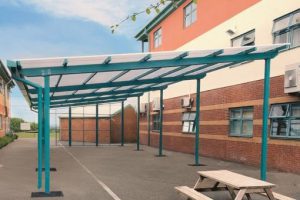 wanted to install an outdoor dining shelter to create more seating options for the students to use during lunchtimes. It was important to them that the structure would have an attractive design while offering all of the functionality that the academy needed. A&S Landscape jumped at the chance to work with such a fantastic college and started to design a bespoke dining shelter solution. We based our final design on our popular Motiva Linear™ straight roof canopy, adding a section of side panels to offer protection from the wind. To match the academy's logo, the steelwork was finished in a Mint Turquoise colour. The installed shelter looks very smart in location and the students already love eating their lunch alfresco under the cover. Lunchtimes are forever transformed at the academy and the whole college will benefit from the opportunity to spend more time outside. Continue reading about the dining canopy we designed for Royal Wootton Bassett Academy here.
Epsom College in Surrey Add Wall-Mounted Shade Sail to Campus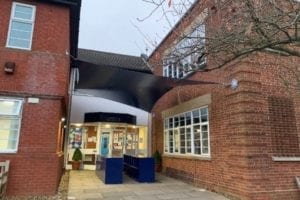 Like many schools and colleges across the UK, Epsom College was looking at measures they could bring in to help keep their students safe as they returned to campus after the Covid-19 pandemic. After it had been identified that open, outdoor spaces help to reduce the spread of the virus, the college decided to utilise their external areas and invest in a shelter structure. We worked closely with the staff to design a fabric shade sail canopy that would cover a suitably sized area outside one of the main buildings. To maximise floor space underneath the sail, the fabric was wall-mounted to the building. The newly created covered space has created a place for the students to safely socially distance while catching up with friends and enjoying a break between lectures. And because the canopy didn't use steel poles, it will be easier to take down the sail once restrictions have been lifted. See more details about the fabric sail we designed for Epsom College here.
South Gloucestershire and Stroud College Add Colourful Shade Sail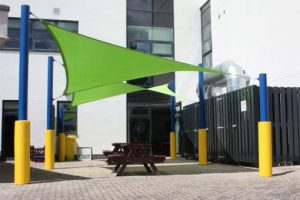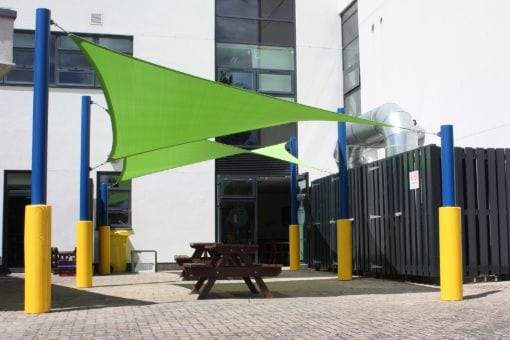 One of the most popular areas on campus at South Gloucestershire and Stroud College is the canteen and the area just outside of its entrance. To enable the students to get better use of this outdoor space, the college looked to add some shade and shelter. After looking online to find the best canopy company, they came across industry leaders A&S Landscape. Our design team reviewed the college's requirements and proposed that we install a Maxima Sail™ fabric structure. To match the college's logo and branding, the finished shade sail featured green fabric with Gentian Blue coloured uprights and yellow post pad protectors. It's safe to say that the colourful canopy has transformed the area and created a warm and inviting outdoor seating area. Interested to know more? Click here to visit our case study page to see the full details of the shade sail we fitted at South Gloucestershire and Stroud College.
Polycarbonate and Fabric Shelters Installed in Middlesex at Uxbridge High School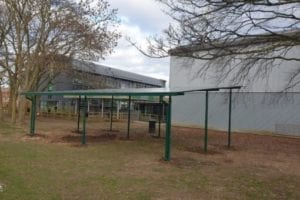 Uxbridge High School contacted shelter specialists A&S Landscape as they wanted to improve the break time facilities on offer to their hardworking students. They would often be exposed to harsh weather conditions and turn up to their next lessons cold and wet. After looking at our extensive product range, the high school opted to install one Motiva Linear™ straight roof shelter, complete with a Moss Green frame. In addition to this, the college also installed a total of five Maxima Umbrella™ fabric canopies. Now that the six shelters have been fitted to the campus, the students are spoilt for choice when it comes to picking a spot to socialise and refresh at break times. The covered areas could also be utilised by the teachers during lessons if they want to teach in an outdoor classroom setting. Head over to our project page to find out more about the shelters we created for Uxbridge High School.
Fabric Umbrella Canopy Designed for Reaseheath College in Cheshire
The fantastic team at Reaseheath College had identified a courtyard area on campus which they felt would benefit from the addition of a shelter. They hoped that this would encourage the students to spend more time outdoors in the fresh air during their breaks. Canopy experts A&S Landscape was asked to get involved with this exciting project and install a shelter that would be functional and aesthetically pleasing. In the end, the college opted for our Maxima Umbrella™ fabric roof canopy, made with Signal Yellow steelwork and white material for the cover. This product is a popular choice for smaller areas where it is key to maximise the floor space as the structure only uses one upright. Everyone at the college is delighted with the new shelter and the students can now socialise outside come rain or shine. Click here to get the full details of the umbrella canopy we fitted at Reaseheath College on our project page.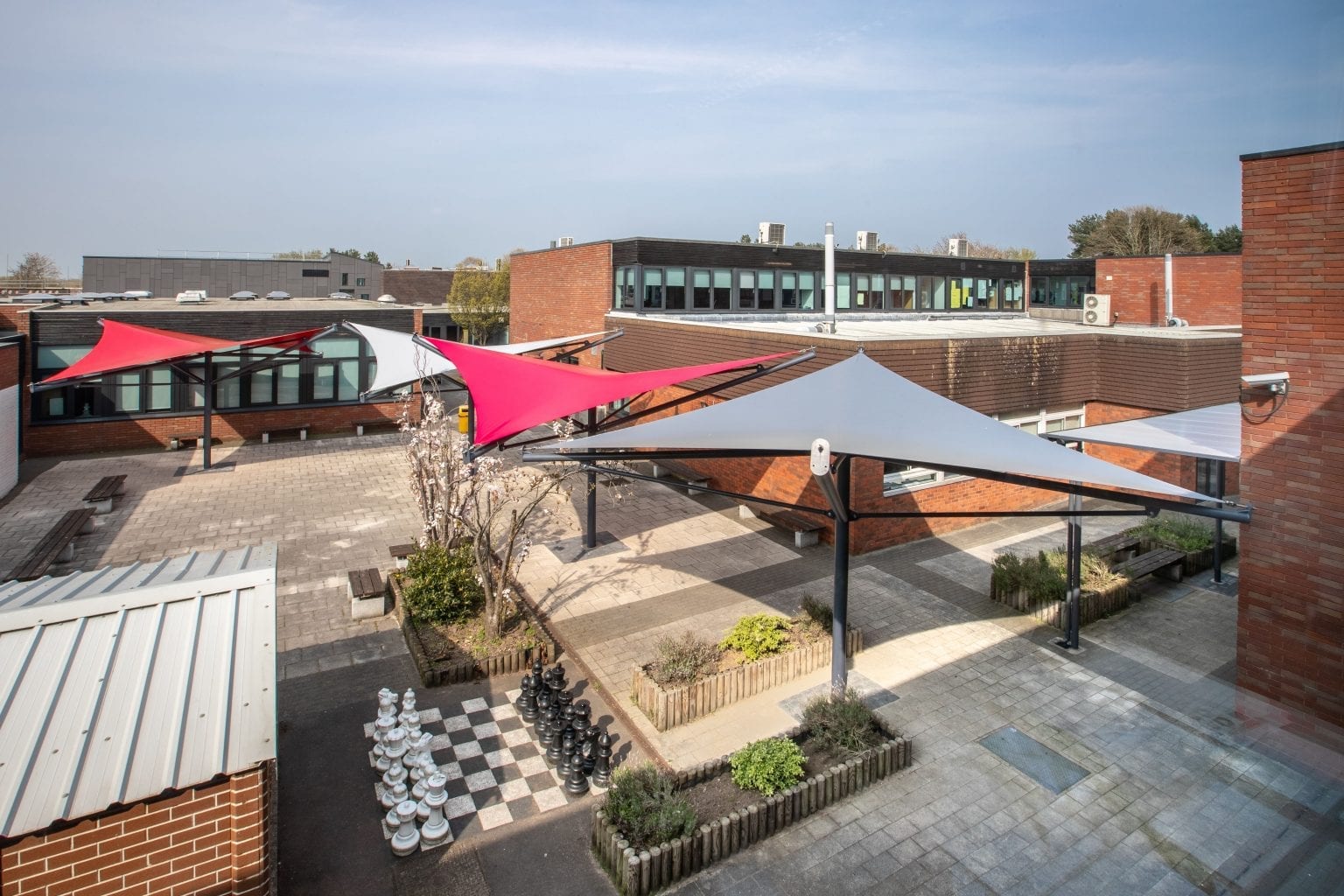 Send us your email and an idea of your requirements and we'll get back to you with a quick price.