City College Peterborough Add Shelter to Quad Area
The staff at City College Peterborough really valued their student's needs and decided to add an area of shelter to their campus. It was important to the team that the canopy was stylish as well as practical.
Project Specification
Product:

Maxima StarSail™

Size:

6000mm X 6000mm

Steelwork:

Gentian Blue - RAL NO. 5010

Fabric:
How rising intake figures are impacting schools and how they can use shelters to combat this issue
As we know, the school-age population has been growing. The count of five to ten year old children in primary schools increased by 446,000 (13%) between 2010 and 2016.
The Department for Education has the difficult task to create the 420,000 new school places that are required between 2016 and 2021 and there are many ways that this can be achieved. New schools are being produced, free schools are being funded and existent schools are being given capital funding to maintain, upgrade and grow facilities. With allowances being stretched, one way that schools are using this capital funding is to make the most of their outside space. Whether to build other classrooms or to add sheltered spaces which can have a great deal of different uses.
Some applications of outdoor sheltered areas include:
• Outside dining areas
• All-weather sports pitches
• Outdoor classroom
• Cycle Storage
• Outdoor theatre
Want to learn more? Read our full blog to learn how you can use shelters to improve upon your school's facilities.
Now the students of City College Peterborough have a dedicated area to shelter under when the conditions are poor. The canopy can also be used as a social space for the students to meet under too. Before exams, this covered outdoor area could be the perfect option to relax and refresh in the fresh air. Or during lunchtimes, it acts as an alternative place to enjoy some food outside.
A&S Landscape has worked with colleges and universities across the UK, as well as nurseries and schools. Our versatile canopies can be used for a range of purposes and be made to meet your exact requirements. Talk to a member of our team today to see how we could help you, on 01743 444100.
We've also installed shelters at other sites in Cambridgeshire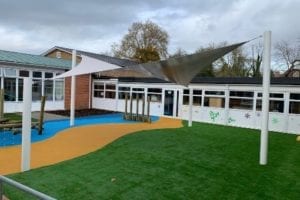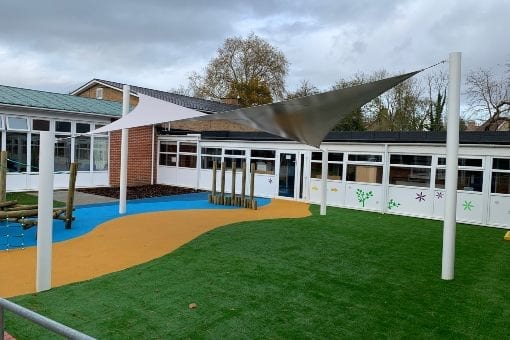 Playground Sail Shade Designed for Stapleford Primary School
Working for the specialist building contractor A&S produced a sail structure at Stapleford Primary School Cambridge, Cambridgeshire. The contract included one 6000mm X 6000mm Maxima™ tensile waterproof fabric sail structure comprising one sail on 4 uprights including for all stainless steel fixtures and fittings.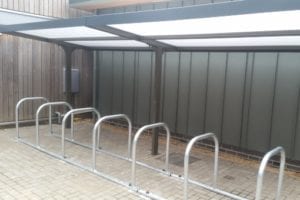 Secure Bike Shelter Installed at Jesus College, University Of Cambridge
A&S made a cycle store in Jesus College University Of Cambridge Jesus Lane, Cambridge, Cambridgeshire. The job involved one Cyclo 'City' cycle store unit measuring 5500mm x 2000mm.
Curved Roof School Canopy Fitted at North Witchford Lodge
In combination with our building contractor client our team created a curved roof canopy at North Witchford Lodge Wimblington, March, Cambridgeshire. The contract included one Motiva™ Duo duopitch curved roof canopy measuring 4800mm X 3200mm and included for our Alu-Tuff™ aluminium box profile guttering and downpipes which were coated in a matching Dura-coat™ colour finish.