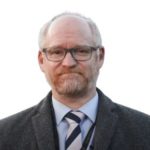 Communication with A&S Landscape was very good. We would recommend them to other schools.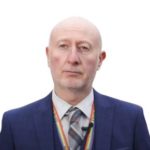 In terms of the design stage, A&S helped me as project manager a great deal. They were superb.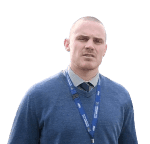 A&S Landscape was very competitive. We chose them based on the time they had invested before we ordered.
Enclosed Dining Extensions
Dining Facilities
Many schools and colleges are finding it challenging when it comes to relieving the stress on their internal building facilities. A&S Landscape provides solutions to your everyday challenges with bespoke school extension projects including enclosed dining canopies.
Alfresco dining may be all the rage, but it's not always possible to deliver it all-year-round due to British weather.
Creating a covered outdoor dining area can have significant commercial and logistical advantages; it can be used to free up internal space, increase the seating capacity and enable students and staff to eat and socialise outside in a comfortable and sheltered environment. It allows the students to get outside even in the rain, giving them a break from the school environment, so they can return to lessons feeling refreshed and ready to focus.
Glazed Buildings
Our glazed buildings are carefully constructed to best utilise the potential of your facilities, especially in overlooked and underutilised areas of your school grounds. Our structures can be designed to blend in effortlessly with the surrounding architecture, converting underused spaces into dynamic new dining and social areas.
An enclosed dining canopy is perfect for all sizes of schools, including primary school, junior school, comprehensive school, boarding school, and independent day schools across the UK. Most schools come to A&S Landscape with the same problem – insufficient space at break and lunchtime to accommodate all of their students. Building onto existing brickwork can be expensive and time-consuming, but our dining canopies are far less expensive and take significantly less time.
Listen to what Kingsmead School said about working us
View Some of Our Design Ideas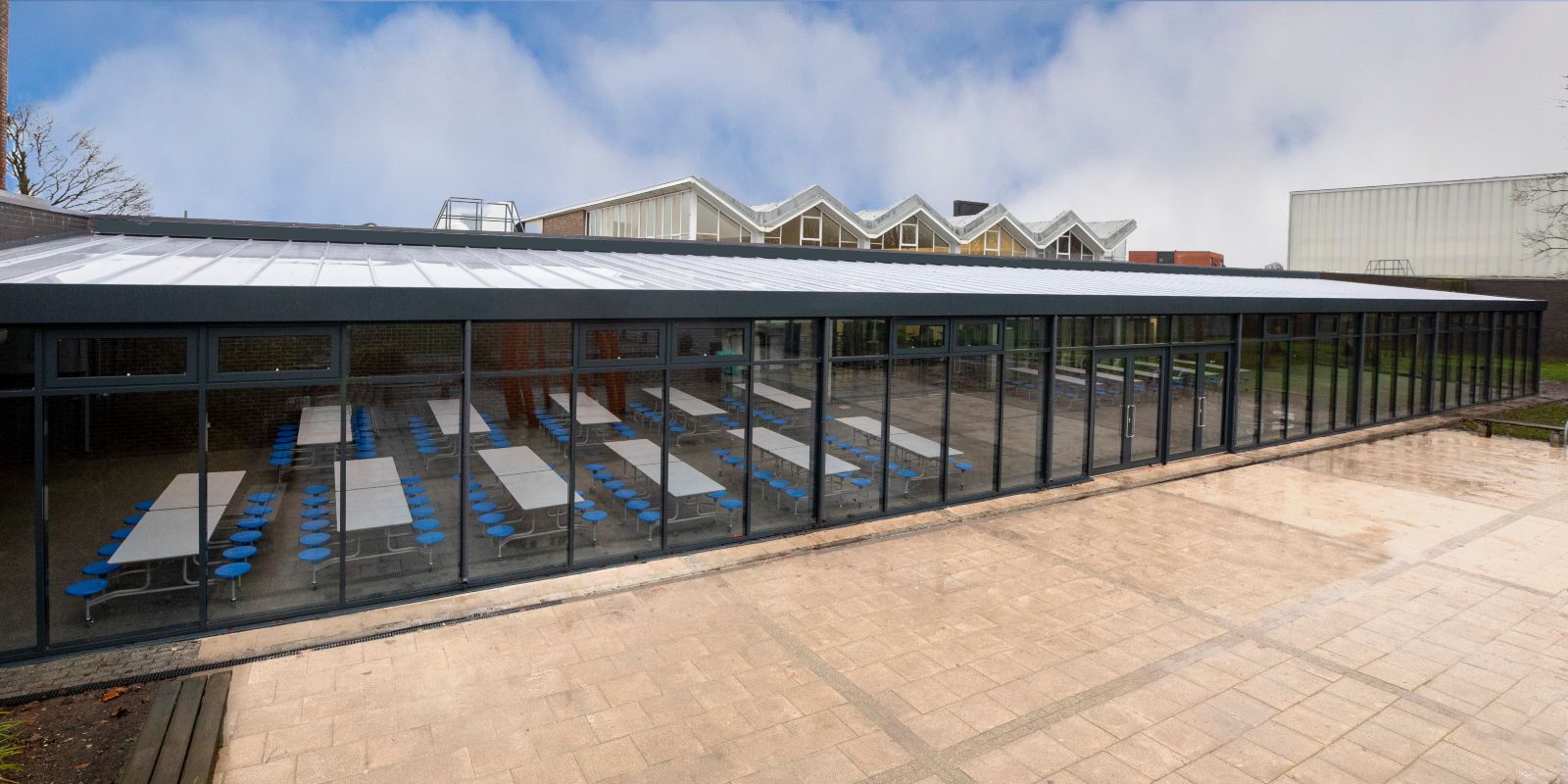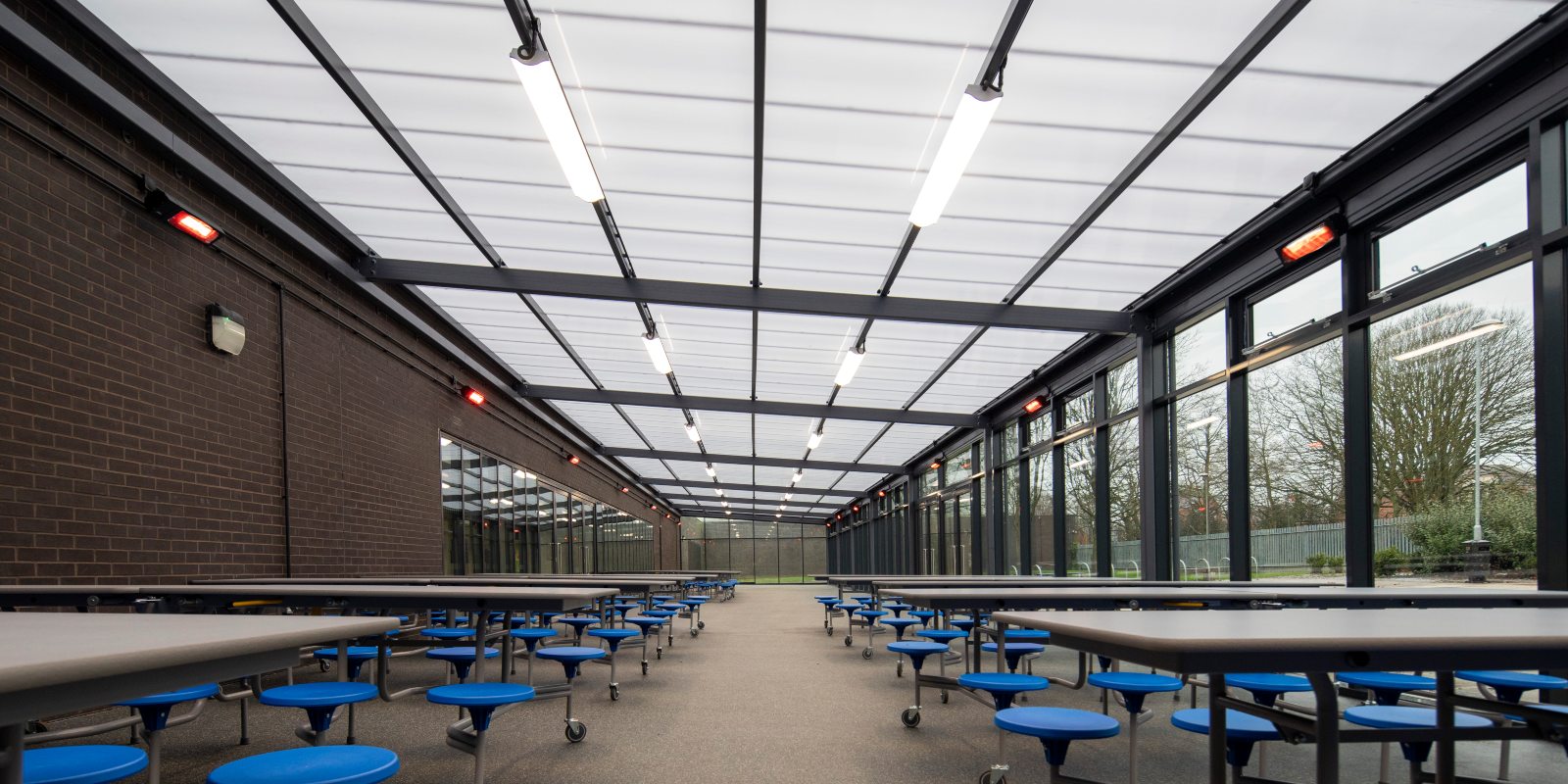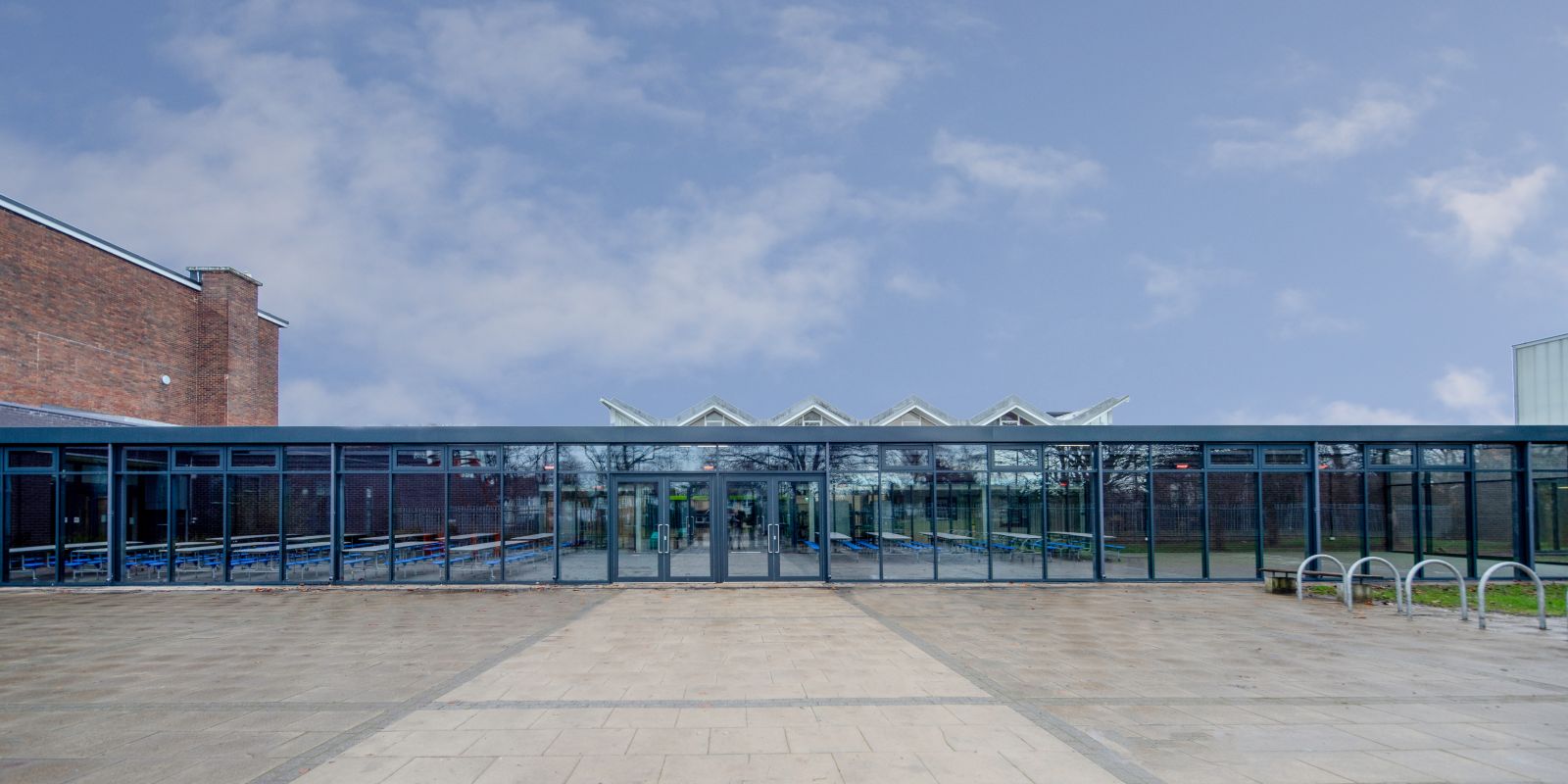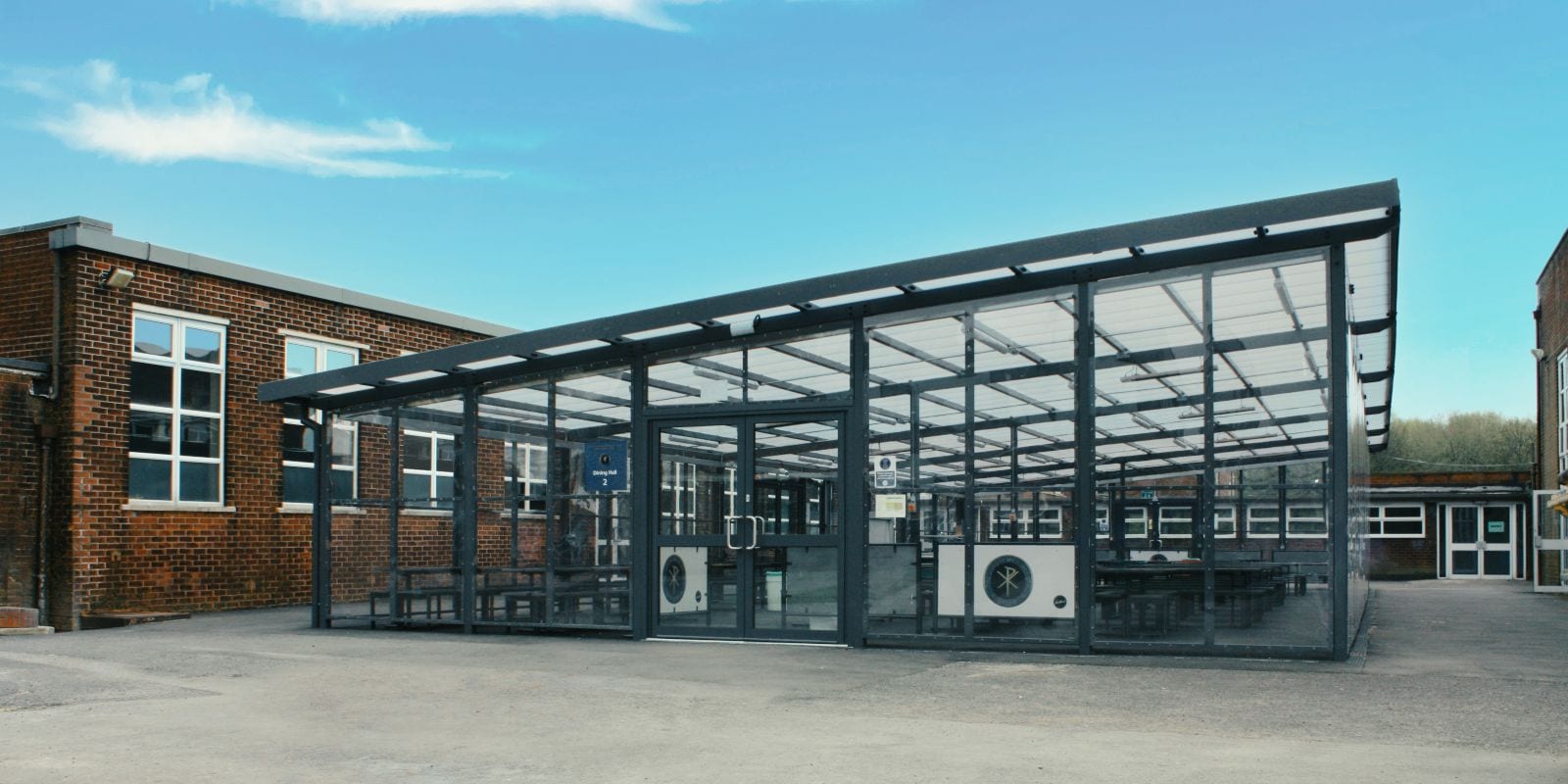 Why Invest in Enclosed Dining Canopies?
Natural Light
The reinvigorating effect of natural light and warmth can be felt in our dining facilities. It is perhaps no surprise then, that when a recent study looked at how the physical design of educational buildings affects student performance, one of the significant individual parameters was lighting.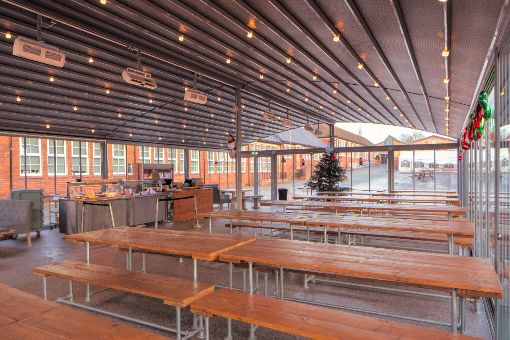 Several studies have shown that daylight is not only good for children's overall health and wellbeing but that it can also significantly improve academic performance.
According to a recent study – 'Effect of Daylighting on Student Health and Performance':
Daylighting promotes Vitamin D generation and circadian regulation
Poor lighting causes discomfort, which reduces learning and it is detrimental to the physical and mental health of students
Daylighting also enhances mental performance, decreases depression, improves sleep, and can help treat Seasonal Affective Disorder
Natural light is completely free of charge
Artificial lighting can be extremely costly. With the price of energy on the rise, being able to inexpensively light your school is a massive financial advantage. By reducing your utility bills using natural light, you'll have a larger budget to spend on important educational activities.
Reduce Dining Queues and Crowded Lunch Halls
Having a dining canopy takes the pressure off existing, internal facilities, providing additional space to serve and seat students during lunch hours. With more room, it puts a stop to queuing out the hall, making lunchtime easier for everyone involved.
Lunch is such an important part of the day, and no one should have to go without it due to not being served in time or having nowhere to sit. Dining canopies are the fastest and most affordable way to solve the problem for good.
Increased Space
The ability to provide extra sheltered space and an expansion of facilities is the most essential feature of canopies. Creating covered outdoor space is a cost-effective option to extending the building, and it may be used for applications such as an additional learning space, dining space, waterproofing after-school waiting areas for parents, or even as a protected storage area for equipment or furniture.
Our Projects
An example of what can be achieved by installing a dining hall extension with A&S Landscape can be seen at Wednesfield High Academy in Wolverhampton. Now that the students and staff have more options for where to eat and socialise, break periods are no longer as congested or rushed. On chilly winter days, the fully enclosed aspect keeps out all types of weather, and the heating keeps everyone warm. Furthermore, the shelter makes far better use of the school's outside area, with a simple yet elegant colour scheme.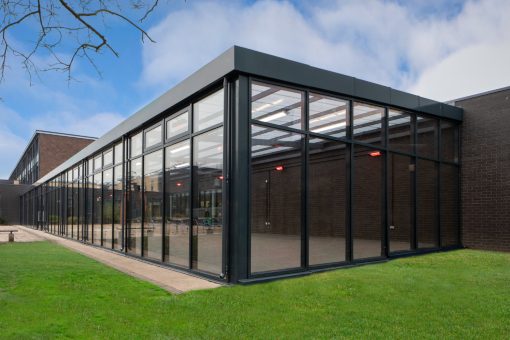 Taking account of the size of the school and the plot available for development, our expert design team drew up plans for yet another custom canopy solution. St Gabriel's Roman Catholic High School in Greater Manchester loved our design and installation and requested additional features. By adding side panels and doors, the canopy cover essentially became a sheltered outdoor room, and an all-weather option for pupils to use during school at lunchtimes and breaks.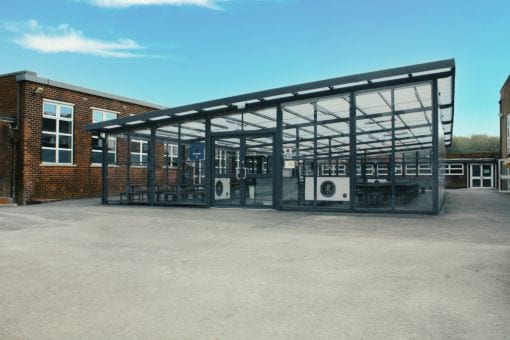 Long-Term Solution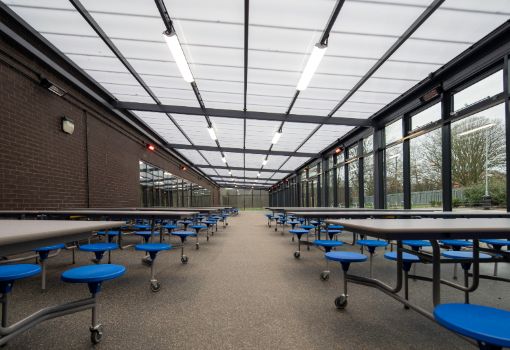 Following the full reopening of schools and colleges across the United Kingdom in the wake of the pandemic, attention has turned to how educators are dealing with social distancing and the 'classroom bubble.' It's crucial to see demonstrate that they can be properly separated during the school day.
With educators naturally seeking to provide more time outside for their students in any scenario, this has been exacerbated by the pandemic, which has resulted in outraged news accounts of students forced to have lunch in the rain in some under-prepared schools. Over the summer holiday, several headteachers and facilities managers have hurried to panic buy or hire marquees, providing them more with covered eating areas when their students return. Is this, however, a long-term solution?
While we are searching for short-term solutions to meet the immediate challenges posed by the pandemic on a global scale, in this situation, a more permanent canopy structure provides the best value, and a more pleasant aesthetic, for an education setting. A unique structural canopy, far from the off-the-shelf appearance of a white tent, offers not only the essential covered space in the short term, but also allows schools and colleges to include an extra area into their lesson plans and day-to-day activities. This, along with the stability and dependability of a canopy constructed with site-specific structural calculations, adds to the advantage, assuring that snow and wind loadings will not pose a safety hazard as winter approaches.
While the immediate future is uncertain, it is apparent that when planning any project at a school, properly enhancing outside space is critical. While interim solutions are in place for the time being, the long-term benefits of dining, playing, and learning outside under a canopy will be extremely beneficial.
Why Choose A&S Landscape?
Safety Is Our Priority
According to Ofsted, allowing children to learn outside of the classroom is a critical component of early childhood education, but many schools require the installation of specially designed playground shelters and covered walkways to provide a safe and comfortable outdoor environment for their students.
We specialise in providing canopies for the education sector, including a school canteen extension, dining canopies, and shelters. They are designed to allow students to dine, learn and socialise outside in all weather conditions. Our canopies provide a seamless connection between the classroom and the outdoors, providing shelter from the wind, rain, and sun. They can also provide school teachers with the ideal environment in which to develop their students' learning in an outdoor setting, as recommended by Ofsted's Early Years Foundation Stage.
To support outside all-weather learning, covered areas are especially encouraged. Shaded areas are also being actively promoted in UK schools to help protect pupils from potentially harmful UV radiation and lower the risk of sunburn while eating, playing, or studying outside. Permanent canopies and coverings provide shade on hot days and a dry area during rainy days, providing for weather-independent outdoor study all year.
Bespoke & Versatile Designs
Not only do our canopies come with a range of technical design features, but there is a choice of steelwork and roof material colours too. Your school dining hall can be a sleek and impressive shelter solution. It's perfect for meeting the needs of hungry students looking for space to dine during the course of the school day.
Our structures are custom designed and are a weatherproof alternative to inside dining facilities. It's a great way to encourage students to step outside for fresh air at break times. Plus, dining canopies can also be used for aesthetic purposes to enhance the look and feel of school buildings, giving that extra wow factor for prospective students and families.
All of our structures are constructed with versatility in mind. Our catering facilities and kitchen facilities can also be used as outdoor teaching canopies. These completely enclosed canopies can have electrical outlets for bringing lessons outside. The inclusion of lighting, heating, side panels, and doors means that these additional facilities can always be comfortably enjoyed, all year round, regardless of the weather.
We appreciate that each school is different and can have different priorities, such as budget, available space, and even difficulties around student flow within their school environment. Therefore we work closely with each school and other contractors to design custom school extensions, offering the maximum amount of personalisation with the best installation solution.
Your school dining hall can be a truly flexible facility, making for a great outdoor classroom shelter. You can cover one or every side with glass or polycarbonate – or even electrically operated roller shutter doors which can be perforated or part-glazed to let in the light and powder coated to match or contrast with your chosen design.
Our flexible and personalised approach means we work directly with you to bring your vision to life, regardless of the size of the shelter or the difficulties of the location. We're always ready to offer design advice based on our significant knowledge and experience to guarantee that your canopy is the best it can be.
Our custom canopies are handcrafted by us, but they are inspired by you.
Durable Materials
A&S Landscape design, manufacture and install high-quality canopies, for every type of public building.
For us quality is paramount. Our school canopies are made to last for many years. The majority of our product designs boast galvanised and polyester and powder coated steelwork, unbreakable polycarbonate roofing, aluminium rainwater goods and more – withstanding the harshest of outdoor conditions.
Working with the Experts
Our expert technical team helps to make the planning, design, and construction processes run smoothly for your project. Working as a cohesive, dynamic, and resourceful team, this successful combination eliminates the risks of costly delays and miscommunication.
We manage all parts of your project in a seamless manner. Our construction scheduling team can work around your exact site needs, including term-time installation, with little disruption to your school.
Our team is made up of knowledgeable engineers, insightful consultants, and skilled designers. We have strategic partnerships with some of the industry's greatest technical consultants, and therefore can significantly minimise both your time and expenses paid throughout the conception and planning stages. We ensure that your project gets off the ground without wasting valuable resources or causing unnecessary stress.
Funding
Maintaining a progressive establishment's infrastructure in accordance with parents' high expectations for their children implies that schools must get the most out of every amount invested now more than ever. Schools do not want to be coerced into purchasing cheap or performing half-hearted work in these uncertain times.
A&S Landscape can now assist you in obtaining the products you want while better managing your budget, allowing acquisitions to be made in the best strategic interests of the school rather than being constrained by the yearly budget. Our friendly and professional team can assist you with finance options.
If you are seeking ways to turn underutilised outdoor spaces into enclosed dining spaces, we'd be pleased to help. Our project team can design a stunning glazed building that not only serves a practical purpose but also has the potential to enliven and inspire those who use it.
A&S Landscape can provide bespoke glass structures and attractive facilities that fit in flawlessly with existing buildings – at a significantly lower cost than a traditional construction. Get in touch with our friendly team by calling 01743 444100.
Read about one of our featured enclosed canopy projects
St Gabriel's Roman Catholic High School in Greater Manchester Add Dining Structure
St Gabriel's Roman Catholic High School wanted to look at more architectural options than just installing an overhead enclosed structure. They were able to take the project to a whole new dimension as a result of this.
What was the project brief?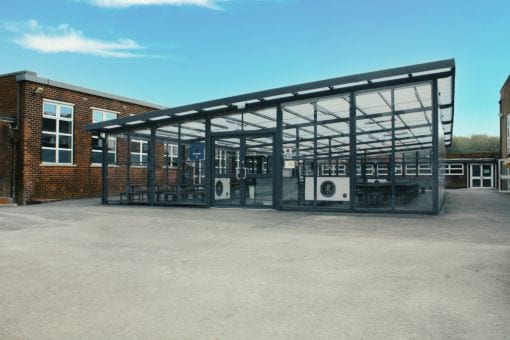 St Gabriel's Roman Catholic High School, near Bury's Bridge Road, is a faith-based school with an ethos of "Learn, Love, Believe." It's a school with strong family values, with some staff members preferring to send their own children there. Some of the staff were once students there themselves!
St Gabriel's Roman Catholic High School, like so many other high schools around the country, is a bustling institution with students ranging in ages from 11 to 16. With over 1,000 students attending each day, areas can get overcrowded, leading to limited space, especially at lunchtime. There are, however, solutions to this problem with some creativity, innovation, and expert guidance.
What was our enclosed dining structure solution?
Our skilled design team created proposals for a Motiva LinearTM free-standing canopy structure, taking into account the size of the available development area and the number of students it needed to cater to. The design was so well received that St Gabriel's Roman Catholic High School requested an installation spanning 26 metres by 12 metres. The Motiva LinearTM design offers a straight roof and is available in nearly any size with the relevant design elements built-in. The dining structure is both aesthetically pleasing and extremely versatile, as it can be used as covered walkways, entrance or door canopies, and as a dining extension too.
St Gabriel's Roman Catholic High School were keen to explore more design options, rather than just installing an overhead structure. On this basis, the project opened up ample opportunities and potential. With the addition of side panels and doors, the structure was transformed into a protected outdoor room and a weatherproof alternative for students to enjoy during break time and lunchtime.
What was the result of their new glazed dining structure?
Our structures are available in a variety of steelwork and roof material colours, as well as a variety of technical design elements. Slate Grey (RAL 7015) steelwork and Opal polycarbonate roofing were chosen for St Gabriel's Roman Catholic High School. As a result, the final product was a stylish and extraordinary outdoor structure, ideal for fulfilling the needs of hungry students searching for a place to eat during the school day. Their new bespoke dining structure is a weatherproof option to the inside dining facilities, and it's a terrific way to get the students outside for some fresh air during breaks.
About the client
St Gabriel's Roman Catholic High School has gone through a makeover in the last year. Due to COVID-19 constraints, their online 2020 Open Day was presented via YouTube, and it's worth watching to learn about the innovative initiatives that have been implemented since Headteacher Lisa Corrigan came onboard. Lisa discusses the brand-new interior dining room and dining area structure, and it's nice to see their new Motiva LinearTM canopy cover included in the video as well!
St Gabriel's Roman Catholic High School also offers a wide range of extracurricular options. Not only are students pushed to achieve well academically, but they are also encouraged to broaden their talents and experience in other areas. This is accomplished by studying British Sign Language (BSL). BSL is an excellent approach to acquiring a skill that breaks through boundaries and teaches students the value of inclusion. St Gabriel's Roman Catholic High School provides the opportunity for all students to learn and develop via a variety of activities in addition to BSL.
Why invest in a custom structure?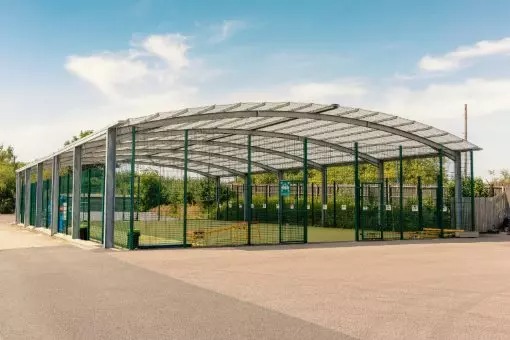 You might not require the same dining structure as St Gabriel's Roman Catholic High School, but here are some examples of other uses, showcasing how diverse a bespoke structure can be for any busy school site:
Why are structures perfect for high schools?
A bespoke structure is a terrific way to bring underutilised portions of your campus back to life. They can be the answer to a wide range of difficulties for headteachers and schools with restricted budgets and expanding student numbers, as they have a variety of purposes. However, they aren't merely for functional purposes. They also contribute to the creation of great, sturdy social places where students can enjoy being outside while also serving as outdoor classroom facilities for schools that aim to promote outdoor learning. Giving children a variety of alternatives and constructing appealing locations for them to explore, will make any new structure a win-win situation for the whole school community.
If you're unsure which structure is suitable for your high school site, that's not a problem. Our knowledgeable staff is here to answer your concerns and assist you in exploring your options. It's easy to get in contact with us. For a free, no-obligation estimate, simply fill out our online contact form or phone us on 01743 444100.