Colourful Roof Canopies
Brighten up your canopy with coloured polycarbonate roof canopies
Enquire Now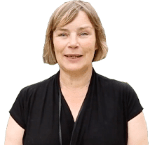 We immediately found A&S Landscape to be very efficient and they provided a wonderful first draft.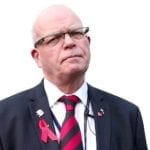 They took into consideration all of the practicalities that made the end product just what we wanted it to be.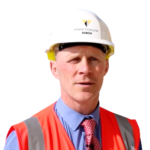 With A&S from start to finish, it has been a smooth process. We're happy to work with A&S again in future projects.
Get a Quick Price
Send us your email and an idea of your requirements and we'll get back to you with a quick price.
Colourful Polycarbonate Roof Canopies
Making the most of your outdoor space is more than just adding practical features – it's about creating areas that the people who use your buildings connect with and want to spend time in. By building structures and canopies that enhance your spaces, we can help you to make the most of them and create an environment that is positive, practical and that you want to use.
Coloured roof canopies can be used by businesses in a wide variety of sectors, including the education sector, but are also popular with commercial organisations, as we can create polycarbonate canopies that complement your brand for a striking, professional look in 10 different colours. Coloured roof canopies allow you to protect your buildings and brighten your outdoor space, without compromising on the appearance of your building or investing in costly additional construction work.
At A&S Landscape, we have more than 40 years of experience in designing and building inspiring, elegant canopy solutions for our clients, including colourful canopies using polycarbonate materials. We're focused on quality and longevity when it comes to our projects, using materials and construction processes that meet very specific requirements, and taking a truly personal approach to every one of our projects. To find out more about how we can help you, or to get a quick price estimate, please don't hesitate to get in touch with our expert team, who will be happy to assist you any way we can.
Polycarbonate Roofing Colours
We can supply polycarbonate coloured roofing sheets for fitting to your own structure or even sheets for other applications.
As a large importer of coloured twin wall polycarbonate sheet stock, we can offer good rates on polycarbonate sheet colours including green, blue , yellow, red – in fact, polycarbonate in 20 different colours. Many industries use coloured plastic sheet, multi coloured perspex, coloured corrugated plastic panels or coloured acrylic sheet in applications that would be better served by coloured polycarbonate. Both coloured multiwall polycarbonate sheet and coloured solid polycarbonate sheet is available. If you are interested in purchasing coloured polycarbonate sheet please email [email protected]
Send us your email and an idea of your requirements and we'll get back to you with a quick price.
Colourful Roof Canopy Ideas
Take a look at some of our colourful polycarbonate shelters
Two Multicoloured Polycarbonate Canopies Made for The Bridge School in Ipswich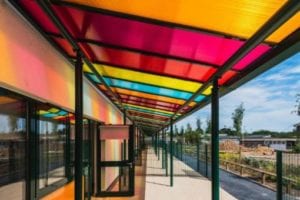 As part of the development of the new North Campus site, The Bridge School installed two straight roof playground canopies. As the perfect finishing touch, the shelters were complete with multicoloured polycarbonate roofing sheets, using the colours Foxglove, Poppy, Daffodil, Mandarin and Mint. This will create plenty of covered outdoor space for the pupils to use during their break times, as they let off steam and refresh ahead of their next lessons. It's always great to see schools investing in their outdoor spaces as there are so many benefits to playing outside for young children. Outdoor play equipment can also be stored under the shelters, saving valuable storage space inside the buildings. In the future, side panels could also be added to the canopy to create an enclosed space. Read more about the colourful canopies at The Bridge School here.
Rainbow Coloured Playground Canopy for St. Mary's C of E Primary School in Yorkshire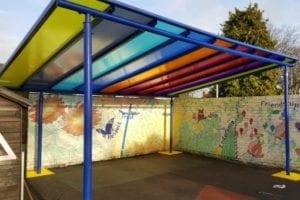 The early years playground at St. Mary's Church Of England Primary School was already a fun place to be, with beautiful murals painted on the walls. The problem was that it couldn't be enjoyed when the weather was wet. The school wanted something that would cover the playground and make it useable in bad weather, but they wanted something eye-catching, too. When they came to us, they chose to get a Motiva Linear canopy installed. This offered them lots of benefits, as it creates a dry space on the playground that pupils can enjoy. No more being stuck indoors when it rains, they can run and play as much as they like. The canopy is certainly a statement piece too, featuring a coloured polycarbonate canopy. This lets light stream through and creates patterns on the ground, making the playground even more inviting. Read more about the straight roof shelter at St. Mary's Church of England Primary School here.
Multicoloured Shelter Creates All-Weather Playground at Oundle C of E Primary School in Peterborough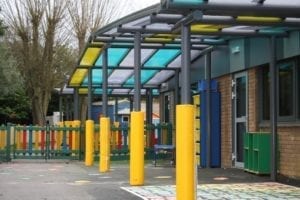 Oundle C of E Primary School has an admirable policy, where they always consider the needs of their pupils first. If they make any changes the first question asked is 'will this benefit the children here?' This extends to the design of the school building itself. That's why they were considering a canopy for their playground, as it would allow the children to get out and play, even when it's raining. They didn't want their pupils to be cooped up indoors. They came to us looking for the best solution for their playground. They decided on a Motiva Linear for the playground, as it was a great way to protect the area from rain. Now children can use their playground whenever they want, even when it's raining. The school also chose a fun colour scheme, using yellow, mint green and grey polycarbonate to create a modern and exciting look. Click here to see more about the colourful canopy at Oundle C of E Primary School.
Colourful Polycarbonate Canopy for Djanogly Northgate Academy in Nottingham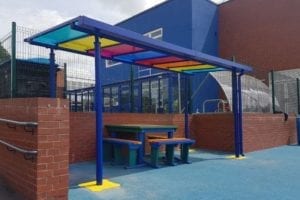 There are so many things to keep in mind when designing school grounds. They need to be functional, so every student gets the best learning experience there. However, they also need to be bright and fun in order to make the property welcoming for all. Djanogly Northgate Academy knows this, and that's what they kept in mind when designing a new outdoor seating area. They asked us to design a Motiva Linear canopy that would shelter students when they're outdoors on breaks, but also bring some colour to the area. Using coloured polycarbonate, the multicoloured roof lets light through and looks wonderful on sunny days. The shelter has been a big hit at the school, allowing students to enjoy the grounds even on days when the weather isn't at its best. See more about the multicoloured straight roof shelter at Djanogly Northgate Academy.
Riverside School in Yorkshire Update Playground with Multicoloured Shelters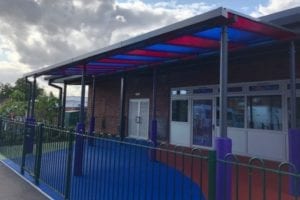 Riverside School has an excellent playground, which the pupils love to play in when the weather is good. The problem is that when it rains, they're not able to get outside. It's less than ideal, as wet play doesn't allow the children to blow off steam like they can normally. The school wanted to find a solution, so they looked into building coloured polycarbonate canopies on site. They chose two different canopies, a Maxima Linear canopy, and a Maxima Sail. These both offer shelter from the rain, so pupils no longer have to stay indoors when the weather is wet. It makes break times a lot more fun all round. The red and blue polycarbonate in the Linear canopy adds a lovely visual touch to the school, too. When the sun shines through it, it creates attractive patterns on the ground which is just the icing on the cake. If you want to know more about the straight roof canopy and shade sail at Riverside School, click here.
Multicoloured Straight Canopy at Wyndcliffe Primary School in Birmingham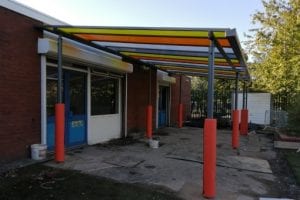 Wyndcliffe Primary School had unused space on their grounds that they wanted to make available to their pupils during the school day. The problem was, it was too exposed and so it wasn't useable in wet weather. They wanted to allow pupils to play in wet weather and give teachers the opportunity to teach outside, so they knew they needed something to cover the space. They came to us looking for a solution to this space. They chose a Motiva Linear as it offered them several different benefits. Firstly, it allowed them to cover the space and allow children out to play. The space could be used for lessons, and parents could even shelter beneath it when waiting for their children at home time. They also decided to use several different colours in the roof of the canopy, using grey, orange and yellow polycarbonate. It makes the area much brighter and more exciting. Learn more about Wyndcliffe Primary School's colourful playground shelter.
Our Featured Multicoloured Canopy Project
Ysgol Bro Teifi in Wales Add Coloured Polycarbonate Roof Canopies

What was the project brief?
Ysgol Bro Teifi, an all-through 'super' school located in the town of Dyfed, Wales, was officially opened for the academic year of 2016/17. Five schools were merged to create this new centre, Ysgol Dyffryn Teifi, Aberbanc, Coedybryn, Llandysul, and Pontsian, and is the biggest ever building commissioned by Ceredigion County Council. To accommodate the 1,000 primary and secondary school children who were to attend, the project involved the construction of an impressive two-storey 11200m² facility.
Embarking on such a large-scale project, the school and the county council knew that the site needed to include outdoor areas that were accessible all year round. This is when the council approached A&S Landscape to supply and install a multitude of canopies. The council detailed exactly where they wanted the canopies located on the site map, with a number of specification details. It was necessary for the shelters to be made from weatherproof materials, to offer perfect protection from all types of weather throughout the year, but they also needed to appeal to the children that would be using them.
What was our canopy solution?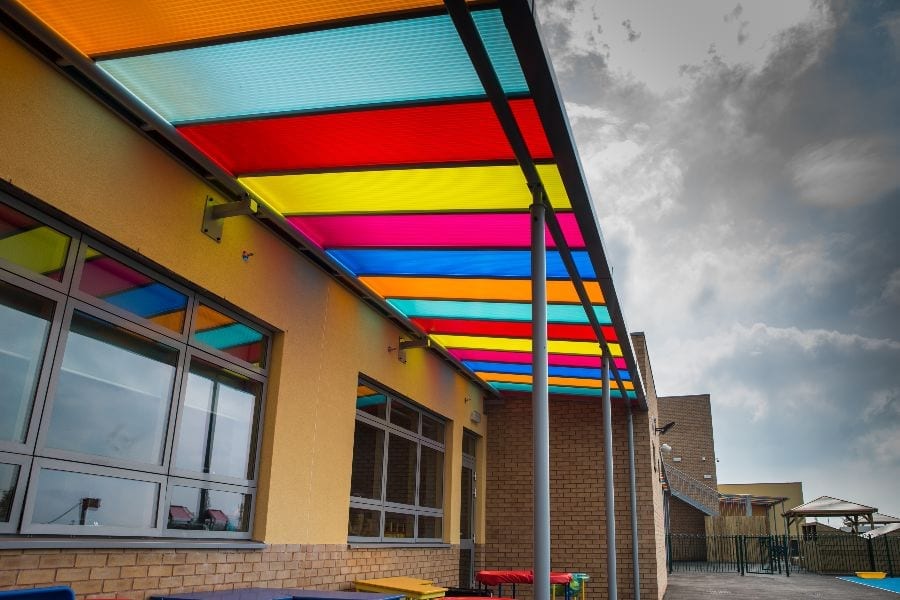 All of the canopies installed at the school grounds were from our Motiva Linear range. The frames are made of steel, a great material for a sturdy shelter, and finished in Grey RAL 7000. We topped the canopies with multicoloured polycarbonate roofing sheets, that with light transmission from the sun, create a rainbow effect on the floor. The school chose the following colours for their roofs on the shelters, Daffodil, Foxglove, Lagoon, Mandarin and Poppy. With a large range of colours available for the polycarbonate sheeting, the school had a wide choice.
The impact-resistant polycarbonate roof sheets have a straight roof, asymmetric design (where one side is slightly higher than the other, also known as monopitch). This means that water can efficiently run off the lower side of the roof, providing perfect protection from the weather. There are numerous uses that these shelters are practical for, two examples include covered walkways and dining shelters. The application standard for these types of shelter is against a wall (like here at Ysgol Bro Teifi), but they are also a great choice for a freestanding structure. Whichever configuration is chosen, as a physical structure they have high impact strength.
What was the result of the new shelters?
The canopies looked marvellous against the existing buildings of the school grounds, giving the outdoor areas a vibrant upgrade. The colourful polycarbonate roof sheets allow for a high percentage of light transmission to create a vivid pattern on the floor, which are particularly enjoyed by the primary children who are fascinated with the colours. The canopy structures really help to create a fun and exciting learning environment for all ages, enhancing their learning experience.
With our help, the school have been able to ensure that the school has a considerable amount of outdoor space available to the children all year round. It provides a safe environment even when it's raining for the children to learn, play and explore the outdoors. The shelters also control internal temperatures, giving excellent comfort for the lessons taught inside. These canopies are just another amazing addition to the students' already-great experience at Ysgol Bro Teifi. Both the staff and the children are extremely happy with the several new additions.
About the client
Ysgol Bro Teifi, Dyfed is located in the South West of Wales. Newly built for the academic year 2016-17, it was the result of a large-scale merger project for the county council. The school teaches children all the way through from early year settings up to the end of secondary school. They promise a new and exciting journey, and a colourful one too thanks to the new canopies, for each student who takes up education with them. Take a look at the Ysgol Bro Teifi website, which features one of the shelters we installed.
We were thrilled to work on this project alongside the school and county council. It was a pleasure to work on such a large-scale project with the various teams involved, who were all friendly and demonstrated excellent responsiveness. We are glad to have supplied them with a selection of canopies with excellent durability, that will undoubtedly serve them for a long time.
Why choose a coloured polycarbonate canopy for your school?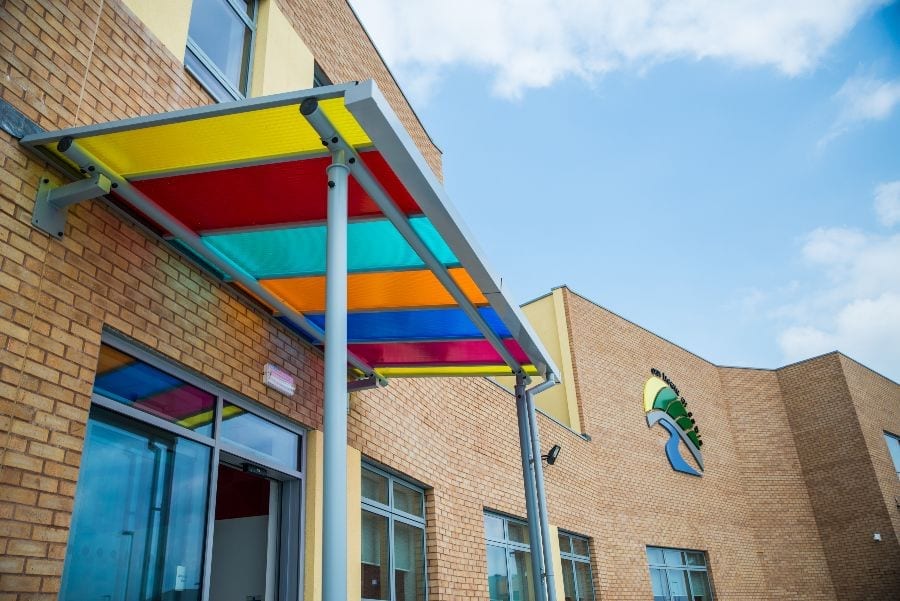 As the primary construction material of the roof, polycarbonate has excellent weather-resistant qualities, that provide perfect protection from all types of weather. In fact, they offer the unique durability of being virtually unbreakable. They are easy to maintain and clean, so even long after the installation, you can enjoy a great quality canopy.
Due to their extreme versatility, there are several possible uses for these shelters one of the most popular being a playground shelter. Widths of 10000mm easily achieved, and with additional design features, these widths can be extended further still. This means that as an outdoor canopy, they can fit almost any dimension.
Another unique quirk of the roof covering is all of the available colour options. This makes them the perfect addition to primary school environments. There are many positive impacts colours can have on the development of young children in early year settings, with the different colours helping to stimulate different attention levels. The colour tinted panels allow you to create the sort of environment that will benefit the children, or you could even brand it in school colours.
With the huge range of benefits to offer and their high-performance value, these shelters are a fair price and great value. What are you waiting for? Add some colour to your campus!
Why choose A&S Landscape?
We have 44 years' worth of experience when it comes to the design, supply and install of shelters. In that time, we have worked with a variety of educational institutions, ranging from nurseries all the way through to university campuses. Our fantastic range of shelters has something for everyone, offering excellent standards, not just in our products, but in the additional available support we commit to providing.
It is all of these factors that make us a popular choice across the UK. We don't just install a canopy for you, we will help you find the best solution for your needs. Asides from the obvious benefits of installing a shelter, we can go further by going through the exact details of what you are hoping to achieve. Whether this is a specific project, or you would just like to add stylish spaces around your campus, we know certain products will be better for you than others. It is our responsibility to provide greater clarity on which canopies are not just a good option, but the best option.
For further information, please get in touch with our friendly team on 01743 636084 or at [email protected]. When it comes to our coloured polycarbonate sheets uk range, we're a clear market leader.

Ysgol Bro Alun Before and After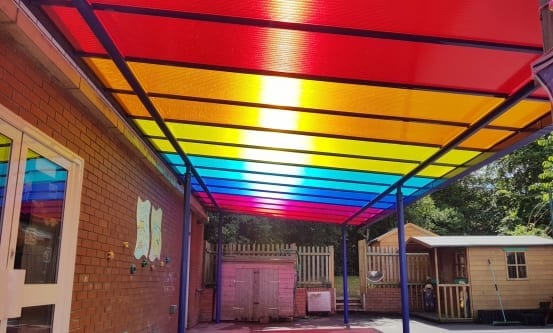 Excellent service, on time, a clean site maintained. Efficient team and a great job done!
Telford & Wrekin Council - St Lawrence Primary School
View Project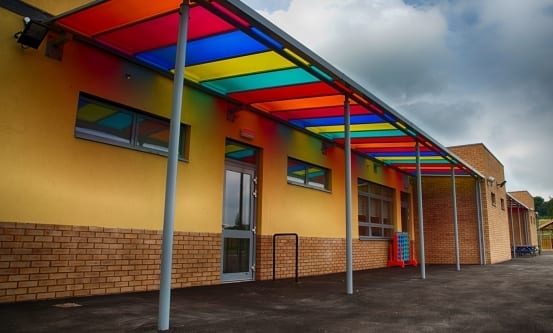 I'd be quite happy to work with A&S Landscape again on future projects.
Site Manager - Llandysul School
View Project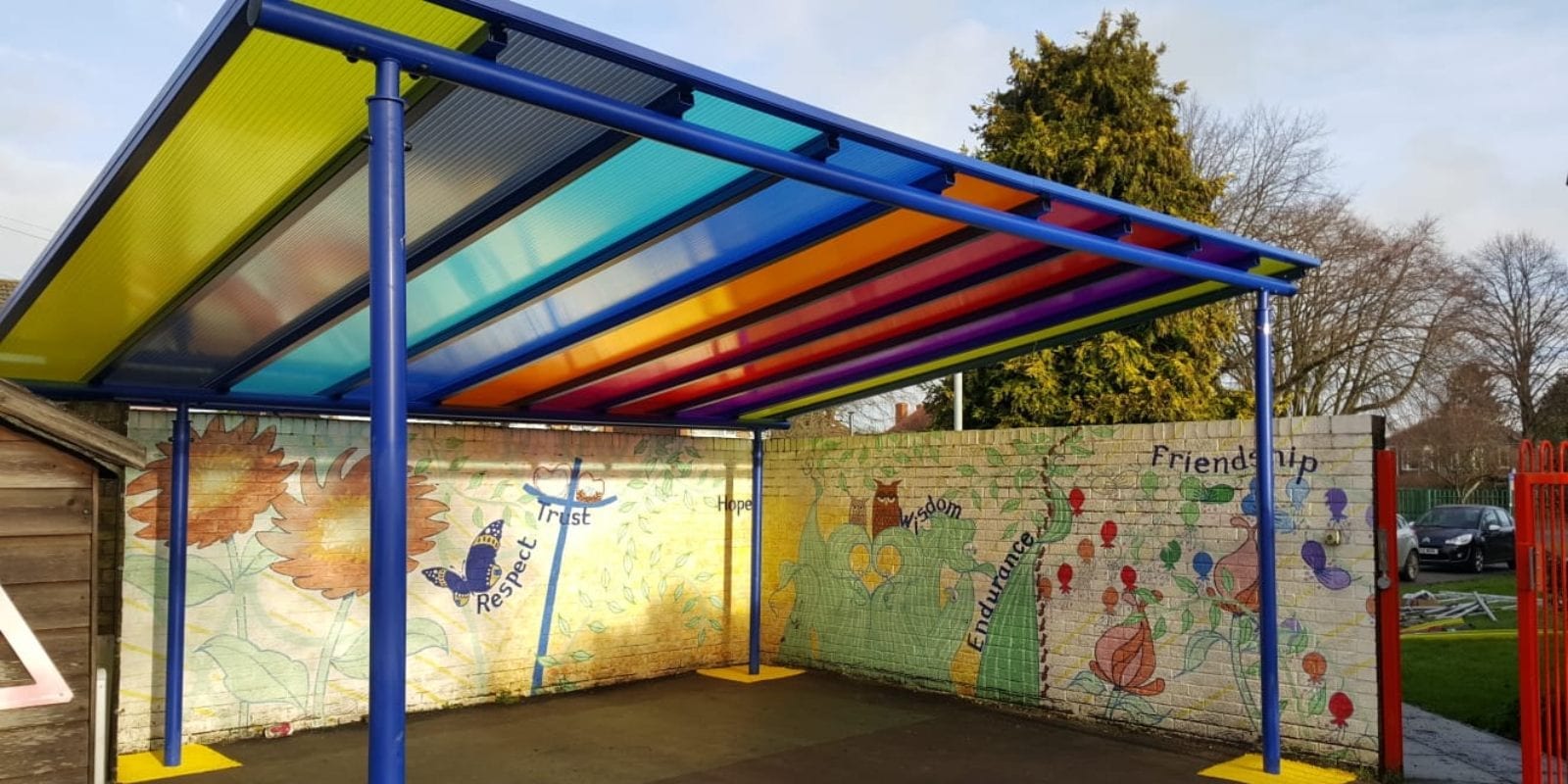 All of the work was done on time, during the term without any problems. The price was good too.
- St Mary's Church of England Primary School
View Project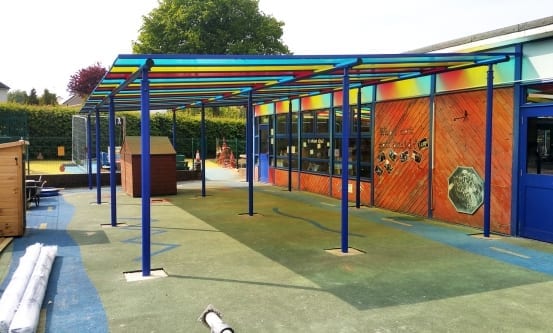 The on site team have worked hard and completed the work on time and to a high standard.
Headteacher - Whitegate Primary & Nursery School
Read about more of our coloured roof canopy projects
Multicoloured Polycarbonate Roof Canopy at Blenheim Park Academy
Southmuir Primary School in Scotland Add Colourful Entrance Canopy
Colourful Playground Shelter at Chaddlewood Primary School in Devon
Colourful Straight Roof Shelter Installed at The Hall School in Glenfield
Rothley Primary School in Leicester Add Colourful Roof Shelter

A free guide containing information on over 80 different grant schemes available to schools