Multicoloured Playground Shelter at Blenheim Park Academy in Norfolk
Posted on 05/06/2020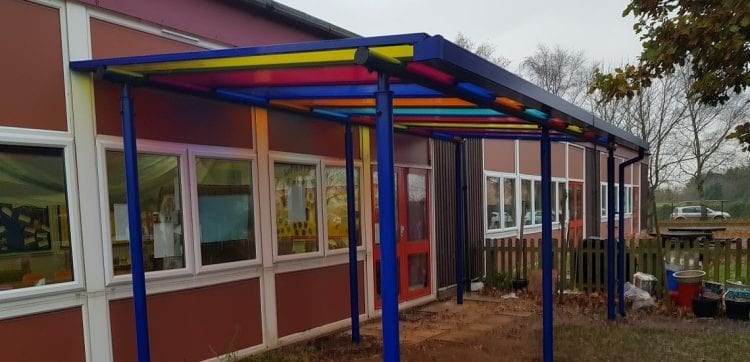 The fantastic team at Blenheim Park Academy wanted to develop the outside area in their early years and key stage one centre. A&S Landscape was asked to design a play area shelter which would help the pupils spend more time outside, even in poor weather conditions.
What was the project?
To create an area of shade at Blenheim Park Academy in Norfolk by installing a play area shelter.
Which canopies did we use?
We decided to use our straight roof Motiva Linear™ shelter, our monopitch design. We've installed this canopy type at many schools across the UK, as it's a cost-effective shade solution. This shelter can be installed either freestanding or mounted to a building.
What was the problem?
Blenheim Park Academy in Norfolk wanted to further improve the outside area which the early years pupils used. The teachers also wanted to get better use out of the external space, as it couldn't be used when it was too hot, wet or windy. A&S Landscape's team worked with the school to design the ideal playground canopy which would meet all of the requirements.
What was our solution?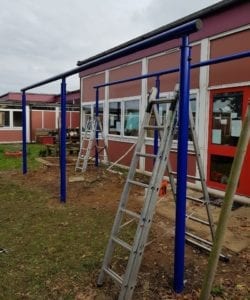 One straight roof shelter was installed at the school, outside the EYFS and Key Stage One classrooms. The Motiva Linear™ measures 6000mm X 3000mm so there is plenty of space underneath for the pupils to gather and play. The main feature of this play area canopy, however, is the multicoloured polycarbonate roof. Made with a range of different coloured sheets, the overall effect is fantastic and has definitely added a splash of colour to the area. The steel framework was also finished with an Ultramarine Blue RAL colour which contrasts well with the rainbow roof.
What was the result?
The young pupils of Blenheim Park Academy love their colourful canopy and it has become a very popular spot at the school. Even when the weather is pleasant, the children race to play underneath the shelter. The teachers also take their classes outside without having to plan around the weather as the classes love the alternative environment. Overall the new school shelter has been a huge success and we are glad we make such a positive impact on the academy.
A little bit about the client…
Blenheim Park Academy is located in Norfolk and is surrounded by picturesque green fields. It's so important for children to spend quality time outside in the fresh air, and this primary school certainly has plenty of clean, countryside air! It's great that the school decided to invest in their early years centre, this is such a crucial age and now the young pupils will receive a great start to their education.
We thoroughly enjoyed working with each member of staff at the school, it's clear to see that they are truly passionate about providing the best experience for each child. The school also rated A&S Landscape five stars for the project, which was the cherry on top of the cake.
Feedback
'Great, we love the canopy.'
– Blenheim Park Academy
Why choose a multicoloured polycarbonate canopy?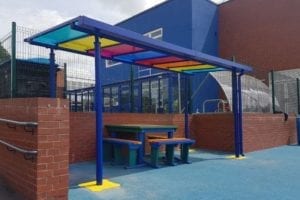 Our range of polycarbonate canopies can be designed to suit your school or business, by changing the colour of the framework and the roof panels. One of our most popular straight roof shelter designs is our multicoloured polycarbonate roof. This is where we use a range of brightly coloured sheets to create a rainbow effect.
This colourful canopy creates a real statement in your playground, adding an instant pop of colour. Often these shelters will feature subtle coloured steelwork, so the contrast brings out the roof even more.
Our multicoloured canopies also help to stimulate children's imaginations. When the sun shines onto the polycarbonate sheets, the colours cast onto the floor below. This beautiful effect will create a magical and unique environment for the pupils to play in. And you don't just have to use a rainbow colour scheme, we've also designed shelters with two or three alternating colours.
How can A&S Landscape help?
Whether you're looking for a playground shade sail or a curved roof dining area canopy, we can help you pick the right product and ensure you get the best end result. We've worked with hundreds of nurseries, schools, colleges and universities installing our range of shelters. Over this time, we've received fantastic feedback and built a strong reputation within the industry.
Don't just take our word for it. Have a look at just some of our client testimonials to see what people have said about us. Or browse through our extensive product gallery to get inspiration for your next project. We would love to add you to our ever-growing list of happy clients.
Talk to us today and start your project, we can give you a quote for the work without the need for a site visit. Call us on 01743 444100 or email [email protected].