Outdoor Canopies in Norfolk
If you are looking for outdoor canopies for your school or commercial canopies for your business, then A&S Landscape are the canopy and shelter specialists you need. With over 40 years of experience, we have worked with hundreds of clients across the UK, including Norfolk. Our wide range of products suit every site, client and need and can be tailored to your exact specifications. Whether you want to get more use from your outdoor space with a fabric canopy or need a shelter for bicycles we've got you covered.
Although we specialise in the education sector, we work with a lot of healthcare providers, restaurants, hotels and commercial sites. From our simple, yet sleek Motiva Linear™ straight roof canopy to our Maxima Plaza™ fabric curved roof canopy we have a design for every project. And you can't find what you need from our standard product range, we can find a solution by creating bespoke canopies to your specific requirements.
To find out more about how we can help you or to get a quote for your project, contact our expert team at [email protected] or call 01743 444100.
Multi-Use Dining and Playground Shelter Added to Woodlands Primary Academy in Bradwell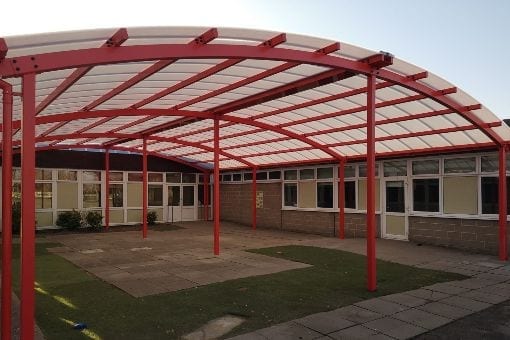 Woodlands Primary Academy in Bradwell, Norfolk needed to add a school canopy to their outdoor space which could function both as an outdoor dining hall and a recreational area for playtimes. This thoughtful institution – who was judged to be 'Good' by Ofsted in 2017 – wanted the shelter to look bright and exciting and have enough coverage to shield pupils from the elements.
Following discussions with A&S Landscape, the school chose the popular Motiva Duo™ curved roof canopy model from our wide range of outdoor shelters. The curved, Opal polycarbonate roof offered UV protection for everyone underneath from the rain, wind and sun. Plus, the 15000mm X 11500mm canopy measurements were large enough to allow many children to enjoy the space as a dining or play area. This model is a duopitch (symmetric) variant that is ideal for standalone structures. Woodlands Primary Academy also decided on Traffic Red to colour their steelwork, as it matched their branding and would bring a fun element to the space.
The school loves the new playground and dining shelter, and the staff appreciated A&S Landscape going above and beyond to ensure it was fully installed before coronavirus lockdown restrictions came into effect. Pupils can now enjoy more time outside no matter the season – whether they're having lunch or playing during break times. The canopy could also be used as an outdoor classroom gazebo to support outdoor learning. A&S enjoyed working closely with the team at Woodlands Primary Academy and wishes them all the best. Contact us at [email protected] if you'd like to discuss our fantastic products.
Charles Darwin Primary Academy Add Fabric Playground Canopy in Norwich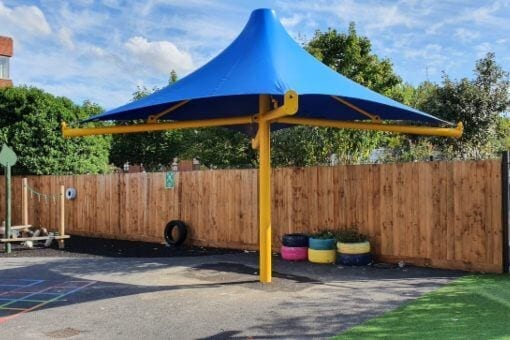 The pupils of Charles Darwin Primary Academy loved to use their playground during their breaks, but often it became too hot or rainy to stay outside. The teachers decided that a play area shelter would be the ideal addition to the space, increasing the area's functionality. As canopy and shelter specialists, A&S Landscape was asked to advise the school on the best cover design and then install the selected product.
And the canopy chosen for this brilliant project was the Maxima Umbrella™. The fun design works perfectly in the play area, creating a welcoming shaded area the pupils can use. The school also choose lovely, bright colours for the fabric canopy, with a blue fabric roof and yellow steelwork. Thanks to the waterproof PVC material used, the shelter can provide protection all year round and doesn't need to be taken down.
The pupils of Charles Darwin Primary Academy love the new addition to their playground and enjoy playing under the cover every day. Now, come rain or shine the students can go outside and get some fresh air between their lessons. We loved working with this great primary school and finding the ideal option which meets all of their requirements. Use our contact form on our website to get a quote for your canopy project.
Custom Cycle Shelter Added to Housing 21 Extra Care Centre Development in Fakenham
With the need to support sustainable travel options being a key element of modern housing development projects, a natural option to consider has got to be bicycle shelter solutions.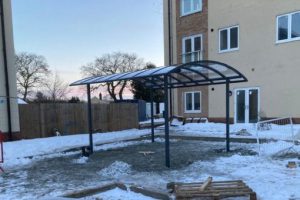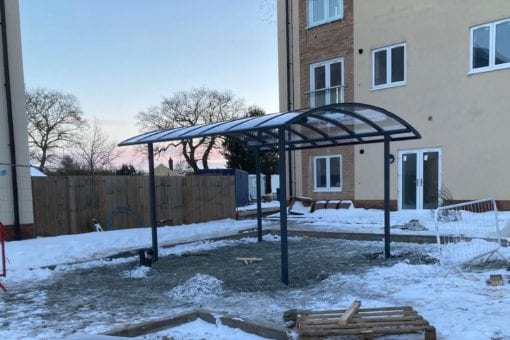 A&S Landscape was approached to help design a completely customised cycle shelter for this particular project. In preparing to launch their brand new 66-unit Extra Care accommodation development, Housing 21 were keen to add a steel shelter frame bike store. Our team drew up a project design that was both innovative and perfect for the accommodation site. The basis of the design was our Motiva Duo™ curved roof canopy, rather than selecting from our generic cycle store range. With its attractive curved roof, this standalone canopy cover was then transformed into a dedicated cycle store with the addition of 8 cycle hoops, accommodating 16 cycles.
The customisation didn't stop there either. Housing 21 chose Slate Grey (RAL 7015) for the steelwork, and a Clear polycarbonate roof. The end result was a fully bespoke bike shelter measuring in at 5,000 mm by 4,000 mm. With a café/bistro due to open on the site too, and other facilities including a hair salon, their new cycle shelter is a great addition to some fabulous resources for the community to enjoy. Get a price for your project and use our online contact form today.
Hoveton & Wroxham Medical Centre in Hoveton Add Ambulance Bay Canopy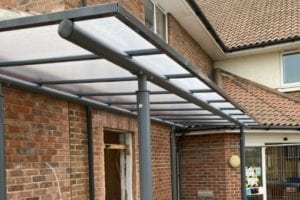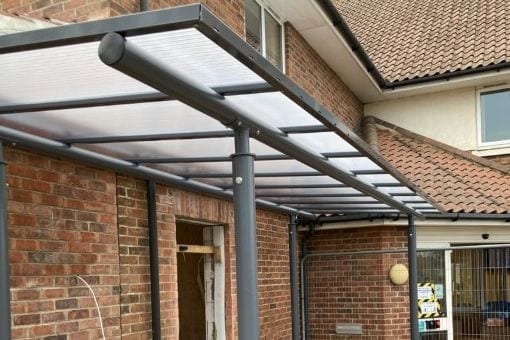 Hoveton & Wroxham Medical Centre in Hoveton, Norfolk wanted to shield their ambulance bays from wet and windy weather, and they decided that a canopy was the ideal solution. It needed to provide protection for patients, and medical workers such as paramedics, when moving to and from the vehicles. They contacted A&S Landscape, who soon got to work on finding them the ideal shelter.
The centre's staff chose the Motiva Linear™ straight roof canopy model and asked for it to be built to specifications of 5500mm X 2000mm, so that it could easily offer space for both ambulances and patients. This model worked well next to the building thanks to its monopitch straight roof canopy design. The canopy was also installed with Slate Grey steelwork and an Opal roof that could shelter everyone beneath from the rain. A&S Landscape thought that these were fantastic choices that would offer a practical and modern shelter.
Hoveton & Wroxham Medical Centre loves their ambulance bay canopy. It was put to use straight away, sheltering patients and medical workers from bad weather when travelling from ambulances into the centre – and vice versa. A&S Landscape enjoyed working with this client – who the Care Quality Commission reported as a Good provider in 2017 – and wishes the staff all the best for the future. Do you want to install a canopy like an ambulance shelter, outdoor classroom gazebo or covered walkway? Call canopy and shelter specialists A&S Landscape now on 01743 444100 to find out more about our products or use our enquiry form online.
Multicoloured Playground Shelter at Blenheim Park Academy in Fakenham
What was the problem?
Blenheim Park Academy in Norfolk wanted to further improve the outside area which the early years pupils used. The teachers also wanted to get better use out of the external space, as it couldn't be used when it was too hot, wet or windy. A&S Landscape's team worked with the school to design the ideal playground canopy which would meet all of the requirements.
What was our solution?
One straight roof canopy was fitted by our installation team at the school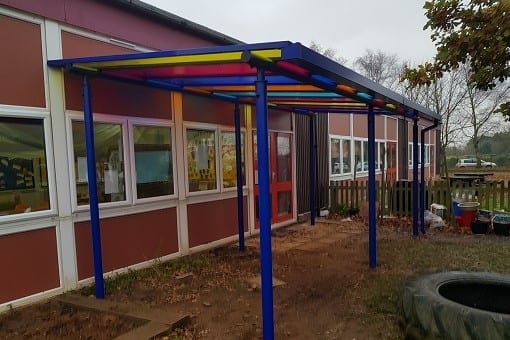 , outside the EYFS and Key Stage One classrooms. The Motiva Linear™ measures 6000mm X 3000mm so there is plenty of space underneath for the pupils to gather and play. The main feature of this play area canopy, however, is the multicoloured polycarbonate roof. Made with polycarbonate sheets in a range of colours, the overall effect is fantastic and has definitely added a splash of colour to the area. The steel framework was also finished with an Ultramarine Blue RAL colour which contrasts well with the rainbow roof.
What was the result?
The young pupils of Blenheim Park Academy love their colourful canopy and it has become a very popular spot at the school. Even when the British weather decides to be pleasant, the children race to play underneath the shelter. The teachers also take their classes outside without having to plan around the weather as the classes love the alternative environment. Overall the new school shelter has been a huge success and we are glad we make such a positive impact on the academy.
A little bit about the client…
Blenheim Park Academy is located in Norfolk and is surrounded by picturesque green fields. It's so important for children to spend quality time outside in the fresh air, and this primary school certainly has plenty of clean, countryside air! It's great that the school decided to invest in their early years centre, this is such a crucial age and now the young pupils will receive a great start to their education.
We thoroughly enjoyed working with each member of staff at the school, it's clear to see that they are truly passionate about providing the best experience for each child. The school also rated A&S Landscape five stars for the project, which was the cherry on top of the cake.
Feedback
'Great, we love the canopy.'
– Blenheim Park Academy
Why choose a multicoloured polycarbonate canopy?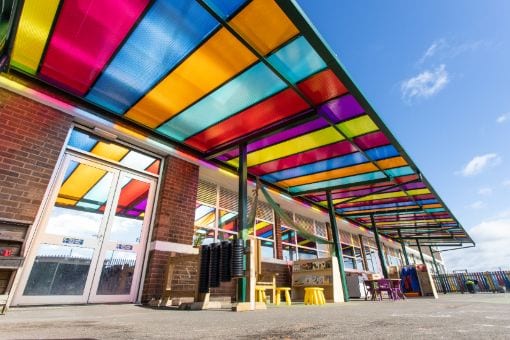 Our range of polycarbonate canopies can be designed to suit your school or business, by changing the colour of the framework and the roof panels. One of our most popular straight roof shelter designs is our multicoloured polycarbonate roof. This is where we use a range of brightly coloured sheets to create a rainbow effect.
This colourful canopy creates a real statement in your playground, adding an instant pop of colour. Often these shelters will feature subtle coloured steelwork, so the contrast brings out the roof even more.
Our multicoloured canopies also help to stimulate children's imaginations. When the sun shines onto the polycarbonate sheets, the colours cast onto the floor below. This beautiful effect will create a magical and unique environment for the pupils to play in. And you don't just have to use a rainbow colour scheme, we've also designed shelters with two or three alternating colours.
How can A&S Landscape help?
Whether you're looking for a playground shade sail or a curved roof dining area canopy, we can help you pick the right product and ensure you get the best end result. We've worked with hundreds of nurseries, schools, colleges and universities installing our extensive range of outdoor canopies. Over this time, we've received fantastic feedback and built a strong reputation within the industry.
Don't just take our word for it. Have a look at just some of our client testimonials to see what people have said about us. Or browse through our extensive product gallery to get inspiration for your next project. We would love to add you to our ever-growing list of happy clients.
Talk to us today and start your project, we can give you a quote for the work without the need for a site visit. Call us on 01743 444100 or use our online contact form.
Find out more about where we work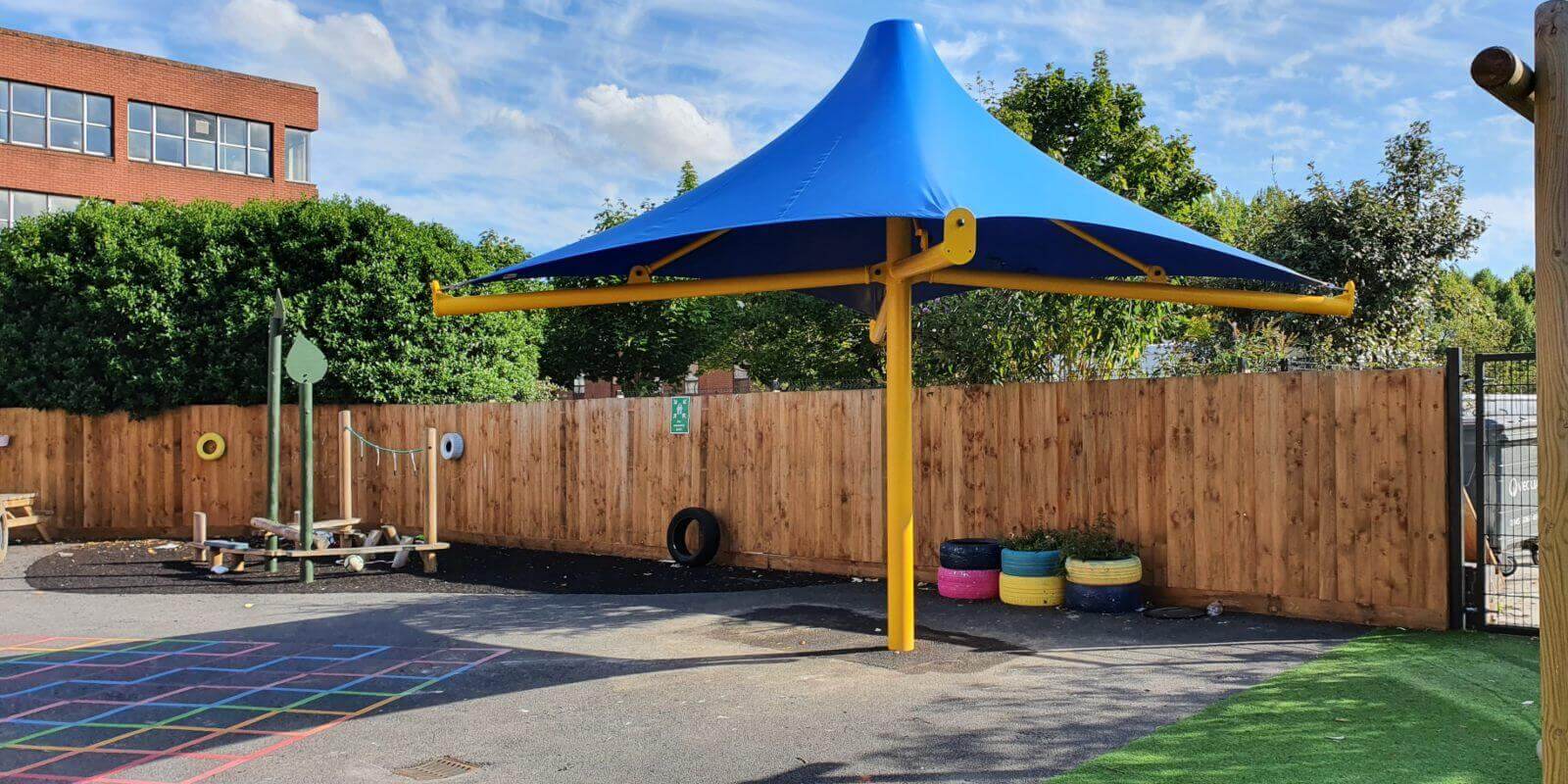 Send us your email and an idea of your requirements and we'll get back to you with a quick price.