Roman Vindolanda Fort & Museum Cover Outdoor Seating Area in Café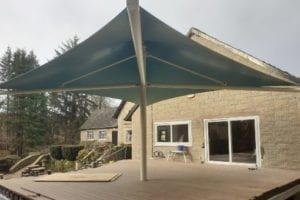 A fabric umbrella canopy was installed outside of the café. The Maxima Umbrella™ measures 6m x 6m, so plenty of tables can fit under the shelter. Finished with Slate Grey steelwork and a Porcelain Green fabric roof, the structure works perfectly with the area. The umbrella was made with a waterproof material so that it can be used in the wetter months too.
The café customers can now enjoy their refreshments outside under the canopy. Whether they want some shade from the sun or a cover from the rain, the umbrella is the perfect place to sit under. Built on one post, the structure takes up minimal space on the decking too.
A&S Landscape has worked with a range of sectors, including hotels, hospitals, schools and parks. To find out how we could help you get better use of your outside space, view our gallery of installations or call us on 01743 444100.