Playground Shade Sail at Nottingham Girls' High School
What was the problem?
Nottingham Girls' High School in Nottinghamshire has impressive facilities for their nursery and junior school. But the young pupils couldn't always use their playground when the weather was wet, or too hot. A&S Landscape joined the project and proposed a fabric shade solution, which would be installed in an area of the playground.
What was our solution?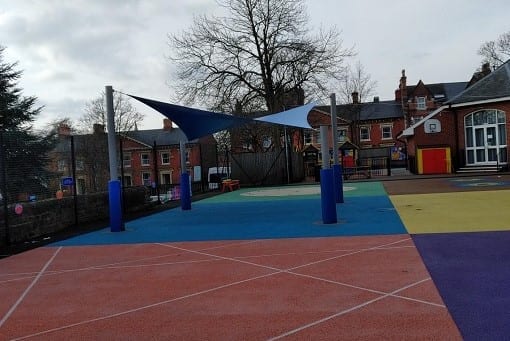 One square sail was added to the school, covering an area of 5m x 5m. The canopy was made with a waterproof PVC fabric, to provide protection from the rain. To match the school's logo, the material was made with a smart Ultramarine Blue fabric. One each of the Dusty Grey coloured uprights, protective pads were added.
What was the result?
The nursery and primary school pupils of Nottingham Girls' High School adore their school playground canopy. When they want to shade from the hot sun or drizzle, they can gather underneath the shade sail comfortably. This helps the pupils to spend more time in the fresh air, letting off steam and regularly exercising throughout the school day.
A little bit about the client…
Nottingham Girls' High School is an independent day school, located north of Nottingham city centre. The school prides itself on their innovative style of education, which aims to beat stereotypes and give their students the best start in life.
We thoroughly enjoyed working with such a prestigious school and their fantastic teaching team, including Headteacher Julie Keller. It's fantastic that this school values outdoor play so highly too, encouraging every single pupil to embrace the great outdoors, no matter the weather.
What is a shade sail?
Schools caring for younger pupils including playgroups, typically need an outside covered play area to ensure free flow play is possible in all weathers. They also provide additional outdoor teaching space, allowing teaching to be extended into the playground whatever the weather. A covered teaching area, providing all-weather protection is just one of the many benefits of waterproof shade sails for schools.
A school shade sail can provide staff and pupils with protection from the sun and shade from the rain, transforming previously unused areas into the perfect outdoor learning area, dining area or social space.
Our range of shade sails can be made to suit your outdoor space, branding and shelter requirements. There are many configurations are available, including hypar squares, multiple squares and triangles. You'll also have a choice of finish too, with our Shade Cloth and PVC fabrics.
How can our canopies be used in nurseries?
Outdoor play can be so beneficial for young children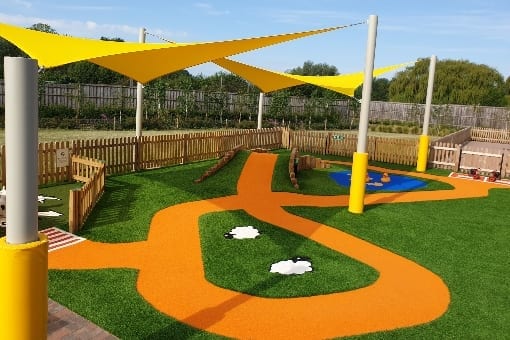 , and so it is important that they get the chance to spend time outside during their early educational years. Sunlight is not only a source of vitamin D, but it also helps to regulate sleep. Outdoor learning has also been found to help pupil's personal, social and emotional development.
Our range of canopies help nurseries get better use out of their external space, so the pupils can spend more time outside. We offer a wide choice of canopy designs, and our products are available in a variety of sizes so there's something to suit every pre-school. Our multicoloured polycarbonate shelters are a great way of stimulating children's imagination, and our fabric shade sails have proven to be very popular among nurseries and primary schools too. Or encourage your young pupils to use their bicycles by adding some cycle shelters to your facilities.
How A&S Landscape can help with you
We strongly believe in the power of spending quality time outdoors, and we know that our canopies help schools and nurseries utilise their outside space. Our team has worked with schools across the country, providing shelters, bike stores and shade sails. Whether you need to create more learning space or a place to store outside equipment, we can help you to find the perfect solution.
We'd love to add you to our ever-growing list of happy clients and completed jobs. A&S Landscape, shelter specialists, will guide you through every step of the process, from the design, manufacturing to the installation. Start your project today and get in touch with us by calling 01743 444100 or emailing [email protected].