Isebrook SEN College add Polycarbonate Roof Canopy
In collaboration with our building contractor client our engineers constructed a straight polycarbonate roof canopy in Isebrook SEN College Eastleigh Road, Kettering, Northamptonshire. The job involved the supply and installation of one Motiva™ monopitch straight roof canopy measuring 9900mm X 2900mm and included for our Alu-Tuff™ aluminium box profile guttering and downpipes which were coated in a matching Dura-coat™ colour finish.
Curved Roof Canopy Added to Thrapston Primary School in Kettering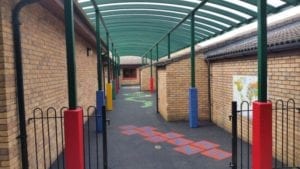 Thrapston School in Northamptonshire is a real place, not imaginary, but it has the same issue. Or at least it did because this space now has a cover that means this perfect play area is accessible all year round no matter what the weather is doing. When A&S Landscape was contacted, it was to put the finishing touch on this outdoor area with one of our Motiva Mono™ curved roof canopy designs. Installing a Motiva Mono™ curved roof canopy at 28250mm x 4900mm has given this space the best of both worlds; the natural light and fresh air of playing outdoors with the weather protection of an indoor space.
Finished in Moss Green steelwork (RAL 6005), with matching Alu-Tuff™ guttering and downpipes, we also included 16 post pads in contrasting red, blue, yellow and green to protect little heads and tiny toes from collisions in the midst of play. The result is an attractive and useable space that has a sense of fun whilst also doing an important job very well. This shelter will last Thrapston Primary for many years and means that the children can reap all the benefits of regular outdoor play the whole year-round.
It only takes a simple addition to transform a previously unusable outdoor space into one which is accessible no matter what the weather decides to do. This means you can plan outdoor teaching sessions and know, with confidence, that can take place. To get some additional inspiration take a look at our Motiva Mono™ gallery here.
Red Fabric Umbrella Canopy Installed at Friars Academy in Wellingborough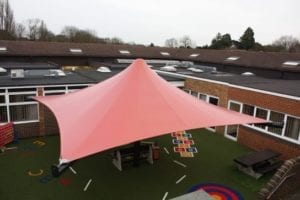 Having worked with schools for over 40 years, A&S Landscape has a great deal of experience when it comes to adding to school playgrounds. They installed a large Maxima Umbrella™ at 8000mm x 8000mm, with black (RAL 9005) steelwork and velvet red fabric. The bold statement really does bring the area to life as well as adding a new space for students to enjoy, play and socialise under.
The area and the students all have something new, a smart Maxima Umbrella™ offering shade on hot days and shelter on rainy days. The addition of one of our post protectors means that the single upright is padded and won't cause any problems to energetic pupils as they run off some energy at playtime!
Click here to see nearly 1500 images in our gallery, which show the wide range of canopy, shelter and cycle store projects that we have completed for our clients. If you would like to discuss any requirements, please call a member of the team on 01743 444100.
Malcolm Arnold Preparatory School Add Straight Roof Canopy to Site
Working for a specialist firm of architects our team created a straight polycarbonate roof canopy for Malcolm Arnold Preparatory School Trinity Avenue, Northampton. The contract included one Motiva™ monopitch straight coloured polycarbonate roof canopy measuring 13000mm X 5000mm including Alu-Tuff™ aluminium box profile guttering and downpipes which were coated in a matching Dura-coat™ colour finish.