Get a Quick Price
Send us your email and an idea of your requirements and we'll get back to you with a quick price.
Send us your email and an idea of your requirements and we'll get back to you with a quick price.
Covered Chill Out Area at The Peele Community College in Long Sutton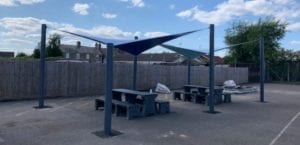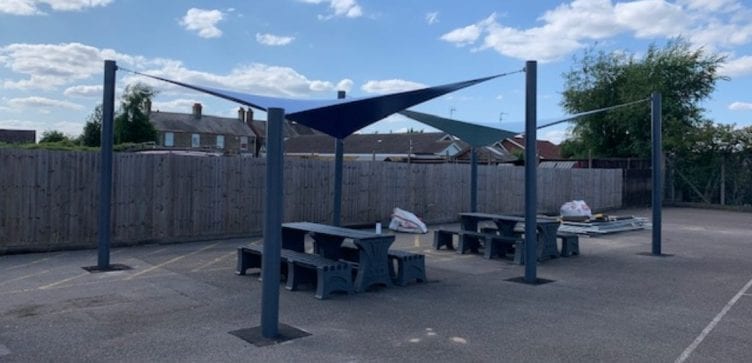 A Maxima Sail canopy was installed at the college, comprising of two square sails with six posts. The Peele Community College chose a Victoria Blue and Celadon colour for the fabric, which works perfectly with the slate grey steelwork. The college also purchased two benches from the A&S Landscape shop.
The students now have a dedicated area outside where they can go to relax, refresh or unwind. This space is sure to be popular during exam periods as an alternative revision area. It could also be used as a covered dining space, if the students want to enjoy an alfresco lunch. Because of the waterproof PVC fabric used on the sail structure, this area can be enjoyed throughout the year, no matter the weather.
A&S Landscape offers a range of fabric canopies for a variety of uses. Our design team can also create bespoke designs, to meet your exact specification and needs. Call our expert team today on 01743 444100 to discuss your options.
Humberston Academy in Grimsby Add Covered Dining Area With Curved Roof Canopy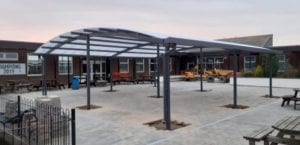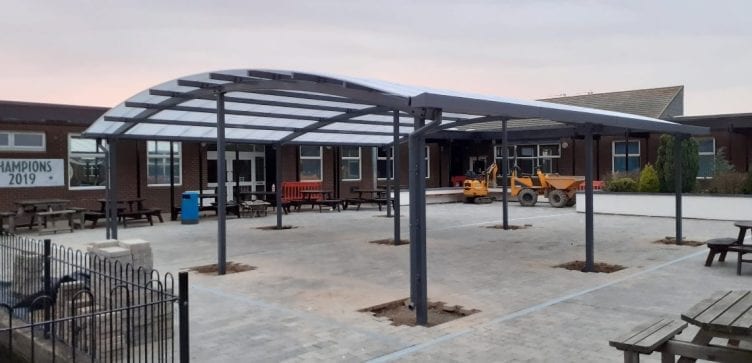 A Motiva Duo™ curved roof canopy was added to the quad area. Measuring 10000mm x 10000mm, there is plenty of space for many students to gather underneath. The Slate Grey steelwork and Alu Tuff guttering blends in well with the surrounding buildings and the Opal polycarbonate roofing blocks harmful UV rays. With integral guttering and downpipes, the academy doesn't have to worry about the canopy in poor weather.
Humberston Academy now has a covered dining space which can be used all-year-round. The students have a choice of where to sit at lunchtimes, which relieves pressure from the existing dining hall. No matter the weather, the students can enjoy some fresh air and get refreshed ready for their next lessons.
A&S Landscape offers a range of dining area canopies, from straight, curved and fabric roof designs. Take a look at our gallery for inspiration or read about our recent projects here. You can also call our friendly team to discuss your options on 01743 444100.
Some of our Lincolnshire based clients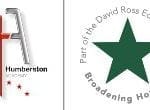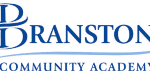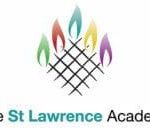 Shade Sails and Entrance Canopy At The St Lawrence Academy in Scunthorpe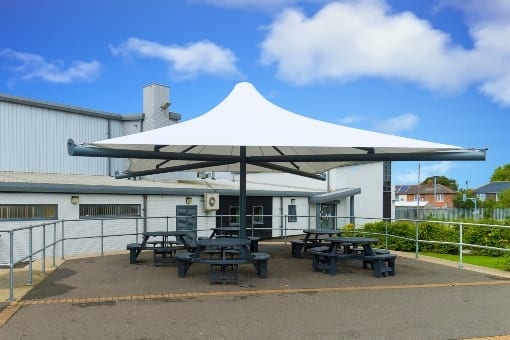 The requirement was two-fold, in that the entrance to The St Lawrence Academy required some shelter as well as a greater sense of identity. This was easily remedied by the addition of a striking Motiva Mono™ curved roof canopy, which shelters visitors, parents and students from the elements, as well as adding a smart first impression when people arrive.
The second requirement was for additional dining space. To give students the option to dine outside whatever the weather is just another way in which The St Lawrence Academy add to the learning environment for their pupils. The decision was to add two Maxima Umbrellas™ to the playground area. With waterproof fabric, these umbrellas not only shade the pupils from UV rays in the summer, they offer shelter from the rain in the wetter months too. More people can now dine outdoors and enjoy some welcome fresh air, even in the wintertime.
The result is a very smart outdoor area at The St Lawrence Academy. The entrance makes a striking first impression and many more children now enjoy eating, socialising and relaxing outdoors all year round. Overall, the school has added some lovely new areas to the campus. We love it!
A&S Landscape can help you with inspiration and design expertise if you think your setting might benefit from something similar. Please get in touch. From Shade Sails, Umbrellas and Tepees, to straight or curved roof steel canopies, A&S Landscape have a range which is sure to offer you something special. Feel free to look through our gallery, which has more than 1500 images to inspire you.
The St Lawrence Academy in Scunthorpe Add Straight Roof Canopy
A Motiva Linear™, straight roof canopy was installed on The St Lawrence Academy's campus. The shelter is located just outside of the dining space inside, so students can make use of the area during their lunchbreaks. Measuring 7500mm X 6000mm, there is plenty of room under the canopy for the students to socialise and relax. The grey steelwork works perfectly with the surrounding buildings, and the clear roofing material lets the sunshine through.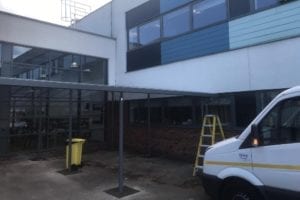 Now when it is rainy or windy, the students can still go outside to enjoy some fresh air. This helps them to relax and feel refreshed ahead of their next lessons. Teachers can also enjoy the option to hold lessons outside, as the canopy offers an alternative learning environment.
As well as straight roof canopies, A&S Landscape offers curved, waved and fabric roof options. Take a look at our gallery to get inspiration or call our friendly team on 01743 444100 to discuss your options.
Springwell Academy in Spalding Add Straight Roof Canopy
A Motiva Linear™, straight roof canopy was chosen for the Academy. The 6200mm X 2500mm shelter was installed alongside the school building to provide a valuable covered area. The Blue Grey RAL colour on the framework and Alu Tuff guttering blends seamlessly with the surroundings. The Opal roofing material also adds essential protection from UV rays, while still allowing sunlight through.
Now the students of Springwell Academy have a space where they can stand protected from the rain or sun. Whether they are socialising or waiting for a lesson, the canopy is the perfect fit. Parents, staff and students are all happy with their new canopy and it is a valuable addition to the academy.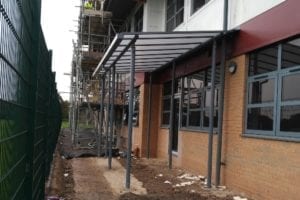 A&S Landscape has an extensive range of canopies perfect for a variety of uses. From primary school shelters to university campus canopies, you can find the right product for your space. Why not view our testimonials to see what past clients have said about us, or get in touch with us today.
Pinchbeck East C of E Primary School in Pinchbeck Add Covered Walkway
A&S Landscape was asked to provide just such a service, installing a Motiva Mono™ in the space between two doorways at Pinchbeck East C of E Primary School, creating an instant covered walkway that meant, no matter how heavy the rain, the young pupils had dry access between classrooms. This Motiva Mono™ monopitch curved roof canopy was installed at 9137mm x 3000mm with Marine Blue (RAL 5002) steelwork and Alu Tuff guttering throughout, including the Alu-Tuff ™ guttering and downpipes.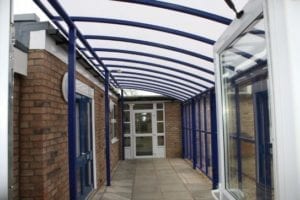 The result is dry access, all year round and no more soggy exercise books being used as a temporary shelter. This Motiva Mono™ curved roof canopy looks smart and adds to the overall aesthetics of the building whilst providing protection from the weather that will last for many years. School playground equipment could also be stored under the canopy too, saving space inside the school.
What areas would your student benefit most from an outdoor shelter? In our gallery, here, you'll find a range of completed projects that can help to spark your imagination and give ideas for ways you can create new outdoor spaces for your own students.
Find out more our work across the country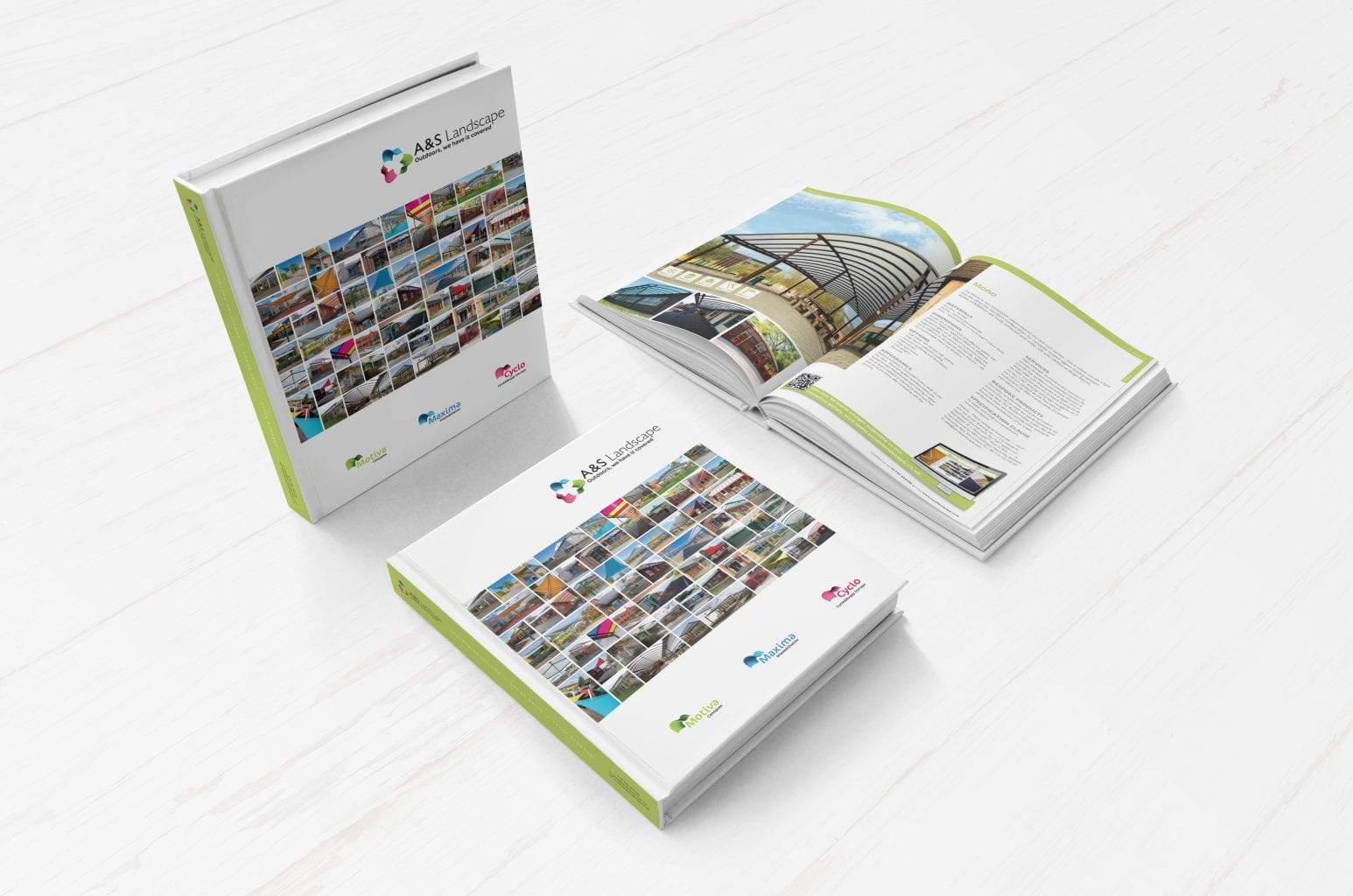 Get in touch to request a copy of our full, 160 page, hardback brochure with all the information you need to make the right choice.