Shade Sails and Entrance Canopy At The St Lawrence Academy in Scunthorpe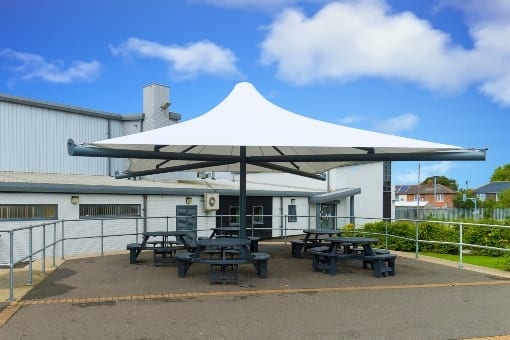 The requirement was two-fold, in that the entrance to The St Lawrence Academy required some shelter as well as a greater sense of identity. This was easily remedied by the addition of a striking Motiva Mono™ curved roof canopy, which shelters visitors, parents and students from the elements, as well as adding a smart first impression when people arrive.
The second requirement was for additional dining space. To give students the option to dine outside whatever the weather is just another way in which The St Lawrence Academy add to the learning environment for their pupils. The decision was to add two Maxima Umbrellas™ to the playground area. With waterproof fabric, these umbrellas not only shade the pupils from UV rays in the summer, they offer shelter from the rain in the wetter months too. More people can now dine outdoors and enjoy some welcome fresh air, even in the wintertime.
The result is a very smart outdoor area at The St Lawrence Academy. The entrance makes a striking first impression and many more children now enjoy eating, socialising and relaxing outdoors all year round. Overall, the school has added some lovely new areas to the campus. We love it!
A&S Landscape can help you with inspiration and design expertise if you think your setting might benefit from something similar. Please get in touch. From Shade Sails, Umbrellas and Tepees, to straight or curved roof steel canopies, A&S Landscape have a range which is sure to offer you something special. Feel free to look through our gallery, which has more than 1500 images to inspire you.