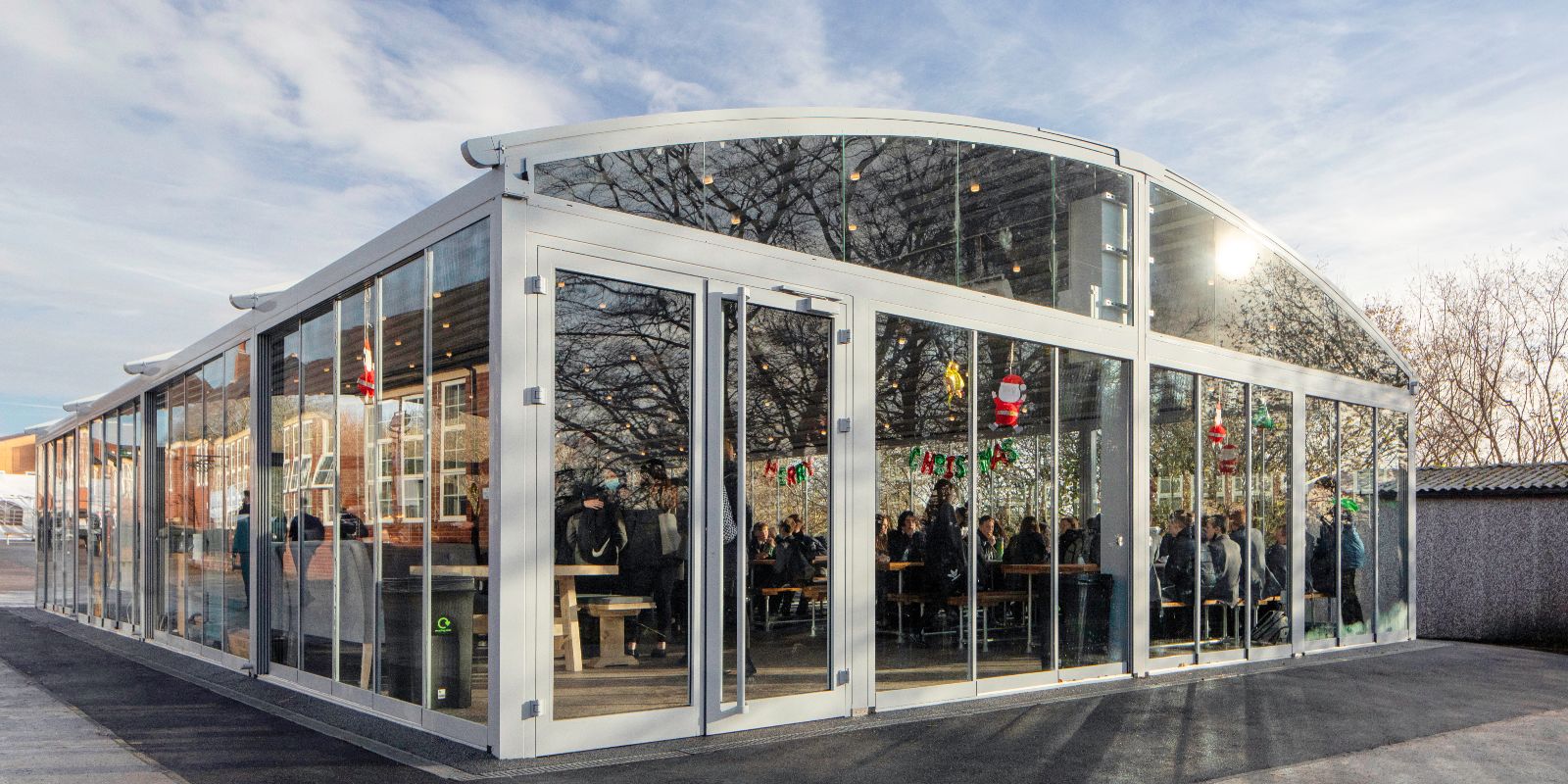 Canopies for Senior Schools
Perfect designs for external dining areas, social space and covered walkways in senior schools
Enquire Now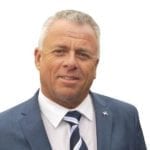 I am very pleased with the canopy, it has exceeded my expectations. The project has been fantastic.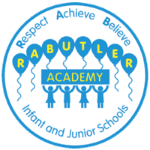 Excellent workmanship, everything was left clean and tidy. The team went out of the way to do a good job.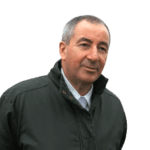 I think A&S Landscape has done a tremendous job. We would definitely recommend them to other schools.
Senior School Canopies
Senior schools are incredibly important and impactful spaces for everyone that uses them. Students and staff alike are affected by the architecture of their school, including the outdoor spaces available to them. The importance of spending time outdoors in early years education has been well-documented, but it's also incredibly important for students in senior and secondary schools to be able to access outdoor spaces throughout the school year. For many students, secondary school is a very stressful time, so being able to access outdoor spaces in a way that is still conducive to a learning environment is something that can make a massive difference.
At A&S Landscape, we've worked with a lot of schools to create playgrounds that are both versatile and cost-effective, and that help your outdoor spaces reach their full potential. We've partnered with hundreds of schools and learning centres over the years, so we have a wealth of in-depth knowledge and experience when it comes to construction project design and briefing, as well as installation processes that cause as little disruption to secondary school teachers, staff and pupils as possible. Please don't hesitate to contact our friendly and experienced team to find out more about how we can help you, or to get a quote for your project.
The Benefits of a High School Canopy
Here are just some of the benefits of a high school canopy:
Creates a great first impression on visitors
Adds value to the site
Cost-effective alternative to a formal extension
Can be used as an outdoor dining space
Helps you get more use out of your external space
Students can spend time in the fresh air
Lessons can be taken outdoors
Wide choice of colours and designs
Get a Free Proposal
Send us your email and an idea of your requirements and we'll get back to you with a quick price.
Learn More About Our Work With Senior School Canopies
Senior School Canopy Ideas
Senior School Canopy Design Options

See some of our senior school canopy projects
Oasis Academy Coulsdon Add Curved Roof Dining Canopy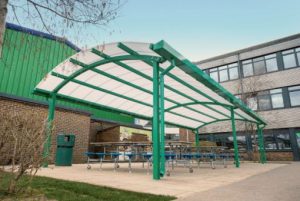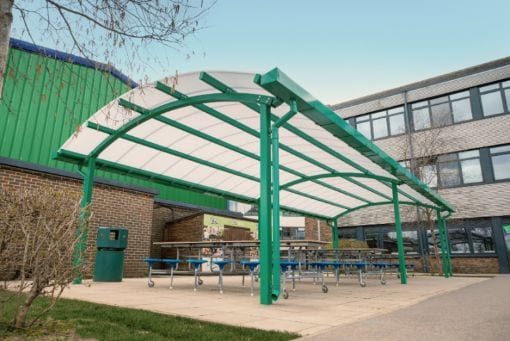 A&S Landscape was asked to install a dining area shelter at Oasis Academy Coulsdon. This thriving secondary school needed to create more space for their students to use during lunchtimes. After looking through our brochures and website, the school decided upon our popular Motiva Duo™ as the ideal shelter solution. Now that the canopy has been installed, it has transformed mealtimes and improved the day-to-day experience of the hardworking students. The sheltered space could also be used as a quiet space during exam periods, as the ideal place to study outside in the fresh air. For the perfect finishing touch, the steelwork of the canopy was finished in a Signal Green colour which matches the school's logo. Overall this was a fantastic project, and we hope we get to work with this client again. Find out more about the curved roof canopy we designed for Oasis Academy Colston here.
Chiswick High School in London Adds Striking Shade Sail Dining Area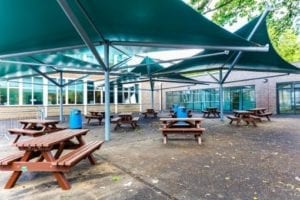 Like most schools, Chiswick High School was struggling to find room for all the students in their dining hall. They needed to find a smart solution that would give them what they needed, without needing to build a whole new building or extension. After talking to us, they decided the best thing to do would be to install a new outdoor dining area. They did this with the help of four Maxima StarSails, which have created a really striking look outside the school. The four sails all use waterproof fabric, so students can eat outdoors even when the rain is coming down. No more trying to cram into an already packed dining hall. The school chose porcelain green fabric for their sails, giving the shades a great look. The whole area has come alive since being repurposed as an outdoor dining space, and students are loving the fact they can relax outdoors whenever, even if the weather wouldn't allow it normally. To see more of the shade sails at Chiswick High School, click here.
King Edward VI Academy Add Large Dining Shelter in Sheldon Heath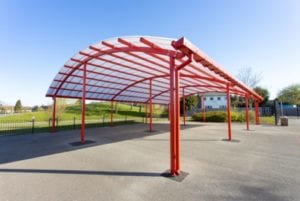 This brilliant school based in Birmingham needed to come up with a solution for the overcrowded dining facilities during lunchtimes. A cost-effective solution was identified as installing a dining area shelter and the school set about to get in contact with A&S Landscape. We installed a large curved roof Motiva Duo™ shelter at the school, complete with traffic red coloured steelwork. Now plenty of space has been created for the students to use during lunchtimes which will relieve pressure from the existing dining hall. The outdoor seating area will also have many benefits on the student's mental health and wellbeing and gives them the opportunity to enjoy some fresh air everyday. The shelter could also be used during lessons as an alternative classroom setting which will help to engage and motivate the students. To learn more about the dining shelter we created for King Edward VI Academy click here.
Tewkesbury School Add New Curved Roof Outdoor Dining Area Canopy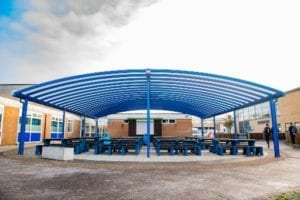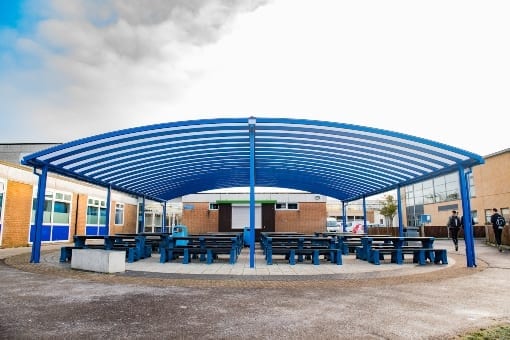 Tewkesbury School found they had an outdoor area with no purpose, that needed to be revitalised. Considering the needs of their students, they wanted to create a new dining area for them there. They wanted it to be useable even if the weather turned wet, so they asked us to help come up with a solution. They chose the Motiva Duo canopy from the range on offer, as it gave them just what they needed. This large canopy now sits over the ground, protecting benches and tables from the weather. Students are able to come and eat lunch here, or simply socialise while they're on their breaks. Whatever they need, they can easily do it under this shelter. The blue colour of the canopy was chosen to match the school colours and looks fantastic on the grounds. It's given the area a new lease of life. Read more about Tewkesbury School's dining area canopy.
Waingels College in Berkshire Add Multiple Curved Roof Shelters to Their Grounds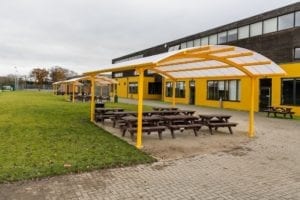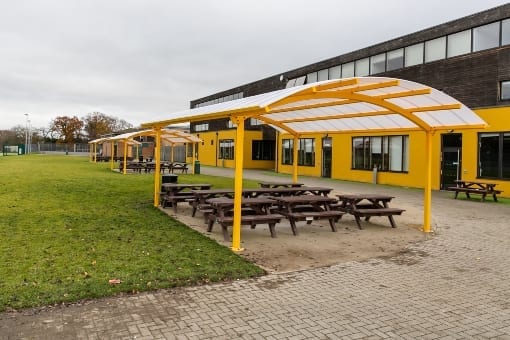 Waingels College had noticed that there was a real lack of shelter on their grounds. Students studying there could happily use the outside space for study or socialising, but only when the weather was good. When the rain came, they couldn't get outdoors, which seemed a shame to them. After all, why have the wonderful grounds if they couldn't be used? They brought us on to find a solution, something that would help them get more use from the grounds. In the end, they actually settled on multiple options. They chose to install three Motiva Duo shelters, allowing for lots of space for recycled plastic benches. Now, students have the perfect place to eat or study whenever they want. They also chose to install an umbrella canopy over a seating area, giving students more shelter from the rain thanks to the waterproof PVC fabric. Now they can use their college grounds whenever they like. To see the curved roof shelters at Waingels College, click here.
A New Covered MUGA Sports Area For Haileybury College in Hertford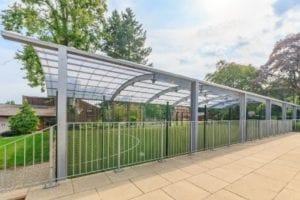 When thinking of school canopies, you'll often think of covered playgrounds or walkways. Haileybury College had something different in mind. They wanted to replace an old outdoor sports area with a new covered multi-use games area. After all, who wants wet weather to put off play? To achieve this, they contacted us to get help making the dream a reality. They looked at our range of canopies and chose a Covered MUGA canopy to cover that new space. They then added new sports turf, equipment, and more, to make that sports area the best place to play a game with your friends. Students have found using the area much easier and more enjoyable than ever before. With the shelter, they don't have to worry about dealing with bad weather. Having everything in one place really helps more students get involved with sports. All in all, it's been a huge success for the school. To read more about Haileybury College's Covered MUGA, click here.

Our Featured Senior School Canopy Project
Wright Robinson College in Manchester adds Fabric Tepee Canopies

What was the project brief?
Wright Robinson College is committed to providing its students with the very best learning experience. They know that part of that involves ensuring that their campus provides all the necessary facilities, and this means having the provisions to be outdoors. With the average rainfall of the UK being 156.2 days per year and the high unpredictability of the weather, it was crucial to install a covered area that could provide year-round protection.
A&S Landscape was approached by Wright Robinson College to provide a shelter solution. The first step in the process involved helping the school to navigate the hundreds of fantastic designs they had available to them. The school wanted the practical benefits, but the overall aesthetics was an important factor too. They wanted the canopies to complement the existing campus, so this needed to be considered. Once the decision was finalised, A&S Landscape would then be responsible for the manufacture and install of the outdoor canopy. They were therefore involved with the whole process from start to finish.
What was our senior school canopy solution?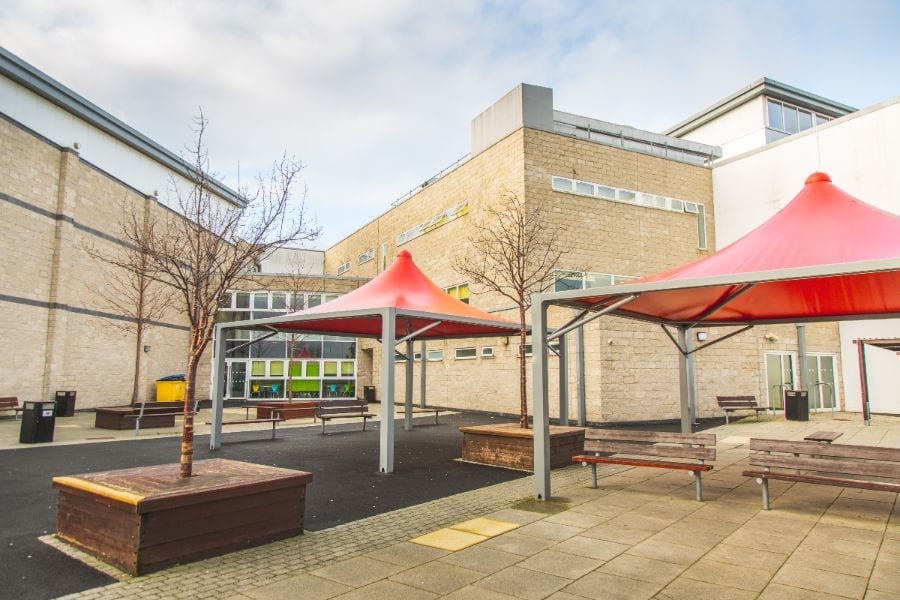 We knew that being a senior school, the canopies needed to be trendy to encourage the students to use them. The shelter that stood out to us was that of the fabric resistant canopy structure, the Maxima Tepee™. With a modular design, these canopies have multiple unit possibilities, as well as standing out as a truly unique feature.
Using the modular benefits, two tepees were installed to cover a large area, both measuring 6000mm x 6000mm. These proved to be an excellent solution. With the waterproof PVC fabric roof providing protection from the rain and sun, and the sturdy steel framework giving the structure its stability, it met all of the practical benefits of an outdoor canopy. The colours chosen were suited to the school brand's colours, with the steelwork in Grey (RAL 7037) and the shade cloth in Red (RAL 3000). The shelter truly adhered to all of the school's unique requirements.
What was the result of their new senior school canopy?
Everyone involved in the creation of the new sheltered area was thrilled with the amazing results of the two new tepees. The school was extremely pleased that we were able to meet all of their unique requirements, and with how smart the two tepees look within the school grounds. Upon commencement of the project, the school were a little nervous due to the extensive range they had available to them. However, with the help of A&S Landscape, the information was broken down into smaller, digestible chunks, and so they felt they had made a well-informed decision.
The result now is that the students are able to enjoy time outside whatever the weather, safe in the knowledge that the tensile structure above will provide adequate shade and shelter. The two tepees are a real focal point within the school grounds and have also eased the pressure on the school buildings. Children can now sit and eat outside, enjoying the fresh air while they have their lunch. The two canopies have had a massively positive effect on the school environment, and with the two shade structures branded to the school colours, they look immensely smart too.
About the client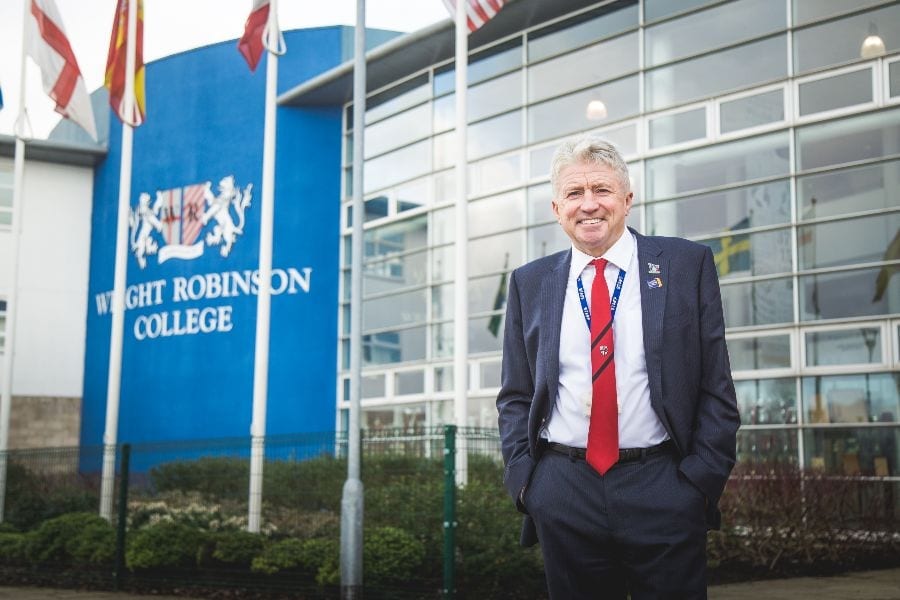 "Team Wright Robinson is fully committed to inspiring its students to achieve academic excellence, good character and resilience." This mission statement by Wright Robinson College is one in which they hold dear to their whole ethos. Located in Gorton, Manchester, this school has been identified as an outstanding secondary school by Ofsted, and you can see the investment they make in their students by admiration of their beautiful campus.
We loved the enthusiasm and passion shown by this school for their students. They didn't just want a shelter to fulfil their own obligatory requirements, they wanted the space to be attractive and appealing to the students too. Evidently, they see the bigger picture when it comes to the education experience, and we took great pleasure in working them to achieve this. We are proud to know that the fabric tensile structure will serve its purpose for years and years to come.
The benefits of outdoor learning for secondary school children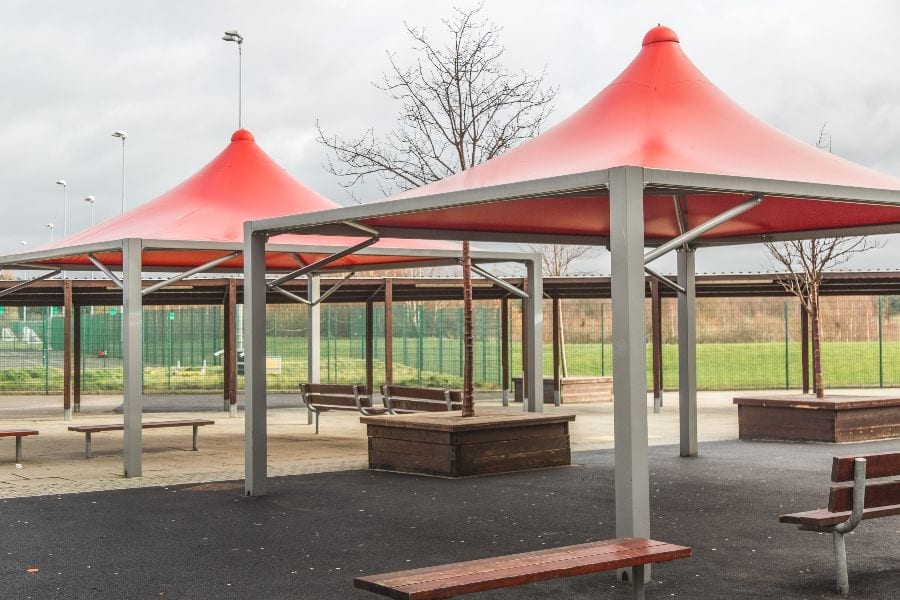 Quite often the benefits of outdoor learning are associated with early year settings, however, it is just as important for older children too, making their way through senior school and into college. It is important to remember that for younger children, being outside is a great way for them to develop their multiple senses, it allows them to smell, hear and see varying stimuli. However, there is a requirement for this to be maintained throughout childhood. Some may argue that it is even more important for educational settings to provide outdoor learning to older children due to the high amount of time teenagers spend in front of their mobile phones or a computer.
There is even a name for a person who experiences a persistent lack of nature and the outdoors. Although not recognised as a medical condition, 'nature deficit disorder,' has been linked to a number of physical and mental health problems, including obesity, attention difficulties and diminished use of senses! All of these problems can have hugely negative impacts on learning and development. Whether your school is located in an city, or in a more rural setting, it is hugely important to ensure that the students have a comfortable space to be outside when they can.
There are so many other benefits of being outdoors, it is impossible to list them all. However, when it comes to enhancing learning and education, both students and teachers will feel the benefits. Both will have higher energy levels, and the removal of the constraints of the classroom can even give the teachers a wider insight into the motivation of their students. This can help the entire learning process, giving the teacher a better understanding of how to educate their students.
Why choose A&S Landscape?
If you're looking for inspiration for your school canopy, A&S Landscape is here for you. We have been installing canopies all across the UK for 44 years, with thousands of outdoor canopies installed within a school environment. We are committed to ensuring that children can access an outdoor area all year round, for their personal development, wellbeing and mental health. That is why all of our canopies are designed with children at the forefront.
Whether you are a nursery, primary school, or university, we have a canopy that can enhance your student's education experience. Whatever your requirements, we have the perfect solution. As well as our expertise, being a family-led business, we will ensure that you receive the best possible customer service, and you can guarantee that we will be personal, reliable and friendly throughout.
If you'd like to discuss how we can help you find the best solution to your outdoor cover requirements, get in touch with our friendly team on 01743 292432 or at [email protected].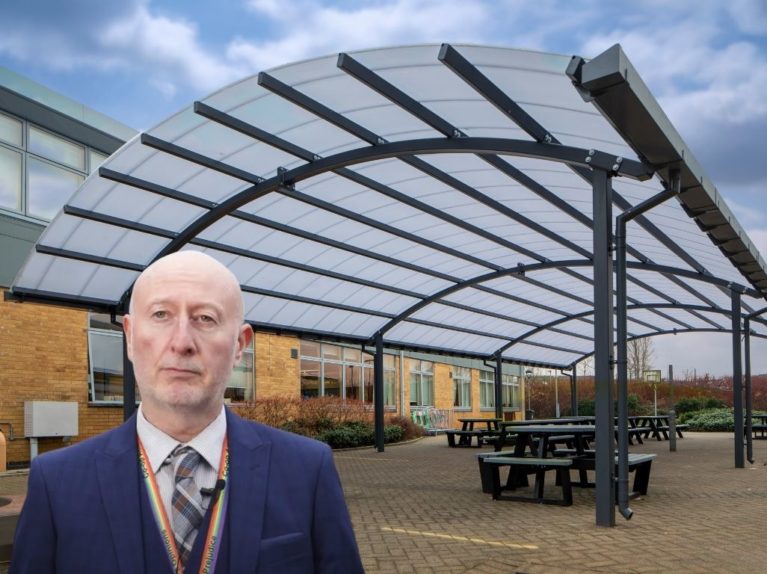 Communication with A&S Landscape was exemplary, very professional from start to finish.
- Co-op Academy Failsworth
View Project
Read about some more of our installations based in senior schools
Shade Sails Added to The Hessle Academy in Yorkshire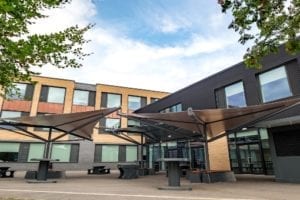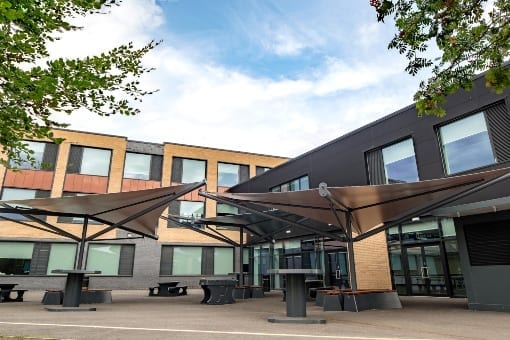 The Hessle Academy is well known for the modern and up-to-date design of its grounds. Everything looks fantastic and is designed with the students' needs in mind first. Recently, the school needed something to add shelter to an outdoor seating area and decided to look into getting sails for the area. To do this, they talked to us about what we could offer them. After looking at our range, they decided to use StarSails to cover the area. This made a lot of sense, as the StarSails are a fantastic design that fits right in with the building. Benches are arranged around the base of the sail, making it the best place to sit and relax with friends, no matter what the weather is like. The sandy beige colour used looks amazing, and blends right in with the rest of the buildings. The dining area now looks great and is protected from the elements. To read more about the shade sails used at The Hessle Academy, click here.
Ysgol y Garnedd School in North Wales Add Retractable Roof Canopies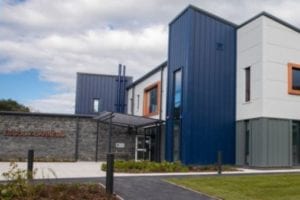 This fantastic Welsh school wanted to make the best use out of their outdoor areas and encourage their students to spend time in the fresh air everyday. Canopy and shelter experts, A&S Landscape was asked to install a total of eight canopies at Ysgol y Garnedd School. Five of the shelters featured a retractable roof design, which will allow the school to decide how much shelter they want to provide in each area. The remaining three canopies were based on our Motiva Linear™ straight roof shelter product. Each of these shelters featured an Opal polycarbonate roof, to provide essential UV protection. The newly created covered outdoor areas can be used for a variety of applications including covered seating areas, entrance canopies and social spaces during breaktimes .Click here to continue reading about the shelters we created for Ysgol y Garnedd School.
Dining Space Revitalised with Curved Roof Shelter at Claremont High School in Harrow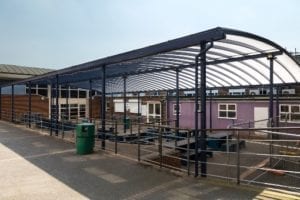 Claremont High School found that they had a good amount of outdoor space, but no way to really use it. They wanted their students to be able to enjoy it, but they knew that rainy days would stop them from going out there. They needed a solution, so they contacted us to see what we could do for them. We were able to offer them the Motiva Duo, an attractive and versatile canopy solution that fit their needs perfectly. It was able to go over the area and become an outdoor dining area for the school. This has brought a lot of benefits to the school as a whole. Students are now always able to get a seat, so no more worrying about where to sit at lunch. As they can do that, they get a good meal and so are set up for learning for the rest of the day. To read more about Claremont High School's dining area canopy, click here.
Straight Roof Shelters Installed in Suffolk at Stoke High School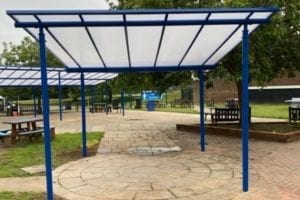 Stoke High School has an impressive campus which includes several sports courts, and so spending time outdoors was very important to both the staff and students. To enable the children to make better use of the outdoor areas during break and lunchtimes, it was decided to install two straight roof canopies from A&S Landscape. Both of the shelters were based on the Motiva Linear™ product range which features a straight roof design made from unbreakable polycarbonate roofing. This cost-effective model is very popular amongst schools as an effective way of covering outdoor space. The canopies have created plenty of covered space at the school and to further optimise the areas, benches and seating could be added to create an outdoor dining area. To match the school's logo, the steelwork of the canopies was finished in a smart–looking Gentian Blue colour. To continue reading about the straight roof canopies installed at Stoke High School, click here.
Green Fabric Umbrella Canopy at Reaseheath College in Cheshire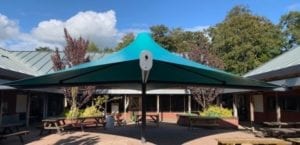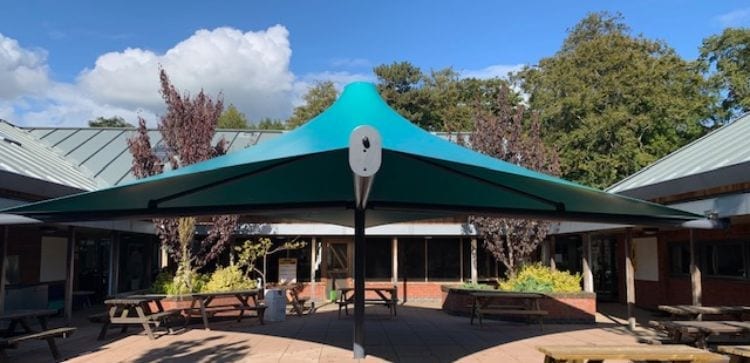 A&S Landscape returned once more to Reaseheath College in Cheshire to install another fabric canopy. To match the existing canopy we installed previously for this project we used our Maxima Umbrella™ product, made to an overall size of 8000mm by 8000mm. In this case, the college chose a vibrant Porcelain Green colour for the fabric roof which has added a real splash of colour to the area. Now the students have another sheltered space they can use during break and lunchtimes while they socialise study and enjoy some lunch. It's important that children get to spend some quality time outdoors in between lessons and it's great that this college has invested in allowing them to do so. It's always great getting to work with a client again, and we hope that we continue our fantastic relationship with this college on future projects. Learn more about the fabric canopy at Reaseheath College here.