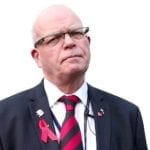 We went back to A&S Landscape because the canopy they built years ago has stood the test of time.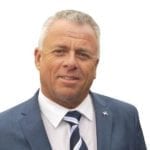 A&S Landscape have been absolutely fantastic. The shelter exceeded my expectations, I am very pleased.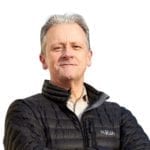 The whole process was stress-free; the installation was carried out with safely. The team were very professional.
UK Canopy Manufacturer
Polycarbonate and Steel
Fabric and Steel
Cycle Shelters
Looking for a Quote?
Send us your email and an idea of your requirements and we'll get back to you with a quick price.
See more of our canopy projects
The A&S Landscape Canopy Range
A Range of Canopy Variants to Meet Your Requirements
Straight Roof Canopies
Functional and no-fuss, straight roof canopies are the standard configuration for canopies situated against building elevations. They're an ideal option for covered walkways, waiting and seating areas, and playgrounds.
The Motiva™ Linear™ is our headlining straight roof canopy. This is a monopitch (asymmetric) straight roof variant where one side is slightly higher than the other, creating a straight yet angled canopy. It combines solid steel framework with polycarbonate roofing, creating a simple yet sturdy straight roof canopy.
The Motiva™ Linear™ can be designed to accommodate virtually any dimensions while offering a host of optional extras including side panels, aluminium guttering and downpipes, and a clear, opal or coloured roof.
Curved Roof Canopies
With a timeless appeal, curved roof canopies add shape and style to your school premises. With most curved roof canopies, we can install aluminium guttering and downpipes to properly deal with run-off water.
At A&S Landscape, we offer a wide range of curved roof canopy solutions that can be tailored to your design specifications. The Motiva™ Mono™ is a monopitch (asymmetric) curved roof canopy, where one side is higher than the other, while the Motiva™ Duo™ is a duopitch (symmetrical or "barrel vaulted") curved roof canopy, where both sides are at the same height.
And then there's the Motiva™ Wave™, which certainly stands out from the rest of the curved roof crowd. Its roof canopy can either have a single concave radius or a double "S"-style curve, offering all the benefits of our standard designs but with a fun and stylish appearance.
Cantilever Canopies
Cantilever canopies offer style and substance with unrestricted movement. Their flexibility, versatility and minimal obstructions make them an ideal covered solution for an array of applications, including entrances and doorways, covered walkways, play areas, picnic tables, and storage areas.
At A&S Landscape, our Motiva™ Cantilever™ canopies are made from solid steel framework with unbreakable polycarbonate roofing (which can be clear, opal or coloured) and a strong yet smooth Dura-coat™ finish in any colour of your choice. The canopy's upright posts can be positioned up against the wall, creating a clear and open space below, or they can be positioned at the front or centrally.
The cantilever canopy often has a Mono design (curved), but it can also be duo (barrel), linear (straight) or wave.
Fabric Canopies
If a polycarbonate canopy doesn't pique your interest, then a fabric canopy, sometimes known as a awning canopy, might just take your fancy. Whether it's for a park, a playground, a dining area or a terrace, fabric canopies are an excellent outdoor cover solution that boasts a stylish design, sleek character and striking colours.
Our fabric canopies aren't just style over substance, though; they offer plenty of practical benefits. The PVC fabric we use is a high-strength, waterproof, fire-retardant material that provides protection from harmful UV rays, helps to regulate temperature and keeps the rain off. Additionally, their long lifespan offers excellent value for money.
Our fabric canopy range includes the mighty four-post Maxima™ Tepee™, the trendy and innovative Motiva™ StarSail™, and the solid and beautiful Motiva™ Umbrella™.
Timber Canopies
At A&S Landscape, we don't just specialise in steel, polycarbonate, fabric and glass outside canopies, but we offer a range of high-quality timber canopies suited to any space and application.
Our wooden shelters and gazebos not only provide shelter and protection from the elements, but they add a warm, rustic feel to your premises, creating a perfect outdoor free-flow learning or play area while complementing the natural environment. Our timber shelters work particularly well in playgrounds, parks, public spaces, nature reserves, forest schools and outdoor dining areas.
A wooden canopy from A&S Landscape can be designed and built to your exact specifications. When it comes to the roofing options, there is plenty of choice. You can choose between a straight roof or a curved roof variant while we also offer a multicoloured polycarbonate roof to truly catch the eye.
Whatever your requirements and preferences, you can be sure that your brand-new timber canopy is highly durable, sustainably sourced and built to last.
Versatile Canopies for an Array of Applications
Entrance Canopies
First impressions count. Whether you're a school or a business, an entrance canopy helps you to make the best first impression that you can. Entrance canopies are an attractive yet affordable addition to your premises that offers both a clear focal point and shelter for your visitors. The last thing you want is an important client, customer or inspector getting soaked in the rain while waiting for you to answer your intercom!
We offer a small but stunning selection of specially designed entrance canopies, with a variety of customisations to fulfil your requirements. The Motiva™ Entro™ is a duopitch (symmetrical) canopy that can be freestanding, wall-fixed and partially-wall fixed with optional side panels, post pads and aluminium guttering and downpipes.
Meanwhile, the Motiva™ Entrada™, which boasts an angled roofline and integral gutter, has been developed alongside architects and builders looking for a sleek design that doesn't rely on the building steelwork, interfere with brickwork or affect the thermal performance of the building envelope.
Playground Canopies
At A&S Landscape, we specialise in creating stunning, high-quality playground canopies, shelters and shade sails designed with children in mind. Whether you're a primary school, junior school or nursery, our covered area solutions give your children the opportunity to play and learn outside, no matter the weather.
When creating an outdoor space for children to have fun, burn off energy and get some fresh air, it's important to ensure it's accessible all year-round. Thanks to our high-quality materials, our playground shelters provide ultimate protection from our unpredictable British weather, safeguarding little ones from the sun's harmful UV rays during the sunny months and sheltering them from the rain, wind and snow during the harsher ones.
In addition to their many practical benefits, our bright, bold and dynamic canopy, shelter and shade sail designs add colour and vibrancy to any playground, helping to enhance the fun environment for your children.
With a plethora of designs, materials, colours, finishes and optional extras (such as side panels, shutter doors and padded post protectors) to choose from, our extensive range of playground cover solutions are versatile enough to meet all your requirements. Whatever the specifications of your canopy or shade sail, you can be confident in its durability, dependability and value-for-money thanks to our high-quality materials and expertly designed structures.
Having worked with many schools and nurseries throughout the UK, A&S Landscape is a name you can trust when it comes to designing, manufacturing and installing playground canopies.
Dining Area Canopies
More schools are recognising the value of giving their pupils a place to eat outside with dining area canopies. Dining shelters allow students to get clean, fresh air while still keeping them protected from the sun's harmful UV rays during the hotter months and shelter from the rain, wind and snow during the colder ones. After all, there's nothing quite like eating lunch al fresco to lift the mood and improve overall well-being which, in turn, has a positive effect on productivity and the ability to learn.
Dining area shelters also help you to reduce congestion during those busy lunchtime periods and keep your pupils onsite while increasing your seating capacity in a much more affordable and cost-effective (not to mention popular!) way compared to extending your dining room. On top of all these practical benefits, a colourful and attractive dining area canopy offers its own relaxing atmosphere.
At A&S Landscape, we have a vast offering of outdoor dining canopies and shelters to suit all spaces and specifications. Our Motiva™ Duo™, Duo Double™ and Maxima™ Tepee™, in particular, are perfect for providing shelter over your picnic tables and benches. Having designed, constructed and installed dining area canopies and shelters for many schools across the UK, we have extensive experience in this area, and we'll work closely with you to make maximum use of the space and budget available.
Covered Walkways
When you look outside the classroom window and see it pouring down with rain, the last thing anybody — staff or student — wants to do is step outside in it. The solution? Covered walkways.
Fixed and functional, covered walkways provide dry access and defined routes throughout your school premises, whether it's navigating between classrooms and other buildings, car parking areas and entrances, or the main school and outdoor dining or play areas. They work especially in schools that are spread out or have mobile classrooms, helping to connect these segregated sites and foster a greater feeling of unity throughout the entire school.
Our Motiva™ range offers a fantastic selection of flexible canopy solutions for all your covered walkway needs. You can choose between a wall-mounted or free-standing canopy; a straight roof (Motiva™ Linear™) or a curved roof (Motiva™ Wave™, Motiva™ Mono™); and a variety of colours and finishes to match your school's aesthetic. We also offer a host of side panel options if you're looking for added weather protection.
A&S Landscape has provided covered walkways for many schools up and down the country. All of our canopies are made to measure, ensuring they fully meet your requirements.
Sports Canopies
Outdoor sports facilities provide a valuable service to the community. Whether it's football, tennis or hockey, these spaces help young children, school pupils and local residents stay fit, active and engaged in healthy social activities while reaping the benefits of clean, fresh air. However, as all sports fanatics will know, our unpredictable British weather can often put a dampener on our favourite hobbies.
A canopy is crucial to making sure your sports facility remains accessible all year-round, whatever the weather. Whether it's a grass field, an artificial pitch or a multi-use court, a canopy provides shelter from rain, snow and ice, allowing your pitch or court to be used not just in the sunny months but during the harsher ones. In doing so, you're able to accommodate more activity programmes for paying users and maximise your revenue stream.
At A&S Landscape, our sports canopies are constructed with only the most durable materials to meet the highest specifications while ensuring longevity and providing excellent value for money. Floodlights and fencing can also be installed to truly maximise your sports facility's potential. With a diverse array of applications, our canopies also work great for sheltered spectator stands, outdoor performance centres and all-weather training facilities.
Having worked with several esteemed sporting clients including The FA, Team GB, Archery GB and the Royal Air Force, we've got your sports canopy needs covered.
See more of our featured canopy projects
Dunraven Academy in London Add Colourful Fabric Canopies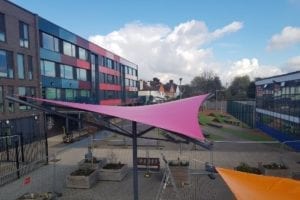 Dunraven Academy is rightly proud of the outside space they have on offer to their students. In order to make the most of the external areas, they decided to add areas of shade and shelter. The solution came in the form of two Maxima StarSail™ fabric canopies, supplied and installed by A&S Landscape. Both shelters feature Slate Grey coloured uprights, contrasting with the brightly coloured orange and raspberry fabric covers. The shelters have been a stylish and useful addition to the campus and can be enjoyed for many years to come. Find out more about the colourful canopies at Dunraven Academy here.
The Mary Bassett Lower School Add Straight Roof Shelter in Bedfordshire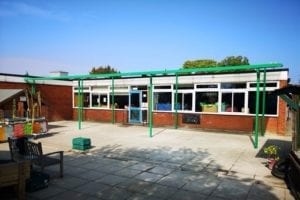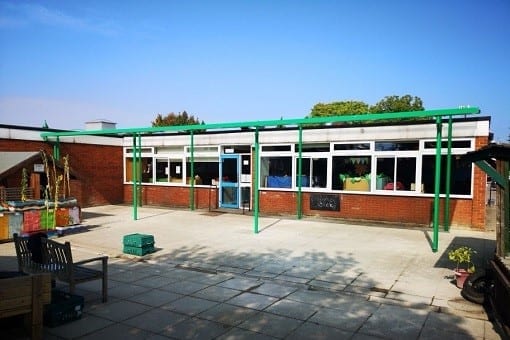 Based in Leighton Buzzard, The Mary Bassett Lower School wanted their pupils to spend more time outside in the fresh air. The team decided to install a playground canopy which would create a sheltered space that could be used all-year-round. A&S Landscape installed a straight roof shelter from the Motiva range. With Signal Green coloured steelwork, the canopy is a lovely addition to the play area. The clear polycarbonate roof sheets also protects the pupils from harmful UV rays. The school told us they were 'really thrilled about the work' and praise our installation team for their politeness and consideration. Find out more about the playground canopy at The Mary Bassett Lower School here.
Play Area Shelter Made for Loddon Primary School in Reading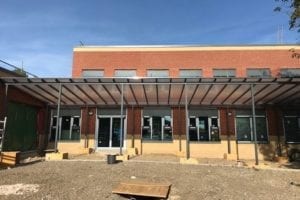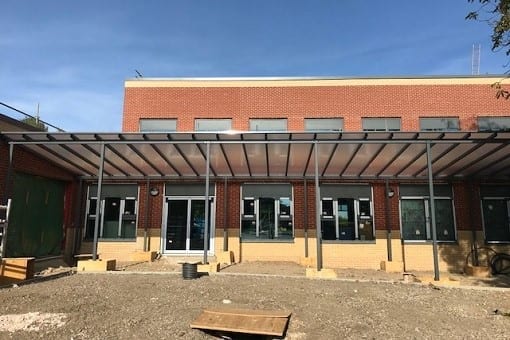 A&S Landscape worked with Loddon Primary School on their new building to help add an area of shade and shelter. The campus already featured an open-air swimming pool, wildlife area and sports field, but the school was always striving to make more improvements to the facilities. We installed a Motiva Linear™ straight roof canopy with Basalt Grey coloured steelwork and clear polycarbonate roofing. This gives the shelter a sleek and stylish look, which works perfectly with the building it is installed in front of. The hardworking pupils can now enjoy their break times outside, even if it is raining thanks to the new canopy. Click here to see more about the shelter we designed for Loddon Primary School.
Multicoloured Polycarbonate Roof Canopy at Orchard Primary School in Derby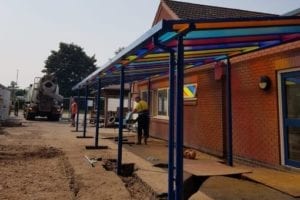 The fantastic teaching staff of Orchard Community Primary School wanted their pupils to be able to enjoy the outside space more regularly. They decided to install a primary school canopy, but it was important that the structure looked welcoming and matched the surrounding environment. Our expert design team proposed that we install our popular Motiva Linear™ shelter with multicoloured polycarbonate roofing. The school is overjoyed with the work and praised A&S Landscape for our 'nice, quick and friendly installation'. We consider that to be a job well done and hope we get to work with this great school again. Discover more about the colourful roof canopy we made for Orchard Community Primary School.
Straight Roof Canopies in Manchester at Dean Trust Ardwick School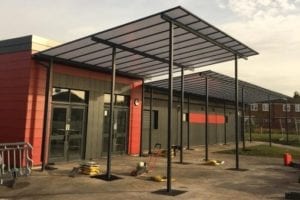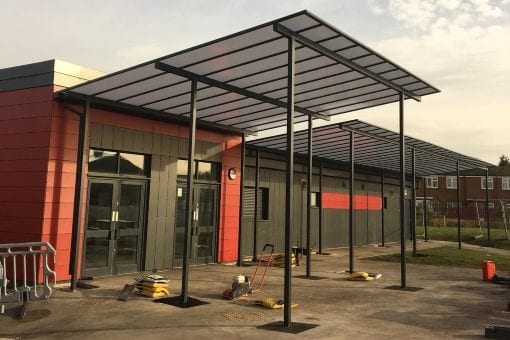 The staff at Dean Trust Ardwick School were aware of the many benefits of spending time outside during the school day. To enable the students to get outdoors more often, it was decided to add two shelters to the campus. A&S Landscape installed two Motiva Linear™ straight roof canopies, both with opal roofing and Anthracite Grey coloured steelwork. Plenty of covered space has now been created, which can be used during break and lunchtimes by the hardworking staff and students. The school said that they 'were happy with A&S Landscape throughout the project.' You can see more details about the shelters we made for Dean Trust Ardwick School here.
Superb Canopies to a Wide Range of Sectors
Schools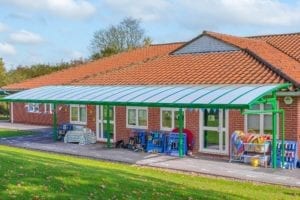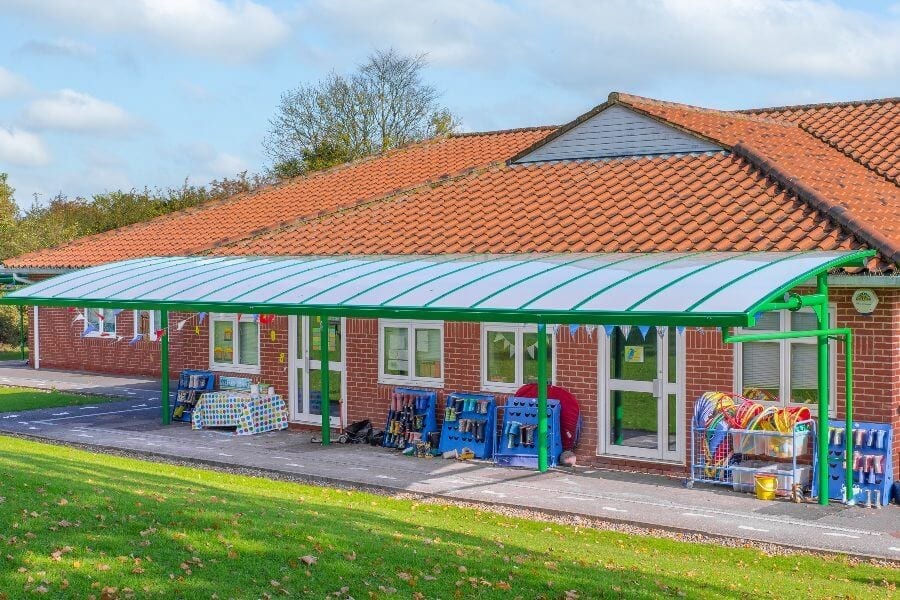 Here at A&S Landscape, schools are who we work with the most. We've designed, manufactured and installed a range of canopies for a long list of primary schools and secondary schools throughout the UK, earning a reputation as a leading and trusted name within the education sector.
Whatever your school is looking for, we can help you create a covered area solution that will benefit your pupils, staff, parents, and visitors while enhancing your school premises. Our expert design team can work closely with you to design a playground canopy, dining area shelter, covered walkway, entrance canopy or multi-use games area cover. All of our canopies can be tailored and customised to meet your exact requirements and preferences.
Having worked extensively with schools of all sizes, we understand the value that canopies offer schools. Our weather-proof canopy roofs provide protection from the sun's potentially harmful UV rays, shade from the heat and shelter from wet weather, ensuring that your pupils can safely enjoy the outdoors, no matter the weather. A dining area canopy, in particular, is a fantastic and cost-effective way of expanding your lunchtime seating capacity at the fraction of a cost of extending your dining room. The durability and long-lasting guarantee of our canopies mean they're built to last in a school environment while offering excellent value for money.
Whether it's a playground shade sail or a dining area canopy, giving your pupils a safe and covered area to spend time outside and enjoy the fresh air will improve their ability to learn, boost their productivity and focus, and contribute positively to their overall health, wellbeing and development.
Nurseries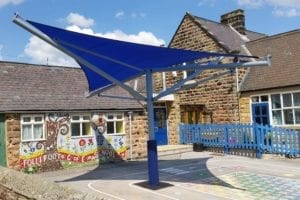 It's important for toddlers and young children to get out in the fresh air and stimulate their senses. With A&S Landscape's nursery canopies, you can provide your children with an outdoor play area that is safe and secure, private, and protected.
From the Maxima™ Sail™ and Maxima™ Tepee™ to the Motiva™ Mono™ and Motiva™ Cantilever™, our wide range of nursery canopies offers essential protection from all the elements, keeping your little ones safe from the sun's harmful UV rays during the sunny months and sheltered from the rain.
One option that's especially popular in nurseries is our coloured roof canopies. With a whole variety of bright colours and designs to choose from, they create a fun, inviting and eye-catching atmosphere which your children (and their parents!) will love. Furthermore, many of our canopy options can be designed with additional side panels, creating a private, discreet, and enclosed area to ensure the safety of your children.
Thanks to our high-quality materials (including steel, polycarbonate, fabric and glass) and expertly designed structures, our nursery canopies come with a long-lasting guarantee, offering dependable cover and excellent value for money.
So whether you're looking to enhance an existing playground or transform a previously unused area into a fun and functional outdoor play space that can be used all year-round, get in touch with A&S Landscape today to create the perfect canopy for your children.
Colleges & Universities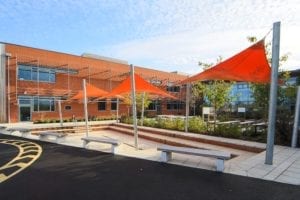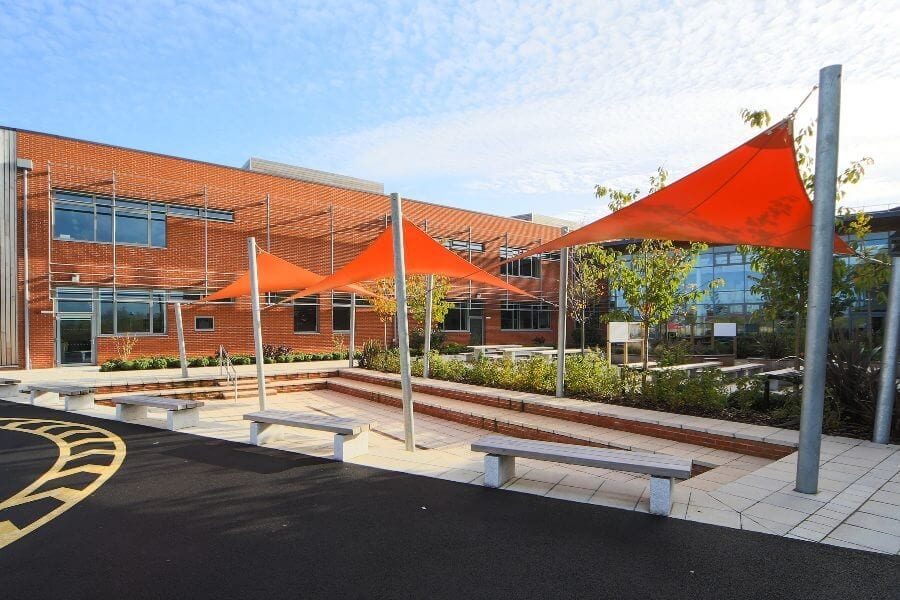 Canopies for colleges, universities and academies need to be extremely robust, functional and aesthetically pleasing. Combining structural durability with architectural beauty is even more important at places of further education as mature students have a greater demand for outdoor covered areas, as well as a greater appreciation for campus facilities and their surroundings.
At A&S Landscape, we offer a comprehensive range of steel, glass, fabric and polycarbonate canopies that work perfectly for colleges, universities and academies. Whether you're looking for an outdoor dining shelter, an entrance canopy, a covered walkway or even a high-spec sports canopy, we can provide the perfect canopy solution to meet your college or university's needs.
With a team of professional and experienced canopy experts, we're here to help you from the design process right through to installation, creating a bespoke canopy that not only enhances your campus but improves your student experience. Having worked with many colleges, universities, and academies across the UK, we've become a leading provider of canopies in the higher education sector.
Parks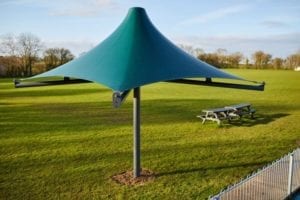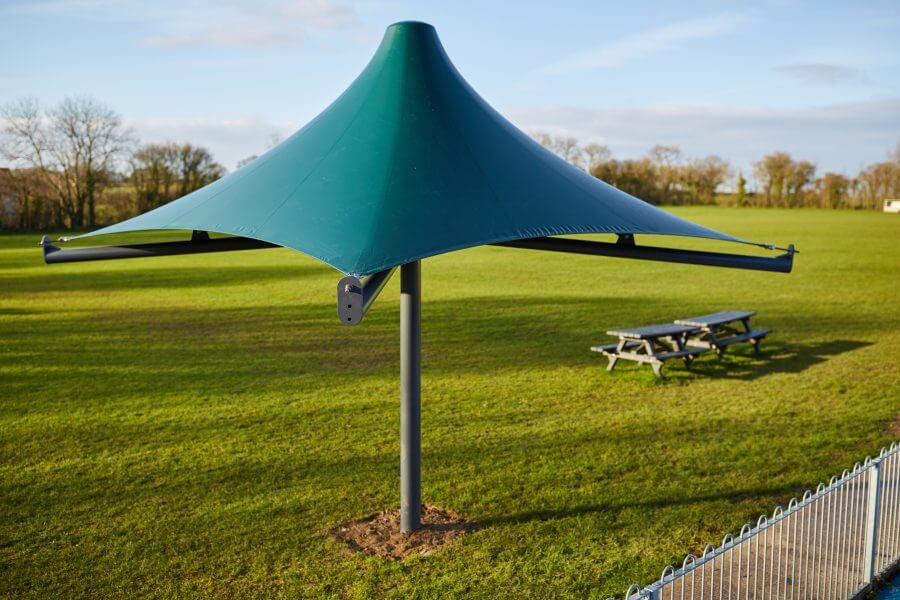 We can all agree that parks are one of life's simplest pleasures. They offer a place to exercise in the great outdoors, take the dog(s) for a walk, spend time with friends and family, let the kids play and burn off all that energy, or simply relax and unwind in the fresh air whilst catching the sun.
Canopies and shade sails are an excellent addition to any park or public space. They play an important role in making sure these valuable green spaces are accessible all year round. Not only do they provide shade from the sun's UV rays during the summer (which is especially important for the little ones!), but they offer shelter from the rain and wind during the colder ones. Canopies and shade sails create a dry and covered area where parents can sit and watch their children play, and perhaps even enjoy a nice cuppa if there is a café in the park!
Any fixture being installed in a public space needs to be of the highest quality. At A&S Landscape, our park canopies and shade sails are durable, robust and come with a life-long guarantee while bringing structural beauty to the natural environment. Your options range from the Maxima™ Umbrella™, which combines solid steel framework with high-strength waterproof PVC fabric, to the Maxima™ Sail™, a stunning shade sail featuring high-quality knitted fabric shade cloth. With such a vast range of choice, you're sure to find the perfect canopy or shade sail for your park.
Commercial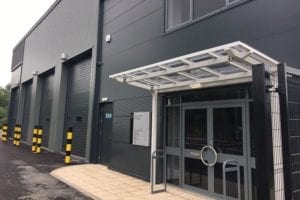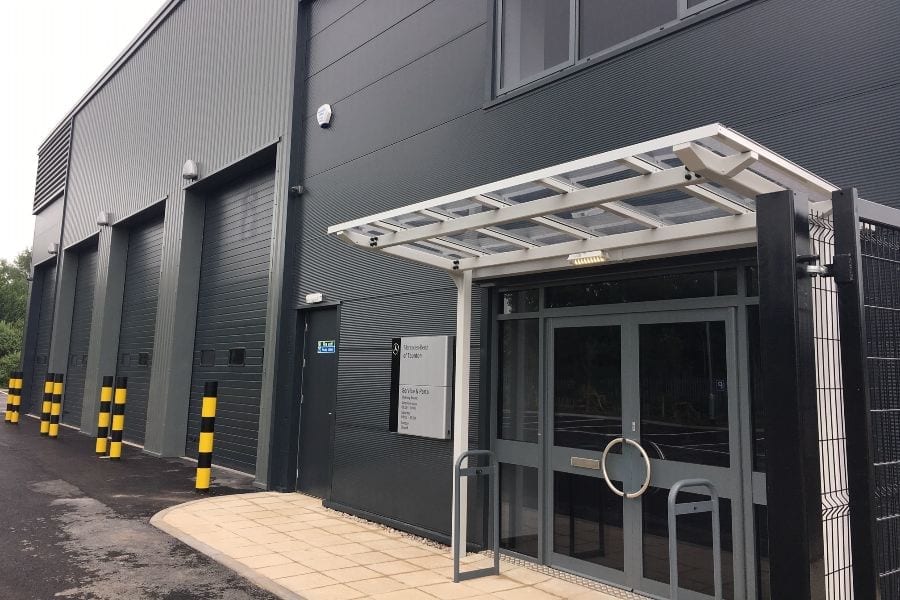 From factories, warehouses and delivery depots to retail parks, retail showrooms and supermarkets, canopies are a useful addition to any commercial properties. Whether you're looking for a loading bay canopy, a car park canopy, a bin storage shelter, a covered walkway, an entrance canopy, a smoking shelter or a cycle storage unit, a commercial canopy offers shade and shelter for your staff, customers and visitors while keeping your stock/inventory, vehicles and bicycles dry and protected.
An increasing number of companies are becoming more concerned with improving their hospitality provision and a high-quality canopy can help you to achieve this, whether that's offering a dry and covered walkway between your car park and your building or a sheltered break-out space for your coffee-drinking staff or clients. Commercial canopies provide essential practical value for your employees and operations while helping you to improve the customer experience, increase footfall and boost the value of your property.
At A&S Landscape, we offer a range of well-designed, long-lasting, and cost-effective canopy solutions suited to any commercial site. From tensile fabric and solid steel to polycarbonate and glass, our canopies come in a wide range of materials and finishes to meet your needs and match your company's branding. All of our canopies can accommodate signage, too, allowing you to clearly signpost entrances, parking or loading bay areas while increasing your business' visibility.
Healthcare Sites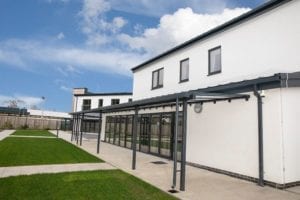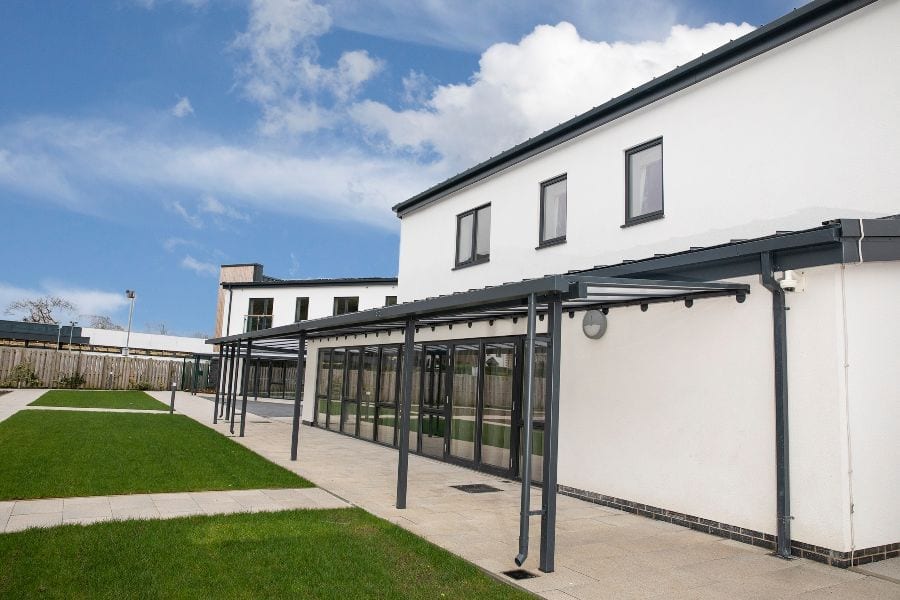 From hospitals and surgeries to care homes and clinics, it's essential that healthcare facilities provide outdoor cover for their patients, staff and visitors. A canopy offers a functional and cost-effective solution to these needs.
Perhaps you require a covered walkway to connect your entrance with your car park, providing dry access and guided navigation for patients and visitors. Maybe you need a canopy system for your ambulance drop-off points, ensuring critical patients remain safe and protected upon their arrival. Or you may be looking to improve your hospitality provision by creating a comfortable and sheltered outdoor dining, seating or break-out area, enhancing the overall wellbeing of your patients, visitors and staff.
At A&S Landscape, we offer a multitude of high-quality, well-designed and competitively priced canopies and shelters to augment any healthcare site. Having worked with a range of clients in the healthcare sector including the NHS, NHS Foundation Trust, Serco and Jewish Care, we can offer our experience and expertise to ensure your canopy is the best that it can be.
Hospitality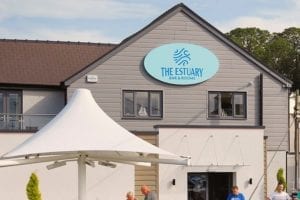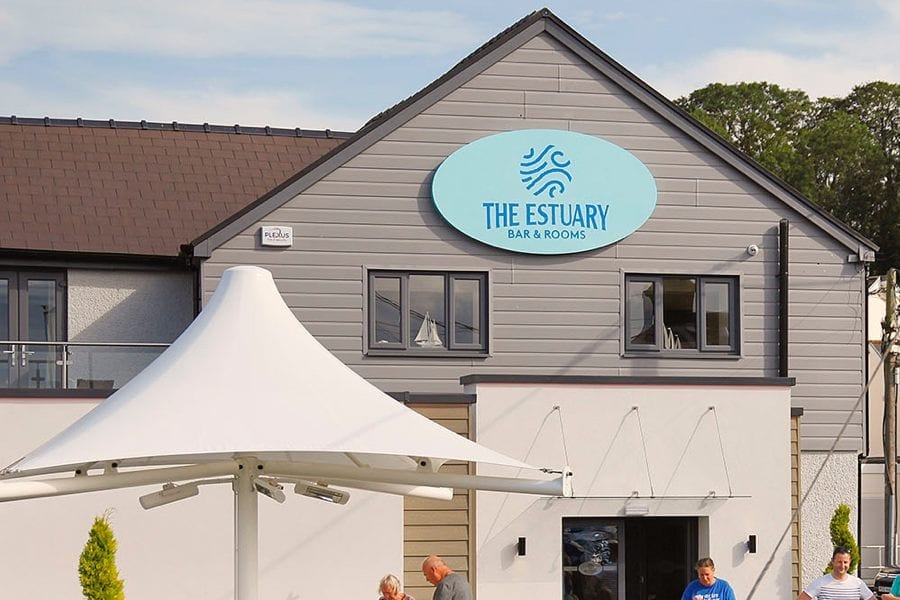 Whether you run a major restaurant franchise, a countryside pub or a small cafeteria, it's important that you provide a dry, safe and comfortable environment for your customers, especially when it comes to outdoor spaces. When the weather is pleasant, people love nothing more than dining, drinking, and socialising outside in the fresh air.
Combining reliable weather protection with aesthetically-pleasing designs and long-lasting durability, a canopy from A&S Landscape allows you to provide your customers with exactly what they want while keeping them shaded and sheltered from any sudden changes to the weather.
To really impress your customers, why not consider a retractable canopy? This sleek, modern and versatile canopy can be opened and closed with a simple push of a button, so you can keep them cool and shaded when required, or allow the natural sunlight to seep in, creating a warm and bright atmosphere with the added bonus of UV protection.
Whether you're looking to provide cover for a small outdoor seating area or a large terraced dining area, our fantastic range of canopies can entice new customers in and keep your existing ones coming back, making them a worthwhile and cost-effective investment for any hospitality business.
Garden Centres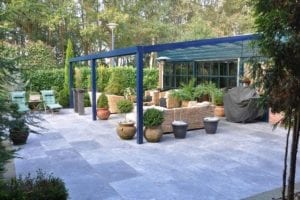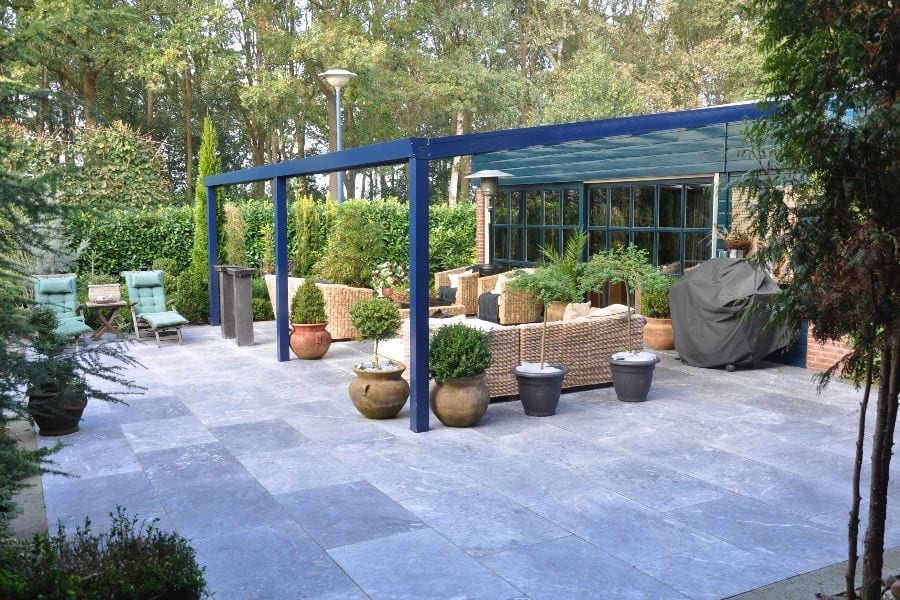 From improving the customer experience to protecting your products and boosting your sales, a canopy offers plenty of practical and aesthetic benefits to garden centres.
A high-quality shelter provides a dry and covered area under which customers can browse your product range whilst also safeguarding certain garden products such as wooden benches from the damaging effects of wet and/or humid weather. A covered walkway, meanwhile, provides dry access and clear, easy navigation throughout your garden centre.
If your garden centre has an outdoor café or refreshment area, a canopy allows your customers to sit down, relax and enjoy a hot cuppa and a slice of cake under a dry and shaded area while still getting the fresh air. To really make your garden centre family-friendly, why not invest in a play area canopy for the little ones? Having an outdoor covered area also comes in great when seasonal events roll around — think Christmas Grotto, Easter Bonanza or Halloween Spooktacular!
With a range of steel and polycarbonate canopies or fabric canopies in a variety of colours and finishes to choose from, we can create the perfect canopy for your garden centre that truly complements your products and natural foliage.
Public Attractions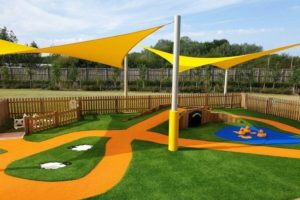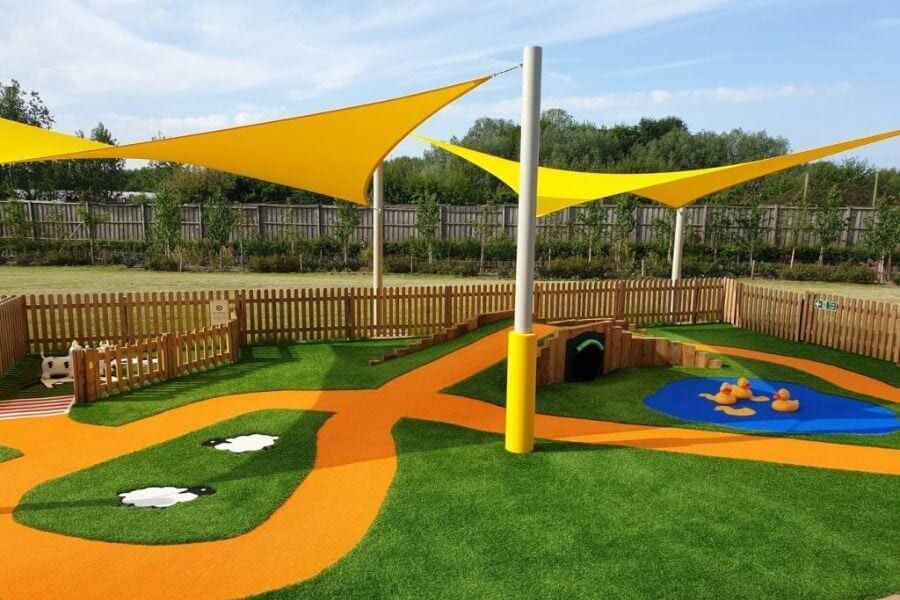 When you have people paying to visit your premises, it's crucial that you deliver the best possible experience to help them enjoy their day, and that includes providing shelter.
Whether you run a theme park, a zoo, an open farm or a museum, a public attraction canopy gives your customers a covered space that keeps them out of direct sunlight and dry from the rain for when they're dining, viewing, queuing, waiting, playing or even paying. Outdoor play areas, viewing areas/platforms, outdoor dining areas, covered walkways between buildings and car parks, and picnic spaces are all areas at public attractions that require a covered solution.
Any fixture being installed at a public attraction needs to be robust and durable, which is exactly what our canopies are. Thanks to our high-quality materials and expert designs, our canopies come with a life-long guarantee. As well as being practical and functional, a sleek and stunning canopy can really enhance your space, adding style, elegance, vibrancy and character to any public attraction. In fact, a beautiful canopy can be something of an attraction itself!
At A&S Landscape, our canopies can be designed to provide shelter for a single picnic table all the way through to covering large activity spaces. You can choose from steel, polycarbonate, fabric and glass canopies in a selection of colours and finishes to complement your brand colours. Plus, all of our structures can be designed to accept signage, helping your visitors to find their way around your site.
Car Sales Forecourts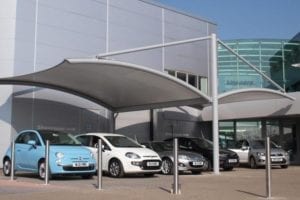 Offering a bevy of benefits including helping to drive footfall, improve the customer experience and boost your bottom line, a forecourt canopy is a worthwhile investment for any car dealership. Thanks to their sleek, stylish, and striking appearance, they will enhance your forecourt, improve your visibility and present a more upmarket look. Not only that, but a forecourt canopy will help to keep your cars in pristine condition while protecting your potential customers as they browse, keeping them looking for longer.
At A&S Landscape, our forecourt canopies are specially designed to meet the needs of car dealerships. We can create anything from a dedicated canopy for a single car — perfect for showcasing a special offer or providing cover for a designated handover area — through to an expansive canopy that covers your entire forecourt. We can also design and install canopies for your onsite car wash or valet areas.
Our forecourt canopies are available in a range of materials (including tensile fabric, steel, polycarbonate, and glass), colours and finishes to match your branding and meet your exact specifications. All of our structures can also be designed to accommodate signage, ensuring you never miss a promotional opportunity.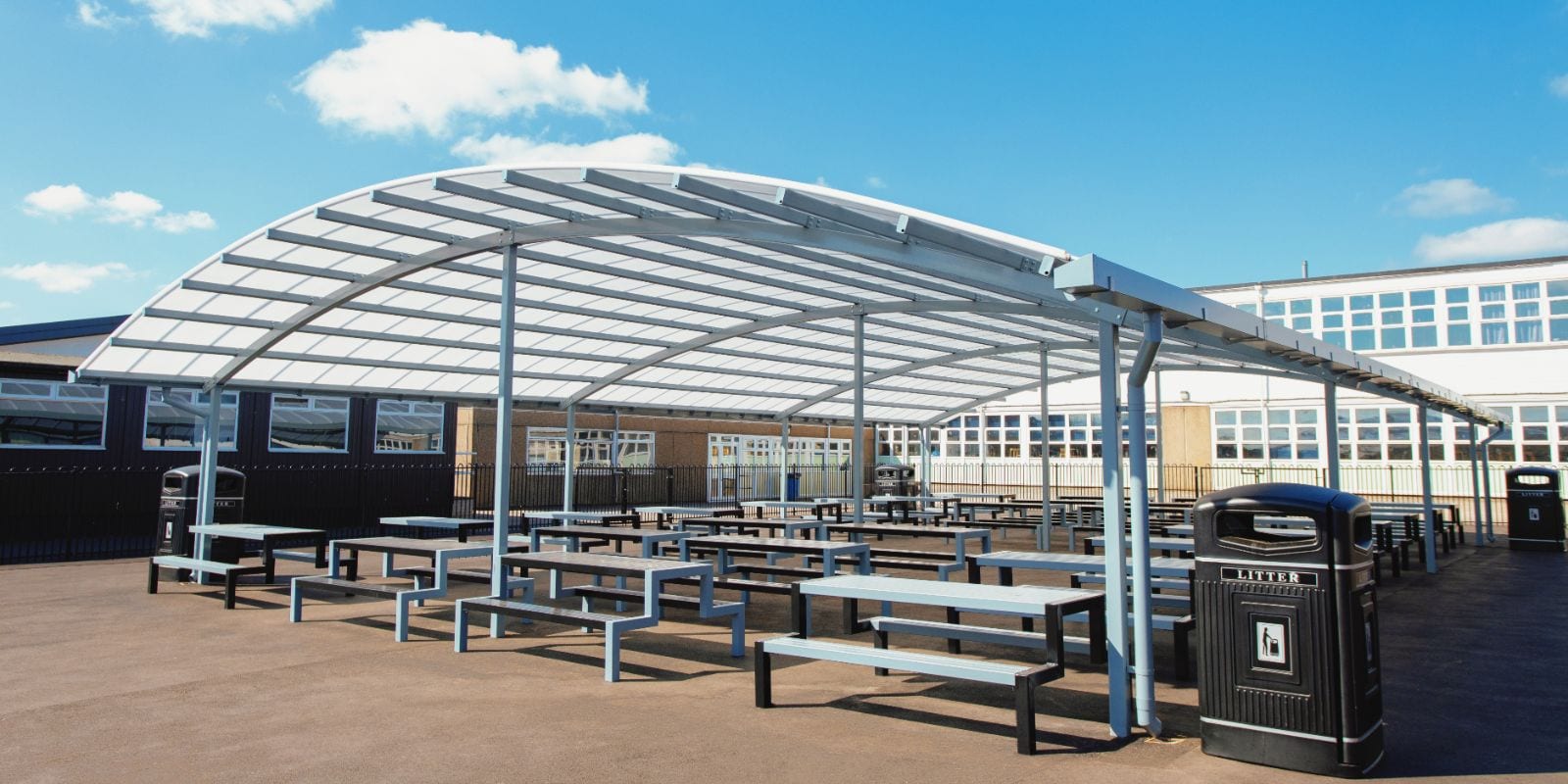 Send us your email and an idea of your requirements and we'll get back to you with a quick price.