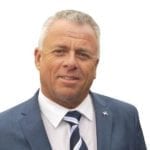 I am very pleased with the canopy, it has exceeded my expectations. The project has been fantastic.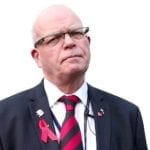 Communication with A&S was brilliant. I had no hesitation in calling and within half an hour the project was booked.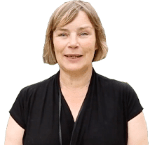 A&S Landscape was clearly the company to go with. They were accommodating and worked very well with us.
Playground Canopies
Playgrounds are some of the most influential and important spaces that children and young people spend time in, and the way they look, feel and operate can have a significant impact on the way they interact with them. Canopies in school and communal playgrounds also allow kids to get outside, even in adverse weather conditions, as well as providing options for outdoor learning in the spring and summer months.
Playground canopies don't just provide protection from the sun or rain, they act as a central, focal point for these shared spaces, and provide a community space where parents and children can gather. Creating structures and building elements that enhance the overall experience young people have in these spaces can create a positive effect on their development and wellbeing, which is the ultimate goal in many of these shared spaces.
A&S Landscape has more than 40 years of experience in designing and constructing elegant canopy solutions for our customers, including for playground spaces. When it comes to our projects, we concentrate on quality and durability, using materials and construction methods that follow very strict standards to ensure the longevity of your canopies. Please don't hesitate to contact our expert team to learn more about how we can support you in creating beautiful, functional spaces for your playground. We'll be happy to assist you in any way we can.
Benefits of a Playground Canopy
There are many benefits to installing a playground canopy, including a safer play environment, less risk of slips, protection from harmful UV rays and increased use of the outdoor space throughout the year. This is why many primary schools are adding canopies and shade sails to their outdoor play areas.
Looking for a Quick Price?
Send us your email and an idea of your requirements and we'll get back to you with a quick price.
Look through some of our playground canopy projects
Bleasdale School In Lancashire Install Playground Canopies
Outdoor Playground Canopy at Allen Edwards Primary School in Stockwell
Outdoor Classroom Created for Monksmoor Park Primary School in Northamptonshire
Shropshire's Woodside Primary School Install a Playground Canopy
New Playground Canopy at Christ Church C of E Primary School in West Midlands
Playground Canopy Design Options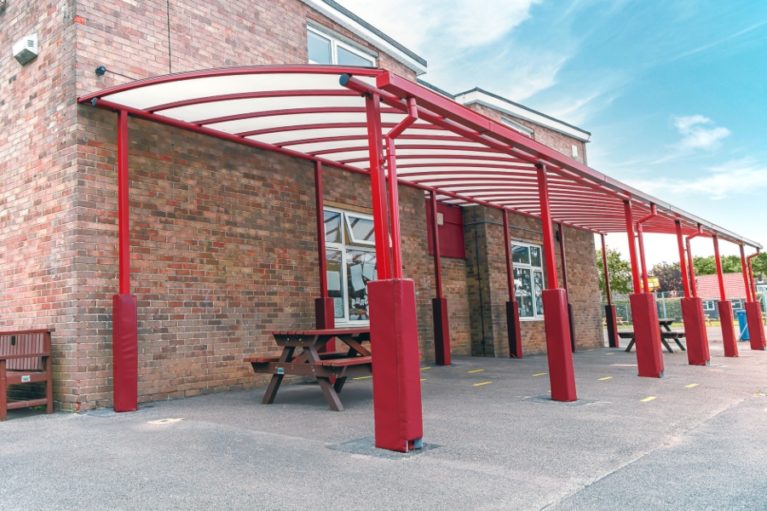 The quality of the product was really good, it gave us exactly what we wanted and it was good value.
- Covingham Park Primary School
View Project
Our Featured Playground Canopies Project
Simon Balle All-through School in Hertfordshire adds Multiple School Canopies

What was the project brief?
Simon Balle All-through School in Hertford offers education to children from primary age right up to sixth form. In 2015, the school added a new building with classrooms, offices and an assembly hall. The new classrooms had been developed with new and exciting resources, intended to engage and stimulate students to learn. The school wanted to ensure that the outside space complemented the new school building, and this is where A&S Landscape became involved. Having designed, manufactured and installed thousands of shade systems for playgrounds and other uses, the expertise they brought was paramount to the completion of the school's vision.
This was a large-scale project, with the school opting for not just one outdoor canopy, but four! Each one would serve its purpose in developing the outside space, but all needed to 'fit' with the existing architecture and surrounding environment and provide efficient protection for the children. With the average size of classes increasing, these were to be large canopies that could be used as outdoor classrooms, an area for in-between lessons and outside dining.
What was our school canopy solution?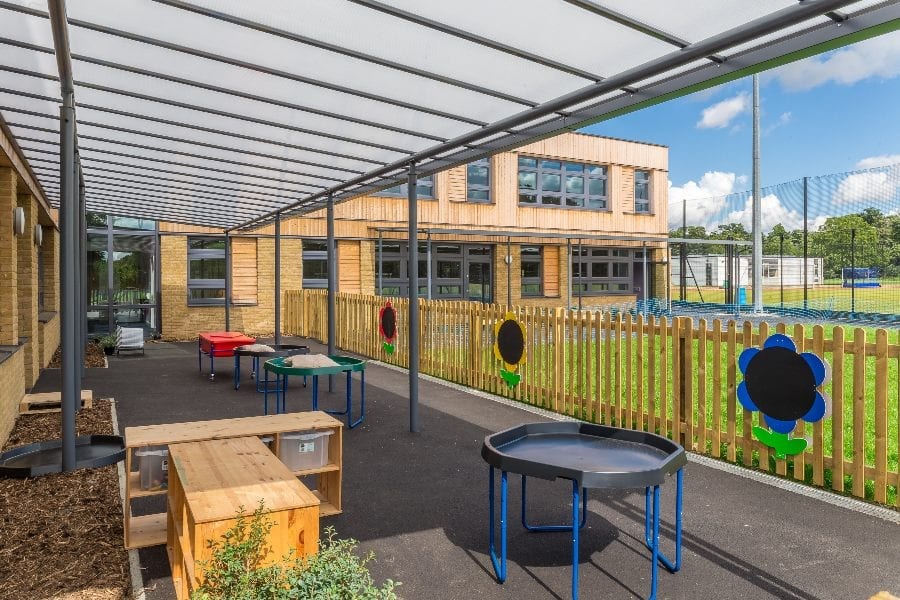 The school canopy we chose for the two playground canopies and the entrance canopy was the straight-roof design Motiva Linear™. These solidly built canopies are built from a steel framework, have a Dura-coat™ finish, and with their flexible design features widths of up to 10000m are easily achievable. One of these particular canopies we installed at Simon Balle All-through School measured 15000mm X 4000mm!
For securing cycles, we installed a Cyclo City™ – our answer to the flimsy cycle stores available on the market. With a robust steel frame and 35mm thick roof, there is little doubt that this is a safe place for students and teachers to park their bikes. Great value, secure, and a clever design of simplicity – these robust stores are great for schools, colleges, and universities, where more and more students want to live a healthier lifestyle. Scooter racks were also installed inside the shelter.
While the cycle store and the playground canopies served more functional benefits, the entrance canopy added style. Being specialists for enhancing playgrounds in early year settings, academies and sixth forms, the structures were designed with the children in mind. All of the canopies matched the other architectural steelwork too.
We were proud to once again to work with Balfour Betty on this project. They are a key supplier for the educational markets in both the UK and America. They work on projects that span from a single extension building, right up to entire campuses.
What was the result of the new shelters?
Each school canopy has its own purpose, and together they all create a unique focal point within the school grounds. The three linear roof canopies provide efficient cover for the children to play outside, even during the winter months. High-quality weather protection is guaranteed by the weatherproof materials and strong structure. With Ofsted recommending that young children should be outside for at least three hours per day, Simon Balle All-through School made this possible by installing multiple canopies. The children can now enjoy the outdoors under the covered area, even in the depths of winter.
The cycle store serves the all-important purpose of keeping the bicycles and scooters safe for both the students and teachers. Both modern and secure, they provide full weather protection from the wind, rain, snow and hail. The fourth school canopy to be installed, the entrance canopy, has brought an essence of style and identity, a proud statement to anyone upon first entering the school.
About the client
Simon Balle all-through School is located in Hertford, Hertfordshire. We were extremely pleased to work with such a friendly and pleasant team of people. Always on hand to assist us with the process, they were a pleasure to work alongside. We were delighted to assist them with several canopies, after the success of the first two play area canopies, and see the amazing results of their ambitious project.
What is a straight roof canopy?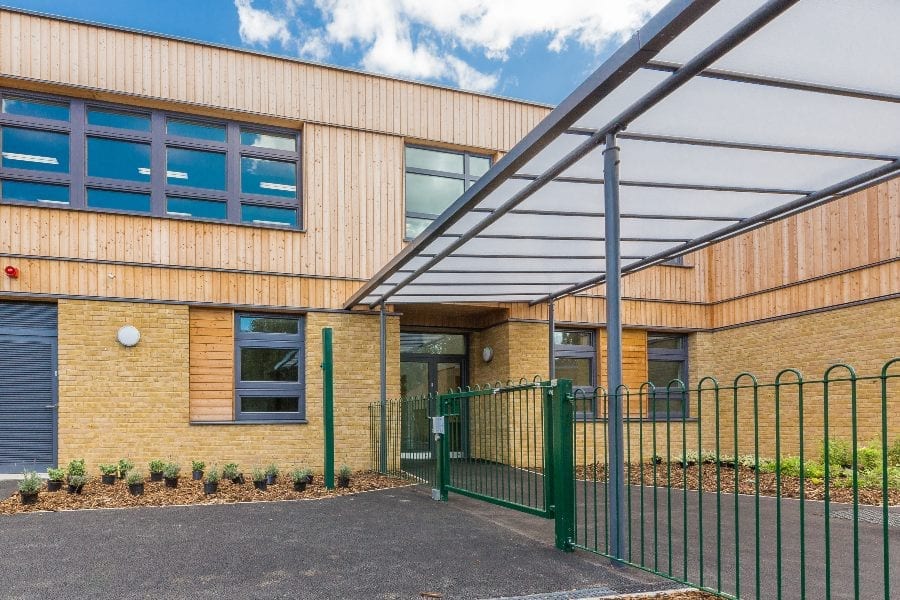 A straight roof canopy is a popular choice for schools. Typically, these canopies are wall-mounted and are often used to make extensions for classrooms as there are countless benefits of learning outside. Installed this way even helps to keep the inside areas cool during the summer. However, a straight roof canopy is also suitable for other uses, including covered walkways and outdoor seating areas.
The straight roof variant used by A&S Landscape is monopitch (asymmetric), meaning that one side is higher than the other. The pitch varies and can be suited to your needs, however, the lowest pitch typically available is 5 degrees. This is to ensure that the end results are effective shade structures, with adequate shade to offer maximum sun protection and effective protection from the harsher weather elements.
These canopies also come with additional features including side panels, clear, opal and coloured roof, and aluminium guttering and downpipes. The final design is dependent on your needs – and A&S Landscape can assist you in making the most of the versatile nature of these outdoor shade structures.
Why work with A&S Landscape?
We have been specialists in the design, creation and installation of school canopies for over 44 years. In this time, we have installed thousands of custom shade structures, some with colourful canopy roof panels, some as modular designs that extend, and a wide variety of others. All projects are undertaken with the wellbeing of the children as the primary focus, and each is unique to the play area, outdoor area or courtyard that is available.
Being a family-led company, we have never lost touch with our core values. We are made up of a friendly team who are trusted by local authorities, educational bodies, NHS Trusts, schools, colleges and universities across the UK to deliver long-lasting canopies fit for purpose. It's an integral part of our business to provide all of our customers with an efficient, reliable and personal service.
Whatever your requirements, we can help you choose the right shade solution for you. Please don't hesitate to get in touch with us on 01743 444100 or at [email protected].

Playground Canopies Prices
As with all our products, the best way to get a playground canopy cost is to talk to us or you can visit our prices page for details of how to contact us for pricing. As a basic rule, a straight roof canopy will cost less than a curved roof Play area canopy and a one-way sloping roof (as opposed to pitched or barrel vault design) will save on guttering (if required).
Options for Playground Canopies
Freestanding playground canopies
Straight roof playground canopies
Curved roof playground canopies
Side panels
Post pads
Coloured polycarbonate roof canopies
Wooden Playground Canopies
In addition to our wide range of steel and polycarbonate canopies, we also offer timber frame alternatives. Wooden shelters are often popular amongst primary schools due to their cost-effectiveness and aesthetic appeal. They make ideal playground covers and outdoor classrooms, as they can provide excellent weather protection. Typically, wooden playground canopies will still feature a polycarbonate roofing system, so that the structure still provides essential UV protection as well as cover from the rain.
So how can you decide whether to pick a timber shelter or a more traditional steel frame design? The right choice for your school will depend on your range of requirements, budget and how long you want the structure to last. If you are looking for simple and relatively cheap designs, you may find that timber designs will work best. Plus, if the cover is to be used in a natural environment, like a forest school, then you may also prefer how the wooden canopy looks.
But if you want to invest in an outdoor playground option that will last for many years, then one of our steel frame outdoor shelters may be a better choice. These robust canopies can be used for a wide variety of applications, such as supporting outdoor learning, storing playground equipment, or with the addition of some seating, even an outdoor dining space. With a huge range of canopies available on the market, it's important you consider a range of factors before choosing the right playground canopy.

The Benefits of Outdoor Learning
More and more schools are recognising the true importance of allowing children to learn outside of the four walls of a classroom. Our range of school canopies help teachers take their classes outside to provide a memorable and engaging lesson. This has been found to help improve children's understanding of the world around of them.
See how we can use outdoor learning to empower the next generation
Transcription
Jo Clark (On the Hill Director and Facilitator):
One of the reasons I feel really passionate about this work is that, I was brought up on a farm not many miles away. And incidentally a farm where my parents struggled to make a living off 60 acres of land. And nowadays could certainly not make a living off 40 acres of land that we have here. I'm absolutely determined to use this land for social, educational and therapeutic purposes.
But what has inspired me over the years working with land-based education, and I was a teacher doing that work for 10 years, I've been involved in an organisation developing land-based initiatives for children, young people and adults for 10 years.
What I really, really want to question is just how we are growing our next generation. Are we growing our next generation into conformist, compliance people who will serve the present economic system? Or are we empowering our next generation to feel that they can be part of the change, the change that clearly is needed in our society?
What we have found and what we really are developing is ways that we can build resilience, build self-confidence, build a sense in the young people that they can be part of building their future. And encouraging them to make sense of their world. And involving them in the gardens and the natural world, management of the woodlands and hedgerows, and engagement with the food that they eat. They are making more sense because actually nature does make sense.
What happens in our natural world is much less abstract than what happens in our human created world. We're helping them to make sense, but we're also involving them.
In our programs, whether we're doing our outreach in schools, helping schools develop their school gardens, or building pizza ovens, or any other outdoor learning facilities. Whether we're doing that in schools or whether we're building a new barn, or a new set of compost toilets, or a new pizza oven, or working in the garden here or managing the woodland and hedgerows, looking after the animals.
We're actually giving children a sense that they can be part of the building of that future. We're actually strengthening what I called, something that I feel that we're all born with is, imagine it as the in-service muscle.
Imagine a muscle that we're all born with because we want to be part of something bigger than ourselves. We want to be part of community. We want to be making a contribution to community, but our culture is not really helping this muscle develop. And consequently, the muscle becomes rather atrophied and it's not strengthened.
And what I'm talking about is offering children and young people the opportunity to build and strengthen this in-service muscle. So as they grow through childhood, and through their teens and into adulthood, that they actually feel that they can rather than having to jump through hundreds of hoops that they've had to jump through in order to make a contribution, they've been empowered by being allowed to make a contribution. So by the time they get to adulthood, they feel that they're actually can build their future.
Here we are with students from Exeter University studying their PGCE. And the question that we've put to them, and I think the question that they're asking is, how can they be of best service to the growing and the educating of the next generation?
How can they bring themselves more fully?
How can they explore every single aspect of learning and whatever constraint to put upon them, whatever limitation that they have to work within?
How can they bring themselves fully so that they can actually offer an education that is not only focused on information intellectually-based learning, that is more focused around growing the whole human being?
Read about more of our playground canopy projects
Corbett C of E Primary School in Stourbridge Install a Red Playground Cover Canopy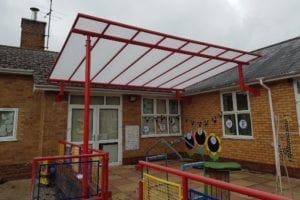 Corbett C of E Primary School in Stourbridge, West Midlands, already had an outside play area that housed play equipment and other activity kit. They wanted to make this area even more useable by installing one of A&S Landscape's playground canopies. Playground canopies come in all sorts of shapes and sizes. They can be tailored to the needs of any school. For Corbett C of E Primary School, the solution was a straight roof canopy from the Motiva Linear range. This worked perfectly in answering the brief set by the school which was for a playground shade canopy that wouldn't cut out the light from the rest of the building. A&S Landscape can help with just about any playground shelter requirements, and to find out more about playground shade canopy prices, click here to obtain more information. If you'd like to discover more about the Corbett C of E Primary School playground cover canopy project, click here.
Addition of a Canopy for School Playgrounds at Hamstel Infant and Nursery School in Essex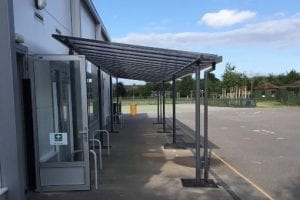 Hamstel Infant and Nursery School in Southend-on-Sea have a real affinity with the outdoors. In fact, they have a whole page on their website dedicated to outdoor learning and they even have their own hobbit hut! The school were the winning bidders for a cancelled order, and A&S Landscape was really pleased to play a part in helping them to make even more of their outdoor space. A&S Landscape installed a canopy called Motiva Linear. This versatile product is great as a canopy for school playgrounds and it fitted in beautifully at Hamstel Infant and Nursery School. With an asymmetric roof pitch and finished in slate grey steel, this playground canopy shade looked like it had been created just for them. To find out more about this playground cover canopy project and how it enhanced the outdoor space at Hamstel Infant and Nursery School, click here.
Large White Playground Canopy Installed at Hollinswood Primary School in Telford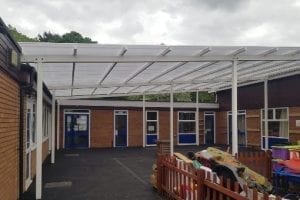 Hollinswood Primary School in Shropshire offers learning opportunities that specifically involve the outside. They have a 'forest school' and encourage the children to get out and about as much as possible, but sometimes the weather gets in the way. Hollinswood Primary School asked us to look at options for a large playground cover canopy. It was no small area that they wanted to cover, but neither was it too big a challenge for us to rise to. There are multiple ways to create a large canopy for school playgrounds, the solution came in the form of a canopy between two buildings. We installed a Motiva Linear straight roof playground cover canopy, and by finishing it with white steelwork and polycarbonate roof, the completed structure blended nicely with the school buildings. Find out more about the playground cover canopy installed at Hollinswood Primary School.
Bowesfield Primary School in County Durham Add Shade to Playing Field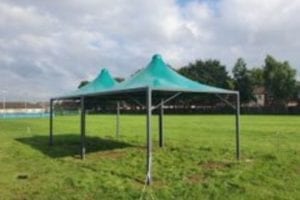 This fantastic school was looking to add some shade to an area of their playing field. During the hot summer months, the pupils would often get very warm while playing outside and the risk of getting burnt or overheated increased. To counteract this, Bowesfield Primary School asked A&S Landscape to design a playground canopy solution which would well in the proposed area. We installed two modules of our Maxima Tepee™ fabric canopy, covering a total size of 3m x 15m. With green fabric roofs, the canopies look perfect on the field. There is now a suitable space for the pupils to sit and play while staying protected from the harmful UV rays. The shaded space will also help to cool them down while the sun is at its peak. Learn more about the canopy we made for Bowesfield Primary School here.
Timber Frame Canopy Designed for St George's Catholic Primary School in Essex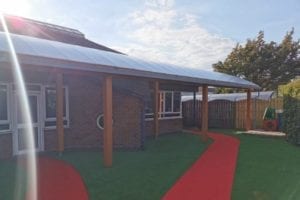 Although we specialise in solid steel frame canopies, occasionally a project comes along which requires a different approach. When we worked with St George's Catholic Primary School to add weather protection to their playground, they requested a wooden framed structure. We based the final design from our curved roof Motiva Mono™ product but replaced our usual steelwork with a sustainably sourced timber frame. This has given the area a natural look and works well with the surrounding environment. The wooden frame also looks fantastic with the opal polycarbonate roofing. Thanks to our manufacturing process, we can make bespoke changes to our standard canopies to suit your requirements. Whether you want to add side panels, roller shutters, lighting or use a custom colour, talk to our design team to learn how we can create a custom canopy for you. Find out more about St George's Catholic Primary School's timber canopy here.
Wood Bank Special School Add Fabric Playground Canopy in West Yorkshire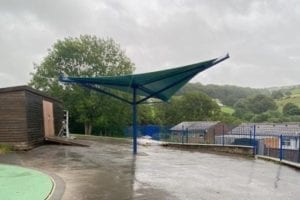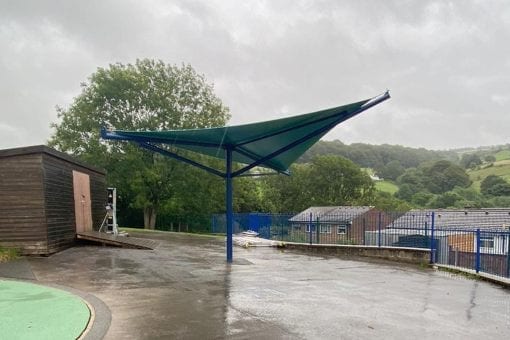 Wood Bank Special School are committed to investing in their outdoor areas and incorporating the outside in their lessons where possible. In order to get more use from the playground, it was decided to install a school canopy. A&S Landscape set to work in designing a fabric Maxima StarSail™, made to an overall size of 6m x 6m. With Porcelain Green coloured fabric and Sapphire Blue steelwork, the canopy has been a stylish and practical addition to the area. The pupils can play happily under the cover if they want cover from the rain, wind or sun. The teachers can also hold lessons outdoors without having to worry about the weather forecast. Overall, the canopy has been a great addition to the area and we're glad that we could help further improve this fantastic school. Continue reading about the fabric canopy we made for Wood Bank Special School here.
Playground Canopy Shade Installed at Kilby St Mary's C of E Primary School in Leicestershire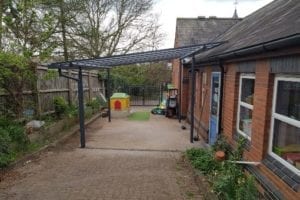 Our project at Kilby St Mary's C of E Primary School, set in rural Leicestershire, was extra special. Why? Because part of the school's building is listed. Projects like these take care and consideration, and we were determined that Kilby St Mary's C of E Primary School playground shade canopy would blend in with its surroundings. Getting the balance between a practical playground cover canopy that would fit with the building's history was important. To give the school an area of both shade and weather protection, we installed a Motiva Linear playground canopy. The steelwork was finished in a subtle Slate Grey colour, matching in perfectly with the traditional slate roof of the adjacent building. The effect was a practical canopy that did not look out of place. If you want to know more about playground shade canopy prices for projects like this, then click here. To see more about this playground shade canopy at Kilby St Mary's C of E Primary School, click here.
Straight Roof Playground Canopy at Northgate Primary School in Somerset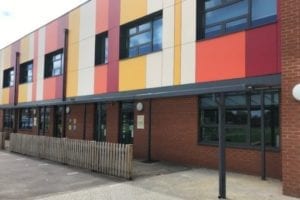 It's always a pleasure to get to work with previous clients again after they have witnessed the benefits of a canopy firsthand. So, when Northgate Primary School got back in touch, we were delighted to add another canopy to their playground. So that the second shelter would match the existing design, we used Slate Grey coloured steelwork with clear polycarbonate roofing. The pupils now have even more choice of where to play outside if they also want to find cover from the weather. Plus, at the end of the school day, the parents and carers can also use the space as a covered waiting area. Both of the canopies at this school have been based on our Motiva Linear™ straight roof option, but we also offer a range of other fabric and polycarbonate choices too. See more about the playground shelter we designed for Northgate Primary School.
Play Area Canopy at Holy Spirit Catholic Primary School in Wirral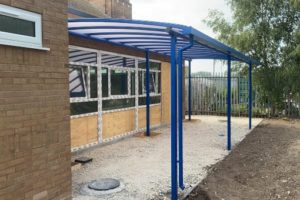 Holy Spirit Catholic Primary School were interested in an outdoor shelter for their playground, so their children could reap the benefits of being outdoors during both lessons and playtimes. A&S Landscape installed a Motiva Mono™ curved roof canopy, with Opal polycarbonate roofing. With an all-steel framework finished in Mid Blue, this design is extremely durable, which will guarantee shelter for many years, adding a beautiful splash of colour to the school grounds. Staff and pupils can now enjoy some fresh air without worrying about the weather – plus by taking their lessons outside, the children have been extra motivated and interested in their learning! It was a real pleasure working with this school throughout the entire process. Learn more here about this play area canopy at Holy Spirit Catholic Primary School.
Ysgol Awel Y Mynydd in Llandudno Install Playground Canopy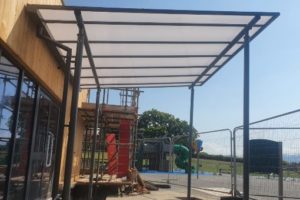 With stunning new outdoor school grounds and facilities, Ysgol Awel Y Mynydd Primary school wanted to complete the look of their playground with a sleek and stylish canopy. After reaching out to A&S Landscape, the installation of a Motiva Linear™ straight roof canopy was discussed and finalised – finished with a Basalt Grey Frame, with an Opal polycarbonate roof. The canopy has been the perfect addition, encouraging children to play outside even in adverse weather conditions. The school were delighted with the end product as it looked extremely attractive, completing the whole look and feel of the already impressive school grounds. Click here for more details on this playground canopy installation for Ysgol Awel Y Mynydd.
Playground Shelter at Plas Pawb Creche in Caernarfon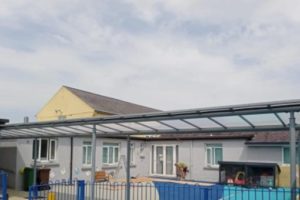 It is no secret that just like the rest of Great Britain, Wales can also experience harsh, cold and bitter winters. Installing a canopy in their school playground was very important to Plas Pawb Creche. After discussions with A&S Landscape and explaining that the school had a tight budget, we suggested installing a Motiva Linear™. This was both cost-effective and extremely versatile in its wide range of use. The school welcomed us with open arms on our arrival to Wales, making the whole installation process extremely positive from start to finish. They were delighted with the finished product and mentioned how elated the children were with their new playground cover. Now they can spend even more time outside regardless of the weather. Even the teachers have taken full advantage of this lovely outdoor sheltered space. Learn more here about this Playground Shelter at Plas Pawb Creche.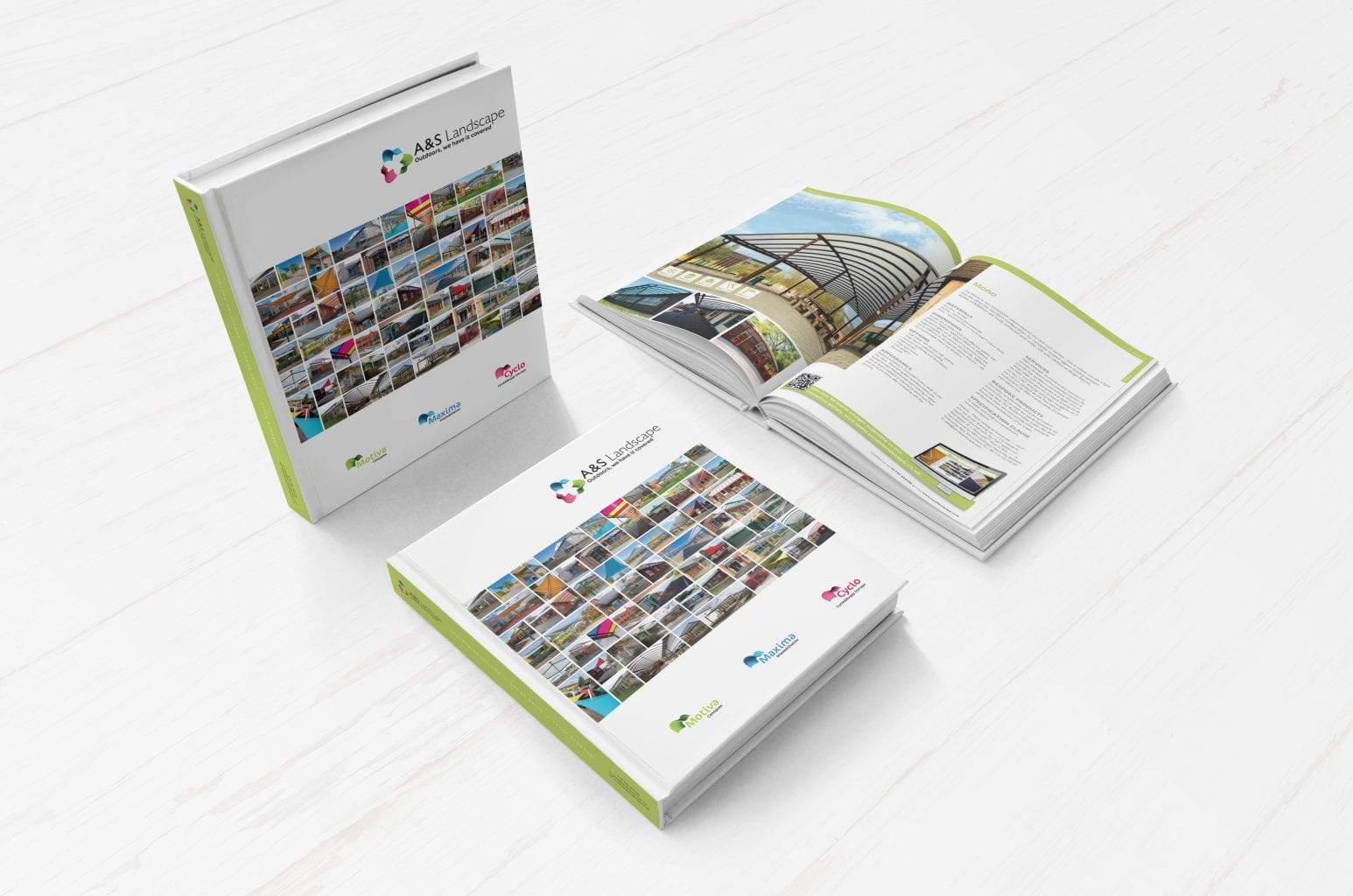 Get in touch to request a copy of our full, 160 page, hardback brochure with all the information you need to make the right choice.