Benefits of Outdoor Learning
Benefits of Outdoor Learning
Classrooms have long been the environment of choice for many schools, but the benefits of outdoor learning are quickly being realised. You may think that it's not possible or practical, especially with the unpredictable British weather, but with a canopy, teaching outdoors can become a reality. With various sizes available for different applications, any school can install a canopy to transform any outdoor area into a new type of classroom.
For children, new environments can inspire and excite, leading to an increased capacity to absorb new information. At a young age, standard classrooms can provide little stimulation for students and educational growth can become stunted. By exploring the use of outdoor teaching, children can find new and interesting ways of learning. Fresh air, and the ability to teach in a much larger space, can open up new doors to the way that lessons are taught and the activities which can be conducted.
To get started on planning your school's brand new outdoor learning canopy, call us on 01743 444100, or email us at [email protected] with your message and enquiry. We're based in Shrewsbury and the nearby areas of Telford, Oswestry, Market Drayton, and often work on various projects across the UK, in areas such as Wolverhampton, Birmingham and Essex.
Outdoor Learning Experiences and The Curriculum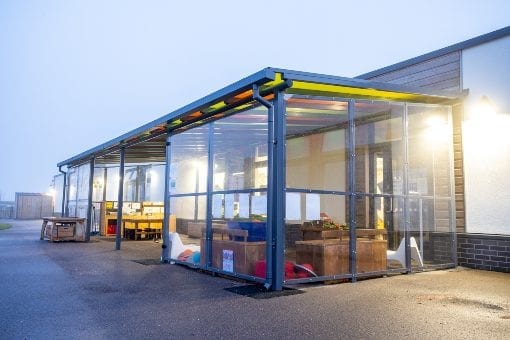 Moving lessons outdoors can broaden the methods of learning and the way in which children are taught. The curriculum doesn't have to hold teaching back, it can be adapted and integrated into classes that are taught outside. It's been proven that fresh air and time spent exploring the outdoors can promote positive mental health and cognitive development.
During the summer, canopies can provide much-needed shade over the area beneath for a designated, sun-protected workspace. Having lessons outside in the summer can encourage a healthy relationship with nature for young children and help them focus. All children want to do when it's warm outside is go and play with their friends on the playground, so by teaching outside, you're giving them half of that experience. When children are outside, they're not thinking about going outside to play instead of a lesson, making them more engaged with the teacher.
Teaching subjects on the curriculum outside may prove a challenge for some teachers as they think about where the students will write and put their books. But outdoor teaching is all about adapting teaching methods and using new ways to communicate information. Part of the bonus of teaching outside is the ability to carry out new activities which are not only more engaging for students but also keeps them active and healthy as a result.
Skill Development & Team Work Skills
Conducting lessons outdoors allows teachers to deliver more lessons than what is simply included in the curriculum. Of course, those lessons are important, and they won't get neglected, but by taking a class of students outside you're able to get them to communicate and work with each other in brand new ways. With a school canopy from A&S Landscape, you can create an outdoor space for activities that can improve student's teamwork and social skills.
Changing a lesson plan from reading textbooks and absorbing information from a page to teaching new skills outdoors, can help keep teaching patterns fresh and exciting. Engaging the students in physical activities which include problem-solving encourages them to work together and increase their team working skills. These types of skills are crucial in the real world and will massively benefit them when they leave school, which is why it's important to teach these skills at a young age.
Taking students out of the classroom and putting them in a new, outdoors environment changes the way in which they interact with one another. Facing them with different learning opportunities will cause them to change the way they view education and social environments. There will be times when educating a class of young children outside will prove difficult and may not fit with the curriculum plan, but it's a learning curve for both the teacher and the students. When in a more natural environment, children will change the way in which they approach certain tasks and issues. Dividing a class into separate groups and presenting each group with a task will help the children develop their problem-solving skills and increase their confidence as they tackle each task.
What Are The Benefits Of Outdoor Learning?
There are many benefits of learning outside which help children as well as teachers. A factor that is often overlooked is the teacher's enjoyment of teaching lessons and how the opportunity to teach outside can be just as exciting for them as it is for students. Being in an outdoor environment is healthy and breeds positivity for teachers which is often reflected in their lessons and the way they teach. Naturally, if a teacher is uninspired, that lack of enthusiasm can carry over into their lessons but putting them in contact with nature can completely change the way they view teaching.
A happy teacher is a good teacher and one that is passionate about educating children. Introducing a canopy into a school gives both teachers and students a chance to explore this together and brings with it a positive sense of freedom. Increasing engagement in school is something every teacher is looking to do and with an outdoor canopy from A&S Landscape, it's made much easier. The more engaged students are with their learning, the more their skills develop and the more confident they become in their abilities.
Being outside rather than inside a building, or mundane classroom, all day encourages a healthy relationship with nature and helps children grow up with an appreciation for living things. Educating children on nature is not necessarily something that is included as part of a curriculum, but it is part of life and an important part of their development as a human being. Through this appreciation for nature, children develop an understanding of how to care for nature, and how important it is that we look after our surroundings.
Not only do outdoor lessons excite and engage young children, but they also open up new possibilities in terms of their cognitive development. Inside a classroom, there's not much stimulation past whatever tasks the teacher presents, however, when compared with the outdoors, there is an endless amount of stimulation from trees and greenery to animals and insects. Learning in these stimulating environments helps children focus their attention while dealing with other exciting distractions. The more time students spend outdoors the more comfortable they become in their surroundings, and the more chance nature has to positively impact their development.
Why Invest In A School Canopy?
We've mentioned the benefits of conducting lessons outdoors and how they can promote a much higher engagement, but do you really need a canopy at your school? In short, yes. Introducing an outdoor canopy to your school is essentially adding a new classroom to the grounds at a fraction of the cost and with a much larger learning capacity. If you're working with a budget but would like to add more learning spaces to your school grounds, canopies are the perfect way to do that as they transform pre-existing spaces into new learning environments. Building new classrooms or introducing temporary blocks can be extremely costly and in the case of the latter, they can look extremely dated and, frankly, boring. Canopies, on the other hand, look modern and can give your school a much fresher look than a dull grey classroom.
Canopies are the cost-effective, modern way of increasing the number of learning spaces on your school's grounds and offers new opportunities for learning. Teaching lessons outside is possible without one, but you'll be dictated by the very unpredictable Great British weather. With a canopy, you can teach outside no matter what the weather is. And with the addition of some side panels or even a door, you can keep your canopy warm throughout the winter months too.
School canopies aren't limited to just teaching, although that is one of their most effective uses, they also provide a sheltered area for other activities too. During breaks and lunchtimes, they provide more seating opportunities for both children and staff to be protected from the elements. If you've opted for a canopy to be built in a certain area and find that it would be better extended, it's cheaper, quicker and easier to extend it than it would be to extend a classroom. The canopy can be extended to incorporate either a larger learning space or useful space such as a covered walkway or a bicycle shelter.
School Canopies From A&S Landscape
At A&S Landscape, we have a range of different canopy options with applications depending on where it's due to be installed. We've worked with nurseries, primary schools, secondary schools, academies, universities and colleges nationwide to deliver affordable and reliable canopy solutions. Different materials suit different situations and can provide a versatile outdoor learning solution in any space.
Our range of Maxima shade sails offers an attractive and dynamic shelter option as they're situated above a designated area. Rather than having a square, dull shape of a shelter, shade sails look the part as much as they play the part. Protecting against harmful UV rays, and keeping the temperature regulated beneath the shelter, shade sails offer as much shelter in the summer against the sun as they do at other times of the year when it's raining or cold.
The Maxima shade sails are made from a strong and stable shade cloth which is supported by four posts. The shade cloth can also be made with a waterproof fabric, providing full shelter during even the heaviest rainfall. Due to the shade sails being a unique shape rather than simply being flat, they offer the most coverage and best protection against the elements. As the material is also designed to be bold and bright, the sails are able to give your school a positive boost in aesthetics, too.
As specialists, installation of the shade sails is a smooth and easy process. We'll begin by carrying out a risk assessment of the area and identifying the best place to erect the sails. Once our thorough and thoughtful planning process has been carried out, we'll identify the most effective anchor points for the sail to ensure maximum safety once the structure is in place. Our ability to quickly and safely implement these structures in a range of different applications has led to us forming strong, long-lasting relationships with our clients.
Cycle shelters and storage are another one of our offerings as outdoor shelter providers here in the UK. Bike shelters provide a safe space for students to keep their bikes during school hours and ensure they are protected from rain, other potential weather damage, or vandalism. By having a cycle shelter onsite, students know that they have a secure place to keep their bikes and are more likely to cycle to and from school, promoting an active and healthy lifestyle. Our durable and modern cycle shelter designs will integrate seamlessly into your school's grounds to create a stylish solution for bike storage. Assessing the area you wish to insert a bike shelter, we'll identify the best way to implement the shelter to provide maximum space and access for all students.
How to create an effective outdoor learning space with a canopy
Adding a canopy to an outdoor area in schools creates a brand new and exciting learning environment for students of all ages to enjoy. Although, for teachers, it can be an entirely new experience that they may be unsure of how to handle. In a classroom, all of the tools teachers need to teach are at their disposal. Obviously, this isn't the case when they are outside, which may result in them having to adapt their methods and lesson plans. But this change shouldn't be a scary thing, it should be seen as an exciting opportunity for the teacher to grow their skills and could potentially lead to a more effective lesson as a result.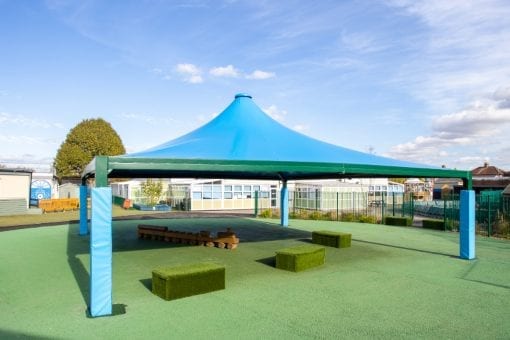 Whether it will be a success or not is all down to planning, just like it is with any lesson. But with the outdoors being a new environment for learning, it's important to adapt your plan to cater to the new environment. This includes equipment, seating, activities and anything else which needs to be incorporated into the lesson. We've already explored how the curriculum can be adapted to suit outdoor learning which proves that with the correct approach and the right planning, an outdoor space can become just as effective as a classroom, if not more.
The first step of creating an effective outdoor learning space is embracing the outdoors. Attempting to adapt your lesson to make it feel as though you're still indoors will ensure that your plan quickly fails. Approaching the situation as if seating is going to be identical, books are going to be in the same place and desks will be available, isn't the best method. By embracing the fact that students won't have access to desks or books allows you to lead a more exciting kind of lesson because you're using different equipment to teach. For example, with the lack of desk and writing space available, writing in books isn't as feasible as it is in the classroom, but it does present the opportunity for students to use whiteboards. Whether they've used them before or not, the students will likely enjoy this change and lead them to become more engaged with the lesson. Alternatively, teachers could scrap the concept of writing altogether and make the lesson more interactive which will keep students engaged and active.
Being active and engaging in physical activities is such an exciting part of being a young child and if they have the chance to learn whilst being active, they're going to jump at the idea (literally!). Lessons such as these promote being active amongst youngsters and it also gets them away from a desk, which they likely consider boring. By getting a class full of students up and moving, you're able to use their energy to drive the lesson, taking the pressure off you as a teacher and exploring new opportunities for learning. Instead of having children simply put their hand up to answer, you can take advantage of the additional space you have at your disposal and even use physical education equipment, such as bean bags and hula hoops, as classroom equipment alternatives. Having the equipment to get 'hands-on' with helps improve youngster's hand-eye coordination and cognitive development as they interact with new objects.
By using these new pieces of equipment and taking advantage of the space, you're able to create a brand new learning space that's much more engaging for young students. Taking a lesson and turning it from a generic 'read through a textbook and make notes', into an interactive learning experience outside, immediately makes it more educationally valuable. Students are much more likely to remember the time they spend outside in a natural environment than spending another lesson cooped up indoors. As a teacher, you're able to grant the entire class a sense of freedom by taking them outside and giving them new aspects to focus on, as opposed to just staring at a whiteboard and workbook.
How does outdoor learning benefit teachers?
Often, education, and the benefits of it, are focused solely on the students and the ones learning, but there are other people invested too. For example, teachers, most teachers choose to do their job because they have a passion for it and want to be able to educate another generation of children. This makes the learning experience just as important for them as it does for the children and they're naturally going to want to educate children in as many different ways as possible. Teachers also work incredibly hard to educate children to the best of their abilities, enlisting the help of training and additional resources to help them deliver the best learning experience possible.
Just like students, the teacher can become bored with the same four walls and equipment, leading to them feeling uninspired. Sure, they can still carry out an effective, well-planned lesson, but the format will likely be the same and is at risk of offering no new stimulation to students. Changing up lesson formats and introducing new activities to engage students can be difficult when teachers are feeling uninspired and especially when they are limited to the confines of a classroom. But, what if the classroom was taken outside to offer the children new outdoor learning experiences?
Shifting the classroom outside and into a natural, green space immediately breathes new life into education. The new outdoor environment gives teachers the opportunity to approach their lesson plan from an entirely new perspective and incorporate new learning techniques to further engage the students. While this new approach to teaching can benefit the students, it can also benefit teachers by opening them up to the idea of new techniques. They are able to use a brand-new outdoor environment to teach in and explore a variety of activities that just wouldn't be possible in the classroom.
Using a different lesson plan and environment to teach in can help build teacher confidence as they explore new ways of learning. Embracing change is the best way to grow, and if there is an opportunity for a teacher to improve their skills, they're never going to turn it down. Navigating a new environment with a class, and with a new lesson plan, gives the teacher a chance to experiment with new ways to conduct an outdoor lesson. Whether it's incorporating physical activity to help the children learn, or simply enjoying the outdoors as a fresh, vibrant space to teach in, it's no secret that there are real benefits to teaching outdoors.
Being outdoors and enjoying the fresh air is beneficial to us all as humans, and when teachers spend so much time teaching indoors, it can really deliver some positive health benefits. Dull environments can kill enthusiasm, but an exciting outdoor space can help reignite a teacher's enthusiasm for teaching. Just because it's fun for the students that doesn't mean it can't be fun for teachers too, and when everyone in the lesson is enjoying themselves it naturally creates a much more positive environment for learning.
Why outdoor learning creates more opportunities for students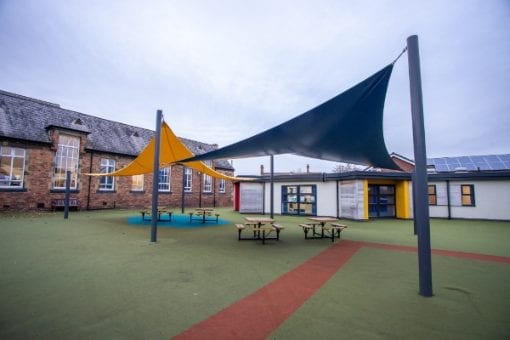 When kids are younger, their focus is primarily on physical activity and exploring the outdoors, which is why they can easily lose focus in a classroom. If it's sunny outside, you can guarantee that it will be even more difficult for them to focus as they're only thinking about playtime. By incorporating a canopy into your school grounds it creates a new opportunity for students to enjoy outdoor activities whilst learning at the same time. These lessons don't have to just be ones found on the curriculum either, being outside is a great opportunity to teach lessons that are different, and unexpected.
When children are at primary school age, they're just learning about nature and understanding the environment. This is the perfect age to help them develop natural connections and learn about nature. Whether you're teaching children how to respect nature, look after plants, or grow their own, there are plenty of opportunities to teach important life lessons. Understanding and respecting nature is an important life lesson that every child should be taught, which is why spending time outside is so crucial for youngsters.
Being outdoors with the rest of the class allows children to interact in different ways to how they would when they're indoors. It helps build their social and teamworking skills as they work together to complete tasks or learn with each other. Enthusiastic children want to learn and are easier to teach because their brains are in an alert state, meaning they're ready to engage. It's much more difficult to get a classroom full of children who are sitting still to really engage with the lesson. Increasing engagement in school is something that every teacher wants to do and letting them explore the outdoors whilst learning will bring its own range of benefits.
These opportunities don't have to be limited by the weather either. With a canopy, children can be taught outside at all times of the year. The last thing you want is to work-out an entire lesson or a day's worth of lessons, outdoors, and then have the weather ruin those plans. With a canopy, these lessons can still be taught outside whether it's sunny and warm, in which case the canopy will provide shade, or if it's raining as the shelter will protect the class from getting wet. If the weather conditions are more severe, or you'd like to install an outdoor canopy that can be used at any time of the year, there are options to install side panels too. Our wide range of options means that our team at A&S Landscapes can adapt to any situation and supply a solution that will suit your needs.
Having a sheltered outdoor space to utilise also presents the idea of changing traditional lesson plans and challenging the norm. For example, if the outdoor space which is used for lunch also doubles up as a classroom, it can completely change the mentality of students and how they approach learning. Dark and dingy classrooms can promote negative behaviour and make students want to resist going into the classroom, which is then reflected in their resistance to learning and perhaps lead to them acting out. But, by using an outdoor area, that can also be used for lunch breaks, will make the whole lesson feel much less rigid. The environment is one that the children are used to and associate with leisure time, meaning their approach to the lesson is going to be much more relaxed. This also benefits the teacher as they are able to use this to their advantage and deliver a much more engaging lesson.
How outdoor learning promotes a healthy lifestyle
Outdoor learning programmes help keep children active at a young age and promote the importance of exercise to maintain good health. Incorporating these programmes into outdoor lessons, allows teachers to educate whilst they're being active. Obesity in children can be quite common, especially if they're not fed the proper diet and aren't aware of the health benefits of exercise. An outdoor learning session can do wonders for, not only their education but their health, giving them some much needed time to exercise.
The more time children spend outside learning, the more they're going to become accustomed to the outdoors and, over time, enjoy it far more than they initially thought. This promotes a good relationship with nature from an early age, meaning they're likely to grow up wanting to spend more time outdoors than indoors. Enjoying a healthier, more active lifestyle is just one of the wider benefits delivered by a school canopy. Teaching these kinds of life lessons can change children's attitude about school and create a richer learning environment. Trying to teach children about being active while in a classroom, and not allowing them to actually be active, can be counterproductive.
With a canopy to create a sheltered outdoor space, it can instantly be transformed into a rich learning environment for students to be educated about the direct benefits of being outdoors. Whether it's a physical activity that the students participate in or simply learn about the positives of a refreshing green space, there are undeniable benefits to teaching them outdoors. Forming that connection with nature early is vital for young children as it impacts the way they view the world growing up. Spending time amongst nature at this young age promotes a positive outlook on the world and will make them more likely to want to stay healthy and even eat healthier as a result. Four concrete walls don't communicate this message in quite the same way and while there are benefits to being indoors, the outdoors opens up so many new possibilities for both teachers and students.
Primary schools should seriously consider canopies because this generation of young children will benefit from outdoor learning the most. As this is the most crucial stage of their cognitive development, it is important to give them as many positive experiences as possible, and by giving them an outdoor space to learn, they can very quickly develop their skills. At this stage of school life, children are the most likely to be appreciative of, and benefit from, outdoor learning spaces.
How A&S Landscape Can Help You
As a family-owned business, our heritage is deep-rooted and with over 44 years of experience supplying for a range of clients, we're experts in our field and consider ourselves the best at what we do. This experience makes us ideally suited to implement a brand new outdoor learning space to enhance your school and improve your ability to educate. We pride ourselves on being approachable and being able to instil confidence within our clients as we demonstrate our creativity through effective outdoor solutions.
Part of our values as a respectable company is being honest and keeping processes uncomplicated. By this, we mean we won't beat around the bush or try to attempt anything without you being on the same page as us. We're on hand to refurbish or upgrade your school's ground with a fast and straight-forward process that will prove much easier on your budget than a new building.
At A&S Landscape, since 1976, we've been providing all of our clients with an efficient, reliable and thorough service no matter what the project is. We're always on hand to help you with all of your outdoor school canopy needs and are available to contact anytime. Simply call us on 01743 444100 or email us at [email protected] with your enquiry.