How to create an effective outdoor learning space with a canopy
Adding a canopy to an outdoor area in schools creates a brand new and exciting learning environment for students of all ages to enjoy. Although, for teachers, it can be an entirely new experience that they may be unsure of how to handle. In a classroom, all of the tools teachers need to teach are at their disposal. Obviously, this isn't the case when they are outside, which may result in them having to adapt their methods and lesson plans. But this change shouldn't be a scary thing, it should be seen as an exciting opportunity for the teacher to grow their skills and could potentially lead to a more effective lesson as a result.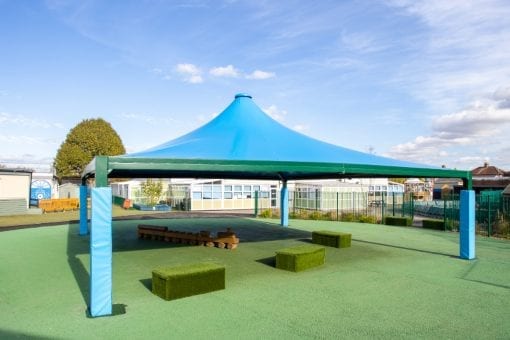 Whether it will be a success or not is all down to planning, just like it is with any lesson. But with the outdoors being a new environment for learning, it's important to adapt your plan to cater to the new environment. This includes equipment, seating, activities and anything else which needs to be incorporated into the lesson. We've already explored how the curriculum can be adapted to suit outdoor learning which proves that with the correct approach and the right planning, an outdoor space can become just as effective as a classroom, if not more.
The first step of creating an effective outdoor learning space is embracing the outdoors. Attempting to adapt your lesson to make it feel as though you're still indoors will ensure that your plan quickly fails. Approaching the situation as if seating is going to be identical, books are going to be in the same place and desks will be available, isn't the best method. By embracing the fact that students won't have access to desks or books allows you to lead a more exciting kind of lesson because you're using different equipment to teach. For example, with the lack of desk and writing space available, writing in books isn't as feasible as it is in the classroom, but it does present the opportunity for students to use whiteboards. Whether they've used them before or not, the students will likely enjoy this change and lead them to become more engaged with the lesson. Alternatively, teachers could scrap the concept of writing altogether and make the lesson more interactive which will keep students engaged and active.
Being active and engaging in physical activities is such an exciting part of being a young child and if they have the chance to learn whilst being active, they're going to jump at the idea (literally!). Lessons such as these promote being active amongst youngsters and it also gets them away from a desk, which they likely consider boring. By getting a class full of students up and moving, you're able to use their energy to drive the lesson, taking the pressure off you as a teacher and exploring new opportunities for learning. Instead of having children simply put their hand up to answer, you can take advantage of the additional space you have at your disposal and even use physical education equipment, such as bean bags and hula hoops, as classroom equipment alternatives. Having the equipment to get 'hands-on' with helps improve youngster's hand-eye coordination and cognitive development as they interact with new objects.
By using these new pieces of equipment and taking advantage of the space, you're able to create a brand new learning space that's much more engaging for young students. Taking a lesson and turning it from a generic 'read through a textbook and make notes', into an interactive learning experience outside, immediately makes it more educationally valuable. Students are much more likely to remember the time they spend outside in a natural environment than spending another lesson cooped up indoors. As a teacher, you're able to grant the entire class a sense of freedom by taking them outside and giving them new aspects to focus on, as opposed to just staring at a whiteboard and workbook.