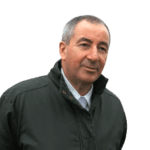 I think A&S Landscape has done a tremendous job. We would definitely recommend them to other schools.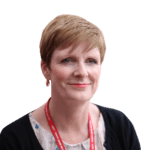 A&S Landscape was very professional and friendly. They followed our requests and kept me in the loop at all times.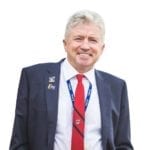 A&S Landscape kept to their timescale the project was an excellent, efficient exercise. They do as they promise.
Dining Shelters
School dining areas are under increasing pressure to improve services, cater for more students and keep them on-site and all with reduced budgets! A&S Landscape can be part of the solution. Our dining shelters can provide more space at a fraction of the cost and are often more popular than indoor spaces.
What is a School Dining Area Shelter?
A school dining area shelter creates a covered space outside where students can sit to eat their lunch. They are popular as they are a cost-effective solution to crowded dining halls and rising intake figures. School dining area shelters can feature side panels and doors, to create an enclosed structure which can be used all year round.
Many of our shelters can be utilised to provide outdoor dining areas. Our Motiva Duo™, Duo Double™ and Maxima Tepee™, in particular, are perfect for forming covered dining area in schools.
Café and Food Kiosks
In addition to dining shelters, we are also able to supply cafe and food kiosks for selling a selection of hot and cold snacks and drinks, Food Kiosks can be used as satellite dining stations on larger school and colleges to relieve congestion in busy dining rooms and keep pupils on site.
A wide range of fit-outs and equipment can be provided to give the ideal set up for your school and to maximise your return on investment. Equipped to sell a selection of hot and cold drinks, and hot snacks a Food Kiosk with shelter can provide excellent additional facilities for snacking students.
Food Kiosks can be finished in a wide range of exterior options including bespoke vinyl wrap or painted finish designed specifically to your requirements. Food Kiosks arrive to you fully finished and equipped with the catering equipment of your choice. Once it has been connected to services it is up and running, ready for operation.
If you would like more information about dining area shelters please contact us today.
Looking for a Quick Quote?
Send us your email and an idea of your requirements and we'll get back to you with a quick price.
Dining Area Shelter Ideas
Read about some of our recently completed dining shelter projects
Large Outdoor Dining Shelter Made for John Taylor High School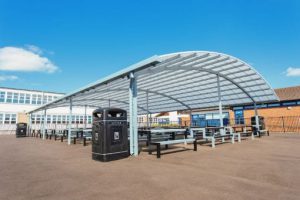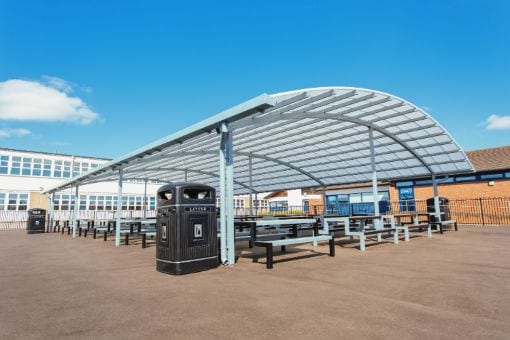 John Taylor High School, located in Staffordshire, had an area of their campus which wasn't used to its full potential. A plan was formed to install a canopy structure in the space, which would create a large amount of outdoor seating for the students. The team wanted the shelter to have some 'wow factor' and really work with the surrounding area and the rest of the site. After careful consideration, A&S Landscape was chosen to take on this exciting project. Our expert installation team fitted a Motiva Duo™ curved roof canopy, complete with unbreakable polycarbonate roofing. To complete this project, we also fitted the shelter out with our sturdy Hercules Bench™ picnic tables. This once unused area has now been transformed and has become a very popular spot to enjoy some lunch and time to recharge in the fresh air. Check out our full project case study for the canopy we installed at John Taylor High School here.
St Peter's High School Add Two Curved Roof Canopies in Gloucestershire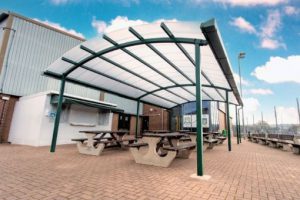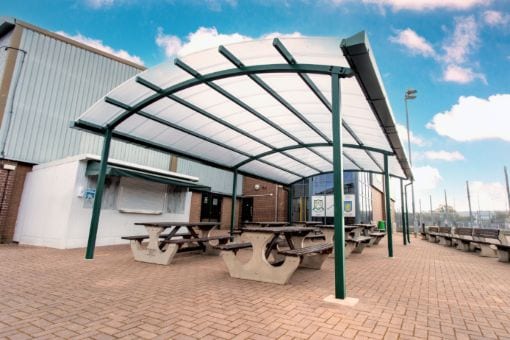 Like many schools across the country, St Peter's High School are always looking for ways to further improve their existing facilities and make the student's daily experience even better. That's why they got in touch with us to discuss installing not one, but two school canopies. It was decided that the shelters would create outdoor seating areas to be used during lunch breaks, and so we suggested the use of our popular Motiva Duo™ curved roof canopies. Both structures were finished with steelwork coloured with Moss Green, to match the school's logo. Opal polycarbonate roofing was used on both of the canopies too, as this protects against UV rays while allowing a safe level of sunlight through. With the addition of some picnic benches, the shelters have created two fantastic outdoor seating areas on the campus. Now the original dining hall will be relieved from crowds and the students will have the option to eat their lunch alfresco all-year-round. See more of the curved roof shelters at St Peter's High School here.
Lincroft Academy Add Curved Roof Shelter with Side Panels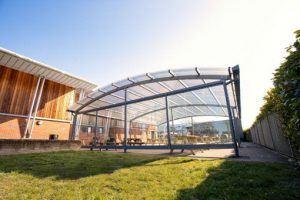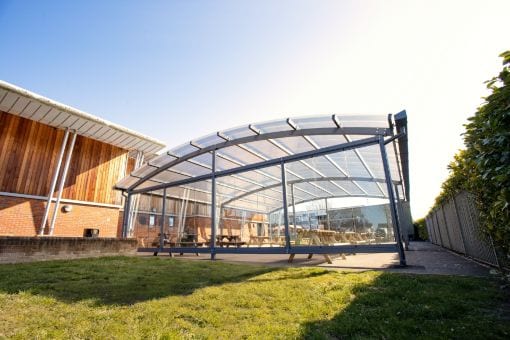 Based in Oakley, Bedford, Lincroft Academy was seeing a rise in their intake figures which was causing a strain on several of their facilities. One issue the school was facing was a busy dining hall, with long queues and little seating options for the hungry students. The team identified that the best solution would be to install a dining area canopy on the school grounds. School shelter experts A&S Landscape was asked to design, manufacture and install a large, curved roof shelter. To provide extra protection from the weather, side panels were added to the structure. Made to an overall size of 12500mm x 10000mm, plenty of covered space has now been created for the students to use during their lunchtimes. This means the hardworking students have more seating options and can enjoy some much-needed fresh air during the day, come rain or shine. Read more about the shelter we designed for Lincroft Academy on our project page.
Tepee and Sail Canopies for Archbishop Holgate's School in York, North Yorkshire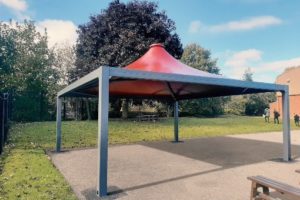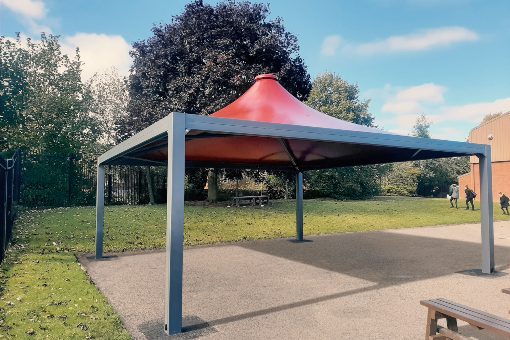 After previously working with A&S Landscape on a highly successful dining canopy installation, the staff at Archbishop Holgate's School in York were keen to replicate the experience. This time the school were looking for more ways to keep students sheltered from the elements during lunch and break times. On this occasion, they chose one Maxima Tepee™ with Slate Grey steelwork and a Brown Red fabric roof, and three Maxima StarSail™ shelters that were also constructed with Slate Grey steelwork but covered with Raspberry coloured fabric roofs. These types of canopies are always popular with senior schools and give students a real boost to their mental health and general wellbeing. The effect of the canopies was every bit as successful as the dining canopy and ensures students have even more places to socialise, study and enjoy their lunch even on a damp day in North Yorkshire. To find out more about all of Archbishop Holgate's School's canopy installation projects, please click here.
Outdoor Canopies at Chesham Grammar School in Buckinghamshire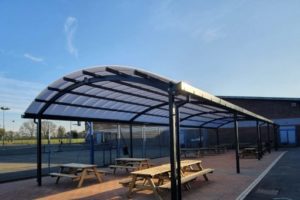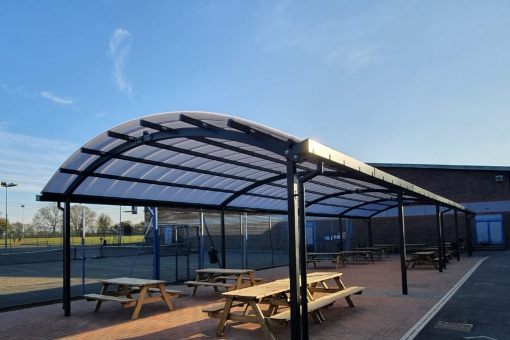 Staff and students at Chesham Grammar School were fed up getting wet while moving between different faculty buildings. Having worked with A&S Landscape in the past, the team at Chesham Grammar School knew who to contact for a solution. Three different outdoor canopies were chosen to ensure complete cover between Maths, Textiles & Gym, and MFL departments. The Motiva Duo™ and Motiva Linear™ were both designed in Anthracite Grey steelwork and covered in with an Opal coloured polycarbonate roof. An additional Maxima StarSail™ canopy was also constructed from Anthracite Grey steelwork but was topped with a waterproof fabric roof to suit the setting. Not only have these three outdoor canopies provided protection for students and staff, but they've also become social spaces to chat, eat and relax before and after lessons. This ensures everybody has a happier and healthier experience as part of the school day. To find out more about the outdoor canopies installed at Chesham Grammar School please click here.
Dining Shelter Design Options
Our Featured Dining Area Shelter Project
St Wilfrid's Catholic High School in West Yorkshire Add Dining Shelter

What was the project brief?
St Wilfrid's Catholic High School needed to find a solution to their increased dining capacity demands. With their current dining room only seating half of the students at any one time, coordinating lunchtimes was a manic task, and the health and safety issues concerned were a massive worry to staff. They also worried that the children didn't have enough social space. They knew that they had to expand but could not afford the high costs they would incur with an extension building. This was when they decided to get in touch with A&S Landscape, and realised that a covered outside seating area would provide the perfect solution.
What was our dining shelter solution?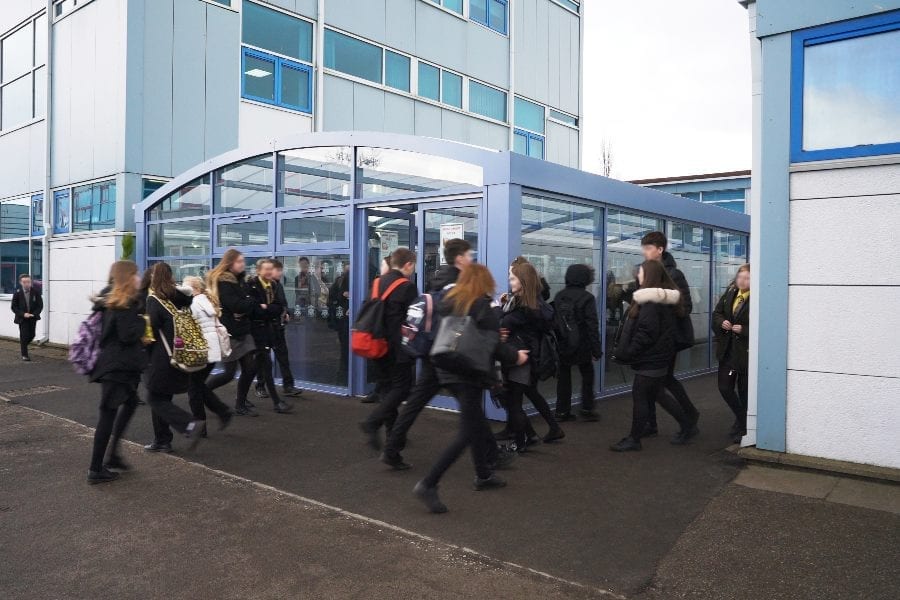 We have a number of dining shelter packages available, but on this occasion, it was decided that the canopy that would be best suited to their needs was the Motiva Duo™. The shelter acted as an exterior room in itself, with panels, power, heating and lighting. This was possible due to the curved-roof design, which also made the room feel much more spacious. We were pleased that we were able to deliver on all of the school's specific requirements, without breaking the bank. Another unique addition to the dining shelter were the school logos that was printed onto the glass side panels.
Measuring 20000mm x 7000mm, it was the large covered seating area that the school desperately needed. The once unloved and unused outdoor space had now been transformed into the ideal spot for the students to eat and socialise.
What was the result of their new dining shelter?
The students love the new outdoor dining canopy. It has eased the congestion on the original dining room, which is a huge relief to staff members who had concerns regarding health and safety. The outdoor dining shelter has since been transformed further, with 16 picnic benches added to the new dining room. It is the perfect place for hanging-out too, a win-win situation all around.
Testimonial / Client Feedback
"The new dining area canopy from A&S Landscape has made a massive difference. Previously it was an unused, rather odd area of the school – now it has a purpose. The lighting and blow heating have also helped. A&S Landscape is an extremely professional company with pride in their work and they could not have done more to make this project go smoothly. A&S Landscape really wanted this canopy to work for us and they explored all solutions until it was right. We initially agreed a price and design, later in the process, they came up with a much better design which removed all internal uprights. This was done without us requesting it and they did not charge for the additional work or structural changes."
– St Wilfrid's Catholic High School
About the client
St Wilfrid's Catholic High School & Sixth Form College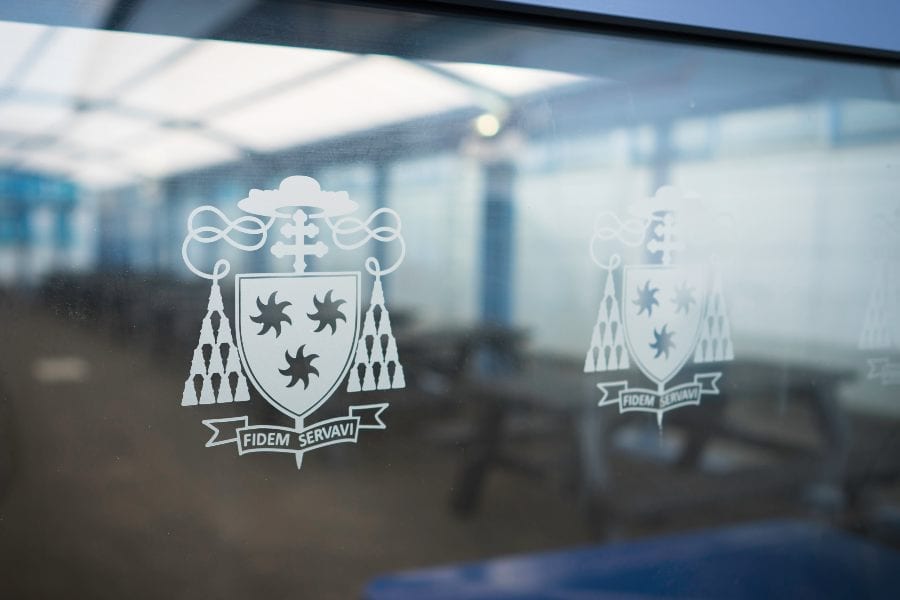 is a voluntary academy located in Featherstone, West Yorkshire. The team were receptive from the moment we began to work together. They clearly outlined their requirements from the get-go, and so we were able to put together the best possible dining shelter package.
They were a friendly team, and it was a real pleasure working with them. We are over the moon that they are happy with their outdoor canopy, and it serves all of the intended purposes. We know that the outdoor dining shelter is high-quality, long-lasting, and we look forward to hearing how it benefits the school's students for years to come.
What other types of canopy are suitable for schools?
A&S Landscape offers a wide range of school canopies to suit your needs. There are several types of canopies, shelters and shade sails, all serving different purposes. They can be an extremely good option for schools, as they provide a cost-effective solution and are highly versatile. If you'd like to transform your existing courtyard – here are some ideas for what an effective cover system can do.
Classroom Extension
Learning outside can bring numerous benefits to children. It can help them to focus, concentrate better on what they are learning and generally make learning more fun! The outdoors can also provide space for activities such as games, exercise and telling stories! Take a look at our range of school canopies for some inspiration!
A Chill-out Area
Children and young adults spend a huge amount of time in education, sometimes from nursery, right the way through until University. It's essential that the students are permitted quality time to relax, in a comfortable environment where fresh air is readily available. A perfect and funky solution to this would be school shade sails which come in a variety of shapes, sizes and colours, and are great for giving identities to outdoor areas.
Entrance Canopy
An entrance canopy is a great addition to a school, not only does it look the part but it serves a purpose too. It can discourage crowds from formulating in the entrance reception, and when it's raining there isn't a mad dash to run through the doors of the school. Again, entrance canopies are open to a wide range of options, including the roof colour and shape.
Sports Facilities
Exercise should be at the forefront of every school's mind. We all know the exceptional benefits exercise can have on a person's wellbeing. Giving students a large enough area to exercise at all times of the year can be tricky, and unfortunately, some team sports can suffer in the winter months due to the weather conditions. If you have an outdoor area that could be perfect for sports, but could really benefit from having a canopy, a Covered MUGA™ would be the perfect choice for you.
Why choose A&S Landscape for your Outdoor Dining Canopy?
A&S Landscape is a family-run business that has been designing, manufacturing and installing canopies for over 44 years. In this time, we have seen our large range of canopies develop into the highest-quality available, guaranteeing year-round weather protection. Our service too has continued to be of the highest quality and our core values still stand strong. It's an integral part of our business, and we wouldn't choose to work in any other way.
Having some of the finest knowledge in the industry, and having built up close, trusting relationships to local authorities, NHS trusts and over Government bodies across the UK, we do not falter when it comes to an outstanding service. Always working with our customers to find the perfect solution, we can transform your available outdoor floor space into a bespoke outdoor covered area.
Our friendly team is on hand to discuss your cover requirements, please get in touch on 01743 444100 or at [email protected].

St Wilfrid's Catholic High School Before and After

See some more of our dining shelter projects we have completed
Blessed John Henry Newman RC College in Oldham Create More Space with Dining Shelter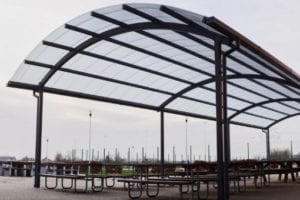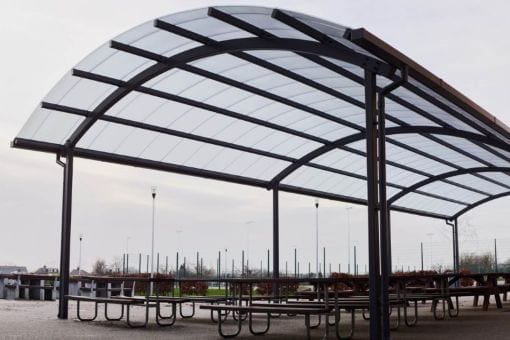 The growing Greater Manchester school of Blessed John Henry Newman RC College knew that their increasing student numbers would require them to find a savvy way to maximise space. With a little creative thinking, A&S Landscape worked with the school to identify the solution: an outside sheltered dining area. To give the school the capacity it needed, a large 18 metre by 7 metre canopied shelter was designed and installed. The end result was a fabulous sheltered dining space covering seating and tables. The Motiva Duo canopy range was perfect for this generously sized project. With guttering and downpipes to manage rainfall-runoff, it provides a durable and practical outdoor dining option. Soon after completion, the popularity of the new outdoor dining shelter was clear. Students are now voting it their destination of choice at lunchtime. Find out more about Blessed John Henry Newman RC College's curved roof dining shelter by clicking here.
Brownhills Ormiston Academy in Walsall Build an Large External Sheltered Dining Area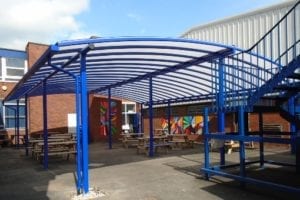 The West Midlands based Brownhills Ormiston Academy wanted to transform an existing outside space. But they didn't just want to spruce it up a bit, they really wanted to go to town! Like many schools, Brownhills Ormiston Academy was feeling the pressure in the growth of student numbers. To establish a slicker turnaround at lunchtimes, they wanted to build an outside dining shelter and social space in their existing courtyard. Using colours from the school's emblem, A&S Landscape built a sheltered dining space from their Motiva Duo canopy range. The steelwork was finished in Gentian Blue to really pick out its identity as an integral part of the school's campus. The end result is a truly value-adding asset that the students enjoy using, and the most efficient lunch queue in the West Midlands. As dining shelters go, they don't get much better! Find out more about how Brownhills Ormiston Academy achieved this great outside dining shelter by clicking here.
Wolverley CE Secondary School in Kidderminster Install a Sheltered Dining Area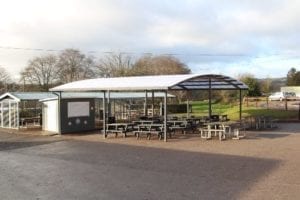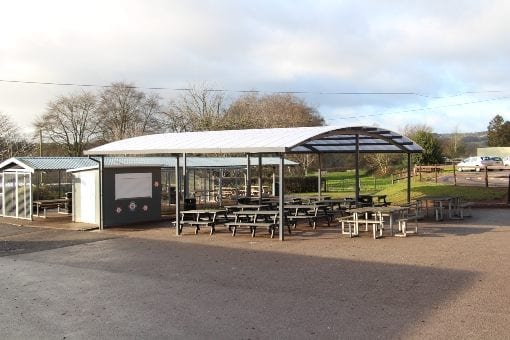 For Worcestershire's Wolverley CE Secondary School, a growth in student numbers meant that they needed additional space to fit the demand, especially at meal times. The A&S Landscape team were able to address this challenge quickly by designing a solution and delivering the project during term-time. Working in a way that took account of the additional health and safety requirements of construction in a busy school setting, A&S installed a sheltered dining area from the Motiva Duo product range. With an arched roof above and a slate grey steel structure, this dining shelter provides ample seating. Not only is the seating protected from the rain, but the roof shields diners from the sun's damaging UV rays. Built in a quieter part of the school grounds, this area is now a great space for the students to enjoy. You can find out more about Wolverley CE Secondary School's sheltered dining area here.
Installation of a Curved Roof Dining Shelter at Humberston Academy in Grimsby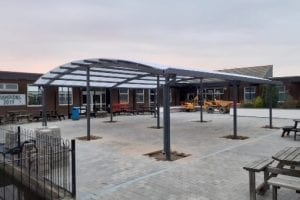 What could be healthier and more refreshing for students at this Academy than an opportunity to appreciate the benefits of fresh sea air at lunchtime? Just a short distance from the Lincolnshire coast, Humberston Academy approached us for help in renovating their internal quad area to create a dining shelter. After scoping out what the Academy really wanted, the team at A&S Landscape drew up plans for a sheltered dining area that would make best use of this open air space. With the benefit of the covered roof on their Motiva Duo range, A&S Landscape installed a canopy to create a generous space measuring ten meters by ten meters. Offering a wide-ranging curriculum, this canopied dining area also doubles up as an outside space for teaching and enrichment activities. Read more about this dining shelter project at Humberston Academy.
Blue Dining Shelter Installed at R A Butler Academy in Essex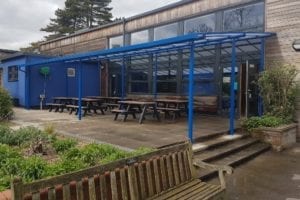 R A Butler Academy, Essex, is set in charming surroundings. Serving the community of Saffron Waldon, the school came to us to explore options for an outside sheltered dining area. The school had an under-used area, right outside the main dining hall. The footprint available was ideal for the erection of the Motiva Linear shelter with an asymmetric roof pitch. The completed project looked fantastic against the existing building structure, and was finished in Gentian Blue to fit in with the school's own royal blue scheme. The academy specifically wanted a structure that was open sided. This created a bright and airy space that didn't block out light from entering the main building. The school were extremely complimentary about their finished dining shelter. They were particularly happy with our efficient process and level of detail from start to finish. Find out more about R A Butler Academy's linear dining shelter by clicking here.
New Outside Dining Shelter Installed at Chesham Grammar School in Buckinghamshire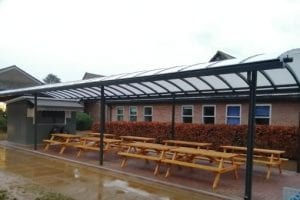 Breaktimes have been transformed forever at the Chesham Grammar School in Buckinghamshire, thanks to the installation of an outside sheltered dining area. Sometimes a little creative thinking results in adding real value to a project. Especially when it comes to an under-used space. That's exactly what lead to the construction of a covered dining area in the school's quad. Working side by side with the school on the design, A&S Landscape constructed the new dining shelter using the Motiva Duo structure. The students now have access to a practical outside space, where dining is sheltered from the elements by the curved roof canopy with added UV protection against harmful sun rays. Finished in opal, the roof colour perfectly complements the Anthracite Grey steelwork, and the whole structure fits seamlessly with the existing school surroundings. You can find out more about this outside dining shelter at Chesham Grammar School by clicking here.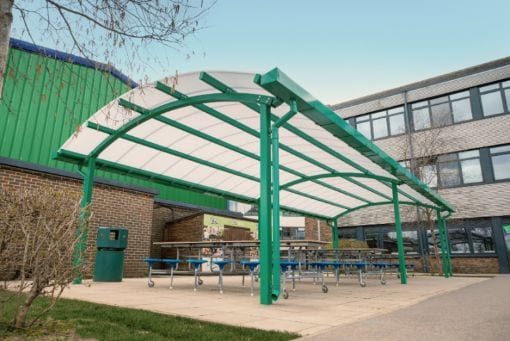 A&S were very helpful through the whole project from concept to installation.
Site Manager - Oasis Academy Coulsdon
View Project
Improve Your Student Experience with Practical Dining Shelters
No longer do your pupils need to be cooped up inside or huddled under a tree during lunchtime. Outdoor dining canopies allow them to eat their lunch outside and enjoy the fresh air, whatever the weather.
Dining shelters aren't just for lunchtime, though; they can be used by your pupils during break periods or before school, whether they're waiting for their next class, studying for a test or simply hanging out and socialising with their friends.
Whether you're a primary or secondary school, dining shelters can help your pupils' ability to learn, boost their productivity and improve their overall wellbeing and development. It's no wonder our fantastic dining shelters are such a hit with students!
Enhance Your School Premises with Stylish Dining Shelters
Our outdoor dining shelters offer more than just a place for your pupils to enjoy their lunch in the fresh air. Thanks to their beautiful designs and eye-catching colours, our range of dining canopies will enhance your school premises while complementing (or contrasting) your school colours.
By adding a touch of style and sophistication to your premises, our dining shelters are sure to impress everyone who visits your school, from students and staff to parents and inspectors. Why not turn that underutilised space into a smart, sleek and practical outdoor dining area?
Protection from the Weather, Rain or Shine
Our dining shelters don't just look pretty; they provide excellent practical value by keeping your pupils safe and protected from the elements. During the harsher months, our canopies provide essential shelter from the rain, snow, wind and hail. And in the hotter months, they offer shade from the heat and safeguard your students from the sun's harmful UV rays, which can increase the risk of developing skin cancer.
Our range of Motiva™ canopies are installed with unbreakable POLY-TUFF™ polycarbonate roofing sheets, which can withstand whatever conditions our unpredictable British weather throws at us. Meanwhile, our Maxima™ shelters come with high-strength, waterproof, UV-resistant and fire-retardant PVC fabric roofing, ensuring maximum protection from the weather, rain or shine. Whatever canopy design you choose, our shelters will make your outdoor seating area safe and accessible all year round, no matter the weather.
Expand Your Dining Capacity in an Easy and Cost-Effective Way
Many schools these days find themselves under increasing pressure to improve their services, cater for more students and keep them on site during lunch and break periods—all on a tight budget! A dining shelter from A&S Landscape can help you to achieve this.
Installing an outdoor dining canopy allows you to expand your seating capacity at the fraction of the cost of extending your dining room. It's quicker, easier and cheaper, and causes far less disruption to your normal working day. Plus, it has the added bonus of allowing your pupils to spend more time outside and enjoy the fresh air!
Wide coverage canopies, such as the Maxima™ Plaza or the Motiva™ Duo Double, are perfect for increasing your dining capacity. Or you can simply opt for multiple units of any shelter design of your choice that can be installed in one area or in separate clusters around your school premises.
Bespoke Dining Shelters to Meet Your Requirements
At A&S Landscape, our aim is to provide covered area solutions that meet your every requirement. All of our dining shelters have an array of customisable options, from the dimensions and materials down to the colour(s) and finish, meaning you can design an outdoor canopy that satisfies your needs and suits your preferences. You can choose from a whole host of optional extras, too, including side panels, doors, guttering, downpipes and protective post pads.
If you're unsure of what you want or you just need some expert advice, our team of experienced canopy specialists are here to help you every step of the way. After we've discussed your requirements and surveyed your site, we will address any concerns you might have and propose solutions to make sure your dining shelter is the best that it can possibly be.
Highly Durable Dining Canopies That are Ideal for Schools
When you choose A&S Landscape, you can rest assured that your canopy is built to last. Thanks to our combination of expert craftsmanship, smart designs and high-quality materials and component parts, all of our dining shelters are highly durable, sturdily built and come with a long lifespan, making them uniquely equipped to withstand the hustle and bustle of a school environment.
Manufactured here in the UK by highly experienced and fully qualified technicians using the latest technology, our solid steel framework goes through a two-part process to ensure it's as robust as possible. First, the steel is galvanised with a zinc coating, which protects it against corrosion for many years. Then, it's coated with an electrostatically charged powdered resin before being heated and cured in an oven at 200°C, giving it a tough yet beautiful Dura-coat™ finish.
Meanwhile, our range of Motiva™ shelters come with unbreakable POLY-TUFF™ polycarbonate roofing sheets and optional ALU-TUFF™ aluminium guttering and downpipes. Our stylish Maxima™ canopies come with high-strength PVC fabric roofing that's waterproof, fire-retardant and UV-resistant, ensuring maximum weather protection over many years.
Long-Lasting Dining Shelters That Offer Excellent Value for Money
Thanks to their outstanding durability, our dining shelters offer excellent value for money. Their smart design, strong build and long lifespan means they will maintain their integrity for many years with little maintenance required. Furthermore, a dining shelter offers value to your school in many ways. While their primary function is to give your pupils a safe and covered outdoor space to eat their lunch outside, our dining area canopies can also be used outside of term time for summer holiday clubs and extracurricular programmes. With excellent durability, low maintenance needs and a long life expectancy, dining shelters are a worthwhile investment for your school.
From Conception to Completion
Getting a dining shelter from A&S Landscape is simple and straightforward. From concept through to completion, we strive to make the whole process as smooth and stress-free as possible for our clients. With years of experience and expertise on our side, we're here to guide and support you every step of the way to ensure you're 100% happy with your new shelter project.
Scope and Budget
During this stage, we'll discuss in detail your requirements with you, which will allow us to get a clear picture of what you're looking for. We'll talk about sizes, pupil capacity, budgets and also address any concerns that you might have, as well as propose solutions that you may not have considered using our expertise and experience. Any planning permission issues that you need help with, we're here to assist you with those too.
Site Survey & Planning
After we have established the outline requirement and any budgetary constraints we carry out a free full site survey so we can view your site in person and get a full understanding of the land and space with which we'll be working, you can rest assured that you're dealing with industry professionals.
Design
Once we've surveyed your site and got a full understanding of your canopy requirements, next comes the bespoke design process. We'll work closely with you to perfect the canopy design for your project, tailoring the dimensions, colour(s), finish, materials, optional extras and number of canopies to meet your needs and budget.
Then, using advanced CAD (computer-aided design) software, we can create an accurate rendering of what your new dining shelter(s) will look like, giving you the opportunity to "try before you buy." We only start work once we know that you're 100% happy with the design and specifications. Involving our experienced design team in the early stages will always result in a better, more efficient, and more cost-effective shelter.
Manufacturing
Once the design process is squared away, the fabrication process can begin. All of our steel structures and component parts are manufactured here in the UK by fully qualified and highly experienced technicians using the latest technology and equipment, combined with good old-fashioned British craftsmanship. We strive to manufacture each and every component with care, commitment and precision, ensuring our clients' dining shelters are of only the highest quality and finish.
Galvanising
To ensure our canopies are as durable, weather-protected and long-lasting as possible, our steel components are given a Dura-coat™ finish, which involves a two-part process. The first stage is where we galvanise the steelwork with a zinc coating, which protects it from corrosion and gives it a tough protective coating that can last for many years.
Powder Coating
After the steelwork has been galvanised, the second stage of our Dura-coat™ finish involves the steelwork being coated with an electrostatically charged powdered resin before being heated and cured in an oven at 200°C. This gives the steelwork an incredibly durable yet sleek and beautiful finish. You can choose a Dura-coat™ finish in any RAL colour to either complement or contrast your school colours and existing buildings, ensuring your brand-new dining shelter will catch the eye.
Installation
Last but certainly not least, there comes the all-important installation process. Your new dining shelter will be installed by our specialist installation team at a time that's convenient for you, and the job will be carried out professionally and efficiently while causing minimal disruption and interruption to your normal school day. We even clean up after ourselves, ensuring the area is left safe and tidy so you can start enjoying your brand-new dining shelter(s) from day one. All of our health and safety processes have been approved by CHAS (The Contractors' Health and Safety Assessment Scheme), which is endorsed by the local government association.
Why Choose A&S Landscape?
We're a Trusted Canopy Supplier in the Education Sector
We've designed, manufactured and installed dining shelters for hundreds of schools throughout the UK. Having worked extensively with junior schools and senior schools, as well as nurseries, colleges and universities, we've established ourselves as a leading supplier of covered area solutions within the education sector.
This means that we're uniquely equipped to create canopies and shelters that meet your exact requirements, down to the smallest details. With our extensive expertise and experience of working with schools, we can also propose solutions that you may not have considered, ensuring that your outdoor dining canopy is of the highest quality, durability and functionality.
In addition to dining shelters, we also design, manufacture and install a wide range of covered area solutions for schools, including playground shelters, covered walkways, entrance canopies, covered multi-use games areas and cycle stores.
We Have Over 40 Years of Experience
Founded in 1976 by a father-and-son team, A&S Landscape has been trading for over 44 years. During this time, we've grown from a local company working on various projects relating to the external built environment to a European-wide designer, manufacturer and installer specialising in all manner of covered area solutions.
Despite our commitment to progress and innovation, some things are unchanged. A&S Landscape remains an independent, family-run business that is now in its third generation of family ownership. Four decades later, we still hold onto those same traditional principles and values that the company was founded upon.
Over the years, we've earned more than a dozen industry-specific accreditations, we believe that these accreditations represent our commitment to supplying our clients with the highest quality canopies, delivering outstanding customer service, offering excellent value for money and complying with all Health and Safety and environmental considerations. So, when you choose A&S Landscape, you can be confident that you're working with a leading, trusted and industry-approved name.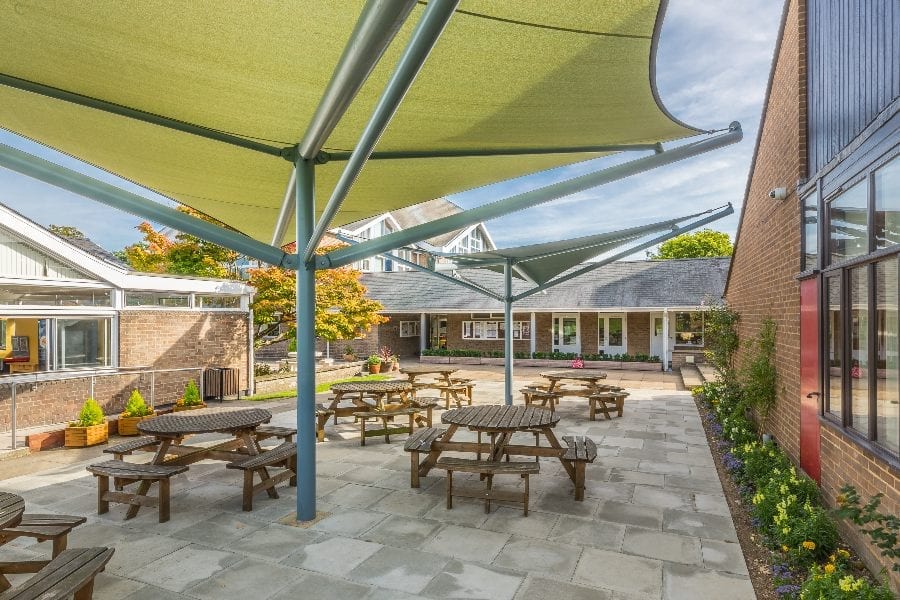 Dining Canopy added to Whitemead Forest Park in Parkend, Forest of Dean, Gloucestershire
Tepee Canopies added to Whitchurch High School in Cardiff
Stylish Fabric Tepee Canopies Designed for Shooters Hill Sixth Form College
Freestanding Dining Canopy Designed for Sir Thomas Rich's School
Outdoor Shelter for Lord Williams's Lower School in Thame, Oxfordshire