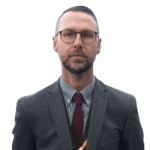 A&S Landscape are really knowledgeable with planning permission and helped us to make the right decisions.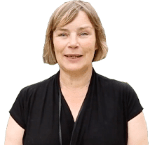 We worked with A&S Landscape closely until we had a gorgeous finished project. Their staff were very helpful.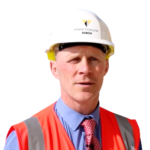 A&S Landscape worked in a way that let us get other trades to fit around them. We're happy to work with A&S again.
Cycle Shelters for Schools
A&S Landscape is pleased to bring you a range of cycle storage and shelters. A good bicycle storage provision is the hallmark of any environmentally conscious organisation.
Cycle stores should not be too brash, too basic or too indistinct. Our cycle stores lead the way in elegance and simplicity. A truly inviting place to park your bike. Our Cyclo design based on the Motiva system is truly versatile. They come with no limit to dimensions or to the side panel options.
Cycle Storage Design
The design of our bicycle stores is key to their success. The steel uprights and polycarbonate roofs marry together to create robust yet attractive features. Durable and good value, our cycle stores range offers safety and security from all of the elements. Utilising our renowned Motiva design means that the material is a much higher specification than standard cycle stores. We also offer bike and scooter racks for schools, so you can store a range of items. And if you are looking for a lockable bike shelter, we can also add doors and locks to our models.
Cycle Storage Installation
As a privately owned, family-led company, we are able to respond quickly to our customers' needs. A&S Landscape recommends an early consultation to consider all aspects of the proposed cycle store installation. We provide free quotations and technical information at the design stage. Full site surveys, CAD drawings and project management are all part of our standard service. Early technical involvement can often improve bicycle store design, aesthetics and cost.
Click here to view our recent cycle storage projects.
Our Commercial Bike Storage Range
See more 
commercial bike storage

 projects we have completed
Large Red Bike Store at Myton School in Warwick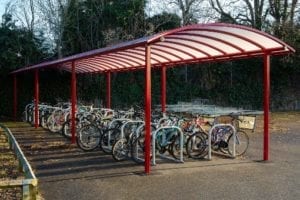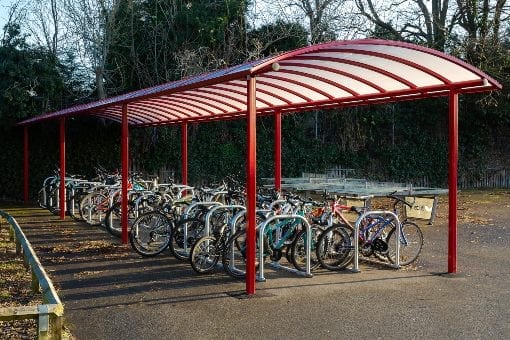 In their bid to create a positive impact on the health and wellbeing of their staff and students, Myton School commissioned A&S Landscape to build a custom-made cycle store. Far from the traditional bike shed, this cycle shelter was designed to fit the footprint of the space available and to provide cover for the maximum number of bikes. Built to last, with galvanised, powder-coated steel finished in red, the school saw the construction as an investment. The end result provided a covered cycle rack with substantial storage capacity, all designed on our curved roof canopy from the Motiva Duo range. The overall design was matched to the colour themes of the school's emblem, all of which emphasised the bespoke nature of the project. With all bikes protected from the weather, there's now no excuse for staff and students not to cycle to school! See more about this bike shelter we installed for the Myton School here.
Grey Bike Store Fitted at Fairfield Primary School in Widnes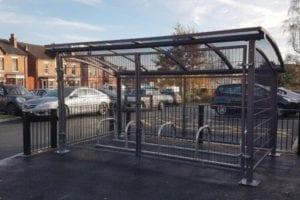 Fairfield Primary School wanted cycle storage that would reflect their modern and progressive ethos. They knew exactly what they wanted when they approached us. The school had done their homework, and they had the assignment clearly set out for us to deliver. They wanted a robust cycle shelter with added protection and security. To reflect this specification, the Cyclo 'Bike' option from our product range was installed. The finished result provided a cycle rack for 10 bikes finished in Slate Grey with an Opal effect roof. But with the desire for additional security in mind, we finished the shelter off with mesh panels and a front gate. Fairfield Primary School were able to benefit from the versatility of our Cyclo 'Bike' cycle store design which was customised to their exact requirements. Adaptability, durability and security combined to deliver exactly what Fairfield Primary School had wanted, and it was an A+ in their feedback to our team! Read about the cycle storage we added at Fairfield Primary School.
Green Bike Store at St Joseph's Catholic School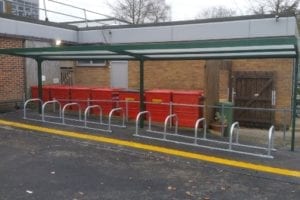 St Joseph's Catholic School might be a smaller than average school, but they still wanted to offer a safe and secure place for students to store their bikes. Lots of secondary school kids buy their own bikes from long-saved pocket money. Some might even depend on their bikes for a paper round, and for them, their bikes are even more important. The school knew that by offering safe bike storage they had a way to encourage more of their students to cycle to school, safe in the knowledge that their bikes would be in a secure cycle store. The option that best met the needs of St Joseph's Catholic School and the pupils was the Cyclo 'City'. Finished in Moss Green steelwork and topped with a clear roof, the overall cycle storage capacity was for 20 bikes. Feedback from the school highlighted the professional approach taken by A&S Landscape's on-site team during the construction phase. Learn more about this bike storage we added at St Joseph's Catholic School here.
Bike Storage at Harborne Primary School in Birmingham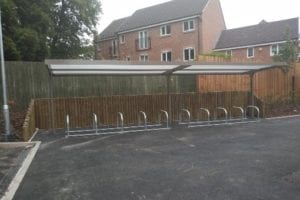 A&S Landscape was kept very busy recently installing not just one canopy, but three at Harborne Primary School. The work included a brand new Cyclo City covered bike rack. In designing a scheme like this with multiple structures, our team worked closely with the staff at Harborne Primary School to make sure that just the right look was achieved. For this project, the bike shelter steelwork was finished in beige grey which matched with the other two canopies that were part of the commission. This attention to detail meant that the structures blended with the school surroundings and did not dominate the rest of the space. There are many benefits to children in cycling to school, not least of all the fact that they find it fun. By offering secure cycle storage, Harborne Primary School are now able to encourage parents to get their children cycling to and from school, safe in the knowledge that their children's bikes are safely stored away. Read more about the cycle storage we installed at Harborne Primary School.
Two Cycle Stores Installed at Leavesden Green Primary School in Watford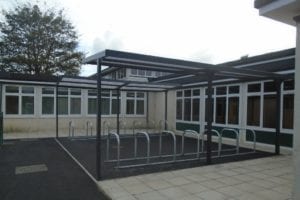 Amongst the visions and values of Leavesden Green Primary School is the desire to promote an environment that encourages children to become confident in themselves. Creating a cycle to school culture was one way for them to offer pupils the chance to boost their confidence as well as their sense of independence. When Leavesden Green Primary School decided that they wanted a cycle shelter as part of their aim to encourage more children to cycle, they decided that they would maximise the opportunity. They approached A&S Landscape to build two shelters rather than just the one so that they could offer more children the chance to use the facilities. As a result, two Cyclo City shelters were installed, each providing 14 all-weather bike racks. Each frame was finished in Anthracite Grey and topped with an Opal effect roof. The end result gave a sleek and subtle effect. See more details about the bike store we installed at Leavesden Green Primary School here.
Our Featured School Cycle Store Project
Meole Brace Secondary School in Shropshire adds Secure Cycle Storage

What was the project brief?
The specialist Science and Mathematics College, Meole Brace Secondary School, required additional cycle storage to meet the increasing demands of both students and teachers. With cycling becoming a popular choice for the journey to school, particularly with the Government incentive of the cycle to work scheme, the college wanted to ensure that bikes could be securely locked away in a robust cycle storage.
A&S Landscape was pleased to be called in to deliver the entire project. This included the initial discussion around choosing the most suitable site to house the bike store, as well as exploring their different options in relation to their budget. The cycle storage had two requirements, it had to have substantial storage capacity and it must be highly secure. Once the decision was finalised, A&S Landscape orchestrated all of the logistics of the project, coordinating contractors, and much of the manual work too, including the removal of the concrete base works, and the cycle storage installation. The final shelter was to be long-lasting, durable, but most importantly, act as an active encouragement for students and teachers to ride their bike to school.
What was our cycle shelter solution?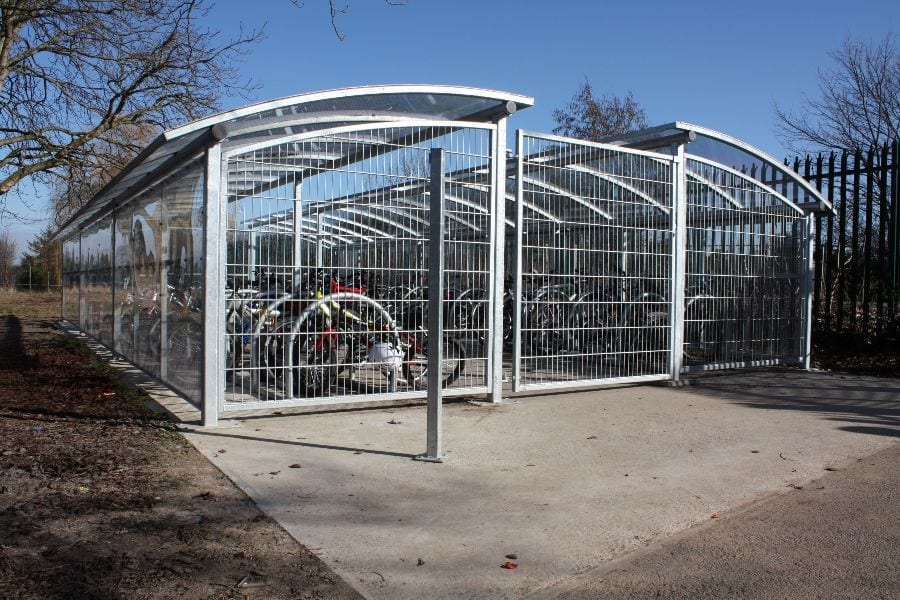 Once a site was chosen, A&S Landscape took on the challenge of designing (quite possibly) the most robust cycle store ever! With a heavy galvanised section, and a strong mesh front and gate, together with an unbreakable sturdy polycarbonate roof and sides, the secure bike shelters provides exceptional security. It became so popular, that no sooner was it built, the school required an extension! Thankfully the clever modular design allowed for this, and a straightforward extension was added to accommodate 20 extra cycles.
What was the result of their new bike canopy?
It goes without saying that the secure covered cycle rack was extremely popular. There is now very little worry for students when leaving their treasured bike while they attend classes. This is true for teachers too. Especially now that high price-tag electric bikes are commonplace, a secure cycle store was a vital addition to the make-up of the school. Clearly, the bike rack has encouraged more people to take up cycling, with the need for extra cycle spaces, and this can only be a good thing for the physical and mental health of the students and teachers.
Testimonial / Client Feedback
"We are extremely impressed with the quality and design of the two cycle shelters that A&S Landscape installed. A&S Landscape not only provided a competitive quotation for our original specification but also worked with us to improve the designs and ensure we got the best value within our budget. We really appreciated their flexible approach – amending the specification to best suit our requirements and scheduling the works to fit in with our fund-raising efforts and school breaks. The construction team were professional, and the polycarbonate appears superior to that used previously at the school. We look forward to working with A&S Landscape on similar projects in the future."
-Cycle Travel Coordinator, Meole Brace Science College
About the client
Meole Brace Secondary School, located in Shropshire, was founded in 1956, and now serves approximately 1200 students over a 9-form entry. Since 2003, it has been recognised as a school that specialises in Science and Mathematics and is exceptionally well-regarded in the local area.
The staff were lovely to work with. We think it is absolutely excellent that the school has a member of staff who has the title of 'Cycle Travel Coordinator.' Clearly, they are committed to the wellbeing of their students and teachers, as well as the safety and happiness of their cycling experience. They were a pleasure to work with, and we mirror their desire to work on projects together again in the future.
Why choose A&S Landscape for your cycle shelter?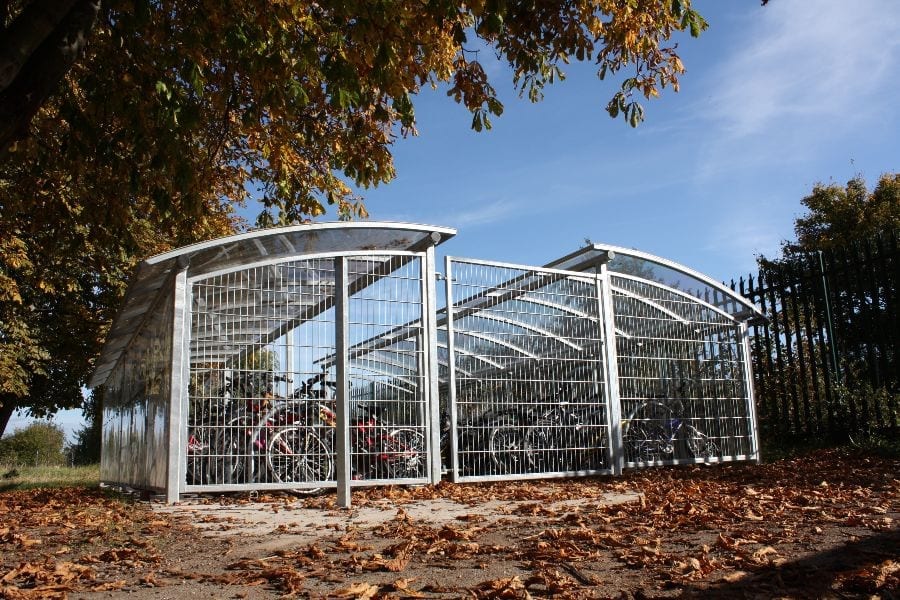 Known for their elegance and simplicity, our cycle shelters for schools offer the highest level of weather protection, safety and security. Whatever your cycle storage needs, A&S Landscape offers a high-quality and long-lasting solution.
From our cycle shelters uk range, we have three cycle designs to choose from, including the City, Bike and Buggy models, all of which come in a range of dimensions and configurations, sizes, and options for side panels and gates. Bikes are securely locked away under a sturdy polycarbonate Motiva roof that is fused together with a solid steel framework. The bike store is then personalised to suit your style, with a choice of Dura-coat™ finishes. As well as fitting bicycles, our models also act as ideal scooter storage for schools if your students prefer to scoot to school.
We have over 44 years of experience working with secure cycle shelters and can offer you expert advice when it comes to choosing the right design and product, aesthetics and options relating to cost. We continue to always review our product range, ensuring that we only offer the highest-quality canopies to our customers. Being a family-led company, our service is always friendly, reliable and personal.
At A&S Landscape, we have developed many close relationships with educational bodies across the UK, and have designed, manufactured and installed countless bike shelters for schools, colleges and universities. Whatever your requirements are, we are here to help you achieve what you envision for your bike shelter.
If you would like more information or would like help in finding the perfect cycle storage solution for you, get in touch with us today on 01743 293182 or at [email protected].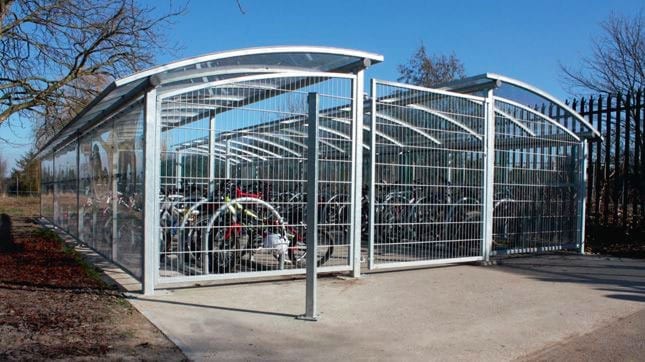 A&S provided a competitive quotation and worked with us to ensure we got the best value.
Cycle Travel Coordinator - Meole Brace Science College
View Project

A free guide containing information on over 80 different grant schemes available to schools