Leavesden Green Primary School in Watford Add Cycle and Playground Shelters
Leavesden Green Primary School, based in Watford, encourage their pupils to cycle to school. They decided to install two cycle shelters, to provide a secure storage area. The school also chose to add a playground canopy to an area of the site too.
Project Specification
Product:

Cyclo City™

Sizes:

5960mm X 2000mm | 9500mm X 3000mm

Steelwork:

Anthracite Grey - RAL NO. 7016

Roof:
A&S Landscape installed two Cyclo City shelters, both with seven cycle racks holding up to 14 cycles each. Pupils can now lock their bikes up, which are also protected from the weather thanks to the shelter. The new cycle stores have encouraged more pupils to cycle to school, which will have a positive impact on both their wellbeing and the environment.
What are the benefits of regularly cycling to school on children and how can schools encourage this activity?
With estimations that by 2050 70% of girls and 55% of boys will be overweight or obese, there has never been a more pivotal time to cycle to school. However, more parents than ever are driving their children to school. A Sustrans study showed that whilst 12% of parents were driven to school when they were children, these days 35% of children are driven to school, so what has changed?
Parents cited over road safety as one of the obstructions to cycling to school, so programmes like 'Bikeability' where children learn the fundamentals of road safety are an important step in preparing children for the cycle to school. Going over the route at the weekends when the roads are likely to be less busy is also good preparation.
Carry on reading to find out more about how schools can encourage their students to cycle to school.
Leavesden Green Primary School also added a straight roof shelter to their playground, from the Motiva range of products. The Motiva Linear canopy allows the pupils to spend their break and lunchtimes outside, no matter the weather. The grey steelwork blends in seamlessly with the surrounding buildings, and the polycarbonate roof offers protection against the rain, wind or sun.
Teachers now also have the opportunity to hold lessons outside, giving the pupils the chance to experience life outside of the four walls of the classroom. This unique learning environment helps to engage the class, and there's no need to worry about the weather conditions either.
A&S Landscape provides a wide range of canopies for a variety of uses. From covered walkways, entrance canopies and dining area shelters, we have a product to meet your requirements. Call our friendly team today on 01743 444100.
Have a look at some of the other canopies we have installed in Hertfordshire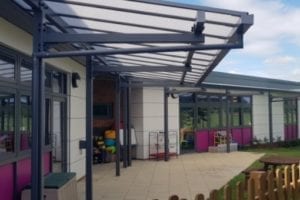 Roman Way First School add Cantilever Canopy to Play Area
We constructed a cantilever canopy in Roman Way First School Burns Road, Royston, Hertfordshire . The job involved one Motiva™ Cantilever straight roof canopy measuring 19000mm X 2750mm with Alu-Tuff™ aluminium box profile guttering and downpipes which were coated in a matching Dura-coat™ colour finish.
Tepee Canopy Designed for Millfield First And Nursery School
We created an Elipse tepee structure for Millfield First And Nursery School Buntingford, Hertfordshire. The job involved the supply and fitting of one Maxima™ Elipse tensile waterproof fabric roof structure measuring 7500mm X 5000mm with splashplate and leg extensions to increase the height of the canopy.
Straight Roof Canopy Installed at St Hilda's School
A&S constructed a straight polycarbonate roof canopy for St Hilda's School 28 Douglas Road, Harpenden, Hertfordshire. The job involved the supply and installation of one Motiva™ monopitch straight roof canopy measuring 9600mm X 2981mm complete with with Alu-Tuff™ aluminium box profile guttering and downpipes which were coated in a matching Dura-coat™ colour finish.
Bishop Stortford College Add Blue Fabric Shade Sail
A&S created a StarSail in Bishop Stortford College Bishops Stopford , Hertfordshire. The full contract involved the supply and installation of one Maxima™ StarSail tensile shadecloth fabric structure supported on a single upright measuring 7000mm X 7000mm.
Marsworth CE Infant School Add Secure Buggy Store
A&S designed a cyclo buggy store for Marsworth Ce Infant School Marsworth, Tring, Hertfordshire. The job involved one Cyclo 'Buggy' measuring 5000mm X 2400mm.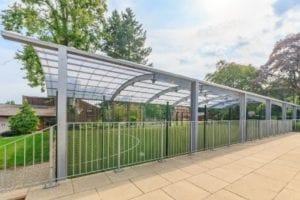 Covered Games Area Created for Haileybury College
A&S designed a dryMuga canopy for Haileybury Hertford, Hertfordshire. Full details are: one Motiva™ drymuga™ duopitch curved roof sports canopy measuring 32000mm X 13200mm including for steel guttering and downpipes, 868 twin wire rebound fencing, complete with built-in five-a-side football goals and a basketball hoop. We also carried out the surfacing with the supply and lay of real Turf 'Colours' curled anti-static sports turf to the pitch area and supply and inlay of white lines for layout showing five aside football/ hockey markings all onto a schmitz Proplay MP interlocking re-cycled polyethylene foam shock-pad.
Gilah Nursery School Add Fabric Shade Sail
Working alongside our trade partner our team made a sail structure at Gilah Nursery School Elstree, Hertfordshire. The job involved one 6000mm x 6000mm Maxima™ tensile shade cloth fabric sail structure comprising of one square sail on four uprights including for all stainless steel fixtures and fittings.