Garden Centre Canopies
Longer lasting, better looking canopies for garden centres across the UK
Enquire Here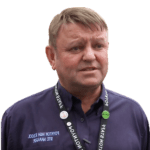 Pricewise, A&S Landscape was the best. They seemed to bend over backwards to meet our needs.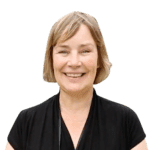 We worked with A&S Landscape closely until we had a gorgeous finished project. Their staff were very helpful.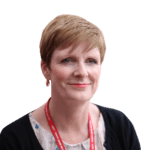 The price was very good. I can't praise A&S Landscape enough. I would definitely recommend them.
Garden Centre Canopies
Garden centres have a variety of unique needs when it comes to their architecture and their outdoor structures. The indoor/outdoor setup of a lot of garden centres means that having durable, high-quality and practical outdoor canopies is vital to ensuring a positive experience for your visitors. With appropriate outdoor coverage, visitors are able to use all of your facilities regardless of the weather conditions outside. Outdoor covers and canopies also help to protect your stock from adverse weather and make life easier for your staff too!
There are a wide range of canopy solutions available to garden centres, so we can help to create a plan and a project that perfectly suits the needs of your buildings.
We are passionate at A&S Landscape about creating solutions for our clients that enhance not only their outdoor spaces, but also enhance the customer experience that users have with your business. In the last 40 years, we've completed a large number of projects for garden centre customers, and worked in a wide range of industries. We're proud of our reputation as a welcoming, cost-effective, and knowledgeable team, so just get in touch and we'll be happy to help you get started!
What is a Garden Centre Canopy?
Garden centre canopies can be used to cover large external areas, providing protection from the weather. This allows the customers to browse at all times throughout the year and helps garden centres get more use out of their land. Covered walkways can also be installed to protect customers walking from the car park to the shop front.
Get a Quick Price
Send us your email and an idea of your requirements and we'll get back to you with a quick price.
Garden Centre Canopy Designs
Read Our Featured Garden Centre Project
Taskers Home and Garden Store in Liverpool add Covered Walkway

What was the project brief?
The Taskers store located in Hunts Cross, Liverpool has officially been open since 2015. They sell various supplies for the home and garden, including plants and outdoor furniture. However, like all businesses, the external areas are not immune to the effects of the unpredictable British weather.
Having a diverse range of garden supplies, they needed to develop a covered outside space which would keep their shoppers dry while browsing. They approached canopy experts A&S Landscape to help them achieve their goal. This was to add a covered walkway that would complement the existing structure. Taskers are a well-respected business after all, and so it was paramount for customers to have the best experience while shopping.
What was our garden centre shelter solution?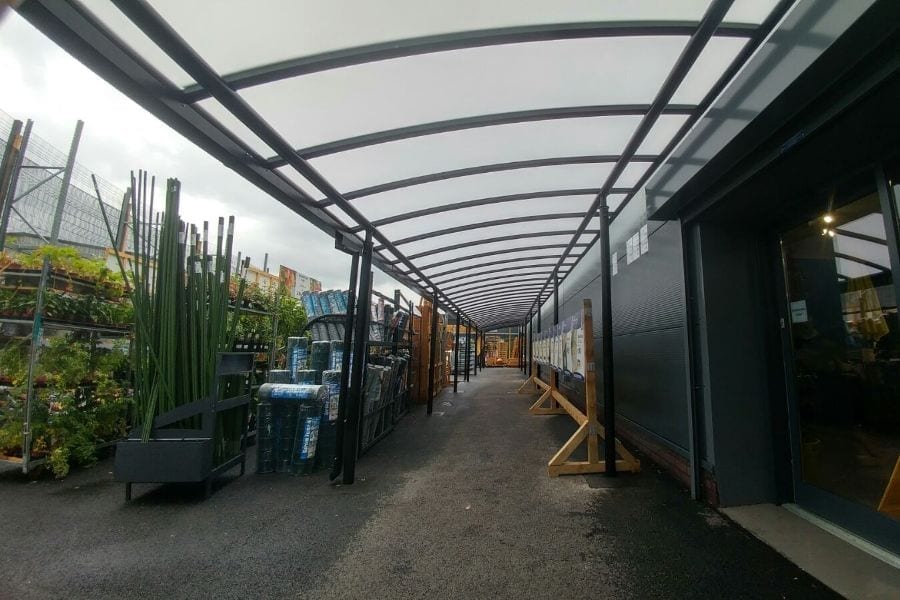 Our proposed structure was the Motiva Mono™. This is a prime example of a canopy that is an exemplary choice for covered walkways. With an asymmetric (one side higher than the other) curved roof, the shelters look attractive, modern and quite simply stylish. These canopies are fabricated with the highest-quality materials and have an in-built system of Alu-Tuff™ boxed profile guttering. Finished in Dura-Coat™ paintwork they are one highly effective structure!
An absolute necessity for Taskers was the need for the shelter to fit seamlessly with their high-end, slick-black branding. This was possible with the Motiva Mono™ canopy, unlike other non-versatile conventional structures. Made to measure at 27000mm x 3000mm, with a smart black steel frame (RAL 9005) and opal polycarbonate roofing, the shelter was an impressive statement, yet completely on-brand.
What was the result of the new garden centre canopy?
The result of the canopy has been fantastic. Not only does it look the part, but it also plays the highly important role of keeping the shoppers dry. This is great for business, as now customers can visit the store and browse the garden section even when it's raining. It provides more space, and with that comes the additional retail opportunity.
The weatherproof canopy has been an excellent asset for Taskers, who are very much taking advantage of the covered walkway. There is no doubt that the customers now have a better shopping experience, the professional displays of flowers are protected from the changeable weather, and so are the customers!
About the client
Taskers are a home and garden store chain that have large stores scattered around the North West of England, as well as an online range of products that are suitable for delivery. The branch we completed the work for was the Taskers Store at Hunts Cross in Liverpool.
We took an integrated approach on this project, working with Taskers, the contractors and architects to ensure we were able to meet all of the needs for the commercial site. It was a pleasure to work with the home store, and source for them a canopy that really benefits their retail space.
Why invest in a garden centre canopy?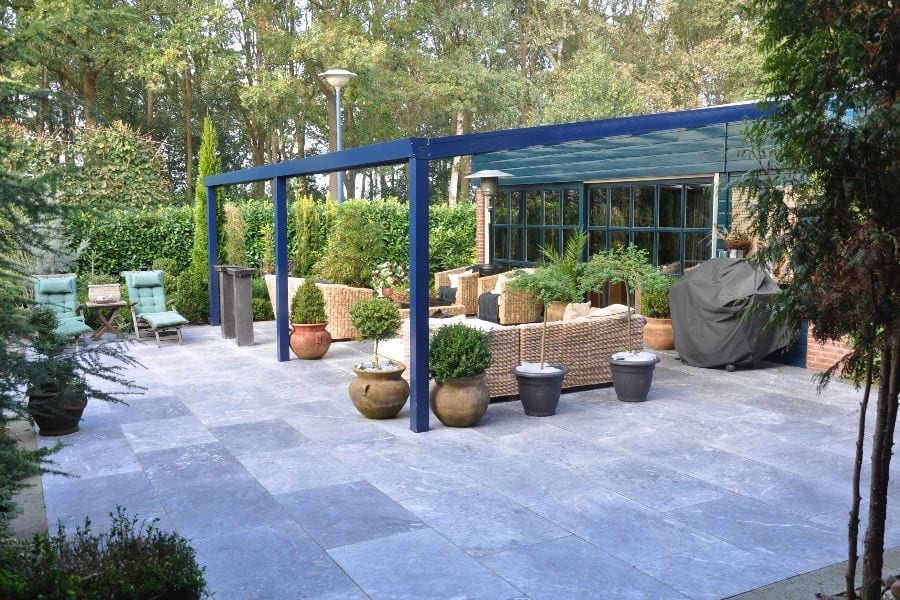 The benefits of investing in a canopy for your garden centre can prove to be extremely fruitful – here are but a few of the possible positive impacts a shelter can have:
Commercial opportunities 
Outdoor under-utilised areas are just waiting to be transformed. Popular expansions for a garden centre include cafés and delicatessens, a farm shop or for various other outdoor goods. Our canopies are a great way to help your business to continue to develop while being superb value for money.
Protect the flower and plants
Hands up if you've ever spent a long weekend tirelessly working away at your garden, only for it to be destroyed not long after when a storm hits. It's a real shame when it's your own hard work, but when it affects your profits, it can affect your livelihood too. Let stock damage and loss be a thing of the past with a large, sturdy shelter.
Improve the customer experience
It's not surprising that garden centres are a popular choice for an enjoyable day out. As a nation, we love to tend to our gardens, and with just an hour of light gardening a week burning off 87 Mars Bars per year, it's a healthy hobby to have! While that is great for your business, it means it's equally important that you meet the customers' demands. When they visit your garden centre, they will want to be comfortable, and this means access to fresh air but also protection from the weather. Be an inspiring destination and add that weatherproof canopy!
Why choose A&S Landscape for your garden centre canopy?
Since 1976, we have been designing, manufacturing and installing canopies for schools, restaurants and garden centres. Every shelter we install is made from high-quality materials, and we have the customer service levels to match. We have built up a nationwide network of close relationships to commercial businesses across the UK, and we continue to expand our list of satisfied customers.
Whatever you envision for your garden centre canopy, here at A&S Landscape we can help you to find the perfect solution. We regularly quality-assess all of our products, meaning that we are constantly updating our new improved range of canopies. Alongside our amazing range, we also offer exceptional expertise that has been passed down through family generations.
If you'd like some help navigating through our canopy structures, please get in touch with us on 01743 444100 or at [email protected]. One of our friendly team members would be very happy to help you.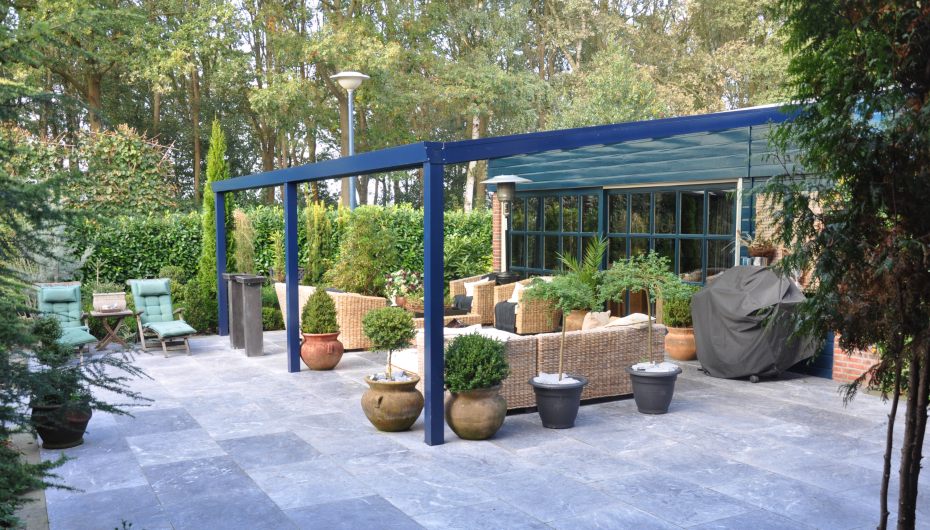 Send us your email and an idea of your requirements and we'll get back to you with a quick price.