Banks Road Infant School Add New Straight Roof Shelter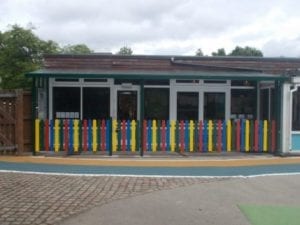 We've talked about this before, but design isn't just about getting a job done, it's also about the intangible. How a space feels makes a difference to how you behave within it.
By re-energising a space, we can instantly create an additional outdoor learning and play area and that is just a little bit magic. That's right, magic. Because the intangible has that quality. Whilst you may see a robust and attractive play space, what you get is something else entirely.
By adding a Motiva Linear™ school playground canopy with bright, colourful fencing, we were able to kick this outdoor space into life. The Motiva Linear™ was installed in a professional green steelwork with additional fencing in a range of playful colours. Together, the smart Motiva Linear™ canopy and bright, playful fencing provide a sheltered area where the children are secure and can learn and play all year round in the fresh air.
But more than that, think back to the last time you were in a space that inspired you. The result of good design, especially design that has personality is that what you are left with is more than the steelwork, more than the polycarbonate roofing and more than the fencing too. It's the invisible 'in-between' that can make you feel excited, energised and ready for fun and positive learning.
When planning a space, always ask yourself how you want that space to feel and how you want the people who use it to feel as well. If there's a space around campus that you feel could do with a new lease of life, we can help with that. Some spaces simply stop working when they're left to fall into disrepair but the addition of new, vibrant outdoor shelters and canopies can reinvigorate them. Take a look at our outdoor canopies for schools online.