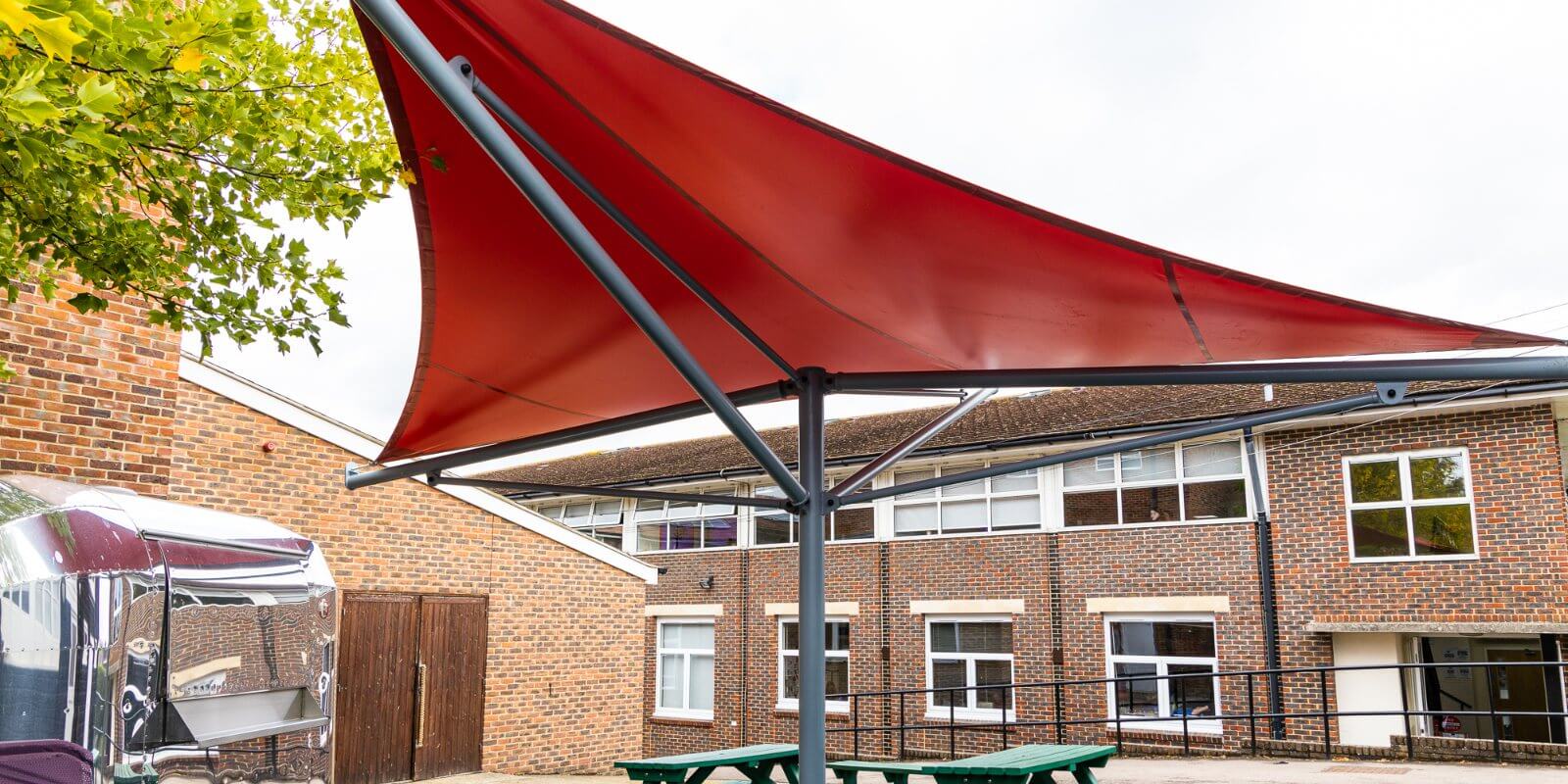 The Harvey Grammar School in Folkestone Add Tepee Tensile Canopy Structures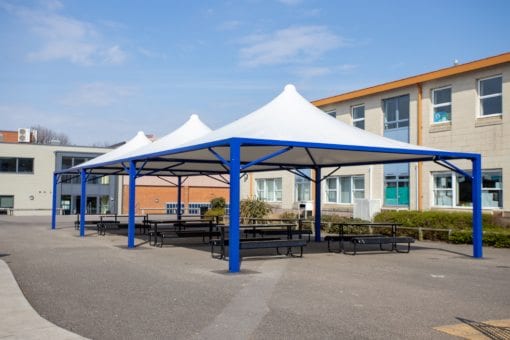 While The Harvey Grammar School, located on Cheriton Road, Folkestone, may have a history dating back to 1674, their approach to a modern learning environment is far from old fashioned. Delivering grammar school education to boys between the ages of eleven and eighteen years, the teaching staff at The Harvey Grammar School are committed to continually improving the school environment. When the decision was taken to explore ways to create a sheltered area in the school's grounds, they contacted A&S Landscape to discuss ways in which this could be achieved.
A busy school campus can mean that additional pressure is placed on the smooth flow of pupils during peak periods. This might be during breaks, at lunchtime or between lessons. Simply placing benches in the school grounds will not solve this problem for large parts of the academic year, thanks to the unpredictability of the UK weather. Recognising this problem and looking at ways to address it can open up a range of options.
A&S Landscape worked with the school to develop plans for a waterproof tensile canopy system that would give the boys an area of shelter to use, whatever the weather. Working through the range of options available, our tensile canopy solution came in the form of the Maxima Tepee™. With a range of bespoke options on offer, The Harvey Grammar School chose to finish their modular structure in Ultramarine Blue (RAL 5002) with White (RAL 9010) waterproof canopy fabric. Measuring in at 21000 mm X 7000 mm, the final result is a substantial area of shelter from the elements.
Shade Sail Installed Outside Snack Pod at Hillview School for Girls in Tonbridge
Hillview School for Girls is located in the market town of Tonbridge which sits on the River Medway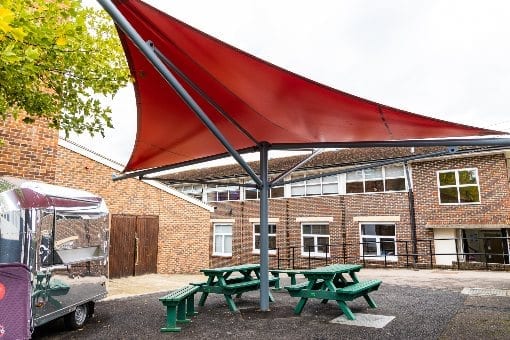 . A modern school with a wide range of facilities including a cinema, dance and drama studios and sports facilities, they have installed a snack pod in the school's grounds too.
The snack pod is a hip, retro-style, chrome trailer and the school wanted a canopy cover to add to the area that would provide shelter to the girls, but also fit with this modern theme. They approached A&S Landscape for some help in identifying a design that would sit well with this brief. Offering a whole range of shade sail options, A&S Landscape are able to give clients choice when it comes to the design of their shelter solution. Taking into account of the project brief for something that would fit in with the existing feel of the area, the chosen design option was that of the Maxima StarSail™. This fabulous canopy cover offers all the practicality of a waterproof shade sail with the great looking aesthetics of a fun and on-trend design.
Constructed using a galvanised steel canopy pole and finished with either shade cloth (with 14 colours to choose from) or PVC, high strength waterproof fabric (with 40 colours to select from), this is a popular product for schools, as well as cafes and outdoor kiosks.
Helpful Dining Area Canopy Purchased by Hartsdown Academy in Margate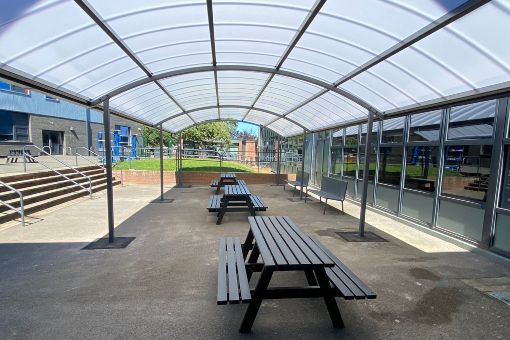 Hartsdown Academy in Margate needed a dining shelter because it was facing the issue of creating more space at break times for its student intake, which was rising in the next school year – much as the number of pupils in English schools has increased. The staff were looking for a striking but simple structure that could function as a covered facility where many students could eat, catch up with classmates and more outside, even if it was raining. They approached us to find an instant, attractive solution.
After considering all the best possible options with our team, this customer chose to have a Motiva Duo™ installed on-site. Due to its capacity to suit freestanding structures and large spaces, this was a great choice for a dining area canopy. Slate Grey steelwork and an Opal roof fit the idea of a straightforward yet instantly appealing design, and the 16000mm X 6000mm measurements could accommodate groups of students wanting to take a breather outside while eating their lunch or who couldn't find space indoors.
The dining shelter has been a real success for this client. The higher number of attending students needing somewhere comfortable to eat at lunchtime hasn't been a problem thanks to the valuable space the canopy has created, and they can enjoy socialising there during their other breaks too in all weathers. Email us at [email protected] to start your shelter journey today.
Ethelbert Road Primary School Add a Large Yellow School Canopy
Ethelbert Road Primary School in Kent have an enclosed play area on their campus and it was in need of some shade and shelter. Somewhere that the children could enjoy no matter how strong the UV rays, or wet the rain. Something bright that would add to the playground and something large enough that plenty of children could benefit from it. This was the remit and A&S Landscape was keen to come up with a solution.
A&S Landscape can install many different designs of playground canopies, either during school holidays or in term time. Our teams are dedicated, experienced and have all the required permissions to work with schools across the country. Our range of canopies includes both fabric as well as steel and polycarbonate canopies and for this project, a Duo canopy from our Motiva range was chosen.
The canopy was steel and polycarbonate, the steel was Bright Yellow (RAL 1003) and the roofing was opal polycarbonate. The canopy measured 8000mm x 5800mm and it benefited from aluminium box profile guttering and downpipes in matching Bright Yellow. This made sure that the rainwater was effectively managed. The new area that the canopy created was fenced with colourful fencing and it looks really great. The children are enjoying it all-year-round.
Umbrella Canopy at Westmeads Community Infants School in Whitstable
A&S Landscape has a wide range of products, from the Motiva range of steel and polycarbonate canopies to the Maxima range of shade cloth and PVC fabric canopies. This time the school chose the stylish Maxima Umbrella™ shelter with one post. The Umbrella was installed at 6000mm x 6000mm to offer a nice large area of protection. The fabric chosen was PVC and this meant that it offered shelter from the rain as well as shade from UV rays. In Lagoon Blue, against a Signal Yellow post, the Umbrella looked fantastic as part of the beach-themed playground.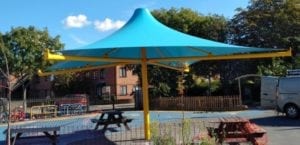 The playground now looks complete with it's bright, striking canopy. The Umbrella has created some shaded seating and offers many options for the children. They can have reading sessions outside, playtime games with friends or just some time to relax out of the sun and rain.
If you are thinking about a similar project, take a look at our gallery which contains more than 1,000 images of projects that we have completed. It is a good place to look for some inspiration. You can always call us directly on 01743 444100 if you would like to chat through the options, we would be glad to help.
Some of our clients based in Kent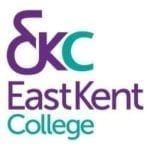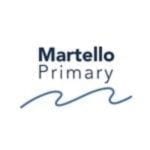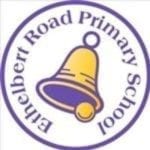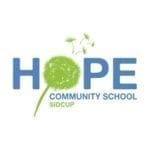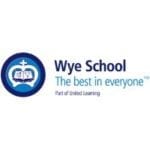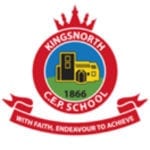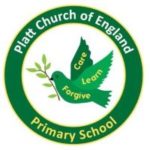 Blackfen School for Girls in Sidcup Finds Fantastic Dining Shelter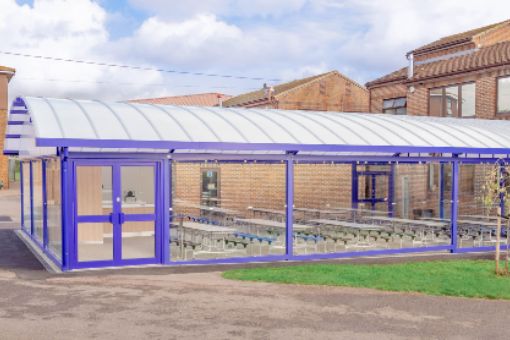 Blackfen School for Girls in Sidcup, Kent was in need of a dining canopy to transform its outdoor facilities and allow students to eat outside in the wind and rain. The staff there felt it was important that the structure had heating and lighting to make it a comfortable place to be in summer or winter, and that it was enclosed so those inside it were fully protected from the elements. They also wanted a design befitting of the school colours, and we were ready to help.
Our team provided their expert advice and our customer eventually settled on a 15000mm X 10000mm Motiva Duo™, which has a duopitch symmetric roof to make a bold visual statement while offering excellent shelter. We designed the dining canopy with lighting, heating and resin flooring to create a welcoming, warm environment for eating outdoors in all year round, plus glass panels on two end and two side elevations to keep out any wet weather completely. Additionally, Ultramarine Blue steelwork and an Opal polycarbonate roof reflected some of the institution's colourful branding.
The school community now thoroughly enjoys its new facility and uses it throughout the year, thanks to the heated, enclosed and well-lit dining space. Students and staff can eat outside in any kind of unpredictable British weather and the dining shelter makes a great impression on visitors. Email our team at [email protected] or call us on 01743 444100 to discuss your canopy now.
Haberdashers' Aske's Knights Academy in Bromley Add School Shelters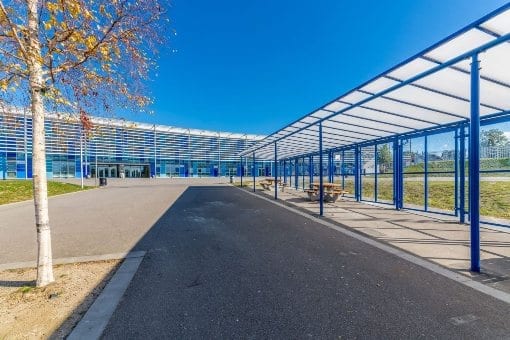 When Haberdashers' Aske's Knights Academy contacted A&S Landscape they were looking to remedy that by adding an attractive outdoor playground canopy that could provide shelter from the elements and a new outdoor area. We installed a Motiva Linear™ canopy at 14250mm x 4000mm, including Alu-Tuff™ guttering and downpipes in matching Gentian Blue (RAL500) Dura-coat™ paintwork. An attractive and effective canopy, it is long and wide enough to provide useful outdoor space. Meaning that Haberdashers' Aske's Knights Academy now have long-lasting, all-weather shelter in their playground.
Whilst the literal benefits of this installation may be shelter, that really just translates into an outdoor space for break time being available when it previously was not. Haberdashers' Aske's Knights Academy were delighted with the installation and the impact it has had on students.
Playground shelter, entrance canopy or a cover for an outdoor dining area, A&S Landscape have a range of solutions for almost any situation and you'll find inspiration in our gallery.
Outdoor Dining Canopy Installation for Wye School in Ashford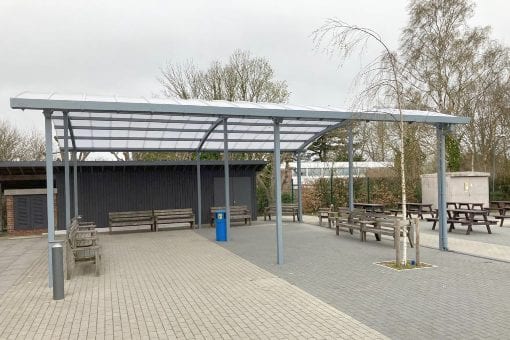 With unused space on their campus, this Kent school wanted to explore building an outdoor canopy cover for use by students at break and lunchtime. Their architect-designed campus needed a shelter solution that would work well with the award-winning buildings that would surround it, though.
Our expert design team have experience of working on secondary school sites throughout the UK, this meant that they were ideally placed to help. When Wye School, which is based in the Kent village of Wye itself, contacted us for design and installation help, we were happy to oblige.
Planning a design concept for an aesthetically critical project like this requires intricate understanding of the site, the dimensions of the desired canopy cover and what exists on the site already. After full consideration of these factors, our team's shelter solution proposal was to use the Motiva Duo™ canopy cover. The symmetrically curved roof-line looks sleek and attractive, adding a modern vibe to complement the existing site. With the use of Squirrel Grey (RAL 7000) steel shelter frame and an Opal polycarbonate roof, the smart finish of this attractive canopy was perfect for its location.
Our extensive range of canopy covers for senior school sites assures you of finding the perfect shelter solution for your campus. We offer everything from dining area canopies to covered sports pitches and bike shelters. Find out more by reaching out to our team today.
Cycle Store Designed for Barton Court Grammar School in Canterbury
When A&S Landscape were contacted by the school they were happy to talk through their range of cycle storage solutions. The school decided to go with a Cyclo Bike™ product at 16800mm x 2400mm which included 16 cycle racks which could accommodate 32 cycles. The Cyclo Bike was installed in Slate Grey (RAL 7015) steel with a clear polycarbonate roof.
The space was bright and flooded with natural light and looked very smart on the campus. The children and staff alike now have the option to cycle to school, knowing that their bicycles will be safely stored all day. Bicycles are an expensive item and it is important to know that if you arrive somewhere, you will have the option to leave your bicycle safely and securely. Anything that schools can do to encourage their pupils to exercise regularly has to be a good thing, we think this looks great!
A&S Landscape has a wide range of canopies. Our gallery contains over a thousand pictures of our work and you can view them for some inspiration.
Multicoloured Canopy at Colliers Green C of E Primary School in Cranbrook
A straight roof canopy was selected, measuring 9795mm X 2920mm and was installed alongside the school building. The roof featured a range of different polycarbonate sheet colours, including Poppy, Mandarin, Daffodil, Mint, Lagoon, Foxglove and Violet. Colliers Green C of E Primary School chose a subtle grey finish for the steelwork, which balances with the coloured roof perfectly.
The pupils absolutely love their new canopy and it has quickly become a very popular addition to the school. When it is raining, the pupils can shelter in the dry underneath the canopy. And when the sun does shine, the coloured light streams through the roof brightening up the playground. A&S Landscape is proud to offer the widest range of colours available in the industry. Take a look at our extensive colour range, or check out our gallery for some more inspiration.
Foxwood and Highview SEN School Add Fabric Canopy to Campus
A&S Landscape were selected to provide outdoor playground shelters that fitted with the ethos of the whole project. We installed three Maxima StarSail™ tensile shadecloth fabric structures at an overall size of 6000mm x 6000mm. Each one supported on a single upright, which gives the StarSail™ its elegant look. With steelwork in modern Steel Grey (RAL7015) and fabric in a clean, fresh white, the Maxima StarSails™ look great as part of this incredible development.
The result is an outdoor space that allows students at Foxwood & Highview SEN School to get much-needed shade from direct sunlight and shelter from the rain in the long British 'off season'. Somewhere they can go to when they need space away from the classroom.
You can find out more about our Maxima StarSail™ by clicking here to view a gallery of completed projects. Contact us today to speak to a member of our design team who can have a proposal with you.
Fabric Umbrella Canopy at All Faiths Children's Academy in Rochester
What was the problem?
The pupils of All Faiths Children's Academy enjoyed playing outside with their friends, but thanks to the British weather they often had to spend their breaks inside. This would mean that the children couldn't let off steam, exercise or enjoy some fresh air during the school day. The teachers decided that installing a playground canopy would be the perfect resolution to their issue.
What was our solution?
One fabric Maxima Umbrella™ was added to the play area, measuring 5000mm x 5000mm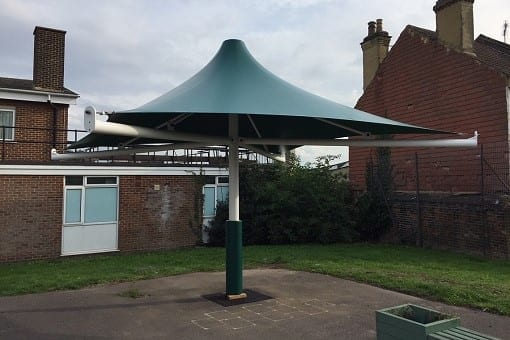 . The roof material chosen was a Tennis Green colour, which contrasts perfectly with the white upright. A post pad protector was also added to the canopy in a Bottle Green material, which would give protection against the steel post.
What was the result?
A&S Landscape was rated five stars for the project by All Faiths Children's Academy. The team and the pupils are incredibly happy with the canopy and it has been a great addition to the playground. The waterproof PVC fabric used on the roof gives protection from both the sun and the rain, so the pupils can happily play outdoors all year round.
As well as a great playtime spot, the canopy is the ideal place for an outdoor storytime or science lesson. We're sure that the pupils love the opportunity to get to learn outside, away from the limiting four walls of the classroom. And because the umbrella is waterproof, the teachers will no longer have to plan their lessons around the weather.
A little bit about the client…
All Faiths Children's Academy is a fantastic primary school located in Kent. The academy aims to give their pupils the best start in their life by providing the best education possible. They are also another example of a school who recognises the importance and benefits of spending time outdoors. It's great knowing that our canopy will be used and enjoyed by the academy for many years to come.
Why add a fabric canopy to your school?
Our Maxima range of fabric canopies offers a design to suit every setting and meet every requirement. With a choice of configurations, fabrics, colours and sizes we will have a product for you. Below we will outline some of the key reasons why schools choose our fabric canopies.
Pretty Yet Practical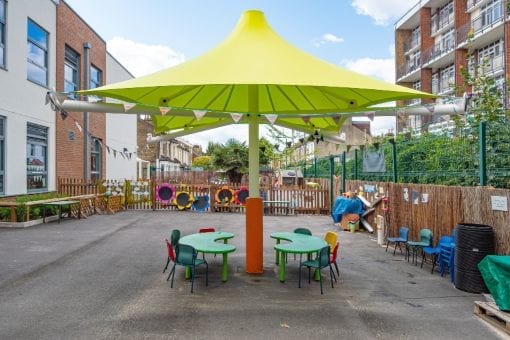 Often schools choose to install a fabric product as they are looking for a stylish design statement, which is also an effective shelter. Our design team can work with you to create a canopy which fits in with your surrounding area, and even your branding and logo. This will also encourage your pupils to play under the canopy too!
Huge Colour Choice
As with all of our canopies, you will also get to the colours of your fabric shelter. This includes the steelwork, fabric roof and the post pad protectors if you have chosen these too. You will be able to pick from our wide range of RAL colours, and we can even source new shades if you can't find the perfect fit.
Grows with You
As intake figures rise, schools are continuously having to expand their facilities. Many of our designs are modular, like the Maxima Tepee™, so extending your existing structure couldn't be easier. Our Maxima Sail™ can also be expanded by adding more posts and sails, just ask our team what your options are if you want to create more space in the future.
How can A&S Landscape help you?
Whether you are a small nursery or a large university, we will help you through your project to ensure you get the best service and end product. Over the past 44 years, we have built strong relationships with schools across the country – we're known for our efficiency, integrity and reliability.
Get in touch with us today to start your project. Email us your requirements to [email protected], or call us directly on 01743 444100.
Curved Roof Entrance Canopy Installed at East Kent College in Ramsgate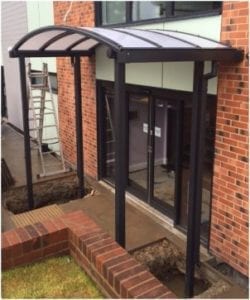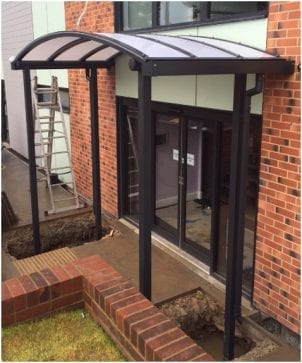 The truth is you might be working with tight constraints, a tricky space or bespoke requirements for your covered school entrance. Which is exactly why you need to work with companies with years of canopy expertise that specialise and can provide the kind of precise, considered design approach that will find a solution, no matter what the problem is.
East Kent College has a focus on priority growth industries and has been highly successful in attracting major government funding for new campus developments and the College now has some of the best facilities in Kent. The College recently celebrated its best Ofsted results ever and were delighted to be judged Good with Outstanding Leadership. For the LDD Building at the Folkestone Campus, they had a clear vision for the kind of building entrance canopy they wanted. But they also had an obstacle, the space they wanted their building entrance canopy installed was tight, with a low brick wall very close to the front of the building.
At A&S Landscape, we don't really see problems. We're all about solutions. And when we took a look at this job, we knew we were the entrance canopy manufacturers that could help. Our compact, precisely engineered Motiva Entro™ curved roof canopy was exactly the door entrance canopy needed and the smart Black/Grey steelwork and Opal roof (from our roof colours range) perfectly complemented the existing features on the building. The Motiva Entro™ can be installed at virtually any size, a really flexible canopy design option.
Needless to say, a job well done. Afterwards, the building contractor for this project gave us top marks and said they looked forward to using us again. And we look forward to working at East Kent College again too! The building we installed the Motiva Entro™, curved roof canopy in has since been renamed the Inspire Building and caters for students with learning difficulties aged from 16 onwards.
Our whole school canopies range can be accessed online. You can download the Entrance canopies details PDF here or please see our product gallery for more images of similar entrance canopies for colleges.
Glebe School Add Fabric Umbrella Canopy to Playground
Our engineers built a playground umbrella at Glebe School West Wickham. The job involved the supply and fitting of one Maxima™ waterproof Umbrella structure supported on a single upright measuring 4000mm X 4000mm.
Hythe Primary School Add Straight Roof Shelter to Play Area
Our engineers produced a straight polycarbonate roof canopy at Hythe Primary School Hythe. The full contract involved the supply and installation of one Motiva™ monopitch straight roof canopy measuring 8000mm X 4000mm and included for our Alu-Tuff™ aluminium box profile guttering and downpipes in matching Dura-coat™ colour finish.
Saint Nicholas of Wade C of E School Add Green Covered Walkway Shelter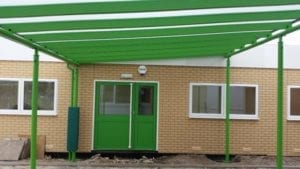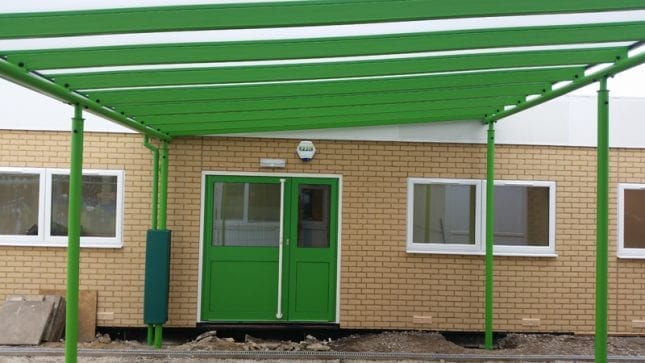 The builder working on this scheme called in A&S Landscape to install a long-lasting covered walkway canopy to make sure moving between the existing school and a new modular building didn't require a rain dance. Installing a Motiva Linear™ straight roof Canopy at 8600mm X 3500mm in a green steelwork (RAL6018) with opal roofing connected the buildings seamlessly. Including Alu-Tuff™ guttering and downpipes in matching Dura-coat™ colour meant the whole structure looks great, whilst post pads mean tiny heads on tiny adventures are safe from any accidents, tiny or otherwise.
The result is no more dashing between buildings. With a long-lasting, robust but attractive covered walkway canopy installed, staff and students can now move between buildings without the great British weather ruining their day.
Whether it is a covered walkway or an outdoor dining shelter, A&S have a range of options that mean rain never has to stop play. Take a look at our full gallery of outdoor playground shelters here and when you're feeling inspired, get in touch. Our design team will be glad to walk you through the whole process and can have a proposal on your desk ready for your review.
St Thomas More Primary School Create Outdoor Shelter with Straight Roof Canopy
Our team created a straight polycarbonate roof canopy and triangle sail for St Thomas More Primary School Sheldon Road, Bexleyheath. The full contract involved the supply and installation of one Motiva™ monopitch straight roof canopy measuring 7700mm X 2250mm and included for our Alu-Tuff™ aluminium box profile guttering and downpipes which were coated in a matching Dura-coat™ colour finish. One 7800mm X 11700mm X 7600mm Maxima™ tensile shade cloth fabric triangle sail including for all stainless steel fixtures and fittings.
Four Fabric Umbrella Canopies Installed at Homewood School and Sixth Form
A&S created four umbrellas in Homewood School And 6Th Form Tenterden. The contract included four Maxima™ waterproof Umbrella structures each supported on a single upright measuring 5000mm X 5000mm.
South Avenue Primary School Add Fabric Sail Shade
Working alongside our trade partner we built a shade sail structure at South Avenue Primary School South Avenue, Sittingbourne. The full contract involved one 10000mm x 6000mm Maxima™ tensile shade cloth fabric sail structure comprising of two sails on six uprights including for all stainless steel fixtures and fittings.
School Canopy at The John Wallis Academy in Ashford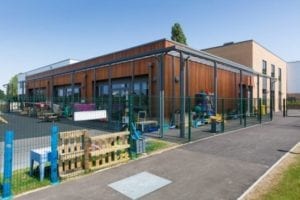 The solution came from the Motiva range at A&S Landscape. The Linear canopy from this range is constructed from steel and polycarbonate. Gutters and downpipes match the steel colour and the roofing in opal polycarbonate provides optimal protection from UV rays whilst letting in plenty of light. The canopy was installed in two large sections; 27.5m x 2.5m and 15.75m x 2.5m. The steelwork was Grey (RAL 7012), creating a modern and clean addition to the new school building.
The canopy creates a covered walkway around two sides of the school building, windows are protected from direct sunlight, helping to moderate the internal temperature on the hottest days. On wet days, the space is sheltered from the rain and playground items can be stored underneath the canopy without the need to move them each day. The children can play in the new space if the weather is extreme and the building looks very smart indeed. The canopy has brought many benefits to the school and is in keeping with the design and overall aesthetics of the setting.
If you are thinking about a similar project, take a look at our gallery which contains more than 1,000 images of projects that we have completed. It is a good place to look for some inspiration. You can always call us directly on 01743 444100 if you would like to chat through the options, we would be glad to help.
Martello Grove Academy Add Entrance Cover to School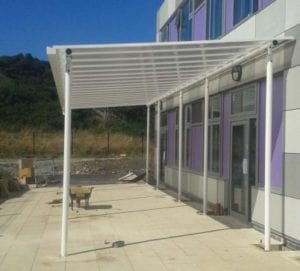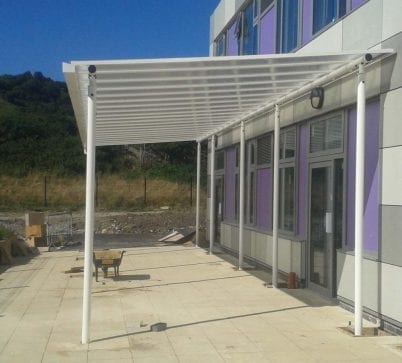 When A&S Landscape was approached to create an entrance canopy for Martello Grove Academy we worked with them to make sure their entrance gave a welcome that matched their standards.
Whilst our Motiva Linear™ can be used for a variety of applications, it does look particularly good as an entrance canopy. At Martello Grove Academy, we installed a large Motiva Linear™ at 2200mm x 1600mm and another outside their reception at 13000mm x 3600mm, both of which were finished in a crisp white Dura-Coat™ paint with matching Alu-Tuff™ guttering and clear 4mm polycarbonate roofing. Which, in simple terms, means it looks fantastic and matches the aesthetic of the school beautifully.
Walking up to the entrance of Martello Grove Academy is a warming experience, projecting Martello Grove as a generous and professional institution whilst also offering a place to wait, sheltered from the rain. It's fair to say that the addition of their new entrance canopy design has made a huge impact on the aesthetic and experience of the school as a whole!
What does your entrance say about you? There's more to beautiful entrance canopy design than just a shelter, it should form part of the message you communicate to anybody who enters and you'll be able to make the most impact by working with a design team that have installed hundreds of wonderful entrance canopies at schools just like yours. Take a look at more finished projects online and if you have any questions, get in touch.
Kingsnorth Primary School Add Fabric Playground Canopy to Their Outdoor Facilities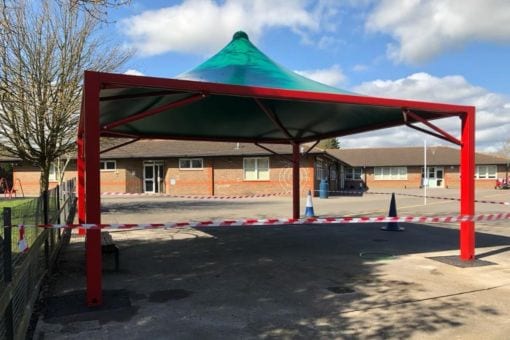 Kingsnorth Primary School in Kingsnorth near Ashford, Kent needed to find the right playground shelter so their pupils could enjoy playtimes outside throughout the year. They wanted it to be colourful, strong and waterproof and add an exciting element to their outdoor space. A&S Landscape was delighted to help them on their canopy journey.
The staff considered several models but decided that the Maxima Tepee™ best fit their needs. Measuring 6000mm X 6000mm, there was plenty of room for pupils to play underneath it. The model's solid steel framework and waterproof PVC roof meant that wet weather wouldn't disturb breaks outdoors. What's more, the team at this institution – which encourages children's spiritual development – chose a Turquoise Green roof and Flame Red steelwork to create a vivid and inspiring design that elevated their outside areas.
Everyone at Kingsnorth Primary School adores the playground canopy. The pupils can spend playtimes outside all year round and the bright colours bring a smile to their faces, even on rainy days! This model is a great example of how playground shelters can improve school facilities and be used in additional ways, such as outdoor classroom buildings. If you'd like to find out what types of canopies could benefit your school, call us on 01743 444100 today and our team will be happy to advise you.
Glebe School in West Wickham install a Blue Fabric Umbrella Canopy
Glebe School in Kent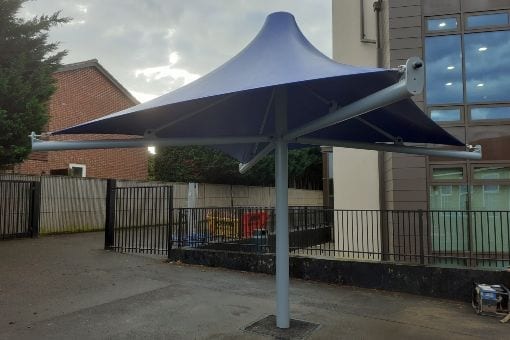 had a playground seating area which students rarely used. Having recognised that the British weather was the reason why the seating area was underutilised; the school decided to do something about it. They wanted to install a cover for the seating area that would withstand elements like wind, rain and snow and provide something that would give shade to their playground during the summer months too. However, the staff at Glebe School needed to find a cost-effective seating shelter solution, and they wanted it to be robust, long-lasting, and provide all-year-round use. It was a tall order, and one they thought A&S Landscape might be able to assist with.
After contacting us, and discussing the project in more detail, Glebe School opted for a 4000mm x 4000mm Maxima Umbrella™, in Midnight Blue and slate grey to match their school colours. The Maxima Umbrella™ features a square-shaped canopy that can shelter four tables. The maximum size is 8000mm x 8000mm with one centre pole; it's a real space-saving workhorse that provides ample cover to most seating areas, which is why we recommended it.
Glebe School is delighted with the solution, especially because it meets their brief of installing a shelter to offer protection to students on sunny and rainy days. They claim 'it looks fantastic and really brings the area to life'.
Pair of Shade Sails at Platt Church of England Primary School in St Mary's Platt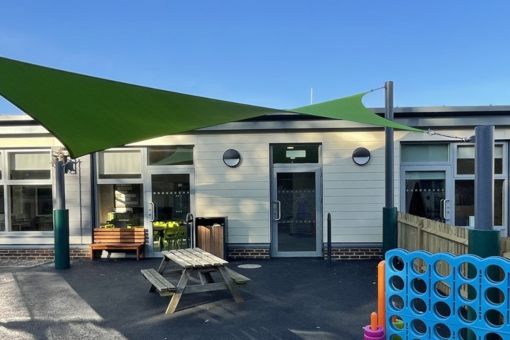 Platt Church of England Primary School in St Mary's Platt, Kent wanted to install two shade sails so its pupils could enjoy time outdoors year-round. The staff at this institution – which has strong Christian values – required colourful designs to bring positivity to the outside space that also came with post protector pads, as they had the children's wellbeing and safety in mind. Also, the canopies had to be able to protect anyone beneath from sun and rain.
After talking with us about the different options available, Platt Church of England Primary School thought that the Maxima Sail™ was the best fit. This model has fun and endless possibilities when it comes to design, so it met the brief of something to lift the area's mood, and it could easily shield the pupils from bad weather and UV rays. The two shade sails came with Lime Fizz roofs and Slate Grey steelwork that instantly brought colour to the school grounds, and the 6000mm X 4000mm measurements and post protector pads ensured the children had a large, safe space to play or relax in outdoors.
The canopies were well-received at Platt Church of England Primary School; the children love being able to spend more time in the fresh air, no matter the weather. The bright, creative shade sail design was just what the school needed to improve its outdoor facilities. If you're considering purchasing a shelter like a waterproof sail shade for your school, why not call us on 01743 444100 today?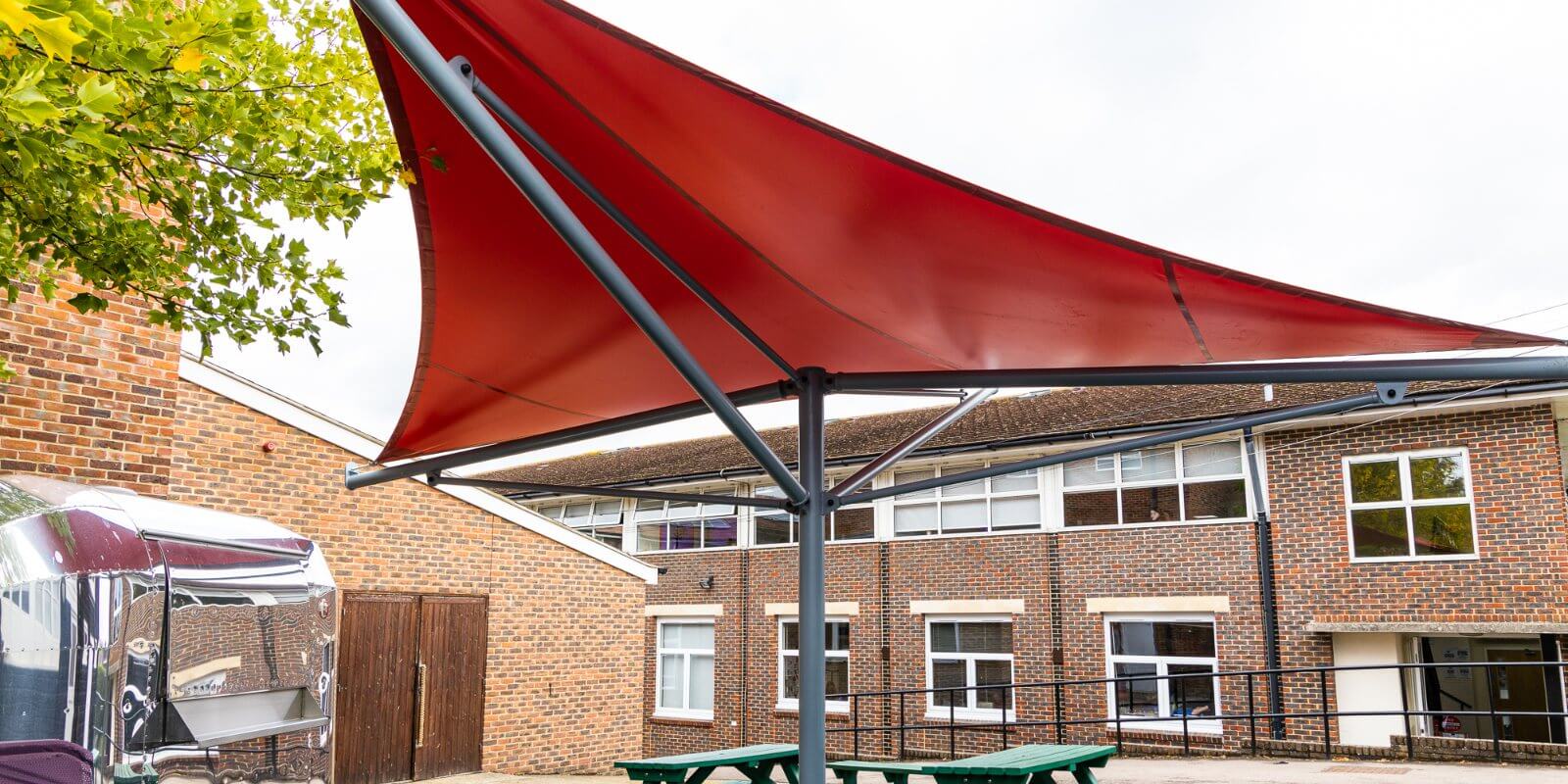 Send us your email and an idea of your requirements and we'll get back to you with a quick price.