Fabric Umbrella Canopy at All Faiths Children's Academy in Rochester
What was the problem?
The pupils of All Faiths Children's Academy enjoyed playing outside with their friends, but thanks to the British weather they often had to spend their breaks inside. This would mean that the children couldn't let off steam, exercise or enjoy some fresh air during the school day. The teachers decided that installing a playground canopy would be the perfect resolution to their issue.
What was our solution?
One fabric Maxima Umbrella™ was added to the play area, measuring 5000mm x 5000mm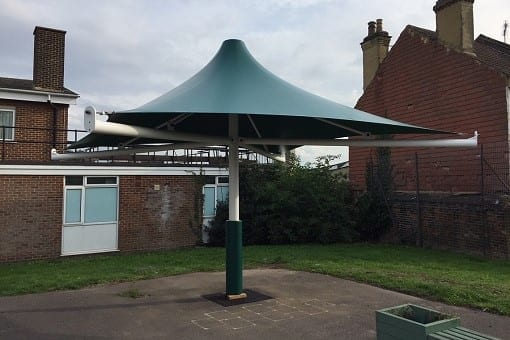 . The roof material chosen was a Tennis Green colour, which contrasts perfectly with the white upright. A post pad protector was also added to the canopy in a Bottle Green material, which would give protection against the steel post.
What was the result?
A&S Landscape was rated five stars for the project by All Faiths Children's Academy. The team and the pupils are incredibly happy with the canopy and it has been a great addition to the playground. The waterproof PVC fabric used on the roof gives protection from both the sun and the rain, so the pupils can happily play outdoors all year round.
As well as a great playtime spot, the canopy is the ideal place for an outdoor storytime or science lesson. We're sure that the pupils love the opportunity to get to learn outside, away from the limiting four walls of the classroom. And because the umbrella is waterproof, the teachers will no longer have to plan their lessons around the weather.
A little bit about the client…
All Faiths Children's Academy is a fantastic primary school located in Kent. The academy aims to give their pupils the best start in their life by providing the best education possible. They are also another example of a school who recognises the importance and benefits of spending time outdoors. It's great knowing that our canopy will be used and enjoyed by the academy for many years to come.
Why add a fabric canopy to your school?
Our Maxima range of fabric canopies offers a design to suit every setting and meet every requirement. With a choice of configurations, fabrics, colours and sizes we will have a product for you. Below we will outline some of the key reasons why schools choose our fabric canopies.
Pretty Yet Practical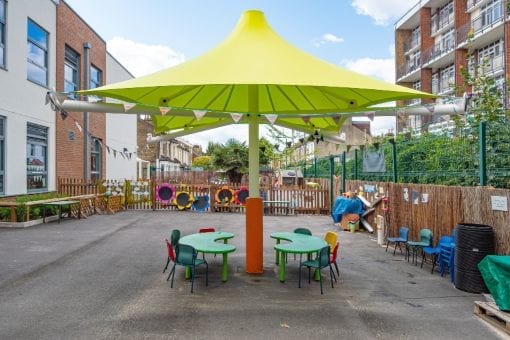 Often schools choose to install a fabric product as they are looking for a stylish design statement, which is also an effective shelter. Our design team can work with you to create a canopy which fits in with your surrounding area, and even your branding and logo. This will also encourage your pupils to play under the canopy too!
Huge Colour Choice
As with all of our canopies, you will also get to the colours of your fabric shelter. This includes the steelwork, fabric roof and the post pad protectors if you have chosen these too. You will be able to pick from our wide range of RAL colours, and we can even source new shades if you can't find the perfect fit.
Grows with You
As intake figures rise, schools are continuously having to expand their facilities. Many of our designs are modular, like the Maxima Tepee™, so extending your existing structure couldn't be easier. Our Maxima Sail™ can also be expanded by adding more posts and sails, just ask our team what your options are if you want to create more space in the future.
How can A&S Landscape help you?
Whether you are a small nursery or a large university, we will help you through your project to ensure you get the best service and end product. Over the past 44 years, we have built strong relationships with schools across the country – we're known for our efficiency, integrity and reliability.
Get in touch with us today to start your project. Email us your requirements to [email protected], or call us directly on 01743 444100.