Secure Buggy Shelter at Marsworth C of E Infant School in Tring
What Was Our Outdoor Shelter Solution?
The dual-storage requirement helped our designers to develop a plan. From our wide range of products, the team worked with Marsworth C of E Infant School to identify the solution that would fit best for their budget, space and need.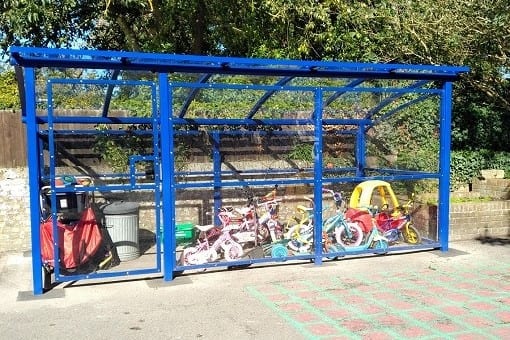 What Product Did We Use?
The product selected to fulfil the brief was the Cyclo Buggy™. Ergonomically designed, this flexible product can fit into whatever footprint there is available. The structure is created from a modular system which offers flexibility to match virtually any size requirement.
Utilising a solid steel framework, which can be customised to a RAL colour of any choice, the curved roof was completed with clear polycarbonate. To make the new storage shelter protected from the elements, for this particular project the sides and front were enclosed, and a lockable door fitted, all made from unbreakable polycarbonate.
What Was The Result?
The school now have a safe, secure and multi-functional custom canopy that is in daily use during the term. With ample space for the bikes brought to school by the pupils, and the prams used to transport the younger children, there is room enough to spare should additional equipment need to be placed in the school shelter on a rainy school day.
About The Client
Marsworth C of E Infant School is led by Headteacher, Mrs Angela Polatci. The school has been deemed by Ofsted to be of a good standard. The area of Tring itself is a small market town surrounded by green open spaces. It's understandable to see why some of the school's pupils are keen to cycle to school.
The health benefits of helping children to learn about cycling at a young age are recognised by leading safety organisations and more and more schools are being encouraged to get on board. Marsworth C of E Infant School has embraced the opportunity to provide facilities that will enhance their pupil's school experience. Their commitment to maximising outdoor learning opportunities and the involvement of parents in as many of those opportunities as possible is clear to see.
Do Custom Canopies Require Maintenance?
Our huge range of canopies are made from durable, weather-treated materials. This means that there is little in the way of maintenance required. We do recommend a periodic check on fixtures and fittings to ensure that everything is in good order, and of course, keeping the structure clean will help to ensure that it is in tip-top condition. Before we sign off your installation, we will provide you with an Operation and Maintenance Manual pack. This will give you full instructions on how to keep your storage shelter in first-class condition. Our team are also on hand to answer any of your questions too.
Why Are Buggy Shelters Perfect For Primary Schools?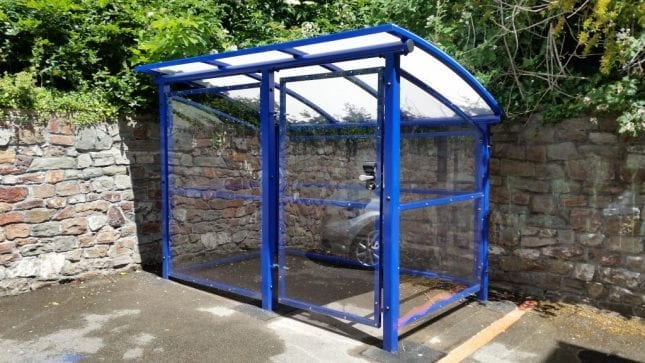 There can be a diverse range of equipment that an infant school may want to store, and when space is of a premium, it can be hard to find somewhere to keep everything. A buggy shelter is perfect for infant schools for many reasons, including:
The canopy can double up as a bike shelter or buggy store. Or, as in the case with, Marsworth C of E Infant School, both!
It doesn't matter if you're a tiny village school, our skilled designers can plan a canopy to fit your specific space.
Made from safe and durable materials, the shelter will stay looking good for years to come
It won't break the school funding budget and is a cost-effective option to consider.
For added security, we can add side panels and a coded gate lock to give you additional peace of mind.
How Can A&S Landscape Help Your School?
There are many resources on our website that will help you to explore the options available for your project. We encourage you to take a look through our testimonials to see some of the projects that we have undertaken and to hear what our clients say about us. But the very best way to explore how we can help you is to get in touch with our friendly team. No question is too small. Whether you have a more complex commercial school project to explore or a smaller-scale requirement, our team welcome your enquiry.
If you'd like to discuss how we can help you find the right outdoor cover, get in touch with us on 01743 444100 or by filling out an online contact form.