Entrance Canopy Designed for St Catherine's Academy in Bolton
A&S Landscape was very pleased to help out with a solution. Having worked with schools for over 40 years, they knew that a simple, stylish canopy across three entrances, could banish these problems for good. They installed a Motiva Linear™ straight polycarbonate roof canopy at 4000mm x 3400mm, with grey steelwork and opal roofing. This included Alu-Tuff™ (aluminium box profile guttering) and downpipes in matching Dura-coat™ colour finish.
The result is dry students, teachers and visitors. No more dashing through doorways with soggy books. In addition, the school campus has a smart new addition which will remain for many years to come. We are proud to have worked with so many schools and each and every project is completely different. What we do hope is the same, is that clients are happy and will continue to recommend us to their friends!
Click here to see nearly 1500 images in our gallery, which show the wide range of canopy, shelter and cycle store projects that we have completed for our clients. If you would like to discuss any requirements, please contact us and call a member of the team on 01743 444100.
Heathfield Primary School Install Sail Shade in Play Area
Our engineers built a waterproof sail structure for Heathfield Primary School Henniker Road, Bolton, Greater Manchester. The contract included the supply and installation of one Maxima™ tensile waterproof fabric sail structure comprising of one sail on four uprights including for all stainless steel fixtures and fittings.
Queuing and Waiting Area Shelter Fitted at St Thomas More RC College in Denton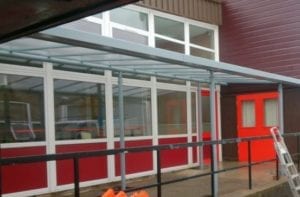 Often going outdoors has a simple issue, rain. Now it's not a big issue but it does mean that after a series of studies in the past five years we know that children between 11 and 15 years old spend up to 85% of their time inside. Which means they're missing out on all of that natural light, fresh air and the benefits that go with it.
So when St Thomas More RC College in Denton, Manchester got in touch with A&S we knew we'd be able to help by installing an outdoor shelter so the pupils could enjoy socialising with friends and eating their lunch in the fresh Manchester air, which might not be as fresh as the air on top of Mount Everest but we're told it's basically the same stuff.
The Motiva Linear monopitch straight roof canopy fitted the bill perfectly. Working with their building contractors we designed this canopy with grey RAL 7000 steelwork and a clear roof to make the most of the light into the area, ensuring that any time those students spent time outdoors they're getting a flood of Vitamin D. Working to the school's tight deadlines was no problem and we completed the project in just 3 days.
With an outdoor dining shelter installed, the students at St. Thomas More RC College in Denton are able to spend more time outside throughout the whole year, reaping the incredible benefits of time spent outdoors whilst offering the whole school an additional space to socialise.
We can install a Motiva Linear outdoor shelter for schools at almost any size and spend a lot of time making sure we get to know exactly what you want from your new space. Take a look at the full range of shelters here. Please see our product gallery for more images of similar projects for schools.
Oswald Road Primary School Add School Canopy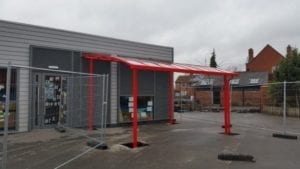 So when Oswald Road Primary School got in touch, looking for a new colourful outdoor shelter, we knew we had exactly what they needed.
Working alongside the North West's leading landscape firm, Country Landscape, we provided this Motiva Duo™ Duopitch Canopy in a bright, professional red (RAL 3002) steelwork with opal polycarbonate roofing that not only keeps students dry in the less generous British weather but also provides much-needed shade from direct sunlight.
The result is a bright and colourful canopy that offers outdoor, year-round, all-weather space, which can also be used as a learning enviornment. Complementing the rest of the school design beautifully it also offers an attractive addition to the school's silhouette, giving a strong, bold and attractive feel to an already modern space.
To find out more about our full Motiva range, take a look and browse a gallery of completed projects here. If you feel inspired and are ready to take the next step then our dedicated design team will work with you to find a solution, including working on high quality, photorealistic representations of any of our products in-situ, so you can be confident you know exactly what you're getting.
Straight Roof Shelter Added to Holy Cross And All Saints Primary School
We made a straight polycarbonate roof canopy for Holy Cross And All Saints Primary School Trafford Road, Barton, Greater Manchester. The contract included the supply and installation of one Motiva™ monopitch straight roof canopy measuring 11660mm X 2000mm with Alu-Tuff™ aluminium box profile guttering and downpipes in matching Dura-coat™ colour finish.
Kids Planet Day Nursery Add Four Straight Roof Shelters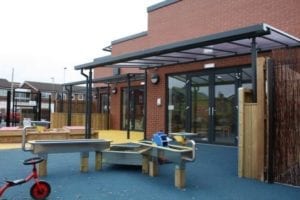 A&S Landscape has a wide range of school canopy solutions, from fabric canopies to steel and polycarbonate canopies. The Motiva Linear™ was chosen as the best design for this project. With grey steelwork and clear polycarbonate roofing, the entrance canopies let in plenty of light, whilst providing shelter. They ranged in size from 4500mm x 5100mm to 5390mm x 3000mm. All canopies benefited from aluminium gutters and downpipes, in matching grey. These ensured that rainwater was effectively managed so that the canopies would stand the test of time.
The result is a very smart building, finished with matching entrance canopies. All doorways are nicely framed and visitors and children alike have shelter from the elements. The children at Swinton kids are rightly very proud of their new nursery. With such effort put into the outdoor space, imagine what thought and effort go into stimulating and educating the children in their care! A great project, for a great establishment. Thank you Swinton Kids.
A&S Landscape has a wide range of products for you to review. All the different designs make sure that you will be able to find something to meet your needs. Review our gallery which has over 1500 images, it is a great place to get some inspiration for your project.