Playground Canopies at Cirencester Primary School
What was the problem?
Cirencester Primary School in Gloucestershire wanted to allow the pupils to spend more time outdoors, but the weather often meant the space couldn't be used. A&S Landscape was brought on board to design, manufacture and install multiple canopies around the school site to provide playground shelter.
What was our solution?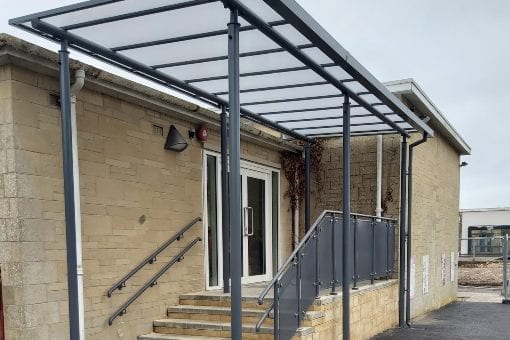 Two straight roof shelters were added to the school. Both of the Motiva Linear canopies feature Slate Grey steelwork, which creates a modern, sleek look. The Opal polycarbonate canopy also provides protection from harmful UV rays, so the pupils can safely play outside in the sun.
What was the result?
Everyone at Cirencester Primary School loves the new additions to the site! The new canopy provides a fun and protected play area. Break times can be spent outside in the playground, giving the pupils plenty of space to let off steam. The canopies can also be used while classes line up outside for their lessons. Parents could stand under the shelters too, at the end of the school day.
A little bit about the client…
Cirencester Primary School is a wonderful school located in the market town of Cirencester in Gloucestershire. Right from their initial enquiry, we were impressed by the positive and passionate environment that their wonderful staff have cultivated.
The staff, including Mrs W Foster, were a pleasure to work with — friendly and lovely people who were very responsive throughout the entire process. It was a joy to do this job, especially knowing how much it'll improve the daily lives of their pupils (and their parents, who have been used to standing outside in the cold and rain waiting to pick them up!)
What is a straight roof canopy?
A straight polycarbonate roof canopy is the standard configuration for canopies located against building elevations. It can also be used for many other applications including walkaways, waiting and seating areas. We use a monopitch (asymmetric) straight roof variant, where one side is slightly higher than the other (the lowest pitch typically available is 5 degrees).
Why are canopies perfect for primary schools?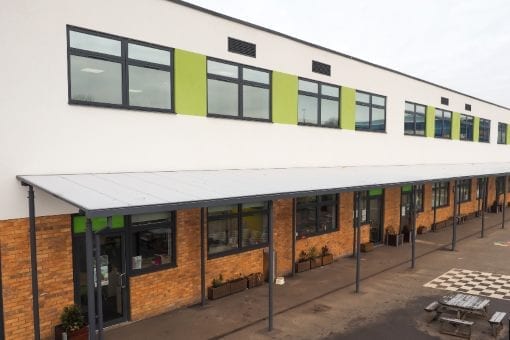 Everyone knows how much young children like to be outdoors. There are many reasons why this is important, especially in nurseries and primary schools. However, our unpredictable British weather isn't always suited to letting kids enjoy themselves outdoors, especially when it comes to doing the laundry!
So, what can we do to make sure that our children get out in the fresh air as much as possible while staying protected from the elements? By installing a school canopy!
A canopy can come in many shapes, sizes, types and colours to suit your requirements. They offer practical value all year-round, providing shade and protection from UV rays in the summer while offering shelter from wet weather during, well, the rest of the year! We offer a range of Dura-coat™ finishes to suit the colours of your school. Children especially love our multi-coloured polycarbonate roof canopy, which casts a magical light on sunny days!
Whether it's for a playground area, an outdoor walkway, a garden, a sports field or an outdoor amphitheatre, a canopy can really improve the daily lives and development of your pupils while complimenting your school setting. Don't take our word for it, though — just read what some of our many happy clients have to say about their new canopies!
How A&S Landscape can help you
Whether you're looking to reap the benefits of a canopy at your own school, or you're looking for a different solution for your project, you're in good hands with A&S Landscape.
With over 44 years of experience, we have a wealth of expertise in designing, manufacturing and installing outdoor cover for any type of public building, from schools and parks to sporting facilities and healthcare sites. Whatever you're looking for, we offer a wide range of canopies, shelters and shade sails and are here to help you find the perfect solution for your project.
Being a family-owned business means we still have the same passion for providing high-quality, bespoke canopies and shelters along with a friendly and competitively-priced service. We've built close relationships with several local authorities, NHS trusts and schools, colleges and academies while earning a reputation for our efficiency, integrity and reliability.
If you'd like to discuss how we can help you find the right outdoor cover, get in touch with our friendly team on 01743 444100 or at [email protected].