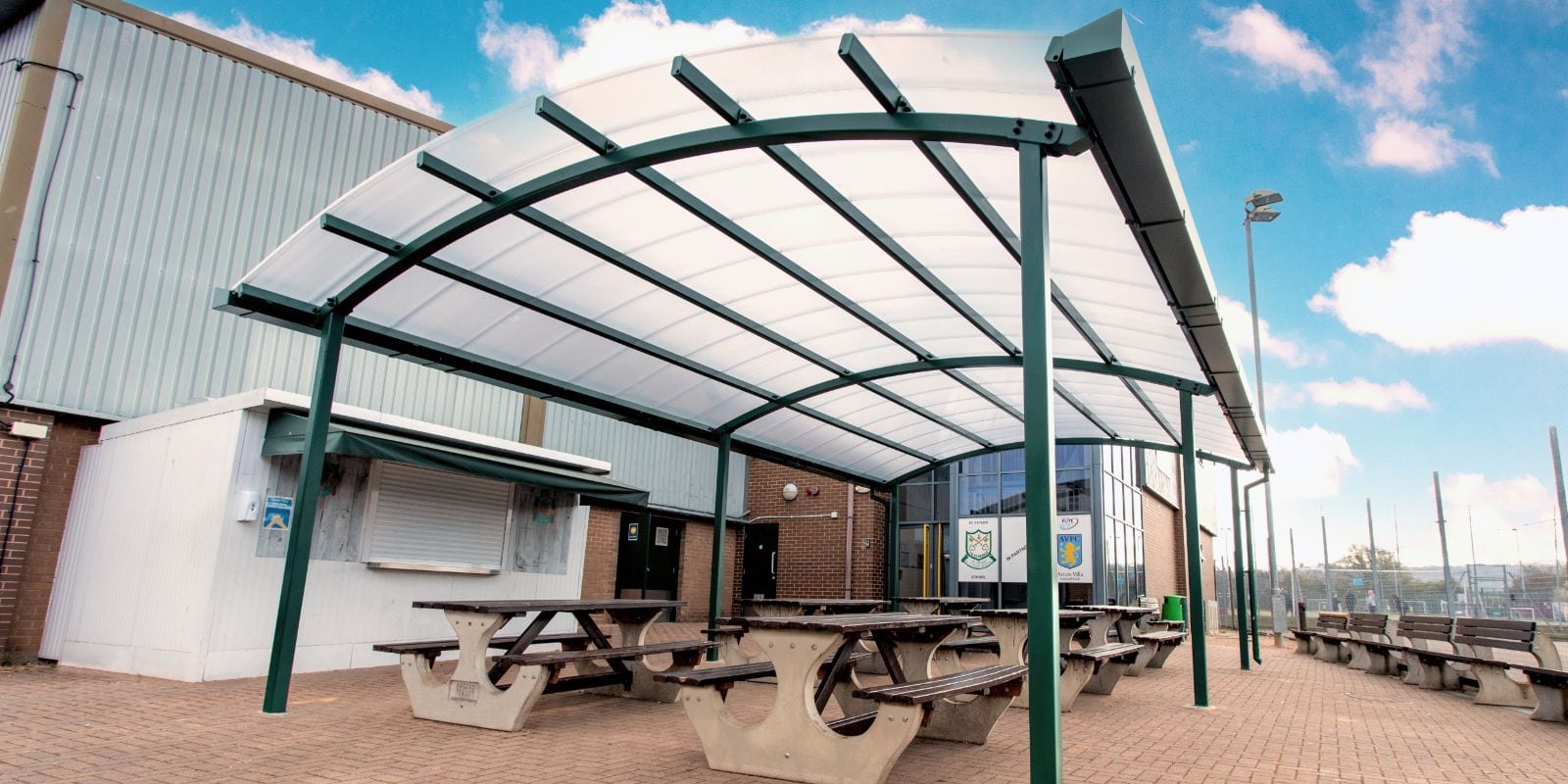 Outdoor Dining Area Canopies Built at St Peter's High School in Tuffley
Located in Tuffley, Gloucestershire, St Peter's High School is a thriving educational establishment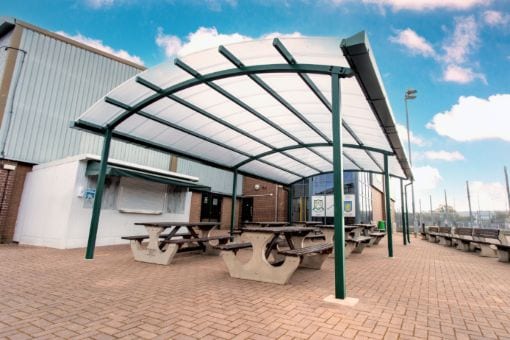 . Providing a full curriculum to children between the ages of 11 and 18 years, it's a busy place buzzing with the hustle and bustle of students.
The same as many of its contemporaries, this busy atmosphere came with its own challenges for the St Peter's High School management team. When it comes to timetabled breaks, and with lots of students wanting to enjoy their lunch all at the same time, the question of where they can all sit can become problematic.
St Peter's High School contacted us to see if we had any advice on alternative options to address this issue. We've helped many schools over the years with challenges just like this one. This means that our team have a vast knowledge of delivering shelter solutions on school sites where facilities are squeezed and space is of an absolute premium. With a full understanding of the scale of the challenge, the space available for the shelter solution and an idea of what St Peter's High School ideally wanted to achieve, a scheme of works was pulled together for agreement by the school's management team.
This scheme was for the installation of two Motiva Duo™ canopies, a product that works particularly well for outdoor dining area canopies on school sites. This has been the shelter solution of choice for many previous customers who have been facing similar challenges, and the feedback speaks for itself in terms of value-added and customer satisfaction.
Tewkesbury School Transforms Area with School Canopy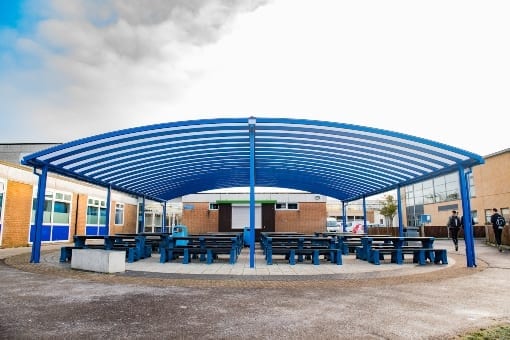 A&S Landscape have more than 40 years' experience working in the education sector and we have a wide range of canopy options. From fabric Shade Sails, Tepees and StarSails, to aluminium and polycarbonate linear and curved roof canopies. The canopy that was chosen was from the Motiva Duo™ range. This canopy was built to an overall size of 14000mm x 12000mm and featured ALU-Tuff™ (aluminium box profile) guttering and downpipes. The colour was Blue to match the school colours and the roofing in Opal polycarbonate.
The new canopy is fabulous. The area is large enough to offer protection from the weather on the wettest of days and well as shade from the sunshine in the summer months. Pupils can eat in the fresh air and they could even have a lesson out here if they really wanted to. The canopy has extended the school without the need for a traditional extension – perfect!
A&S Landscape can help you with inspiration and design expertise if you think your setting might benefit from something similar. No matter what size of space you have, we have it covered! Please get in touch.
From Umbrellas and Tepees, to straight or curved roof steel canopies, A&S Landscape have a range which is sure to offer you something special. Feel free to look through our gallery, which has more than 1,500 images to inspire you.
Find out what the Estates Manager had to say about working us
Bright Canopy Extends Play Area at Paulton Infant School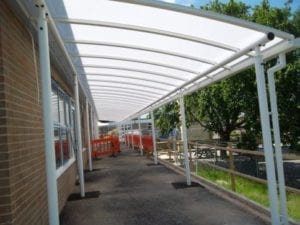 Paulton Infant School were looking for a walkway between three classrooms on-site. They needed it to look great but also to do a very important job, to keep the most important people on site dry as they moved between classes. We installed this Motiva Mono™ curved roof canopy, with a crisp, clean, bright white steelwork and opal roofing that means it doesn't just keep the students dry but also protects from direct sunlight, even assisting with temperature control within the building.
The result is more than just a Monet painting in waiting, it's a striking and useful outdoor space and walkway between classrooms. It not only adds to the aesthetic footprint of the school but also does its job very well and will continue to do so for many, many years.
Covered walkways are incredibly useful to join buildings and provide shelter but at A&S Landscape we do much more. We create covered dining zones and playground shelters as well as simply providing additional space by adding a cover to an otherwise open area. From outdoor classrooms to Cycle storage, we have a wide array of option so take a look at our gallery pages and get in touch.
Outdoor Dining Area at Fairfield High School in Avon
A curved roof canopy was added to the campus, measuring 14m X 5m. The Motiva Mono™ curved roof canopy was finished with Ultramarine Blue steelwork, which matches the school's logo. Opal polycarbonate was used on the roof. There is plenty of space under the shelter for several benches, all protected from the weather.
Fairfield High School is overjoyed with the dining area canopy. The students now have a choice of where to sit during breaks, relieving pressure from the original dining hall. In fact, the team are so pleased they awarded us five stars for our work.
A&S Landscape has over 40 years of experience, so our expert team can help you every step of your project. From the initial design stages to the final sign off, we can work closely with you, so you get the best end result. Why not take a look at our gallery to get more inspiration? Or get in touch by calling 01743 444100 or filling out a online contact form.
Covered Playground Area at Finlay Community School
A straight polycarbonate roof canopy was built alongside one of the buildings at Finlay Community School. The Motiva Linear™ shelter measures a total of 17500mm X 3000mm, so there is plenty of room for many pupils to play underneath. The steelwork was finished in a beautiful Blue Lilac colour, which adds a pop of colour to the site. What's more, is that the Opal coloured polycarbonate roofing even blocks harmful UV rays too.
The pupils can now enjoy their playtimes outside all through the year thanks to the new canopy. They can let off steam and refresh before their next lessons no matter the weather. Teachers can also make use of the canopy by taking their classes outside. This alternative and exciting learning environment will help to engage the pupils.
A&S Landscape has worked with schools across the UK, installing canopies, shade sails and shelters. To see more of our work, take a look at our gallery or recent projects. Or give our friendly team a call on 01743 444100.
Gloucester Nursery School Add Multicoloured Polycarbonate Roof Shelter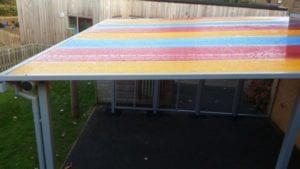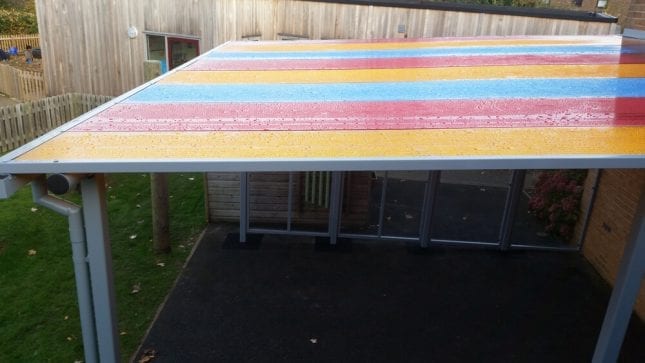 A&S Landscape specialises in working within the education sector, transforming outdoor areas which have either seen better days, or which are receiving a new lease of life. Examples of our work can be seen here in our gallery of images.
The canopy which Gloucester Nursery chose was the Motiva Linear™ straight polycarbonate roof canopy, installed at 4900mm x 4900mm, with smart grey steelwork and ALU-Tuff™ (aluminium box profile) guttering and downpipes in a matching Dura-coat™ finish.
It was the roofing choice that really pleased the children, they chose Mandarin, Poppy and Lagoon coloured polycarbonate roofing which made the whole area feel really playful. The result is a super 'undercover' area – the bright stripes of colour which adorn the floor on sunny days have really made this a space which the children love to enjoy.
From Umbrellas and Tepees, to straight or curved roof canopy designs, we have a range which is sure to offer you something special. To look at our full range of finished projects take a look at our gallery here. If you feel yourself getting inspired and want more information, please call us on 01743 444100 or fill out an online contact form.
Bespoke Dining Canopy Installed on New Terrace at Whitemead Forest Park in Parkend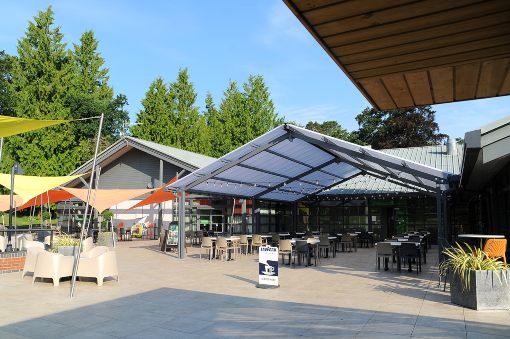 Whitemead Forest Park in Parkend needed a dining shelter for their new restaurant terrace to protect visitors from the elements when eating outdoors. It had to sport a large, bespoke design that would impress customers and be functional, as well as a polycarbonate roof because the team had heard about the disadvantages of other companies' fabric shelters, like mildew and being less durable. They contacted A&S Landscape, who was ready to tackle this complex project.
After talking about the models that could suit their requirements, the staff at Whitemead Forest Park – a versatile woodland resort offering holidays in the Forest of Dean – chose a bespoke Motiva Duo™ for their canopy. This model is well-suited to covering dining areas, and the bespoke design that A&S Landscape came up with really had the 'wow' factor, plus materials that could effectively shelter guests while enjoying meals outdoors. It sported a straight polycarbonate Opal roof, impressive 12000mm X 9100mm specifications and Slate Grey steelwork, which created a unique canopy that would stand the test of time and encourage even more visitors to use the site's facilities.
The bespoke dining shelter has been an invaluable addition to Whitemead Forest Park. It has completed the terrace area and the staff love seeing holidaymakers now dining outside in all weathers, thanks to the robust and inviting design. Want to find out more about the A&S Landscape products, which also include covered walkway systems and playground canopies? Email us now at [email protected].
Colourful Playground Shelter Added to the Spring Centre in Quedgeley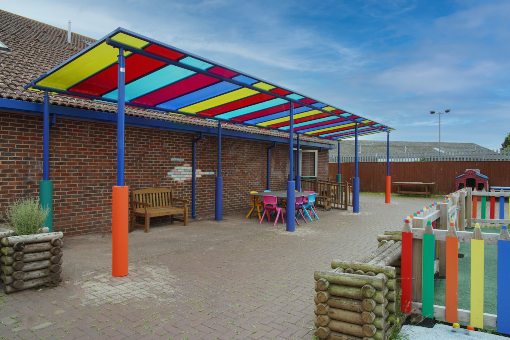 The Spring Centre in Quedgeley had the idea to install a playground canopy to address the lack of shelter in its outside areas. They wanted to find a bright, colourful model to bring life to the space. It also needed to be able to withstand wind and rain and be big enough to shield several people at once. The staff at this facility – which supports children, young people and their families – chose A&S Landscape to carry out this project as they were impressed by feedback from other clients.
There were many amazing products to consider, but the Spring Centre decided on the Motiva Linear™ – an efficient model which has a solid steel and straight roof design that can easily deal with challenging weather. They chose to add multicoloured polycarbonate for the roof and this made for an eye-catching, cheerful look that revolutionised the space when combined with Gentian Blue steelwork. Plus, there was plenty of room for multiple people to enjoy time outside beneath the canopy, thanks to its 13500mm X 3000mm measurements.
The Spring Centre loves the playground shelter because it allows attendees and staff alike to get outdoors more often, no matter the season, and the colourful design aligns with its ethos. If you'd like to find out more about our experience as canopy and shelter specialists, call A&S Landscape now on 01743 444100.
Some of our featured clients based in Gloucestershire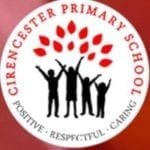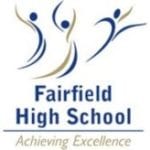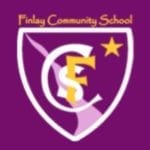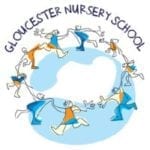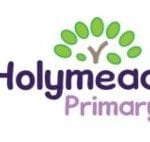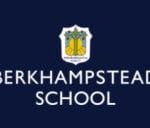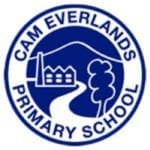 Playground Canopies at Cirencester Primary School
What was the problem?
Cirencester Primary School in Gloucestershire wanted to allow the pupils to spend more time outdoors, but the weather often meant the space couldn't be used. A&S Landscape was brought on board to design, manufacture and install multiple canopies around the school site to provide playground shelter.
What was our solution?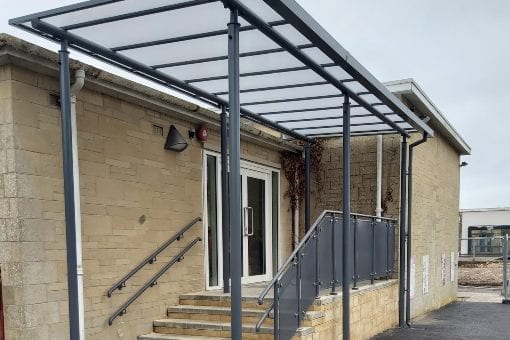 Two straight roof shelters were added to the school. Both of the Motiva Linear canopies feature Slate Grey steelwork, which creates a modern, sleek look. The Opal polycarbonate canopy also provides protection from harmful UV rays, so the pupils can safely play outside in the sun.
What was the result?
Everyone at Cirencester Primary School loves the new additions to the site! The new canopy provides a fun and protected play area. Break times can be spent outside in the playground, giving the pupils plenty of space to let off steam. The canopies can also be used while classes line up outside for their lessons. Parents could stand under the shelters too, at the end of the school day.
A little bit about the client…
Cirencester Primary School is a wonderful school located in the market town of Cirencester in Gloucestershire. Right from their initial enquiry, we were impressed by the positive and passionate environment that their wonderful staff have cultivated.
The staff, including Mrs W Foster, were a pleasure to work with — friendly and lovely people who were very responsive throughout the entire process. It was a joy to do this job, especially knowing how much it'll improve the daily lives of their pupils (and their parents, who have been used to standing outside in the cold and rain waiting to pick them up!)
What is a straight roof canopy?
A straight polycarbonate roof canopy is the standard configuration for canopies located against building elevations. It can also be used for many other applications including walkaways, waiting and seating areas. We use a monopitch (asymmetric) straight roof variant, where one side is slightly higher than the other (the lowest pitch typically available is 5 degrees).
Why are canopies perfect for primary schools?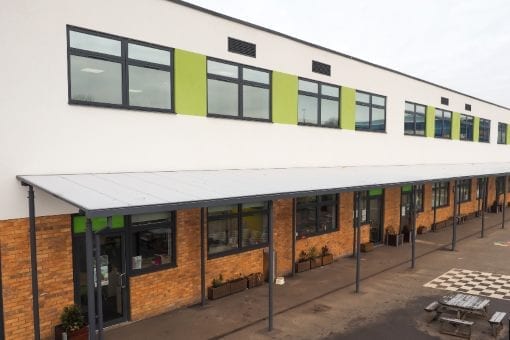 Everyone knows how much young children like to be outdoors. There are many reasons why this is important, especially in nurseries and primary schools. However, our unpredictable British weather isn't always suited to letting kids enjoy themselves outdoors, especially when it comes to doing the laundry!
So, what can we do to make sure that our children get out in the fresh air as much as possible while staying protected from the elements? By installing a school canopy!
A canopy can come in many shapes, sizes, types and colours to suit your requirements. They offer practical value all year-round, providing shade and protection from UV rays in the summer while offering shelter from wet weather during, well, the rest of the year! We offer a range of Dura-coat™ finishes to suit the colours of your school. Children especially love our multi-coloured polycarbonate roof canopy, which casts a magical light on sunny days!
Whether it's for a playground area, an outdoor walkway, a garden, a sports field or an outdoor amphitheatre, a canopy can really improve the daily lives and development of your pupils while complimenting your school setting. Don't take our word for it, though — just read what some of our many happy clients have to say about their new canopies!
How A&S Landscape can help you
Whether you're looking to reap the benefits of a canopy at your own school, or you're looking for a different solution for your project, you're in good hands with A&S Landscape.
With over 44 years of experience, we have a wealth of expertise in designing, manufacturing and installing outdoor cover for any type of public building, from schools and parks to sporting facilities and healthcare sites. Whatever you're looking for, we offer a wide range of canopies, shelters and shade sails and are here to help you find the perfect solution for your project.
Being a family-owned business means we still have the same passion for providing high-quality, bespoke canopies and shelters along with a friendly and competitively-priced service. We've built close relationships with several local authorities, NHS trusts and schools, colleges and academies while earning a reputation for our efficiency, integrity and reliability.
If you'd like to discuss how we can help you find the right outdoor cover, get in touch with our friendly team on 01743 444100 or at [email protected].
Fabric Shade Sail Installed at Avonmere Care Home
The Maxima StarSail™ that we agreed upon sits on one single upright post, meaning that there is maximum shade with minimal posts. The steelwork was in Slate Grey (RAL 7015), with Sky Blue fabric. This colourway went nicely with the stone and paved paths, to make a calming, peaceful area for residents to enjoy.
Whether you want to sit outdoors under the shade or shelter of the StarSail™ or sit indoors and look at the beautifully designed garden, the canopy really adds as the centrepiece to the design. The option to be outdoors is something that is important to all people, whether you do it every day or infrequently. Avonmere knows that this is a big consideration for residents and as such, they have designed a fabulous outdoor area. I am sure you will agree.
From Umbrellas and Tepees, to straight or curved roof canopy designs, A&S Landscape have a range which is sure to offer you something special. Feel free to look through our gallery, which has more than 1500 images to inspire you.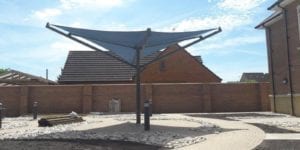 Playground Shelters Installed at Paulton Junior School in Bristol
Installing a sheltered walkway in the shape of a Motiva Mono™ in white steelwork with opal roofing added some crisp modern lines to Paulton School. A few weeks later when we returned to install a Maxima StarSail™ in blue steelwork and bright yellow fabric, we were able to finish the team by bringing some playful energy to the playground that adds a layer of the whimsical.
Two installations that work incredibly well together, bouncing off each other visually whilst both fulfilling important jobs, providing suitable shelter from the elements and shade from direct sun. Our products do like to work together but they're pretty independent and can handle a solo mission too. The key is knowing what you're aiming to achieve.
By working with an experienced team of talented designers you can be confident that design will always follow the most important question 'what kind of outdoor space will benefit you and your students the most?'. From there, we work to pull together the most appropriate proposal. Take a look at all of our outdoor shelters for schools here.
Large Playground Shelter at Holymead Primary School in Bristol
The canopy that was selected came from our Motiva range. The Duo canopy is a curved roof canopy made from steel and polycarbonate. It was installed at 6000mm x 6000mm and included post protectors. The steel was Green (RAL 6005) and the roofing opal polycarbonate.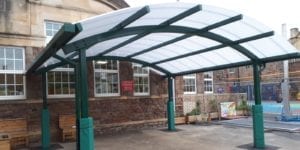 The resulting canopy looks fantastic. It creates a large area where the children can play, learn or socialise all year round. The post protectors are an added level of safety for the pre-school children who are very pleased with their new space. The aluminium gutters and downpipes make sure that rainwater is managed effectively and that there are no drips in wet weather.
Our gallery is full of images from work that we have done across the country, so please take a look for some inspiration.
Vibrant Shade Sail Installed at South Gloucestershire and Stroud College in Stroud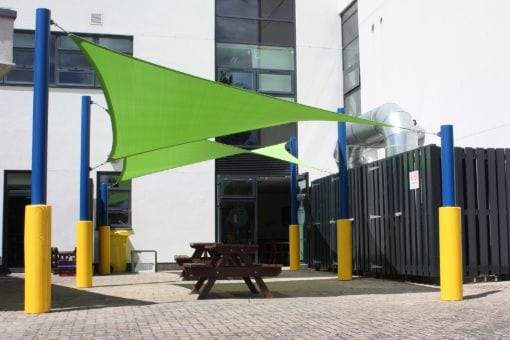 South Gloucestershire and Stroud College in Stroud had the idea to purchase a shade sail so students, staff and visitors could sit and eat outside their canteen year-round. This institution – which has campuses based in state-of-the-art buildings in great locations – needed the canopy to be waterproof, offer shelter from the sun, feature post pads for extra protection for young people attending with learning difficulties, and have a bright and inviting design.
A&S Landscape installed an 8000mm X 5000mm Maxima Sail™ structure at South Gloucestershire and Stroud College. This model is well-known for its eye-catching design and availability in various configurations, and they made use of this by creating a structure of two rectangular sails on six uprights. The college requested Gentian Blue steelwork, a green roof and yellow post pads for a colourful look and to provide additional protection for students. Plus, the waterproof fabric roof was ideal for shielding anyone beneath it from all sorts of weather while eating or relaxing outdoors.
The team at South Gloucestershire and Stroud College loves the new shade sail. The innovative model has revolutionised the area outside of their canteen and it can be used as anything from a covered outdoor classroom to a dining shelter. If you're interested in adding a canopy to your institution's facilities, A&S Landscape has over forty years of experience as canopy and shelter specialists. Call us on 01743 444100 now to talk to our helpful team.
Playground Canopy at Cam Everlands Primary School
What was the problem?
Cam Everlands Primary School in Gloucestershire prides itself on the fantastic education it provides for the local children. However, the team wanted to further improve the reception classrooms as they believe in giving an enriched school day for every single pupil, from the first to the final term. The teachers decided to add an area of shelter to the outside area by the classrooms, which would allow the pupils to play outside, as well as enjoy lessons outdoors too.
What was our solution?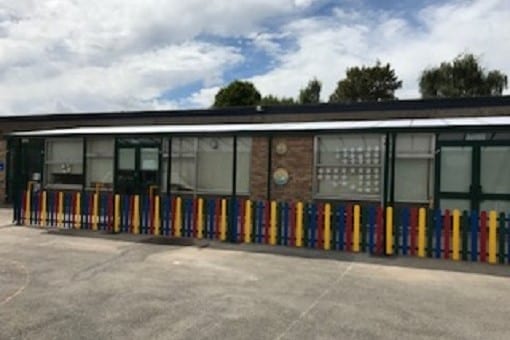 Our team installed one straight roof canopy measuring 13500mm X 3000mm. To match the school's logo, the steelwork was finished in Moss Green which works perfectly with the Opal coloured polycarbonate roof. As this area was created for the youngest year groups, the teachers also wanted to add a layer of security by fencing off the shelter. To continue the playful and bright colour scheme, we installed multicoloured plastic picket fencing.
What was the result?
Both the teachers and pupils are thrilled with the canopy and fencing! During playtimes, the children can run around and make the most of the outside area, come rain or shine. The staff have also been planning lessons outside now they don't have to worry about the unpredictable weather. From the warm summer months to the cooler winter weeks, the school will be able to enjoy their next shelter.
A little bit about the client…
Based in Gloucestershire, Cam Everlands Primary School strives to provide both an engaging and varied curriculum for every single pupil. It's no surprise then that they wanted to also improve their outdoor space and incorporate this into their lessons. We thoroughly enjoyed working with such a great school who values the importance of fresh air and spending time outside.
Why add a canopy to your primary school?
Over the past 40 years, we have worked with hundreds of primary schools in the UK, installing a range of shelters, sail structures and cycle stores. Our versatile product range suits a range of applications, and often our canopies are used for many different purposes at the same school. We will highlight just some of the most popular uses of our school shelter range to give you inspiration.
Play Area Shelter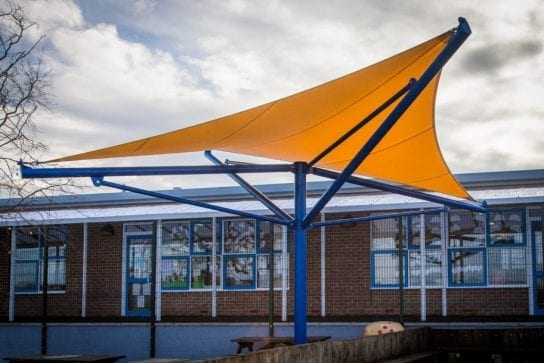 Much like Cam Everlands Primary School, many schools are adding a canopy or shade sail to their play area. This creates a sheltered space which can protect the pupils from the sun, rain, wind and even snow. Thanks to the unpredictable British weather, often school children have to spend their break times inside, meaning they get little fresh air during the day. By installing a shelter, the playground can be used throughout the year, no matter the conditions.
Cycle and Buggy Store
Our shelters also offer a secure area for bikes, scooters and prams to be stored. The unbreakable polycarbonate roof protects the bicycles from the weather, and we can also add side panels for additional cover. Lockable doors are another extra feature, giving you peace of mind that the contents will be safe.
Entrance Canopy
Both our curved and straight roof canopies are ideal for entrance canopies too. This is a great way of defining an entrance at a school, showing your visitors where to arrive and giving the best first impression. We offer our popular Motiva Entro™, as well as our new Motiva Entrada™ designs.
How can A&S Landscape help you?
Our team are experts in the design, manufacture and installation of canopies and shelters. We only use the best materials to ensure that our products stand the test of time. And don't just take our word for it! Take a look at some of our testimonials to see what our clients have said about us. Our list of completed projects is ever-growing and we would love to add you to the list.
Whether you need help choosing a canopy or have a specific design in mind, we can help you through every step. Get in touch with our friendly team today at [email protected] or ring 01743 444100.
The Heart Of The Forest Community Special School Add Fabric Canopy to Play Area
Working alongside a leading architect our team created a sail structure at The Heart Of The Forest Community Special School Coleford. The contract included the supply and fitting of one Maxima™ tensile shade cloth fabric sail structure comprising of two triangle sails on a total of five uprights including for all stainless steel fixtures and fittings.
Berkhampstead School in Cheltenham Builds Outdoor Curved Roof Canopy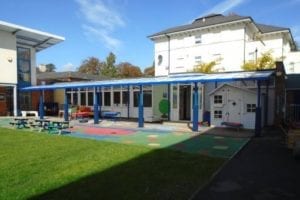 A&S Landscape has a wide range of products, from fabric canopies to steel and polycarbonate canopies. The best product in this instance was decided to be the Motiva Mono™ canopy from our Motiva range. With polycarbonate roofing and steel posts, the canopy was built at 19000mm x 4000mm.
Berkhampstead School has a lovely extension to their classroom. The children can play and learn shaded from the sun or sheltered from the year, all year round. The canopy will be there for many years to come and has extended the school without the need for planning permission. No more worrying about what the British weather has planned. From Shade Sails, Umbrellas and Tepees, to straight or curved roof steel canopies, A&S Landscape have a range which is sure to offer you something special. Feel free to look through our gallery, which has more than 1500 images to inspire you.
Outdoor Covered Play Area in Cheltenham at Rowanfield Infant School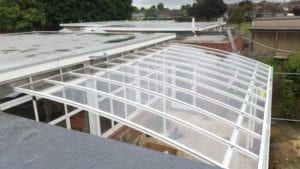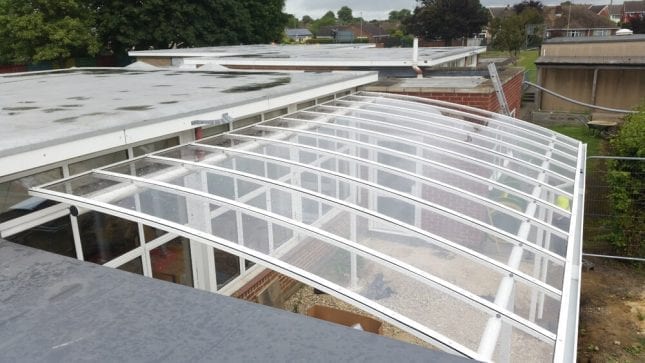 But the truth is, there is no such thing as boredom. It's all in our head. Knowing this can be really helpful because it means that keeping our students engaged is less about their interest and more about our ability to keep stimulating them. One way we can do that is with a change of scenery. Taking students outside and switching the learning environment can have the same effect on concentration and attention as a nap because new stimulus forces us to 'wake up'.
A&S Landscape was approached to help add an outdoor learning area at Rowanfield Infant School in Cheltenham so they too could take advantage of a change of scenery! We installed a Motiva Duo™ at 7000mm x4000mm with bright white steelwork (RAL 9010) and Alu-Tuff™ box profile guttering to match in Dura-Coat™ finish. Clear roofing lets the maximum amount of daylight in whilst still keeping the weather at bay, meaning that this space is available for Rowanfield the whole year-round.
The result is the opportunity to take students outside and plan sessions that could not always take place indoors. Messy play or loud and entertaining sessions now have a home, but this space is also just a great place to get outside, no matter what the weather is doing! From dining shelters to playground shade, A&S Landscape has it covered. If you want to see more examples of outstanding learning area canopies then take a look at our gallery of finished projects here and if you have any questions, get in touch!
Sir Thomas Rich's School in Oakleaze Install Free Standing Canopy with Curved Roof
Sir Thomas Rich's School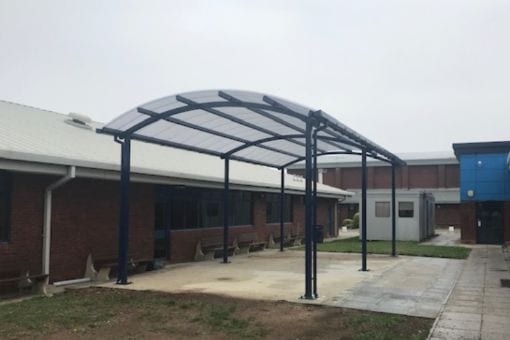 , situated in the Oakleaze area of Longlevens, Gloucester, wanted to install a canopy structure to create a more useful space in the school grounds. This boys' grammar school, which also offers mixed sixth form education, saw an opportunity to revamp an underused area of their estate and reached out to A&S Landscape for help to bring the plan to life.
A&S Landscape offers a wide range of shelter solutions that can be perfectly tailored to the needs of busy school sites. In the case of Sir Thomas Rich's School, the area that they wanted to renovate was between existing buildings. The perfect solution for sites like this was our Motiva Duo™ canopy with a curved roof design. Available in a variety of dimensions, this shelter solution can be modelled to cover just about any size of area. The versatile canopy architecture also means that it can be constructed with optional side panels, and, if required, doors with a choice of options. Tailored customisation of the structure is also achievable by selecting from our range of steel and polycarbonate roof colours. With our experts on hand to walk you through the process, we can help you find the perfect shelter solution for your commercial school project.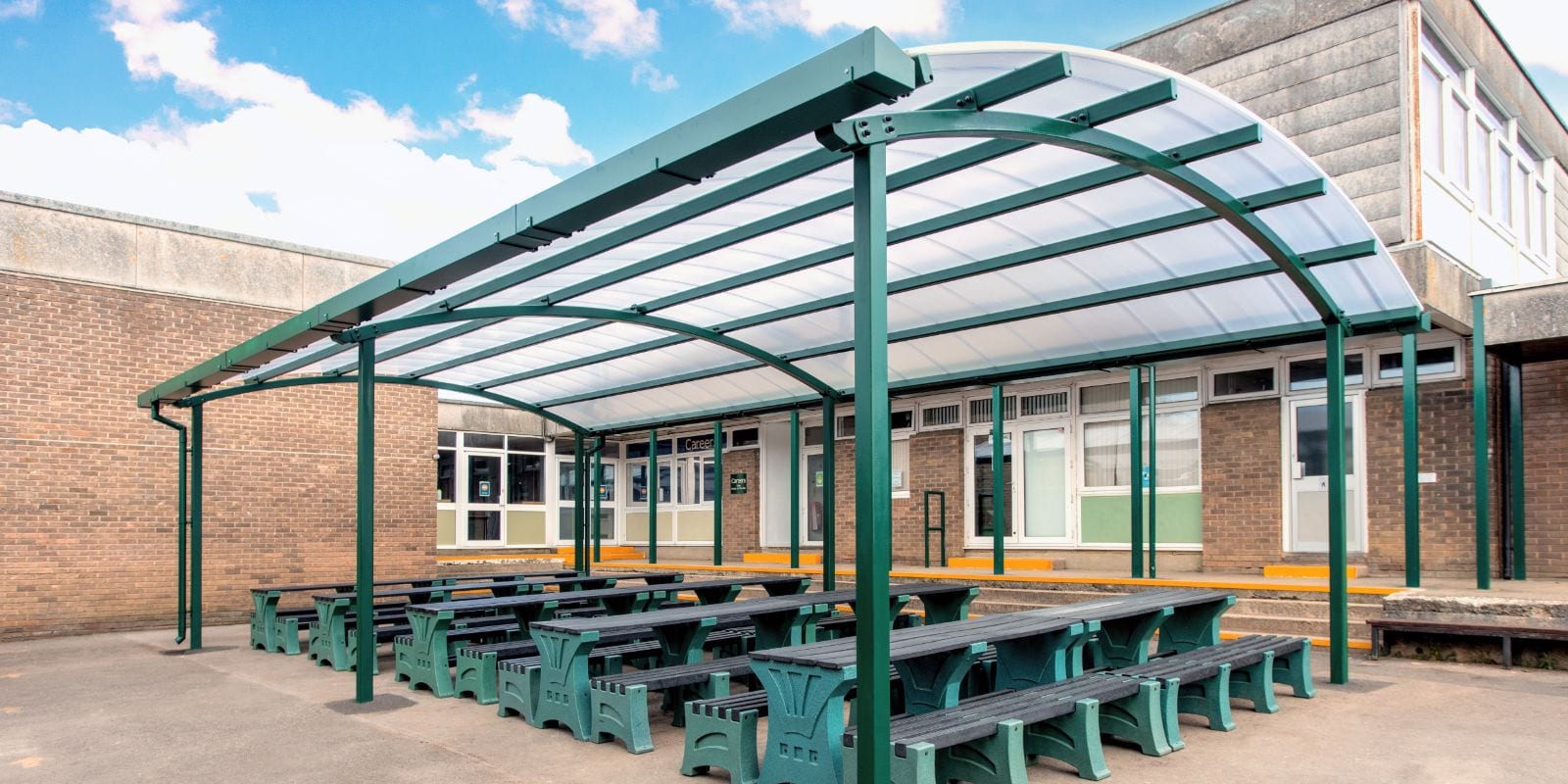 Send us your email and an idea of your requirements and we'll get back to you with a quick price.