Dining Area Canopy at West Hatch High School in Chigwell
What was the problem?
West Hatch High School in Essex wanted to give their students more seating choices during their busy lunchtimes. With intake figures rising nationally, this school was facing a common issue of a full dining hall. Students would sometimes struggle to find space to peacefully enjoy their lunch, spending their free time queuing and looking for a seat.
What was our solution?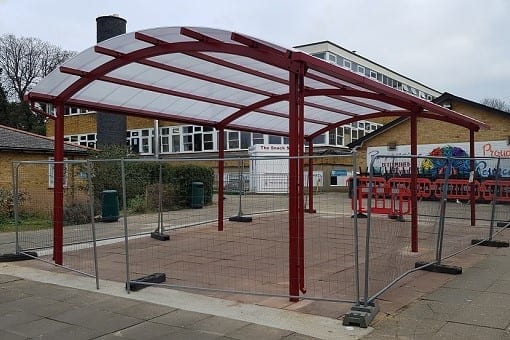 One curved roof canopy was installed at the high school. The Motiva Duo curved roof canopy was finished with Brown Red coloured steelwork, to match the school's logo. Unbreakable clear polycarbonate roofing was used on the shelter, providing protection from harmful UV rays.
What was the result of the polycarbonate canopy?
Everyone at West Hatch High School is thrilled with the new dining area. Now the students can choose to sit outside with their food. This has also relieved pressure from the hall inside the school too.
The students also use the shelter as a social area during breaks, allowing them to enjoy some fresh air no matter the weather. It could also be an ideal place to relax and revise before exams, away from often busy study spaces.
In fact, the school was so happy with their curved roof canopy that they rated A&S Landscape five stars for our hard work.
A little bit about the client…
West Hatch High School is a secondary school based in Essex, with a separate Sixth Form on site too. Every member of staff was a delight to work with and was clearly excited about the new addition to their campus.
It's great that this school choose to add an outside dining area to their existing list of impressive facilities. Allowing students to spend quality time outdoors has many benefits on both their physical and mental health. We know that West Hatch High School will be able to use their curved roof shelter for many years to come.
Why install a dining area canopy?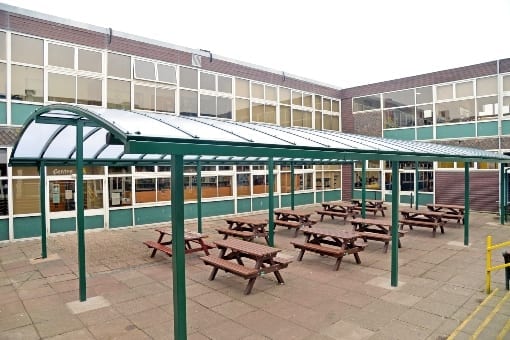 There are so many reasons to install a dining area shelter, many of the schools across the country we have worked with have required a large outdoor dining area to accommodate students during lunchtimes, a cheaper alternative to extending the dining room. Often our canopies don't require planning permission either, saving you time, money and stress.
We offer a wide range of dining area canopy designs, and we can make our models to suit your specifications and requirements. Our fabric shade sails create a stylish, yet practical statement and can be made with waterproof material. Or our straight roof canopies are a popular choice for schools too and can be easily expanded in the future should your capacity need expanding further.
How else can our canopies be used in schools?
There are various needs for canopies in schools. As well as enhancing the building and surroundings, they are ideal for protecting teachers and students of all ages in all elements; changing previously unused areas into additional usable space no matter the conditions.
Our school canopies are suitable for a wide range of applications including free-flow play areas, additional classroom space or all-weather sports pitches. Pupils of all ages can enjoy their food outdoors and socialise with their peers in the fresh air.
How canopy and shelter specialists, A&S Landscape, can work with you
A&S Landscape has a wide range of designs that can provide ideal cover for dining and seating areas with options to suit all requirements and sizes of budgets. We always keep in mind the look of the surrounding environment and the space available for a dining area canopy and can work with staff to make maximum use of the space and budget available.
Our friendly team can help you through every step of the project, offering expert advice on the best designs and configurations for your needs. We've helped schools, nurseries and universities all over the country to improve their outdoor space. We'd love to add you to our long list of happy clients too.
Call us today to discuss your options on 01743 444100 or email [email protected].