St Mary's College in Hull Cover Outdoor Seating Area With Shade Sail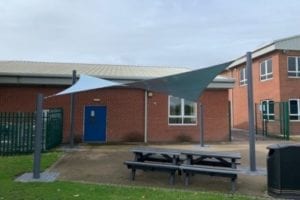 A&S Landscape was asked to add cover and shelter to a seating area at St Mary's College. The space was commonly used by the students during their breaks, but it couldn't be accessed when the weather conditions were poor. To enable the students to get better use out of the area, the staff decided to install a fabric shade sail.
A&S Landscape designed, manufactured and installed a Maxima Sail™ which was a stylish, yet practical addition to the area. Measuring a total of 4500mm x 6000mm, there is plenty of space underneath for the students to socialise, refresh and relax in the fresh air. To match the surrounding environment, we used a Celadon coloured fabric for the sail and a subtle Slate Grey finish for the steelwork and Alu Tuff aluminium guttering.
Now the hardworking students can get outside during their breaks, which is important for their mental health. The area could also become a very important place during stressful exam seasons when they need to get outside and enjoy some headspace. We were pleased that we got the opportunity to work with such a fantastic school and to make a difference to the student's days.
Two Canopies Added at Riverside School in Goole
A straight roof canopy from the Motiva range was selected and installed alongside one of the school buildings. The Motiva Linear canopy features a multicoloured polycarbonate roof, using the colours Foxglove and Lagoon. In addition, Riverside School also choose to add a fabric shade sail structure from the Maxima range.
The pupils of Riverside School now have a choice of where they can play outside, even when the conditions are poor. This allows them to relax and refresh during the school day, leaving them motivated and ready for their next lessons. Classes can also be taught outside, without the teachers having to worry about the weather thanks to the straight polycarbonate roof canopy.
A&S Landscape, canopy and shelter specialists, has worked with schools across the country, designing and installing a range of canopies, shade sails and cycle shelters. Get in touch with our friendly team today on 01743 444100.
Multicoloured Playground Canopy at St Mary's Church of England Primary School in Beverley
A straight roof canopy was installed in the play area, measuring 5m X 5m. The Motiva Linear™ features multicoloured polycarbonate roofing, which has created a vibrant look. The colourful roof works fantastically with the Ultramarine Blue steelwork and Alu Tuff guttering too.
The finished product has met all of St Mary's Church of England Primary School's expectations. The young pupils love playing underneath the Motiva Linear straight polycarbonate roof canopy and they can now always enjoy some fresh air throughout the school day. When the sun shines the light filters through the roof to create a magical rainbow effect on the floor, stimulating the children's imagination.
A&S Landscape has installed many multicoloured shelters at schools across the UK. We also offer a wide range of fabric canopies too, including our Maxima Plaza, Sail, StarSail and Tepee products. Contact us to discuss your project by emailing [email protected] or filling out an online contact form.
Yellow School Canopy with Shutters at Gillshill Primary School in Hull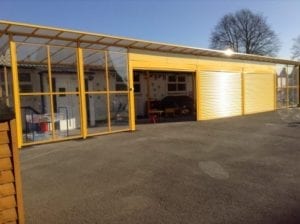 Gillshill Primary School made a great decision to add a sheltered area to their school. They installed a Motiva Linear™ steel and polycarbonate canopy which stretched nearly 20 meters alongside one of their school buildings. They included three electrically operated roller shutter doors to the front elevation and glazed panels to the sides of the straight roof canopy. This has created secure storage for school playground equipment as well as a shaded and sheltered learning space for the children. The canopy is lovely and bright in yellow steelwork and Alu-Tuff guttering and the opal polycarbonate roofing lets in plenty of light whilst offering protection from UV rays.
The new school straight polycarbonate roof canopy is a lovely space which can be used for play, lessons, storage and more. Adding sides and roller shutter doors has meant that the school can use their new covered area in even more ways. If you are thinking about a similar project, take a look at our gallery which contains more than 1,000 images of canopy installations that we have completed. It is a good place to look for some inspiration. You can always contact us directly on 01743 444100 if you would like to chat through.