Multicoloured Polycarbonate Roof Canopy at Chaddlewood Primary School in Plymouth
What was the problem?
Chaddlewood Primary School in Devon had secured funds from a successful grant application. The teachers decided it would be a good use of the money to replace their old timber canopy which could no longer be used by the pupils. The team wanted a design which would require less maintenance and have a longer life span.
What was our solution?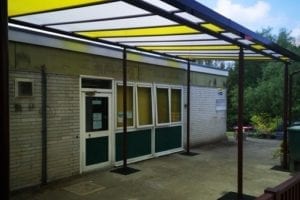 One straight roof shelter was installed at the school. The Motiva Linear™ measures 7830mm X 4000mm, so plenty of covered space has been created. The roof features a colourful design made up of clear and yellow polycarbonate sheets, creating a beautiful effect. Mahogany Brown was chosen for the steelwork which works perfectly with the vibrant roofing. As standard, A&S Landscape took care of the whole project from the design and drawings to the installation.
What was the result?
Both the pupils and the staff at Chaddlewood Primary School are thrilled with the new play area shelter. The young children love the colourful pattern on the roof, especially when the sun shines through and onto the floor. Now the shelter is a very popular spot during breaks and keeps the pupils dry and cool throughout the year.
The teachers are also extremely happy with the final product. The integral guttering system means there is little maintenance required, and they know that they will be able to enjoy the shelter for many years to come.
A little bit about the client…
Chaddlewood Primary School is based in Plymouth, Devon and is located on a large site. The school offers a range of fantastic facilities, including a forest school, pond area, large playing fields and adventure playground equipment. It is clear that this is a huge focus on spending time outdoors at this school, and we are happy that our shelter will help the children do this more often.
What is a forest school?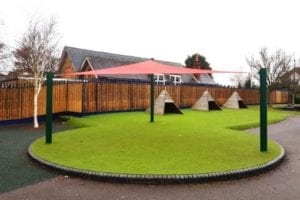 Forest schools and outdoor learning activities are starting to grow in popularity in the UK. Typically, this is outdoor, nature-based learning through a long-term process, with regular sessions, in a natural environment. Forest school activities may include:
Den making
Identification of wildlife
Sensory walks
Nature art
Foraging
As an increasing number of schools incorporate outdoor education and learning, shade and shelter solutions are also being used more often. A school canopy allows teachers to plan outdoor activities without having to worry about the weather. Equipment can also be stored under the shelter, safe from the elements.
What are the benefits of a forest school?
One of the great benefits of forest schools is that they often help young people develop and learn skills they wouldn't typically explore in a traditional classroom setting. School pupils can learn risk assessment and decision making as they explore the outdoor environment in a natural setting. Being outside also helps them learn and greater understand concepts from their curriculum, such as seasons, habitats and wildlife. Many studies have also shown the positive impact spending time outside in the fresh air has on children's mental health and wellbeing, as well as their social skills.
What kit is needed for a forest school?
As forest schools can be held all year round, it is important to ensure the school children are prepared for a range of weather conditions and situations in the woodland environment. It's a good idea to ask pupils to be equipped with waterproof boots or wellies, as well as waterproof jacket and trousers. Gloves and thermals are also a good addition, especially during the cooler months. Long sleeves and trousers will also protect against any insect bites and nettle stings.
How can A&S Landscape help you?
We work with schools across the country, installing a range of canopies, shade sails and cycle shelters. Our experienced team can help you to choose the right design for your needs and budget. Many of our products can be adjusted and made bespoke to your exact specifications too. We're known for our reliability, efficiency and integrity and that's why we have an ever-growing list of happy clients.
Why not start your project today? Talk to us on 01743 444100, or send an email to [email protected].