Shelters and Canopies in Devon
A&S Landscape is proud to have worked with a range of schools and businesses across Devon. We strive to make every project a success and ensure that our clients are left happy and satisfied. From small nursery gardens to large universities, there's no job too big or small for our expert team. To give you inspiration for your canopy project, we have collected some of our featured jobs completed in Devon and the surrounding area.
Thanks to our manufacturing process, we have the flexibility to make custom changes to our standard designs. We will always work with you to create the optimal structure that meets all of your requirements. Below are just some of the optional extras we can add to your shelter:
Side panels
Roller shutter doors
Lighting
Heating
Patterned vinyl
Lockable doors
Don't know where to start? Pick up the phone and talk to our friendly team. We will be able to advise on the best design options for your site and help you through the process with ease. So get in touch with us today on 01743 444100.
Curved Roof Shelters Added to Great Torrington School in Great Torrington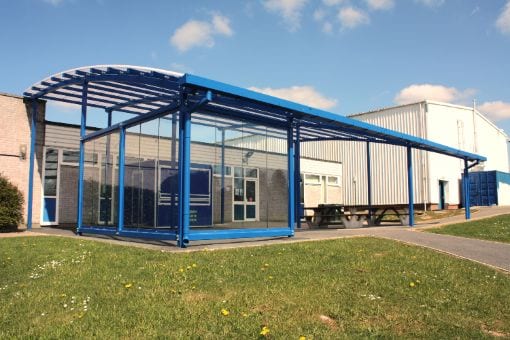 Great Torrington School in Great Torrington, Devon wanted to have two canopies installed – a dining shelter and a canopy to cover students queuing at their snack shack facility. The products needed to have practical and attractive designs, as well as offer excellent protection from the elements. The school got in touch with A&S Landscape, who quickly got to work on finding the ideal solutions.
Following discussions about the different options, Great Torrington School chose a 14000mm X 10000mm Motiva Mono™ for their snack shack area canopy. This model has a curved roof that effectively covers queuing spaces, so students would stay dry while buying food and drink in wet weather. The staff at this institution – which offers children 'experiences from which they gain the very best qualifications' – decided that a 25000mm X 8000mm Motiva Duo™ would create the perfect dining shelter with its durable duopitch design. The Gentian Blue steelwork and Opal roofs of both canopies also looked stylish next to the school's existing buildings.
Everyone at Great Torrington School loves the shelters and how students can now purchase food and eat outdoors in any type of weather. The modern designs are really attractive and offer up some interesting outdoor classroom ideas. A&S Landscape was thrilled that their canopies helped this school to improve its facilities.
Modern Dining Shelter Added to Grounds at Tor Bridge High in Plymouth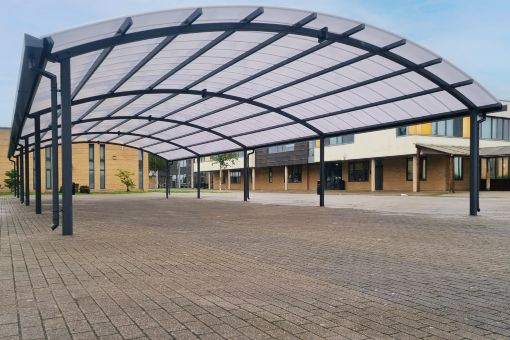 Tor Bridge High in Plymouth, Devon was looking for a dining canopy that could improve the quality of its facilities and the atmosphere in its outdoor areas. The staff thought that their students could benefit from being able to eat outside throughout the year in a large, covered space adapted to their modern site and, after asking us to take on this project, they knew that we could provide them with the right standard of model and service.
Following detailed discussions with representatives from the school, we built a Motiva Duo™ in the grounds there with impressive specifications of 24m X 10m that made fantastic use of the space available. This product is a good fit for clients in need of outdoor dining areas due to its ability to become a durable standalone structure where young people can easily eat snacks or lunch with classmates in the fresh air and in any season. The Slate Grey steelwork and Opal polycarbonate roof also looked top-class, and the shelter evoked a welcoming, community feeling as it was clear how people could come together beneath it.
Our client loves its new dining canopy and the level of quality that it presents to students, staff and visitors alike. It has created an amazing area where students can dine and relax outside without worrying about the weather on rainy days, and the model feels right at home with the other facilities and branding. Contact us on 01743 444100 now to start your shelter journey.
School Canopy at St Sidwell's C of E School in Exeter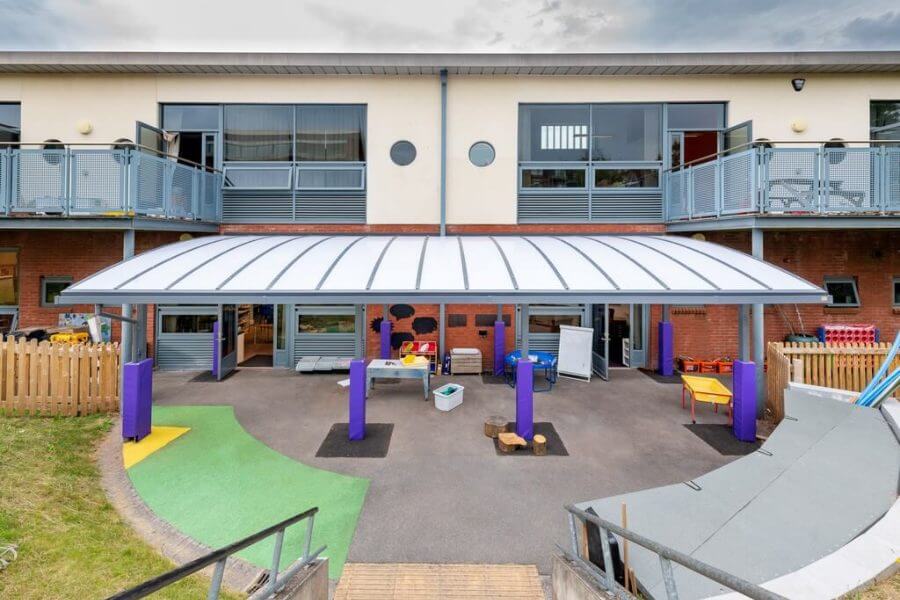 The solution that was chosen was a steel and polycarbonate canopy with a curved roof from the Motiva range. The Motiva Mono canopy measured 10m x 4m to make the best use of the available playground. The roof was Opal, allowing plenty of light through but protecting from UV rays. The posts were covered with bright purple post pads to ensure that the children were protected from any bumps at playtime and these have added a real sense of fun to the already lovely area.
The super new area has indeed added more space. The children have sand and water trays and outside toys that can be stored under the canopy all year round. Now they can even take lessons or storytime under the canopy if the weather is kind. What a super new space at St Sidwell's C of E School.
From Shade Sails, Umbrellas and Tepees, to straight or curved roof steel canopies, A&S Landscape have a range which is sure to offer you something special. We can help you from the beginning planning stages, right through to installation. Feel free to look through our gallery, which has more than 1,000 images to inspire you.
Playground Canopy Cover for Bickleigh Down Church of England Primary School in Plymouth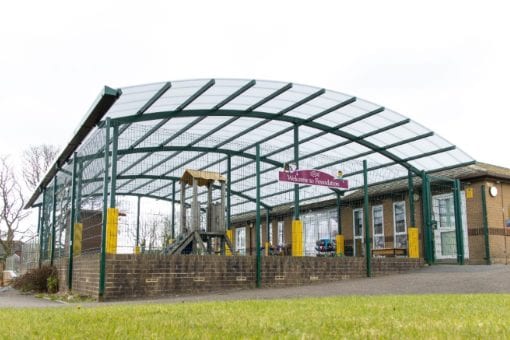 It was plans to revitalise their playground that brought this Devon school to A&S Landscape. They wanted to incorporate an area of shelter to be located next to a part of the existing school building, with the aim of giving their pupils more opportunities to enjoy the outdoor spaces.
With an extensive track record of helping primary schools to realise their plans for developing their playground areas, A&S Landscape are a provider of choice when it comes to delivering the perfect shelter solution. Bickleigh Down Church of England Primary School in Plymouth wanted to gain a designated multi-functional area of shelter for outdoor play and learning. Our design team was able to identify the perfect solution from our product range. This solution came in the form of our Motiva Duo™ canopy cover with a curved roofline. This attractive design was customised by Bickleigh Down Church of England Primary School with their choice of Moss Green (RAL 6005) steel shelter frame and Opal polycarbonate roofing material. With an extensive choice available, every customer has the chance to create their own custom canopy.
The end result of the Bickleigh Down Church of England Primary School canopy installation was a practical, functional shelter solution that looks great too.
Multicoloured Polycarbonate Roof Canopy at Chaddlewood Primary School in Plymouth
What was the problem?
Chaddlewood Primary School in Devon had secured funds from a successful grant application. The teachers decided it would be a good use of the money to replace their old timber canopy which could no longer be used by the pupils. The team wanted a design which would require less maintenance and have a longer life span.
What was our solution?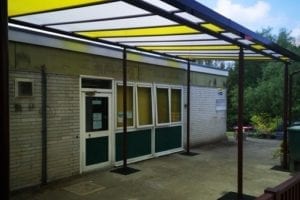 One straight roof shelter was installed at the school. The Motiva Linear™ measures 7830mm X 4000mm, so plenty of covered space has been created. The roof features a colourful design made up of clear and yellow polycarbonate sheets, creating a beautiful effect. Mahogany Brown was chosen for the steelwork which works perfectly with the vibrant roofing. As standard, A&S Landscape took care of the whole project from the design and drawings to the installation.
What was the result?
Both the pupils and the staff at Chaddlewood Primary School are thrilled with the new play area shelter. The young children love the colourful pattern on the roof, especially when the sun shines through and onto the floor. Now the shelter is a very popular spot during breaks and keeps the pupils dry and cool throughout the year.
The teachers are also extremely happy with the final product. The integral guttering system means there is little maintenance required, and they know that they will be able to enjoy the shelter for many years to come.
A little bit about the client…
Chaddlewood Primary School is based in Plymouth, Devon and is located on a large site. The school offers a range of fantastic facilities, including a forest school, pond area, large playing fields and adventure playground equipment. It is clear that this is a huge focus on spending time outdoors at this school, and we are happy that our shelter will help the children do this more often.
What is a forest school?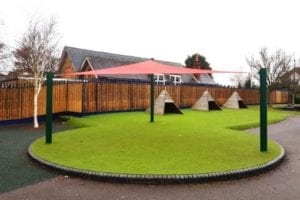 Forest schools and outdoor learning activities are starting to grow in popularity in the UK. Typically, this is outdoor, nature-based learning through a long-term process, with regular sessions, in a natural environment. Forest school activities may include:
Den making
Identification of wildlife
Sensory walks
Nature art
Foraging
As an increasing number of schools incorporate outdoor education and learning, shade and shelter solutions are also being used more often. A school canopy allows teachers to plan outdoor activities without having to worry about the weather. Equipment can also be stored under the shelter, safe from the elements.
What are the benefits of a forest school?
One of the great benefits of forest schools is that they often help young people develop and learn skills they wouldn't typically explore in a traditional classroom setting. School pupils can learn risk assessment and decision making as they explore the outdoor environment in a natural setting. Being outside also helps them learn and greater understand concepts from their curriculum, such as seasons, habitats and wildlife. Many studies have also shown the positive impact spending time outside in the fresh air has on children's mental health and wellbeing, as well as their social skills.
What kit is needed for a forest school?
As forest schools can be held all year round, it is important to ensure the school children are prepared for a range of weather conditions and situations in the woodland environment. It's a good idea to ask pupils to be equipped with waterproof boots or wellies, as well as waterproof jacket and trousers. Gloves and thermals are also a good addition, especially during the cooler months. Long sleeves and trousers will also protect against any insect bites and nettle stings.
How can A&S Landscape help you?
We work with schools across the country, installing a range of canopies, shade sails and cycle shelters. Our experienced team can help you to choose the right design for your needs and budget. Many of our products can be adjusted and made bespoke to your exact specifications too. We're known for our reliability, efficiency and integrity and that's why we have an ever-growing list of happy clients.
Why not start your project today? Talk to us on 01743 444100, or send an email to [email protected].
Scott Medical Health College Add Canopy with Polycarbonate Roof
In combination with our building contractor client our engineers produced a system 60 canopy roofing system in Scott Medical Health College Stoke Damerel, Plymouth, Devon. The job involved the supply and installation of a System 60 straight roof polycarbonate roofing including for all roofing bars and edge trims measuring 11100mm x 2000mm and included for our Alu-Tuff™ aluminium box profile guttering and downpipes in matching Dura-coat™ colour finish.
Exeter School Add New Canopy to Play Area
Our engineers made a canopy at Exeter School Victoria Park Road, Exeter, Devon. The contract included dismantling canopy, disposal of roofing. Re-erect canopy to new location allowing for new posts, new roof material and reconfigured guttering.
Stoke Dameral Academy add Straight Roof Canopy to Create Shade and Shelter
A&S designed a straight polycarbonate roof canopy for Stoke Dameral Academy Plymouth, Devon. The contract included the supply and installation of one Motiva™ monopitch straight roof canopy measuring 14000mm X 4000mm and 12000mm x 2000mm and included for our Alu-Tuff™ aluminium box profile guttering and downpipes in matching Dura-coat™ colour finish.
Two Straight Roof Shelters Manufactured for Marine Academy Plymouth
Our engineers designed two straight polycarbonate roof canopies in Marine Academy Plymouth Trevithick Road, St Budeaux, Devon. The full contract involved the supply and installation of one Motiva™ monopitch straight roof canopy measuring 28000mm X 4000mm and included for our Alu-Tuff™ aluminium box profile guttering and downpipes in matching Dura-coat™ colour finish and post protection pads and one Motiva™ monopitch straight roof canopy measuring 5500mm X 2000mm.
More of our canopy project locations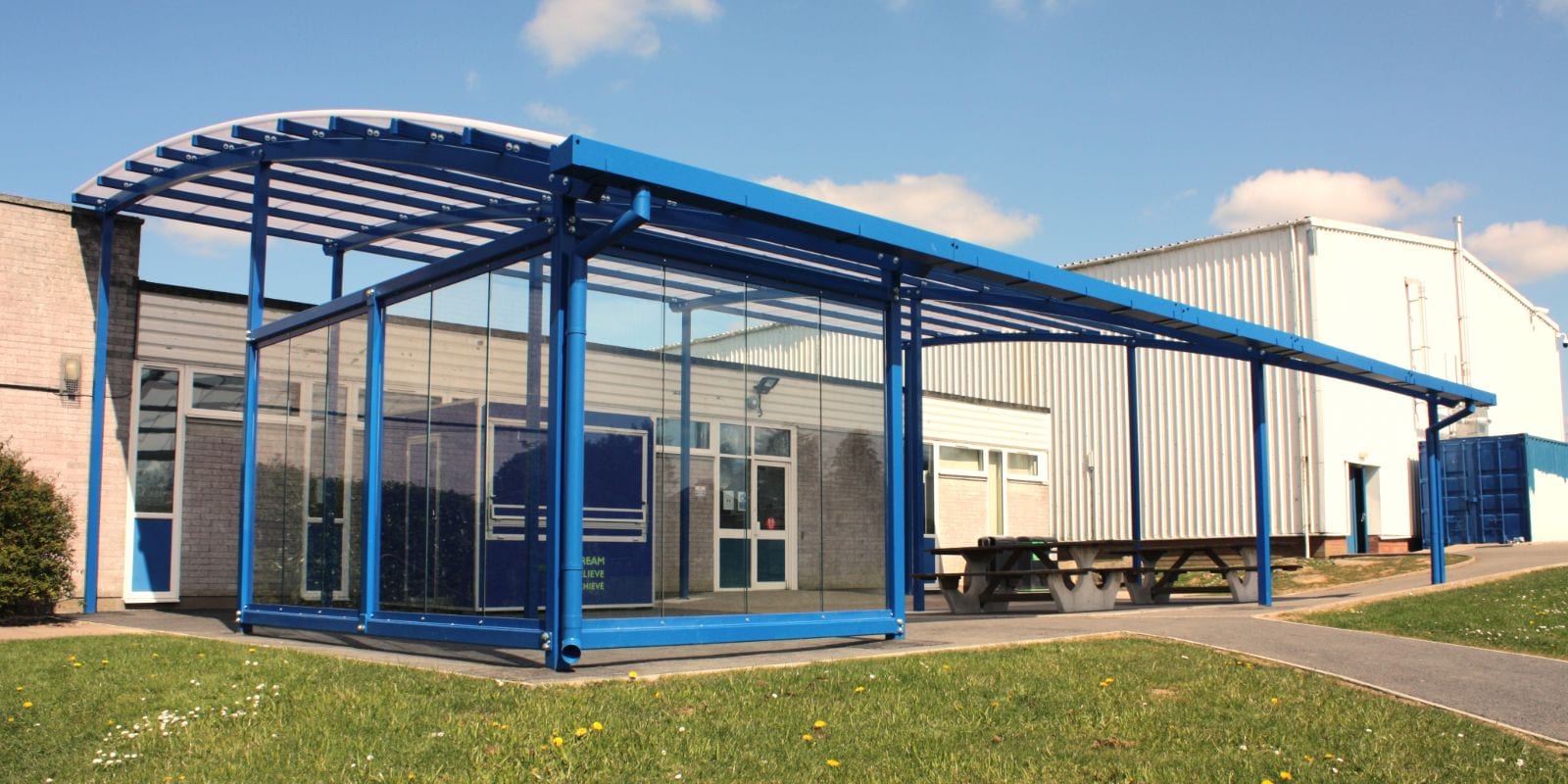 Send us your email and an idea of your requirements and we'll get back to you with a quick price.