School Shelters in Derbyshire
Playground canopies and shelters installed in Derbyshire
Other Locations
Derbyshire Based Projects
Canopy and shelter specialists, A&S Landscape has worked with many businesses and schools across Derbyshire. We have installed a wide range of products, from cycle shelters to covered walkways. Made with the highest quality materials and latest technology, our shelters are built to last and feature industry-leading guarantees.
Whether you are looking for a waterproof sail structure from our Maxima product range or a straight polycarbonate roof canopy from the Motiva options, we have the perfect solution for you. And if you're not sure where to start, our expert team will be able to guide you through your options and suggest the best cover for your needs.
Below we have gathered a selection of our canopy installations completed in Derby and the surrounding areas. From a large MUGA cover at Zaytouna Primary School to a curved roof canopy at Shelton Infants School. Take a look and get inspiration for how you can improve your outside space.
Get in touch with us for a guide price for your project. Fill out an online contact form, or call us directly on 01743 444100.
George Mitchell Primary School in Belper install Fabric School Canopies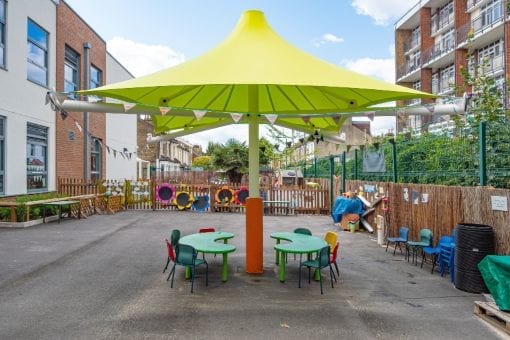 There are so many different school canopy designs to choose from. George Mitchell School were delighted to work with A&S Landscape to run through the benefits of each one. Eventually, they decided to install two canopies from the Maxima range, one Umbrella 4m x 4m and one Tepee 3m x 3m. Both canopies benefitted from PVC fabric which is waterproof to provide all-year-round shelter. There are many fabric colours to choose from and in this case, they opted for Beige and Aniseed against White (RAL 9010) steelwork. Both structures were finished with Amber post pads for optimal protection.
The playground looks very smart with the new canopies. The children can use them all year round for an endless number of different activities, including outdoor play. They may choose to have a story safe from the sunshine or games at break times, even a picnic. Children have such a vivid imagination, they may even become spaceships or rockets, who knows!
If you are thinking about a similar project, take a look at our gallery of covered options which contains more than 1,000 images of projects that we have completed. It is a good place to look for some inspiration. You can always call us directly on 01743 444100 if you would like to chat through our cycle shelters and canopies options, we would be glad to help.
Springwell Community College in Staveley Installs Dining Canopy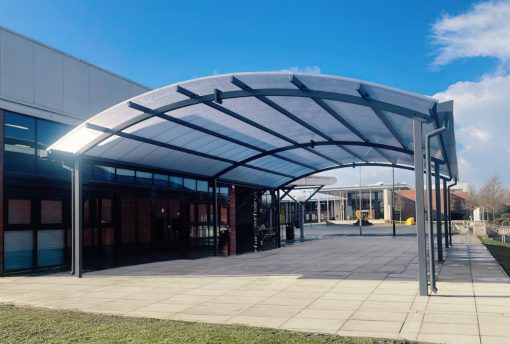 Springwell Community College in Staveley, Derbyshire needed a dining shelter to give students more choice of where to spend their breaks and more opportunities to enjoy time outdoors. The staff at this institution – which was rebuilt in 2011 with first-class facilities to provide a modern, business-like learning environment – wanted the canopy to be large enough to free up space in its indoor facilities and to be usable all year round. They also liked the idea of a contemporary but straightforward design, so they asked us to tackle this project.
We explained the possible ways forward to Springwell Community College and they decided to have our Motiva Duo™ installed. This is a standout model as its duopitch curved roof has a powerful, aesthetic impact and it's effective at sheltering people from rain, wind and sun. Slate Grey steelwork and an Opal roof gave the dining canopy a modern feel and 12000mm X 8000mm specifications offered space for many students to eat and socialise in the fresh air in all sorts of weather.
The new facility has helped to ease pressure on indoor dining areas. It has also allowed the children to find relief from working hard at their studies by being able to relax, catch up with friends and eat outside undercover. The dining shelter could even be turned into an outdoor classroom shelter during lesson times. To find out more about our past projects, give us a call on 01743 444100.
Some Of Our Derbyshire Clients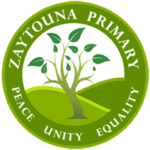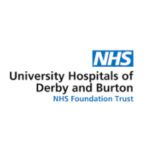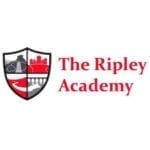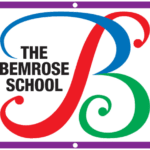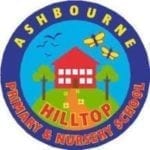 Straight Roof Shelter with Polycarbonate Roof Made for Dronfield Co-Op
In collaboration with our building contractor client A&S erected a straight polycarbonate roof canopy in Dronfield Co-Op Dronfield, Derbyshire. The job involved the supply and installation of one Motiva™ monopitch straight roof canopy measuring 17600mm X 2800mm and included for our Alu-Tuff™ aluminium box profile guttering and downpipes in matching Dura-coat™ colour finish.
Covered MUGA and Play Area at Zaytouna Primary School in Derby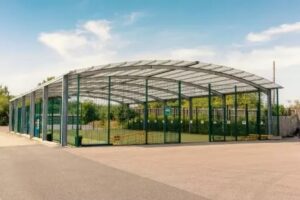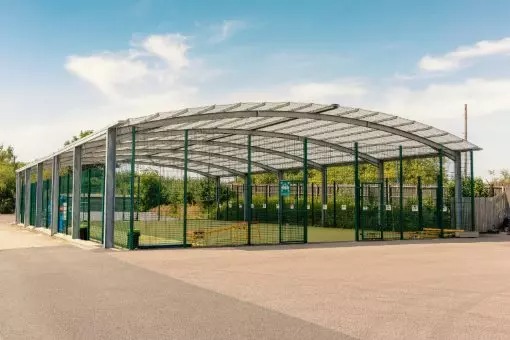 A Covered MUGA™ was installed at Zaytouna Primary School, which has provided them with a valuable sheltered area. A Motiva Linear canopy was also built at the school, featuring a multicoloured polycarbonate roof.
Now the pupils can play outside throughout the year, no matter the weather. The Covered MUGA™ is ideal for sports games and has plenty of room for the children. And the multicoloured straight roof polycarbonate canopy adds a splash of colour to the school site while providing a sheltered play area. Teachers also have the option to hold lessons outside, without having to worry about the weather thanks to the straight roof canopy. The two new canopies have been a great addition to the primary school.
From universities to nurseries, A&S Landscape offers a range of canopies for a variety of uses, from cycle shelters to entrance canopies. Look at examples of our past canopy installations on our projects page or our gallery.
Waterproof Sail Shade Designed for Arboretum Primary School
A&S built a waterproof sail structure at Arboretum Primary School Derby, Derbyshire. The job involved one 6000mm x 6000mm Maxima™ tensile waterproof fabric sail structure comprising of one square sail on four uprights including for all stainless steel fixtures and fittings and four post protection pads.
School Entrance Canopy at Ripley Academy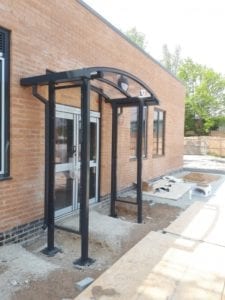 The entrance canopy that was chosen was from our Motiva Entro™ range. This curved roof canopy is steel and polycarbonate. Gutters and downpipes were included in a matching finish to the steelwork to make sure that it added a clean, modern aesthetic. The entrance canopy benefited from glazed side panels as well to really protect from the weather. The canopy measured 2800mm x 1200 and the steel was Anthracite Grey (RAL 7016) whilst the polycarbonate roofing was Opal.
The entrance is now clearly distinguishable, protected from the weather and complements the new building beautifully. Rainwater is effectively managed by gutters and downpipes and it looks great too. Ripley Academy are very fortunate to have such a tremendous school and we hope that they enjoy learning and socialising in their new campus areas for many years to come.
If you are thinking about a similar project, take a look at our gallery which contains more than 1500 images of projects that we have completed. It is a good place to look for some inspiration.