Versatile Outdoor Canopy Installed at Ashbourne Hilltop Primary and Nursery School in Ashbourne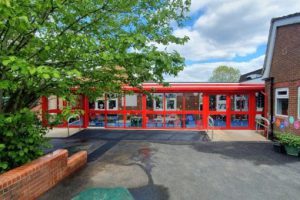 Ashbourne Hilltop Primary and Nursery School in Ashbourne, Derbyshire wanted a shelter that could open up opportunities for playtimes, outdoor learning and storage all year round, in rain or shine. This caring institution – which aims to be 'a school that plays a full role in the life of the community' – needed the canopy to add colour to their outdoor facilities and something special to their pupils' educational experience.
After discussing several products with A&S Landscape, Ashbourne Hilltop Primary and Nursery School decided that the Motiva Linear™ was the right model for them. They had their shelter installed with clear sides and a wheelchair-accessible threshold to create an enclosed area that everyone could easily enjoy. The monopitch (asymmetric) straight roof of the Motiva Linear™ offered maximum protection from the elements, while the Flame Red steelwork and Opal polycarbonate sheeting created a bright, fun design. Measuring 14500mm X 4300mm, the canopy was large enough to be used for play, additional storage or even as an outdoor classroom gazebo.
The team at Ashbourne Hilltop Primary and Nursery School was thrilled with the outdoor shelter. It can adapt to their needs and provides them with an extra educational or play facility throughout the year. The pupils love the colourful design which makes for an inspiring play area. Want to discover how a canopy could benefit your school? Call A&S Landscape on 01743 444100 today.
Outdoor Shelters in Chesterfield at Mary Swanwick Primary School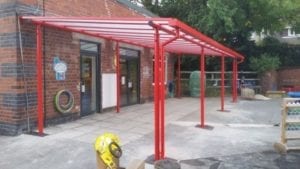 With weather that is so unpredictable, we have to be able to be flexible, creating spaces that allow us to remain outside even when the weather changes direction. With outdoor playground canopies, you can do just that, uniting outdoor spaces with a mix of covered and open areas that mean if the grey clouds roll in you need only move an activity under an outdoor canopy to continue.
Mary Swanwick Primary School liked the idea of being flexible in the face of the unpredictable conditions so they called in A&S Landscape to make it happen. We installed a generous Motiva Linear straight roof canopy at 10000mm x 3750mm in a bright, playful red steelwork with Alu-Tuff ™ box profile guttering to match in Dura-Coat™ paint. The Opal polycarbonate roof used on this straight roof shelter, means this is also an effective shade in the summer, cutting out a layer of direct sunlight and offering a little temperature control to the building as well.
The result is that the weather is no longer in control of an activity. Mary Swanwick Primary School has an effective shelter that allows learning and play to continue whatever falls from the sky. If you want to make sure you're ready, no matter what the weather does, then you need to ensure your outdoor spaces are as flexible as those at Mary Swanwick Primary School. All it takes is the addition of an outdoor canopy for schools that will ensure that the outside is as accessible as the inside, all year round. To find out more take a look at our gallery of finished projects here and if you have any questions, get in touch.