Cantilever Canopy at Milking Bank Primary School in Dudley
What Was Our Solution?
Given the location of existing doors and windows at Milking Bank Primary School, the A&S Landscape solution was to install a Motiva Cantilever™. This enabled the issue of intrusive and obstructive canopy poles to be avoided.
What Product Did We Use?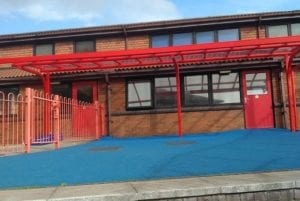 While A&S Landscape offers a wide range of products and solutions, in this case, the canopy architecture of a cantilever design was by far and away the best option. This removed the issue of steelwork inhibiting the use of existing windows and doors at Milking Bank Primary School.
The Motiva Cantilever™ product is versatile and attractive. Added to this, the ability to choose front, back or central steelwork uprights means that the flexibility of canopy architecture means that almost any challenge can be overcome. In the case of Milking Bank Primary School, the finish selected was Red (RAL 3030) Dura-Coat™ steel. This product is durable, low maintenance and looks great. For Milking Bank Primary School, the use of the red colour ensured the new structure blended beautifully with its surroundings.
In terms of the roofing material, clear polycarbonate was utilised to allow light through freely. Unlike a glass canopy, polycarbonate is durable and, whilst it allows light through, it also blocks harmful UV rays. The result is that it is cooler underneath than it would be under a glass canopy.
What Was The Result?
The combined impact of the Motiva Cantilever™ design features resulted in a bespoke canopy offering shelter to an area of the Milking Bank Primary School playground. Not only does this provide a shelter during rainy playtimes, but it also offers opportunities for outside learning and discovery. It's also a great addition for community engagement when the school holds fundraising or social occasions.
A Little Bit About The Client
Milking Bank Primary School is located close to the town centre of Dudley and is covered by the Dudley Metropolitan Borough Council. Earlier this year, the school celebrated the acquisition of a small area of an adjacent recreation ground to enhance their sport and outdoor play opportunities. Not having permanent access to a school playing field previously, this was a great addition for this West Midlands school. Between the new playground shelter and this sports field, the school's commitment to the great outdoors is certainly evident!
What Is A Cantilever Canopy?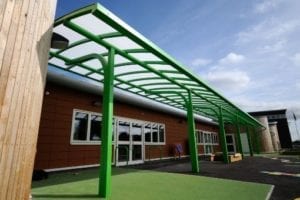 A cantilever design is essentially one that is supported on one side. This avoids the need for poles throughout all corners of the structure. The benefit is that they can fit neatly against an existing building without causing any kind of obstruction. However, in addition to this, the alternative way that the canopy is supported means that there is a greater amount of space beneath.
Why Are Canopies Perfect For Primary Schools?
Many of our clients have been infant or primary schools. They've found that our freestanding and wall mounted canopy designs are a great addition to their school for many reasons, including:
Play Area Shelter
Children love to be outside, but nobody likes to get wet through at playtime! A shelter like that at Milking Bank Primary School creates a place to shelter for those unexpected cloud bursts.
Safe, Sheltered Space
The polycarbonate material used for the roofing of our canopies is a great way to provide shade. It keeps the temperature underneath to a comfortable level, so it's also a great place for children to enjoy on hot days.
Health Benefits
The physical, mental and social benefits of outdoor learning is a huge positive to children of every age. Creating an area that can be utilised for outdoor discovery is a wonderful way to increase and create additional opportunities to do this.
How A&S Landscape Can Help You
Whether you're looking for a cantilever-style canopy like the one at Milking Bank Primary School, or if you're looking for a sun shelter for an area of your playground, A&S Landscape has a solution available. From a steel walkway design to an outdoor dining area, there are options for just about everything.
Our extensive experience of working with many different sectors makes us an obvious choice for canopies and shelters. You can view our client feedback and see the results of a whole range of our projects here. If you'd like to discuss how we can help you find the right outdoor cover, get in touch with our friendly team on 01743 444100 or at [email protected].