School Canopies in Dudley
A&S Landscape has completed many successful projects in Dudley, installing a range of our versatile products. Whether you want a structure which blend into the school building or create vivid focal point, we can design a canopy which meets all of your requirements. If you want to get more use from your outdoor areas, then look no further.
As well as our standard product range, we also the capacity to create bespoke options for you. From glass canopy designs, to a wall mounted canopy to an enclosed roller shutter shelter, the choices are endless. Our experienced design team can work closely with you to ensure that you get the best finished result.
Our shelter range suits a wide range of applications, including:
Entrance canopies
External dining areas
Cover for MUGAs
Playground shades
Covered walkways
If you have a canopy requirement, get in touch with us for a free, no-obligation quote. Call us on 01743 444100, or send an email to [email protected].
Covered Multi Use Games Area Added to The Brier School in Dudley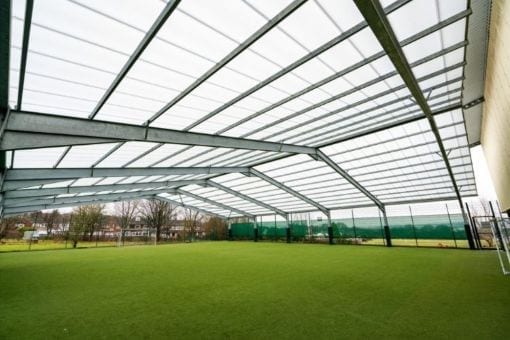 The solution was to build a large covered multi-use games area. The Covered MUGA™ measures 29605mm x 24680mm. The new space has been affectionately called "The PlayZone".
The PlayZone is used by all the children in lots of different ways. The Key Stage 1 children ride trikes and bikes, there is quick cricket, 5 a side football, relay races and even sponsored walks. It even hosted a Winter Wonderland event at Christmas 2017. It adds many options to the school and it is being well used by the pupils as well as the wider community. During the summer, The Orchard Trust, a charity supporting children with learning difficulties, uses the area for summer school. It has extended the options available to local children with learning difficulties and their families. The Brier School are rightly proud of their outdoor space.
Russell Hinton, Headmaster at The Brier School says – "This space has made such a difference to the children, they can be outdoors and get fresh air all year round, regardless of the weather. Different classes use the PlayZone in rotation when the weather is poor, meaning that everyone has the chance of some fresh air and exercise. It took more than two years planning because of the size and design. The children are loving the PlayZone and a little bit of outside time each day helps with their concentration levels as well as their fitness."
From Shade Sails, Umbrellas and Tepees, to freestanding and wall mounted canopy options, A&S Landscape have a range which is sure to offer you something special. We can help you from the beginning planning stages, right through to installation. Feel free to look through our gallery, which has more than 1500 images to inspire you.
Find out what The Brier School said about working us
Jesson's Primary School in Dudley Add Canopy With Side Panels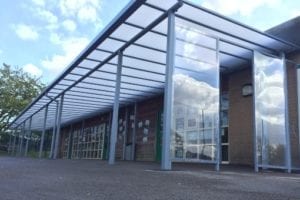 A&S Landscape offers a wide range of canopy solutions, from shade sails and tepees to linear canopies with polycarbonate roofing. It was decided that the Motiva Linear™ product would be most appropriate for this requirement. We installed the canopy at 23180 x 4000mm, with glazed panels to the side elevations. All steelwork was in grey (RAL 7000) and the roofing in Opal polycarbonate.
This very long straight roof canopy stretches along the entire length of the school wall, offering shade and shelter to the classrooms inside. The doorways were also sheltered meaning that children no longer had to queue to get into the building, subjected to the elements! This new space also offers the option to learn, play and socialise outside in the newly created space. With growing pupil numbers, space is at a premium in a lot of schools. This canopy has added a really smart option to create more space at Jesson's Primary School, without the need for a building extension. Perfect!
A&S Landscape is here to discuss the options if you would like to add some space to your campus. From Shade Sails, Umbrellas and Tepees, to straight or curved roof steel canopies, A&S Landscape have a range which is sure to offer you something special. Feel free to look through our gallery, which has more than 1500 images to inspire you.
Priory Primary School Add Shelter with Polycarbonate Roof Sheets
Our team created a straight polycarbonate roof canopy in Priory Primary SchoolLimes Road, West Midlands. The contract included the supply and installation of one Motiva™ monopitch straight roof canopy measuring 5500mm X 2800mm.
Entrance Canopy and Play Area Shelters at Huntingtree Primary School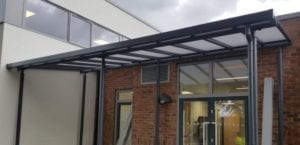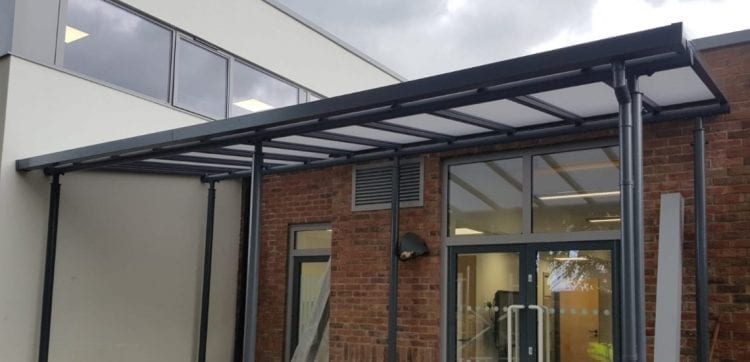 A curved roof Motiva Entro™ canopy was added to the entrance of Hutingtree Primary School. In an area of the playground, a straight roof shelter was added as well as in the nursery section of the school too. All three of the canopies feature Slate Grey steelwork, which creates a sleek, modern look. The Opal coloured polycarbonate roofing also provides protection against UV rays too.
The pupils of Huntingtree Primary School can now enjoy the fresh air during their break times all-year-round. This allows the children to let off steam and refresh properly ahead of their next lessons. Visitors to the school are also greeted by a smart-looking superb entrance area and have a cover to wait under if they use an inter-comm system. A&S Landscape has a wide range of canopies, which can be made to your specific requirements. From shade sails to bike stores, we can help you get better use of your space. Take a look at our gallery of products or call our friendly team on 01743 444100 to discuss your options.
Cantilever Canopy at Milking Bank Primary School in Dudley
What Was Our Solution?
Given the location of existing doors and windows at Milking Bank Primary School, the A&S Landscape solution was to install a Motiva Cantilever™. This enabled the issue of intrusive and obstructive canopy poles to be avoided.
What Product Did We Use?
While A&S Landscape offers a wide range of products and solutions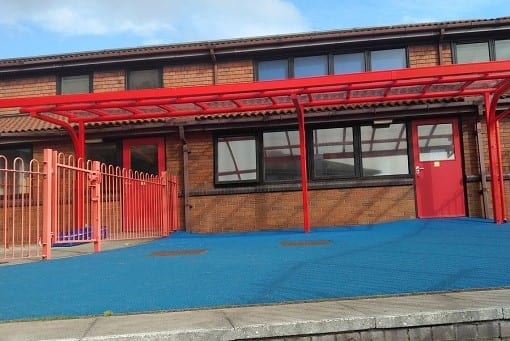 , in this case, the canopy architecture of a cantilever design was by far and away the best option. This removed the issue of steelwork inhibiting the use of existing windows and doors at Milking Bank Primary School.
The Motiva Cantilever™ product is versatile and attractive. Added to this, the ability to choose front, back or central steelwork uprights means that the flexibility of canopy architecture means that almost any challenge can be overcome. In the case of Milking Bank Primary School, the finish selected was Red (RAL 3030) Dura-Coat™ steel. This product is durable, low maintenance and looks great. For Milking Bank Primary School, the use of the red colour ensured the new structure blended beautifully with its surroundings.
In terms of the roofing material, clear polycarbonate was utilised to allow light through freely. Unlike a glass canopy, polycarbonate is durable and, whilst it allows light through, it also blocks harmful UV rays. The result is that it is cooler underneath than it would be under a glass canopy.
What Was The Result?
The combined impact of the Motiva Cantilever™ design features resulted in a bespoke canopy offering shelter to an area of the Milking Bank Primary School playground. Not only does this provide a shelter during rainy playtimes, but it also offers opportunities for outside learning and discovery. It's also a great addition for community engagement when the school holds fundraising or social occasions.
A Little Bit About The Client
Milking Bank Primary School is located close to the town centre of Dudley and is covered by the Dudley Metropolitan Borough Council. Earlier this year, the school celebrated the acquisition of a small area of an adjacent recreation ground to enhance their sport and outdoor play opportunities. Not having permanent access to a school playing field previously, this was a great addition for this West Midlands school. Between the new playground shelter and this sports field, the school's commitment to the great outdoors is certainly evident!
What Is A Cantilever Canopy?
A cantilever design is essentially one that is supported on one side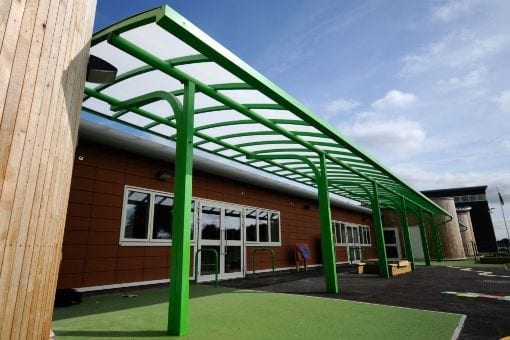 . This avoids the need for poles throughout all corners of the structure. The benefit is that they can fit neatly against an existing building without causing any kind of obstruction. However, in addition to this, the alternative way that the canopy is supported means that there is a greater amount of space beneath.
Why Are Canopies Perfect For Primary Schools?
Many of our clients have been infant or primary schools. They've found that our freestanding and wall mounted canopy designs are a great addition to their school for many reasons, including:
Play Area Shelter
Children love to be outside, but nobody likes to get wet through at playtime! A shelter like that at Milking Bank Primary School creates a place to shelter for those unexpected cloud bursts.
Safe, Sheltered Space
The polycarbonate material used for the roofing of our canopies is a great way to provide shade. It keeps the temperature underneath to a comfortable level, so it's also a great place for children to enjoy on hot days.
Health Benefits
The physical, mental and social benefits of outdoor learning is a huge positive to children of every age. Creating an area that can be utilised for outdoor discovery is a wonderful way to increase and create additional opportunities to do this.
How A&S Landscape Can Help You
Whether you're looking for a cantilever-style canopy like the one at Milking Bank Primary School, or if you're looking for a sun shelter for an area of your playground, A&S Landscape has a solution available. From a steel walkway design to an outdoor dining area, there are options for just about everything.
Our extensive experience of working with many different sectors makes us an obvious choice for canopies and shelters. You can view our client feedback and see the results of a whole range of our projects here. If you'd like to discuss how we can help you find the right outdoor cover, get in touch with our friendly team on 01743 444100 or at [email protected].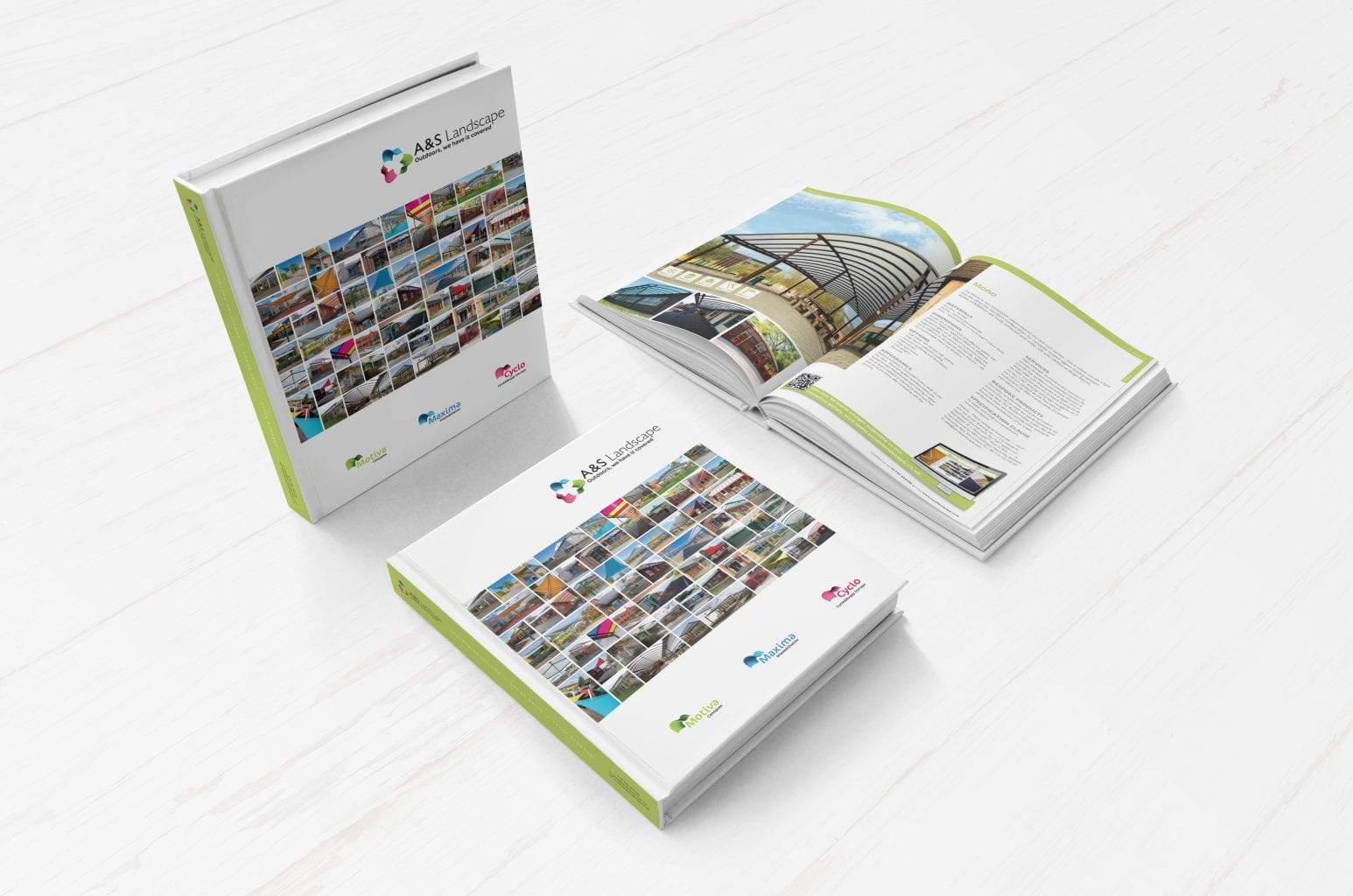 Get in touch to request a copy of our full, 160 page, hardback brochure with all the information you need to make the right choice.