Outdoor Covered Seating Area at The Estuary in Swansea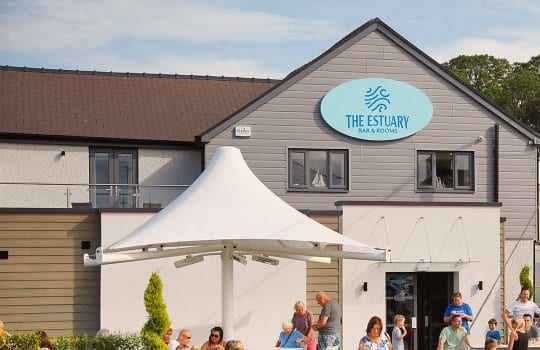 A&S Landscape designed and supplied two fabric umbrella canopies. Both Maxima Umbrellas™ measure 4000mm X 4000mm, so several tables can be covered at once. Finished in a modern white colour, the shades perfectly match the restaurant's style. With only one upright post each, the canopies aren't intrusive either.
The new canopies have been a great success at The Estuary. The customers can now enjoy their meals outside, with the option of having some shade. The outside tables and chairs can also be stored under the shelter if the conditions are poor. This saves the restaurant valuable storage space.
From garden centres to secondary schools, we work with a range of sectors, supplying canopies, shelters and shade sails. Take a look at our testimonials to see what our clients say about us or browse our gallery of canopy installations and our product range to get even more ideas. You can also talk to our friendly team to discuss your options on 01743 444100. We're happy to assist you with any questions you may have, from technical queries to planning consent – our team will help you through the entire process thanks to their broad knowledge.
Fabric Tepee Canopy Installed at Rhiwbeina Primary School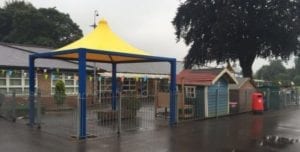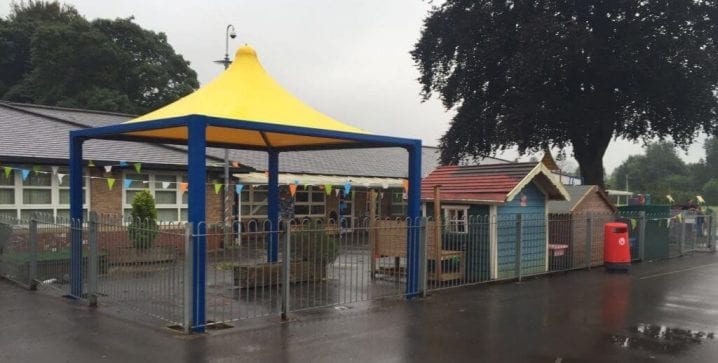 Working closely with Rhiwbeina Primary School we installed two Maxima Tepee™ tensile structures to an overall size of 4000mm x 4000mm in the school grounds. Both shelters were covered in our trademark waterproof tensile fabric, meaning these playground canopies will look great whilst keeping you dry. The result is much the same. Rain will still fall. But now it doesn't need to stop play, with a robust and effective shelter that also creates a large area of shade in the hot summer months. School playground equipment can also be stored under the tepee, protecting it from the weather and elements.
Just because a little cover from the rain is functional doesn't mean it can't be attractive too. It's important to not just add a canopy that does the job but something that leaves a little more behind too. The intangible quality of high spec design can soften the hard lines of the buildings around it and offer a more whimsical silhouette.
And that's important because spaces can offer more than just function, they can excite, delight or bore us depending on how much care and attention has gone into their design. To find out more about our Maxima Tepee™ range you can take a look at a gallery of finished projects and covered options here and if you have any questions, from planning consent to lead times, then please get in touch by filling out our contact form.
Covered Area Added at St Helen's Primary School in Swansea
A straight roof Motiva Linear™ canopy was installed alongside one of the school buildings and measures 4000mm X 3000mm. The shelter features Marine Blue coated aluminium steelwork, which works perfectly with the surrounding environment. The Opal polycarbonate roofing allows some sunlight through while providing protection from harmful UV rays.
Everyone at St Helen's Primary School is thrilled with the new canopy, they awarded the project five out of five stars. The staff can stand underneath when they are supervising playtimes and stay sheltered from the weather. School playground equipment can also be stored under the canopy, saving the school valuable storage space. The pupils could also use the shelter when they are waiting to enter their classroom.
A&S Landscape offers an amazing range of canopies, shade sails and shelters to schools and the rest of the education sector across the country. Look at our recent projects or gallery of canopy installations to get inspiration for your next project. Or call our friendly team today on 01743 444100.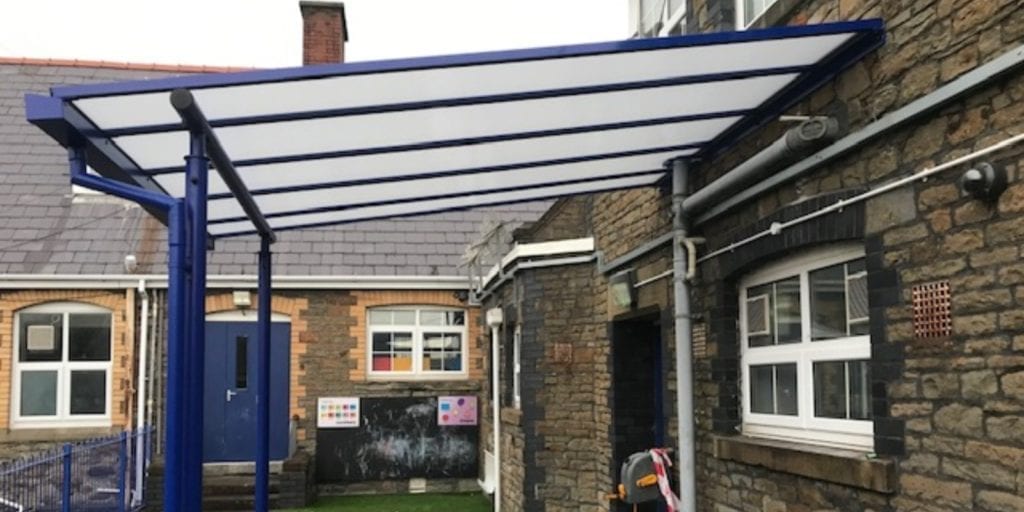 Some of our Glamorganshire based clients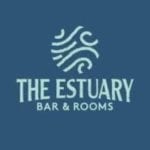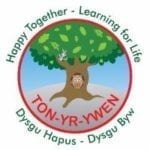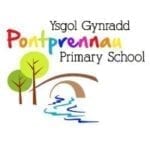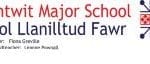 Pontrennau Primary School Add Colourful Playground Shade Sail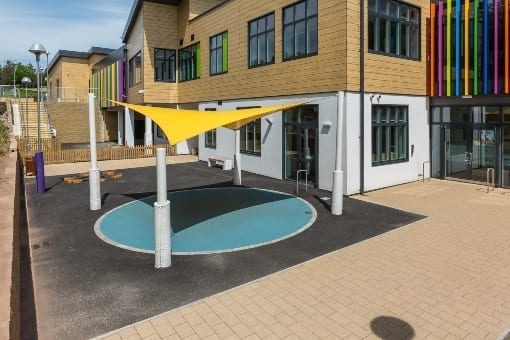 That's why Pontrennau Primary School in Cardiff, one of Wales newest Primary Schools (opened in September 2015) opted for an A&S Landscape shaded area outside a classroom, formed by a 5M x 5M waterproof shade sail in a bright Buttercup Yellow, calling us in to give them the flexibility they were looking to add.
Now, Pontrennau Primary School has a new flexible outside space, offering an additional learning and covered play space whatever the weather, giving their students all the benefits of spending more quality time outside, from increased Vitamin D to lower chance of depression and anxiety.
Taking more time outside, in the fresh air and natural light has an incredibly diverse array of benefits, from affecting our mood to demonstrable differences in student achievement. But, the reality is, without covered outdoor play space and without some playground shelter we lose the use of our outside space for large portions of the year. There's that British weather again!
A&S Landscape specialises in outdoor canopies for schools, playground shelters for schools and sail canopies for schools. If you want to know more then our whole playground canopies range can be accessed online. If you're looking to add more flexible teaching space to your school outdoor areas, then take a look at our range of outdoor covered spaces to break up outdoor areas and create new opportunities for students to get outside.
Llantwit Major School Designed for Outdoor Shelter in Glamorgan
That final touch comprised of five Motiva Linears™, all 1600mm deep but ranging from 9400mm to 21920mm in length. Each secondary school shelter is finished in a deep grey (RAL 7015) with matching Alu-Tuff™ box profile guttering in Dura-Coat™ paint and features clear polycarbonate roofing. Their position in relation to each building will also help to block the sun in the hot summer months, providing some additional temperature control to lower floor classrooms.
The result is an A&S Landscape takeover that means several new buildings have high-quality outdoor shelters that look fantastic and match the modern and attractive design of the new build of the school grounds. Whether you are keen to take up our pitch for the A&S Landscape school of outstanding canopy design or you're looking for a slightly more modest addition of a single covered walkway you could do worse than browsing through our gallery of finished projects here.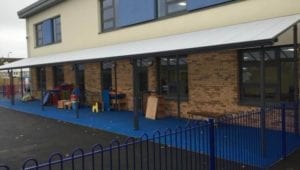 Looking at projects completed at other sites in the education sector can help you define the kind of shelter that will make the biggest difference to you and your students. Speak with our design team by filling out a contact form so you can work together to produce a stunning outdoor shelter that meets your needs.
Stripy School Canopy at Rhiwbeina Primary School in Cardiff
With a large range of school canopies and more than 40 years' experience, A&S Landscape was pleased to offer their advice on bespoke design. The Maxima Tepee™ was the style which was chosen. At a size of 4000mm x 4000mm the structure, complete with waterproof fabric, created a versatile shelter which would protect children from UV rays as well as wet weather all year round. The PVC fabric was designed in red and white stripes which adds a lovely sense of fun. The children are rightly very pleased with the new playground addition.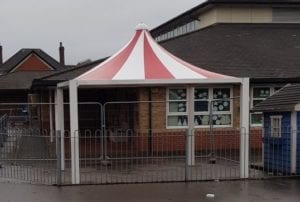 The resulting area has added a new usable space to the school. It not only offers shelter from the wet weather but also shade in the sunnier months of the year. The children, as well as teachers and visitors, enjoy the new part of the play area. The comments about it have been very positive we are glad to hear! Improving access to outdoor play and learning can only be a good thing and has shown to improve pupil concentration when pupils are back in lessons.
A&S Landscape, canopy and shelter specialists, has a wide range of covered solutions. Our gallery contains over a thousand pictures of our outstanding canopy designs and you can view them online for some inspiration. And contact us with us by filling out an enquiry form online, we would love to help with your project.
Ton-Yr-YWen Primary School in Cardiff adds School Canopy to Playground
A&S Landscape has worked with schools to transform outdoor areas for more than 40 years. With ranges that include, Tepees, Umbrellas, Shade Sails, Linear canopies and much more, we knew that we would have a product to suit. The Motiva Linear™ canopy was chosen to create the playground shelter. The canopy ran alongside the classroom wall, creating a large covered area, with steel frame and polycarbonate roofing.
The smart new canopy was built at 13000mm x 5000mm and has created a large new space for the children to enjoy the outdoors whatever the weather. They can have lessons outdoors, play, read, chat, eat, whatever they like. No more worries about what the weather is doing. The feedback has been really positive too – "It is being well used, there is seating underneath and the children are enjoying it! It looks great, is well constructed and communication throughout the project has been exemplary. Furthermore, the professionalism and versatility of the installers was excellent. We would use A&S Landscape again in a heartbeat. Thanks again!"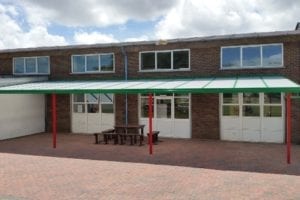 A&S Landscape, canopy and shelter specialists, has a wide range of products for you to review. All the different designs make sure that you will be able to find something to meet your needs. Review our gallery which has over 1500 images, it is a great place to get some inspiration for your project.
Cowbridge Library Add Fabric Tepee Canopy to Create Outdoor Shaded Area
In collaboration with a well-known architect our engineers built a tensile fabric roof Tepee in Cowbridge Library High St, Cowbridge, South Glamorgan. The job involved the supply and fitting of one Maxima™ Tepee tensile waterproof fabric roof structure measuring 4.75m x 5.5m.
Shade Sail Designed for Gabafla And Glan Ceubal School
In collaboration with the specialist building contractor A&S designed a StarSail for Gabafla And Glan Ceubal School Gabalfa, Cardiff, South Glamorgan. The contract included the supply and fitting of one Maxima™ StarSail tensile waterproof fabric structure supported on a single upright measuring 5000mm X 5000mm.
Curved Roof School Canopy Made for Bettws Flying Start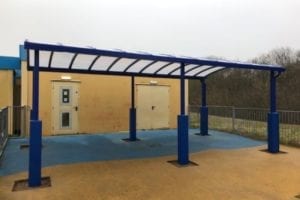 In combination with our trade partner we designed a curved roof canopy for Bettws Flying Start Bettws, Bridgend, Mid Glamorgan. The full contract involved one Motiva™ Duo duopitch curved roof canopy measuring 7000mm X 4000mm and included for our Alu-Tuff™ aluminium box profile guttering and downpipes in matching Dura-coat™ colour finish and four post protection pads.
Oakfield Primary School Add Playground Canopy with Post Pads
A&S built a canopy at Oakfield Primary School St Mellons, Cardiff, Glamorgan. Full details are: four post protector pads to cover round posts 150mm diameter and one post protector pads to cover round post 90mm diameter The full contract involved four post protector pads to cover round posts 150mm diameter and one post protector pads to cover round post 90mm diameter.
Looking for more locations?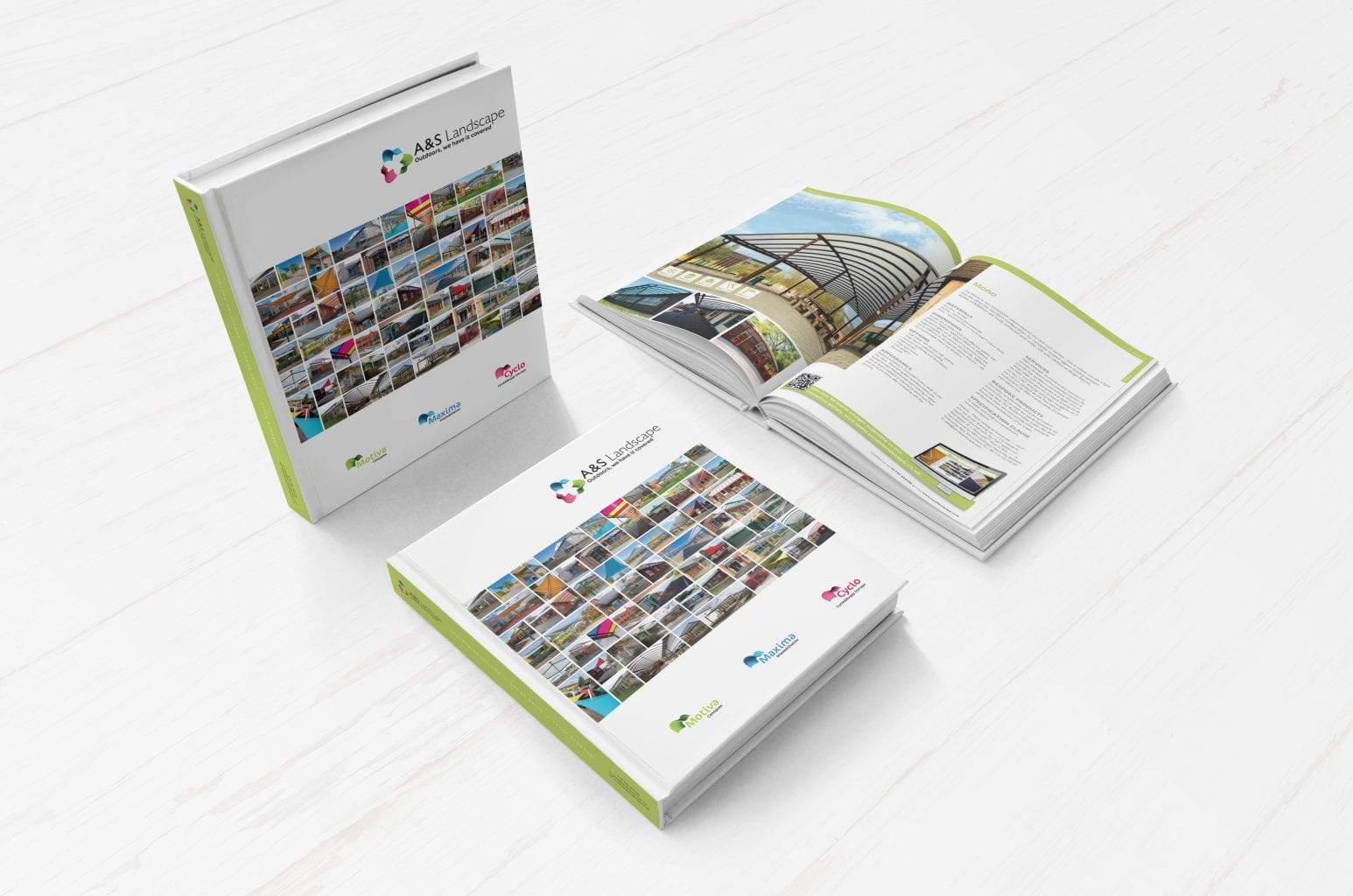 Get in touch to request a copy of our full, 160 page, hardback brochure with all the information you need to make the right choice.