Curved Roof Outdoor Canopy Installed at Treloar School in Holybourne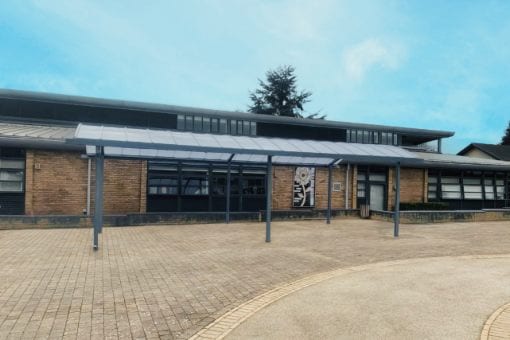 Treloar School in Holybourne, Hampshire wanted to install an outdoor shelter so their staff could enjoy relaxing and snacking on their breaks outside, no matter the season. It needed to provide enough space for several people at this institution – a non-maintained special school for 2 to 16-year-olds with physical disabilities – to socially distance, with an attractive design that complemented the school buildings. A&S Landscape was happy to help.
Following discussions about the various canopies available, Treloar School chose to add a Motiva Duo™ to their facilities. The specifications of 10000mm X 5000mm offered an area where multiple members of staff could safely distance from each other. This model has a symmetric curved roof design that shields anyone beneath from rain, wind and sun. Opal polycarbonate sheeting and Squirrel Grey steelwork created a sleek, subtle look for the canopy which was ideal for covering the new rest area.
Treloar School loves the new shelter. Everyone from teachers to cleaners can now relax outdoors undercover throughout the year when taking their breaks. The canopy looks fantastic alongside the existing architecture and it could also be used for other purposes – including giving teachers some outdoor classroom ideas! A&S Landscape was delighted to add this project to their successful history of supplying shelters to schools and enjoyed working with the team. Call 01743 444100 to speak to us about adding one to your institution today.
Milton Park School Add Fabric Shade Sails to Playground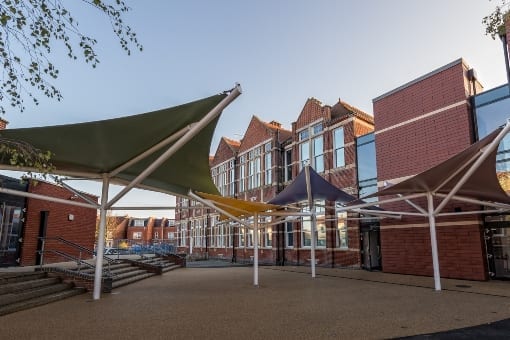 When Portsmouth Council approached us to add a little flair and beauty to Milton Park School, we were able to provide a range of options that would not only offer protection from the elements to those walking between buildings but also offer an aesthetically striking view that added an extra layer to the story of the school.
We were proud to work with Portsmouth Council to develop this scheme for Milton Park School. A series of StarSails offer weather protection for those passing between buildings and at the same time a masterpiece of architectural design, giving a sense of class and distinction to the whole area. We installed a series of Maxima StarSails, overlapping in a stylish web of class and distinction, with sharp, clean white steelwork and a coloured fabric that is both waterproof and gives an air of elegance, especially when the sun strikes it.
The result is an effortlessly stylish space, the clean lines and flowing fabric offering a pretty smart contrast to the red brick buildings of the rest of Milton Park School.
There are a thousand reasons to bring new structures onto site. Sometimes you simply want to inject a new atmosphere into the space but sometimes you have a very specific job, maybe you're looking for waterproof sail shelters or else weatherproof covered walkways. At A&S Landscape we believe you shouldn't have to choose between style and function so when you work with our design team you're going to find that you get the best of both worlds. Take a look at a gallery of other successful projects.
Mayfield School Add Blue Fabric Shade Sail to Playground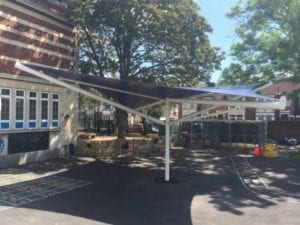 The truth is, it can take some convincing to get the approval needed to move forward with projects and we know it is our job to give you the most information possible so you can make good decisions, rather than guessing. So when Mayfield School decided they wanted something a little daring, a little bold, they rightly wanted to see it as clearly as possible before they took the leap and bought it.
Mayfield School wanted a playground shade sail to give their students some respite in extreme weather and chose our Maxima StarSail™ in a bright, bold blue fabric. It's a smart transformation but Mayfield already knew that before we arrived on site because we showed them with a high-quality visualisation of the Maxima StarSail™ in-situ.
The result is that Mayfield School were happy with their product before it was even installed and are even happier now the Maxima StarSail™ is in place. It offers an attractive and bold design as well as shelter from the unpredictable weather. In a sharp, creative and playful design, it's an eye-catching addition that encourages curiosity and fires the imagination.
Whether you're looking for a playground shade sail or other canopies for schools you don't need to have an incredible imagination to be sure you're making a great decision. At A&S we use cutting edge software to help you see your shelter before it is installed. Working with our design team we'll make sure you know exactly what you're getting. Take a look at more Shade Sails and at our pre-installation visualisation service.
Red Playground Shade Sail Installed at Woolston Infant School in Southampton
Spending time outside isn't always so straightforward, is it? We have this little thing called weather that tends to get in the way. To combat this, we need to create spaces that allow us to spend time outdoors but with enough shelter that we are not sent back inside our boxes by the Great British Weather.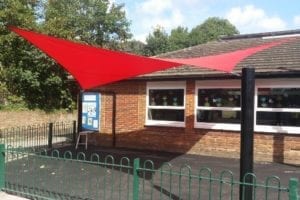 When A&S Landscape was asked to add some outdoor shade at Woolston Infant School, we had just the thing in mind. We installed our popular Maxima Shade Sail with a sail of 6m x 7m x 6m x 8m with black steelwork (RAL 9005) and a cherry red fabric. This striking design gives a high quality of protection from the sun at the same time as striking a series of more natural lines that mean it never feels like you're in a box, despite having a cover over your head.
The result is balance. Time spent indoors can be balanced with time spent outdoors as the weather doesn't have to stop play at any point in the year. Time to think outside the box?
Come on, you must have seen that coming! A&S Landscape has a range of outstanding outdoor shelters that mean you never have to compromise on time spent in the fresh air and natural light. From dining canopies and playing field shade to classroom extensions, we have a wide range of solutions to choose from. Take a look at our gallery of finished projects and if you have any questions, get in touch.
Our Hampshire based clients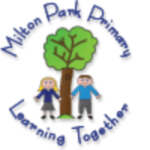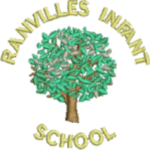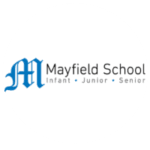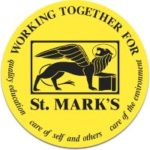 The Austen Academy in Basingstoke Add A Range of School Canopies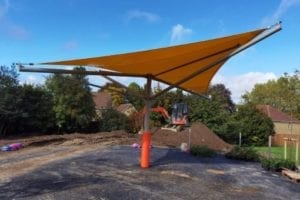 The Austen Academy, Basingstoke, is set to open in 6 months time, in April 2021. Still currently being constructed, the site is being purpose-built to accommodate the needs of pupils with special communication needs (SCN). Before design plans had even started, the team knew the importance of having accessible outdoor space for the children, and so incorporating a high-quality shelter into the plans was of top priority. That's why they approached A&S Landscape, experts in the canopy industry, and in particular shelter installation in the education sector.
Although the school is yet to be completed, the four canopies have already been installed, with the school going for two flat roof, monopitch Motiva Linear™ canopies, and two tensile fabric structures – the trendy Maxima Tepee™, and stylish Maxima StarSail™. All the shelters will serve a purpose, with the tepee acting as the allocated dining area, and the Maxima StarSail for the play area – but above all else, they all allow for the children to enjoy the fresh air at all times of the year.
This will have hugely positive impacts on the children's wellbeing due to the educational possibilities made available – and this is especially important for children with special educational needs, where sensory learning can be highly beneficial. We look forward to seeing the completed school in April 2021 and are sure that the canopies will fit perfectly into the finalised school grounds.
Straight Roof Shelter Manufactured for Harefield Primary School
Our team erected a straight polycarbonate roof canopy with roller shutters at Harefield Primary School, Southampton. The contract included the supply and installation of one Motiva™ monopitch straight roof canopy measuring 17600mm X 4000mm and included for our Alu-Tuff™ aluminium box profile guttering and downpipes in matching Dura-coat™ colour finish. The supply and installation of two electrically operated punched and glazed roller shutter doors to front elevation and glazed panels to the other sides.
The Portsmouth Grammar School Add Fabric Playground Umbrella
Working with our trade partner A&S erected a playground umbrella for The Portsmouth Grammar School – Senior High Street, Portsmouth. The contract included the supply and installation of one Maxima™ waterproof Umbrella structure supported on a single upright measuring 4000mm X 4000mm.
Playground Shelter added at Ranvilles Infant School in Fareham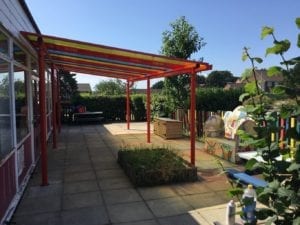 A straight roof Motiva Linear™ was installed alongside one of the buildings at Ranvilles Infant School. The Traffic Red steelwork gives the structure a striking, bright look. This works well with the multicoloured polycarbonate roofing, featuring red, yellow and blue sheets.
The pupils of Ranvilles Infant School adore their new playground canopy. When it is raining, they can still enjoy their break times outside under the cover. And when the sun does decide to shine, the coloured roof creates a beautiful effect on the ground below. We're so happy that we got to work with such a brilliant school, who will get to enjoy their canopy for many years to come.
A&S Landscape, canopy and shelter specialists, has worked with many schools across the county, helping them to get more use out of their outdoor space. You can see examples of our completed projects online and read what our clients have said about us on our testimonial page. Our team of experts are ready to help you, call us today on 01743 444100.
Straight Roof Shelter with Polycarbonate Roof Made for Ditcham Park School
Our team made a straight polycarbonate roof canopy at Ditcham Park School Ditcham, Petersfield. The contract included the supply and installation of one Motiva™ monopitch straight roof canopy measuring 9500mm X 3500mm and included for our Alu-Tuff™ aluminium box profile guttering and downpipes in matching Dura-coat™ colour finish and glazed panels to side elevation and one end (13m).
Timber Gazebo Designed for Pennington Infant School
Our team made a gazebo at Pennington Infant School Pennington. The full contract involved 3.5m Square Gazebo with Timber Roof.
Redwood Park Academy in Cosham Add Bespoke Shade Sails to New Building
This exciting project to assist Redwood Park Academy, Cosham, near Portsmouth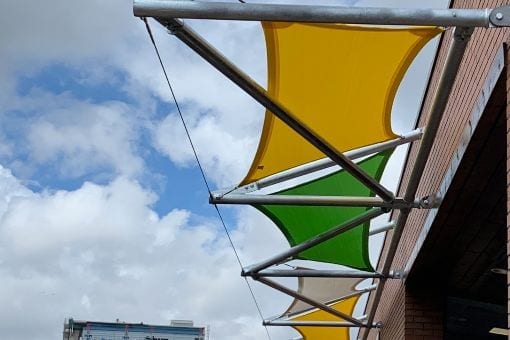 , came on the back of their brand-new school build project. A&S Landscape was approached with a defined concept already identified by the school's architect. The fact that the school already has a vision of what they wanted to create, meant that our expert team needed to think a little 'outside the box'. Far from the project needing an off-the-peg solution, this brief needed some creative thinking!
Utilising our Maxima Sail™ range as the foundation for the design, our team was able to create an outline involving twelve tensioned fabric sails. Utilising canopy architecture that based the structure on a cantilever design, these fabric sails were then supplied, delivered and correctly tensioned to the school's building, as set out in the architect's drawings.
A further fun element was introduced to the design, with the selection of three individual colours for the sail canvas. With six sails in 'Lemon Fizz' a further six in 'Mellow Haze Yellow' and three in 'Chino Cream', the finished result was a vibrant and unique canopy cover. Redwood Park Academy is an excellent example of how flexible a tensile canopy system can be in achieving a range of design features.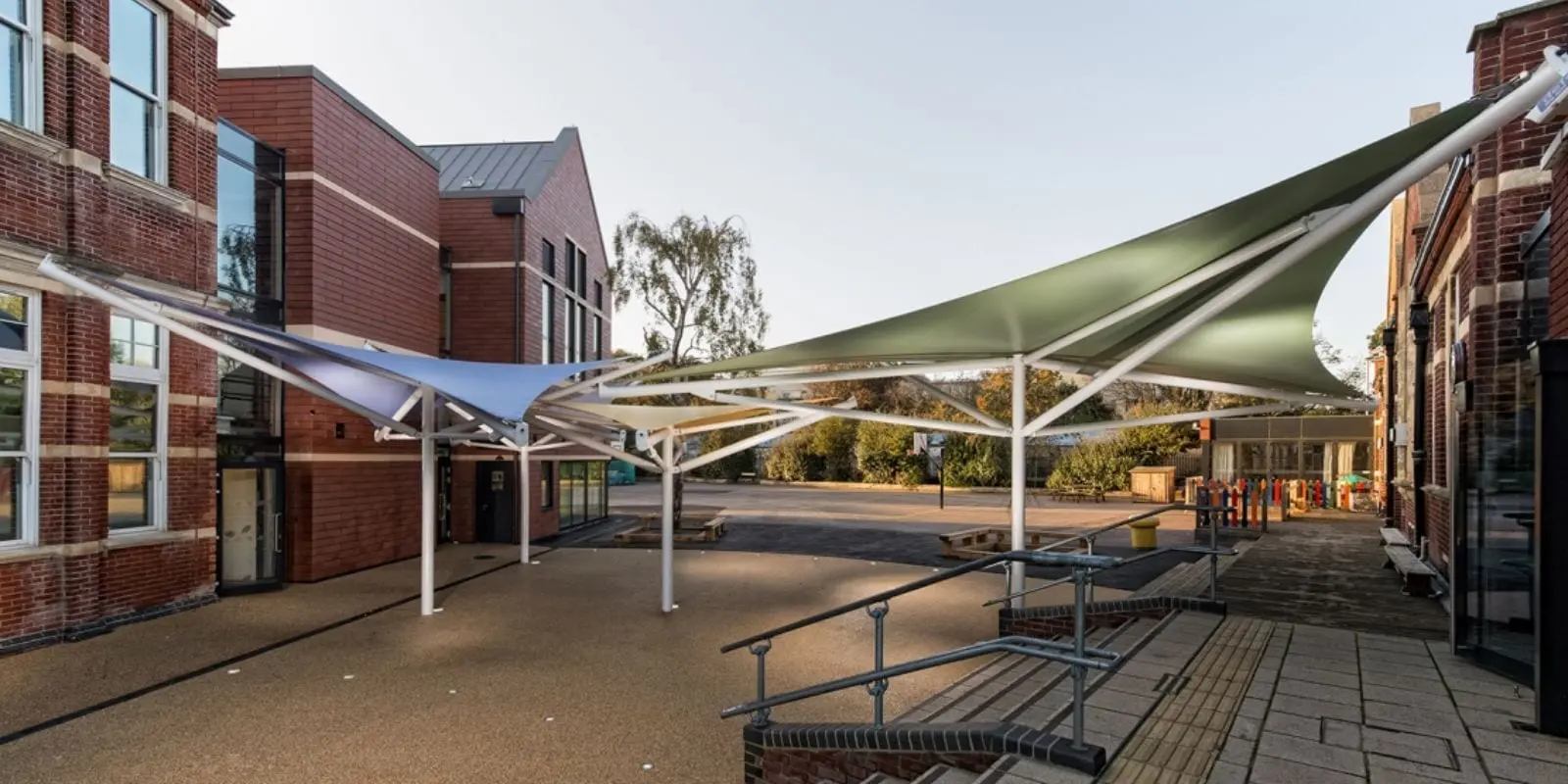 Send us your email and an idea of your requirements and we'll get back to you with a quick price.