Curved Roof Outdoor Canopy Installed at Treloar School in Holybourne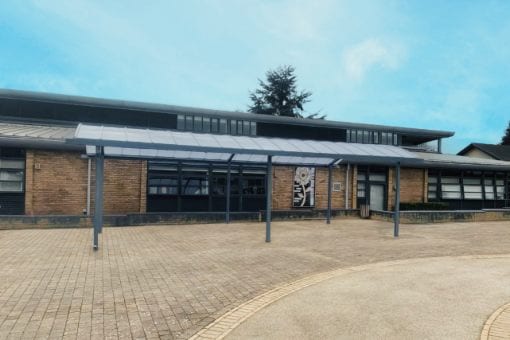 Treloar School in Holybourne, Hampshire wanted to install an outdoor shelter so their staff could enjoy relaxing and snacking on their breaks outside, no matter the season. It needed to provide enough space for several people at this institution – a non-maintained special school for 2 to 16-year-olds with physical disabilities – to socially distance, with an attractive design that complemented the school buildings. A&S Landscape was happy to help.
Following discussions about the various canopies available, Treloar School chose to add a Motiva Duo™ to their facilities. The specifications of 10000mm X 5000mm offered an area where multiple members of staff could safely distance from each other. This model has a symmetric curved roof design that shields anyone beneath from rain, wind and sun. Opal polycarbonate sheeting and Squirrel Grey steelwork created a sleek, subtle look for the canopy which was ideal for covering the new rest area.
Treloar School loves the new shelter. Everyone from teachers to cleaners can now relax outdoors undercover throughout the year when taking their breaks. The canopy looks fantastic alongside the existing architecture and it could also be used for other purposes – including giving teachers some outdoor classroom ideas! A&S Landscape was delighted to add this project to their successful history of supplying shelters to schools and enjoyed working with the team. Call 01743 444100 to speak to us about adding one to your institution today.
Milton Park School Add Fabric Shade Sails to Playground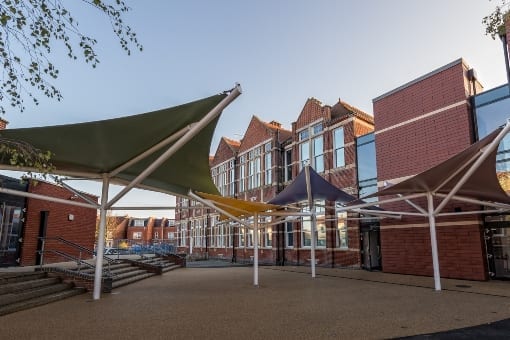 When Portsmouth Council approached us to add a little flair and beauty to Milton Park School, we were able to provide a range of options that would not only offer protection from the elements to those walking between buildings but also offer an aesthetically striking view that added an extra layer to the story of the school.
We were proud to work with Portsmouth Council to develop this scheme for Milton Park School. A series of StarSails offer weather protection for those passing between buildings and at the same time a masterpiece of architectural design, giving a sense of class and distinction to the whole area. We installed a series of Maxima StarSails, overlapping in a stylish web of class and distinction, with sharp, clean white steelwork and a coloured fabric that is both waterproof and gives an air of elegance, especially when the sun strikes it.
The result is an effortlessly stylish space, the clean lines and flowing fabric offering a pretty smart contrast to the red brick buildings of the rest of Milton Park School.
There are a thousand reasons to bring new structures onto site. Sometimes you simply want to inject a new atmosphere into the space but sometimes you have a very specific job, maybe you're looking for waterproof sail shelters or else weatherproof covered walkways. At A&S Landscape we believe you shouldn't have to choose between style and function so when you work with our design team you're going to find that you get the best of both worlds. Take a look at a gallery of other successful projects.