Blue Shade Sail Installed at Fulwood St Peter's Primary School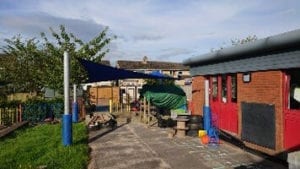 A&S Landscape has been working with schools for more than 40 years, helping to add the right canopy to playgrounds up and down the country. We have a wide range of canopies, from fabric to steel and polycarbonate, so we knew that we had something to fit the bill at Fulwood St Peters CE Primary School.
A&S Landscape installed an aquatic blue shade sail to the area and included four mid blue post pads to make sure that playground bumps are minimised.
Our Maxima range includes the shade sail which is available in shade cloth and waterproof fabrics. The shade cloth fabric was selected and installed in a smart Aquatic Blue colour. All our colours can be seen on our colours page if you are looking for some inspiration. The result is a smart new playground shade canopy, which does exactly what we had planned. The children now have shade in their outside area. The school now have somewhere to store their play equipment and for the children to get some fresh air, shaded from the sunshine. A lovely bright statement in the playground! The shade canopy looks striking and completes the area beautifully whilst keeping the children safe and happy in all weathers.
Fulwood St Peter's Primary School now have an additional area outside where children can play and socialise. It can also be used for outdoor learning, working towards to recognised Ofsted criteria of learning outside the classroom. Everyone is happy.
From Shade Sails, Umbrellas and Tepees, to straight or curved roof steel canopies, A&S Landscape have a range which is sure to offer you something special. Feel free to look through our gallery, which has more than 1000 images to inspire you.
You can see all of our previously completed projects for inspiration here. Perhaps you are wanting a dining canopy or cycle store or one of our entrance canopies, if so please get in touch. Outdoors, we have it covered! If you feel you would just like more information, please call us on 01743 444100. The team will be happy to help you and can have a proposal on your desk for your review!
Cycle Store with Gate Made for Fairfield Primary School
We created a cycle store in Fairfield Primary School Peelhouse Lane, Widnes, Lancashire. The full contract involved one Cyclo 'Bike' cycle store unit measuring 4200mm x 2400mm, which included for 5 cycle racks to accommodate 10 cycles with mesh panels to rear/side elevations and gates to front.
Weeton Country Primary School Add White Straight Roof Shelters in Preston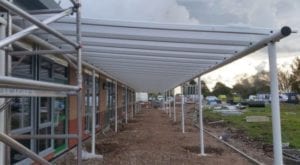 An outdoor playground canopy will extend the reach of a classroom by offering shelter from the rain that makes it accessible all-year-round. There are also certain types of activities that benefit from being run outdoors, from messy artwork to loud and entertaining music sessions. So when A&S Landscape was contacted to install some outdoor shelter at Weeton County Primary School we knew the impact it would have.
Installing generous outdoor shelters to three elevations at Weeton County Primary School meant that several classrooms were extended to have useable outdoor space. Installing Motiva Linears™ in a range of sizes, from 2870mm x 2000mm to 33700mm x 4000mm, we finished each shelter in white steelwork (RAL 9016) with Alu-Tuff™ box profile guttering in matching Dura-Coat™ paintwork. Opal roofing also means that direct sunlight is cut down, helping with temperature control in the classrooms during the summer.
The result is space. Space that already existed but has been repurposed to offer a useable option all year round. This gives Weeton County Primary School the opportunity to run a whole host of sessions that might have been difficult to run in the past and makes sure their children can spend more time outside in the fresh air, whatever the weather. To find out more about our outdoor canopies for schools, take a look at our range of finished projects here and if you have any questions then just get in touch.
Woodlands School Add Straight Roof Shelter
We designed a straight polycarbonate roof canopy in Woodlands School Whitegate Drive, Blackpool, Lancashire. The job involved the supply and installation of one Motiva™ monopitch straight roof canopy.