Cycle Store Installed at Ashby School in Ashby-de-la-Zouch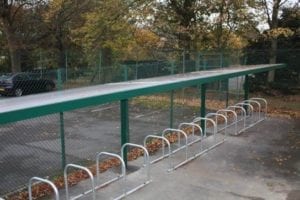 Our Cyclo range is made with some of the most robust steelwork found in bicycle storage because we want to give people the confidence to use their bikes every single day. So when Ashby School in Leicestershire contacted A&S Landscape to add some robust storage for their student's bicycles we knew we'd be giving them something that would stand the test of time Ashby School chose our Cyclo City™, an attractive rack that we built to hold 30 bikes. Finished in a green (RAL 6005) paintwork, this cycle store is built to last at 12320mm x 2000mm without taking up any more space than necessary.
The result, like so many of our projects, is not the product itself but the opportunity it provides. Now students at Ashby School can choose to cycle to school and gain all the benefits that come with doing so, safe in the knowledge that their bike will be safe.
The one thing you really need from your cycle store is security. You want something robust & something that is going to last. At A&S Landscape we have spent a lot of time constructing a range of cycle shelters that don't just hold a bike or two, they keep them incredibly safe with one of the highest specs on the market.
To find out more just take a look at our Cyclo City™ range online and if you have any questions, get in touch.
Sherrier C Of E Primary School Install Straight Roof Canopy with Polycarbonate Roof
Our engineers built a straight polycarbonate roof canopy at Sherrier C Of E Primary School Lutterworth, Leicestershire. The full contract involved the supply and installation of one Motiva™ monopitch straight roof canopy measuring 8860mm X 6000mm including for our Alu-Tuff™ aluminium box profile guttering and downpipes in matching Dura-coat™ colour finish, coloured polycarbonate, clear polycarbonate glazed panels to upper section, clear polycarbonate glazed panels to lower section and one double set of doors complete with fire bar.
Canopy at St Peter's C of E Primary School in Loughborough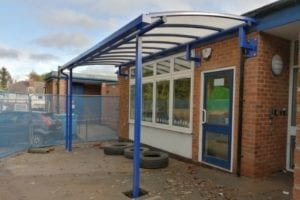 St Peter's C of E Primary School decided to install a curved roof canopy from our Motiva range. The Motiva Mono™ canopy measures 6000mm X 2400mm and is attached to the school building. The school picked an Opal roof material, which allows sunlight through while providing protection from UV rays. A striking Marine Blue RAL colour was chosen for the posts, which matches the colours used in the other areas of the building. This canopy also features Alu-tuff ™ guttering, which is tough, durable and long-lasting.
The pupils now have a valuable covered area where they play, learn or wait for their lessons undercover. This means they can spend more time outdoors, which has many benefits for the pupils, staff and school. Everyone at St Peter's C of E Primary School is delighted with the finished result of the school shelter.
With curved, straight, waved or fabric roof canopies, A&S Landscape has a design to suit every need. Why not take a look through our gallery for inspiration or get in touch with us for our expert advice. From the initial planning stages to installation, we can help you complete your next project successfully.
Thrussington C E Primary School Add Shelter with Post Pads
Our engineers created a canopy in Thrussington C E Primary School Thrussington, Leicester, Leicestershire. The job involved three post protection pads 1200mm high.
Ibstock Junior School Add Straight Roof Canopy in Ibstock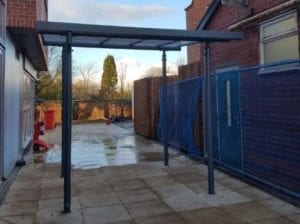 Our Motiva range of canopies come in a number of designs, and Ibstock Junior School chose the Linear canopy. Its straight lines and clean modern appearance made a lovely addition to the school campus. Steelwork was in a smart grey (RAL 7011), which included Alu-Tuff™ (aluminium box profile) guttering and downpipes in matching Dura-coat™ colour finish. The roof was clear polycarbonate.
The result is a new entrance straight roof canopy, dry and sheltered staff and students and a smart new addition to the school. With all that the great British weather has to offer it is important to be prepared, especially with so many children to look after. Nobody wants to sit in a classroom all afternoon with wet clothes from a damp playtime. Now the children and Ibstock Junior school are able to stay nice and dry and the outdoor shelter will provide cover for many years to come.
From Shade Sails, Umbrellas and Tepees, to straight or curved roof steel canopies, A&S Landscape have a range which is sure to offer you something special. Feel free to look through our gallery, which has more than 1500 images to inspire you.
Temporary Supports Added to Shelters at Ashmount School
We designed some temporary supports in Ashmount School Thorpe Hill, Loughborough, Leicestershire. The full contract involved replacement of two damaged posts including the dismantling of structure.